Attention: World Premier Event - Get on the path to Forever Cash - LIVE
Your Personal Forever Cash Plan
Is Waiting For You! - Even For FREE!
Loading Video...
From: Jack Bosch
Date: September 23rd,2023
Subj: Your Personal Forever Cash Plan

Dear Friend,
Have you ever wondered why even though you seem to work harder and harder you never seem to be moving forward?
Have you ever tried to save money, living below your means and realized that is no fun and no sustainable way to get wealthy?
Have you ever asked yourself how in the world you'll be able to retire - ever - the way social security is going and more important - the way life hits you all the time and doesn't allow you to save enough?
Now imagine all this solved in just one weekend.
Now I don't mean solved in the sense that you all of a sudden have a million dollars in the bank by Monday. That would be crazy to assume.
But solved by you in the way of realizing how simple it is to actually create a life of abundance, a life of financial security and independence of a job, of having to worry about not having enough cash to cover the bills and of making the mortgage payment.
LISTEN! Opportunity Is Knocking...
Will You Answer The Door?
Right now we're at the beginning of a recovery period after the great recession. This means that it's time to rebuild. More importantly it's time to set things up so that what happened to many people -- a loss of job, house foreclosure, financial hardship will NEVER happen to you ever (again).
Why You Should listen...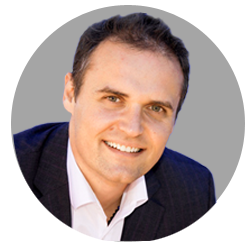 Allow me to take a quick moment to tell you my story - and it's not because I just enjoy talking about myself.
It directly affects you.
You see, if I was able to figure out how to come from absolutely nothing, no money, a bunch of student debt and not a dime to my name to be financially 100% independent, and able to retire before the age of 35, then...
... you should be able to follow my instructions and make it work too - right?
You see...
Building Ever Lasting Wealth?
Heck, I Couldn't Even Speak English!
(Well I could speak a little.
But not enough to carry on a conversation.)
In 1997, I was in a 1-year college exchange program, visiting the U.S. from Germany.
I had very little English.
I had a bunch of student debt.
All I had to my name was two suitcases and a MAXED OUT credit card!
You might say...
Just Like Many People,
I Was A Stranger In A Strange Land
Now even though I felt a little out of place, I was in love with the United States.
And I fell in love with a girl I met in college (she's now my wife). So I had a strong reason to stay here in America and make a life for the both of us.
My wife is now a US Citizen and I am literally weeks away from becoming one too.
So we are here to stay.
But early on, I figured out how I was making a living - working for a software company - wasn't getting me anywhere.
Over the course of several years I went from completely broke with a little debt to having a bunch of stuff and being hugely in debt.
Maybe that sounds familiar to you.
I had bought a starter home with a 97% mortgage
I had bought furniture for the house
I had two cars both with car loans and monthly payments
I now for the first time had Cable TV with the Sports Package and HBO
And yet, while I worked harder than ever to make more money, at the end of the month, after paying all the bills I had nothing left.
It was just like when I was broke, only kind of worse.
Yes I had a bunch of toys and things filling up in the house, but with that stuff debt was piling up. I could hardly breath under the weight of the mortgage, car and consumer debt.
I WAS IN THE
FINANCIAL HAMSTER
WHEEL OF HELL!
And on top of that, the company I used to work for was letting go over 40% of their staff. I am not talking a few people. This company of 7,000 people was downsizing to 4,000 people.
I was scared to death.
So I made a decision.
I needed to figure this money thing out so I could retire young and retire wealthy.
It was then I saw the ultimate solution that had been right in front of me all my life.
The Secrets of European Aristocrats...
One day I was taking my annual vacation back to Germany, my home country. While driving to visit a friend I came by several castles.
You know in Germany, and particularly southern Germany where I'm from, there are castles every few miles.
One of these just 20 miles from my home town is particularly large and beautiful.
And for the first time in my life I asked myself the question "How do these people have the money to keep, maintain and operate these HUGE and beautiful castles, and still hang around the beaches of the world, drive Ferraris, and live the luxurious lifestyle.
I mean it costs millions a year just to maintain these castles.
So these Aristocrats must have figured out something that most people don't know.
And then it hit me!
The Forever Cash Solution
While most people (like you and me) work for a paycheck, virtually all Generationally Wealthy People including Europe's Aristocrats have built income that lasts forever, without having to actively work anymore.
I call this income "Forever Cash"
For these Aristocrats this income which has been coming in for decades and even centuries. They don't have to work at all. And it's paying for all their stuff including:
The maintenance of their mansions or castles
Their staff to serve them
Their toys like their Ferraris
Their vacations
What's most amazing is that there's enough cash left over to invest in even more Forever Cash Assets.
What most people spend their money on...
Now that I had realized that Forever Cash is the way to financial independence forever, I saw I and most people around me had a problem.
I looked around I realized the reason why most people are NOT financially independent (including myself at one time)
Virtually ALL my income was coming from what I call, "One-time Cash"
One-time cash is income you work for once - like in a job - you get paid once.
And most people work for "One-time Cash"
So if you want more money, you have to work harder. And if you spend that money you are broke. You then have to work even harder to have money again.
Escape the "Earn to Spend Cycle"and
turn One-Time Cash into Forever Cash
Once I had realized the dilemma the solution was simple.
We have to turn One-Time Cash into Forever Cash.
Yet how could I do that - was the questions
And so over the next 3 years I worked on various powerful ways to do that and in the process I fine-tuned my philosophy, strategy and action steps.
As a result, within less than two years of having figured it out my wife and I had:
Paid off our cars
Paid off our House
Had over $10,000 a month in long lasting passive income
Had a nice amount of money on the sidelines
And we were financially independent for years to come.
And since then, we've expanded on these steps in our Forever Cash Plan to become completely financially secure, independent and generationally wealthy, forever.
Now we enjoy a life where we:
We support the causes close to our hearts
We take month long vacations in exotic places,
Travel the world
Live in a gorgeous house,
Take time off whenever we want and for however long we want
And when we come back from vacations we have more money in the bank account than when we left
Now You Can Be Financially Independent Too
After my wife and I did it for ourselves more and more people came to us and asked us how we can live such great lives and seemingly have time for everything.
So we started to share this first on a one on one basis and our friends started seeing great results.
Then more people came ...
And that was the beginning of "Forever Cash" the Plan.
And it doesn't only consist of a book. While the book is great and we have received some AMAZING feedback on it, the book is divided into two parts, the philosophy and the how to.
But is can only scratch the surface, and wake you up to what most people haven't even seen is right before their eyes.
The solution to breaking the Earn / Spend Cycle, taking charge of their lives and building everlasting wealth.
But to be honest it will most likely take more than a book.
It is my hope that once you read the book you will never look at life in the same way. That the way you move forward in your financial life will be different than the way you have lived in the past.
Yet, I want more for you than that.
And I trust that you too want more for you than that.
I want you to not just know in theory what you need to do. I want you to be immersed in the Forever Cash Philosophy and be trained on how to:
Lower your expenses without giving up the fun stuff you are doing
Find extra money to use to build forever cash
Learn how to make more money fast
And Learn how to take that money and build forever cash with it
How to tell a good forever cash investment from a bad one
And most importantly: Have a detailed Personal PLAN to create Forever Cash Freedom in your life.
In summary I want you to be "financially Forever Cash Savvy" FAST - in one single weekend.
And now for the first time you can do exactly that.
My Gift to you:
The Forever Cash Academy
- Limited amount of Free Tickets Available -
For the first time EVER, the Forever Cash secrets and the exact path to everlasting wealth is available for a limited amount of people to learn live in person - directly from me and my team.
I want to meet you in person. And I even pay for your ticket!
At the "Forever Cash Academy" Live Event. I want you to be there with me, my wife and my team.
Register Your Seat Now
During this event we will...
Make sure you understand and internalize all the Forever Cash Concepts like the "Wealth Wheel" the "Hamster wheel of financial hell", the "Seed Money Machine" ... and much more...
Create your map to your personal success through Forever Cash
You'll discover the best strategies to building streams of Forever Cash flowing into in the fastest possible time.
You'll discover the latest money making tactics to fill your bank account and accelerate your wealth.
You'll learn exactly how you can make an extra $50,000 to $200,000 in the next 12 months outside of your current job.
Network and create lasting relationships of supportive like-minded peers all working for your success.
And much more...
How To Use Your Cash To Create Everlasting
Wealth Without Skipping Starbucks or Cutting Up
Your Credit Cards
Here are just some of the many things we will go through together each day of this event.
Day 1: Forever Cash Foundations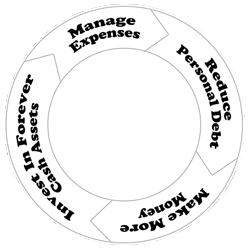 The detailed concepts of "One-time Cash, Temporary Cash, and Forever Cash.
How the "Wealth Wheel Method to fast Forever Cash Freedom" works.
How you can turbo charge your wealth Wheel
How most people are approaching their finances backwards and how to fix it and advance much faster.
But most importantly on Day one we will dive into YOUR particular situation and you'll be able to...
Identify exactly where you are in your life
Set specific reasonable and achievable Forever Cash goals
Design a plan to get you to that goal including a timeline and milestones so you can celebrate when you reach them
And we will show you how you might get half way to your goals just by changing the way you use the money you make now (no worries we won't take away your nice car)

And all of that without requiring you to sell your house, car, and skip Starbucks
We will also have some fun and do some money games that will exactly show you how you currently think about money and what you do with the money you have.
Register your seat now!
Day 2: Making Money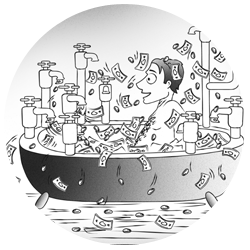 For many the Forever Cash Methodology will include the need to make a little more money than you make now. It might not be much more, but making more will speed up the process.
So on Day 2 we will walk you through...
How to make more money right now and where you are inside and outside your job
You'll learn how to identify what is the right "make money" activity for yourself.
I will show how you can make an extra $50,000 to $200,00 a year part time from home
We will go through several specific ways to make those $50,000 to $200,000 so that you are prepared to walk out and implement your plan
You'll learn how to cut 2 years of your learning process and make money FAST.
You'll learn how to cut 2 years of your learning process and make money FAST.
Register your seat now!
Day 3: Forever Cash Investments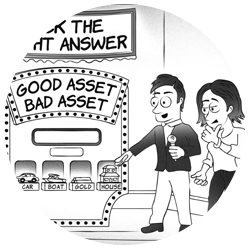 On day 3 we will focus on actually creating Forever cash using the knowledge from days one and two, and by adding a few additional important tools to your belt. At the end of day three you'll know all that is needed to be able to place your first Forever Cash Investments.
On that day you'll learn...
How to really tell a good investment from a bad one
How to learn to avoid losing money (this is just as important as anything else)
How to manage the managers of your forever cash investments so you don't have to do anything and can truly enjoy Forever Cash Retirement
What my Favorite kinds of Forever Cash Investments are and how to get them cheap

And overall you'll receive in-depth training on how to analyze investments and be able to make money decisions fast.
Register your seat now!
Become "Money Savvy and Money Smart
In One Weekend"
The result of this event will be that you'll become "Money Savvy and Money Smart in one weekend" and stop running in the "financial Hamster wheel of earn to spend" and finally advance in the game of money and wealth.
It's not hard to do, but you do have to know what the generationally wealthy know.
Let me ask you a question:
Would getting all that knowledge change your life and allow you to solve your money problems forever?
You bet it will!
So as I said, I'm going to do something shocking.
The normal fee to reserve a seat in our general seating section is $795 per seat for the entire Weekend program.
But because I believe the Special "Forever Cash Academy" Program is so imperative for everyone to take, and because I believe in Karma, I'm going to...
... GIVE you the entire weekend program FREE of charge!
That's right. For a limited time, I am going to gift you with a complimentary scholarship to the entire event. You will attend as my special guest.
And you can even invite those people that you care about to either come with you.
There's only one thing you must do... and it's about manners.
To reserve your place, all we ask for is a $97 no-show deposit. You will not pay anything today -- it's only a hold.
If you show up, there's no charge.
If you can't make it, AND you call or email and let us know you can't make it, there's no charge.
But if you don't show up AND you don't let us know beforehand, your seat will be wasted. You'll deprive someone else of the chance to participate in this life-changing seminar. In this scenario, you will be charged.
Let's face it: if you knowingly deprive someone of the tools, information and mindset they need to survive the impending financial meltdown, it's rude and you deserve to get dinged 97 bucks.
You agree that's more than fair, right?
You heard that right. When you register for the event below, you will have the option to get the seminar for free.
So take action now and reserve your seat for the Forever Cash Academy here and learn to reach Financial Independence and Everlasting Wealth - in one Weekend. But do it now before seats are sold out.
You get 10 years' worth of Forever Cash Wisdom and detailed strategies.
| | |
| --- | --- |
| Event Dates: | Next Seminar Not Scheduled Yet |
| Location: | Next Seminar Not Scheduled Yet |
Reserve Your Seat Now!
Considering all the information, tools, the implementation plan and other benefits you're getting at this event, I could make a good case that it's worth more than TEN TIMES the price. In fact I even guarantee it!
That's right, you can claim your ticket for FREE.
And as I just said, I will GUARANTEE your Satisfaction
Here is the deal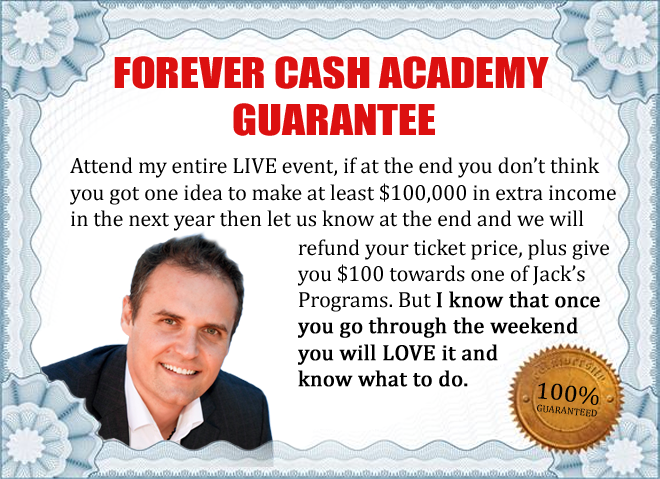 It's Decision Time
What you decide right this moment will determine the path your life will take.
You can either continue doing what you've always done (and get what you've always gotten)... or you can make a powerful new decision, and start enjoying the benefits only the Forever Cash wealthy know.
Which will it be?
Claim your ticket to the "Forever Cash Academy" NOW Below ...
Priority Registration Form
Yes, Jack! I accept your gift of a FREE ticket to the "Forver Cash Academy" -specifically formulated to get you on the road to financial independence. Please reserve my seat below.
I understand that I must provide a credit card number to hold my spot. If I do not show up for the event and I do not cancel my seat, I agree that you will charge me a $97 "no show" fee.
Date: Next Seminar Not Scheduled Yet
Venue: Next Seminar Not Scheduled Yetn
Location: Next Seminar Not Scheduled Yet
SORRY, OUR NEXT EVENT HAS NOT BEEN SCHEDULED YET.
If you're interested in attending our next event,
please put your name on the early notification list by filling out the form below.



P.S. This event is no pitch fest with a line up of speakers. As a matter of fact the speakers will be mostly ME, and my team of advisors showing you exactly how to go from where you are not to Financial Independence and Forever Cash Wealth.
Register your seat now above!