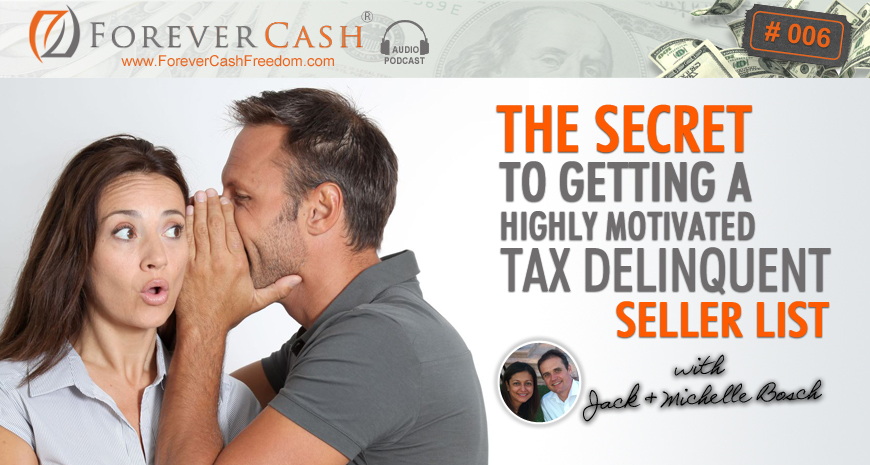 Welcome to our 6th episode in our new podcast series in which we talk about all the great ways you can become financially independent with tax sales. We're husband and wife team, Jack and Michelle Bosch, and we've done nearly 3,500 REI deals now and our specialty is tax-delinquent properties.
We're serial entrepreneurs, investors, educators and best-selling authors and we want to share with you the ways to make money with real estate in situation where homeowners haven't paid their property taxes.
In order to get these deals, we need to find out who these people are who haven't paid their property taxes. There are actually lists of these people, whether it's for land or houses…
So, in today's episode, we're gonna to tell you exactly how to get that important list and what information needs to be on the list so you can scoop up those profitable tax delinquent properties before they hit the auction.
So, thanks for tuning into our 6th podcast episode. Here we go…
Listen and enjoy:
Podcast: Play in new window | Download
What's inside:
Why we are interested in buying properties from people who are property tax delinquent
Why you may have to talk to several different county offices and people before landing on the list
Why you want the tax collector, assessor and IT department to be your friends
What you should as the IT department for
Why the Use Code is such important criteria on your list
Special Bonus

Download our Overview Criteria List Sheet here

Please fill out this form below to access the download.

Enter your name and email address below to get instant access to the download...

We hate SPAM and will keep your email address safe.
Mentioned in this episode:
Tweetables:

Transcription:
Download episode transcript in PDF format here…

What are you thinking?
First off, we really love feedback, so please click here to give us a quick review in iTunes! Got any thoughts on this episode? We'd love to hear 'em too. Talk to us in the comments below.
Enjoy this podcast? Share the love!