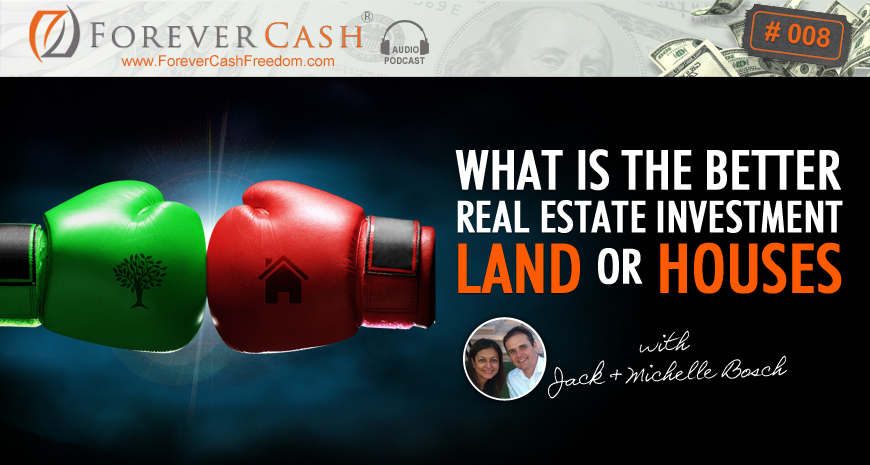 Welcome to our 8th episode in our new podcast series where we tell you all you need to know so you can reach financial freedom like we have through investing in tax-delinquent properties.
We've done more than 3,000 deals and want to share all we know about tax sales with you!
In today's episode, we're talking about the pros and cons of investing in land, and the pros and cons of investing in houses. Both have advantages and disadvantages and we'll go over all the details. Basically, we've done all the research for you – so you just need to listen and then decide which direction you want your investing career to go in.
So, thanks for tuning into our 8th podcast episode. Here we go…
Listen and enjoy:
Podcast: Play in new window | Download
What's inside:
Why investing in land is awesome
Dodd Frank explained
What you should consult your CPA and attorney on
The few disadvantages of investing in land
The advantages and disadvantages of investing in houses
Special Bonus

To get the exact details about the loophole that prevents you from being declared a DEALER by the IRS and therefore allows you to do as many seller financing deals as you want click here

Please fill out this form below to access the download.
Enter your name and email address below to get instant access to the download...
We hate SPAM and will keep your email address safe.

.
Mentioned in this episode:
Tweetables:

Transcription:
Download episode transcript in PDF format here…
Intro:   Are you ready to transform your financial future? Here's your chance to see inside the mindset of self-made millionaires, Jack and Michelle Bosch as they go back the curtain on secrets that can make you rich. Discover how everyday people are breaking the norms and building empires from the ground up using a little low yet proven and time-tested wealth building real estate strategies. It's my pleasure to welcome you to the ForeverCash.com podcast and introduce you to our hosts, serial entrepreneurs, investors, educators, and best-selling authors, Jack and Michelle Bosch. Strap yourself in for the ride of your life.
Jack:    Hello everyone! This is Jack Bosch and…
Michelle:         Michelle Bosch.
Jack:    Wonderful, I'm excited; we are excited to have you here at the Forever Cash Real Estate Investing Podcast hosted by husband and wife team, Jack and Michelle Bosch.
Michelle:         Yeah, it is actually possible.
Jack:    It is possible to be a husband and wife, working one business and not kill each other and actually have fun doing podcasts.
Michelle:         Yap, absolutely.
Jack:    Okay, so Michelle, the usual question, what are we going to talk about today?
Michelle:         So I was thinking that we probably should talk about the pros and cons of investing in land, and the pros and cons of investing in homes, houses.
Jack:    Alright, I like the pitting up land against each other, land, and houses against each other, that's wonderful. That sounds like a good subject because here is the thing, well, well, well, well, let's see, wait, wait, wait, so if you guys don't know us, you know you, might not know what we are typically talking about in this podcast. Just if you are first time podcast listener to the Jack and Bosch Forever Cash Real Estate Podcast, then let me quickly spend ten seconds explaining that we are talking about typically tax delinquent real estate investing.
Now tax delinquent real estate investing is investing where the owners have not paid their property taxes and what happens in the United States if somebody hasn't paid off their property taxes, the government will ultimately take that property away. Now if you are look in our podcast, you want to subscribe to our podcast, by the way just for listening to this podcast we have a free gift for you, a free mini course that you can claim at www.Forevercashfreedom.com and also we have meeting notes about this podcast that you can get to at www.forevercash.com/podcast.
So this is episode number eight of our podcasts, and in episode number eight we are going to talk, we are going to pit land against houses because what we do is exactly that. We invest a lot in land, in tax delinquent land, pieces of land under $100,000 that you can buy literally for .5 to .25 cents on a dollar and we also invest in houses. We flip houses, wholesale houses, tax delinquent houses where the owners haven't paid the property taxes, that we either do double escrows with where we don't ever take or we just do assignments, and in the assignments we never ever take even the title to the property and the double escrow will take title for five minutes, but we don't use any of our money.
Well, whether you do houses or land the question is, which one is better? And that's what we are going I guess to talk about today. So again remember for our Forevercash.com/podcast is where you find the podcast notes. There is a summary of the podcast, a transcript, you can listen to the podcast there too, but also make sure you subscribe to this podcast so that you can get notifications when a new podcast from us is coming up. And then your free gift you get it forevercashfreedom.com, so with that let's get started.
Michelle:         Okay, so I would like to start with land. Land is just super dear to my heart just because that's how we started investing in real estate and I just love dirt for the simple reason that there are no tenants, no toilets and no termites. There is no dealing with you know, with broken toilets in the middle of the night, no tenants to either evict or that you have to you know, show the property or you know, do walkthroughs or go after in terms of collections because they haven't paid the rent, and there is usually no termites even if there were, I mean that's…
Jack:    That's their natural habitat.
Michelle:         That's their natural habitat.
Jack:    They live there, at least there is termites but they don't do harm to any structure.
Michelle:         To any structure. Yeah.
Jack:    Because there is no structure, right. these are three great points particularly, I like what you said about you don't have to show a piece of land because you know what, I mean piece of land usually especially if it's a little bit outside of town it doesn't have a fence around it, you don't have to have somebody that– you don't have to have a lock box key. You just go and tell them where the address is and then people go and walk the land and either they like it or they don't like it. So it's really simple from a — even from a selling point of view to sell it because people can just walk there on land for it.
Michelle:         Yeah, but also not just when you are selling there is no need, there is really no need to show the property, but when you are buying the property there is also not really a need for an inspection because you don't really need to estimate you know repairs on a kitchen, on a bathroom, on anything because it's just a piece of land.
Jack:    It hasn't got the kitchen.
Michelle:         Exactly, there is no kitchen and so if you are looking to wholesale this piece of land you know, topographic maps are available online, satellite maps are available online, pretty much anything that you need in terms of a piece of land is available online. So there is no really a need on the purchasing side to really inspect the property as well, so that's a good one.
Jack:    That's a great, great advantage particularly if you are buying properties at huge discounts that you just want to flip. Now if you want to buy something that you want to put on your dream home down the road, you might want to go and look at it yourself to make sure it has exactly the views you wanted to have and exactly the elevation you wanted and the sloping if it's on a hill, and so on and so forth, but if it's just for flip and you can buy that cheap, then you don't literally have to ever go and see this property.
We have bought and sold over 3,000 pieces of land in since the end of 2002 and ever since the end of 2000 about sometime in 2006 we have not seen any of the pieces of land that we bought ourselves, none of our team members have seen it, nobody from our side goes and sees those properties. And as a matter of fact the people that we sold the properties to also many of them have not seen the piece of land because of the gift of technology that Google Earth, Google maps, Bing maps and those places is available that people can see their properties right from the comfort of their own home.
Michelle:         Yeah, and so the next big thing that I really-really like about it is that there is, it is not subject to the Dodd-Frank Act.
Jack:    Right, so it's not subject to the Dodd-frank Act, which is actually very, very important, but before I chap on that, I mentioned something that you can bite, they're cheap, are we going to cover that later on or right now? What do you think?
Michelle:         Go for it.
Jack:    Go for it? No, let's cover it later.
Michelle:         Okay.
Jack:    So you guys have to wait for a little bit but yes, so let me jump into the Don Frank act. The Dodd-Frank act is that monster of legislation that the US government has come up with after the big financial meltdown in 2008. They basically figured that they have to regulate everything again and actually not all the legislation around it, all the rules have not even been written yet, only like 60% or so, last time I checked has been written. So there is still more stuff to come in the Dodd-Frank Act but as it is, at the time that we record this, it covers in real estate part of it, it covers only houses and only residential houses.
So it covers what it's called dwellings from one to four buildings or structures, and the dwelling based on the regulation Z which is another government regulation that you have to follow particularly if you are a realtor is defined as a residential structure with one to four units; so basically a house, a duplex, triplex, or fourplex. That is covered under the Dodd-Frank Act in real estate; land does not as well as commercial property is not either. So therefore when you deal with land and all those different rules particularly if you consider selling land with like seller financing or something like that…
Michelle:         Oh, yeah.
Jack:    You don't have to fall under the — you are not falling under the regulations that you fall with the housing world, where you have to go and get a mortgage originator license or you have to have a rubber stamp by mortgage originator, you have to do like the support ability test with the people that want to buy the house from you and so on and so on and so forth, you just don't have to do any of that when dealing with land.
Michelle:         Yeah, and so this is a great transition to another of the pros and that is that you can offer seller financing you know, when selling the pieces of land. So all of a sudden you have turned something that traditionally has always been you know deemed as non cash flowing. You all of a sudden turn land into something that can cash flow.
Jack:    All right, absolutely, as a matter of fact a non-cash flowing is probably– is listed under the cons about land, everyone is the first objection that they give us when we tell them we flip land or we deal with land, they are like, but land doesn't cash flow, how do you guys make an income? We just smile or we actually, nowadays we just after we are around the corner we laugh and not at those– at the people who suggested that, but we basically laugh all the way to the bank because you can make land cash flow very-very massively and here is the way you do it.
Yes, if you own a piece of land for long term holding, it's not cash flowing unless you kind of rent it to somebody, but what we do is we sell a lot of the land with seller financing as Michelle just covered and when you sell a land with seller financing you can get a good down payment meaning because particularly we're buying very-very cheap which is probably the next point that I'm letting you hang in here for, and if you buy cheap you get a down payment that often is as much or more than what you paid for the property in the first place, and you can ask for a high interest rate and now you get cash flow that rivals the rental cash flow that you get and you get it without any tenants, toilets and termites.
So we have a lot of loans that we have given people and that's really not loans but it's like seller financing loans where we bought something, a piece of land for $3,000, sold it for $20,000, got a $3,000 or down payment and now we are getting $350 a month monthly payments. Now this is net-net-net, there is no, repairs we have to subtract for that, there is no property taxes we have to pay from that, there is no– you name it anything, other things that you have to pay with home owners, home warranty is something that we have to pay for that, it's just cash flow, and if you take a rental house and you subtract all those things chances are most cash flowing houses don't produce or produce– don't produce much more than $350.
So now we are getting the same cash flow from land but with no hustles, nobody lives there, nobody– no tenants, toilets, termites and literally none of the hustles, so we love-love-love land for these factors.
Michelle:         And now when you sell with seller financing, the beauty about land is that you do not fall into what the IRS calls the dealer status.
Jack:    Right.
Michelle:         So when you sell a piece of real estate yeah, and you buy low and you sell high you have to pay taxes for that difference, yeah, which is taxable income and what happens is that when you are selling the land with seller financing you are creating that sale, but the IRS is not saying okay, you have to pay taxes on that full amount on that year of the sale. They are letting you basically pay as the installment income comes in, you pay the taxes on that property basically on that income as you receive the money. So this is a big one for me, I…
Jack:    This is huge because in the housing world you don't have that; it's another disadvantage of the housing. If you sell a bunch of houses with seller financing, number one you are falling under the Dodd-Frank Act now and you have to jump through all those hoops with mortgage originators and all this kind of red tape around it, but also the IRS is going to give you a hard time based on what Michelle just said and instead of taxing you on the cash that you collected, they tax you on the full profits of the deal even if that profit comes in over ten years in monthly installment payments.
So in other words you are screwed because if you have a $10,000 profit and you only received in one year monthly payments a thousands of that, they are still going to charge to tax you under $10,000 profit, you might have to pay $3,500 of taxes on a deal where you only collected thousands, so you have to pull out another $2,500 out of your pocket, give it to the IRS, money that you have not yet collected. You might be able to do raise on one deal, but what if you do this on 50 deals in a year? And you all of a sudden owe a $100,000 in taxes, I mean $150,000 or whatever the number is, it could literally bankrupt you.
That's why– so a lot of people don't do seller financing on houses, but on land it is not a problem because on land as Michelle just said, you are not under that same jurisdiction, or actually there is an exception in the tax code, in the IRS tax code that says that when you– pretty much I'm paraphrasing right now, don't hold me to it.
Michelle:         And we are not CPAs, we are not accountants.
Jack:    That's right.
Michelle:         You can go ahead and verify with your CPA.
Jack:    Right, and by the way your CPA probably won't know the answer to that, so you probably want to go those show notes for this and look it up right there, and in the show notes we will put down the exact part of the IRS tax code that explains that as our CPS provider did. But as Michelle said, we are not CPAs, we are attorneys, we didn't sleep in Holiday Inn Express last night, so no, this is not legal advice that we are giving you, you have to check that with your own attorney. The same thing with the Dodd-Frank Act and those kind of things.
We are not providing Attorney advice here or legal advice, but it's our understanding that it doesn't fall under– and based on the loophole that we– that our CPA found. So we are very excited about that because that means you can sell as many pieces of land with seller financing as you want, Dodd-Frank doesn't have apparently anything against it, and the IRS doesn't ding you and doesn't charge you for profits where you haven't collected the cash yet either. So it's really beautiful.
Michelle:         Now, another wonderful thing about land is that if you are a beginning investor and you know the, just the though of you know, going after 150, $200,000 home you know, to either flip or to rehab and flip or to buy and hold, if that seems a little daunting, what is great about land is that you can literally buy you know, land for pennies on the dollar.
You can buy it at huge discounts and that's– when we were starting, that was something that you know, that was the biggest incentive in terms of land since we had absolutely no experience on homes, on how to estimate repairs on a home. I mean construction is just so completely different here in the US than it is in Germany or Honduras where I'm from, Jack is actually from Germany, that this was basically a big reason for us in you know, starting in land.
Jack:    Yeah, absolutely. The first deal, I mean we wanted to do a house deal the first deal we did, and we freaked out because we didn't know how to estimate repairs and we freaked out over all those things that we didn't have a clue about, but then our first piece of land that we found using our methods, our land profit generator methods, we literally just paid $400 for it and frankly that's it, no back taxes and our back taxes were included in that amount already. And we sold it to $4,000 to the guy across the street who wanted it and the next deal we bought for $500 and sold for $9,500 cash and then we started, soon after we started doing seller financing deals, but every single time we didn't have to estimate repairs, we didn't have to go get a mortgage because we paid pocket change for these deals, that's really the point.
Now land does have some disadvantages, obviously if you want to hold on to it long term, it does not cash flow if you just hold on to it, but we have pieces of land that are worth 100, 200 grand a piece and we use them actually as piggy banks. Now they still don't cash flow, but it's equity that sits there that we sometimes get a loan against for another investment and then shortly after pay off that loan again. So it's…
Michelle:         So you use it as collateral basically?
Jack:    Right.
Michelle:         Yeah.
Jack:    You can use it as collateral which still doesn't give you cash flow, but it gives you the ability to get to cash when you need it, so which is actually a cool thing. And then again there is also on land if you hold it long term there is no depreciation. So that's again a tax disadvantage because if you have a house, or a commercial property you can depreciate it for tax, probably gives you tax benefit for many years, well land doesn't.
So okay, so you get a few last benefits but therefore, a few last tax benefits but there you can flip it like anything else out there. And the land market in the bottom range of the market really in the market, let's say in the property range below $25,000 is a little slower that the housing market. So if you want to do quick deals on land you probably want to stay buying the above 20-$25,000 range, 25 to 50 is a nice sweet spot, 25-80 is a good spot. If you are below that you still flip your deals, but you flip them mainly seller financing and you flip them…
Michelle:         It will take a little longer, yeah.
Jack:    And it takes a little longer to sell, so it doesn't sell in a day, or it doesn't sell in a week, it might sell in a month, the property. So that's some of the cons on the land side, but there is ways that you can speed this up. We are going to have– we are going to talk about that in the future I'm sure in one or the other session. So now the houses…
Michelle:         So now we are on houses, yeah.
Jack:    The houses, we have really covered some of the cons, right? We already talked about that there is tenants, toilets, and termites, that there is repairs, that there is subject to the dealers status, and it is subject to the Dodd-Frank Act, so what else is there as a disadvantage?
Michelle:         Perhaps you know, it's not as easy and there is much more competition because there is so many more other investors basically chasing after homes.
Jack:    All right, yeah-yeah, that's something we almost forgot to talk bout. The beautiful thing is that– about land again is that, there is very little competition in the land area and there is more competition in the housing area, absolutely and you also I mean, on the houses typically you don't get the same discount as you get on the land, wherein on the land you very often, I mean of all 3,000 deals, of all the land deals like 2,800 of them we have done probably less than, we've paid less that 25% of market value in probably 95% of them, so…
Michelle:         Yeah, and probably I mean that has to do with it being a piece of land versus an actual home with a structure, you know, an actual property with a structure on it has the potential to produce rental income you know, or to sell at some point. In the land, I mean you can sell it as well, but what I'm trying to get to is the emotional attachment of an owner to a piece of land versus a property with a structure is much-much less and I think that's why the discounts on land are much steeper.
Jack:    They don't value as much because they'll think it's worthless, they think it's not useful and they have held it for a long time, so therefore it sucks money out of there pockets, it is not cash flowing for them and therefore they are willing to give it up for almost nothing, but when you come in and you buy it you can turn around and sell it to somebody who wants to use it, who wants to enjoy it, and who gladly pays those monthly payments. So, but houses are not all bad.
Michelle:         Yeah.
Jack:    Right, I mean there is the dealers status, there is the Dodd-Frank status, there is repairs, there is tenants, toilets and termites and there is less of a discount that you get on those deals because just like Michelle just said, in the housing world the owners do see more value in it and therefore you do have to pay them more to overcome the hurdle of them wanting to sell. So you don't buy them at 25 cents on a dollar, you buy them for 50 or 60 cents on a dollar which still allows you to flip them at high profits, but you have to at least commit to pay more money.
Whether or not you pay is another question because that depends on how you deal with the structure. But there are some really, really good benefits about houses which explains why we actually do both, we flip houses, we flip land, we have rental houses, we have long term hold land, we have rental commercial property because every class of real estate has it's own pros and cons. It's just that built on land just look at the negative side when it has really many more advantages than almost any other kind of real estate, but back to the houses.
Michelle:         Yeah and, back to the houses in terms of pros, depending on the price range of the homes, you have the potential with homes to have very-very large checks, so you know that's always nice, so…
Jack:    That's a wonderful thing, I see deals for $700,000 properties are being whole sold for $400,000 and then whoever rehabs and puts in 100 grand and makes $200,000 on the deal. I mean that happens in houses a lot, it can happen in land if you lease own it and do things like that often and the value increases, but I have seen it less often in land particularly in the little bit lower price land.
Michelle:         Now, another of the benefits of houses is that if you are a person that is looking to invest for long term buying hold, all of a sudden the cash flow that the home produces is not what we call temporary cash, like as in the land, so the land you are basically selling on with seller financing, you are creating a note and at some point that note, depending on whether it's a five year, ten year, 15 year note will come to an end.
So that's temporary cash flow for the period of time that that person is paying off their land, and once they've paid it off there is no more cash flow, but in homes if your strategy is you know, to buy and hold that stream of passive cash flow is there for as long as you own the asset. So that's beautiful, that's why, that's one of the reasons why you know, part of our portfolio includes a buy and hold portfolio.
Jack:    Strategy, yeah.
Michelle:         Yeah.
Jack:    Now, and absolutely and that is as a matter of fact, that is the main reason people love houses because once you rent them out they produce cash flow. Now with the cash flow come a lot of hustles, the midnight move outs, the repairs, the bedbugs, the– all those kind of things that happen in rental houses particularly if you don't rent in Beverly Hills, but you rent in areas– not necessarily low income housing, but like low and medium income housing.
Michelle:         Yeah.
Jack:    Stuff happens, people all of a sudden just do a midnight move out on you, but I hear that also happens where the rich kids live. So in any case cash flow is a great point and the market for a house that is well priced, if you offer bargain on a house, the market is very quickly– quick.
So basically you can literally sell houses in a day and obviously the escrow period is going to take another week or two week, but you can sell houses very-very quickly if the price is right. And in the land area even if the price is amazing it might still take you an extra week or two weeks to sell the property, usually not that much longer if you do it right, but in a housing area, you do wholesale, if you have access to a few rehabbers, that give you their criteria, you find the deal that fits their criteria, boom you have that thing sold the next day, they close in seven days and seven days later you have your cash in your pockets.
So this are two reasons, two big reasons why we like houses and you saw the many reasons why we like land. So therefore what I want to say in conclusion perhaps…
Michelle:         Let me add one thing, and the one thing that I would like…
Jack:    All right, I'm not allowed to conclude yet.
Michelle:         That I would like to add is that so if you've never dealt in land, trying to come up with– and doing research basically to come up with an analysis on value may seem a little harder at the beginning, you know, once you get familiar with the specific area that basically completely goes away, and with large tracks of land you know that can also be a little bit more you know, cumbersome in establishing value than it is with homes, and I think the ease of homes is how easy it is to go online and to zero into truly and try to basically find comps or even hire a realtor to help you establish value for a specific property and assess its condition or an after repair condition.
Jack:    That's so, you get comparables on houses easier, but because you bought, with using our techniques you are paying so much less for a piece of land that you actually can afford to make more mistakes on land that you can do on houses.
Michelle:         That is true.
Jack:    Because if you miss a– if you take a $200,000 house that you can buy for 120 and you make a mistake in that valuation, the house is not worth 200 but only 170, you effectively, potentially destroy the deal because after rehabs and all these other costs there is not enough money left over for you to flip the property, but if you take a $200,000 piece of land that you can buy for $50,000 and now it's only worth, you realize you were off and it's only worth 170 you still got yourself a tremendous killer deal here at your hands.
So yes, you are correct, it takes a little bit more to get to the exact value particularly in the land area, but if you have a– if it seems like a wife, it's particularly it's like a one off kind of property, if it's not the property in a subdivision where there is 25 other lots that are exactly like that, in which case it's easy, but if it's more like a 28 acre parcel in the middle of 80 acre parcels or something like that, then it's a little bit harder to come to the value because as in every value you get to do a basic buy like kind properties.
So, but all of that can be overcome, all of that can be overcome by for example one of our– one of the ways that we do, we teach is in detail to one of our programs called the land, or called land profit generators, so it's www.landprofitgenerator.com, you can check it out, there is some videos there you can look at, but overall I still doesn't attract too much off the benefits of land.
So in summary what most people think land of– of land is they think it's just doesn't cash flow and that's it, and no depreciation, but what most people don't consider is that there you can get tremendous discounts, you can get discounts of 75 to 95% off market value meaning you pay five to 25 cents on a dollar, no dealers status, no Dodd-Frank, you can do seller financing up to your nose, you can build great cash flow, no tenants, toilets and termites.
There is still many buyers out there, there is websites out there like landflip, Landwatch.com that you can sell properties at and at the same time houses obviously have the obvious benefits and they also have, often people underestimate that the negatives of houses of not being able to do seller financing, of the repairs, the tenants, toilet, termites and so on.
All right so this concludes our podcast, it's podcast episode forever cash, podcast episode number eight and we are excited, the next one is coming up in just a few days, probably a week or so from now. In the meantime we wish you happy investing, again I want to make sure for your free gift, go to forevercashfreedom.com.
If you want to, if you rather read than listen, if you rather, if you want to re-listen to the links and those things that we mentioned here, you can go to forevercash.com/podcast, scroll down to the episode number eight, then underneath the episode click on it and right there you will find the podcast again, you will find the meeting notes, you'll find the transcript of it as well as basically the notes and links that we talked about. And lastly in the others under forevercash.com/podcast, and lastly I wanted as always to ask you if you could just be so kind and go to the iTunes right here and leave us a feedback, leave us a review about our podcast.
We would love to hear your feedback, obviously the better the review the more important it is that you leave it, and the more you like this podcast the more important it is that you go there right now, with that we'll say…
Michelle:         Thank you very much and we will be with you shortly.
Jack:    Thanks bye-bye.
Outro: Thanks for listening to the forever Cash Freedom Podcast, subscribe now for a future content packed episodes on how to push the ejector seat on your financial hamster wheel and discover a radical way to freedom and wealth through cutting edge real estate investing strategies. To learn more about living the Forever Cash lifestyle, investing smartly and becoming financially free, visit www.forevercashfreedom.com to claim your free Forever Cash starter kit today.

What are you thinking?
First off, we really love feedback, so please click here to give us a quick review in iTunes! Got any thoughts on this episode? We'd love to hear 'em too. Talk to us in the comments below.
Enjoy this podcast? Share the love!