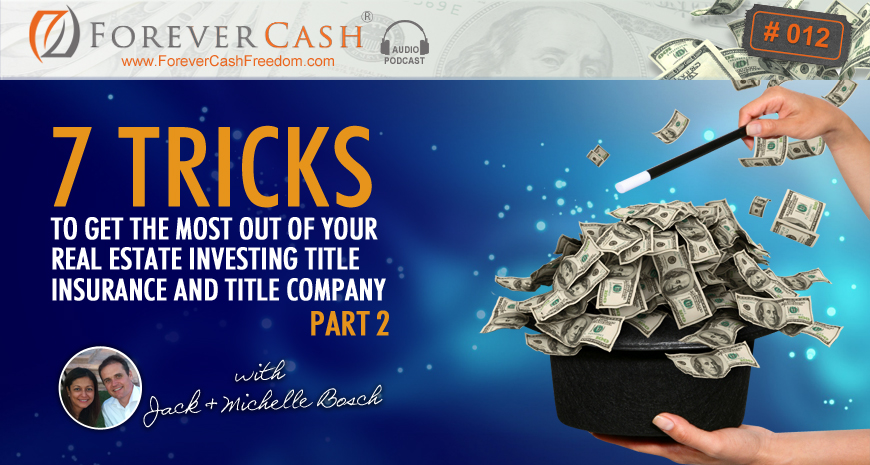 Welcome to our 12th episode in our new podcast series in which we explain the ways that you – just like us – can reach financial freedom through the niche market of tax-delinquent REI in land and houses. In fact, we've done nearly 3,500 deals and we want to share our tips and tricks with you.
In today's episode, we're talking more about title companies… and specifically, do you need them or not. We're going to dig deeper into your three options regarding closing and title companies: with a title company, without a title company and then a hybrid of the two. And, we'll cover the advantages and disadvantages to them, plus some extra helpful info as well.
So, thanks for tuning into our 12th podcast episode. Let's get going…
Listen and enjoy:
Podcast: Play in new window | Download
What's inside:
Closing with a Title Company – advantages and disadvantages
Closing without a Title Company – advantages and disadvantages
Certain documents and fees you need to be aware of if you choose not use a title company
Why deeds, joint owners, heirs and probate have a role in titles
The inexpensive way to outsource the title search
Mentioned in this episode:
Tweetables:
Transcription:
Download episode transcript in PDF format here…
What are you thinking?
First off, we really love feedback, so please click here to give us a quick review in iTunes! Got any thoughts on this episode? We'd love to hear 'em too. Talk to us in the comments below.
Enjoy this podcast? Share the love!