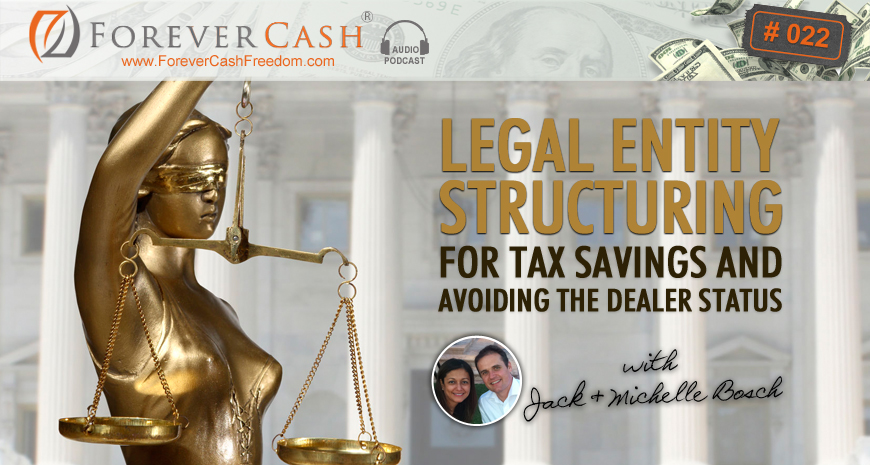 Welcome to our 22nd episode in our newer podcast series where we cover everything related to investing in tax-delinquent real estate. In other words, we focus on properties where the owners have not paid the property taxes. As a husband and wife investing team, we've done nearly 3,500 deals – in land and houses – with little competition and big profits. And we want to share what we know with you.
In today's episode, we're talking about entity structuring.
It's important for us to remind you, however, that we are not attorneys or CPAs, and we are not giving you legal advice.
What we're sharing with you is about our experiences of how we built our business, plus a couple recommendations of how you can proceed in entity structuring, again, simply based on our experiences.
So, thanks for tuning into our 22nd podcast episode. Let's get to it…
Listen and enjoy:
Podcast: Play in new window | Download
What's inside:
Why structuring your entity is important and why you shouldn't wait to do it
How an attorney and CPA play big roles in entity structuring
Why you should set up an LLC
What a limited partnership is
IRS codes that work in your favor
Mentioned in this episode:
Jack and Michelle's website and their free gift for you Forever Cash Freedom
Jack and Michelle's book: Forever Cash
To learn more about Jack and Michelle's Coaching Program, call 602.712.0182
Jack and Michelle's Live Event, Discounted Tickets: ForeverCash.com/PodcastLiveTickets
Warren Taryle's contact number: 480.948.9510
I.R.S. Tax Code that shows an exemption for Land Selling with Seller financing – No Dealer Status IRS Exemption: Code Section 1237(a) and Code Section §453(l)(2)
Tweetables:
Transcription:
Download episode transcript in PDF format here…
What are you thinking?
First off, we really love feedback, so please click here to give us a quick review in iTunes! Got any thoughts on this episode? We'd love to hear 'em too. Talk to us in the comments below.
Enjoy this podcast? Share the love!