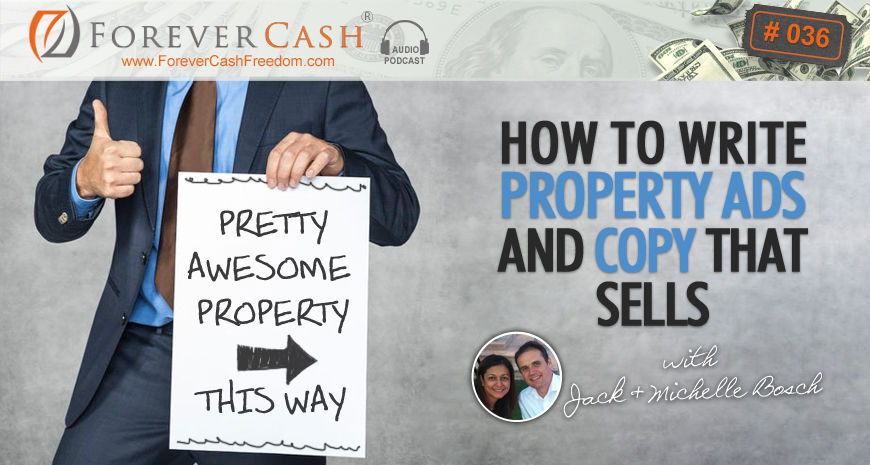 Welcome to our 36th episode in our relatively new podcast series where we cover everything related to investing in tax-delinquent real estate. We focus on properties where the owners have not paid the property taxes. As a husband and wife investing team, we've done nearly 3,500 deals – in land and houses – with little competition and big profits. And we want to share what we know with you.
In today's episode we're talking about how to create copy for ads that will really help sell your properties. And it all starts with attention-grabbing headlines. We'll cover that key point and several more tips for telling the right compelling 'story' with your advertising so you can close more deals.
So, thanks for tuning into our 36th podcast episode. Let's go…
Listen and enjoy:
Podcast: Play in new window | Download
What's inside:
What the AIDA model is and how it applies to REI
Why and how to shock your readers in a good way with your ad writing
How to use other advertising as inspiration
Why you've gotta be a good storyteller
What details to include when telling a 'story' about your land deal
Mentioning this one thing in your 'story' about a house can have a huge impact on your deal
Your various call-to-action options
The two things your writing needs to appeal to for people to connect with it
How pictures play a vital role in your ads
Mentioned in this episode:
Tweetables:
Transcription:
Download episode transcript in PDF format here…
What are you thinking?
First off, we really love feedback, so please click here to give us a quick review in iTunes! Got any thoughts on this episode? We'd love to hear 'em too. Talk to us in the comments below.
Enjoy this podcast? Share the love!