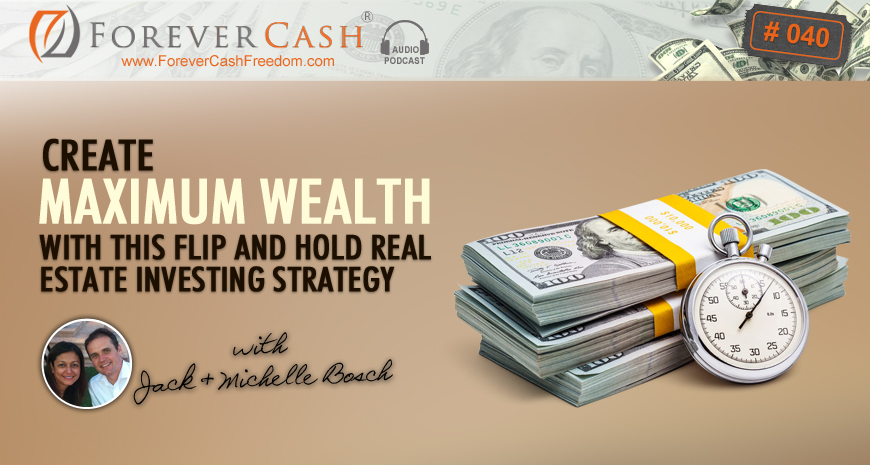 Welcome to our 40th episode in our podcast series that's about everything related to investing in tax-delinquent real estate and real estate investing in general. In our business, we focus on properties where the owners have not paid the property taxes. As a husband and wife investing team, we've done nearly 3,500 deals – in land and houses – with little competition and big profits. And we want to share what we know with you.
Today's episode is all about implementing strategies that will help you generate ultimate wealth creation. We'll cover specific steps to take so you can begin following these same strategies in your business – today. We'll share different criteria for you to focus on that will help you figure out whether you should wholesale or hold properties, and we'll talk about why cash flow and appreciation are such crucial factors. Plus, we'll even give an example of an actual deal we did that will clarify all of this helpful information by explaining this real-life scenario.
So, thanks for tuning into our 40th podcast episode. Let's go…
Listen and enjoy:
Podcast: Play in new window | Download
What's inside:
How to use the angle of wealth creation to optimize your forever cash
3 criteria that will help to determine whether you should focus on flipping properties
Why you want to wholesale in a downward market
The type of deal that will make you money in a stable high-priced market
When to buy and hold
Why cash flow should be a big consideration for a certain kind of deal
When to play it safe
Mentioned in this episode:
Tweetables:
Transcription:
Download episode transcript in PDF format here…

What are you thinking?
First off, we really love feedback, so please click here to give us a quick review in iTunes! Got any thoughts on this episode? We'd love to hear 'em too. Talk to us in the comments below.
Enjoy this podcast? Share the love!