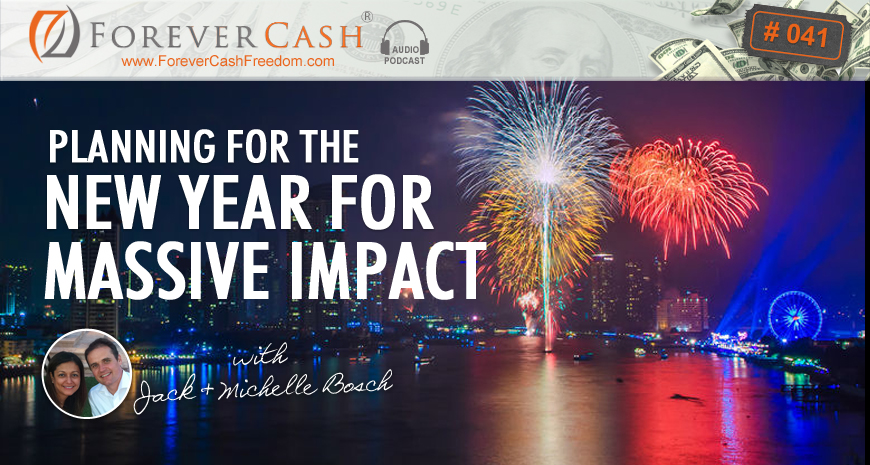 Welcome to our 41st episode in our podcast series that's about investing in tax-delinquent real estate as well as real estate investing in general. In our REI business, we focus on properties where the owners have not paid the property taxes. As a husband and wife investing team, we've done nearly 3,500 deals – in land and houses – with little competition and big profits. And we're sharing what we know with you.
Today's episode is all about ringing in the New Year in a great way by setting goals for 2016 the right way. Through our structured framework, we'll explain how you can plan for the new year in such a way that will create massive impact for 2016 and beyond. It's all about consciously designing your year, being deliberate and having intention for the year with a structured plan. And we'll explain exactly how to do it.
So, thanks for tuning into our 41st podcast episode. Let's go…
Listen and enjoy:
Podcast: Play in new window | Download
What's inside:
The specific type of outlook you should be starting with to create your goals
Categories your goals can fit into for planning purposes
Why you should also create goals that aren't just business-specific
Why and how to break down your goals into smaller chunks, guided by time frame: 'Chunking Your Time'
How self-discipline is a huge factor in goal planning and achieving those goals
Specific examples of setting real estate-related goals
Mentioned in this episode:
Tweetables:
Transcription:
Download episode transcript in PDF format here…

What are you thinking?
First off, we really love feedback, so please click here to give us a quick review in iTunes! Got any thoughts on this episode? We'd love to hear 'em too. Talk to us in the comments below.
Enjoy this podcast? Share the love!