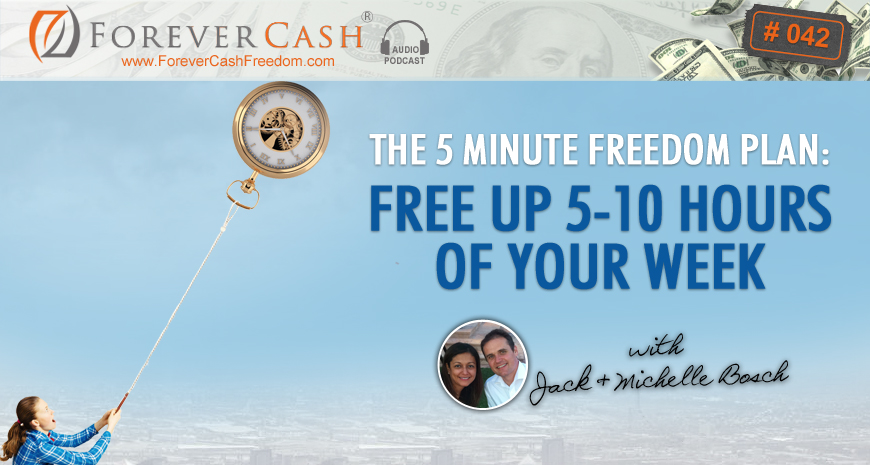 Thank you for joining us on our 42nd episode in our podcast series that's about investing in tax-delinquent real estate specifically, but we also cover other REI strategies as well. In our business, we focus on properties where the owners have not paid the property taxes. As a husband and wife investing team, we've done nearly 3,500 deals – in land and houses – with little competition and big profits. And we're letting you in on how to do it all.
Today's episode is about a thinking tool that we created called the 5-Minute Freedom Plan. It's an exercise that we'll walk you through step-by-step that helps you free up some time so your business or operation can grow. By doing this exercise, you'll figure out the things that you are gonna have to say 'no' to or stop doing, so that you can say 'yes' to your goals that will help you grow and reach freedom. Get a pad and paper ready for this 5-minute game changing tool.
Let's go…
Listen and enjoy:
Podcast: Play in new window | Download
What's inside:
How to literally complete the 5-minute plan in just 5 minutes
Why your business isn't special, but rather, fundamentally like every business (sorry!)
How you can identify where you're spending your time, where you should be spending your time and what changes you have to make now
How to rate each task you are involved in or each service of your business and what the results mean for you going forward
What your rating should be in a majority of the tasks or services in your business so you grow and find freedom
What is likely the real reason behind why a team member is not producing the expected results
Mentioned in this episode:
Tweetables:
Transcription:
Download episode transcript in PDF format here…

What are you thinking?
First off, we really love feedback, so please click here to give us a quick review in iTunes! Got any thoughts on this episode? We'd love to hear 'em too. Talk to us in the comments below.
Enjoy this podcast? Share the love!