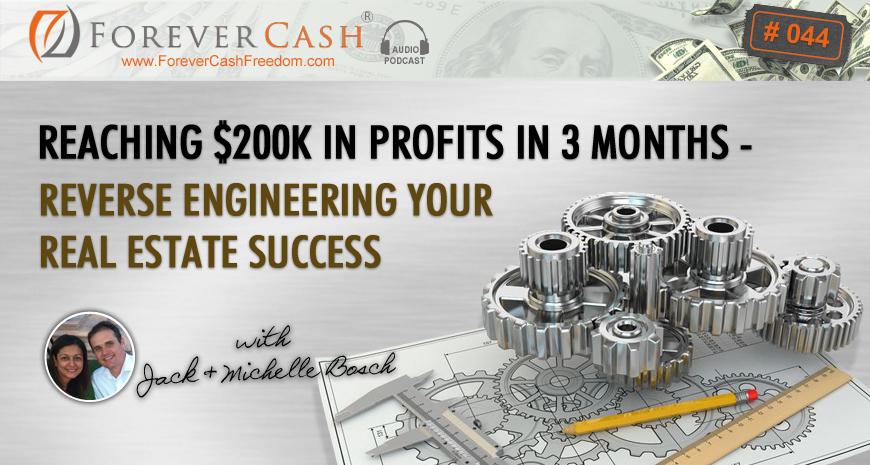 Welcome to the 44th episode in our podcast series that's about investing in tax-delinquent real estate specifically, but we also cover other REI strategies as well. In our business, we focus on properties where the owners have not paid the property taxes. As a husband and wife investing team, we've done more than 3,500 deals – in land and houses – with little competition and big profits. And we're letting you in on how to do it all.
Today's episode is about scaling and growing your business by knowing exactly how to reach your goals. We'll go through an exercise that explains how you can reverse engineer your biz based on what your goals are – in other words – you'll back into the needs of your business in order to accomplish your goals. Grab a pen and paper because we're showing you the exact calculations you can do to help ensure you hit certain goals.
Let's go…
Listen and enjoy:
Podcast: Play in new window | Download
What's inside:
To reverse engineer into your goals, you'll need to know, in part: how many letters to mail, how many offers to make, how many properties to buy
Why not just the open rate, but the call back rate is so important
Why you should consider that the average deals make you about $10,000 profit
How to factor in the acceptance rate
How to calculate the number of letters you should mail each year – depending on your goals
The one crucial thing you need to be capable of doing in response to your mailers – or, you must prepare to outsource it
Where you might find a bottle neck in this process and what to do about it
Mentioned in this episode:
Tweetables:
Transcription:
Download episode transcript in PDF format here…

What are you thinking?
First off, we really love feedback, so please click here to give us a quick review in iTunes! Got any thoughts on this episode? We'd love to hear 'em too. Talk to us in the comments below.
Enjoy this podcast? Share the love!