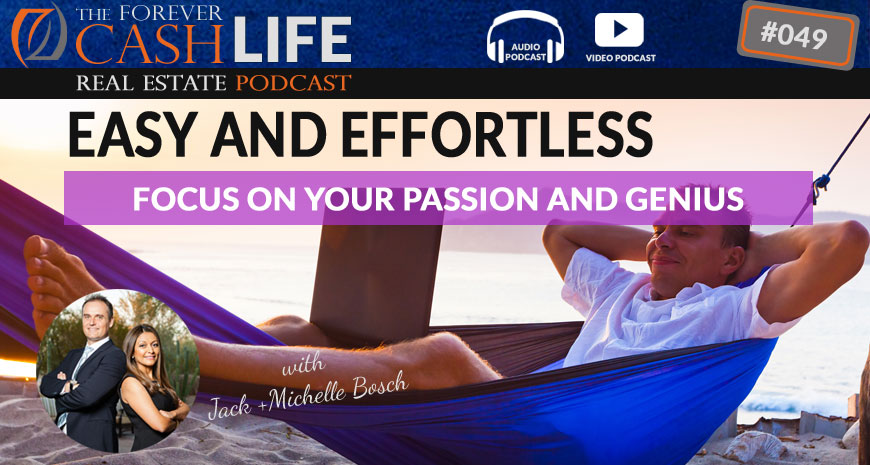 Welcome to episode 49! Today we're talking about the concept of Easy and Effortless and what that means to you as a business owner or entrepreneur. As business owners, we want to do it all, and at least in the beginning, we probably have to, but as our business grows it more effective to simply focus on the kinds of activities that come easy and effortless to us and outsource the other stuff to other people or services that complement your skill set.
Instead of having to force everything, purposely structure your business around what comes easy and effortlessly to you and your business will thrive. Sometimes this also means listening to the market and working with it vs. fighting against it. The less you do the more you'll make, IF… you have the right approach.
Listen and enjoy:
What's inside:
The less you do the more you make
What easy and effortless means to you as a business owner
How do you discover your genius (what comes easily and naturally for you)
How to put in place key people and services that allow you to focus on your genius
Are you fighting gravity? How to stop.
Don't fight against the forces of the market, listen to them and design around it.
Don't be too closed minded that you miss opportunities that could make your business more easy and effortless
Mentioned in this episode:
Tweetables:
Transcription:
Jack: All right. Hello, everyone. This is Jack Bosch and…
Michelle: Michelle Bosch.
Jack: Wonderful. Welcome to the Forever Cash Life Podcast. What are we gonna talk about?
Michelle: The magic of easy and effortless.
Jack: The magic of easy and effortless. All right. We'll be right back and talk about easy and effortless.
Speaker: Welcome to the Forever Cash Life Real Estate Investing Podcast with your hosts Jack and Michelle Bosch. Together let's uncover the secrets to building true wealth through real estate and living a purpose-driven life.
Jack: All right. We are back and are we ready to talk about easy and effortless?
Michelle: Yes. I'm all about easy and effortless.
Jack: Wonderful. So here's the story. A couple of years ago, we always have a theme about our year. We have a theme. And a couple of years ago, was it last year, the year before? I think last year. We set up…Michelle came up with a theme of easy…
Michelle: It may have been last year.
Jack: …easy and effortless. So what does easy and effortless mean? Easy and effortless means really to me, and you can then explain what it means to you, means that we really wanna focus on the things that come easily to us. We wanna focus on the things within our business that are most easy and effortless to ourselves and then outsource all the other parts. We wanna focus on the kinds of business activities that are most easy and effortless to us. Instead of having to force everything, wouldn't it be nice to be able to do business in an easy and effortless way? Now, what does it mean to you?
Michelle: Well, it definitely means now it means exactly what you just described. And last year when we chose that as a topic for our year or as a theme for our year, it meant exactly that. But now I wanna, you know, go back in time to a point in time where that's not what it meant for me. I remember hearing this phrase and the phrase was "The less I do, the more I make" which kind of seems to go with this, but it really doesn't.
What I heard back then…or maybe it does. But what I heard back then and it was I think it was because of the level of evolution in terms of, you know, there's a ladder of entrepreneurship and evolution within entrepreneurship and where I was, I thought it meant I needed to be doing less, basically to make more, and doing less of everything. That meant bringing whoever it was that was out there, you know, to come into our business and help us basically because we were so overwhelmed and there was so much to do that we weren't necessarily bringing on people because of their genius or, you know, how they would complement our skill set. We just brought them onboard because we were overwhelmed with work and we needed help.
Jack: Got that so much to do. If you've never watched one of our episodes, we have multiple businesses. We have a land flipping business so we specialize in buying pieces of land or finding pieces of land from $5 to $25 cents on a dollar and then go flipping them online on a whole bunch of different websites many of which you've heard of and getting back our money two, three, five, or even 10 times over. And also getting cash flow from land in a form of again getting on a contract super cheap or buying them and then selling them instead of financing. So that's business number one.
There's a whole lot more a few moving pieces in there. Even though, it fits in the easy and effortless way because it's so much simpler and so much less entangled than other kinds of real estate.
Number two, we have an active educational part like teaching other people how we do our land flipping business and number three, we have a portfolio of rental properties that we're actively expanding, both in the single as well as in the multi-family area as well as commercial too, and that requires some time. And then we also wanna take some time off obviously right.
So doing all these pieces we were a little stretched thin and…
Michelle: So basically, in hearing the less I do the more I make sounded incredibly sexy. It's just that I didn't understand that basically, in order for that to really translate into easy and effortless it meant that, I would have to have some self-awareness as to what's my genius and what activities we needed to be involved in as leaders of the company so that we could bring on-board people that would complement those and whose geniuses were part of those activities that they were gonna come and help us with.
So now, we know that that is the unbeatable combination to really experience the ease and effortless.
Jack: Right, exactly. So if you start bringing in not just hiring people because you're overwhelmed but if you start putting into that picture your skills, and your likes, and your passions. The things that you're really good at and that you really like doing are the things you really should be focusing on and all the other stuff you should be there for outsourcing. The moment you do that, life becomes number one, more enjoyable, number two, the days fly by much more because you're working in your genius, and number three, if you actually positioned the people that are around you that are come into your business and are also taking up roles. If you position them in their genius areas, everyone has more fun and the results are literally exponential, right?
Michelle: Absolutely.
Jack: That's what happened in a year since then and that was one of our best years and it was also one of our most easy and effortless years. But I wanna translate this also to the beginning investor who perhaps wants to get started in real estate. If you're looking at real estate, there are a million kinds of real estate. There is house flipping, there is home selling, there is rehabbing, there is lease optioning, there is land lording, there are commercial properties, apartment complexes, there is… you name it, there is building up from the ground, land development and so on, and then there is land and lot flipping.
Now, we started in land and lot flipping because, subconsciously, we picked something that was already much more easy and effortless at the beginning because we didn't know anything about real estate early on back in 2002 when we got started. But knew we could entertain the process of buying something for $1,000 and selling it for 10. That would work, right? In most mindsets, it works. Therefore we got started in that.
My point is we were looking at all these different kind of pieces of real estate when we realized this is a lot of complications, this is even more complications, this one is really simple. So let's go focus on the simple stuff which is much easier and effortless than the complicated ones, yet at the same time give the same profits, and that is why we got into the land business. And soon enough after having done a few land deal, where we kind of stumbled into them, we realized that why even bother with all these stuff that everyone else runs after? Let's just focus on the stuff that works really well and that is easy and effortless.
So for your own business, you wanna look at whichever real estate you're already in, you wanna look at different kinds of real estate and then choose which one is the one that you'll have the most fun in, but also which one is the one that given the results, the ROI has the least effort? Then also when you build your business, then you wanna look at, as you start adding people, you wanna look at that second aspect of it.
Michelle: Absolutely. Because if everyone else that is working with you is in their genius you really get, you know, to kind of like everyone's like riding this wave of ease and effortless. It's not hard because everyone is enjoying what they're doing. They're bringing in their entire selves and that requires also from you when you start building your team up and bringing in either a VA or maybe it's your spouse or maybe, I don't know, regarding proximity who you're gonna bring on board. You start thinking about basically developing these people as well and making sure that they are also enjoying what they're doing and they are complimenting your skill set as well.
Then to take that even a step further, you know, as you're working your land business and you're basically your customer or your clients, or either your sellers who you're acquiring the land from or the buyers who you're selling the land from, you wanna start thinking about how can you also be, you know, transformational for them and how can you also make things easy and effortless for them in doing business with you and in transacting business with you?
At the end of the day, I remember hearing this or getting a definition of what the outcome. It wasn't a definition, I think we were at an event. I can't remember what event. It was for sure a business event but they talked about what the outcome of an enterprise or a business is. The outcome is supposed to create a sustainable system that allows you to consistently increase the quality of life in the lives of the people you serve. Meaning the people you serve sometimes at the beginning…
Jack: Can you say that one more time, that was the…?
Michelle: It's to create a sustainable system that allows you to consistently increase the quality of life in the lives of the people you serve. At the beginning, if you're a one-man show, you know, the life that you're improving is yourself, possibly also you're getting rid of the burden of…
Jack Bosch: Ownership?
Michelle: Yeah, ownership from a seller and you're helping in that way. Then eventually you start also increasing the quality of life of whoever you, you know, bring on board as part of your team and so on. And then your clients and it's always like a ripple effect outward. It's not just the profit, the spread between what you bought the parcel in and what you're selling it at, but it's much more than that.
Jack: It is much more than that that is a beautiful thing. Another thing I wanted to I guess quickly bring up is when we talk about easy and effortless, Michelle, you always talk about fighting gravity. Can you expand on that a little bit?
Michelle: Fighting gravity, well I think that's actually your term but I will explain in mine. What I think you mean by fighting gravity is when you're trying to will whatever it is result or outcome and basically willing it into existence and you're pushing and pulling and you're getting things done but you're exhausted, you're overwhelmed because you're having to push and pull basically, versus really following your intuition and not forcing gravity. Sometimes, the market is telling you for example in the land business, you might be having your mindset that you want in-fill lots from this particular county and then you send a mailing and nada, you know. There are no results or you send to three in parallel and then the one that you least expect is the one where you get having an overwhelming response even though that wasn't your emphasis or your focus in the beginning.
Maybe it was recreational properties out on the outskirts of a city where you were having more success but you've had your mind set on this. When taking this easy and effortless concept into a situation like this, it would be okay. The market is speaking, this is where I can be of service the most, where I can be of service to my sellers, where I can probably be most of the service to buyers as well, and so go there.
Jack: All right. That makes total sense, so in other words. Sometimes, we have our minds set so much on one thing that even though the market, and the world, and the powers in this world are screaming at us that the market is really somewhere else, we're so focused on one direct area that we don't even see what's around us. Here's another good example. On our house flipping buddies, we are part of a Mastermind. We love Masterminds. We run our own Mastermind the ultimateboardroom.com or just ultimateboardroom.com. We belong to Mastermind so one of the Masterminds we belong to has a bunch of house flippers on there.
So it's a nice high-level mastermind where you have to do at least a hundred deals a year to even be part of. We're in that group and we have been the only land flippers in that group for years. Now, we tell people, "This is what we do, this is what we're doing," but these guys are so focused on just what they're doing, they're just so focused on this one thing that they're never even willing to look beyond that. What happens all the time to them is they come to a house and the house comes with two empty lots next door, or the owner owns another five lots down the road. And they're saying like, "Would you like my lots too?" They're like, "No I'm a house flipper, I'm a house flipper. No, I'm not interested, I'm not interested."
Only now that competition in the housing world has gotten so bad that they have a hard time finding even house deals do they finally look up and we're getting request after request from them calling us and saying, "Hey, Jack. Can you tell me more about this land stuff now because I'm coming across these land deals all the time and I haven't done anything with them forever, but I'm having a hard time finding house deals." So basically, the world had to almost kick into their door into them and make their life really hard before they saw that they were for years walking away and passing up thousands and thousands and thousands of dollars in profits.
It's absolutely crazy why people do that, and we do that all the time in our lives. You do that all the time, we do that, we as humans do that all the time. We are so brainwashed into one area that we don't even look outside of that. That's what I mean let the market tell you. If you have a deal if you have a real estate deal, a land deal, and you get that land deal on a contract for $2,000 and you sell it for $15,000. The thing here is it's the only land deal that you had in that area. But now somebody comes, and in the process, you had five people fighting over that property. You made a $13,000 profit, nice average profit but you had five people on there and only one got the deal, the other four though called you and said, "Oh, my god. If you have another deal like that let me know." What does a normal person do? They're so focused and brainwashed that they say, "Sorry. I don't have any other ones," and they keep going keep going instead of just saying like, "Hey. Wait a second. You guys all will be willing to pay $15,000 or $20,000 for a property out here?" "Yeah, we would." "Okay. Let me go back to that area and go look for more deals in that area." Wouldn't that make sense?
That's letting the market help you make a fortune. Let the market follow you. That's going to easy and effortless way. Now, instead of what they're doing, they're going to, perhaps, hit their head against in another area where it's hard to get deals, or they're gonna go for another house deal, even though you might have to write 10,000 mail pieces to get a house deal and crazy things like that. Instead when they have all these open areas, all these possibilities for profit over here.
So if you enjoyed this, then I would love for you to go to…very simple to the website jackbosch.com/podcast and on that page, you can actually go subscribe to the podcast. If you're watching this podcast perhaps somewhere else that is not iTunes and subscribe to the podcast so you get notifications when the newest one comes up…or listening to the podcast. Also, you can also give us reviews. We would love for you to give us ideally a five star review on it iTunes. Also if you're watching this anywhere else, if you're listening to this anywhere else, make sure you go below you put comments in there, you subscribe to our YouTube channel.
Michelle Bosch: Or ask us a question.
Jack Bosch: Yeah, ask us question, put comments in there, ask us questions. Subscribe to the YouTube channel, subscribe to our Facebook group page, come join us in our Facebook group about land flipping which is MyOpenPathOfficial. It's My OpenPathOfficial or ForeverCashClub either one of those two names I think works. Then also if you wanna know more about the land flipping piece, you can go over simply to landprofitgenerator.com and we have some webinar coming up there in the next couple of days. So go under landprofitgenerator.com and go check it out.
All right. Any last words otherwise? Thank you very much.
Michelle: Thank you.
Speaker: Enjoyed this episode? Then make sure you like, subscribe, and post your comments and questions below the video. We're looking forward to hearing from you.

What are you thinking?
First off, we really love feedback, so please click here to give us a quick review in iTunes! Got any thoughts on this episode? We'd love to hear 'em too. Talk to us in the comments below.
Enjoy this podcast? Share the love!