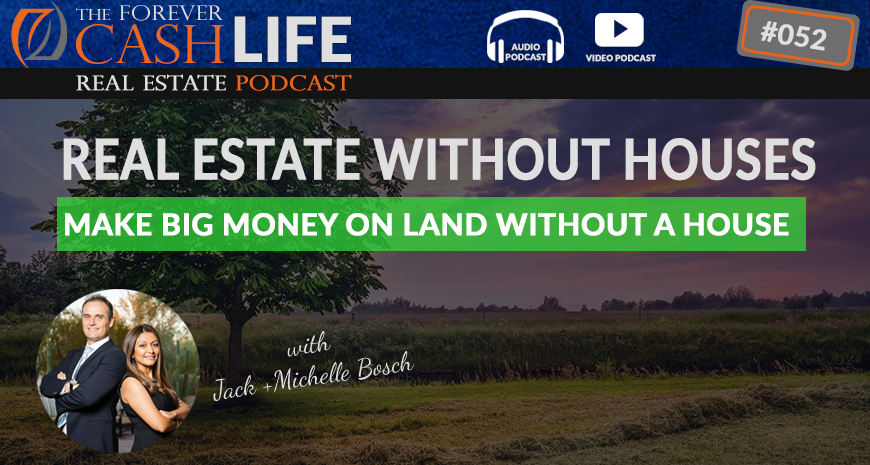 In today's podcast, Jack and Michelle talk about lot and land flipping. In other words, real estate without houses. Now here's the thing, with land and lot flipping you can do almost everything you can do with houses and some things you can't even do with houses. But there's plenty of things you cannot do with houses because of residential laws.
So there are so many different things that you can do with land and make tons of profits. And the biggest advantage to lots and land is that there's almost no competition. So, if you want to make big money in land without ever having to show a house, this episode is for you.
Listen and enjoy:
What's inside:
Discover the advantages of lots and land
Discover the disadvantages of houses
Make 10x on a land deal without stepping foot on a property
Have all your fixed costs covered just by land payments
Make money in an area that real estate agents don't want to be in
Mentioned in this episode:
Tweetables:
Transcription:
Jack: Hello, everyone and welcome to the Forever Cash Life podcast. Your hosts are…
Michelle: Michelle.
Jack: …and Jack. Today, what are we gonna talk about today?
Michelle: Well, I think we wanted to give everyone a little background as to how we got started and why we chose land versus houses.
Jack: Exactly right, we're going to talk about real estate without houses. Basically, simplification of real estate and how you can make the same profits that people make in the super high competition area of houses just without dealing with the houses. Now, what are we gonna deal with? We're gonna talk to you right after this quick intro.
Male: Welcome to the Forever Cash Life Real Estate Investing podcast with your hosts, Jack and Michelle Bosch. Together let's uncover the secrets to building true wealth through real estate and living a purpose-driven life.
Jack: All right, we are back. And in today's podcast, we are going to talk about lot and land flipping. In other words, real estate without houses. Now here's the thing, with land and lot flipping you can do almost everything you can do with houses and some things you can't even do with houses.
So in other words, you can do wholesaling of land and lots, you can do retailing of land and lots, you can do improving them, right? You can put water, sewer, sewer-septic and stuff like that on there. You can do additions that you can build on it which you can obviously add on to houses on it. The only thing you cannot do with land is you cannot rehab it, right? Because there's nothing on there to rehab it.
But there's plenty of things you cannot do with houses. You can't split houses, right? Because of residential laws, you're never gonna get the permission to split it. You can't really rezone houses if they're in a residential subdivision, but you can rezone land. So there are so many different things that you can do with land and make tons of profits. And the biggest advantage to lots and land is that there's almost no competition, almost no competition. Now Michelle, how many deals have we done?
Michelle: A lot.
Jack: A lot. The number is over..?
Michelle: Four thousand.
Jack: Four thousand deals. Since we have started in the end of 2002, we have done over 4,000 land deals. We stumbled into land, we wanted to get started with real estate. We are both not from here. I'm from Germany, you hear I sound like Arnold. Actually, I have a better accent than Arnold. But don't have as many muscles but I have a better family life, yes? And this is my wonderful business partner/co-founder of the business and wife, Michelle.
Michelle: Hi, everyone. So yeah, we actually started I think like everyone else wanting to get in real estate and an obvious thing because it's what's in front of you and what everyone's talking about is houses.
So I remember us, you know, looking at or hearing about possibly getting into the junker business. What I mean by that is, you know, low-income neighborhoods and finding junkers. So we used to drive around the crappiest neighborhoods here in town looking for houses that looked boarded up that we could basically buy in wholesale or you know, flip or rehab ourselves even though we had no idea what we would be doing. Because first of all, construction, you know, in Honduras where I'm from is completely different than it is here in Phoenix. At least, from the planning.
Jack: Here in the United States.
Michelle: Yeah, in general, yeah.
Jack: We happen to live in Phoenix.
Michelle: Well, the closest is Miami because we're building for hurricanes. So not knowing what we were doing so as a result not really thinking and I remember us…I don't even remember how we got that first house still, that first junker but it may have been us driving around, calling the seller, putting it under contract.
Jack: Driving around, finding the addresses, then going down on a free day from our jobs, going down to the county, figuring out who owns that property, finding that person's address and then sending them a letter. That's how we started. And then we got with that one triplex under contract in a neighborhood that's called Garfield, that is really not a good neighborhood. And by the way, that was 2002 and since then the neighborhood has not really improved a whole lot. Now across the street, it has improved but not in that neighborhood. So yes, go ahead.
Michelle: And I mean, this is a neighborhood where you shouldn't be there, you know, in the dark so…
Jack: At night, yeah. So anyway, we got still the market was hot, it was 2002, right? Real estate started to really come up again. Our local market had a recession in like the '90s, early '90s. But it was coming up esthetically since then. There was not much dotcom impact here in Phoenix because the dotcom bubble burst in 2001 but it didn't affect our market here a lot.
So the market was constantly going up. There were people starting to look for a lot of houses, a lot of competition starting to pop up, local REIA was just founded. So lots of people were starting to look and we got lucky we thought. And we found that triplex, put it on a contract, started marketing it.
Michelle: Put our little ad, Handyman Special.
Jack: That's right, Handyman Special. That's the way we were taught, we wrote the book, right? And with the Handyman Special and put the things on there and we got 20, I remember even the number, we got 28 phone calls and not a single one bought it. We were like, "What's going on now?" Now the next thing we were supposed to do was buy it and rehab it.
Michelle: And so before buying it we had the common sense of actually asking the gentleman that had just started the REIA here in Arizona, here in Phoenix, if he would come, you know, and visit this property with us and inspect it and just tell us what he thought about it in terms of like an estimate on how much he thought, you know, we would have to invest in terms of repairs in order to bring that.
Jack: I had forgotten about this.
Michelle: And I remember Alan, you know, coming down there and I mean, there were some serious foundation issues, there…
Jack: Everything was wrong with that thing.
Michelle: Everything was wrong with that property.
Jack: That thing needed to be basically torn down and rebuilt. And that's the reason why we never bought it. So luckily we got saved and we ended up doing the next logical thing, which is completely freak out and back out of the deal. Sent the guy his keys back and just like, "No, we don't want the property." Because he had to send us keys before buying the property so we could walk around to these properties and saw it ourselves. And we backed out.
So the next thing we know is like, here we are, immigrants, with no real estate knowledge, not even knowing the terminology of real estate. I mean, what is a 2×6 or a 2×4? It's like, "I don't know," back then. Now I know it's a piece of wood, right, that's probably behind this wall here, right? So we didn't know what to do and then we stumbled upon a couple of pieces of land, right.
One was a piece of land in California that we ended up wholesaling and making $30,000 on. And one was a piece of land in Northern Arizona that we bought for $400. And when we went up there to put a sign on the property, the neighbor came across the street and bought it right on the spot from us for $4,000. And that changed our world because we did not have to know what a drywall is, we didn't have to know what carpet cost, what the kitchen cost, what the bathroom costs to rehab, what plumbing cost, what the electricity is, whether it's 220 amp or whatever, all this kinda amp stuff.
Michelle: Copper wiring versus…
Jack: Copper wiring, whatever, all these different things that you have to learn before you go and really do a rehab deal was all foreign language to us. Literally actually, a foreign language to us. And we didn't have a clue but we were able to make 10 times our money on a land deal without even more than stepping three feet on it and putting a sign on the property. That just like blew our mind like our 10-year old daughter would say.
Michelle: We didn't even negotiate, we took the…
Jack: And we didn't even negotiate. The guy is like, "I offer you $4,000." I was like, "Really? Let's take it," right, remember that? So the bottom line is at that moment we realized one thing, that land is much simpler than houses.
The next deal we bought 40 acres for $500. And we sold it online in a matter of 10 days on eBay for $9500. So now, here's the thing. Did we have to show anyone how to get into that property and if there's mold issues or roof issues or water issues or electric issues or plumbing issues? No, we never showed any property…actually, untrue, we showed one, right, our very first one we showed in Northern Arizona to a seller. And we drove three hours to meet him there to basically say, "Here's the land."
I mean, they could've done it themselves, right, given the GPS coordinates. Nowadays GPS coordinates are available on Google, they're available everywhere. All you need to do is give somebody, "Here's the address, here's the location, go." They can drive themselves to the property, they don't need you.
Michelle: But you know what, it was a good adventure. Because I remember us like driving up there and like thinking about like, "Oh my God, I hope this, you know, this man, you know, likes the property." I mean, there's nothing there, there's just tumbleweed. And we were really scared that once we, you know, would drive up there that…I remember his name still, Casey, that Casey wouldn't like it, you know.
Jack: You remember his name?
Michelle: Yeah, I remember he used to hunt and he did this…
Jack: The 4,000 deals, I guess the first deals…
Michelle: …taxidermy or taxidermy, how do you call it when you stuff, you know, whatever you hunt. And so I remember going up there and meeting him you know, at the entrance of the subdivision and then us driving in the front and still like really like scared, you know, that he was not gonna like this property. And we drive up to the property and he like jumps out, you know, out of his pickup truck and he's like all excited, "Oh my God, this is perfect. This is exactly what I'm looking for." He's like so animated, I remember him clearly so animated, so excited about that piece of property. And all along, you know, on our drive up there, we're worried that this man, you know, might not like it.
Jack: Might not take the property. Yeah, but anyway, but that was our first time. We showed it because we didn't know any better, right? And then afterward we didn't show the property again. We haven't shown a property in 15 years since we started, 16 years by now, started this. So the bottom line is how can you buy land for $400? How can you buy land 40 acres for $500? How can you buy these properties at literally 5 or 10 or 15 cents on the dollar?
Well, here's what we're doing. We basically figured out over the course of three years, right, while stumbling along, while being frustrated in our jobs, right, while being frustrated traveling 100%. I had a job but I needed to travel 100%, be away from this wonderful young lady here and constantly gone and I really hated it. And that pain actually propelled us forward. Instead of letting it hold us down, we used it as juice to go and find and research and research and research and find that angle that would work for us in that moment. We didn't have any money.
Michelle: I missed my Romeo and he missed his Juliet.
Jack: Okay now, before it gets too romantic here, we might have to put the curtain up soon, right? Now let's keep going.
Michelle: Sorry.
Jack: That's all right. So the point is, we kept going and looking for angles. Because in that situation, we were both immigrants from other countries, we had no money. We just started a home, we just got married, we just bought or finally bought our starter home with a 97% FHA loan, we had built up our credit over years painfully. We had done all the right things in order to build a life and build the American dream. But we found ourselves in a job that was traveling like crazy with more debt than we had when we even came to this country and up to here with bills and we did not like that.
But instead of it holding us back, we used it as juice as I already said. And we started looking at these deals and soon enough, what came up is that land. We stumbled upon these land deals and we realized that what we had found is we had found people who no longer wanted their properties. What they had in common after deal after deal after deal is they had owned these properties in many cases for many years, or they inherited these properties, or they got them in a divorce or something like that. And they just did not have a use for these properties anymore. Their life plans had changed for other reasons I think. So they just didn't want those anymore.
And because they didn't want them anymore and because these properties are not worth millions but they all had something in common, they're all worth between $10,000 and $100,000. We made that our sweet spot. So if you look at other videos that we have created in this channel we talk about things like simplify to multiply.
Michelle: And it's a spot where not even realtors wanna play in.
Jack: It's a spot where realtors don't enjoy playing in because their commission is not high enough, it's a spot where most sellers are left on their own. But what most sellers don't have a clue about is how to even put these properties out there, the simplest, very basic marketing ideas. Most realtors, excuse my language, suck, right? There are some really good ones out there but most don't know what they're doing. What?
Michelle: You're trying to backpedal.
Jack: Backpedal, no, I'm not. It's the 80/20 rule, right? And so we're dealing in a world where there's a bunch of properties that the owners don't want anymore. They have tremendous value in them, they are $40,000, $30,000, $50,000, $70,000, $80,000 and we're dealing in this world where these people don't want these properties yet these are gorgeous properties.
They are infill lots in the cities, these are lots in the more rural areas, these are larger acreage, these are lots 2, 3, 5, 10 acres, right, in the outskirts of bigger cities, right, in the path of growth. They are 5, 10 years down the road they're are gonna be worth much, much more, but for one reason or the other, these sellers don't want them anymore, they don't know what to do about them and one thing they all have in common, they hate paying the property taxes every single year.
Now some stop paying property taxes and those provide good opportunities but many pay their property taxes grudgingly. And once we figured out how easy it is to actually contact them, we started contacting them in masses. We started contacting a lot of them and what we got back was an overwhelming response from them. We got back like response rates of up to 20% from people.
The most we have ever done is we sent out 100 letters, we did send direct mail out then. And we got 55 phone calls and we bought 35 properties in that subdivision. Now that's not normal, that was an extreme case but that was the most and these were low-end properties, only worth $4,000 or $5,000 but we only paid $400 for them, sold them for $4,500 each, made $150,000 in the process.
Michelle: Yeah, and I think originally, you know, we thought there's a larger correlation with people that didn't want their piece of land if they were delinquent in their property taxes and I mean, that actually was true. But then we figured out that even if they were not delinquent, you know, that they still grudgingly, you know, paid their property taxes and were ready to part ways with their piece of [inaudible 00:15:06].
Jack: Right, so initially, we actually came about that through the tax lien and tax deed world. So we found out that there's people, that in this country don't pay their property taxes and their property goes to a tax lien sale or a lien is being attached to it and then the lienholder can foreclose on it or to a tax deed auction where the actual property gets auctioned off. And in our attempt to figure this out, Michelle one time went up to Northern California to a tax deed auction armed with all the money we had which was like $3,500 and wanted to…
Michelle: In a Dodge Neon with MapQuest.
Jack: And got a Dodge Neon with MapQuest, Google Maps wasn't even around yet. And tried to find these properties and then she went to the auction. And needless to say, what happened at the auction?
Michelle: We got zero.
Jack: We got nothing, why? Because there were a bunch of people attending this auction, they had their eyes set on these properties and they started bidding these properties up to $10,000, $15,000 each.
Michelle: Yeah, incredibly competitive environment.
Jack: Well, we learned two things from that. Number one, there is people willing to let their properties go and get absolutely nothing in return. And number two, there is a lot of people willing to buy these properties for $10,000, $15,000, $20,000. So the third thing we learned is that the auction environment is a tough environment. So what's the next step?
We started talking about it and discussing about it and over dinners and glasses of wine, figuring out, or beers, started to figure out what to do. And one day we came up with the idea of what if we don't go to the auctions? What if instead, we figure out what these people have in common and how we can get ahold of them directly and go contact them freaking directly?
So we sidestepped the entire auction environment and we even on top of that go to, as Michelle just said, go to people who haven't even paid any, don't even owe any property taxes because we had that hunch that there's a lot of people out there that still pay their property taxes but what they really want is to get rid of the burden of property ownership, to them, it's a burden. The realtor's not supposed to do a lot of [inaudible 00:17:10].
Michelle: Plus we knew from the auction environment that you know, these properties were going to auction because they had been delinquent, you know, more than five years or three or more years in paying their taxes.
Jack: Different states, yeah.
Michelle: Yeah, in different states. And so we're like, "Okay, well, you know, these are people that you know, where the properties have gone through a process of five years of being delinquent." I'm like, "Why don't we get them you know when they made their decision in year one or year two or even prior to?"
Jack: Right, we get them early on. Or what if we even get them before they even stop paying property taxes? And ultimately, this is the foundation for the 4,000 deals that we have done. Now part of these 4,000 deals is some rental houses, some house flips, some apartment complexes and stuff like that. But 95% of that have been, or 90 plus percent of that has been these exact land deals.
Now the beautiful thing is when somebody in that price range where banks don't lend them money, lend on these loans and these properties so they're actually free and clear, right? Banks don't lend on these properties so they're free and clear. They're free and clear, they've been owned for many years and many times they have been inherited so the people don't wanna pay property taxes anymore, realtors are not particularly interested in listing these properties.
It's a perfect scenario and nobody in the high competition real estate world even goes after them. It's mind-blowing, everyone is like lemmings going down the house flipping area. They're watching "To Flip This House" and "Flip Vegas" and "Flip Atlanta" and flip whatever it is, flip and flop and so on, all these different flipping shows because they're sexy. But you know what? There is something to be said about making money in areas that might not be the most sexy but they're hidden from plain sight because there's no tv shows about them but they're just freaking cash cows.
And that's where we started. And then in 2008, actually when the market crashed, we were on top of it. We saw that our system kept working through the recession. We kept flipping properties when everyone else was kinda like…blood was on the street and everyone was losing out.
So at that moment, we started teaching that. And now you can learn the same thing. So we have programs about that, you can go to www.landprofitgenerator.com and just learn about it right there. There's some videos you can watch and the webinar training class that you can watch all for free, you can watch it all. We wrote a book about it, you can go to forevercashbook.net, get the book down there, it comes with a kit. You can subscribe to this YouTube channel and learn some more about it.
But the bottom line is this technique allows you to buy pieces of land and lots and infill lots. Really, really try to focus on three kinds of properties. Number one, the lots right on the outskirts of big cities, right? If this is the big city, right outside here where the city's growing. Number two, the infill lots right in the city. They're ready to be picked up by builders right now. And number three, the large acreage in more recreational areas where people wanna go on the weekends, have fun, build a cabin, bring their RVs and so on.
These three properties have proven over the years to sell the quickest, make you the most profit and have the highest demand out there of all land properties. And that's what we're focusing on. And with this technique, you can pick up these properties in many cases for anywhere between 5 and 25 cents on the dollar. Why again? Because people don't want them. They don't understand it, they don't understand the simplest part on how you can sell them because in the reality you can sell them very quickly, you can sell them very quickly.
And if you go on jackbosch.com/land or landprofitgenerator.com, you see there are some success stories. People flip these properties often as quickly as two days in some cases. So that's what we've created. And we've done over 4,000 deals already, our students have done a combined probably 10,000 deals already.
And if you join us in our Facebook group, My Open Path or Forever Cash Club, whichever name you choose should be showing up for that, My Open Path official or we might rename it to Forever Cash Club, you join us there, you'll find literally over 1,500, almost 2,000, or multiple several thousand people that actually are engaged in this all across the country listening, helping each other. And we credit this community, we would love for you to join it.
Michelle: Absolutely.
Jack: All right, so this is what we wanted to share about the land flipping, how it is an alternative, a simplified alternative for real estate, yet with the same profits. And some things like splitting lots, we'll do another podcast episode about how to split lots so you can literally triple, quadruple your profits by splitting lots. And then the last thing I wanna share just quickly before we finish is we even learned how to make land cashflow. Can you talk about that for a second?
Michelle: Jack's like whispering. He doesn't want anybody to know about it. Yeah, everyone says you know, that land doesn't cash flow, that you can't really make it cashflow but we figured out a way to make it and that's simply by offering seller financing. We noticed that when we, you know, had properties out there listed on eBay that people would often ask, you know, "Would you consider a down payment and me making payments?" And up until that moment really we hadn't considered it. We were really only for looking for that cash sale, that quick flip basically.
Jack: We didn't even know it was legal.
Michelle: We didn't even know it was legal to basically…
Jack: Which of course, it is.
Michelle: …to become the bank at this point. And so that's kinda how we stumbled into it because somebody asked us if you know, we would be willing to take payments and we're like, "Well, yeah, you know, why not?" Especially when you buy them at such a low price, you know. The very low down payment that they were offering many times over already paid for the lot. So it was a no-brainer.
Jack: You take a $30,000 property that you get for $3,000, you sell it for $25,000 and you ask for a 15% down payment. So you're getting $3,700 as a down payment for something that you paid $3,000 for.
Michelle: And then I remembered that the monthly payment, you know, they said, you know, "Could you extend that out for maybe, you know, a 10-year loan?" And I thought, "Oh, you know, that kinda seems long." But then, you know, I put it in an amortizer and figured out that they were gonna pay us like a little bit over $200 bucks every month and I'm like, "Wow, for 10 years this person could really make our car payment."
Jack: And sometimes $300 or $400.
Michelle: You know, and all of a sudden, that piece of land was making our car payment and that was fantastic.
Jack: And the next piece of land paid for our electricity bill. And the next piece of land paid for the car insurance, the next piece of land paid for I don't know, for our dinner money, right, or grocery money. The next piece of land, the next piece of land and soon enough you have 10, 15 of these pieces of land and you have all your fixed costs covered just by land payments. And that's when we realized the power of being the bank.
Michelle: And self-financing.
Jack: And the power of being the bank and without having to have any cash, right, because you got that part. If you put a property under contract for $30,000 and you find somebody willing to give you $4,000 as a down payment, you do that deal in the moment that you buy and sell the property, you do that in the same day, you buy it and sell it. You put in $3,000, you get back $4,000 and now you get $300 a month for the next 10 years. Let's say $300 for the next 10 years, you've just gotten $1,000 that came out of nowhere and you get $300 a month.
Michelle: Magic.
Jack: Magic, and you get $300 a month for the next 10 years. How many times exactly would you like to do that is what we ask ourselves, right? And then all of a sudden, we put the pedal to the medal and it took us 10 months from the first deal to the day that we quit our jobs was 10 months. In 10 months we paid off our student debt, we paid off our credit card debt, we paid off one of our cars, we paid off all our other kinda debt that we had, furniture debt.
The only thing we kept is the house debt and we put one year's worth of living expenses on the sideline. And then we felt comfortable enough to step out from employment into the big, scary world of self-employment. Because you never know if it's gonna stop tomorrow, right, we thought in our minds. Obviously, it didn't. Because what happened next is another eight months later, we had hit the $1 million mark, right?
So that's the thing, that's what we want to share, this is what this land for our flipping program is about. This is what you can go to, again, to landprofitgenerator.com, watch some videos and attend the training class. But the bottom line is when accomplishing this we all of a sudden started living what we call the Forever Cash life. The life of cash flow, the life of traveling around the world and now fast forward right now, what did we do last year?
Michelle: We traveled around the world for six months.
Jack: That's right, we took our daughter out of school and homeschooled her with a private teacher for several months and then we traveled for months at a time around the world. Isn't that beautiful? We even got to pet a tiger.
Michelle: Yes, we did pet a tiger. Well, at the beginning it was just you and her, I thought it…
Jack: She was too scared.
Michelle: Yeah, I was like, "These guys are insane," but then I thought, "When am I gonna have the chance to pet a tiger again? Let me go back."
Jack: So we went and all pet the tiger in Thailand, right, that's where it was?
Michelle: Yeah, it was in Thailand.
Jack: And we went to Japan, to China, to Hong Kong, to Italy, to France, to Germany, to Switzerland, to Argentina. And right now, we're going to again Europe and Egypt even around. So all paid by the Forever Cash lifestyle thanks to these kind of deals.
Michelle: We're gonna go and make sure that the pyramids are not just inflatable.
Jack: That's exactly what we're gonna do. So that's our internal family joke by having watched too much of what's the movie with the minions?
Michelle: I don't know, I think…
Jack: Whatever that movie is.
Michelle: Yeah, Despicable Me.
Jack: Despicable Me, all right, with that, thank you very much, everyone. Again, go subscribe, leave us some feedback. I hope you enjoyed our little back and forth here. And we'll see you on the next podcast episode.
Michelle: Bye.
Male: Enjoyed this episode? Then make sure you like, subscribe, and post your comments and questions below the video. We're looking forward to hearing from you.

What are you thinking?
First off, we really love feedback, so please click here to give us a quick review in iTunes! Got any thoughts on this episode? We'd love to hear 'em too. Talk to us in the comments below.
Enjoy this podcast? Share the love!