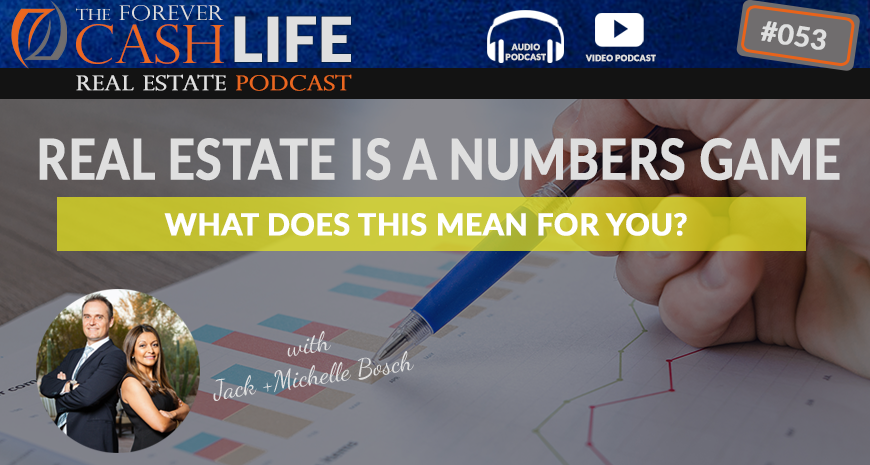 Jack and Michelle talk about the fact that real estate is a numbers game and how that affects the way you approach marketing your business. You'll find out what do you need to know in order to go withstand dry spells or any other situation where you start doubting any real estate investment system that you are applying.
You'll learn about how basic statistics and how that informs how to target your mailing strategy. Jack and Michelle will give you an honest look at your chances within different real estate investment systems to make sure you that close as many deals as possible.
Listen and enjoy:
What's inside:
Learn about how The Law of Large Numbers can work for you
Take a realistic look at your chances within the real estate market
Find out if you are in the right county or not
Choose the best real estate investment system with the best chances of success
If the number is large enough, it will revert to the median
Mentioned in this episode:
Tweetables:
Transcription:
Jack: Hello and welcome to the "Forever Cash" live podcast.
Michelle: Your host, Michelle and…
Jack: Jack. What are we gonna talk today about? I think we're going to talk about that real estate is a numbers game and how does that reflect in your business, and what do you need to know about that in order to go through any kind of dry spells or any kind of situations where you kind of start doubting any real estate investment system that you are applying. Does that make sense?
Michelle: Yup.
Jack: All right. We'll see you right when we get started.
Male: Welcome to the "Forever Cash Life Real Estate Investing Podcast" with your host Jack and Michelle Bosch. Together, let's uncover the secrets to building true wealth through real estate and living a purpose-driven life.
Michelle: Hi. We're back.
Jack: All right. We are back and we're like, okay, let's talk about this. So Michelle, when we say real estate is a numbers game, what does that mean to you?
Michelle: Well, that means that I'm going to have to basically, you know, look at the law of averages and I'm gonna have to blanket, you know, certain counties, be strategic about my mailings. And based on, you know, the number of mailings that I send out, I'm gonna have a percentage of, you know, people that are actually gonna call me and that we're gonna make offers on, and that we're gonna make, you know, actual deals with.
Jack: Right. So, there is… If you're looking at real estate then you wanna look at it, or any business for that matter, is you're never gonna hit 10 out of 10, right?
Michelle: Yeah.
Jack: You're gonna go no matter what your business is particularly if you're in sales you know that. You go do 10 sales calls, it turns perhaps into 1 sale. So, there's one person that says like, the faster you get to…
Michelle: Even our 10-year-old understands that, like, she knows that she needs to knock on, like, 10 to 15 houses before, you know, and get nos before she gets a yes to sell Girl Scout cookies.
Jack: Girl Scout cookie.
Michelle: Absolutely.
Jack: Yeah. Because some people are not there, some people are gluten free even though they have a gluten free cookie now. Some people already bought from the other neighbors' kids and then every perhaps it's not 10, 15, but probably 5th to 8th house they're saying, "Yes, we'll buy it from you." Right? So, she understands that. Okay. And you need to understand that too because no matter what kind of real estate you do it's always a numbers game. Now, that numbers game is influenced by what? It's influenced number by my competition, right?
Michelle: Absolutely.
Jack: Now, does competition mean you can't do deals?
Michelle: Absolutely, you can. You just need to get creative and like I said, be a little bit strategic as to where you go ahead and send your mailings or what kind of follow up or how you're gonna differentiate yourself, you know, from your competitors.
Jack: Exactly. Or what niche you choose, right?
Michelle: Absolutely.
Jack: So, here's some numbers in the numbers game that I've seen because we're both, or whatever, we have seen because we're both part of a mastermind for example of real estate investors. We have our own mastermind for our own real estate investment technique and here are some of the numbers, like in the house flippers for example, if you wanna do whole selling of houses, on average a lot of people do direct mail these days. And the house flippers on average have to send 7,000 mail pieces before they get 1 house. Now, here's the thing, here's the beginning investor, goes to a seminar and is not being told that because no guru out there tells you that if you go to a housing event, it tells you that you have to spend like, $4 grand in marketing cost to get a house, right? So, they go out there and they send 500 letters and then it doesn't work.
Michelle: And your spread is $5 grand, $10 grand?
Jack: Yeah. Their spread is $5 grand to $10 grand on these wholesale deals. So, you're barely making any money [inaudible 00:03:35]. Every once in a while you might get a big deal and so on that averages out. But now, they do 500…perhaps you're courageous to do 2,000, 3,000 letters and what's their chances of getting a deal? Well, if on average they have to send out 7,000 and they send out 3,500 on the high side, the average is like it's a 50% chance. It's a coin flip whether or not they're gonna get a deal, right? So, at the same time in the apartment complex site, we're buying apartment complexes too. We have 90 units on the contract. Right now, we're putting some more in a contract this week and in that environment we have to probably look at 100 apartment complexes, not physically, but analyze the numbers of 100 apartment complexes for it then to be even in the ballpark of making sense.
Michelle: Fitting on a box.
Jack: Fitting on a box. Then on about five to eight of them, we end up putting in letters of intent and we get one of them accepted. Right?
Michelle: Because that's not just us putting letters of intent. There's other…you know, five other buyers trying to buy the same piece of property as well.
Jack: Or the seller goes… I mean, you see all kinds of stuff. We just, the other day, we put out a letter of intent for $25 million and the guys came back, and said like, "That was the asking price." what it made sense as asking price and that was our maximum. And then after he was like, "Well, if you haven't offered us the asking price…" And they old us, "At this price you'll get it." So it was like, "Okay. Let's not play around." We put in the $25 million offer in. And guess what, they now they want $27 million. And so, we said, "No." And so on and so forth, but then we got other deals that we're putting on a contract right now. So knock on wood, right? And so, and in our land flipping, in our real estate land flipping area, the numbers are completely different. One of the numbers there is our student gets about a deal. We also do direct mail for every 300 to 500 letters they send out. Now, isn't that better? And the spreads are by the way the same if you do it the right way.
So they're doing… By the way, you can find out more about that by going to… What is the name? landprofitgenerator.com or jackbosch.com/land. And we'll put it in the show notes, we'll put it below this video where you can go to find more about that. But even there people are complaining that they send out let's say, 1,000 letters or 1,500 letters and sometimes they don't yet have a deal. Somebody just recently basically posted that they have sent out 3,000 letters and they didn't get a deal yet. Now, why is that, Michelle?
Michelle: They must be in a very competitive county and I hope that they didn't spend all 3,000 on that one county, but it's spread around, you know, 3 to 5 counties or…
Jack: Absolutely. So, here…
Michelle: So, you can actually find which are the counties that are gonna be working for you and then on those you go deep.
Jack: Right. So, the way what we do is with the land flipping is very simple. We talked about it in another podcast already. We are focusing on the below $100,000 piece of land and usually in the outskirts of town. Like, that's one of our major markets where we go buy in the outskirts of bigger cities. Well, what happens is that our way that we recommend is that when you get started, as you pick multiple counties and send, like, 500 letters each to them to see which one would respond well. Well, it might be that if you pick five counties, three of them don't give you any results and two of them do. But it also there's something there called the law of averages and the law of the large number. And the law of the large number is really what comes into place here that people constantly forget. Do you remember how the law of that works?
Michelle: Well, if you send… For example, if you're in a room with 100 people and you're wanting to find out who has the golden ticket, it might be that you have…
Jack: Let's say there's three golden tickets in the room.
Michelle: Yeah. It could be that you have to get through 97 people before you find the 3 golden tickets or you could find it already the first one at the second, you know, person that you ask about the golden ticket and so on.
Jack: Right. Exactly. So the thing is… Exactly. That's the key. So, unless you get to a critical number of the law of large numbers, it basically says that if there is a deal for every 300…let's say, every 400 letters that you send out, you can't automatically expect that if you send out 400 letters there's gonna be a deal in there. Because you might have to send 4,000 letters and all of a sudden you get nothing for the first 2,500 or 2,000 and/or 3,000 the last 1,000, there is 10 deals in there. As a matter of fact one of our students, Marcus, that happened to him. He sent 3,200 letters out there.
Michelle: However… That is a possibility. But it's also possible that that person is just working the wrong county.
Jack: That is true, that is true.
Michelle: So, you didn't wanna be digging up a bigger hole and just…
Jack: Yeah. You don't wanna be digging out. So you want to be smart about it and want it perhaps if there's 500, if you send a test mailing there's nothing that comes back from it then go switch counties. Because at the very least the first indication is that people call you back. So, when people call you back you know that there's interest and then the county where nobody calls you back, well, go move to another county. Right? So, go move to another county, but finishing that thing… But Marcus, what happened to him is he sent 3,200 letters out, 0 deals, then he sent out another 1,000 or 2,000 letters out and he has 24 deals on a contract. So now, look at that, that's about 5,000, 6,000…let's say 6,000 total letter sent out, 24 deals. What's the average? Less than 300 letters per deal, right? So, the average is… The fact is it's a numbers game and the law of averages says that…and the law of the large number combined says that if your number of letters or number of direct mail that you send out is large enough, then it will revert to the median, it will revert to the average. And if the average is 300 to 500, it'll get there, you just need to send enough letters or if you'd go driving for dollars, right? If you go driving and looking at doors, and looking at boarded up houses, and stuff like that it's the same thing. Right? You need to find 10, 20, 30 of them, find out their contact information, send them a letter for 1 or 2 of them or 5 of them to respond and you perhaps get 1 of them. But then is it possible that some days you look at 50 of them and you get nothing? Yes. But the law of averages will always come back to it, it applies everywhere. Heck, it even applies, that does not relate to that, it even applies in the casino, right? You play the 50/50 or the coin toss like the 50/50. You flip the coin and it's five times heads in a row, you're like, "What's going on?" While you flip the coin 1,000 times and I guarantee you it's not going to be 1,000 times head. It's going to be 495 times head and 505 times tail or the other way around or it's very close to averages already. That's really the truly thing and if you understand that, that actually applies to anywhere in business.
Michelle: Yeah. Pretty much.
Jack: Doesn't it?
Michelle: Yeah. Absolutely.
Jack: It applies everywhere. So, keep that in mind.
Michelle: Excuse me.
Jack: And here's now the key thing, if you know… One of the questions you should ask before you get into any kind of real estate investing technique is what is the average? Because do you wanna send out 7,000 mail pieces to get a house and make $5 grand to $10 grand or you wanna send out…or you wanna analyze 100 apartment complexes, have to raise $303 million, have to go through all this mega complicated process which the only reason we do it because we have been in real estate for 15 years, we have gained the confidence, gained the capabilities, gained the network to be able to do this now, or do you wanna make $10,000, $15,000, $20,000 a deal by only on average sending out 300 to 500 letters? So, you choose which is the biggest bang for the buck and to us it was pretty obvious. It's the land and in another way it's the apartment complexes. We'll talk about that a little bit more in a future podcast, but the land and the lots is the simplification, it's as simple as it is because you get the same result, the same profits but with much, much less effort. But you've gotta understand that you can't count on the first deal coming in with the first 100 letters. You've gotta go for some volume and if you understand that…
Michelle: Although it could.
Jack: It could. Of course, it could. We have people send out 10 letters and make $50,000 to $70,000. Right? I mean, but that's the same…the law of averages means that with the golden tickets you have a 3 golden tickets in a room of 100 people, they could be, if you ask who has the golden ticket or if you go to the front row, everyone has a golden ticket, get up, stand up. Right?
Michelle: Yeah.
Jack: There might be all three golden tickets in the front row and you're done, right? And you know, boom, I got my deals. But the chances are somebody who hits it in the first 10, at some point of time they're also gonna hit a dry spell and the average is gonna revert back to the law of averages. Right?
Michelle: Yeah.
Jack: All right. Now, in our course, the Land Profit Generator, we have additional kind of ways that you can increase the number of deals per thing. There's follow up offers possible, there's an entire follow up system that you can follow, and so on. So, you're doing proper follow up actually can make a big difference in there. So, if you wanna know more about that, go to jackbosch.com/land or just post a comment on here and that's… What else do we wanna talk about that?
Michelle: No. Just in general. I mean, any business will have competition. So…
Jack: Yes. Competition, let's talk about the competition factor.
Michelle: So, it's actually…it's a non issue. You just, like I said earlier, you just have to be creative, you have to be strategic about where you're mailing, you know. Like, I was telling Jack, you know, about a post that we had in one of our groups yesterday, I'm like, you know, people just need to understand that, you know, welcome to business, welcome to entrepreneurship when you do face competition. And now, it's time once you've, you know, come across it, to put on your big boy and big girl panties, and go out there, and make some money, create value, and just keep going.
Jack: I love it. I mean, that's exactly right. So, there is competition… Again, that's the other question you want to ask. How much competition is in the market? Houses right now have a tremendous amount of competition. And is there some competition in the land and lot world? Sure. Yeah. If you're going to where everyone else goes then, sure, there's some.
Michelle: All the counties that have everything easily available, you know, because they're super technologically advanced and all lists are available. They're available to you and they're available to all your competitors. Counties that are less, you know, advanced technologically where you actually have to work a little bit to get the list…
Jack: Oh, my God. You have to work?
Michelle: Oh, my God. Yeah.
Jack: Oh, my God. You have to work? Yes, people. You have to work a little bit to make a killing in real estate, right?
Michelle: Yes.
Jack: You have to work a little bit. You just choose where you have to work the least amount.
Michelle: Yeah. Absolutely.
Jack: And that is still in the land and lot area. All right. So, with that again if you wanna know more about this program, you go to jackbosch.com/land. We'll put it below here, but also I want to ask you…we want to ask you for a favor. Can you go below this video, wherever you see this video, on YouTube, on Facebook, wherever it is, or if you listen to it as an audio, go still in there. If you have the ability to put a comment below, then put a comment below with an example of exactly what? Of something that is…
Michelle: Basically where you've encountered whether it be in the land business or whatever you've, you know, you've worked on in the past where you've had the law of large numbers basically come into play and you've seen it in action working basically. Give us some examples.
Jack: Give us some example where you had to stick it out and…
Michelle: Something… That needed a critical mass, you know, whether it was at the gym to see, you know, your big guns or whatever it was basically.
Jack: Yes. Whether it's a game or Girl Scout cookies or whatever in your life that you have experienced that to be true, put it out there. We wanna start a little discussion about that and we wanna see what you guys think about that. All right. Thank you very much.
Michelle: Thank you.
Jack: We are signing off. Thank you.
Male: Enjoyed this episode? Then make sure you like, subscribe, and post your comments and questions below the video. We're looking forward to hearing from you.

What are you thinking?
First off, we really love feedback, so please click here to give us a quick review in iTunes! Got any thoughts on this episode? We'd love to hear 'em too. Talk to us in the comments below.
Enjoy this podcast? Share the love!