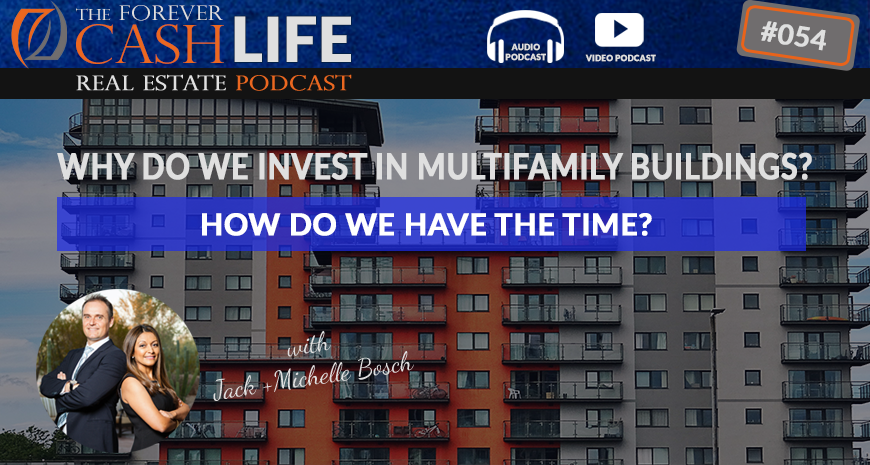 In this episode, Jack discusses a question that he gets all the time: "Why are you adding multifamily buildings to what you do? Aren't you the land and lot people?" There's a very good reason for this, and it all comes down to how Jack and Michelle structured their business. In this episode you'll get more insight into their background, where they are today and why they are able to add an entirely new segment to what they do.
You'll also discover what makes Jack and Michelle tick. Once you have a business that runs itself, you need to challenge yourself to learn more, right?
Listen and enjoy:
What's inside:
Learn about Jack and Michelle's history
Take a closer look at how Jack and Michelle's business structure empowers them to take on more challenges
Discover an accelerator on the Forever Cash System
Learn to live life full-out
Automate your business
Mentioned in this episode:
Tweetables:
Transcription:
Jack: Hello, Jack Bosch here again. I am back in our podcast office here. Again, this time I'm again alone. Unfortunately, Michelle is not here. She is out of town again right now or in a meeting actually. And so I didn't wanna wait any longer to put out another podcast episode. This podcast episode is going to be about the question of…that I've gotten lately quite a bit is like, "Jack and Michelle," well, she's not here but and Michelle, "you guys are known as the land guys, right? Why the land guy? Why are you adding multifamily? We heard you're adding multifamily to what you do. Why are you adding multifamily to it?" Now, first, I'll say, first of all, I wanna just clarify that we are only adding multifamily as an investment strategy, not as a teaching strategy because I truly believe in land and lot flipping as the simplification of real estate. And real estate without houses, real estate without tenants, toilets and termites, so it's a simplification of real estate. But, yes, we have added multifamily to it. And right after this little segment, I will share with you why.
Announcer: Welcome to the "Forever Cash Life Real Estate Investing Podcast" with your host Jack and Michelle Bosch. Together let's uncover the secrets to building true wealth through real estate and living a purpose-driven life.
Jack: Okay, guys. So, the question is, why in the world do we add to what we do this monster of multifamily investing? Well, here it goes. Now I don't have a copy of my book here with me right now, should have brought one with me up. But anyway, it's out of print. If you want one, you can go to forevercashbook.net. Again, N-E-T, forevercashbook.net. We still have I think, like, not more than a couple 100 books left from all the entire print. It's out of print right now, but you can get still one out of forevercashbook.net. Just for shipping and handling so for $6.95, if you live outside of the country, it's $11.95 because there's higher shipping costs. So you can get that for $6.95, which is basically a free book, you just pay for shipping. And you get a bunch of package of other stuff with it. So, go there if you would like that book.
Now in that book I talk about…and Michelle and I talked about…it's really, it has my name on it, but Michelle and I co-created this book. And it talks about the three types of cash. You already listened to that, you already know about that, we talked about it. One-time cash is you make money once, temporary cash is you get paid again and again, but it ends, and forever cash is the true Holy Grail of financial world, is you get paid for the rest of your life, and not just your life, for your kids' lives and for your kids' kids' lives. And you really can generate generational wealth.
So, here's our story. We started in 2002, you know our story, right? But just the 30-second version, not gonna bore you with a longer version. We started in 2002…actually, we started in 1999 wanting to get into real estate investing, not having a platform, not having an educational basis, Facebook didn't even exist. The Facebook group, Forever Cash, that you can be part of right now, you can join that group. Go on Facebook, search for Forever Cash and you can join that group for free right now and see where all our students are hanging out and doing deals. And you can see their deals and ask questions and participate in that. You can go check this out. But we started without any of that and we had really no place to go. We didn't know what to do and it took us three years to figure out real estate investing.
So, here's the deal. We had no knowledge about real estate. I mean, you can tell from my accent, I'm not even from the US. I'm American citizen now, so is Michelle, but we are…I'm from Germany, Michelle is from Honduras, Central America. We didn't come here with any real estate knowledge. So, we came here with no real estate knowledge and we had to learn everything from scratch. Well, the thing is because we didn't know anything, we shied away from houses and we discovered this amazing technique of land flipping. So, land flipping is amazing to get out of debt, it's amazing to build cash and cash flow, right, it's amazing way to get real state without houses done, right? Land and lot flipping is the same. You can do the exact same thing you can do with houses, except there is no houses, "Yay," and now, therefore, no tenants, no toilets, no termites, no mold, no roof repairs, no contractors, none of that kind of crap. So you can make the same deals there.
So, it's amazing technique and that's the technique that we teach, the only technique that we teach, the only technique that we've been teaching that for 10 years, over 10 years, around the years. And this technique has literally changed the lives of thousands of people. We are on a mission to create 1,000 millionaires in the United States. And we've already created several 100 of them. Super excited about that. But here's the thing, as we went through this transition ourselves, first our goal was to just replace our job, right, just replace the jobs, make like $50 grand, $60 grand, $70 grand a year, just get rid of the job so we can have the freedom of being together because my thing was Michelle was working in one area, I was working in another area and I had to travel 100%. I didn't like that. So, I wanted to quit that and be able to go there.
Now Michelle was the first one to start it full-time. She got me free out of my job using the land business. And the land business, we got cash deals, made 10, 20, 30 grand a deal. Awesome. Only took a few of those and within 10 months we were financially set in a way that our student debt was paid, our consumer debt was paid, our cars were paid off. And we had one year's worth of money on the sideline and we were able to quit our jobs. So, now after that, we did that basically with mostly what we call one-time cash, we were just flipping. Flipping you get paid once. Then what we did is we started also doing seller financing, which creates temporary cash. But what we realized over doing this for several years is that after the deal that we sold in year one with five-year plan, after five years that was paid off, right? The deal that we did in year two on a three-year plan was paid off in year-four or five, right?
So, soon enough, we had to regenerate these land notes, which is not a bad thing, which is wonderful to be able to do that, but we also looked at that, I said, "Well, if we ever want to retire entirely, we can either build up this big pile of cash," which we did, "or we can also build up this big pile of notes and then just over time regenerate those notes," which a lot of our students do, "or we can see what else can we do." And that's where, finally, the houses came back into the play. Houses came back into the play because, all of a sudden, 2008 came along. In 2008, well, all of a sudden, America was on sale. We looked at our market, we had never touched a house up till that point. From 2002 to 2008, we had not touched a house.
So, 2008 or actually 2009, February of 2009 comes around, I go to the meeting of a local realtor here in Phoenix, Arizona area and I sit there and they do a market update. And I was like, "Are these numbers real?" Because I had not paid attention to anything in the housing market because the last time I had paid attention to the housing market was 2006. And in 2006, an average normal rental house cost $300,000, $400,000 and it rented for $1200. It made no sense from a cash flow point of view to buy any of these properties. So, I just, like, ignored it. It's like, "What do these people do in this housing market? I'm not dealing with that. I'm not gonna be like a lemming walking or running after all these other people. Just because the mailman is making $50 grand on the house flip, it doesn't mean I need to."
All right. So we stuck to our land business, really built up massively to the level of 80 deals a month and sold them in auctions and did all this kind of stuff. We did really well in it. And then 2009 comes around and we have all these cash flow coming in from these land notes. And we're like, "Wow, these same houses that used to cost $300,000, $200,000 are for sale for $40,000, $50,000, $60,000 right now, and they're still bringing in $1,200 in rent." As a matter of fact, now the rents are going up because everyone is losing their houses and needed to live somebody. So the rental market was flooded with people that wanted to rent properties. And that's the moment when we started realizing that actually there is something to be said about investing in houses.
Now, I know. If you're a house investor, a landlord, you've known this for years, I'm just explaining our transition. And after that transition, we ended up buying a whole bunch of houses and then we kept buying houses. And then the market roared back and soon enough these houses didn't make sense to buy them anymore. They quadrupled in value, which is a great thing because we still own them, But on the other hand, we couldn't buy anymore. So, then we're like, "Where do we go and how do we 10X the passive cash flow that's there for generations?" And that's when the thought comes up, "Well, how about multifamily?"
Now here's another thing, if you paid attention at that point, we also had done something in our life. We had started the educational business also in 2008 because we realized that everything that we were doing kept working. The land flips kept working the same way they always worked, right? Now, of course, prices went down, we had to buy lower, sell lower. So, therefore the margins were a little smaller, but we were still able to get deals done. People were still paying their mortgages to us, right, their seller financing notes. And so we put out a course, The Land Profit Generator in the first version. Now, as of last year, we redid it, brand new. But we put this out so now we had, in addition to our land business, we had a second business which is the educational kind of side of things.
And now we added the apartment complex and that's where the question for many people come, it's like, "Why in the world, Jack, would you add apartment complex investing?" And I'm telling you why. The reason is because it's an accelerator on the Forever Cash side of things, right? And one apartment complex is about 10,000 times more work than a land deal, but it also brings in many times more the cash flow and it brings to the cash flow if we do the right way for many, many, many years, potentially even for life, right? If you'd be able to buy those things without outside investors, then you can keep them for our life and we inherit it to the kids and pass them on and so on and bring cash flow in forever.
Now, having said that, we do our apartment deals with investors, so we syndicate them. We bring in private investors, friends and family, and people that we know. And some of our students invest with us, and they're making a very great return on their investments. And then our plan is like every five years to go sell the property and roll it over, perhaps to a 1031 exchange into the next property. So there's no taxes and so on and so forth. But the question still remains, "Why?" And here's the reason why we thought about this, why we pulled the trigger when we pulled the trigger. Here's the thing, we didn't just randomly pull the trigger because one of our philosophies is to simplify to multiply, right? We have a podcast about that that we did a few weeks ago where Michelle was on there. We were talking about simplify to multiply. So you wanna simplify what you do and be really, really good at that one thing, then get in line and stay in line and make it work.
So, why in the world when we preach this at our live events and so on, even named one of our LLC, the Get in line…Stay In Line LLC, why in the world do we add a second and then a third business to it? And here's the reason why. Because after we did our first business and brought it to brought it to 80 deals a month, we automated it, we systematized it. We have a team in place that runs that business, right? We have a team in place that is in charge of analyzing the deals, in charge off…I'm still making the offers, that's the only piece that we do, but then a team in charge of actually selling the properties and somebody in charge of handling all the paperwork involved. So, I don't have to be involved. We have a team involved. We have somebody involved in getting the marketing for this done. So, we built a team around this business that is essentially almost self-managing, right?
This team is almost self-managing. So, therefore, my involvement in that part, even though we continue flipping land, we're just selling 12 properties this week, is actually very, very minimal. And because of that, we have had a lot of time to go start the educational side of things. Now for the first few years that took a lot of my time and a lot of Michelle's time. And so then, but now, this business too, for the last few years, this business too has been systematized to a level that I'm not very much involved in it, right? We specify when our live events are, I'm involved in the teachings, I'm involved in some of these videos that we're doing and so on, but other than that, our team, we have a customer service team, we have a back-end team, we have a team that is if you need some kind of like special arrangements or sales or things like that, if you're interested in one of our further leading programs, we have them in place, like our business advisers in place. We have all these things and really what we're doing is everything is being organized and decided in one meeting a week.
So, now we have two businesses that are run very much hands off from our side and only, and this is very crucial, only because of that. So, we simplified these businesses. We're only focusing on land in this one, not on land and houses and all this kind of stuff, no, just one thing, it's a box. We defined a very clear box here for the land stuff then we defined a very clear box for the educational things. We don't offer 25 different programs. We have one program. It's the land profit generator. For that, you can get a software, for that you can get a software training, for that you can get mentoring, and for that we have a live event, and we have a mastermind, that's it, vertically aligned, vertically organized around one thing. And that means everyone on our team does deals themselves. Most people in our office do deals themselves in their spare time. They know this inside out, so you get the best support, the best everything.
And only after we have done this, now we have the bandwidth to go after apartment complexes. And even there, multifamily. Why not self-storage? Why not assisted living? Why not retail? Why not commercial? Why only apartments? Because this is our box. We believe very strongly in it. We believe not only in that, within that box there's a smaller box. We don't go after class A apartment complexes because the numbers don't make sense to us. We don't go after low-income housing, section eight and things like that, we don't go after, like, ghetto and stuff like that, those kind of things, we only go after this box. And this box is a box that is, again, where it can be systematized and can be automated and can be…where you can create rules, where you can create processes around it. And as a result, we now have still, even though we try and do three different things, we are systematized and we are organized and we simplified to multiply, as we said in the other podcasts, right? So, as a result of these three things, that is the reason.
Now the reason why we had that explained to timing and the reason why we did it is because, obviously, it is more passive cash flow and it's cash flow in an accelerated measure. When you add a house, and you pay for it cash, let's say, it adds $600 a month to your cash flow, right? If you had an apartment complex, it's way more work. But it adds $6,000 to $10,000, let's say, a month in positive cash flow. So, you understand the different pieces of it. So, it's an accelerator in that area, but we would have never touched it if we would have not first completely boxed up these other two businesses and had the right people in place to be able to actually run them. That's the key to it.
So, when we say simplify to multiply, as we mentioned in another podcast, what we mean is focus on one thing only and make that big. And then go, if you can, put the managerial implementation systems in place that you don't have to spend every living day, hour of your time, in there. Because what his life for? Is life there to work or is life there to enjoy? Is making money there just for the sake of making money or is making money there for you to actually enjoy the money? Use that money to actually enjoy the time that you have with those you love most. That's what it's all about, right? So, therefore, these things are all designed such. And every time, by the way, you build one of those up, it'll take a big period of you being engaged a lot.
I've worked, Michelle and I have worked in the last couple of years more than we probably have for like several years, right, because we're starting something, we're adding something new to it. But now it's at the point that we can step back again because we have a team in place, we have systems in place that even run that box. And that's the key to building up multiple things. So the reason is, why? Also, another reason is because we wanna grow more, right? We know how to do land deals inside out, we know how to educate people on the land flipping side, we wanted to have another challenge in our life, and not more land deals. We can crank it up anytime and however high we want to, but it's no longer additional challenge, it is great cash flow and I love my land business.
We're just doing this as a challenge for us to grow, to learn, to get to a different level of capabilities and so on. But it doesn't mean I like my land less, I love the land. As a matter of fact, if I look at the work that's involved on the apartment complex side, it's like a million times more than on the land deal. So, I love the land deal for everything that it stands for, for cash, for low money deal, like, deals that we can get in for land on the pennies on the dollar, right, land for pennies, for the ability to make the same profit margins and profits that house flippers do without any houses, for the simplicity of it, for the cash flow you can kind of generate. I love it for everything it is and I love the educational business because it changes lives and allows us to get to the point of having 1,000 millionaires in it. This is a personal challenge, this is a personal investment plan to get to an even higher level of passive cash flow.
Now you might ask, "Why? You have done well here." You know what? Why not? Why not? I wanna live a life that is fulfilling to me and that fulfills our own growth capacity, right? I wanna…I love…I think it's from Nelson Mandela that if you…I don't get the quote exactly down, but basically it effectively says, "If you're really living life, why not play full out? Why shrink back?" Just because you're good at something it just doesn't mean that…box it up and then start something, but only then. Like, don't go into the shiny penny syndrome, right? For the last 10 years we have not done anything or 15 of the last 17 years we have done only one thing, land flipping. Then we added some houses to it and this is the only other thing new thing that we're doing.
So, we have kept the eye on the ball and it has served us very well. Do the same thing. Keep the eye on the ball. And once you have that comfort level, once you have that knowledge level, once you have that capability level, and once you have the managerial level to put this in a box and let it be run on its own, that's the only time when I think you should consider starting something else. Most people though, in entrepreneurs, they're what's called quick starts. They wanna start something immediately because they get bored. The moment they know something, they get bored with it, and they wanna start something else. That's not what we're doing. We have very thoughtfully created one business, the next business, and now a third business. That's three businesses over 15 years and the reasons are very clear and the reason that I just told you.
We love every one of those for different reasons, and we wouldn't have done them if we would have not already boxed up one and have it be in a systemized way that can continue to grow without my personal involvement, right? With that, I hope that explains. I hope there were some nuggets in about managing, about growing businesses, about purposefully going at something. I would love to get your feedback on there. What's your number one takeaway or what are you struggling with most right now in your business that doesn't allow you to perhaps put it into a box and put a bow on it? What do you need help with in terms of…and what could be subjects that you wanna have us talk in one of the next podcast, right?
We'd love to hear from you. In the meantime, again, if you don't know what The Land Profit Generator is or the land flipping method is, go and get some information about it at jackbosch.com/land. If you wanna know about that book, the Forever Cash book, go to forevercashbook.net. You can get it there for just shipping and handling. And if you're watching this or listening to this on any of the iPod platforms and you can give us a review, I would love a five-star review. And if there's a comment ability below it, put in your comment as I just asked you for. What is it that you would like to hear about? What is it that you're struggling with to put your business in a very organized way? We'd love to hear from you. Thank you very much. Bye-bye.
Male: Enjoyed this episode? Then make sure you like, subscribe, and post your comments and questions below the video. We're looking forward to hearing from you.

What are you thinking?
First off, we really love feedback, so please click here to give us a quick review in iTunes! Got any thoughts on this episode? We'd love to hear 'em too. Talk to us in the comments below.
Enjoy this podcast? Share the love!