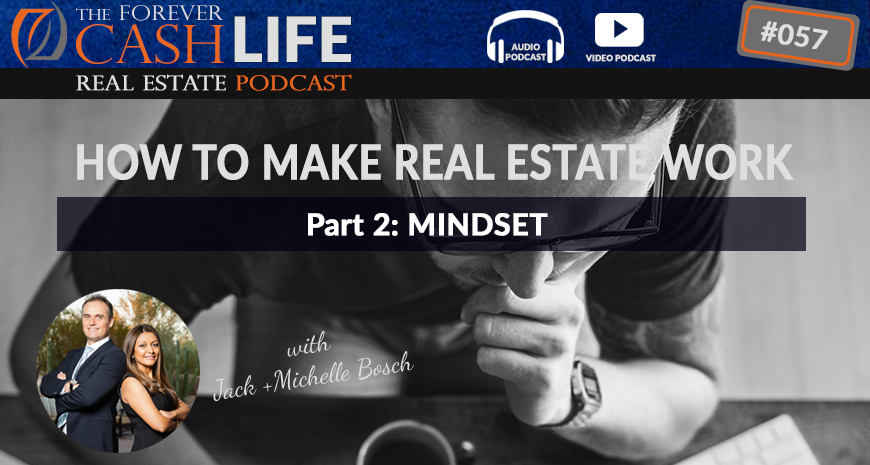 In this episode Jack continues where he left off in episode 56, this time focusing on the mindset required to make it in real estate. You'll learn how Jack and Michelle think about real estate investment and how this has allowed them to live a life where they have financial security.
Jack discusses the kinds of people you need to avoid as well as the kind of motivation you need to thrive in the Forever Cash Life. And if you feel overwhelmed and are unsure about the path to follow, don't worry! Jack discusses his views on picking something that works and persevering.
Listen and enjoy:
What's inside:
Learn how to pick a path to success
Discover the importance of patience, perseverance and commitment to the outcome
Figure out who is bringing negativity into your life
Fill yourself with positive motivation
Learn why you should schedule meetings with yourself, and treat them with importance
Mentioned in this episode:
Tweetables:
Transcription:
Jack: Hey there, Jack Bosch here and welcome to another episode of the "Forever Cash Life Real Estate" podcast. I'm still alone. Michelle is still not available right now. She'll be back soon for one of the episodes, but today's episode is going to be about the same thing the last one was about, which is how to be successful in real estate. The only thing I had forgotten in the last episode, and actually it's worth its own episode is the mindset aspect of it. We need to talk about how you need to approach the investment of real estate from a mindset point of view in order to make sure that you're successful and that you're not giving up halfway or just before you hit, you throw it as like…basically as they say, three feet from gold.
Well, okay, we'll get started in just one second, after this little message.
Man 1: Welcome to the "Forever Cash Life Real Estate Investing" podcast with your hosts, Jack and Michelle Bosch. Together, let's uncover the secrets to building true wealth through real estate and living a purpose-driven life.
Jack: All right, I'm back here again. By the way, we've got new t-shirts. How do you like those, "Land for Pennies."I like them. I like these polo shirts. You can go to landforpennies.com. There's a few free videos that you can watch. There's a training course and so on that you can…training class that you can watch and study up about how we get the same money that other people make on houses, just without the houses, and without the hassles of tennis, toilets, termites, trash, contractors, mortgages, all this kind of stuff. Kick it out of the window, make the same profits without any of that.
Okay, so now we're going to talk about what it takes to be successful in real estate from a point of view of the mindset. Here's the thing, anything in life that is worth doing requires patience, requires perseverance, and requires an almost stubborn commitment to the outcome. That's the thing. So I compare myself every once in a while and Michelle does too, compare myself sometimes to like, to a bulldog. A bulldog, it's not in terms of my demeanor. I hope I'm a fairly gentle person and I don't often go on rants and things like that. And I'm usually friendly, I mostly have a smile on my face, but I mean that from a point of view of how I approach real estate.
What I mean by that is, when Michelle and I came across real estate and we identified it, we did a little research about it and we identified that this is it. This is what we want to make our future in order to be able to be free from our jobs. I basically bit, and I bit into the subject matter of real estate and to this day I've not let go. You know, that's what I mean by that. It requires that stubborn, that donkey-like stubborn perseverance, to pick one thing and then figure it freaking out. If you're not willing to do that, that is a problem of real estate though. If you have seen yourself jumping from one thing to the next every six to eight weeks, then there's a positive to that because at least you're exploring different options. But when you're honest to yourselves, perhaps you have the shiny penny syndrome and perhaps what you need to do is look at what you already have in your program, "Well, look at what we're about," and analyze it or compare it to everyone else, do a conscious mind exercise and then a hard exercise.
The mind exercise is the one where you say like, "Which one of those is fundamentally the best to do from the returns, from the ease of doing it, from the lack of hassles and things like that." And then the second approach is the one where you ask yourself, "Which one of those juices me the most? Which one of those is just the most exciting? Which one makes my hair stand up in my back? Which one makes my hair tingle? Which one is the one that I'm like, 'Oh my god, I can't believe you can even do that.'" Those are the two tests you want to do.
And then if they fall both onto one or two, ideally on one technique, usually it probably falls on one technique, that you just can't think about. And it's not every six weeks. Think about all the courses that you probably bought or all the things you studied up on it, and which is the one or what are the pieces that they have in common that really appeals to you? And once you have that, pick the one that looks the best and then make a bite and then don't let go. Right? Don't let go means you got to do whatever it takes to make it happen.
So again, what mindset does that mean? Stay away from negative people. Right? Negative people have this ability to zap the energy out of you. As humans I don't know why that is but we have a tendency that we believe all the negative people but we don't believe the positive people. If somebody says to you, "Hey man, you look really awesome today." You're gonna be like, "Nice, okay, sure, whatever. What do they want from me?" Right? Why, what's going on? Why are they saying that? Right? And you're doubting them. If somebody says, "Oh man, what's going on? You look like crap today. Like, these pants look horrible." And you're like, "Oh, my god, my pants looks horrible?" You believe them automatically. Right?
So you got to stay away from the negative because as a human we have the tendency to actually believe the negative. So the best way to not get sucked into the negative is to stay away from the negative. And that means you have to look at your round of friends that you like to hang out with. Sorry to say that, but if your friends are all complaining about stuff and only talking about who's winning the NBA or the NFL or the NHL or the MLB, hey, I know my abbreviations. Those are American sports, right? Coming from Germany it took me a while to learn them all. But when you look at that, it's like who are the complainers and just start spending less time with them. And instead, go ask yourself "Where do the people positive hangout?" Right? "Where are the opportunity seekers hanging out?"
And the opportunity seekers, they're hanging out at places like Tony Robbins events, I mean I've never been to a more positive environment than at Tony Robbins event because everyone who's there believes that you can actually make things happen. Everyone out there believes it. And so if you're in this environment and then you foster this environment, feed yourself, read. When we got started it took us three years to make our land flipping method work, three years because there was no courses, there was no coaching, there was no methodology on it. We didn't know much about it. We didn't have any money. We didn't have any knowledge. We spent time researching this stuff, and we spent time doing attempting, trying stuff, but at the same time we kept filling our heads with positive books, right, with the power of thinking big. Right? The power like the butterfly thing, "The One Minute Millionaire," all these different books, right, that you can find.
Just go into the motivational section. Ask. Go on Facebook and ask your friends what motivational books they have read. If you don't get any answers, you have the wrong friends. Sorry to say that. Right? You have the wrong friends. Join a group of real estate investors. Right? You can go to Facebook and join the group called "Forever Cash Club," right, Forever Cash Club, because we wrote a book, Michelle and I wrote a book called "Forever Cash." Right? You can go to forevercash.net and get that book there for just shipping and handling, still have a few copies. And in that book I basically, we make the same case, but in the group, in the Facebook group, the Forever Cash Club group, Forever Cash Club, and My Open Path, we had, long story short, we had this group called, "My Open Path" and we renamed it right now to "Forever Cash" because it's all about generating passive income.
And in that group you ask people, "Hey, what books are you reading that are uplifting, that's keeping you up, that motivates you?" And you get like 50 of them going to be reported for you and then you go get them as audio books, as eBooks, right, as Kindle books, as physical books, whatever way you read. If he's like, "I don't read." Let me ask you, do you drive? If you drive your car and if you are alone in your car for more than 10 minutes at a time, you can just get an Audible subscription, audible.com owned by Amazon, and get these books as audio books. Right?
Fill your mind with positive motivation, because in the process of doing anything including real estate, doubts will come up. Your brain which Michelle calls the "itty-bitty-shitty committee," yeah, that's Michelle's [inaudible 00:08:41], your brain, your mind comes up with all thousands of excuses of why this doesn't work, why this shouldn't work, why you're not worth it, why you're not ba-ba-ba-ba-ba? Like you need to drown the itty-bitty-shitty committee in positive thoughts so that it keeps you going because you're gonna have the roller coaster. The roller coaster is part of the entrepreneurial life. We had a roller coaster this morning, right? It seems like everyone that communicated with me this morning had a problem to report. Right?
So it's like, I was like, "What am I?" Like, "Am I like the firefighters or the police here?" But no, bottom line is that is a part of the business. Sometimes stuff happens, yet yesterday was a glorious day and everything that came along was positive messages, lots of revenue came in, lots of deals, right. We're selling 12 properties, 12 land properties right now, we're having an apartment complex, everyone gives their thumbs up, everything looks good, right? So it's an up and down and in the downtimes you got to be able to just grab something, just put your earplugs on and just spend five minutes. Go on a walk and just like, build yourself back up ,because that's what it takes. The people who stop, the people who quit, are the people who are not getting over themselves in this business.
Business is easy, psychology, business is… Tony Robbins says business is 20% action and 80% motivation. I want to change that, it's 20% action and 80% mindset. And mindset comes from, or part of mindset is motivation but it's a little bit bigger than that, right? So you got to work on that. You got to keep working on that on an ongoing basis. We keep working on that every single day. We do meditation in the morning. We do reading time at some time during the day. We go, I don't watch news. I don't watch the news. I haven't watched the news for 15 years. I don't watch the evening news on Channel 5, 7, 15, whatever these channels are. Right?
If I go to a hotel, I go in the breakfast lounge and there's these TVs all over. I try to tune them out because it's only garbage anyway. Like literally, let me ask you, if you watched the news yesterday tell me one thing that they reported there. Right? Put it in the comments, one thing that they reported there that you actually remember. It's only noise. Nothing of substance is being reported in those news unless it's something…and if it's something really important you're gonna find it out anyway. You're gonna find it out on the radio. You're gonna find it out in different television shows. You're gonna find it out to your friends. You're gonna for sure find out about it on Facebook. I know every massacre that has been done, every great success that has been done, any tweet the President kind of posts, you kind of can't escape about it because it's like, being bombarded on you on Facebook and all those kind of places. So there's so much information out there. You don't need to…you need to shut your ears in some cases and just focus on what's most important to you and to your life and those of your families. That's what you need to focus on.
So this is all of this. Fill up your mind with those things and then stay focused. Stay focused, that's another aspect, and then I'll stop this rant or this podcast here, but I think this is important. Right? Do you want to make sure that you keep focused by, again, by scheduling stuff almost like as often as you can, every week, every day, at least two or three times a week particularly if you do our land program where you don't have to make offers all the time. You can make offers every other week if you want, right, because nobody else makes offer. There's not barely any competition. So you schedule the time yourself and you keep that time as important as your time with your dentist, as your time with your attorney, as your time with anyone else that wants time from you.
If you have a job, if your boss calls you for an appointment, are you gonna skip over that appointment? No. You better make sure you are there for that appointment because otherwise you might get fired. You know what, treat your appointments with yourself, with the exact same importance and intensity and, yeah, and crucial. Make it crucial, because it is. Because if you don't keep those appointments you'll start slipping, you go down that slippery slope and sure enough six to eight weeks have passed, you haven't done anything. The next webinar comes by, you see the next shiny penny, and anything I just said is for nothing. Right?
So do that, the mindset is the most important part about that and then have an understanding that it takes a little time. You got to put the pieces in place. I just had a coaching call this morning. I offer private coaching just to three to four people a year. It's not cheap. I charge a lot of money for that, but I brought every single one of my coaching students to success so I have one of them. He just started today. We spent an hour just setting up the system. So the first two weeks we're going to spend up just setting up his systems. After that, the weeks afterwards we're going to start sending out the mailings for his systems, and then the expectations is that within the next six weeks he has his first deal on the contract. That's so far the expectations.
So it's not going to be, "Hey, do you want to do coaching with me? Pay me a bunch of money, you're successful tomorrow." No. There is a system to it. But the fact that there's a system to it also means that that's repeatable. That if you do one deal you can do five deals. If you do 5 deals you can do 10 deals. If you can do 10 deals you can do 100 deals. And you can make this into a business that is going to be many times more profitable than chances are what you're doing right now. Right?
So if you're interested in any of that, the book, forevercashbook.net. The Facebook group is free. It's again, Forever Cash Club or My Open Path, you can look for either one of those, you'll find it. And if you're interested in the actual land program that we're doing you can just go to landprofitgenerator.com. All right, thank you very much and I'll see you in the next episode. Bye-bye.
Man 1: Enjoyed this episode? Then make sure you like, subscribe and post your comments and questions below the video. We're looking forward to hearing from you.

What are you thinking?
First off, we really love feedback, so please click here to give us a quick review in iTunes! Got any thoughts on this episode? We'd love to hear 'em too. Talk to us in the comments below.
Enjoy this podcast? Share the love!