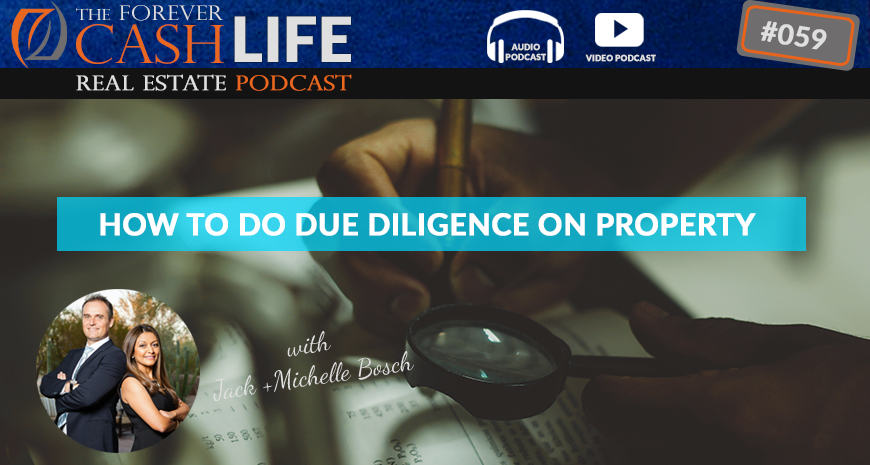 Michelle is back this week! She joins Jack in a discussion about due diligence on property. You'll learn how to do due diligence as efficiently as possible, without wasting precious time on things that don't matter.
Jack and Michelle discuss the number one common mistake that people make when doing due diligence. They also discuss how land flipping allows you to do due diligence way simpler and cheaper than any other type of property. You'll also learn some of the most important things to look out for when assessing a property, so that you can make huge profits without having to worry.
Listen and enjoy:
What's inside:
Learn how to maximize your time when it comes to due diligence
Discover the mistakes that other land investors make
Find out about the important things you need to look out for when you do due diligence on a property
Stop wasting your time researching properties that you don't have an offer for
Learn the information you need to market your property
Mentioned in this episode
Tweetables:
Transcription:
Jack: Hey there! And welcome to the Forever Cash Life podcast.
Michelle: Have you forgotten the name of the podcast?
Jack: No.
Michelle: Of course you did.
Jack: I would never forget the name of our podcast. Are you crazy? But I'm super excited because we have Michelle back with us.
Michelle: Yea.
Jack: Yea, it's wonderful. Okay, Michelle, what are we gonna talk about today?
Michelle: Well, I came up with a few topics, but perhaps we could talk about how to go about doing due diligence for land or other kinds of properties.
Jack: All right. Let's talk about that. Okay. We'll be right back after this intro with talking about due diligence.
Announcer: Welcome to the Forever Cash Life Real Estate Investing Podcast, with your hosts Jack and Michelle Bosch. Together let's uncover the secrets to building true wealth through real estate and living a purpose-driven life.
Michelle: Hi, we're back.
Jack: We are back and we are excited to…I'm super excited to have Michelle back here.
Michelle: I'm excited to be with Jack here.
Jack: Because the last, I don't know, probably five podcasts or so, I've did…or three, four, five podcasts I did, I had to do on my own. Michelle, so you said we're going to talk about due diligence in land. Let's walk through a scenario. So we're doing a deal and at what point of time do you do due diligence?
Michelle: For land we do minimal due diligence up front before an offer gets sent out in order to determine comp values and so on and so forth. But then the bulk of it really comes once somebody has accepted, basically, your offer.
Jack. All right. So what that means, and that actually drives me crazy many times when people get that wrong, so let me reiterate that for one second.
Michelle: Or perhaps you talk a little bit about so you've sent out your letters, they've called you back, you went ahead and did…
Jack: And they want an offer now.
Michelle: …like I said, preliminary analysis because they want an offer. You send an offer and now it comes back and now you go through…
Jack: If the offer is accepted.
Michelle: Yeah.
Jack: What a lot of people do wrong is the moment that somebody calls them, it's actually even worse, they've got a list with 1,000 records on there and they start doing research on every single one of those 1,000 records. Don't do that, right?
Michelle: Yes.
Jack: That's crazy because you've got to spend the next two months doing research on these properties without even knowing if any one of these people want to sell the property to you. So forget about that. Zero research up front other than picking a county, right? Picking a county is subject, though, to a different podcast. So you've already selected your county, you just sent out those 1,000 letters. So now let's say 80 people call you back. Now, what the next thing people do wrong is they take those 80 people and it's like, "Oh, my god. I've got to find out everything about each of these properties," and they spend like a week on each of these properties…or a day on these properties.
Michelle: And actually, some of this due diligence can also even be made when that first inbound call comes in from the seller because you're going to ask him a few questions about the propriety.
Jack: Right. Exactly.
Michelle: You're gonna ask them, you know, does the property have access? Does the property have any…
Jack: Is it straight road access or is it paved access, dirt road access.
Michelle: Electricity, you know, sewage, any kinds of utilities, anything they know about the property, zoning. Anything that they may have information on, you want to ask at that point.
Jack: Right. Or if you use the call center, we recommend landcall.com. Again, landcall.com, it's in the show notes, too. You train them, you ask them to ask these questions. And they already know how to do this anyway because they work with lots of our students.
Michelle: So it's minimal effort and you're getting it from the seller. So that's the first source.
Jack: Exactly. That's a first source. But then what people do wrong is now they go and do a deep dive on each of these properties. They find out, like, one of our students at the last live event mentioned, and he just got multiple deals done after finally getting this and adjusting his ways, he just literally in our Facebook group, myOpenPath – Forever Cash is the Facebook group, he just posted his first deal, made him $8,200 and something.
Michelle: Oh, that's George, yeah.
Jack: George, yeah. In this deal, he posted…or at the last live event that he attended, and again you can find out there are live events by going to jackboschlive.com. By also by leaving a comment underneath here and we'll have somebody contact you if you're interested in coming to a live event. Or by just going to any of our websites where you can submit your email information and then somebody can contact you. It's all in the show notes and we'll tell you later on about that more. But he basically, what he posted at the live event, he was standing up and he was asking a question of how much time should we spent at that time. Because before even making the offer, he would literally go and, in his own words, he would find out what's the student-teacher ratio or the teacher-student ratio in the school district where the property is located. Now, obviously, he wasn't doing that, but he was exaggerating of just how much detail he went after before even making the offer. And we're like, "No, don't do that. That's the wrong approach to this." What should they do at that point?
Michelle: Well, first you want to have an accepted contract.
Jack: No, no, before you even make the offer. How much research do they do at that point?
Michelle: I mean, maybe 5, 10 minutes max.
Jack: Thank you. Exactly. Five, 10 minutes. Five, 10 minutes, you just got to perhaps get an aerial picture of the property, which most counties now have on our website. You just click on it, look at it, and make sure it's doesn't look like a piece of crap, basically. It's not like on a hill like this and you need skis to actually or…
Michelle: And it might take you at the beginning 10, 15, even 15, 20 minutes, because you're doing it for the first time. But as you get very familiar with this process and as you get very familiarized with the areas that you're working in that you're harvesting, it goes like 2, 3 minutes.
Jack: And then once you've found it, you want to go see if there's anything else sold around there, for some comparable values. So we have another podcast episode where we talk about the comps and things like that. So those things you want to find out. But as soon as you have a rough ballpark value of that properties, so let's say anywhere from $30,000 to $40,000, that's enough. You don't need to find out if it's worth $31,000 or $35,000 or $39,000, because in the land area you're not going to make an offer of 89% of market value. You're going to make an offer of 11% of market value, or 15% or 17%, or anywhere from 5% to 25% depending on the value of the property. So, therefore, you have some buffer in there. So now you make your offers and then you get your offer accepted, right? Just like it happened to one of our students. He started five weeks ago, already got his first two offers accepted with a built in profit of $25,000. Isn't that exciting?
Michelle: Yeah, it's exciting.
Jack: I love it, love it. And so now what, at this point that you have the property accepted, what do you do then?
Michelle: Are you asking me?
Jack: I am asking you. This is a quiz.
Michelle: So once it's accepted, you go ahead and call and say, "Hi, Mr. Seller. I just got your offer. This is how it's gonna work. I'm gonna send this to title and this is approximately how long it's gonna take," and so on. So you set some expectations. You hang up the phone and then you start confirming that everything that you looked at prior, which was not much because we're saying 10 minutes of maximum initial research at the beginning. You're gonna go and actually verify size. You're gonna call the county assessor and you're going to ask for a plat map. You're gonna make sure that the size is in fact what it says.
Jack: What do you think about that cup?
Michelle: What do you think about my cup?
Jack: I like your cup. You need to just turn it around so we can actually see it.
Michelle: Oh, my god.
Jack: Do epic sh*t.
Michelle: Rated "R".
Jack: I like yours better. Yours is much more uplifting than mine. Anyway, go ahead.
Michelle: Yeah. So you're gonna verify size, you're gonna get a plat map, you're gonna… And this is all information that you're gonna need at some point to market the property as well, or to even start marketing the property in parallel if what you have is an option contract on the parcel.
Jack: Or even if you have a regular contract with close of escrow being three months out or so. Yeah. So at this point you verify everything you know, and you do a deep dive.
Michelle: And verify the value, especially.
Jack: The value, the access, the build ability. Can you build on it? Just because there's houses in the neighborhood, doesn't mean you can build on that property. All right? There's many cases where the zoning, the rules were changed 20, 30 years ago. And before you could put, like, there's properties where you would have to put a septic system in there, but it's sheet rock underneath. So you can't really…the septic system doesn't work. Well, what they did in the '70s and '80s, they put little dynamite sticks in there and they had it explode, crack it up, and now the water sinks nicely into the ground. Well, they outlawed that. So all the last houses were built were just up to that the regulation, they built houses in the area. Now we can't build houses anymore. Well, if that happens, you want to find out about that. Don't just assume that you can build on it. Or they put size regulations in there that you used to be able to build on a quarter acre and now you need half an acre. Well, if you buy a quarter acre property and you just assume you can build, you might be in for a surprise. Those are the things you need to check on. You need to check on if there's an HOA. Have the HOA fees been paid?
Michelle: Yeah, is there a lien against it?
Jack: Is there a lien against it?
Michelle: Which will come with title work.
Jack: Yeah, the title company finds that stuff. But still, you want to make sure that stuff is checked. You want to make sure that there's, like, all these things. If you're worried about environmental issues, go to Environmental Protection Agency website, right? The EPA. And do a search there for that property address or for a location on there. Find a house close by and search for that address. See if there's anything within half a mile, a mile or so, that's been has been affected by any environmental issues. And if that's not the case, then your property, chances are, has not been affected by it either, right?
And so you dig deep, you find out if this is an area where wells are being drilled. How deep is the well level? How deep are the water levels? There's areas in some parts of the country where the water levels are 3,000 feet deep, all right? So you can't say like, "Well, I'll just go and drill a well." Because a well is gonna cost $60,000 or $80,000 to build in those areas. But if you find out that the water levels are 100 feet deep, well, that's a marketing tool.
Michelle: And you find out if somebody can deliver water for you.
Jack: You find out, exactly, that somebody can deliver water. You find out anything you have to find out about that property. Are there any protected animal species that live there?
Michelle: Oh, my gosh, yeah. That's a good one.
Jack: There's tortoises in the west coast. There's birds on the east coast and central United States, certain protected birds. And if they next in the area, then the county has maps with overlaps of where these protected areas are. If your property is right smack in there, whoever you sell it to will not get building permits to build on it. Because they would have to probably cut down some trees or so on there, and then so on and so forth.
So you have to dig into those things, but you only do that once you have the accepted offer. So the process again goes no research upfront, send out the letters, very little research just value, rough like on value before you make the offers. Once the offer is accepted, now it's deep dive, make sure that… Like, in Florida for example, people love asking the question if you can put a mobile home on there. There's lots of people with mobile homes in Florida or in the south in general. So if you have a property that you want to put a mobile home that is buildable, ask the county can we put a mobile home on there. If the answer is yes, use that in your marketing to sell the property, all right? And so on and so forth
Now, how does that compare to due diligence in other kinds of real estate?
Michelle: Well, for example, we just purchased an apartment complex and we're in the process of closing within the next few weeks, and due diligence there was excruciatingly, painstakingly difficult. I mean, you have to actually hire in an outside company to come and help you unless you've done this in the past. But in any case, even if you have, you want to have somebody from the outside come, a third party, and help you basically not just do a due diligence that involves a physical inspection of the property, but actually due diligence on the side of the finances. The seller is really giving you the information and that is, in fact, truthful. You go through every lease jacket, and so on and so forth, to confirm rents and any income or expenses on that property. And so on and so forth. So very, very involved and you definitely want to do this before your contract…
Jack: Before your inspection period is over.
Michelle: …period is over because it could be very costly, yeah.
Jack: So, yes, particularly an apartment complex, like, you do a financial analysis. They send you the numbers and rent roll before you even put in your letter of intent. So then, when they accept the letter of intent, then you negotiate the contract. It's still not due diligence, but as soon as that contract is signed, you schedule an entire team to go out there. And that costs easily $10,000. So, $10,000, a team of engineers, team of inspectors, property managers, whoever you want to send there, you have to go property by unit by unit by unit. At the same time, a separate smaller team goes into the office, and that's Michelle's, that checks out all the numbers. And so, this process costs a bunch of money. Then, in addition, you have to go do like environmental tests on the property. That's like several thousand dollars. A survey potentially, that's another $5,000, $6,000 dollars, if you're lucky. Then you might have to have a plumber come in and snake all the plumbing, particularly if the apartment complex is a little older, right? A roofer to come and inspect the roof. So it's all these extra things that you need to do. And if you find something that's a showstopper, guess what? You cancel the deal and you're out all that money.
So if we compare that, we're doing both. And we're doing one because it's a long term wealth generation vehicle, and the other one we're doing because it's a fun cash and quick cash and profitability, and cash and cash flow kind of business. But it's not even comparable. If you're a beginning investor wanting to get started in real estate, stay where the simplicity is there. Where you spend a few minutes on your computer figuring out the value. And then once you have an accepted offer, even all the research we talked about earlier on the land side, it's all for free.
Michelle: Yeah.
Jack: It's all for free because it's all on websites. You don't have to literally spend a dime of money to get all the research figured out that you have to figure out. On this side, it easily is gonna cost you $15,000 to $20,000 on the low side.
Michelle: Yeah.
Jack: And potentially $30,000 to $50,000, depending if it's a big building or so. So there's a lot of differences in due diligence on a very high level between land and non-land. And of course, houses are somewhere in the middle. Because in houses you need an inspector.
Michelle: But the houses you're mainly doing a physical inspection.
Jack: But you still, if you're…
Michelle: And estimating repairs depending on what your exit strategy is for the parcel that you're wanting to buy and hold. And, therefore, your repairs are minimal versus you're trying to retail it, and so on and so forth.
Jack: Exactly. So there are different levels. But still, the main thing is one is here only on your computer, only at home in your jammies, or naked in bed, whatever you prefer, and at 2:00 in the morning. Somebody said where else can I be at 2:00 in the morning naked in my bed and do deals. And I was like, okay, I didn't want to have a visual but it was an interesting comment. So, yes, but you can. You can do that.
And in the housing side, somebody needs to go see the property and inspect it. And you can hire that out, but then it comes with costs again and it needs to be somebody you trust. And the apartments side, an entire team needs to go out and look at the property. And then, by the way, after that, after you're satisfied, the lender is gonna send out their team. And if you're working with Freddie Mac and so on, they're sending out their team. So it's literally three sets of people are going to go door to door by door and look at every single unit of that apartment complex. So it's literally this is here and this is like ten stories above us the amount of due diligence that each of them require.
Michelle: But don't come with the mindset of multi-family for land, because it's not.
Jack: It's not. Yeah, you got to simplify your mindset. As a matter of fact, yeah, we have one coach, he's doing right now, his biggest challenge is to simplify his mindset because he comes from this environment where he does some really tremendous, amazing multi-million dollar deals, and he wants to add this for stability of it. Because these are deals that bring in a ton of money and then they bring nothing for awhile, because they take like a year or two years to finish. And he wants to add the land, the deals, the cash from the land deals and the cash flow from the land deals, as a stabilizer to support his otherwise roller coaster like cash flow in his life. And that's a very cool way to do this, whichever way to do this. And obviously you do this whichever way you want. But make sure you understand this is all on line, all for free. Here's a little cost involved and much more knowledge involved. And here is like…this is like a PhD of real estate.
Michelle: Yeah. Absolute.
Jack: All right?
Michelle: I think that's a rap. That was a good comparison on all three and why land is the way to go.
Jack: It is. It is, absolutely, particularly if you're a beginning investor and you're looking for quick cash and for quick cash flow.
With that make sure you like us, subscribe, you make sure you share the show. If you're watching it on video, you share it with your friends. It's on YouTube. Just put it on Facebook, put it out there, share with others. But just put your comments below. We'd love to get your feedback. And at this time, I would like to ask you if you already have done real estate, what is the number one kind of due diligence horror story that you want to share with us. And even if not…
Michelle: We all have those.
Jack: We all have those. And if you have not done deals yet, we have had one rental house that we still own where the bathtub was actually not connected to any plumbing. There was a hole in the foundation and the water would just go into the ground. Like that's some of the crazy stuff you come across. Luckily that was cheap to fix, but just seeing it was like, "Oh, my god." They had been living there for 20 years.
Anyway, put your horror stories in there, the stuff that you see. And if you have never done a deal, put the things that you're afraid of in there. We want to see what are you afraid of in due diligence? What's worrying you about that? Put that in there. Put it in the comments.
And if you were listening to this on iTunes, make sure you give us a five star review, and then come over to YouTube. Look for Jack Bosch and then add it there, add your comments over there.
All right? And with that I say goodbye.
Michelle: Goodbye.
Jack: Bye bye.
Announcer: Enjoyed this episode? Then make sure you like, subscribe, and post your comments and questions below the video. We're looking forward to hearing from you.

What are you thinking?
First off, we really love feedback, so please click here to give us a quick review in iTunes! Got any thoughts on this episode? We'd love to hear 'em too. Talk to us in the comments below.
Enjoy this podcast? Share the love!