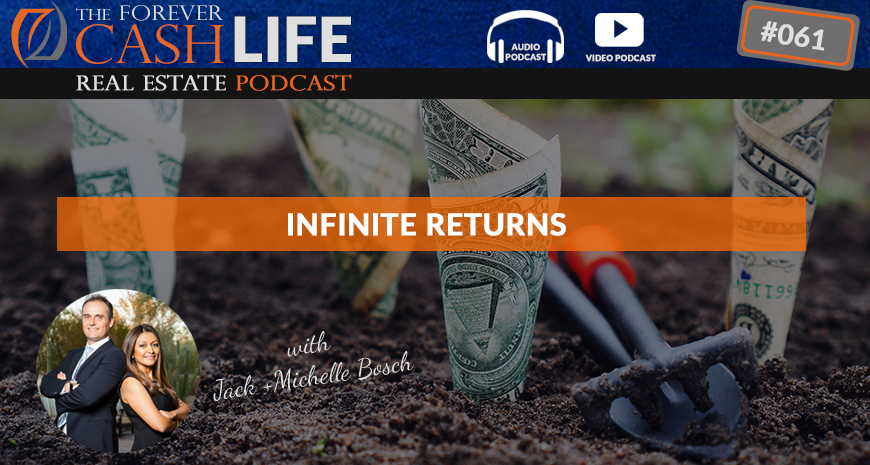 In this episode, Jack chats about the concept of "infinite returns" – a way to invest that means that you have no money in the deal and still get profit! He looks at some examples from within the different kinds of property investments, and even looks at actual examples from some of the people within the Forever Cash system.
Learn how to make a ridiculous return on your investment using the investment techniques taught within the Forever Cash system.
Listen and enjoy:
What's inside:
Learn about the concept of infinite returns
Look at different investment techniques and how to create infinite returns from them
Check out some case studies of people who make infinite returns within the Forever Cash system
Create infinite returns for your investors
Mentioned in this episode
Tweetables:
Transcription:
Jack: Hey there. Jack Bosch here, and welcome to the new episode of the Forever Cash Life Real Estate podcast. I'm your host, Jack Bosch, and we are…I'm excited to talk to you today about the concept of…I'm gonna look at infinity returns in both land as well as other mechanisms of real estate investing. Infinity returns, how would you like to make an infinite return, right? Basically, get your money back and still get the cash flow for a long, long time. That's what we're gonna talk about right after this quick message.
Male: Welcome to the Forever Cash Life Real Estate Investing podcast. With your host Jack and Michelle Bosch, together let's uncover the secrets to building true wealth through real estate and living a purpose-driven life.
Jack: Okay. Hello, everyone. We are here. I'm ready to talk about this subject of infinite returns. Now, what does…typically when you invest in the stock market, what's a good return? I mean, I know lots of people who get 5%, 4%, 5%, 6%, 7%. I know a few people get over 10% returns on the stock market. Obviously, we had a big boom in the last few years of the stock market. It's kind of leveled off. And then most people don't get to 14% anymore. And as a matter of fact, getting 14% is actually very, very rare in any industry, in any market. It's almost like Warren Buffett territory. So, therefore, we wanna talk about something that's even cooler than that. We wanna talk about infinite returns. And infinite returns really means that you have no money in the deal and you get still cash, cash flow coming in on an ongoing basis either forever or at the very least for an extended period of time.
So, here's…there's a concept…there's multiple concepts I wanna talk or multiple examples I wanna talk to you about that. The first one is our land flipping. You know, land flipping, we have probably had infinite returns probably 1000 or 2000 times over the last several years. Now, here's how infinite returns in the land industry works. It works with solo financing. I talked to you about…I talked to you in other podcasts already before that one of our preferred way of selling properties is by going and buying them for 5 to 25 cents on a dollar. Let's say we buy a property for 15 cents on a dollar, right? Let's say its $12,000, just one of our students like he just got a property under contract for $1,600 and it's worth $12,000. So, that's about a 14% like price to value, kind of purchase price to value kind of ratio. So, let's round it up, say 15%. Let's say after closing cost he's at 20%. So, he's buying this property at 20% of its value. So, now what happens? He can flip this property quickly. It's a small deal. Flip this property quickly for $8,000 and make a $6,000 on a cash deal. Or what he can also do is he can list his property for $12,000 and go sell it with a 20% down payment. And when he does that…what is 20% of $12,000? Well, 10% is 1,200, 20% is 2,400, right? So, it's 2,400 down payment. So he could ask…and then for 20% down payment, nothing [inaudible 00:03:22]. He's not asking for $1 million. He's asking for $2,400 which is reasonable. Most people have that.
So, he's asking for $2,400 as a down payment, he gets it. And then he ask…he carries a loan for $9,600 for the next three years at $400 a month. How about that, right? Would that be cool? Good. So, now what…if we analyze this deal, what just happened? What happened is he got a deal for $2,000. And when he sold the deal, he got $2,400 as a down payment. So does he have any money in the deal? No. particularly if he even does that as a double closing where he does a buying and selling in the same transaction and he uses the buyer's money for that because $2,400 is more than $2,000, he can pull that off. And so he basically can use the buyer's money to come up with a money that it takes for him to even buy the property. So, he does this entire deal without any of his money, any of the…or even if he takes $2,000 out of his pocket and then the next day close…he closes on one day, the next day he sells it, he gets his 20…$2,000 back plus an extra $400. He has completely no money in the deal. But now he's getting cash flow. Isn't that an infinite return really?
I mean, technically could make the argument that well, it really is based on his $2,000 investment. That's why he brought this double closing thing in, because in double closing in, he use none of his own money. The money came from the buyer. It was transferred over to the seller and he got the 400 bucks so that went for closing cost. So, he got nothing on it. But now he had used no money on his own money. He just put the deal under contract, found a buyer, put that under contract, close both transactions with the buyer's money called a double closing. And then he's now getting $400 a month for the next three years. That's the definition of infinite return.
Now, he can make that same amount, same deal. Like one of my students or friends, Mitch, just told me literally today, he got a deal for $12,000 and he sold it for $36,000 with a $10,000 down payment. So now he has a $26,000 loan and he still has only $2,000 in the deal and he gets like something like $500 a month. So at $500 a month over four months, he got all his…he gets all his money back. So, all his money is back at his pocket. He pulled the money out, in this case he put $12,000 out of his pocket. And then, four months later, every single dollar sign of this money is back in his pocket. And afterwards, it's all just gravy. It's all just cash flow. That's my definition of infinite returns, right? And it might be not necessarily scientific because let's say, well, he put 12,000 down so you have to count the return based on the 12,000, then he makes like $6,000 a year, $8,000 a year…$6,000 a year. So, his return is 50% a year. By the way, would that be a bad return? No, that would be an awesome return. But I choose to see…look at it like that, that the moment I got all my money back, I can use that money for the next deal, have no more money in the deal and now all the rest of it is really infinite return for me.
By the way, we can do the same thing in multi-family. We can do the same thing in houses, right? You can take a house that you get below market value. You can go rehab it and then you'd have it reappraised. And let's say it's…after repair value, it's a $200,000 house. You get it for $110,000. You put $25,000 in it. You now have $135,000 in that house. You have it reappraised. It appraises now at $200,000. The bank gives you 80% of that which is $160,000. And you're walking…and you have all your money back plus $25,000 of profit, plus now you…let's say you have $1,000 mortgage and $1,500 rent, plus you now have positive cash flow from that property. Now, all your money is out of the deal, right? You put 110 in, you put 25 in. You got 160 out. All your money is there back in your pocket, back in your bank account ready for the next deal plus an extra profit on it and you're still getting cash flow. That's another definition of an infinite return deal.
And in the single and the multifamily world, the way we…there's two definitions of multifamily…of that. One of them is when you do the deals yourself, you probably wanna invest money into your own deals. But also due to the effort of doing that, you can also charge a small, modest acquisition fee. So, if you do that, in some cases the acquisition fee might be just the same amount that you put into the property. So, you put in 100 grand to the property. You get 100 grand acquisition fee. And as a result, you're now net zero in the deal, but you still have money in the deal. But you…in essence, you got compensated for all the huge amount of work that it is to get a multifamily deal together. And… but net, you have zero money in the deal and now you get cash flow from the deal.
But an even better way for passive investors that we have come up with, because we work with passive usually accredited investors that invest in our deals, is that one of our method is that…what we're doing is…what we're looking to do in many deals, whenever it makes sense we do it, is we're getting a deal under contract at let's say a $5 million deal. Let's say we only get a 70% loan on it and the rest we fill up with equity from private investors. And then…and put on some of our money. But then what we do is we improve the property. We optimize the management. We reduce the cost of running it. We raise the rents. We increase the collection rates. We find other ways to make money under property. As I mentioned in other podcasts like creating storage units and having…and then just making it or upgrading the units for…to get rent bumps. So, we're improving the performance of the property. And what happens in multifamily is the value of the property is being driven by that, and that operating income is being driven by the income of the property.
So, if you're taking a property from $300,000 in income to $500,000 in income, the value of that property has just gone up, let's say at a 10 cap, by $2 million, right? Or let's say if it's more like a 6 cap, by $3 million. So you'd raise the net operating income of a property over two, three years by $200,000. You just raised the value by $3 million. Could you go to a bank and ask for what's called the supplemental loan and ask them for let's say $2 million out of that deal and then take 2 of the $3 million, take it back out as a loan. And in this particular case, our equity, the equity that the investors have put into the deal was just exactly $2 million. So, if that happens, what would we do? We would raise the income of the property by 200,000. We then raise the value of the property by $3 million and so at the same time, right, one happens…one results in the other. And then we take an extra $2 million loan out and we pay all our investors back. And now, when all our investors are paid back, they have infinite money…it's an infinite return deal for them, right? Now, we can't promise we do that in every deal. We do that as the market conditions…depends on the market conditions, depends on the interest rates, depends on how quickly we can bring these properties up. But it's always an option that we tell our investors that it's actually that we might, if possible, we might do that. Because now we have the possibility that our investors have a infinite return deal because they invested a total of $2 million.
Not one person, by the way, individual people, $50,000 a piece or $5,000, $200,000 and so on. They invested it together. And let's say $2 million, let's say 30 people invested $2 million together. And now two years later, we refinance the thing and we give them the $2 million back but they're still in the same position in the deal where they get cash flow on a monthly or a quarterly basis from the deal. Isn't that a beautiful deal? That's something that we are starting to do right now and it's something we're starting to look into and that we wanna implement…that we are implementing in as many of our multifamily deals as possible. And that also means that the money that we invested in, we get that back. Because if I put a quarter million dollars in a deal as equity then I also get that back. So…and then, I also keep getting…still cash flow from the deal. So, infinite investment deals are possible in land. They're possible in houses. They're possible in multifamily. They're possible in all the areas that I typically talk about in our podcast.
I want you to wrap that brain around there. I want you to not just look at the quick cash deal. I want you to look at ability, like think about different ways that you can not only get into deals but also that you can get your money out of the deals at some point of time and still get the cash flow going. And as I mentioned, it works in all three different ways of real estate.
All right. That's all I have right now. That's…if you enjoyed that, if you have questions about it, post them below. And if you're watching this as a video, if you're looking it at iTunes, I don't know if there's a common possibility but there is a possibility to give us a five-star review. Because the only way that people find us on iTunes is if we come up to the ranks with a whole bunch of five-star reviews. So make sure you give it to us. If you're watching on YouTube, go over to iTunes, subscribe to the podcast, put the five-star review in. And if you are listening to this on iTunes, go over to YouTube, subscribe to the podcast. And if you needed one, if you wanna be on Facebook page morely [SP] go on Facebook and join our Facebook group called Forever Cash Club and we'll be happy to discuss things over there about anything you wanna discuss in the area of real estate. All right. Talk to you later and see you in the next show.
Male: Enjoy this episode? Then make sure you like, subscribe and post your comments and questions below the video. We're looking forward to hearing from you.

What are you thinking?
First off, we really love feedback, so please click here to give us a quick review in iTunes! Got any thoughts on this episode? We'd love to hear 'em too. Talk to us in the comments below.
Enjoy this podcast? Share the love!