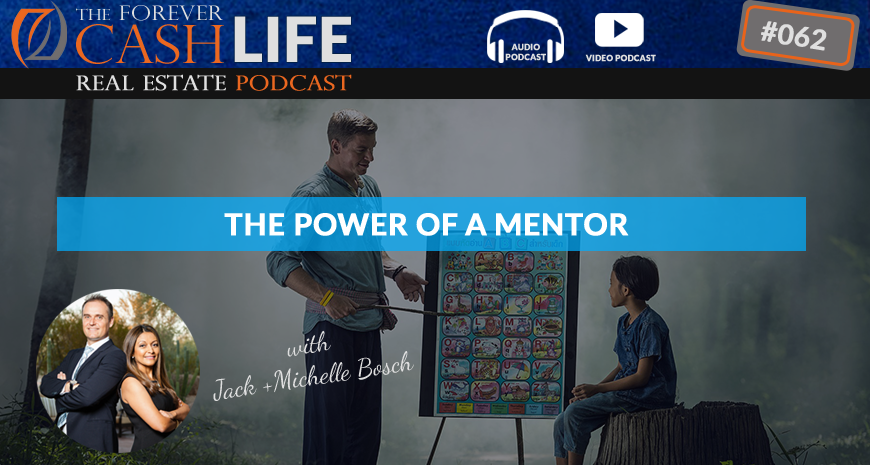 Jack and Michelle have paid various experts anywhere from $10 000 to $50 000 to get someone to help them learn about investment, and every time it has been worth it. In this episode, Jack and Michelle discuss exactly how powerful mentorship can be when it comes to growing as an entrepreneur.
You'll find out about the different types of mentorship, which will allow you to rapidly improve in any field by hiring the best to help you fill in the gaps in your knowledge. Do you want to become a better investor in a short amount of time? Check out this episode and find out how!
Listen and enjoy:
What's inside:
Learn about the different kinds of mentorship
Collapse your time
Have a step by step guide to achieving your goals
Change your concept of "normal"
Improve the entire trajectory of your career as an investor
Mentioned in this episode
Tweetables:
Transcription:
Jack: Hello there again.
Michelle: Hi.
Jack: And this is Jack Bosch.
Michelle: And Michelle Bosch.
Jack: And welcome to the Forever Cash live podcast show.
Michelle: Show.
Jack: Show. Michelle always wants me to call it a show. In this podcast show, we are going to talk about…
Michelle: I have, "The power of having a mentor."
Jack: The power of having a mentor. We are big believers in mentors. We've had mentors for the last 15 years, right? As a matter of fact, the moment we started having mentors, our careers went up like this.
Michelle: Yeah.
Jack: They absolutely, like crazy. And every time we forget it and we don't have one, it kind of stagnates. And then we hire another one, and then it goes up like that again. So the power of mentorship is what we're gonna talk about right now. Stay tuned, we're gonna get started just after this little message.
Announcer: Welcome to the Forever Cash Life real estate investing podcast, with your hosts Jack and Michelle Bosch. Together, let's uncover the secrets to building true wealth through real estate, and living a purpose-driven life.
Jack: And we are back right now. Hello everyone. We were just fighting about who gets started while the intro was going on. It was like, "No, you get started."
Michelle: No, you get started.
Jack: No, you get started. Anyways, that's our little thing. So you can tell we are not strangers to each other. We are married for 17 years already. And we have a little 10-year-old daughter, and happily ever after. Again, today we're going to talk about the power of mentorship. So obviously, we have had mentors. Now I want to tell you just a few stories about what mentorship has done to us in the different areas that we… and what it has done when we did not have a mentor.
So let's start when we didn't have a mentor, and particularly in our land-flipping area. Obviously, we created the Land Profit Generator, you can go to landprofitgenerator.com and check it out, which is our land flipping program. And the people who are getting our land-flipping program right now, particularly those who are in our mentorship program, they are getting deals sometimes in the matter of four or five weeks, all right? We had one student just start a few weeks ago, and within five weeks he has two deals already, making $25,000, at least in built-in equity. He hasn't sold anything yet, obviously. He just got them right now. But it will be very soon, probably have them sold in the next couple of weeks. And he made his first $20-$25,000 on the deal.
At the same time, when we started out, we didn't have a mentor because there was nobody teaching land-flipping, right? There was nothing out there. There was a couple of tax lien guys out there that we bought a $29 manual because we didn't even know what the freaking word, "tax lien" meant. We had to learn the first terminology on there. But…
Michelle: Yeah, that was a concept that I think outside of the U.S. as far as I know, does not exist.
Jack: Does not pretty much exist, exactly right. So in Europe, you just don't pay your property taxes, you just get…. at some point in time, they take your furniture, perhaps, but they'll never take your house or your land or your real estate for that. And the same in Honduras, where you're from, right?
Michelle: The same. No, no.
Jack: They don't take it for that. So we had no idea about land-flipping, we had no idea about tax liens, tax deeds. And it took us three years having to figure this out on an old trial and error basis. We just started trying something. We started going to tax lien auctions, buying some liens and six week later, they were paid off. We were like, "Great. We made $2.49 in interest." Exciting, right? Then we went to tax deed auctions. I said, "Michelle…"
Michelle: But it was a carrot. We were like, "Okay, this works."
Jack: This works, we made $2.49, right? And here it's actually kind of a mindset type of thing. A lot of people, when they make $2.49, they say, "This shit doesn't work," right? And then they move on to something else. We looked at that and it was like, "Ooh. We did not lose money, and we made $2.49. Something here is working, we just need to optimize it, and we need to get it done better.
Michelle: Yeah.
Jack: All right? That's our mindset. So then we send Michelle to a tax deed auction. Tell us about that.
Michelle: Oh my gosh. It was one of the scariest experiences I've ever had, you know? I'm there with my little Dodge Neon and my MapQuest printouts, and we have $3,000, that's our maximum bid that we could possibly have on the properties. And so the auction starts…
Jack: Pieces of land that owed like $500. And we figured we could be good at $3,000.
Michelle: But we were excited because some of the minimum bids were $100. I'm like, "Okay, this is totally doable." But you know, the bids got very, very quickly completely out of range. Very competitive, a lot of people. It seemed like it was a group of investors or people that had been doing this for a long time. They seemed to know each other. I know that certain practices are illegal in auctions, but let me tell you…
Jack: They were doing them.
Michelle: Yeah. It seemed like people on purpose would not bid on certain parcels because they had pre-arrangements.
Jack: That's very common.
Michelle: And so on and so forth.
Jack: In rural areas, yeah.
Michelle: And even… And it wasn't just the investor, but the investors with the county officials as well. They knew each other, there was a feeling of incredible competitiveness and just predator.
Jack: Predators, a bunch of sharks in the room.
Michelle: A bunch of sharks, yeah.
Jack: So that… there goes beautiful Michelle walks in with her map and with her thing. And then sits down, and then all of the sudden all of those go out of range, and she's just basically comes back like, she's like, "I didn't get anything." Right?
Michelle: Yeah.
Jack: So that's our experience. So then, but at the same time, we saw like, "Hey, people are buying them, and there's still some value in them. Okay, there's something to it. We've gotta keep going, keep going." And soon enough, at some point in time, we started experimenting with letters. We sent out some letters where we were just offering people $100 and that…
Michelle: And I did get something out of that.
Jack: Yes, we did get one deal out of that…
Michelle: Not just one deal, but also a very important piece of information. One of the properties that I was interested in bidding, the actual… and we had contacted the seller, was at the auction. And then she explained to me that the reason why she was at the auction was that she was hoping that her parcel would go for much more than was owed in back taxes. Because she was hoping that if it did, she would be entitled to something called "excess proceeds."
Jack: That's right.
Michelle: So that was another like…
Jack: We learned about excess proceeds at that point in time, yes. But then moving on, we realized, so this is not working that way. Let's try direct mail. So let's try and see if we can contact some of these people. So we started messing with letters, and it took a good another year until we got our letter right. And the first time we sent 400 letters, we got / person to respond who wanted to sell us this property for a hundred bucks, but he owed… it was probably worth $5,000 and he owed $6,000 in back taxes. So it was like, "Okay, that's no good."
But again, most people would say, "This doesn't work." We looked at it as like, "We got an answer. If we got one answer, if we tweak this, we might get more than one answer. We might get somebody else that doesn't owe that much." So we started tweaking, tweaking, tweaking. Long story short, the entire process took three years until we got it to work. And then within ten months, we were able to pay off our cars, pay off our student debt, pay off our credit card debt, put a year's worth of living expenses on the sideline, and quit our jobs. And eight months after that, we were officially millionaires.
Michelle: Yes. So the moral of the story is, you can take…
Jack: You can take the long route.
Michelle: This is not being very modest, but we're not… I mean, we're fairly intelligent people and it took us three years to figure it out because we did not have a coach, you know?
Jack: Right. Since then, we have learned… go ahead.
Michelle: And now we have people that are following the program that have a coach, and within four to five weeks have a deal. So talk about collapsing of time with having a coach and a mentor.
Jack: Yeah, not everyone has a deal after four or five weeks. Some people take three, four months to get a deal. But still, three or four months is still a tenth of three years.
Michelle: Yep, absolutely.
Jack: So that collapsing of time. We realized the power of mentorship is a collapsing of time factor. So you can take three years to figure this out, right? You can go and, and those who are really cheap don't even buy the course, and they can go figure this out based on the podcast and just go little by little, and little by little, and it might take you two, three years to figure this out.
The ones that wanted to advance faster, they can get, for example, a course. There are many courses out there, some are crappy, some are good. We always get very good feedback on ours, on the land-flip, which is the only really solid land-flipping course out there. But then we have learned from that, in our own experience. Because we have learned from that experience that we don't ever want to spend three years to figure something out.
Michelle: Yep.
Jack: So as a result, what have we done since then? Every time we learn something new, what do we do?
Michelle: We go ahead and hire someone that knows more than we do, that is an expert in that field, that we can model, basically.
Jack: Right.
Michelle: And bring them in and help us lay the infrastructure, and then the knowledge and whatever, any gaps that there are. Basically, accelerate our growth in whatever new area that we decide to go into.
Jack: Exactly right. So we basically figure out who is the best person to learn from in each market that we're gonna go into, and then we hire that person, and then we learn from that person. So we have done that at the same time in personal development. We went to multiple Tony Robbins events, and our business has grown ten-fold afterwards, right? And we spent big bucks on that, too. Then we joined Masterminds. Joined Masterminds, now we have our own Mastermind for experienced real estate investors. Particularly land-flippers, or people that already have a lot of real estate experience and want to do land-flipping. And we have…and they are making quantum leaps right there. They are making 10-fold, 100-fold [inaudible 00:10:05]
Michelle: When we wanted to learn online marketing, and how to market our properties online, and then eventually how to even also market the educational aspect of what we do as well…
Jack: Absolutely.
Michelle: …the very first thing is we hired a mentor. And then we joined a Mastermind so that we could continue basically polishing and upping our skills in online marketing.
Jack: Absolutely. Upping, and doing all of that. And then even recently right now, I am still part of two Masterminds, and then we have our own Mastermind. And recently, much recently, you hired a personal mentor to work with you one-on-one on additional things that Michelle wants to do, that you want to do.
Michelle: Yeah. I'm interested in creating an audience for ladies. And I'm like, "Who is the best person out there that I know that has done an amazing job at doing just that for that particular niche, for that particular group of people that I want to talk to. And so I went ahead and hired the best.
Jack: Hired the best, exactly. Now, so here's a question that people will probably ask. "Well Jack and Michelle, have you…when you pay sometimes $25,000, sometimes $50,000, sometimes $15,000, sometimes $30,000 for different programs, have you seen results from every single one of them?
Michelle: Absolutely.
Jack: The answer is yes. I would agree. Michelle came right out and said, "Yes." And here's the thing that I want you to think about though.
Michelle: Maybe we're…
Jack: We might be saying the same thing, but go ahead.
Michelle: Go ahead first, because I think you got it. I can see it in your eyes.
Jack: Ooh. The thing is, there's two kinds of mentorship programs. When you hire somebody for a specific technique, then obviously the expectation is that you will be accomplishing something using that technique, right? That that technique will lead you to the results that was promised.
So when our students sign up for our technique, our land-flipping technique, the goal is if they're a beginning investor, no idea about real estate, the goal is at the very least get them through one completed deal, right? They already have some more experience, the goal is to get them to multiple. If they already have a bunch of experience, then the goal is to help them build up the system so that they can go fly really high very quickly. But it's all technique-based.
I've also joined Masterminds where there was not necessarily a very clear deliverable of a technique. So we have our own real estate Master… we're part of Real Estate Masterminds where you meet with other very successful real estate investors. And we run our own Mastermind, "The Ultimate Boardroom," landmasters, for exactly that. Where the goal for the members is to build a business that combines both freedom and profits, right? Where profit meets freedom.
So it's about business growth. Like 2x, 5x, 10x business growth, and at the same time, in a way that you have freedom. But the actual deliverable is on the member side. So when I join Masterminds like that, the outcome is not always that instead of doing 100 deals that year, or 150 deals, we do 250 deals that year. That's not always the outcome. The outcome might be…
Michelle: But it has translated.
Jack: It has translated into that, yes. But the outcome might be that in the process you start realizing that there's something missing in your business, and you're doing 150 deals but you're working yourself to death. So the next year, by implementing what you learned in Masterminds, you still do 150 deals, but you take three months of the year off. And you're making just the same money, or more money, on those 150 deals as you did before. So now monetarily…
Michelle: Or more.
Jack: …your life might have not changed that much, but the quality of your life has completely changed out of a process like that. And is that not worth the amount that you paid for it? It is in my book because I've been in Masterminds where there's a lot of pain in the room, where people are running, running, running. And if they can just step out of that and run less and make the same money, this time is the most valuable good. It's not money is the most valuable, time. So if you can build your business in a way that you gain this most valuable item again, which is time, and your business still spits out the same or perhaps more, then that's a beautiful result.
So being part of Masterminds has sometimes resulted in that. Being part of Masterminds has resulted, more than anything, in relationships that then, a year later in some cases, have led to seven-figure impacts on our businesses.
Michelle: Like windfalls. Absolutely.
Jack: Windfalls, absolutely, windfalls.
Michelle: And not just the monetary aspect, but right now when you said about relationships, but also about the impact that those relationships have had. And what I mean by that is how a group of peers, or a specific person, has conducted themselves has been incredibly transformational for me. And as a result, I have upped my game. So that is also something that's worth my time.
Jack: Right. So you surround yourself with high-quality, high-integrity people, and all the sudden you are pushed to up your game. And it's not necessarily what…
Michelle: Or courageous, outside the box thinkers. And relation geniuses, real creative geniuses. And they really rock your world and make you think about things completely differently.
Jack: So in some cases, it's not necessarily what is being said, it's about the powerful… I don't know if powerful is the right word, but the energy and the level of conversations in the room that opens your eyes to there's a completely different world out there. And then that makes you want to be a part of that world, and as a result, you will elevate your game. And even though nobody said anything about what you specifically need to do in your business in order to get to the next level, you automatically go there, because your "normal" has been changed.
Michelle: And that is basically…
Jack: You level up.
Michelle: And people sometimes look at it, you know, "I'm gonna hire a coach for the transactional purpose." For what you were just describing earlier, the technique. This is gonna be my ROI on my money. But if you really think about it, it's really transformational when you do decide to hire a mentor or join such a group of peers that are operating at a higher level. What's gonna come out of it is gonna be much more than transactional, it's gonna be transformational, I can guarantee that. Even if you are not looking for it.
Jack: Absolutely. So if you're looking at the mentorship in the right way, it has multiple aspects to it. Number one, even if it's a technique on a mentorship, like the one we offer, it has, number one, it has the aspect of following the steps that the mentor ask you to do. But the other part of it is that a personal growth part comes with it. Because by doing those steps, you're gaining in confidence, you're gaining capability. You're gaining in courage, you're gaining in personality, almost like, because you're going from…
In some cases we have seen people going from really shrunken, let's say beaten up by life kind of personalities, to blooming again because finally, something worked. And finally, something gave them their juice back. And finally, something gave them back their independence as a human being. They no longer have to tolerate things that are happening in their lives, tolerate people beating them up in their life, calling them "losers" or whatever it is. And now they know. They have the facts, they have the proof in front of them that they're not a loser, that they can do this. And the entire world changes.
And because the entire world changes, the entire trajectory that was going this way is starting to go that way. And because of that, everything in their life changes. That might just be the result of one single deal, in some cases, that everything changes. Because I remember our first deal. Our first deal, when that happened, was a deal from $400 to $4,000. That deal changed our lives, at least it did mine. It changed our lives because it took us from going from, "Oh man, how long is this gonna take until we figure this out? Are we really stupid? Come on, there's other people doing this," to like, boom. "This works. I was able to sell this property, or we were able to buy this property. We were able to get this done. Where there's one, there's more."
And then what? Ten days later, another one came along with almost a $10,000 profit. And then boom, boom, boom. And that's what it does, that's what a mentor does. It's a time collapsor. It's a guidance to your goal. But don't forget about all the other pieces that it does. All the other pieces. The intangibles, which are really, at the end of the day, what makes a difference between those that are successful and those that are not.
Michelle: Another aspect to it is perhaps people hesitate in hiring a mentor, or a coach. And I think it could be directly proportional to their level of self-worth. That they don't believe that they're worthy of making the investment on themselves to get someone that can keep them accountable to a higher standard, that will keep them in structured rhythms of success, and so on and so forth. So that's another element. So know that if you're feeling hesitant, if you're feeling fearful, that that could be something that could be operating unconsciously.
Jack: And I understand. I mean there's a lot of crappy programs out there, too.
Michelle: Yeah, absolutely.
Jack: There's a lot of things… but the thing is, [inaudible 00:19:47] So what I would encourage you to do is go to Facebook and actually join our Facebook group called, "My Open Path Forever Cash."
Michelle: Yeah, "Forever Cash Club."
Jack: Forever Cash Club. So you search for Forever Cash Club and it will show up, request to join. And it requires our approval, but we will approve you. And then just look at the community over there and look at yourself, if this is something for you. If not, then just go with somebody else. But we had just a dinner in Switzerland, we were in Europe a few weeks, and we had dinner with a friend of Michelle and her husband, and he had fallen for the wrong guy. And the wrong guy just basically gave him a bunch of crap information, charged him a ton of money for it, but he had the right attitude. Because he almost got several deals done, he learned a ton in that process, and all he's needed is one tweak. So we're just on the side helping him to make that one tweak so that he can get successful out of it. Because even out of crappy programs, if you approach it right, you still should learn a lot of it even if you might not get a deal out of it. But go check out our things.
Michelle: And we're not condoning crappy programs.
Jack: We're not condoning that. It's a crappy program, of course, but I know they're out there. And I know many people watching this probably have actually probably fallen for them already. So what I would like for you to do, join our Facebook group. Just talk to the people in the Facebook group and see if land-flipping is something for you. Because obviously, we would love to see you in there and love to be one of you. Because we have a goal of generating 1,000 millionaires. So one of our goals is… and through the land-flipping program.
So I want you to check it out. I'm not gonna give you any link, or anything like that where you can go. Actually, if you wanted to talk about coaching, you could go to landcoaching.com, all right? landcoaching.com, and check it out. But the point is go join the Facebook group. Just check it out and become a member. Listen in and watch the conversations, see the success stories that are happening all the time, and then you'll see whether or not this is an option for you, all right?
That's where I'm leaving it. P.S., we're living the mentorship world. We're not just selling mentorship, we're hiring mentors. Michelle just spent $50,000 on a mentor for herself. I'm just joining another Mastermind. We're constantly working with mentors. When we wanted to get into a new area of multi-family, we hired somebody, we worked with somebody that already has done a bunch of deals. And then we always give it back.
We're not teaching multi-family, our mentorship is only about land-flipping. But whatever we do now, we hire the best mentor that we can find. We pay a ton of money for them, but it has paid itself back every single time, multi-fold. Sometimes immediately, sometimes within a few months, sometimes a year or so later. But usually, when we go for something that is a specific technique, it has always paid itself back within a matter of like the first six to nine months. All right?
Michelle: Yeah.
Jack: So with that, thank you very much. This is our mentorship thing. We're big fans of it. And with that, we'll see you in the next show.
Michelle: Thank you. Bye-bye.
Jack: Bye-bye.
Announcer: Enjoy this episode? Then make sure you like, subscribe, and post your comments and questions below the video. We're looking forward to hearing from you.

What are you thinking?
First off, we really love feedback, so please click here to give us a quick review in iTunes! Got any thoughts on this episode? We'd love to hear 'em too. Talk to us in the comments below.
Enjoy this podcast? Share the love!