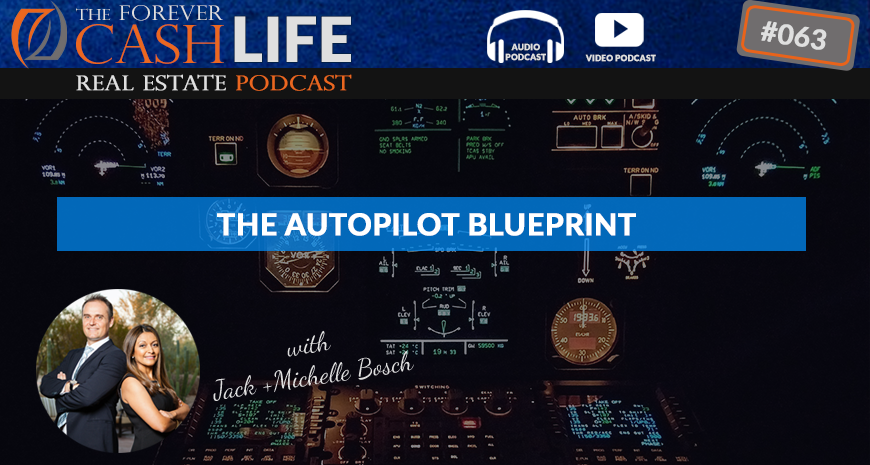 In this quick episode, Jack discusses how to set up your business to run on autopilot; making sure that you leave the right person in charge. Entrepreneurs are never satisfied with having just one business – right? Well, that's not a problem at all as long as you leave your existing business in good hands.
Listen and enjoy:
Watch The Video:
What's inside:
Learn how to set up your business to run on autopilot
Discover what "having a hat on each horse" means
Learn how Jack manages to have multiple businesses run efficiently
Mentioned in this episode
Tweetables:
Transcription:
Jack: Hello, Jack Bosch here, and welcome to another episode of the "The Forever Cash Life Real Estate" podcast. I'm your host, Jack Bosch, and I'm excited to share with you another episode right now of this show. Today, we're going to talk about…let me look at my cheat sheet here. We're going to talk about… Actually, I need to put on my glasses so I can actually see it, talking about autopilot blueprint, yes, autopilot blueprint, how to put your business on autopilot. So, here's what we're gonna do, let's wait for the quick introduction, and then we'll get started right now.
Announcer: Welcome to the "Forever Cash Life Real Estate Investing" podcast, with your host Jack and Michelle Bosch. Together, let's uncover the secrets to building true wealth through real estate and living a purpose driven life.
Jack: All right, here we are again, and we are going to talk about, again, autopilot blueprint. The concept I wanna talk about, and this might be a short podcast here, a short show, is having a hat to each horse. Now, what does hat and horses have to do with business? Here's what I'm talking about, we are doing multiple things in our business. And this entrepreneurial bug, right, you do one thing, and then you add another thing, and you add another thing. But every time that you add something to your business, you wanna make sure that there's somebody in charge of that department of your business.
So, say if you're doing land flipping, and you're adding house flipping to it, why you would do that, I don't know, but if you're adding it because it's just the hassles, just do more land flipping. Well, if you have land flipping and you're wanting to add to that land subdivision, or land development, or things like that, right? So, what you wanna do, for that matter, if you're having a bunch of McDonalds's and you wanna add a bunch of Burger Kings now to it, you don't want to have the same person in charge of the McDonalds's as the Burger Kings.
Not that anyone would give you those two branches at the same time, perhaps they would, I don't know. But the point is that when you start something new unless there's somebody who in a leadership position, with decision authority, who can run the day-to-day operation on it, and make the decisions about it, then this is not going to get the attention it needs. So, if you don't have that person, this business is going to suffer. And the person that I heard of, and talked to, and asked that question to, that fully understands that most and more than anyone ever I have seen, is Sir Richard Branson.
I was at a charity function a few years ago, and I was there in my tuxedo, and the charity function was to support Sir Richard Branson's…one of the charities of his mom, actually. His mom like supports a bunch of charities and that was one close to her heart, so he did a big event in LA, and through some connections, I was actually invited there. And it was really cool, lots of really high hitters there, big hitters. And one of them was, obviously, the host Sir Richard Branson and his mom. So, he walks in, I have a chance to talk to him for a second, and I ask him, "Sir Richard Branson, how can you handle…" And that was at the beginning of our real estate business and we hadn't added any other pieces to it. It's like I asked him, "Sir Richard Branson, how can you run so many businesses at the same time?"
His answer was very concise, very quick, and very to the point. His answer was very simply, "Find the best person to run the business and get the heck out of their way," right? And that's, in essence, what I'm talking about with having a hat to the horse. So, let's see, if you wanna buy another business, you have the entrepreneurial bug, you have your real estate business, and you wanna buy now a dry-cleaning business, the thing is you can't run the dry-cleaning business and the real estate business and all those facets in the same efficiency. You wanna focus on one of them and hire somebody else for the other one. Or, once you have multiple businesses, you need to step away from all of these businesses and be kind of like the board of directors of it. Have a board of directors. Be kind of like overseeing them, but you wanna have a hat to the horse for each of those businesses.
So, if you have a land flipping business, and you're adding a land development business, the land development business either is going to take all your attention, if it's a new business, it's sexy and exciting, right, and therefore, the other business is gonna suffer, or you're gonna stay here and you're gonna hire somebody there, or are you gonna hire somebody here and somebody there, and you're gonna be the guy in charge of overlooking all of it. But bottom line is, if you wanna do both, or three, or four different things, none of them is gonna get done well. And that's very simply, that's the blueprint to automation…is make sure that the roles in your business are taken on by qualified people that fit the culture, fit there in the COBie test that we talked about in another one and another thing, but that you also have somebody overall in charge.
Now, in our case, the person really overall in charge and making almost all of decisions here, ongoing, we have actually as a team of two people, but it's really led by our team member, Alex. And Alex actually is behind the camera right here filming this. And so, he's doing a ton of different things, but he's really checking in on different people, checking on the different departments. And I'm still in charge overall, but in terms of a day-to-day operations and running things, he's really in charge of it. And now, at the same time in our apartment complex business, I am still the guy, but because Alex is running the other part, I can actually step in and right now take on a bigger role in the apartment complex business. But it's only a matter of time until we have a hat to that horse, until somebody comes in that we can groom, that we can have take over the operations of that department.
And at the same time, on the land flipping side, there's also somebody in charge of that kinda business. So, as a result of that, I'm very involved in the apartment complex side, but other than that, that's why we can take time off, and that's why our businesses can run without us. Because the team that we have in place is aligned with us on the value front, is aligned with us on incentives, is aligned with us on the knowledge. They're very knowledgeable, they're very well trained, we have procedures and those kinds of things and you can't create the things since.
But the most important part that I wanna talk about is that hat over horse, because most entrepreneurs…they make the mistake that they go all successful in one business, and then, they get the entrepreneurial bug that they wanna start the second business because they're bored over here. They start the second business and, all of a sudden, this one does [inaudible 00:06:48] because all the attention is over here. Then note, before you leave your own business because you wanna start something else, you wanna make sure that you have somebody in charge in this business that is the hat to that horse.
And then, once this business is running, put a hat to the horse in place two. And then, if you have the need, then you start a third one, and a fourth one, and the fifth one because, in essence, that's what Sir Richard Branson has done. But, at any point, if you're doing more than one thing at the same time, one of them is going to suffer.
All right, that's my message for the day right now. It's a short, quick message. Again, I would love if you see value in this message. If you see value in these shows, make sure you give us a five-star review on iTunes. Go over there, go to the podcast, give us a five-star review. And if you're in YouTube also give us a five-star there, I think you can write us a review. Also leave your comments there, subscribe to that. And if you see us on YouTube, go over on iTunes, like us there. If you see us on iTunes or whatever you listen to podcast, whatever the platform is for, for non-Apple users, give us a five-star review there. And then, also come over to YouTube and subscribe to our channel there. It's all to be found under either Forever Cash or Jack Bosch, all right? With that, thank you very much and see you on the next show.
Announcer: Enjoy this episode? Then make sure you like, subscribe, and post your comments and questions below the video. We're looking forward to hearing from you.

What are you thinking?
First off, we really love feedback, so please click here to give us a quick review in iTunes! Got any thoughts on this episode? We'd love to hear 'em too. Talk to us in the comments below.
Enjoy this podcast? Share the love!