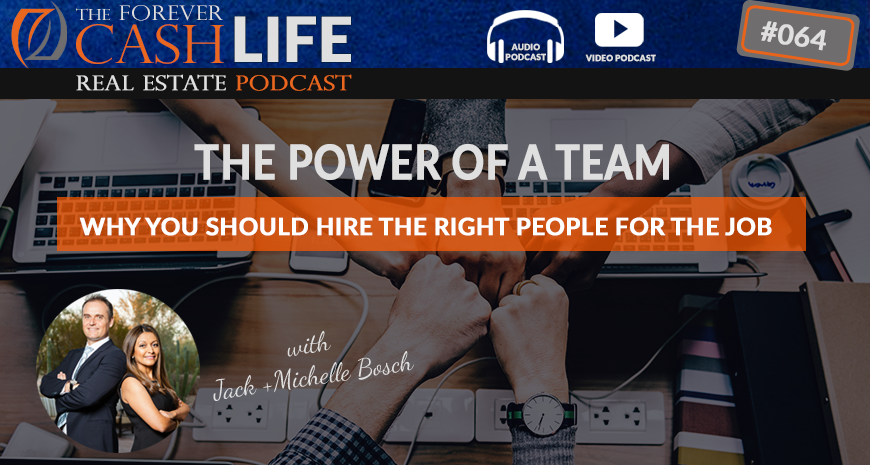 In this episode Jack and Michelle Bosch discuss how powerful teams can be when it comes to your business. You'll learn how they have structured their company to run efficiently using an almost entirely virtual team! Discover how you can run an amazingly efficient business (in real estate or otherwise) by hiring the right people for the job, using tools and strategies that have allowed Jack and Michelle Bosch to run their businesses while having the time to travel frequently.
Do you want to run a successful business using the Forever Cash System that allows you to live a life with financial freedom? Check out this episode and find out how!
Listen and enjoy:
Watch The Video:
What's inside:
Get freedom of time, money and purpose
Learn why it is important to empower people to live the same freedoms as you
Discover how Jack and Michelle Bosch run their business with zero full time employees
Find out about some amazing tips and tricks for hiring the right person
Align your employees values with your own
Mentioned in this episode
Tweetables:
Transcription:
Jack: Hello there. We are back on a podcast episode. Today our podcast show…
Michelle: I keep telling Jack he should call it show.
Jack: I should call it show. Welcome to the Forever Cash live show. How does that sound? Does that sound good?
Michelle: Wonderful. Yeah.
Jack: All right, in this episode of the show, we're going to talk about what? We're going to talk about I think the power of a team, right?
Michelle: Yes, yes, yes, yes.
Jack: The power of a team. Give us a little sneak preview, why would you want to build a team?
Michelle: Well, I think it's increased capacity, it's freedom, it's, you know, for yourself, and for your business and that can only come with a team.
Jack: All right, so we're gonna talk about that in just one second.
Announcer: Welcome to the Forever Cash live real estate investing podcast, with your host Jack and Michelle Bosch. Together, let's uncover the secrets to building true wealth through real estate and living a purpose-driven life.
Jack: All right, and we are back and thank you very much for coming onto the show. As always, make sure that you right away like this, subscribe to this, share this, that you put comments underneath there, as we talk about and you hear something you enjoy, particularly if you're watching this here on YouTube. If you're listening to this on iTunes then make sure you all give us a five star review, okay? So, go ahead. So now, getting started, we're talking about the power of a team. Now, we have done a podcast a while…I have done a solo podcast a while ago when you were traveling about who should you hire first. And I talked about you should hire first either an accountant or a salesperson, right? Because you've gotta get your numbers, you've gotta know your numbers, and you've gotta generate sales, right?
Michelle: Yes.
Jack: But let's just talk generally about a team. Why is a team important again?
Michelle: Okay. So, well, for me, I know that this was my biggest weakness. I started my entrepreneurial journey as a complete, what I called rugged individualist, where I thought I could do anything better than anyone. And so why hire someone or why take the time to train anyone when I'm wasting my time training so and so, when I can do this faster myself and better, and so on and so forth.
Jack: And that's, I think, probably one of the biggest problems that most entrepreneurs have because as entrepreneurs you're always on drive, it's like there's too much to do for the day usually and in order to get everything done you're just like you need to be efficient. So, you're training yourself to be very, very efficient, to just get stuff done, get stuff done, to get stuff done.
Michelle: But it also goes at the core of why you started the journey to begin with, and that was to get, you know, freedom of time, money, relationships, and purpose. And so, it's almost like counterintuitive that that's the reason why you started, but, you know, but yet a lot of us find themselves wanting to do the work ourselves because we can do it better, faster and so on and so forth. And not wanting to rely on a team, not recognizing, you know, at the beginning, at least for me, that we could have more capacity by having a team and not just having a team, but having the right team, a self-managing team, and not just because other people are saying it or other business owners are saying it, but really building a team because you genuinely care about people and about building people.
Jack: Right. So, I think a lot of people start their business journey because they are either very sick and tired of where they are right now in their jobs, and so on, or because they just need to make money and they're seeing opportunity to make money. Now, so the first thing, the four freedoms are very important that you mentioned, the freedom of time, the freedom of money, the freedom of relationships, and the freedom of purpose. I think those last two ones are ones that all people, you and most people only get to see once they have accomplished at least one of these other ones. And unfortunately, the biggest one that usually gets left behind is the freedom of time as entrepreneurs start. Because they're chasing the money and in order to chase the money, they're willing to give up the time. And yes, at the beginning, you are the jack of all trades, no pun intended here, and you have to do everything in order to get to cover your costs and get to provide for your family, whether you're a woman or a man, and get to accomplish these things. And then at that point where you realize that you are at capacity it's a very, very hard thing to be able to say, let me step back and let me take five times as much time as it would take me to do it to teach somebody else to do it. But that's the way to do it, that's what you have to do, right? You have to take that extra time and I think that's why Michelle says, that's why you say this was the hardest or the biggest…
Michelle: It was my biggest weakness at the beginning.
Jack: Your biggest weakness and mine too. Because you're just like running and in order to grow you have to stop running and start building, right? And that's where the team comes in because the proper team in the right places, and we can talk about how the things, that Kolbe and so on in a moment, the proper team in the right places can actually get your boat, get your ship moving forward, get your plane or your jet moving forward at 10 times the speed than you could alone.
Michelle: Yeah, absolutely. And not only that, but so you as an entrepreneur are having those four freedoms, but as you start building a team and start building those people the business itself, you know, that team starts enjoying also those four freedoms. Because if they depend on you as a sole salesperson to provide and be the rainmaker of revenue, then there's no freedom as a business, as an entity itself. So, it's this progression, you know, from having the freedoms as the entrepreneur, as a team, and as a business.
Jack: Right. And as a business. And so, if we dive into… So, how do you grow a team? Who is important in a team? Who do you need and want? Everyone is important, but what kind of a team, especially if you're talking about the land flipping part of it, what team do you think is the perfect team to take this business to a really nice, let's say, 100-unit plus to 200 deals a year plus kind of business? What team does somebody need there?
Michelle: Well, they need someone that is servicing the inbound calls because your ability to present, you know, X number of offers depends on your ability to service inbound calls, in my opinion.
Jack: By the way, team is a loosely used word, team does not have to mean full-time employees that work 40 hours a week with benefits at your company. A team can be outside companies that provide services like, in this case, we recommend www.landcalls.com as the service that we use and that many of our students use to take those phone calls. They're trained, they're very well-trained, they're very professional, and they have very much experience with our system already.
Michelle: And one even before that is a mailing house. Because if you're trying to basically print out your own letters, print out your own envelopes, you know, fold them, stuff them, lick them, stamp them, there's only so much, you know, you can do and you might be an amazing person at doing those things, but let's get real, we should… You know? You were the best at that.
Jack: I was good, I was the best envelope licker out there when we started out. We used to do this all around our kitchen table, and we're just…Michelle would fold and stuff, and I would take them and I'd literally either take like a wet finger or for a while I really [inaudible 00:08:07] my tongue and fold them and put the stamp on there and so on. But that can be scaled to a degree, but it's a lot of time, you don't wanna do hours and hours of that. It's not the best use of your time.
Michelle: Yeah, so…
Jack: These are two outside team members, for example.
Michelle: And once that is out of the way, you know, in my mind at least in the beginning the role that you wanna maintain is the actual offer making. But anything other than offer making, like for example the marketing, unless…
Jack: You can hire a realtor for the marketing.
Michelle: You can hire a realtor or if you wanna do it at the beginning that's fine. But eventually, I think it's a role, you were saying sales, you know, that is a role that should be brought much more to the forefront earlier on in the process and basically have someone help you on that.
Jack: And as soon as you get some deals done you need somebody to do bookkeeping for you. Because that's not your best time either, you need a CPA and so on. So, if you listen to that, how many full time employees have we talked about right now?
Michelle: I mean, even the salesperson can be…
Jack: Almost zero, right?
Michelle: Yeah.
Jack: Almost zero. So, you can literally do this business with a virtual team of contractors that in essence, to a large degree, only get paid when something's happening, right? So, the bookkeeper has no work, gets paid hourly, has no work if there's no deals happening, right? Then if there's no expenses happening and no income happening, has very little work, it's very cheap. The call center is very inexpensive if you don't send out many letters, right? And only, actually, causes expenses when you send out letters, but that's also when you do deals, right? And the mailing house only incurs expenses when you actually send out letters which is also when you're having…deals are happening. So, your entire cost structure, entire team only starts costing you money when you really get into the gears and when you start doing deals which is the most beautiful way of building a business because in that case your expenses are very, very flexible. Do you wanna go on a month vacation and not do anything during that time? Well, you stop the mailing six weeks before, you stop your offers a few weeks before, you stop everything before and everything kind of like dies down, you go on your vacation, you come back and you then you ramp it up because your team players are still in play.
Michelle: But in no other business, I have to say, you're gonna come back from a vacation and you're gonna go, oh, open the mail and there's gonna be checks in the mail, number one, and number two, there's gonna be signed contracts. Yay.
Jack: Right, signed contracts in the mail. Exactly. One of our students just came back from a five-day buddy kind of trip with his friends and he came back to two accepted offers, right? And one of our mentors, he goes on long multi-week vacations and when he comes back he always have signed contracts in there with more deals and so on, and we obviously do too. So, that's the thing, the power of a team really allows you to propel forward. Now, what's some of the key criteria, Michelle, to picking proper team members?
Michelle: Well, number one, I think is do they align in your values? And if there's value alignment, any skill, any kind of, you know, particular tasks that they need to be trained that can always be trained. You can always, you know, pass that on and there'll be a little bit of, you know, learning curve and ramp up time, but if you cannot agree on, you know, the values to begin with, then… That's another mistake we've made in the beginning, we would hire for skills versus for values.
Jack: Versus for values, yeah, and that just doesn't work out because…to the degree that in two occasions people stole money from us, right?
Michelle: Yeah.
Jack: Because obviously, their values were, in this case, very much the other way around from ours. And one of them is actually actively being sought by the police and I gave her a plea agreement, but she declined it and actually escaped to…I think she lives in Michigan right now. Because we tracked her down because we have a skip tracing tool. We know exactly where she lives…
Michelle: Jack knows where she's at.
Jack: …and we had supplied the address to the police. I don't know exactly what happened since then yet. But I'm just saying you don't wanna mess with somebody who has a skip tracing tool and can find you, just as a side note here. But yeah, that's exactly…the value is one of the most important piece. The next important piece is that you really has…Jim Collins in his book "Good to Great," says it's not just important to have the right people, you have the right… He talks about having the right people on the bus. Well, I wanna add something to that, and that is you gotta have not just the right people on the bus, you gotta have them in the right seat. And having them in the right seat really means that somebody detail-oriented…if you put somebody completely non-detail-oriented in an extremely detail-oriented position, their values might be aligned, they have all the joy in the world wanting to serve, and wanting to do business, and wanting to help and they might be the best team member ever, but you're setting them up for failure because their nature of a non-detail-oriented person is just in conflict with the tasks that you ask them to do.
Michelle: And you can do it for a period of time, but it is exhausting.
Jack: It is completely exhausting to them, and they're not gonna enjoy it. So, as a result, you wanna make sure that you put the right people in the right seat. And the tool we use for that…
Michelle: And in order to do that though, to begin to do that, or to even think about that is not just for the point of view of efficiencies that are gonna affect my bottom line and therefore my profitability, but because you genuinely care about this person enjoying the eight hours that they're giving you, however many hours they're giving you. Because you wanna create an environment where that is the case, you know.
Jack: Right, absolutely. So, you wanna create an environment where everyone is in the right place so therefore they're enjoying it more, they're loving it more, and if you have somebody in a position where they love every minute of what they do, I mean, their quality of work is gonna be better, their customer service is gonna be better, their family life is gonna be better, and their performance is gonna be better, therefore, their financial performance is gonna be better because they're doing an outstanding job, they're helping a company get up, and ideally if you run a good company then there's like bonuses and stuff like that, then they get a bigger piece of that too and then overall, everyone…it propels the entire company up and that's another beautiful thing. Now, the tool we use for that is called what?
Michelle: Kolbe.
Jack: We use the Kolbe, that's K-O-L-B-E. That's a test, it costs 50 bucks, that actually tests people on how they're taking action in four areas of their life. We're not gonna go much into it right now, I can perhaps do a separate podcast about that sometime. But it's a really cool tool because it'll really explain if somebody has this…very high on what's called Fact Finder and very high on what's called Follow Thru which is like the need for organization, then this is somebody who is gonna first ask all kinds of questions and organize the information before they take action. Well, that's a perfect position to be in a role of like, let's say, a transaction coordinator or researcher or things like that, engineering kind of type person.
Michelle: They'll develop processes and, you know…
Jack: Develop process, but that's a horrible position to put into a role where they constantly have to improvise, where they don't have any plan…where their plan constantly changes, because it goes completely against their nature, right? And the other way around too, if you put somebody that is not detail-oriented at all and has no interest of facts, and no interest of organization, they live in an organized chaos, right? And if you put them into an engineer position where they need to track everything, and organize everything, and file everything, well, it's not gonna work out very well, right? Independent of their motivation and how much they love working with you, and how much you're aligned in values and so on, it's just not gonna work. So, this is a great tool. You check them in personal interviews for the alignment of values, you interview them for culture fit and things like that, but then the Kolbe helps you interview them, and test them, and check them for the fit for the extra role that they have to fulfill.
And that's how you build teams, but the key is, the hardest part is getting from that lone warrior part, to take a step back and now start training the people around you. Because every single skill at the beginning, you're gonna be able to do better than they. And you've gotta give them a little leeway, you've gotta give a little patience, so you gotta switch from the lone rider to becoming the trainer of them all, the trainer of people so that you are a coach for them, so you can bring their skill level up and soon enough, if you got them at the right position and the right seat in the right bus, then they'll gonna actually do all these roles better than you ever could. You just have to have that little bit of patience and that's why a great team is of importance.
We're very proud of our team, we're very excited about our team. We had a weekly meeting this Tuesday, we always have a weekly meeting on Tuesday, and I was the last one on, I was a little late. So, I was on and we only have six video spots because our team is virtual, and we have six video spots on it. And I was the seventh to come on, and so I didn't have a video spot. So I kept quiet, I just muted my microphone and I just let everyone start the call, and it was a thing of the most…the most beautiful thing I've ever seen, one of the most beautiful things I've ever seen, because everyone just went through the process, the leadership of the call changed in different times. And I just basically sat back and then only if there's like, "Is anyone else on the call?" I was like, "Hey, I'm on the call." And then I just did my little thing on there. And then I muted myself, got off the call again and let everyone else run the call. I just interjected a couple of times, and it was a thing of beauty to see how our team coordinates themselves with each other. And as a result, I mean our business is up, our customer satisfaction is up, our deals are up, and then all of that while we, in some cases, we just came back from a three and a half week vacation in Europe. All of that happened while we're gone, so this is a beautiful, beautiful situation to be in. We can only tell you that it's worth building that kind of organization for everyone because everyone in the organization, too, is empowered to make decisions, right? To make their own decisions and to take decisions because if the values are aligned and you are in charge of instilling those values, then everyone makes decisions as if they're…in your same…how do you say that? In your same…
Michelle: The same mindset or the same intention.
Jack: …in the same mindset, with the same intention that you would make them anyway. They are not the same decisions, but they're in the same direction, with the same intention, and that's a beautiful thing. And often they're better decisions than you might have even made on your own.
Michelle. Absolutely.
Jack: It's a beautiful thing.
Michelle: And there, you know, there's gonna be disappointments, and frustrations, and mishires, but they're all worth it. You know, when you do have a team that works powerfully together, and it just makes everything easy and effortless.
Jack: Exactly.
Michelle: Or at least makes it seem easy and effortless.
Jack: Right. So, with that, I wanna say thank you very much.
Michelle: Thank you.
Jack: And we'll see you on the next show.

What are you thinking?
First off, we really love feedback, so please click here to give us a quick review in iTunes! Got any thoughts on this episode? We'd love to hear 'em too. Talk to us in the comments below.
Enjoy this podcast? Share the love!