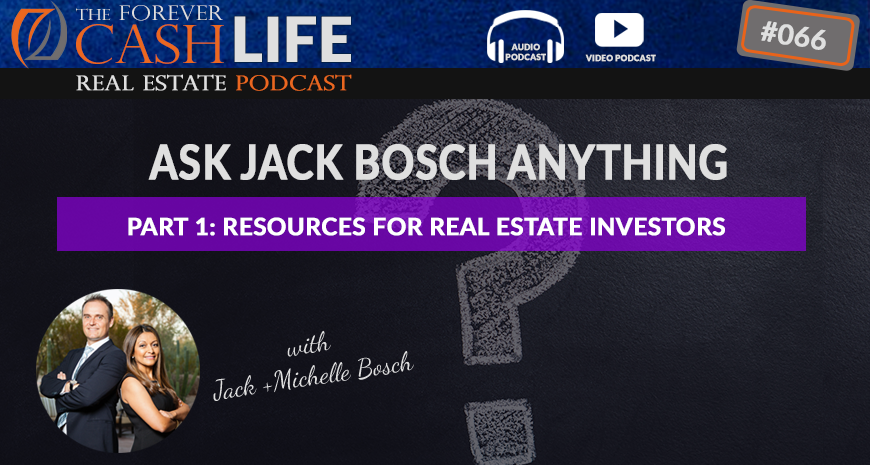 Jack Bosch answers your questions in this episode of The Forever Cash Life Real Estate Podcast! If there's anything you want to know from Jack or Michelle Bosch, feel free to ask by leaving a comment. In the first part of this Q&A session, we take a look at the many resources that Jack and Michelle Bosch have made available in order to help you become a better real estate investor and live a life of financial freedom.
Listen and enjoy:
Watch the video:
What's inside:
Jack Bosch answers your questions
Learn about the very many resources available to you as a Forever Cash Real Estate Investor
Mentioned in this episode
Tweetables:
Transcription:
Jack: Hey there. Jack Bosch here and welcome to the "Forever Cash Life" podcast. I'm your host today and I am going to talk about a couple of fun things. We're actually gonna do a Q&A podcast. I selected a few questions that were asked of us over the last few days and I'm going to answer them in the different segments of this podcast. So stay tuned. We'll be right back.
Man: Welcome to the Forever Cash Life real estate investing podcast with your host Jack and Michelle Bosch. Together, let's uncover the secrets to building true wealth through real estate and living a purpose driven life.
Jack: All right. Jack here. I gotta put on my glasses because I've gotta read the question out. So the first question that was asked is what are the resources that you offer with those land flipping programs and the land flipping things that you guys d? So very simple, very cool. By the way, if you haven't checked us out yet you can always go to www.landprofitgenerator.com. That's where we show you how the details work of how to flip land, how to do real estate without houses really, and how to do the same kind of deals that house flippers do, to make the same kind of profits that house flippers make just without the houses, right. So you can wholesale, retail, seller financing, you can split, you can assemble, you can develop, you can do all these kind of things. At the same time, you do that all without the houses. So there's no tenants, toilets, termites, none of that stuff. So go to landprofitgenerator.com and go to check that out. Also do me a favor and please go…if you enjoy this podcast go to iTunes.com and leave us a five-star review. That helps us get the word out there about this secret real estate investment technique that most people don't even know exists.
All right. So now, again, the question is what are some of the resources that we have, that we have built and that we make available to those who choose to also do real estate without houses? So number one is very simple. We have a home study course. I already mentioned it. You can go to landprofitgenerator.com and we created that home study course in very much detail. It's like one of the most if not the most detailed course in the industry, in the country on that it shows you exactly…it starts out to showing you how do you find the…how do you identify an area, right, first of all. Where do you wanna go do this? Because we have people from Germany do this right now. We have people from Canada. We have people from Mexico. We have people from Peru. We have people from China. And of course, the majority of the people are in the United States, but if you live in, let's say, in Silicon Valley where an acre costs a million dollars you don't have to do deals there. We have people live in Silicon Valley do deals in Florida. Live in Silicon Valley, do deals in Texas. We have people live in Texas do deals in California. We have people live in Michigan do deals in Louisiana. I mean, it doesn't matter where you live. You can do deals where they make sense.
So we have this course that shows you, number one, how to pick an area. Number two, how to focus on kind of property and the kind of property that you can flip very quickly, because the truth is not every piece of land is gonna sell very, very quickly, right. You gotta know what you're doing. You gotta know which kinda pieces of land you're gonna focus on. There is some people that focus on the wrong ones, usually the ones that don't have our program. And as a result, they might get stuck with a piece of land. Not you. You won't have to get stuck on these properties because you can get them…when you have the program, you know exactly which ones to focus on.
Next step is we show you how to lock them down, right, how to never have to use actually a dollar of your own money to buy these properties. How to lock them down, how to have the right to market them right away, and how to find somebody else and how to do a double closing on these deals, right. So that's all included and also on the selling side we show you how to market these properties, how to create a listing that sells and that actually is the second question that we're gonna cover in just a moment, what kind of ad style we use, how we sell these properties, and how we put these ads together in a way that they actually sell very well. So the first one, the resources, obviously the course. This is our main thing because with that course hundreds of people if not thousands of people already have been successful in the United States doing deals and from all over the world doing deals in the United States.
All right. So and secondly what we have built…actually one of our team members built this for his own family business because most of our customers…not customers. Most of our team members in our office, they actually also do deals part time. So one of our guys actually developed a software. So when he showed me that software it's like a CRM software, a customer relationship management software, in other words a deal management software that allows you to track the deal from the very beginning when you just load in the records to mailing the letters to talking to the people to doing the research to getting on a contract to listing the property and even we're in the process of potentially adding in a seller financing module that allows you to track the loans with that thing.
So it's really A to Z. it helps you keep everything organized. This tool is called the Investment Dominator, right. So when you have the course you also get the option of getting the Investment Dominator. Without the course, obviously it doesn't make sense to own it. Even though the Investment Dominator also has a house module. So you can use it for land but you can also use it for a house. So if you're a house flipper, go check out investmentdominator.com and check out our different plans that we have for that and see it there. Now if you have the course you get a special offer because we wanna encourage those who have the course to add on the Investment Dominator because it does make a world of a difference in your ability to get more deals done in less time. Some of our customers say it cuts down their time on a deal by 80%. And that's a pretty awesome kind of statement to make and a pretty awesome result of using this software. They say they couldn't even do our business anymore without the software. Now I challenge that. You can do the business without the software, but hey, it makes your life 10 times easier and 80% quicker and it takes off 80% of the work. So it works. So why not add the Investment Dominator?
So then for those who need a little training we also have an Investment Dominator two-day workshop that you can also check out under investmentdominator.com/workshop. It's a small intensive training program that is hosted by our core team, people that are either part of the development of the system or are some of our mentors, some of the guys that used this and they're doing 50 to a 100 to a 150 deals a year and using the Investment Dominator inside out, all day long. Sometimes they're even taught by myself. Not very often anymore but they're being taught by top qualified team members of our team that uses inside out and they know every faucet of it and they teach you exactly how to use it, how to set it up, the ins and out of it, and how to use it to the maximum for your business. So it's a pretty kick A…you know what I mean…workshop that is restricted to only about 14 people at a time. So it's small, hands on. You bring your laptop and you work on that thing. That's again…that's excited…by the way, if anyone ever interested in any of them you can just…if you're interested in that just call our phone number at 602-712-0183 and my team can help you get yourself set up for that.
Then what we have is…what else do we have? We have a live event. We have a live event that we do three to four times a year and that live event, it's a teaching event. It's not a pitch fest. There's no guest speakers. There's nobody selling you a bunch of stuff that you don't need. It is truly a teaching event where yours truly, and again, a couple of my team members that are fully engaged that they stopped doing anything else other than land flipping, and love flipping the way we do it, are teaching you exactly the ins and outs of doing this. So those who have the course, the Land Profit Generator, get with it two tickets to our live event. So they get to come for free. All we ask you to do is place a refundable $97 seat deposit for the first time you show up and then afterwards you can re-attend for $97 afterwards as many times you want. We have guys that attended for five, six, seven times already and every time they get another nugget and they get another piece and they love our event because it's a true business accelerator.
So what I mean by that we have people that came to our event with zero deals and they have done a 129 deals the year after. Actually, that's a person that came with 1 deal and did a 129 the year after. We had people that came with zero and have done 60 deals in the year after. We have people that have done zero and 3-and-a-half months later they have 18 deals under their belt. Why? Because at the event what we do is we really turbocharge your knowledge around it. We give you also the confidence, the capability, and all the tools that you need to be able to run out there and just make it happen. And we usually have like at least 20%, 25% of the audience already actively doing deals our style, which I put up against any event out there ever, because most events, there's like a 100 people in there and there's like 1 person who has done anything. No. In our event it's like dozens of people have done stuff already and they can vouch for the validity of this program. So again, the best way is to go to landprofitgenerator.com or call the phone number and just get the course and then once you have the course you can come to our next live event for free and the live event is always under landforpennieslive.com. That's where you can always find out what the live event is.
So next, what else do we have? Obviously, we have a mentorship program. Right, we have a mentorship program. It's a very small mentorship program. We don't like screaming off the rooftops. It's not for everyone. It's only for those who really are serious about making a change in their life and are committed to taking action. We have actually told people no, we won't take them, because it's not just about making money. It's not about making money at all. It's about making an impact in the people's world. It's about making sure that you have what it takes and that you have…what it takes means it's…like everyone has what it takes except if they're not willing to do it. So one of the pieces that we make sure that the people qualify for is we ask them a question. Do you have a little bit of a budget to make sure that you can send out at least a few thousand letters out there over the time of a period of time, right? If you don't, if you wanna send out a 100 letters a week it might not be the right thing for you because we need action takers. We want action takers. And those are action takers…like for example Mike, one of our students. He has something like it's is over 30 deals already since he joined our mentorship program, right. Another one, again, that has done 18 deals already in like 3-and-a-half months. Another one is up to something like 80-something deals in his first year and that's…and others only have done three deals in the entire mentorship program time, but then afterwards they have done 60, 70 deals making literally $2 million since then. I'm not kidding.
So these are some of the things that are doing and there's literally not a week passes by that one of our mentorship students is not having yet another deal or their first deal and so on. So again if you're interested in that you can just call our phone number. So we really believe we have pretty much all the bases covered. We've got the course, we've got the software, we've got the training for the software, we've got the live event for those who learn in a different way, right. You come to a live event. Or and if you learn by listening to or watching DVDs, or in this case it's an online program, if by watching those online videos you still might want to have, or you still need to, we encourage you to come to the live event because that's where you get like a deep dive and a refinement of it. So really, it's a one-two punch. You get the course, you go to the course, you get your first deal, or you're in the works of your first deal, then you attempt the live event. You get fine-tuned, you get energized and you go out there and you just rock the world afterwards. That's a proven one-two punch. And those who need a little bit more help, we're there for you with the mentorship program.
That's pretty much all we have. And however, we have one extra thing is for those who are already successful in the real estate world, particularly in the land flipping world, but anything related to that,houses, mobile homes, land development, things like that, we have a mastermind called the Ultimate Boardroom that is basically…we call it the Land Masters Program where a group of people who are already successful and they're already kicking butt in that industry and in that area are coming together to help each other to even take the business yet up one more level. If you do 10, 20…if you do 20, 30 deals or 50 deals a year, you wanna get to a 100, 200 deals you need structures, you need systems. You need proper procedures in your company. So we're gonna talk about these things and we're gonna talk about automation methods. We're gonna talk about somebody in the group has figured out a way to really scale the sales. Well, you know what? They share that with everyone else. Somebody else has really figured out a way to scale the closing process on these deals. Somebody else has figured out a way to really reduce cost in marketing. Somebody else has figured out a way to really hire team members and kickass team members and make this all work together.
Now obviously after 4,000 deals we have figured out a lot of these things too but even we get ideas and we teach those things that we have figured out to the group but it's not at the beginning level. It's not designed to get you the first deal. The mastermind is designed to go from 20, 30, 50 deals to a 100, 200 deals a year and literally get to that 7 and even 8-figure level in your business, all right. So that's the thing if you're interested in that, again, call the phone number. We can potentially hook you up for that and see if you are fit for that. It's an interview process to make sure that you actually fit in the group because the number one criteria of our group members is they're givers. They're givers and action takers. These are the two things. Givers and they come from a place of love to wanting to show with others and wanting to contribute with each other to this piece.
All right. So that's the resources we offer. We also have a resource…we have a Facebook group, actually. That's the first step. The very first thing you wanna do is you wanna join our free Facebook group, which is free to join, which his called Forever Cash Club, or also under the name of My Open Path. There's a long story to that. We're in the process of changing the name to it. It came out of another program that we had where we made it kind of like the forum and it blew up to become this beautiful place where everyone helped each other get more successful and a lot of our course owners are hanging out there. And a lot of our successful students are hanging out there and they're literally helping each other, cheering each other all, lifting each other up, carrying each other on the shoulders, helping each other, joint venture, doing joint venture deals together, and all of that happens in a Facebook community that is…well, if you don't know about it you're not part of it. So make sure you go there to Forever Cash Club on Facebook or search for it also under My Open Path, and again, we'll spare you the explanation of why it has that name. We're in the process of changing that name. All right?
So that's the thing. Start there. This is the free one. All you need to do is join that Facebook group. You'll see all the proof because I can tell you about how cool this is all day long. The fact when you go in there and you see the success that is being posted almost every day by somebody, another deal, another $9,700, another $29,000, another $98,000, another $7,000, another $17,000, another $4,000, and it goes on and on and on and on on an ongoing basis. It becomes ridiculous how much success you see there. And that might convince you afterwards to go and see and say like, "Okay. I gotta give this a try." And that's what we're trying to accomplish because once you try…what we're looking for you to do is give this a try because this works 10 times better than anything you've ever seen in real estate. And the proof is in the Facebook group. So go join it and then afterwards we have all these resources available for you.
Man: Enjoyed this episode? Then make sure you like, subscribe, and post your comments and questions below the video. We're looking forward to hearing from you.

What are you thinking?
First off, we really love feedback, so please click here to give us a quick review in iTunes! Got any thoughts on this episode? We'd love to hear 'em too. Talk to us in the comments below.
Enjoy this podcast? Share the love!