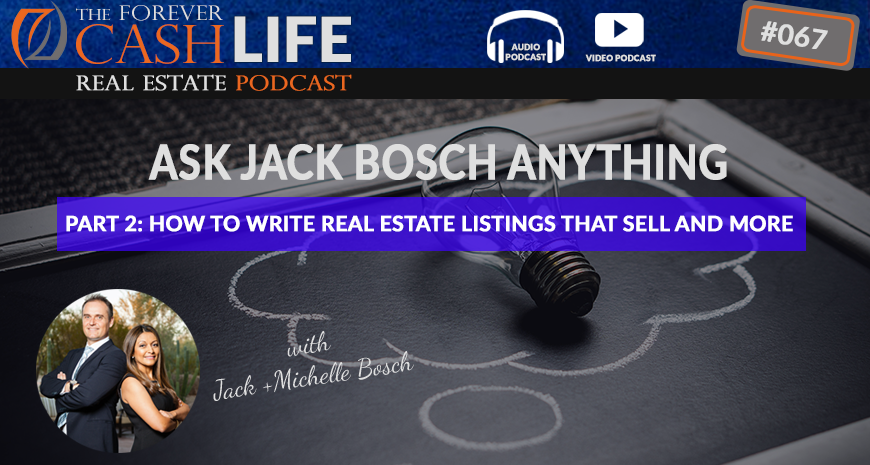 Jack Bosch answers more of your questions in this episode of The Forever Cash Life Real Estate Podcast! If there's anything you want to know from Jack or Michelle Bosch, feel free to ask by leaving a comment. Continuing on from the last episode, Jack Bosch discusses how to write real estate listings with the AIDA method. Also discussed is the power of doing seller/owner financing when doing land deals.
Do you want to live a life of financial freedom and have all your fixed expenses paid? Then check out this episode!
Listen and enjoy:
Watch The Video:
What's inside:
Jack Bosch answers your questions
Learn how to write real estate listings that sell
Discover the power of the AIDA method
Get all your fixed expenses covered by loan payments
Fill a gap in the market and live a life of financial freedom
Mentioned in this episode
Tweetables:
Transcription:
Man: Welcome to the Forever Cash Life real estate investing podcast with your host Jack and Michelle Bosch. Together, let's uncover the secrets to building true wealth through real estate and living a purpose driven life.
All right. So with that let me quickly check what the next question is. Gotta put my glasses back on. The next question is, what kind of an ad style do you use when writing or posting pieces of land? Okay. So when we post pieces of land…and this, by the way, now I'm giving you some secret stuff that is actually in the course because there's a module on how to exactly list your properties. And in that module I share with you what we call the AIDA method, and the AIDA method is…"Aida" is obviously a famous opera by Giuseppe Verdi but also it's a method for advertising. And AIDA stands for attention, interest, desire and action. So the goal of your presentation, of your listing, is to first catch people's attention. You do that in form of pictures, right. You don't put a bunch of picture of a bunch of dirt on there first. If you look at what…some people ask me, "Well, Jack, if I go look on websites like Zillow there's a lot of land for sale." Yes, but have you also looked at how crappy these listings are? And the truth is when you go there and you see these listings being horribly crappy what you find is that you're not wasting…that you're not competing with them. You're head and shoulders above them when you follow our methodology for listing these properties. And that's why our properties sell so fast because we're not competing with somebody. Let me ask you a question. There is a property out there that is for sale for $30,000 and it has a picture of dirt on it and a two-liner that says, "This property is for sale." Would you buy it?
The answer is no, right? The answer is no. No, of course you wouldn't buy it. But here's the thing. What if a picture of the property shows a lake, a mountain range, a house in the neighborhood, an elk grazing because it's like a hunting property or something like that. And then it has overlaid an image of writing that says, "Value $50,000. Now available at $29,950." Right, $29,950 or $29,995. Or, "Now worth…available 40% or…" what is that… "40% below market." Right? If you put that up there isn't that gonna get people's attention way more than just a picture of dirt and then nothing below? Yeah. So they're gonna click on yours. And after they click on yours the headline says, "Hey, property X, Y, Y in neighborhood of that." Or, "Great hunting property." Or, "Great retirement home property." Or, "In the path of growth." Or whatever fits your property, whatever fits the reality in your property. And then below that you say, "And available at 60% of market value." Well, now I have my attention. Attention. Interest. How are they getting my interest? Now give them some details. Describe something, put some pictures, show the neighborhood, show the stuff that's around there. And now by doing that, you're now peaking people's interest. And then by describing it more, part of that description peaks people's desire. Now they want it. And now they're like, "Well, this is cool."
And then you add to it that the price is low and on top of it perhaps even offer seller financing, which is basically you allow them to make a down payment and make monthly payments to you and the down payment ideally in our method is similar or more than what you actually paid for the property. So if you have that property on a contract for $5,000 you ask for $5,000 down payment on a $30,000 property and that's only what? That's less than 20%. It should be possible for a lot of people. They give you $5,000 down. You paid $5,000 for it. You've got a wash. You didn't even pay for that…like you pay $5,000, you get $5,000 back. You have zero money out of the pocket and now you get $500 a month in cash flow for the next six or seven years. Would that be cool? That's what we do all day long. That's what we do all day long. We've built this cash flow up to over $70,000 a month in our company. Right? You can do the same thing, right. There's students out there in the first year that built this up to $5,000 to $10,000. You can do the same thing with $5,000 to $10,000 a month coming in for the next 5 to 10 years without you even working anymore. Would that change something? Absolutely. It would change your life, right? So that's what we do here. That's how we put this out there. So we put an ad style together that's descriptive, that has a bold headline, that has a good picture, and so on and so forth. And that's how we put our properties out there. Now if you put actual advertising on there, we typically use banner ads. Banner ads still work. You can put them out there but you gotta test a lot of them and that's subject for another podcast.
All right. So last question, let me quickly see, is owner financing. Well, we just talked about it. Very great transition here. So here's the thing. Owner financing is one of my favorite ways to sell properties. And again, I'm gonna do another podcast in just a little bit in one of the next episodes where I kinda talk about seller financing in a little bit more…but seller financing is such an awesome way of doing deals for the following reason. We like it, let's put it that way. When you sell a property, there is only so many ways that you can sell a piece of land. You can sell it at retail price, high price for cash. What happens if you do that in real estate and in land particularly then the buyer would have to come in and usually either the buyer has to have all the cash or the buyer needs to line up his own financing. Banks don't like to lend on land. As a result, they have to have the cash. So it reduces your buyer pool and as a result it takes much longer to sell a piece of land at full retail value for cash. So if you have a $50,000 property that you wanna sell for $50,000 property, it literally might sit there a year before somebody comes up and says, "I'll pay you the 50 grand," or 45 grand or something like that, gives us a little bit of a discount. And they buy the property.
So what we do typically when selling these properties is we discount the price. Like if you have that $50,000 property on a contract for $10,000, could you sell it for $27,000 and could you sell it for $27,000 and after closing costs and everything make, let's say, a $16,000 profit on that deal? The answer is yes. Yes, absolutely. You could do that all day long. So now why could you do it all day long? Because, first of all, are there more people that have $27,000 than there are 50,000? Yes. Number two though, the people that realize that this property is worth $50,000 and they want that kind of property but they don't have…are they gonna dig deep to find $27,000 even if they have to borrow it from their grandma or whatever it is to buy the property? Yes, because it's a smoking freaking deal. It's a little bit above half price. It's like at, what is that, 54% of market value. So they will jump on that deal like crazy and it will sell very quickly. So as you drop the price it becomes more attractive and it becomes more of a deal and it's just like when Walmart does a sale or whatever it is, Sears or Nordstrom does the sales and you get designer clothing instead for a $1,000 you get them for $200 and a bunch of people jump on it, right. I'm still wearing my Polo shirt and my things. I'm not much into designer clothing,but anyway, you get my point, right. If you drop the price, people are excited about it and then they buy it.
Well, there's a way that you can have your cake and eat it too and this is the following way, seller financing. When you sell with seller financing, you are basically solving the problem of the market that exists at the $50,000 level. And by the way, that applies the same with $20,000 and $100,000 anyway. It's like by going to market value I just told you that it might take longer to sell a property because not that many people, or less people are gonna have the full amount of money that it takes to pay for that property, but a lot of people would like that property but they can't get financing because banks don't like to lend on financing. So by you becoming the bank and you offering financing on the deal you could literally solve all those problems. So what you ends up doing is you are now saying, "The price is $50,000 but if you don't have $50,000 I allow you to put, let's say, $8,000 down, or $10,000 down, which is 20%, and then make monthly payments of $800 to me for the next 8 years or so. So by doing that you now have enabled to more people to be able to afford that property, and obviously, the lower the down payment the more people can afford it.
So for example, we sell the property worth $35,000. We sold it for $31,000 but we only had bought it for $3,100. So we bought it for $3,100, sold it for $31,000, and took a $5,000 down payment on that deal. So in that case the $5,000 paid for more than the 3,100 that we paid on the property and now on top of it we got $400 a month or $323 actually a month for the next 12 years on that property. And as a result of that the total profits were staggering on that deal because the total profits in that case were a total of $44,000 on that deal. Now let's do the math on that, that's the beauty of it. Seller financing basically works such that you go and then you offer a property at market value. As I said, at market value usually takes a long time to sell but by offering seller financing the deal is now not in a lower price. With the wholesaling, the deal is in a lower price. With seller financing, the deal is actually in the down payment and the monthly payments. By the way, houses are being sold the same way, right. If you own your house, you didn't pay cash for this house most likely. Most people don't pay cash for the house. Instead, what do they do? They put in a down payment and they put in monthly payments, right. That's a standard way of buying houses. That's the standard way of buying cars. So the truth is we are applying the same thing to land only that there is no ready lending market for it. For houses, every bank, FHA gives you loans on that. Every local bank gives you a loan on it. On land, they don't. So there's a lack of financing out there.
So you step into that and you become the bank and now you can sell these properties very quickly and at the same time you create cash flow but you also triple your profits. Now why do you triple your profits? First of all, here, let's look at that case again. If you take the $50,000 property that you have under contract for $10,000, if you sell that thing for $27,000, you net $16,000 after closing cost. So you just made $16,000. Great. If you sell it with seller financing, number one, you're going to sell it for $50,000. So you're already making instead of $17,000…remember we have it under contract for $10,000. Instead of $17,000, you make $40,000. You get that? Instead of selling for $27,000, you sell it for $50,000, which is $23,000 more than you would otherwise sell it. So therefore, you have more than doubled your profits on that already. And then what you do is you get a down payment, which is cash in your pocket and it helps you offset the purchase price. And then on the balance, let's say if you do get a $10,000 down payment, you now carry back, as it's called, a loan of $40,000. And that loan of $40,000, on top of that they pay off over the next, let's say, 10 years. So over the next 10 years you get interest on the $40,000 and that interest adds up to approximately another $15,000 to $20,000 in profits over the course of the loan.
So as a result, your total profit on that deal roughly estimated…I don't have my financial calculator here with me…is going to be somewhere in the $60,000 to $65,000 range. So with the first scenario, you would've sold it, you made $16,000. For the second way, you end up making $60,000. So if you take that it's actually not three times, it's close to four times your profit that you make on the same deal just by structuring it a different way. Both sell quickly. The wholesaling deal sells very quickly and the seller financing deal sells very quickly but you make three to four times the money with a seller financing deal. The only caveat on it is you have to wait for your money. It comes in monthly installments. The 16 grand, you make today. Boom. You get the $16k, get a cashier's check, get a wire transfer, it's in your bank. In the seller financing side, it'll come in over 10 years.
Now there's another way you can do that afterwards. If you need that money quicker, you can then take that mortgage that you equated where you are the bank and you can actually sell that to somebody. So if you have a $40,000 loan where somebody gives you a $10,000 down payment and perhaps you even checked their credit and they have good credit, you can probably sell that to somebody else for $30,000 to $35,000 tomorrow, and as a result, let's say you sell it for $30,000, big discount, right? You gave them 25% discount. A $40,000 note, you sell them for $30,000. So you give them that and you now receive $30,000. So even in that scenario you would've almost doubled the income, the profits from that deal.
So whichever way you turn it, seller financing is absolutely awesome. And what I mean by that is also look at it from this point of view. I always do like a little bit mental math, right. I love mental math. I love categorizing stuff in my mind. And when started out, the first monthly payment we received was, say, $300. Now you can structure them such…one of our students in our hall of fame, he does no loans less than $500. We have loans that are as little as a $100. But let's say 300 is the average. If you do $300 the first $300 probably pays your car payment. Second one you do this loan, and the second loan you do, the second seller financing deal you do probably pays for your electricity bill in your house. The next one pays for your car insurance. The next one pays for…I don't know, for the gas for the car all month long, right. The next one pays for etc., etc., etc. You get it? Most people after having like 10 or 15 of these loans have all their fixed expenses paid for. All the fixed expenses paid. They now have…when they wake up in the morning and go to work, any dollar that they make at work is just extra spending money.
And by the way, that's the point where you probably wanna consider quitting your job and do this business full time, which a lot of our students have done. Right? For example, Ray and [inaudible 00:31:14], they started in our business just about a year-and-a half ago. It took them one year to realize that they're making more in this business than they made in their job and thy quit their job. Isn't that beautiful? That's what I want for you too. So this is what our podcast was about. I'm gonna keep it to this question. It went a little longer than it usually goes anyway. So with that I wanna thank you again. Again you've gotten all the links. We put them into the show notes too but also make sure you leave us a five-star review. Go over to YouTube too under Jack Bosch. Or also on the Land for Pennies, actually we have a YouTube channel. Follow us there. Follow me on Jack Bosch on Facebook. Join the Facebook group, My Open Path, also called Forever Cash Club. And I hope to see you there. Thank you very much. Bye-bye.
Man: Enjoyed this episode? Then make sure you like, subscribe, and post your comments and questions below the video. We're looking forward to hearing from you.

What are you thinking?
First off, we really love feedback, so please click here to give us a quick review in iTunes! Got any thoughts on this episode? We'd love to hear 'em too. Talk to us in the comments below.
Enjoy this podcast? Share the love!