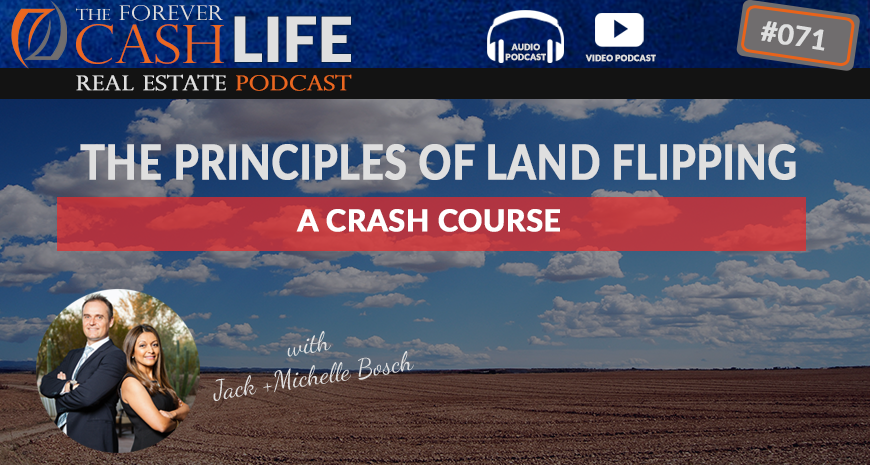 Jack Bosch and his wife Michelle Bosch have made a bulk of their wealth from a real estate investment technique called "land flipping". In this episode, Jack goes into detail to explain what exactly this technique is, how it works, how to get started and some tips and tricks for maximizing your profits. Do you want to stop living paycheck to paycheck and instead begin on the path towards financial freedom? Then it's time to start land flipping today!
Listen and enjoy:
Watch The Video:

What's inside:
Find out the principles of land flipping
Learn how Jack and Michelle Bosch got started with land flipping
Discover how to get started in land flipping today
Find out some tips and tricks for how to maximize your profits
Mentioned in this episode
Tweetables:
Transcription:
Jack: Hello, and welcome to the Forever Cash Real Estate podcast. My name is Jack Bosch, and in this episode I am actually going to go over the principles of how to flip land.
Male: Welcome to the Forever Cash Life Real Estate investing podcast with your hosts Jack and Michelle Bosch. Together, let's uncover the secrets to building true wealth through real estate and living a purpose-driven life.
Jack: Welcome again. This is Jack Bosch, and I'm super excited to share with you again the principles on how to flip land. In the last bunch of episodes, you have heard me talk about all kinds of different ways, including apartment complex, things like that, but I'm gonna go back to the roots, back to the method that is currently, literally in this last month, has generated over $300,000 in profits for us, and that is doing like deals like literally in this week, like while I'm recording this podcast. One of our students has done $106,000 in profits between five deals, 50, 40, 10, 4, and 2. Right? That's like thousand dollars. This is the profits that he's made. Another one has bought a property for $4000, sold for $25,000. Another one has bought a property for…Let me see. I've made some little notes here. Bought it for $500, sold for $5000. Another one has his first set of financing deals. Another one, there's boxes of direct mail, actually of offers going out in the mail.
Our student community is going nuts right now, doing deals like I've never seen before. It's literally all these deals came in a matter of the last…These were reported in the matter of the last four days. Right? Four days alone. So it's a snapshot of just within one Facebook group, our Land Profit Generator Facebook group, that's generated that.
Now, what is behind this method? I know if you go through all the way back to the beginning of the episodes, you can find a couple of sessions that explain it, but I think it's time to reiterate that because most people, I understand, don't watch all our podcasts in sequence. They start at the newest one, and then they go from there. They go back two, three, or so, but they don't go back like 60 or 70 podcast episodes to listen to that.
So here's how we do. When we…What we have discovered…When I say, "We," it's my wife Michelle and I. We're integral partners. We have been partners from day one. Usually she joins me. Often, she joins me on the show, but she's out of town right now. She's actually in beautiful Mexico, having fun there, and so we are…What we have figured out, back in the year 2002, was a method that you can do everything almost that you can do with houses, and some of the things you can't do with houses, just without the houses. Right?
So we figured out how you can strip off all the complexity from real estate and make the same or better profits, and we figured out how to do that, literally, without ever dealing with much competition at all. Occasionally you come across somebody who does the same, but literally for every 500 house flippers, there's one person who does what we do. So literally it's one of the best hidden secrets in real estate that nobody is paying attention to.
And what is that? It's land flipping. Right? It's land flipping illustrated by our program, the landprofitgenerator.com. So landprofitgenerator.com is where you can go to find out more information about this in the first place anyway. So excited. About to share the principles of this.
So here's the thing. Here's our little story of how this all happened. So Michelle and I are immigrants from another country, obviously. Michelle is from Honduras, Central America, and I am from Germany, Europe. Right? So we came here in the 1990s, Michelle 1995, I 1997. We met each other, fell in love with each other, decided to stay in the country, both got jobs after our college degrees here. We were lucky to get jobs that were willing to sponsor our visas, and we…But we very quickly realized that this job world is not what we want to do in life. Right? We don't want to be getting up and doing commute, and in my case I was traveling 100%. I was separated from Michelle all the time, all week long. We were miserable about that because we're kind of this weird couple that spends 24/7 together, and the moment we separate for 10 minutes, we miss each other, literally. I mean it's kind of weird. It's kind of cute. It's kind of it, but that's how it is, and I know I wouldn't want to have it any other way, and it's actually the same with our daughter.
The other day, we were at an event. Michelle went to a mastermind of women entrepreneurs, seven and eight-figure women entrepreneurs, and after were done, they invited me too for happy hour, and I brought Sofia along. We ended up, the three of us, in one chair. Okay. There were not any other chairs left, but the three of us were in one chair right next to each other with Sofia on our laps. Right? That's how we like to live our life. So you can imagine. And if you want to live your life differently, that's your choice. This is no judgment here. This is just a…So don't judge me either.
But the point is with traveling 100%, it was miserable. So we came up with the decision that we needed to do something. That was helped by the fact that literally in one year, my company that I worked for had 7000 employees. They let go of 3000 employees in one year. So it was a tough time, and if I would have lost my visa, I would have lost my job. I would have lost my visa. I would have had 60 days to get another company that would sponsor another H-1B visa, or I would have had to leave the country.
So obviously I was under pressure, and I hated every moment of that. I just was like fed up with it. I couldn't stand it. Even though I was apparently doing well, I was getting a couple promotions. I was getting raises and so on, but I still didn't like it. So sometimes doing economically okay is no reflection of where you want to be in life. Sometimes if you're just…You're basically in some golden handcuffs. Mine weren't even golden. I mean I made $45,000 in a job where I was traveling like crazy. Right? That's not…It's wasn't like…I wasn't making six figures, not even close to it. Right? After taxes, I had something like $2700 or $2600 left per month to pay for a mortgage, to pay for a car, to pay for groceries, and to pay for electricity and all this stuff. There was no jumping big jumps we could make with that.
So bottom line is…But we were sick and tired of that, and we looked around. And once we found real estate, we realized that we had no clue about this. So we had no idea of how this actually worked. We had no idea of what…I mean coming from another country…I mean here, this is drywall. When the first person talked to me about drywall, I was like, "What do you mean? Is there such a thing? Like, what wall? Is this like…What is it? I have no idea." Like, when he talked to me about, I don't know, two-by-fours, it's like, "What is a two-by-four? What is measured two-by-four?" And I realized it's the wooden sticks that are behind these walls and so on. So really no idea of real estate.
And with that level of knowledge, of course I was scared to death. So the first deal we looked at was a triplex that we wanted to wholesale, and we failed miserably because we estimated every repair wrong. We estimated the value wrong. We did everything wrong we could do wrong, but then afterwards we focused on something else. We came across land. We came across land lots, and the first lot we got under contract, we got actually under contract, we got it under contract for $400. It was a buildable lot in a small community in northern Arizona where I live. Arizona is like…I live in Phoenix, but it's like we live in Phoenix, but it's a three-hour drive from here. And we realized that this thing was worth about $8000. So it was like, "Well, okay. Even if we're wrong and it's only worth five, I mean at $400, what can go wrong?" And we could not come up with anything that could go wrong.
So we literally just left a…So we went for it, and we put a sign on the property. We drove up there, put a sign on the property, and literally the neighbor came over and bought it right on the spot for $4000. So bought it for $400. Sold it for $4000, 10 times my money. I mean I was excited. And more than anything, it changed my life because it made my confidence level so much higher, and Michelle's too of course. Before that, we were walking around like this. Like, we were like afraid of like, "Is this really true? Can we really make this happen?" I mean we failed already once. Right? It's the same. Can we…Do we…Are we the right people? Is this the right path? The little money we had was precious to us. Right? It was like, "Are we gonna put this on something?" I mean then we made a decision. No, we are so miserable in our job. We're so miserable with what we do. We need to freaking break out of it.
And perhaps you're in a similar situation. So we found land, and we got…We made 10 times our money, and afterwards life changed because afterwards, like, this stuff works. We came to a conclusion. This stuff works. We saw it. Right? We got a check, $4000, and $4000 was net. To us, of course, we have to pay taxes, but when you run a business, you can also deduct business expenses. It was easy to find $4000 of already expenses that you do, like your car. Right? And your home office and the mailings, everything and expenses. I mean we looked at it. We're like, "Okay. This is $4000 in our pocket. This is more than I made in one month working."
So it's like this is crazy. This is…Why don't we…Let's do more. The next deal that we got under contract was a deal that we did. It was a deal we put on…We got 40 acres in a rural area, like in the middle of nowhere, but recreational where people love to go out from a big city, drive three hours, put their camper up, put their RV up, go shooting, go, I don't know, go hunting in winter or whenever hunting season is. I'm not a hunter. Go have a bonfire. Right? Go use the ATVs. Drive around and things like that.
So we put on a contract for $500 from somebody who just didn't want it anymore. Both cases, people just didn't want it anymore. We sold it for $10,000, making a $9500 profit. Now we had $13,000, and all this happened in one month after we figured this out. One month, two deals, and $13,000 later. It's like, "Holy cow. If that continues, we'll be debt-free. We'll be ready to quit our jobs in just a few months." The problem was I couldn't quit my job because I was still with that visa. So we had to build this part-time, and then once we built it part-time, we waited and built it more and more and more, and Michelle was actually able to quit her job because she was under my visa and actually did it full-time then, and she started doing it full-time, and then we obviously…That accelerated the process, and then literally 10 months later, we were able to quit our jobs. The green card had arrived finally, and eight months after that, we were officially millionaires.
Now how does this method work? It works very simply. There's people, just like there's houses that are boarded up. To this day, I don't understand why anyone would let a house go for, like…Not go, but why do they let…Why don't they fix up that house and rent it out? Why don't they sell it as a fixer-upper to somebody else? Why don't they rent it as a lease-to-purchase to somebody or lease option or so to somebody who's a handyman who fixes it up themselves? It absolutely does not make sense, but people do it.
Well, if they do it for houses, they do it 10 times more for land because land in itself…If somebody owns land for generations…Again, we have a Facebook group called The Forever Cash Group. You're welcome to join it. In that group, there's literally yesterday somebody that posted that they had a situation where an owner wants to sell it, and that lot has been in the family for 80 years. And for 80 years, nobody had gone out, see the lot. Nobody had done anything on the lot. Nobody had even visited the lot. And they just did one thing for 80 years, which is what? Pay the property taxes. And that's the thing when you just own land, and you don't do anything with it, it is not income-generating. It actually sucks money out of your pocket. So it sucked money out of their pocket for 80 years, and now they're willing to let it go because they, like, okay, realize that this is stupid to hold onto a property for 80 years and not do anything with it.
So this student is now offering a 10 to 25 cents on the dollar offer amount to them, which they will accept, which they are already looking to accept, and then they will go and sell that property to somebody that usually lives in a city because the properties we focus on are on the outskirts of town usually or large acreage in rural areas, and they can focus on…Sell it to somebody like that who wants to get out there. I mean there's like friends of us, a good friend of us. He actually has a…In his backyard, he grows plants that he then go sells. Right? There is people that love…have a garden. There's people that have place again to dirt bike and camp. And one of my chiropractor, a good, good friend of us, loves RV-ing. So he has a big RV, and every weekend, if possible, they go out. They go out wild desert camping. Right? So they just go out on state land, and they just camp wherever they want.
Well, guys like that would love to have their own parcel. So but this family that had it for 80 years…Somebody thought it was a good idea back then, bought it, and it was passed on in the family, but the current generation just doesn't care for it anymore. So that's what we're looking for. This is high, nice, quality land. This is 10 acres, 20 acres, worth $20,000, $30,000, $50,000. Right? This is lots right on the outskirt of town, like two, three, five miles away from the city where the city is growing towards. Right? Where somebody can tomorrow get a building permit, build a house, and be five miles from the city, live affordably, put their mobile home on there, and then literally go into the city for 5 to 10 miles and go to the grocery stores and the movies and so on.
So this is not junk land. This is excellent land that it's just not my kind of land. I don't want to be camping. I'm not a camper. Right? My daughter is 11 years old. We've never gone camping. We got to do it some day, but we got to do that some day because she wants to, but just to experience it a couple of times. But other than that, even when I was young, I mean we didn't really camp. I mean my parents then bought a Volkswagen bus, and that's how we went on vacation. Right? We didn't go into fancy resorts. We went actually to campgrounds, and we camped there, and I have good memories of that, but being like with a bus or something like that. So I'm a more…If I would be camping, it would be more an RV camper.
So but half of the United States population loves that stuff, camping, hiking. RV-ing is a multibillion-dollar industry, and you're catering to that kind of customer as a buyer, and it's absolutely great. Plus, the third kind of property you focus on is [inaudible 00:14:28] lots, like lots right in the city. If there's a lot next to your house that's vacant and the house…and you can take that thing, put it on a contract, and sell it to a builder tomorrow. Right? So if it's worth $80,000, you buy it for $40,000, sell it for $60,000, quick $20,000 profit. Like she meant…She heard me talk about that, one of our students. She heard me talk about that. She literally looked online. She found two lots that were vacant. They were listed on something like Craigslist, a similar site, for $25,000. She put them on the…She made them an offer for 20. They accepted it. The next day, she called the builder. The builder offered her $40,000 for the deal, $20,000 profit in two days. Right?
So what we do is just a planned, strategic, repeatable business approach to this model. So instead of going after these houses where all the people are focusing on, we're going after land. So it's a different process, but it's a much simpler process. Right? So you focus on land in the [inaudible 00:15:23] lots in the direct outskirts of town or large acreage in the little bit more rural area, but that are attractive. Right? If you go outside of Atlanta, there's hills. There's mountainsides. Right? So if you're in there, the people in Atlanta…A lot of people in Atlanta like taking a weekend off and going into the mountains. Well, you can [inaudible 00:15:39] 10-acre mountain property two hours away from Atlanta. It's a perfect kind of deal. You understand that, how this is attractive? Right? Might even have a creek going through it, trees on it, beautiful. Right?
If you're on the western side of the country, people don't mind buying…They love buying desert because in the desert, they can park wherever they want. They can take the dirt bikes. They can go crazy with that stuff. They love that. Then they come back really rejuvenated from the weekend. So this is what we do in the outskirts of town. You're selling to actually financial investors. Right? There's people that actually exiting the stock market right now because it's like…Well, it's hovering along a really high level and lost a bunch already, and they are taking money off the table, and they want to invest in something. Why not invest in something that's three miles outside of the city? So when the city keeps growing, 5 or 10 years from now, it's engulfed in developments, and that lot that they were able to buy for $30,000, which by the way we get for $3000, and then we sell it for $30,000. They sit on it, and 10 years from now, this property is worth $300,000. So it's a win-win for everyone. The seller gets rid of a property that they see not much value in that they don't want to have anymore. You make a tremendous profit, and the buyer also makes a tremendous profit or has a lot a fun using their dirt bikes and things on there.
So this is what we do. This is how this works. Right? We go. We identify the areas we want to be in. We get a list of records from them. We send them a direct mail, but even that is different than the housing area. In the housing area, if you're lucky, you're getting a 1% response rate. Right? You send out the 1000 letters. You might get 10 phone calls if you are lucky. In our case, we send out the 1000 letters. You are usually anywhere getting between a 5% and a 15% response rate. That means you're literally getting between 50 and 150 offer requests from people. These are people, by the way, that nobody else is sending a letter to usually. Right? Usually nobody else is sending a letter to. In the housing world, everyone and their brother is sending them letters because everyone and their brother is using the same lists in the housing world. We don't. We send out a very proven letter, a letter that we have proven, over 4000 deals that we have done. We have split tested, tested, tweaked it, made the performance of it better and better and better.
So use that letter, and then you send out these deals, these letters that way. You get this. Let's say 100 people call you back. You end up make up…You do a little research on them. End up making 100 offers on these properties and get like, I don't know, three accepted, let's say three or four accepted of those, but now you basically…Your cost per acquisition of deal ends up being something like $200 because it costs you $600 to write the 1000 letters, and you get three deals out of that. Costs you $200 a deal. Now the average profit that our student make is, on the low end, like $4000, $5000, and on the high end like…Well, there's no high end. One of our students made $283,000 on a deal. Right? We're having a deal right now that we're co-selling with one of our students that is in Beverly Hills, that we put under contract for $300,000. We're selling it for $600,000. You know what I mean? This is kind of…It's worth 1.2. It's worth $1.2 million. It's an [inaudible 00:18:49] lot. Right? But let's say you bought it for $5000 and average profit is like $10,000 to $20,000, and sometimes you get those $40,000, $50,000 profits.
So is it worth spending $200 or $300 to get a deal when you sell it for minimum profit of $4000, $5000? The answer is yes. Right? And an average profit of $10,000, $15,000. The answer is, of course, yes. So this is what we do. We work outside of this high-competition area. We focus on people whose properties are not even on the market. Right? We're just getting a list from the county or from the services, and we send them a small direct letter that makes the phone ring like crazy. Then we do a little mark…Do research. Make them an offer of like 5 to 25 cents on the dollar. They accept, and then we move everything online, and we sell these properties to platforms like Google, like Facebook, like Facebook Marketplace, like Craigslist, like Zillow, like Red Fin, all these different places we use to sell these properties.
Then you sell them in two ways. You sell them either cash as a wholesale deal like the deals I told you, $400 to $4000, $500 to $10,000, right, $9500 profit, or what you can also do is sell them with seller financing and actually make land cash flow. Doesn't that blow your mind that you can do that? I absolutely love it. You can sell land with cash flow. What I mean by that is you can literally go and take a property that you buy for $3000, sell it for $30,000. If the buyer gives you, let's say, a 20% down payment…So you bought it for 3. You sold it for 30. It's worth, let's say, 35. So you get already a little discount. You sell it for $30,000. They give you a 20% down payment. Means they give you $6000 as a down payment. You just got a deal done with no money out of your pocket, where actually you put the property under contract. You don't buy it. You put it under contract. You look for a buyer. You find the buyer, and then you buy and sell it in the same day, using the buyer's money, and the buyer gives the title company $6000. Of the $6000, $3000 go to the seller, $1000 stays with the title company for their effort, and you get $2000. So without any spending any money, you made $2000, but now the seller owes you $24,000. You have a note, like an IOU, a mortgage in a way that you are the bank for, and the buyer pays you those $24,000. Now it must be payments of $500 over the next eight years.
So you're making the exact same cash flow that many people make on houses, just without the house and without ever having to dispatch a repairman to fix the house, without ever having the tenant do a midnight move out and trash the house. Right? Because there is no house. It's land only. So you can generate the exact same cash flow than you do with houses, just without the houses. This is how we like to sell, cash or wholesale or seller financing, and in the ideal seller financing scenario, you get actually the money that you pay for the property right back as a down payment. Isn't that freaking beautiful? That's what we're talking about here. This is what this podcast is about, and that's why we're interviewing students on this podcast that have done it because you don't have to believe me. You can literally just see what our students are saying.
So going forward, you'll see some of our students coming up. I already have interviewed a couple of them, but it's also gonna be probably every other week or so. It's gonna be me posting on…doing podcast episodes. So I'm super excited for you to learn more about this, and we'll put the link and all those things into the show notes here, into the…If you're watching this on YouTube, we'll put it in here.
Now, with that, I want to conclude. The one thing I want to ask you though is if you could go on iTunes and leave me a five-star review and not just press the five-star button. Actually go in and write a description about the podcast because that helps us getting more to more people. Because at the end of the day, we are on a mission here, and the mission is to eradicate poverty, eradicate poverty for those people who are sick and tired of their jobs, who are sick and tired of living like the paycheck-by-paycheck life, sick and tired of being in a role where they don't fit. Right? Where they want more freedom in their life. We're also looking to eradicate poverty for those people who are stuck and trying to do real estate and have not yet found any success. We look at it. We go places to rescue people. Right? We speak at certain conventions [inaudible 00:23:23]. And our success rate is literally 10 times higher, and that's not a claim. That's not a claim. You can look at our success stories by joining our Facebook group under…for Land Profit Generator. Look in Facebook for Land Profit Generator, and that's the group, Land Profit Generator Real Estate Group, and you'll find success story after success story after success story in there. It's literally crazy right now how many people are successful with that.
So we want to rescue people from going down the wrong rabbit hole, from being stuck in the high-competition house area and hitting their head against the wall or being stuck in their jobs or being tired landlords. Just come over and do some land deals. There's no reason to deal with tenants, toilets, and termites. All right. Thank you very much. See you in the next episode.
Male: Enjoy this episode? Then make sure you like, subscribe, and post your comments and questions below the video. We're looking forward to hearing from you.
What are you thinking?
First off, we really love feedback, so please click here to give us a quick review in iTunes! Got any thoughts on this episode? We'd love to hear 'em too. Talk to us in the comments below.
Enjoy this podcast? Share the love!