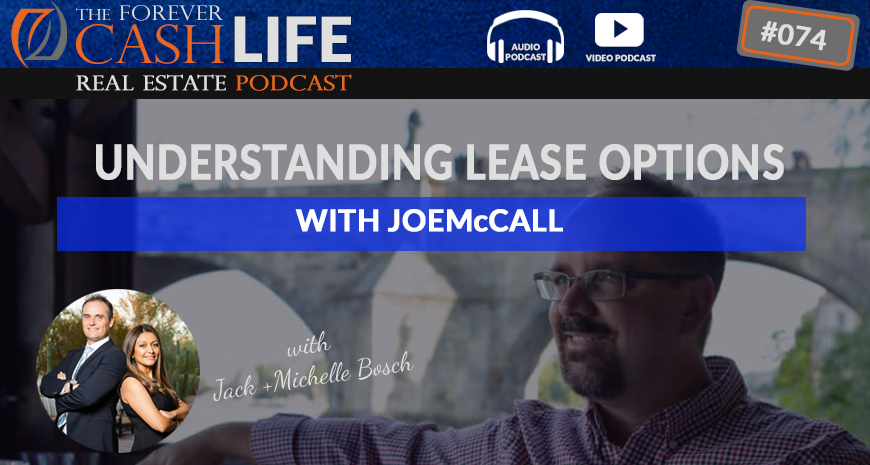 Joe McCall is a real estate investor who invests remotely in multiple markets. He loves creating automated marketing systems.
While living in Prague, Czech Republic (twice, for several months) and traveling across for the NW corner of the USA in his RV for 3 months, his teams have flipped multiple lease options and regular wholesale deals – without him seeing the house or talking to the sellers or the buyers – ever.
In this episode of The Forever Cash Podcast, Jack Bosch chats to Joe about lease options, the exciting form of real estate investing that Joe has mastered.
Listen and enjoy:
What's inside:
Learn how Joe McCall quit his job and spends most of his time with his family while making money
Understand more about lease options
Discover how Joe McCall has managed to automate virtually every aspect of his business
Mentioned in this episode
Tweetables:
Transcription:
Jack: Hello and welcome. This is Jack Bosch, and welcome to "The Forever Cash" live real estate podcast. I'm super excited to have another show for you today. I have a special guest, a very, very good friend of mine who is in the real estate space, has been in the real estate space for a long time, and does a very different kind of technique that most other people do. We like that here. We don't want to bring you the old kind of chewed up real estate kind of techniques that everyone else does. We want to talk about, of course, land flipping, but also multifamily, but also some techniques that are just really cool. And our guest, Joe McCall, here is going to talk about just that. Hello, Joe. We're going to hit something in just a second. So with that, I'll be right back.
Announcer: Welcome to "The Forever Cash" live real estate investing podcast with your hosts, Jack and Michelle Bosch. Together, let's uncover the secrets to building true wealth through real estate and living a purpose-driven Life.
Jack: All right, so we are back, and as I had promised, our guest today is Mr. Joe McCall. How are you, Joe?
Joe: Jack, I'm doing awesome. How are you?
Jack: I'm very, very good. I love your camera, super high definition. Before we started, you already told me what camera you had. I just literally three seconds ago ordered it already. And so in one of the next podcast interviews, I'm going to be just looking as sharp as Joe does right there.
Joe: Awesome. Hey, how's Michelle doing, by the way?
Jack: She is awesome. I know you interviewed her the other day on your podcast. That was really wonderful. Got a lot of good feedback from that. So thank you very much. And she's great. We're good. We're excited. We're excited right now for a nice weekend coming up. And this coming week we'll have a…there's a couple of days off of Sofia school and so we all are not going anywhere. For an exception, we usually go everywhere, again, sometimes every single time we have off, but this time we're just gonna chill at home, which is nice too.
Joe: You know, Jack, I was thinking about you two days ago. I was in Austin, Texas. My wife's mother had her 80th birthday party.
Jack: Wonderful.
Joe: And my wife's grandmother is from Immenstadt, southern Germany, in that area. And they have this beautiful picture, this huge painting of the Bavarian Alps. Is that what you call them?
Jack: Yeah. Uh-huh.
Joe: Of the Bavarian Alps with a stream and some trees and it's just incredibly beautiful. I should have taken a picture and sent it to you, but I was thinking of you and I was thinking of Germany looking at this beautiful painting. It's from her grandma so it might be about 100 years old.
Jack: Very nice. No, it's a beautiful area. If you're listening to this or watching this, make sure that if you have a chance to go to southern Germany, a lot of people say it's like the Tuscany of Germany so it's just like…it's as pretty as Tuscany just in clean. And people are friendly, food is good. The weather is nice in summer. We have gone for 20-something years every June and I don't think we've had more than one day of rain on any trip and any given trip. Usually, no rain whatsoever or it rains at night one time or so. So beautiful sunshine, 70 degrees, flowers are blooming. It's absolutely gorgeous.
Joe: And the cow bells are ringing.
Jack: And the cow bells are ringing. It's beautiful. So having said that, also, if you're watching this on YouTube, make sure you go below and click the thumbs up. Also you share that with other people. If you're watching this on or listening to this on iTunes, make sure you give us a five-star review. If you enjoy this the show, of course, I hope you will, we're going to have some good stuff here. And also make sure that you not just put the five stars, but you actually put in a little comment on there and that would help us a lot. So with that, let's get started. Joe, tell us, what is your real estate technique that you do?
Joe: Well, I love lease options. And first of all, let me say too, I love flipping paper, right? And so when you get this concept of wholesaling down, you can flip anything. You can flip houses, you can flip vacant land. There's different ways to flip houses. You can flip options or lease options, you can flip wholesaling, traditional wholesaling. And I love the idea…I learned early on from Wendy Patent. She's still in the business, really active in the Detroit area. Her books were some of the first books I read. But she said…she was quoting, I think, Rockefeller who said, "The secrets of wealth is to own nothing and control everything," right? So it's all about managing your risk and making…it's all about really cash flow, but learning how to manage your risk so you're getting the cash flow and there's very little chance of you losing it.
So I've always loved this idea of controlling really valuable real estate without actually owning it, without going out there and getting a loan or borrowing private money, getting a hard money, getting transactional funding, having to sign my name on any dotted line and take personal liability and personal responsibility for a huge burden of debt. And so I've always looked at, like, how can I control real estate and property without actually owning it? I used to go out and get bank loans to buy a bunch of properties and I used to go out because I couldn't borrow any more bank loans. I used to go and I used to borrow private money.
And then I used to go take over mortgages, buy houses subject to the existing mortgages. And when the market tanked, and when I started having problems with all those houses, I was at a very precarious position. I was assuming a ton of risk and I was liable for a lot of money. And I just did not like that feeling. And when I started wholesaling properties and flipping properties, something radically changed. Because I went from this place…I hope I'm answering the question. I'm kind of going off.
Jack: No, you are. It's not dragging your back to backend. No worries.
Joe: Okay. All right. What I was gonna say was like I used to lose…I mean, this is how I lost all my hair back in 2008, 2009 when the market was falling, I had tons of vacancies, like half of my properties were vacant. And I was hemorrhaging cash because I had to pay all of these mortgages and I had a bunch of houses that I had bought with subject too. So I'd taken over the owner's mortgage and I didn't want to miss any of their mortgage payments because that would affect their credit. So consequently, I got laid on my own personal residence mortgage.
And we had to do a short sale on our personal residence but I never missed a payment on those other subject tos that I had. And looking back I was like, "What was going on?" So with lease options specifically, the reason why I like lease options so much is because there's three different profit centers in lease options. There's cash now. You get some money when you put a tenant buyer in the house. There's cash flow throughout the period of the lease option where you get the difference between what you're paying in rent and what you're collecting in rent. That's cash flow.
And during that time, you have somebody in the house that's managing it and taking better care of it than a regular tenant would. And then there's the cash later, which is the difference between what I'm selling it for and what I'm buying it for. If the deal goes bad, that's fine, I have ways that I can get out of the deal. Now I'm not going to leave the seller high and dry, I'm going to make sure that there's a tenant in the property paying the seller their rent. But like anytime I wanted to, it's just an option. I could back out of it and not exercise my option if I wanted to. So anyway.
Jack: So let me quickly jump in there and just like for somebody watches this or listens to this and is like, "Okay, I'm new into real estate." Like I was new to real estate 17 years ago, and I didn't even know what the word "deed" meant. So when somebody is in that situation, can you explain kind of the concept of lease options a little bit more? I mean, there's at lease, there's an option, but who is who? Who applies what role? Almost got like a little role playing of who does what, then how does this transaction kind of happen?
Joe: Yeah, well, let's talk about a typical lease option deal. There's the A, the B, and the C. The A is the seller, the B is the investor, and C is the tenant buyer who is going to be living in the house, okay? I do my marketing, I'm talking to sellers. You know, I don't approach a seller at the beginning with an offer in mind. I approach a seller when I'm talking to them, like, "What's your situation?" Like, "What would you like to see happen? Why do you need to sell this house? What's the real story? What's the motivation going on? What do they actually really need?" And if they can't take my cash offer because it's too low, maybe they don't have enough equity, maybe they're not motivated enough. I'll just ask him a simple question, "Well, you know, what if I could lease your property for a period of time and then buy it? What would you want to do then?" They say, "I might consider that."
So they know I'm not going to be living in the property. I'm an investor. So I'll make them an offer to lease the property for a period of time and then buy it at the end of that time. So I might say, "All right, well, your house is worth $200,000 today. I'll lease the property from you. And, you know, let's say the rents are $1,500 a month. So the house is $200,000 and the rents are $1,500 a month." I'll offer to pay the seller maybe $1,100 a month in rent. That's enough to cover the mortgage payment. And what did I say? It's worth $200,000. I might offer them to buy it for $175,000. So I have about a $25,000 equity spread in there. Not a lot really. Maybe I'd even do $180,0000, but that's a higher price than a normal traditional wholesaler would offer that seller, right? Normal wholesaler needs to get 30% to 40% discount off of that. So I'm about half of that. Well, anyway, so now I'm going to have a lease….
Jack: You can even make the case to the sellers like, "This new IRA realtor is going to cost you this. You hire, you need to make some extra ratepayers. You need to carry the mortgage for another few months, and the 20 grand are gone like this."
Joe: Yeah. And so I also tell them, "Listen, I will take care of the property for you. You don't have to worry about vacancies, maintenance repairs at all anymore. So I'm going to take on that responsibility. I call it my perfect tenant program. So I'm going to rent the property with an option to buy it in the future. I need a discount, maybe 15% off of the price. I needed about 20%, 25% off of the rent." And then what I do, so that's my A to B. I have a contract to lease option the property with the seller. That's my A to B. But I'm going to stay in the middle. Then I go turn around and I advertise that property for tenant buyer and I'm going to bump the rent up. I'm going to mark the price up a little bit. Not crazy high, but I'm looking now for a tenant buyer who really wants to buy that house.
But maybe he's in a position right now where they can't, maybe they're self-employed. Maybe they just went through a divorce. They have a good reason for bad credit or no credit, right? So I'm going to then turn around and find a tenant buyer who will live in the house and I'm going to stay involved, I'm going to be managing that tenant, but I'm going to rent it to him for 300 bucks more. I'm going to sell it to him for maybe $210,000 in two years. So I'm going to buy it for $175,000 and sell it for $210,000. So that's like a $35,000 spread there. I'm going to get about $300 a month in cash flow. And then on the A to B, I'm going to give the seller some money to make that contract, you know, valid. So I'm going to give the seller some consideration. So I might give the seller 1,000 bucks. Well, I get that money, I get that 1,000 from the tenant buyers moving in.
So at the end of the day, I now have a sandwich lease option deal where I'm leasing it from the seller, I'm leasing it out to a tenant buyer, and I'm making money up front from the money that the tenant buyer puts down up front. I'm making cash flow, about $300 to $500 a month every month, and I'm making my spread at the backend on the difference in what I'm selling it for and what I'm buying it for. So typically, I like to get five years with the seller and two years with the tenant buyer. So if they can't buy it in two years, I have time to maybe extend it or if they move out I can get somebody else in. So I get all the benefits of owning rental real estate without owning it, without getting a loan or a bank loan or having liability or all of that risk. And I'm getting nice homes and nice areas. I'm not dealing with the little $50,000 houses in the hood in Cleveland, Ohio. You know what I'm talking about?
Jack: I know what you're talking about because I don't deal with those either. But I do have some in Cleveland, Ohio that are just two steps outside the hood. They're nice up subdivisions thing, but their entry level subdivisions where the house is worth like $80,000 to $100,000, but I have been offered a lot of these hood homes and I'm not touching them.
Joe: Well, you and I know a lot of people that have those homes, right? And can you name one of those people that are happy with where they're at with those properties?
Jack: I can name one but only one because he is professionally in that business. He's professionally managing these properties. He is a professional manager on the floor because he owns like 100 of them and he's making very good returns on that. But anyone who just buys them as more or less a hands off kind of thing, no, absolutely. I don't know anyone that is happy with that at all. Yes.
Joe: So you understand the importance…I know this knowing use of well. You understand the importance of getting good solid rental properties, right? Where you're going to get you're going to attract good tenants. You know, your apartment buildings are in nicer areas and good school districts. So you attract nicer, better quality tenants. Well, it's the same what I tried to do in lease options. So I'm targeting the medium-priced homes between $100,00 to $200,000 in the Midwest, that price range.
Jack: Wonderful. Yes. So that is exciting. Now you also talk about… So how did you come up with that idea?
Joe: Well, I was I worked as an engineer. I went to Iowa State University and got a degree in civil engineering and was traveling with a large engineering company building power plants all over the country. And we just moved to Kansas City, bought a house. Three months later they say, "Hey, will you go to Bakersfield for a couple weeks?" So that turned into three months. They called Bakersfield, the armpit of California.
Jack: I've been there.
Joe: I know. I was born in LA. I spent a lot of time in Bakersfield. We used to live there twice and I know what I'm talking about. Anyway, so then they said, "Well, okay, you went to Bakersfield, now we want you to go to San Francisco." And that was going to be a great job. It was going to be a two-year assignment. Long story. Enron collapsed, they shut everything down. And so we had to move back. Well, that house we just bought, I was renting it out. And that tenant was a nightmare tenant and it's just horrible. They're constantly late. The property manager was charging the outrageous fees. Of course, when the rent is late, do I get the late fees? No, the property manager gets the late fees. They're charging 10% of the rent. I'm scrambling to pay the mortgage every month. I'm stressed. They're calling the plumber, paying him 75 bucks an hour to fix something that I could fix for 5 bucks. So I said to myself, I'm never going to do another rental property. I'm never going to own a rental property again. Well, that job ended early and we had to come back and we still had two months left on the lease. We had to go live in those nice hotels that are like suites, you know.
Jack: Extended stay?
Joe: Yeah, extended stay. Thank you. It was something else. But anyway. So we had to stay there for like a month to two months. That was just crazy. I had a friend who was taking some real estate classes and he told me about "Rich Dad and Poor Dad." I read that. Great book. Went down to Austin, Texas to meet some guy who's building duplexes. And this was like 2002. And he told me about this book called "Secrets of a Millionaire Landlord." And you fast forward a year or two, I finally read that book. And the guy who wrote it had a chapter in there about lease options.
And he's wrote in that chapter, when you do a lease option on your rental property, you're going to get better tenants because you're putting somebody in the house who's going to want to buy it eventually and take better care of it and they're going to be responsible for all the daily maintenance and repairs. So when I read that I got excited again about real estate and I thought, "Ah, so I could actually have rental property without the typical tenant headaches and hassles." And so that's what started me on my journey. Then I started buying books from like Wendy Patent like we were talking about. I started buying other courses. I started investing in my education. I signed up for some coaching programs. And yeah, I just kind of went from there. I quit my job in 2009 doing lease options.
Jack: All right. Wonderful. So that's exciting. So that's quite a story. So isn't it funny how everyone that almost nobody ever interviewed or talked to woke up one morning and just says, "I'm going to do real estate." It's always like some way that you kind of slide into it through some personal experience or to some things like that or to some failures or through some struggles and so on.
Joe: I've made so many mistakes.
Jack: So now you're obviously very successful. I've done tons of these deals. How many have you done, do you think?
Joe: You know, I've lost count. I've done well over 100 deals and most of them lease option deals. I've done a ton of wholesaling. Right now we're doing a lot of traditional wholesaling as well in Alabama and Mississippi.
Jack: What I really like about the way you think is that you always look for a way that in essence you do the deals with the least amount of, I want to say, personal involvement or amount of actually having to be responsible, as you said, for mortgages or fixing stuff. So now you're even wholesaling lease options.
Joe: Yeah. So…
Jack: Tell us about that a little bit.
Joe: Well, I'll tell you what happened because I was working my full time job and trying to do deals spending a lot of money in direct mail and I got frustrated with that because I was throwing away so many leads. And I thought at that time, the only way you could do a lease option is by staying in the middle. And I started doing traditional wholesaling and I was doing deals but I was frustrated with these leads I was throwing away that didn't have any equity. And then I thought, "Wait, a minute, why can't I wholesale lease options? So if I get a property under contract to lease option and it has no equity and it has no cash flow, what if I just got it under a contract and then instead of selling that contract to a cash buyer investor, what if I sold that contract to a tenant buyer?" So I started flipping these lease option contracts to tenant buyers and then stepping out of the transaction and being completely done with it at that point.
Jack: Let me get this straight. So you got the lease option from the seller, right? So the $200,000 house for $175,000 and you went over to the tenant buyer and said like, "Hey, go rent this house and I'll give you the option to buy it for $210,000 in a couple of years."
Joe: No, no. Let's say that house is worth $200,000 but the seller owes $200,000.
Jack: Oh, okay. That's an area. The seller owes $200,000 so there's really no way to make money but you go over there and you still do a lease option, have $200,000, and then you go bring a tenant buyer in that you get an agreement on for him to buy it for $220,000 or so down the road?
Joe: $210,000, $205,000.
Jack: And then what you do is how do you sell that from one to the other?
Joe: Well, I have a contract A to B. I go find a tenant buyer and mark the price up a little bit to cover my assignment fee.
Jack: Sure.
Joe: And then all I do is I find a tenant buyer, I sell that A to B contract….
Jack: Oh, so you don't do a stackend lease option, you're just doing an assignment of the lease option. And basically, say, like, "Hey, listen, you can buy this thing for $200,000 from the guy anytime. But in order to do that, you got to give me a $10,000 signup fee."
Joe: Yeah. So I started doing that in 2008 and 2009. And that was all I was doing. And I stopped doing direct mail. I could find all the sellers I needed on Craigslist and Zillow by sending text messages and emails to landlords and for sale by owners and doing a lot of follow up. And so I started making more money doing that than I was in my job and at the time, you know, 2008, 2009, I was making about 80 grand a year, which is pretty good and I was making on average almost double that just doing a couple two to three lease option flips or lease option assignments every month. When I did that three months consistently, my wife gave me permission to quit my job. No, she didn't give me permission but I had her…
Jack: Of course, you guys are happily married. How many children do you have, again?
Joe: Four kids.
Jack: You have four kids. I mean, these guys are like amazing and they'd travel. You took your family as part of this also on an RV trip around for a long time.
Joe: Well, let me explain that because this is so important and this applies to everybody, whether you're doing land or apartments or whatnot. So when I was working my full time job, I realized the importance of marketing. And, you know, Jack, we're not real estate investors, really. We're marketers who do real estate investing. We're not in the real estate business, we're in the marketing business. And when my coach told me that, a light bulb went off like, "Oh, that is it." Like leads are the lifeblood of our business. Nothing else matters. So I realized if I don't get somebody else to do my marketing for me, it's just not going to get done. I tried to time block my calendar and I just never got the marketing done. And I couldn't afford expensive direct mail, stuff like that. But I thought, "I'm going to hire a virtual assistant." This was 2008 and I was too scared to hire a virtual system from the Philippines so I hired a local virtual assistant in Indiana. She started doing all my marketing for me.
And then all of a sudden now, I had more leads than I can handle and I'm still working my full time job. So I thought, "Well, how can I get someone to help me with this?" I had a friend who I knew was good at sales who wasn't really working much. So I said, "Hey, listen, why don't you help me with these leads? You get them under contract and I'll pay you like 35% of the deal or something." He said. "Great." So now I got a VA doing the marketing.,I have a friend taking the leads, and now he's starting to get them under contract and I'm too busy to sell them. So I thought, "Can I get to sell them for me?" I found a local realtor, started getting the local realtor to sell them for me.
And then pretty soon I had…now somebody else doing everything for me. I had a virtual assistant doing the marketing. I had a friend prescreening the leads, meeting with the sellers, getting them under contract. And then I had a realtor doing the marketing, taking the calls, and advertising the properties. And yeah, I wasn't making as much money as I used to per deal, but I was making more money because we were doing more deals and I was working a lot less. So I quit my job and then later, probably about three years later, I saw a bunch of money coming into the market in 2012, 2013. So I started doing traditional wholesaling to cash buyer investors. And I fell into this trap again where I was working way too hard. And I thought, "Okay, I'm gonna hire an acquisitions manager."
But still I was working way too hard. Going to the title company, signing checks trying to scram, get money to buy these houses so I don't have to use transactional funding and it was just crazy. And I thought, "I'm doing all this work and I'm still only netting 50%, 60% of the profits." So I mean, that's decent, but I'm like, "Why am I working so hard for this?" So this was a pivotal moment for me. I started writing down everything that you have to do on a wholesaling deal or any kind of deal. And I said, "How can I get somebody else to do all of this for me?" I looked at it and said, "How can I do none of this?" And so then I started assigning out part pieces of this. I assigned all my marketing to my local assistant. I assigned the prescreening of the leads to my virtual assistant. And then I started partnering with local wholesalers to get the deals under contract and then we would work together to sell them.
And then I started making…we just split it 50/50. So I'd pay for the marketing, my boots on the ground, wholesaler would do the work. And pretty soon, I'm able to do deals. I was doing deals about four or five different markets at one time averaging about two deals in each market. And I was doing about 7 to 10 deals a month not doing anything. I wasn't talking to any sellers. I wasn't talking any buyers. So my wife and I, we decided to go get an RV and travel around the northwestern corner of the U.S. and visit a bunch of national parks for three months. We have four kids and we homeschool them. And then after that, we went to Europe for three months, we stayed in Prague and traveled around a bunch of different countries, spend a lot of time in southern Germany.
And fell in love with this idea of, you know, no matter what business you're in, take a good hard look at it and ask yourself like, "Do I really need to be doing this $5 an hour activity? Maybe I should just be focusing on these $500 an hour activities." Just outsource the rest of this stuff to other people. Whatever I can't build a system for and automate I should delegate it out to other people. And that kind of started my journey. Now I've been coaching people, teaching them how to do that, which I really, really enjoy. It's a lot of fun.
Jack: A lot of fun, yes. So this is a beautiful example, exactly. So many people do this part wrong and I was talking to them even in our technique, there's a spectrum. You can do everything yourself or you can do everything outsource. And we have all the tools for that available yet people's mindset often don't allow them to outsource it. And what I like about your part, you even outsource it in a way that it didn't cost you ongoing money. It only costs you money…perhaps the marketing costs a little money. But other than that the VA, yes, got paid by the hour, but the friend who is a sales guy, he made a percentage of profit. So he didn't have to pay a paycheck for that. The realtor pays on commission, right? So, yes, you have to pay a commission here and a commission there and therefore you make less money, or not like a payment here and a commission there, so make less money, but your cash outlay on an ongoing basis was really restricted to a VA and marketing.
Joe: Yeah. Everybody should look at the effective hourly rate of their business. Look at how much money you net, no how much you gross, how much you net after taxes. And then look at how many hours did you spend to make that dollar. That is your effective hourly rate. And so many people are stuck behind the computer, updating their CRM, building websites, building logos, you know, stuffing envelopes or doing online research. That is not an effective use of your time. What are your highest revenue generating activities? You need to know that what are your highest EHR, effective hourly rate, activities? And those are going to be things like making offers, talking to sellers, following up, making sure managing your team that's doing all the follow up. So depending on where you're at…
Jack: So that's the thing. It probably was a big jump for you because I don't know what role you had played in the job before, but I play my role was never that of a supervisor. I was never that of a manager. If you were, you probably had a little head start there. But that's the mental mindset, the mental shift that if you're watching do this, you gotta get yourself educated about how to become a good manager. Like, read some leadership and management books before you are a manager because it's going to help you get in that position without it, now without having that prior real life experience of being the manager of a team around you. So how to set expectations? How to train? How to set a vision for your company? How to set all these things together so that your team knows where you going and that the team has a structure to actually do that because not everyone has that… Like, everyone is different, right?
So not everyone has the natural aptitude to be the best manager in the world. Some people are just born to do this stuff from what we call their Colby. We have them do a Colby test, which is a $50 test, that tells which tells you how you're kind of wired. And I am not wired, for example, to be a perfect manager. So knowing that that plays a big role of who you bring on board, how you manage that person, how much leeway you give them, and so on. So these are all things to remember there. But as you know yourself and as you read those books, what Joe just said is absolutely crucial because there's no reason you need to do $5 activities. As a matter of fact, you should outsource them. And I understand if you're dead broke and you have no job and you have no money, then yes, do the $5 activities until you got yourself financially to a higher level. But then the moment you got that, start putting those things away because it's holding you back now.
Joe: Yeah, yeah. The other important things people need to ask themselves or they need to stop asking is they need to stop asking how and start asking who. I heard this a few years. This just blew my mind thinking I could spend a lot of time trying to learn how to build this website or do this marketing or learn the CRM. I used to be deep into Podio. I was kind of known as the Podio expert guy.
Jack: Podio Joe.
Joe: Podio Joe. I even had that domain. I think I let it expire. But I started diving so deep into the weeds, my revenue was hemorrhaging. I mean, I wasn't making much money. I was an expert at this stuff but it wasn't translating into deals. And I see…I have friend who says, "You show me an expert at Podio and I'll show you a broke wholesaler." Like that's totally true. That's the way I used to be for a little bit. So I pulled myself out of that and I realized I need to stop asking, "How do I do this? How do I do that?" And start asking, "Well, who can I hire to do this for me?" Because my time is better spent doing higher revenue generating activities. You know, every day…not every day, but a lot of times, I'll ask myself, "All right, this week because I'm planning out my week, what is my fastest path to cash for my business? What's the highest revenue generating activity I could do this week that's going to give me the best return on my time, on my energy, on my money? You know. What is my fastest path to cash?" Because we all have a lot of different options and a lot of different things we can choose from. And, you know, that saying, "You got to dig your well before you're thirsty." And as long as you're always asking those questions, you're not going to be thirsty. That makes sense?
Jack: That makes perfect sense. I love that. "Show me the Podio expert and I'll show you a broke wholesaler." That's so true. Yes. It's not the how, it's the who. I agree the years that I thought I had to know every single piece of my own business the best, where there were years where we made the least money. I 100% agree with that. Then I just never even realized that. So it's…
Joe: Let me throw another concept that you Jack that changed my life. And I heard this from Tom Kroll. Because I was the Podio expert guy. And I remembered very clear, we were in our RV in San Francisco, north of San Francisco. We were camping there. I was talking to Tom Kroll. He's a wholesaler in Florida. And now he has a podcast and stuff like that. But he was needing help because he was driving around like crazy, getting buried in posted notes and yellow pads of paper, couldn't keep anything organized. I said, "You need a virtual assistant." And he said, "Oh, that's brilliant, what a great idea. Okay, thanks, Joe." So he went out and got a virtual assistant, right? I talked to him a few months later. And what he had done was so cool. He took it to another entire level.
So his goal was never to be behind the computer at all. He said, "I don't want to be behind the computer because that's not where I make my money. I make my money in front of sellers." And building his team. So he started doing something where he would send a voice message using something like WhatsApp or Voxer. And send whenever he'd meet with a seller or talk to a seller, he would send a message to the VA and the VA would update the CRM for him. And when I started thinking about that, I started applying things like that in my business like, now I'm telling people, "You shouldn't even be in the computer, you shouldn't even be updating anything in your CRM."
You should just be just sending a voicemail to a VA, letting the VA update it for you. Let the VA be the Investment Dominator Expert, but the VA be the Podio expert. And you just focus on what you're best at. Because that's $5 an hour activity work, right? And so then what you could also start doing is, like, instead of diving into your computer and seeing what you have to do today, have your VA get a special email address that only your virtual assistant has. And every morning, your VA just sends you the next three things that you've got to do. Like the next seller you got to talk to. The next offer you got to make or whatever. And then you just lie to her with a Voxer message or WhatsApp message and then delete the email. Do you see what I'm saying here? Get someone else to do the data entry stuff for you.
Jack: I love it. I love it. Again, that's requires a little bit of training of the VA. But most people are not willing, and that's the key. Once you grow beyond yourself, you got to spend the most of your time building your team and training your team. We just hired a few people and I didn't have enough time to teach them because I was in the middle of a multifamily deal that I had to raise the money for, and I had to raise the majority of money for, and I had to qualify for financing and so on. So this guy went, he is a great guy. And he went for a couple of months without much training, but I finally realized that there's a…but luckily, I have already a team in place.
So the team trained them on all the things I can train him but not I cannot train him. But now that I'm available, I'm training him on the things that only I can train him. But with a focus on, in a couple, three, four weeks, he'll be so trained up that he can then literally manage my time and my thing, and I don't have to tell him what to do anymore. He tells me what to do, in a sense based on the guidelines I give him, and I absolutely love that. We're looking very much alike, let say. We gotta wrap up in just a moment. I have a couple of…just one question for you. Where do you get your leads for the lease options?
Joe: I have two sources of my favorite leads and they're free. Number one, other wholesalers' trash. There's a lot of wholesalers out there. It's very competitive.
Jack: It's going on right there.
Joe: They're doing a ton of direct mail, and they're throwing away a ton of leads don't have any equity, but they're motivated. What if you network with other wholesalers and said, "Hey, give me your trash leads. I'll follow up with them. If I do a lease option on them, I'll split the deal with you 50/50." All right?
Jack: Wonderful. I love that.
Joe: You just pay them 1,000 bucks or something and then the better you get, right? That's a great way to start. You just need one or two wholesalers to start giving you their dead leads. Holy smokes. And you may even be able to just follow up and do traditional wholesaling on them. There are so many wholesalers out there that do not…they do a horrible job with follow up. The deals were doing in Alabama, Mississippi, in Missouri, 80% of them come from the follow up. So if you could just find somebody who's doing a bunch of marketing say, "Hey, let me follow up with your leads for you." Absolutely free, right? It doesn't cost you anything except when you do the deal, you pay them, you split the profits with them.
My second favorite source of leads is good old fashioned Craigslist and Zillow, and now Facebook marketplace where I go and I contact landlords and for sale by owners. And I just say…you know, if it's for sale by owner, I might say, "Hey, my name is Joe. I saw your nice property on Zillow. I'm an investor. Is your price negotiable?" So number one, they realize I'm an investor. Number two, if they respond back like, "Yeah, you know, I'm negotiable a little bit." Great. I talked to them, get them on the phone. If it's a rental, I might send them a text…or my VA, by the way, does all of this. Send them a text that says, you know, "Hey, is that house on 123 Main Street still available?" "Yes, it is." They respond back. "Are you the owner?"
Because you'd rather not talk to property manager if we don't have to? If they respond back? "Yes, I'm the owner." We might ask them, "Hey, you would be interested in selling it, would you?" Or we might ask, "You wouldn't be interested in maybe leasing it for a year and then selling it? My wife and I are looking for a place." And if they respond, "Yes," that lead then comes to me. And at that point, I call the seller up and I just start talking to them. All of that marketing can be done by a VA. So yeah, it's free but, you know, you can pay a VA to do that for you.
Jack: Awesome. Well, thank you very much. It was awesome. So we're kind of running a little bit out of time but what I want to just ask you, what is currently your favorite book that you're reading?
Joe: I'm glad you asked.
Jack: All the lease option. Now, I doubt you actually reading this because you already written it. But other than that, what books are you reading?
Joe: Yeah, good question. Oh, I'm reading "Essentialism" right now.
Jack: Okay. Great book. I love that.
Joe: Oh, have you read that?
Jack: Changed a lot in our business. Yes.
Joe: Oh, my gosh.
Jack: Once you read that book, this is a good part of the evolving process of us letting go off houses, letting go off of tax liens, letting go of tax needs, letting go other kinds of techniques and just really focusing only on land.
Joe: So I bet you a glass of Bavarian beer that your profits have gone up since you started focusing.
Jack: Oh, absolutely. Massively. Like absolutely, 100%, yes. Great, that's a great book, "Essentialism." It's actually somewhere here in the bookshelf. I think I can actually see it right up there. So it's one of my favorite all time book, so read that. Who is the author? Do you remember?
Joe: Oh, man.
Jack: If not, don't worry.
Joe: I have it on my Kindle.
Jack: So with that… So, Joe, so you teach this. Where can people find out more about it?
Joe: Well, if you want my book, I'm glad you asked. No, I just wrote this book. It's so funny. I spent literally three months writing this book, Jack. It's just such a pain in the butt.
Jack: By the way, just quickly, "Essentialism" is written by Greg McKeown.
Joe: Yes.
Jack: I had the book. It's somewhere right there. I got it.
Joe: Yes, it's got a circle on it.
Jack: Yes, there you go.
Joe: So anyway, it took me three months to write this stupid book. It's not stupid. But I finally got it printed and it's only like a quarter of an inch thick, and I was so frustrated. I was like, "What?" But it's such a good book, it's not like it's not what's really lots of white space, you know. It's a real book but I am proud of it. I got a lot of great feedback on it. And if people are interested in this, you can get it for free. Just pay a little bit of shipping and I'll send it to you. You can go to wlobook.com
Jack: wlobook.com. Wonderful. So actually, to that size of the book, somebody said, "To do a presentation of one hour or for a whole day presentation, it take some five minutes." All right. To do a presentation of an hour, it takes some half a day of preparation. To do a presentation of 10 minutes, it takes them a week of preparation. Because it's not what's in the book. It's not the fluff that is in there, it's the concise thing. When I wrote my university thesis back in the day, my college thesis at the right one, I only had to fit everything into 60 pages. I was not allowed to write one extra word than 60 pages. That was the hardest part of that entire thing because you got to choose what to pack in there. And as a result, you have a much more content packed book. And it helps your readers because who wants to read the 300-page book, if the exact same essence is in 80 pages and so, right? So that, thank you very much, Joe. What's your link again? And we'll put into show notes. We put in the link below.
Joe: Wlobook.com
Jack: Wlobook.com. So go there, check it out. With that, thank you very much, Joe. Say hello to your family. Hope we see each other very soon. Next time, we'll actually talking about land flips because I know you're even added on the site of your land flips and things like that.
Joe: We've done about 20 of them, Jack. Thank you to you.
Jack: You've got over 20 land flips. That's super exciting. So…
Joe: Just, by the way, we've made about $85,000 in profits.
Jack: $85,000 in profits? Good, these are smaller deals done but that's still…that's an average of over a little over $4,000 of profit a deal. Nothing wrong with that. You did two of those a month, you make 100 grand. So with that, thank you very much. Again, if you enjoyed this episode, give us a five-star rating. Put a little blurb in there too, what you particularly enjoy about it and submit it to iTunes. Place a comment below here. We always look at the comments. If the comments can be answered by Joe, we make sure we forward the question so Joe can answer it and thank you. Thank you for watching. Thank you for listening, and I'll see you in the next episode of "The Forever Cash" live real estate podcast. Thank you. Bye-bye.
Joe: Thanks, Jack.
Announcer: Enjoyed this episode? Then make sure you like, subscribe, and post your comments and questions below the video. We're looking forward to hearing from you.
What are you thinking?
First off, we really love feedback, so please click here to give us a quick review in iTunes! Got any thoughts on this episode? We'd love to hear 'em too. Talk to us in the comments below.
Enjoy this podcast? Share the love!