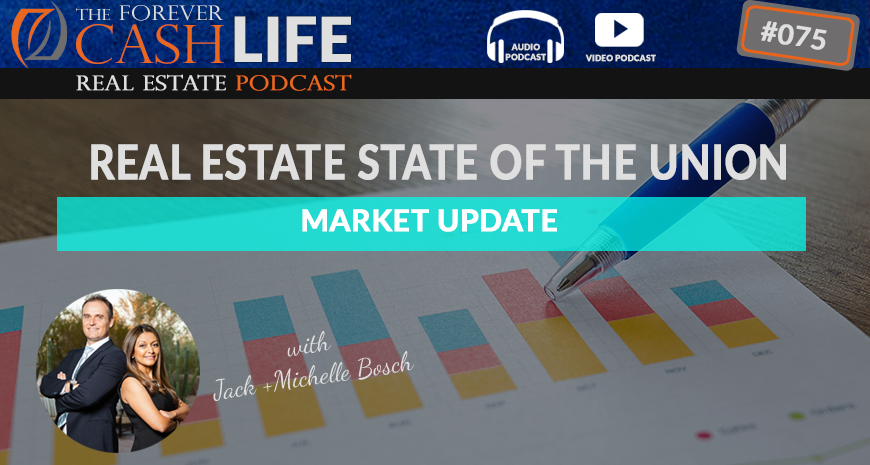 If a real estate president can give a state of the union, then why can't Jack Bosch give a state of the union in real estate too? In this episode of the Forever Cash Podcast, Jack gives you an update around all things related to the real estate market as of March 2019. You'll find out exactly how the markets are doing, which markets are hot and which ones to avoid. Don't miss this one!
Listen and enjoy:
What's inside:
Find out which real estate markets are hot
Find out which real estate markets are over-saturated
Learn where you should be investing
Discover insights related to the real estate industry and how this impacts you
Mentioned in this episode
Tweetables:
Transcription:
Jack: Hey there. Jack Bosch here and welcome to the "Forever Cash Life Real Estate" podcast. I'm super excited to host another episode. Today's subject is going to be the State of The Union and Real Estate Market update, right? So, I'm going to talk to you about what the market is doing, where are we see the market going, what happened in the real estate market overall since, obviously, we have single families, we have multi-families and our main focus, of course, is land flipping. So, with that, let's get ready to get this started.
Announcer: Welcome to the "Forever Cash Life Real Estate investing" podcast with your hosts Jack and Michelle Bosch. Together let's uncover the secrets to building true wealth through real estate and living a purpose-driven life.
Jack: All right there, Jack Bosch here again, and I'm excited to get this one going, the state of the union in real estate update. I mean, if a real estate president can give a state of the union, then why can't Jack give a state of the union in real estate too, right? Because we are, obviously, in real estate. We're the land kings, we're the land guys, we're successful also added single-family and multifamily investing to it. And I'll be happy to share you what I see in the market coming up right now. Also, we'll be hosting our ultimate boardroom real estate mastermind that we have for particularly land flippers and people around the land and multifamily and apartment, kind of, community. We have a great mastermind there.
And every time we meet, we have a session that we talk about, "Where do you see the market going? What's happening in the market?" Then, I belong to other masterminds where we do the same thing where we talk about the market. So, what is the market doing? Obviously, the market is changing right now. The market has been changing. This has been recorded in the middle of February of 2019, so the market has been changing for the last about eight months. Eight months ago, everything kept going up and up and up in the housing area and, all of a sudden, markets started coming down again. Now, we're still up from year to year, in most markets, we're still up, and it seems like right now things are picking back up. Seasonally also, again, as we head into the spring, but overall the market is definitely changing and a lot of people are screaming, "Oh my God, oh my God, the market is going to go back into crazy world, and we're going to lose everything and it's going to be 2008 again."
Well, I don't think so. I don't think so for multiple reasons. Number one, I don't think so because the fundamentals of the economy are different, right? First of all, there's not a whole bunch of liar loans out there, or if there are these liar loans, there's no documentation, no income, no problem kind of loans, then you actually have to put down as much as 35% or 40% in order to get one of those. Now, if you put down 35% or 40% of a purchase of a $300,000 property, you'd have to put down $100 grand or more just to be able to buy that property. Most people won't walk away from these properties and they would have to lose a whole bunch of value before they're willing to walk away from them. So, I don't see a foreclosure crisis happening. Is there an uptick in foreclosures already?
Yes, there is. Might we be heading into a small recession? Yes, we might. Right? But at the same time, the real estate market, actually, is going back to what I think is a normal market. We really haven't been in a normal market for like 17 years, right? We started in 2002 and three with a normal market. Like, I bought my first house in 2001. I had a 7% interest rate on that house. And the market after '01, '02, '03, '04, it started going up like crazy. Then in 2007, and eight and nine, obviously, it crashed like crazy. Then it stayed down for a while, but then it roared back. and over the last three, four years it has roared back so much to the tune of multiple offers in same day. Put something in the market, people fight over it. You sell it for $50,000 above market, things like that.
That stuff is going away and, actually, I think that's a good thing. It's just that the people who are, like, everyone under 35 or so hasn't seen a normal market in his lifetime, in his productive adult lifetime. So, people are like, "Oh my God, the market is crashing." No, the market is going back to a normal pace. And a normal pace means that a house is going to be on the market for 60 to 90 days before it finds a perfect buyer, that you're not going to have multiple offers on a house. Actually, realtors need to work for their job, they need to stage a house, they need to make the house pretty, and work to get traffic to their house in order for that house to sell.
On the multifamily side, let's move on. We're doing last but not least, land, obviously, our favorite subject. On the multifamily house, what I see is a very, very hot market. Now, I personally see that as being driven by several demographic shifts. The United States is still growing in population and because of the big crash, not as many builders have started building as quickly as they had before. All right? So, as a result, even though we're like adding, I don't know, a million, 2 million people a year to the United States, there's not as many housing units that are being built or if they're built, they're only class A, luxury home living. But there's a gap in the middle space which is where we are with our apartment complexes. So that's the second piece. So there's a demographic shift that there's the builders are building houses, but they're building $350-$400,000 houses, which in most markets are beyond an entry level.
So, what we see is the millennials, even if they want to buy houses, they can't afford them right now. So, the millennials are continuing to rent. Also, the millennial have a mind shift that they don't want to own, they want to rent more. I see that changing as they start families. So at that point of time they'll probably want to own but potentially they're currently almost priced out of that. But then there are also the baby boomers, they don't want their houses anymore. So, the baby boomers are moving into luxury amenity rentals where they can downsize, where they can have an apartment where if something breaks, they just call the landlord, it's being fixed for them. So in many markets, I just saw recently, a statistic, that even though the economy went up, the percentage of renters went up too.
So that means that in some markets, like, the percentage of renters went from 46% to 52%. Many markets, even market that have been booming, more people rent because they just don't know if they're going to live there for that long. They don't know if they can afford the property, they don't want to deal with the ownership of it. So it's a rental market. So that drives a continuous strength of the multifamily apartment market, plus there's a lot of liquidity in the market. There's a lot of money that's looking for yield as it's called. You're looking for a return. So there's a lot of money, therefore, chasing deals because apartment complexes well run are, obviously, a cash cow as we've shown with the three apartment deals that we have, right? We just bought one in December and the net operating income has already gone up by 25% in the first full month that we owned that property.
Crazy. Right? In the second month that we own it, it's already continued on that trajectory. So, it's, obviously, a very profitable proposition if you do it right. And lastly, so I see that also continue also driven by the Trump tax changes, the tax law changes which incentivize the purchase of apartment complexes because of the bonus depreciation that you get in the process. So there's a lot of money chasing there for tax reasons, for cash reasons because, otherwise, they're sitting in the bank and getting no money for it. Interest rates are still very low. So, if you have something sitting in the bank, even in a savings account at 1.5% or you can apply though, even if it's millions and millions of dollars, you get 3%, but you can get in an apartment complex 5% on it, that money's moving into these spaces, right?
So, there's a lot of demand on it. I'll see that continue for the next few years. And then also in the land side, again, we are in the best market that I've seen for a long time. So, meaning that the market went up in 2002 to 2008, it went down like that. It came back up. And, right now, we are in the market that rivals 2002, 2003, 2004. We're even seeing some of the best deals ever, where there's lots of people letting go of their pieces of land for $0.05 to $25 cents on a dollar, where builders are buying the infill lots, where recreational people want to have land out there, unemployment is low, people are making money again. And even if we hit a small recession, it's not going to affect the overall parameters of that market.
So, overall my message to the market is, "Yes, the market is changing, but the market is not crashing." The one thing that is changing is the competition in the housing market. Like, when the market is on an all-time high, what happens, typically, is everyone and their brother wants to learn about real estate investing. So they all go to these courses, and what do they learn? House flipping. So, everyone and their brother right now is learning house flipping and competing against each other. So what you see in the market is actually that the house flippers are having an ever harder time actually getting more house deals, right? However, what we don't see that in is in land, where there's really an almost no competition environment. I predict this will be the same case for another 20 years. So land is a great opportunity to get in because you can buy cheap, you can sell high, sellers are there, buyers are there, competition is already very low and you can make it cash flow etc.
So, we do see the land position as a perfect method for anyone who has never done a real estate deal to get their feet wet because you don't have to deal with the houses around it. You don't have to deal with any of the pieces around it. At the same time, you can afford it because you can buy a $30,000 property for $3,000 and most people have access to $3,000, and then he can go flip it for $25,000 with a $5,000 down payment and even produce cash flow from land. All of these things without Dodd-Frank etc. But that's deviating a little bit from the market conditions, but not really that much because if you look at it, lots of competition in apartment complexes, lots of competition in house flipping, like, crazy competition in house flipping. Almost no competition in the land flipping and yet you can do the same profits as you can do in house flipping, and you can do great cash flow from it all day long.
So in culmination, the market is in a really good position right now to enter the market. Just be careful which area you enter. Do you want to enter a high competition, a high complexity area like multifamily? You want to enter a high competition, medium complexity like houses or you want to enter a low complexity, low competition, high-profit area like land and lot flipping. It's your choice. As always there's a link below here, check us out. If you want to know more information, and also, we're going to put in the show notes and make sure you give us a five-star review, right? If you enjoyed this market update, looking forward to talking to you soon. Bye. Bye.
Announcer: Enjoyed this episode? Then make sure you like, subscribe and post your comments and questions below the video. We're looking forward to hearing from you.
What are you thinking?
First off, we really love feedback, so please click here to give us a quick review in iTunes! Got any thoughts on this episode? We'd love to hear 'em too. Talk to us in the comments below.
Enjoy this podcast? Share the love!