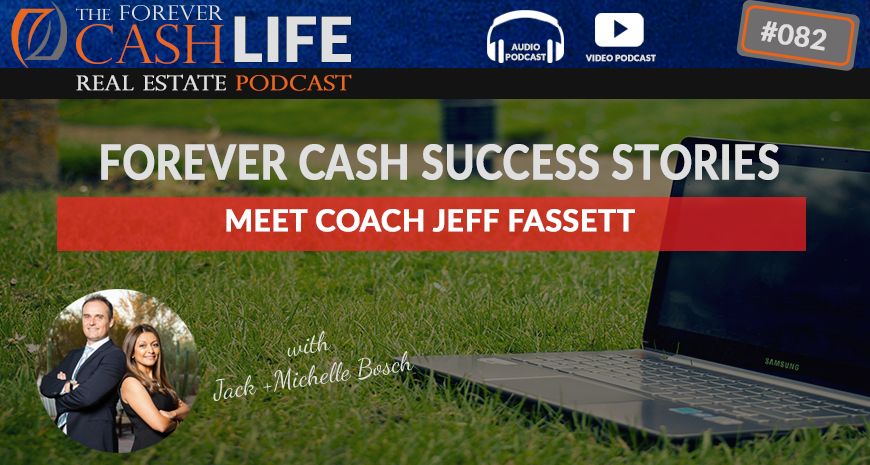 Jeff Fassett is a Forever Cash coach and has been doing land flips with this method for close to ten years. He is also a second generation real estate investor and has a ton of experience in the industry. Jack Bosch chatted to Jeff about his history as an investor and got some insight into the workings of some of his biggest deals!
You'll learn how a seasoned real estate investor prioritizes his deals in order to maximize his profits, as well as how he structures these deals for amazing returns. Since Jeff is a coach, he also has a lot of insight into the common pitfalls and mistakes that new investors make – so, no matter what level you're on, this episode is for you!
Listen and enjoy:
What's inside:
Discover how Jeff Fasset became the investor he is today
Understand what goes into a five figure land flipping deal
Get insight into what kinds of deals Jeff Fasset priorizes
Learn about pitfalls and mistakes you might be making
Mentioned in this episode
Tweetables:
Transcription:
Jack: Hello, everyone. This is Jack Bosch speaking with another episode of "The Forever Cash Life Real Estate Podcast." I'm super excited to have you here with my guest today, who we're gonna introduce in just a second. We're going to talk about teaching real estate. We're going to talk about flipping houses, rehabbing houses. We're gonna talk about flipping land. We're gonna talk about some larger projects that he's been doing because he has been doing it all for many, many years. He's been a second-generation real estate investor here in Phoenix, Arizona, where I happen to live, too. And, well, if you're interested in hearing about what's the difference between land flipping, house flipping, rehabbing, and what area you should be focusing on, then you're at the right place.
Man: Welcome to the "The Forever Cash Life Real Estate Investing Podcast" with your hosts Jack and Michelle Bosch. Together, let's uncover the secrets to building true wealth through real estate and living a purpose-driven life.
Jack: Okay. And here we are back, and I wanna introduce my guest. My guest today is Mr., the one and only, Jeff Fassett. Jeff, how are you doing?
Jeff: I'm doing great. I'm doing great, Jack.
Jack: Wonderful. It's actually funny. We realized that we should've asked you to come over to the house because we live only literally less than two miles away from each other. And instead we're on Zoom here, when we could've done this together. But you know what, we're gonna add another one of those, which is next time you come over, we put up the cameras, and we do a second kind of video podcast at that point of time. How does that sound?
Jeff: It sounds like a plan. Sounds good.
Jack: Okay, wonderful. Well, introduction. Jeff Fassett, you have been in real estate for pretty much almost your life, right? I mean, yes, you went to school and college and all those things, but your dad is in real estate flipping. And tell us, when you did you start with real estate investing?
Jeff: Well, I graduated college and then I got my real estate license in 2001, and just worked as an agent for quite a while. And then in 2008, '09, we started doing a lot of houses, flipping a lot of houses during the boom. Then I became a real estate broker. We bought a brokerage in 2009. So, we were doing a lot of houses back then. And then, I think I ran into you in 2011, maybe, at IREA, and we thought, "Oh, that sounds interesting, you know, if we can do some land deals here and there." And so, we played around with it for a while before we did…back in the day, I used to do some coaching where we'd come to your house. I don't know if you remember those days.
Jack: I do remember that. We no longer do that, but yes. We would put tables in our living room and we'd just hang around our living room and network and mastermind and so on, yeah.
Jeff: Yeah. So, we kind of founded our first few deals and, you know, we'd make similar money than we were doing on a flip, but we weren't in it very much, and we weren't exposed as much. We didn't have to coordinate so many things. And so, over the years, we transitioned from doing…we still do a few houses, but the nice thing is now we can cherry-pick the houses. We don't have to do the houses.
Like, you know, for example, right now we've got one up in Cape Creek we bought for about $120,000. We'll be in it for about $80,000, and we just put it on the market for $335,000. So, now we can, you know, focus on just doing really, really nice big ones instead of having to do a couple of month.
Jack: Awesome. Now, how big is your team?
Jeff: Well, it's me and then I have Michael is in the office here. I've got a virtual assistant that helps with some of the lists and that. And then my sister was a copyright editor for a magazine before she got married. So, she does some of our social media posting. So, I guess five, maybe. And then my dad still helps, but he's a semi-retired. He's, I guess, the elder statesman advisor.
Jack: That would be a good description, yes, of your dad.
Jeff: Yeah. He's got a pretty good gift.
Jack: Yeah. They're throwing an epic Fourth of July party. That's always a lot of fun. So, that is great. So, you have been transitioning from houses to land. What made you add land to the housing business?
Jeff: Well, I think…
Jack: Other than thinking it's a good idea.
Jeff: Yeah. I mean, the idea of doing land and, you know, we've transitioned, or we've done a couple development pieces now, which is kind of a new wrinkle to some of the options of land. I mean, the nice thing about it is you can go almost anywhere with it. And so, we just saw that, you know, especially the lower-end stuff, we can buy something for $10,000 and flip it for $40,000 or $50,000. We make a [inaudible 00:04:47] turn and then if we do this house, you know, if we buy a house for $200,000 and we put $25,000 in it, and then we sell it for $275,000, we're making similar margins. But I don't have $230,000 exposed on that, you know.
So, that's one big piece. We like doing it remotely. And so, a lot of times, it's a pretty cool feeling, as you know, you know, when you buy a piece and you sell a piece, and you never left your office to go look at it. So, that's something a little bit unique with land that you can get away with versus houses, where, I mean, you've got to be on site or you have to have a crew that you trust to babysit. So, that's another thing that…yeah
Jack: That's pretty cool. Now, tell us about, let's see, one of your craziest land deals or house deals anyway that you have done.
Jeff: Oh, man. There's a lot. I don't know. It's…
Jack: Well, let's pick your crazy land deal first.
Jeff: Well, we did one, we sold it on Sellerbuy [SP]. So, we bought one for $45,000 and it ended up having a manufactured home on it. But we got it through the normal just sending the neutral letter, talking to the person. And it was in a company that had gone…they had dissolved the company years ago. And so, it took about four months to close by the time we tracked down the officers in the company that had been settled.
So, anyways, we got it. It was a 25-acre parcel. We split it up. So we had 6 1/2-acre parcels, a 4-acre parcel that we had to give away, and then the one main parcel that we sold on terms. They put $20,000 down for $125,000. So, they're making payments. And of all people, they're bee farmers, and so they only get paid once a year. So, it's pretty interesting. This time of year, they make an extra $10,000 payment, and then they asked as if it was okay if they prepaid the entire year of the payment. And so, they drop $25 grand in our lap every year in April. And so, it's a pretty interesting deal. So, that was one that was more recent. And we've got some free honey out of it. So, when we met them to sign all the stuff, they wanted come meet us. They brought us a whole bunch of fresh raw honey. So, that was a kind of a bonus, too.
Jack: Oh, you should negotiate that into the deal as an annual thing. When you send the money, keep 50 bucks and send me a batch of honey.
Jeff: Right, yeah. No, they were happy to do it. So, it's good honey. It's just a mesquite, you know, whatever honey. So, that was a recent one that it was kind of confusing on the front end, too, to get it all settled out because we had to track down all these extra people. And then on the back end, selling it, it was a seller financing deal, but it was a little bit unique in terms of that. I mean, and that was…
Jack: How did you sell this property? Where did you find the buyer?
Jeff: They were off of a…I don't know where they came from. We had a sign on it. We drove down there and put a sign on it because of the higher-end property. We wanted to go look at the deal. I mean, we do a lot on Marketplace and Zillow. Honestly, I don't remember where they came from.
Jack: Okay. No problem. It's been perhaps a little bit. And now, also, one of the things I wanted to ask you, since we know each other well. I know for some of your deals, you're also a part of Ultimate Boardroom Mastermind. One of the things that I wanted to ask you about was, you have also tried or worked on or advanced a couple of development deals. And you had mentioned it just a second ago. So, how is that different, or is that kind of like a growth path that you have been going through with that first flipping, and then, now, taking some lots and taking it a step further? What's your thinking behind those?
Jeff: Yeah. On those, it's the same process. And then, when we get the lot and we start looking at it and we do the comps and we make the offers, you know, we look at some different exit strategies. And sometimes, it seems like it works out to be a better play to maybe develop it a little bit or rezone it or split it. I know you've done a lot of the splits to help maximize the exit strategy.
And so, you know, we've got one out in Western Maricopa County that was just a little lot we bought for 3 grand. And we probably could have sold it pretty quick for about $10,000, maybe $15,000. But it was in a mobile home gardens. And so, we decided to put a manufactured home on it and do all that and, you know, that whole process. So, we're in that for about $85,000, and we've got that on the market right now for $125,000. And so, we felt like those numbers made enough sense to go through the development and, you know, get all the utilities and everything hooked up.
We've done some rezoning. We've done some of that stuff. And a lot of stuff, we don't target that necessarily, but it just comes as a product of talking with the sellers and figuring out what the best exit strategy might be.
Jack: And that's exactly what they're going through. So, when people get into our program, the Land Profit Generator…the link will be below. So the people get into the Land Profit Generator. We're teaching this one way because we want people to understand, to get the first few deals done, following that one proven way that's created almost, well, over 4,000 deals for us, right? And how many deals a year do you do right now?
Jeff: Well, it's funny, we're trying to scale back. So, if I can do about five deals a month, that's my sweet spot. That's what our goal is every month. For a while there, we were trying to do a lot more. And then we decided that we were wasting too much time on little deals, you know, only making $5,000 or $6,000 a deal. So, we're trying to make a minimum of $10,000, but closer to $15,000 every deal because, you know, we've talked about this through the coaching, too. The little deals are just as much work or more. The buyers tend to be needier than the people that are buying properties with $20,000 or $30,000. And so, we've shifted our whole model, instead of trying to do a lot of volume to just do five deals a month that have nice returns on it.
Jack: Wonderful. But the nice part of this, by doing quality versus quantity…and again, there's different paths. You know, when you started, you did whatever came your way, right? And then you added volume. And after a while, you see, like, "Oh, no, if I focus on, like, five deals a month at a high-quality $50,000-plus deals, then you can do the math, right? That's $75,000 a month. If I can focus on those, then I will actually have some bandwidth to take some deals that have a potential to be much bigger, and actually spend some time on those, and make those into two home runs of, like, $50,000 to $100,000 or more profit."
So, it's a very smart way to go about business that, especially after you have some experience is a natural way to do it. And so, often, our students, they wanna jump into that right away. And we tell them, "No. Go follow the steps right now. Get your first 3, 4, 5, 10 deals done. And then, once you've got that done and you have that, it becomes second nature. Now, go and do some of these things." And you are the living example of that, having done, obviously, in many different ways. And you do the same thing in the housing world now. You don't probably wholesale houses for $5,000 anymore. You go rehab the ones that can make you $130,000, like the one you did before.
Jeff: Right, that's the plan. Yeah, yeah. Yeah. So, it's been a nice transition. And then one of the other goals that we have is, you know, the five just pedestrian-type deals, you know. And then we try to hit one big one a quarter. You know, we've got one right now we're working. We have it under contract for $197,000, and I've got a buyer potentially, if the power situation works out, for about $400,000.
Jack: Nice.
Jeff: So, you know, if I can do one of those a quarter and then, you know, the normal deals for the deal flow and cash flow, that's our target. And like you were saying, it's taken some time off the table, you know, so I can focus on doing other stuff.
Jack: Right. And that makes sense. Sometimes the deals you don't do are sometimes the deals that help you to actually grow. People are always very afraid of losing something, but it's like you're doing one thing and it works great. But if you pull back from that, you're feeling like, "Oh my god, they're leaving something on the table." But it actually opens your bandwidth, and your eyes, and your mind for bigger and greater possibilities.
Jeff: Right, right. Yeah, no, you know, it's like what you put out there. You know, if you start looking for those bigger deals or being more open to them, they seem to appear, you know. There's always the little deals. I don't know. I posted something in the group the other day. I don't know if you saw it. It was cracking me up. It's the funniest thing.
Jack: That's another crazy deal. Yes, tell us about that one.
Jeff: Well, so, it's a little deal. I think we bought it for, I don't know, about $1,500. We sold it to the guy for..what'd we sell it for? $5 grand, $6 grand. So, it was a little deal, but he was a return customer. And he had lost the other piece in his divorce. And the wife just let it go to taxes because she just didn't want him to have it. And so, he found his property, so he had it as cash. He wanted to come meet us. So, I said, "All right. That's fine." I don't usually meet people, but he was in Phoenix here. So, he came over to our PO Box area.
So, he pulls up on this Honda car, like an old Honda with no hood on it. And I'm like, "What is going on?" And he gets out and his hands are all, like…he was like a mechanic, so they're all black and he's got, you know, black on his…all disheveled. And he gets out with this bag of money and he starts counting out this bag of money. You know, and it's fives and tens. There's a couple hundreds in there. He does his down payment. But, yeah, it was cracking me up with the people you…
Jack: Yeah, I saw that. You're referring to posting it. Jeff is always a part of our Land Profit Generator Real Estate Group in Facebook, and I saw that post there. I already screenshotted it and I already…
Jeff: That was hilarious. Yeah. I was dying.
Jack: Loved that story.
Jeff: I was like, "I feel bad taking his hood money to buy the property almost."
Jack: Hey, that's wrong. You didn't take it. He wanted to invest, right? He wanted to invest. And he's gonna make monthly payments. I think I look at it at a completely different way. And now that he's divorced, now that he's getting his new deal himself, by the time that he's paid that thing off, he probably has bought himself his retirement place. If he can't afford a new hood, do you think he can afford a decent retirement place? Probably not.
So, we're really providing a service on the [inaudible 00:15:53] of these properties to people that don't otherwise have a chance of actually ever getting into property ownership. And it's a beautiful thing because now, down the road, perhaps you can move a mobile home on there, connect it to utilities. And for another $5,000 or $10,000 in addition to the $6,000, or $7,000 or $8,000 that they paid you, he ends up having a place that's free and clear on a property that's free and clear that he can have a dignified retirement at some point of time.
Jeff: Yeah. No, he's a real nice guy. He's happy. He's excited about it. I'm happy for him. But it just cracked me up. He rolled up in a…
Jack: Yeah, that's what's very funny. Great. So, Jeff, what is your goal? What are your goals? Why are you doing this? Why are you investing in real estate?
Jeff: Well, I think it's like anything. I mean, I wanna build a lifestyle. I mean, I've definitely transitioned a little bit more into a lifestyle. So, we're really active with the kids. We've got two kids. One is nine and a half, and then our daughter is almost seven. And so, you know, to be able to coach their baseball teams and their stuff is important to me. And just be able to do it…you know, not be burdened with a 9-to-5 type of job are the biggest things. And being able to invest in something that's fun, and you get to still deal with people, for the most part, that are quality people are the biggest things.
I mean, financially, it's great. It's rewarding. And building up, you know, cash flow with the financing and then the bigger deals. And then potentially, you know, being able to put, you know, a manufactured or mobile home park or RV park on the right piece of land, if we can come across that, and create some forever cash, as you like to call it, you know, are most of the goals. And then, you know, I started coaching, I don't know, almost two years ago, I guess, at this point, right?
Jack: Yeah. No, no, Jeff is a mentor or coach in our organization. And that's actually the next area I wanted to ask you about. So, you came aboard for that and have been teaching a lot of people, bringing a lot of people to success, and a lot of our students to success. What made you wanna be a coach? What made you wanna be a mentor? And what made you continue to wanna be that? Obviously, financially, you get paid of course for that. But financially, your deals are more profitable. So, what is it that coaching does for you?
Jeff: Yeah. I mean, I think, you know, I kind of have the giver's mindset in terms of…there's a fly…you know, the mindset to try to give back to the community that's given me a lot. And, you know, I went back to school and got a master's in education and coached and taught. I taught high school for about a year and a half. I said, "That's enough of, you know, this coaching."
Coaching the kids was awesome because they're all motivated and, you know, they wanna be there. But then you get into a general classroom, and there's people that, you know, they just don't wanna be there. It's a hard mix. And so, that's where I dove back into real estate full-time. And so, to be able to give back and help people go along the journey is great. You know, and the people that are in the program are all motivated, and they wanna do well. And they, you know, take the coaching, and the suggestions, and the steps seriously, and they go implement it. And so, it's like dealing with athletes again in terms of people that wanna go out and actually make something happen. And so, it's a fun place to do it. Sorry, I got a fly.
Jack: I bet it's fun to be able to say, "I'm the guy that brought them to the first deal and got it started."
Jeff: Yeah. So, that's a huge reward, is to see them having success in the program. And so, you know, you get a lot of people that are afraid to make an offer, or they don't know to comp it out, or afraid to get an offer accepted. Because then what are they gonna do? They're gotta buy a property, you know, and then going through the market, and all that stuff. So, helping somebody go from zero experience. Or a lot of people already have a lot of experience but not with the land or not with the program. So, being able to help even those higher-level people take their business to the next level has been really great. And it's rewarding for me just to be able to impart some knowledge that I've gained over the last almost 20 years in real estate now. I don't feel like I'm old enough to have 20 years in real estate.
Jack: That's beautiful, and that obviously aligns with our core values, which by the way, are printed right here. So, our core values have driven the company. We make every major decision or minor decision…every decision is determined by our core values. And obviously, that's exactly that. Like, we take pleasure out of helping people, and we're on a mission to help other people. We're on a mission to create a thousand millionaires. And then, obviously, Jeff, you're a big part of that.
So, let me ask you then one other question is, like, what do you see is the biggest hurdle that coaching students or your particular coaching students or every coaching student that you've seen, that they are struggling with to overcome or that they work the hardest to overcome in order to get to success?
Jeff: Yeah. I think there's a couple areas. One is staying consistent. And so, I know that, you know, even when I started, I would send out a bunch of letters. I'd get the calls. I'd do the research. I'd do the offers. And I'd look up, it was a month and a half down the road, and I hadn't sent any more letters. And so that whole pipeline was full. And so, helping people just stay consistent, even if it's a smaller number every month, I think is a big turning point.
But oddly, it's just getting to go. You know, getting that first mailer out seems to be a big mental hurdle. It is always fun. I just had some new students come on, and they're like, "We got calls back from the letter." It's like they were shocked. They couldn't believe, you know, people actually called them back. And so, that's fun conversation to have. I'm like, "Yeah, yeah. They actually do call…"
Jack: We told you it would happen.
Jeff: Yeah, yeah. So, a big hurdle is having confidence to put a number on a property. That seems to be a hurdle. And a lot of students, a lot of people, you know, initially coming into the program or into the land don't have a real firm or confident grasp on how to value properties. And they think that they need to figure out the value exactly. So, like, I know, you know, with houses, you can't afford to miss by 10%. But on land, if you miss by 10%, you know, you still have 40%, or 50%, 60% left in that deal to still sell it under value.
So, having a lot of new people in the program, I spend way too much time trying to figure out values. You know, I'll talk to somebody and they're like, "I don't know how you do so many properties. I had 10 calls and it took me all day to figure out the values on them." I'm like, "You know, you're doing too much research at that point."
So, that's a big hurdle. And then sending out the offers and maybe not having that cash to close is another psychological hurdle, that if they do get it accepted, what are they gonna do? And of course, I mean, there's a lot of exit strategies there in terms of, you know, a double close, or assigning the contract, or bringing in a money partner. So, that's all the stuff you can worry about once you get the contract accepted. So, those seem to be the biggest hurdles that I see that…
Jack: Yeah. And they always go in to save direction of somebody wanting to know that all the lights are green before they start driving. And with my students, that's exactly the analogy I always use by saying, like, "Hey, listen, if you wanna go from wherever you are to the other side of the country, if you're in LA and you wanna go to Miami by car, you're not going to wait until all the lights are green. As a matter of fact, if you wanna go to your favorite bar that's 2 miles away, you're not gonna wait until all the lights are green, right? You're just gonna go and go light after light. And each red light is kind of a little hurdle or a little milestone that you have to go, like, 'Okay. What do I do now?' And then you solve that and the light turns green and you continue, right? Then you can do that yourself or you could do that with the help of a mentor. Obviously, the mentor is gonna show you where all the lights already tend to go green quickly or they help you make those lights green quickly by solving those issues."
Alone, when Michelle and I started, we figured this out. It took us three years to figure this out. Now, we have students that do 60 deals in 6 months, right? It's not even comparable. And it's because they understand that with a mentor, they are much faster. So, yeah, it's that mentality that, "Oh, well, I don't know all the answers yet." Well, of course you don't know all the answers. You're gonna get the answers as we go along because particularly when you work with somebody who does like 60, 70, 80 deals a year, then the answers are in your mentor's head. And instead of just, like, overwhelming you with all the answers in the first call, you're just getting the answers as the questions arise, right? And that's obviously the most efficient way to go about it.
Very cool. So, for somebody who has not yet or just is thinking about this land stuff versus house stuff versus where they should start in real estate, what would you tell them? You who have done a lot of different things.
Jeff: Oh, well, the land is probably the lowest barrier of entry, you know, out of anything in terms of ease to get a deal. You know, I know a lot of people, and I would bet this is true for you. But, you know, the first property we purchased was less than $2,000, you know, back in the day. And we still do quite a few properties that…although, like I said, we're phasing a lot of those out. But, you know, we still have some on the books that we've purchased for less than a couple grand that are worth $5,000, to $10,000, to $15,000.
So, it's easy to get started. And I'd be willing to pay for a quicker route to success. And so, you know, basically, by paying to have a coach and mentor…because it's not complicated. The system isn't complicated, but it sure speeds things up when you've got somebody that knows what the deal looks like or should look like, or, you know, can see the trouble on the horizon, or anticipate where you should be doing something, or posting something, or how to answer a question, instead of you trying to figure it out, and then getting frustrated, and, you know, shelving the whole program for a year or two, and then coming back to it because it was still a good idea.
So, you know, the nice thing about the land, too, is you don't have to have a real estate license. And so, you know, anybody can do it. And with the, you know, resurgence of Zillows, and LandWatch, and places where you can find values, you don't have to use the MLS, you know, to find properties or to price them out. It's actually kind of funny. So, I'm the broker obviously. And we probably don't list very many of my own properties on the MLS because it's not very efficient in terms of selling it. So, the methods that we're using outside of the MLS are actually better than using the MLS.
Jack: The same thing here. I actually have a license. So, I actually have my license with you. You're actually my brokers, you know. So, I don't think I remember the last time we put one of our land deals on the actual MLS. We just sold a property in South Phoenix, like in our MLS area, and it came for Facebook. All right. It came to Facebook or Craigslist, where somebody bought the property, and it's gonna be a six-figure profit on that deal.
I agree with you. So, don't be afraid. You don't have to have a license. And obviously, it's a simpler way to go about it. So, with that, thank you very much, Jeff. So, what is your plans for the summer right now? What are you gonna do?
Jeff: Well, we're going to Hawaii, as you know. We're gonna…
Jack: Nice. Yes, in our Ultimate Boardroom Mastermind is meeting in July in Hawaii. Nice.
Jeff: Yeah. So, we're gonna go out five days early, I think, to Hawaii, and stay there, and then head over to the other island there for the Boardroom. And then we always go up to Telluride up in Southern Colorado for a week, just to get out of heat. And so, we're gonna try to get up to the Flagstaff house as much as we can and try to beat the heat a little bit, you know. And the nice thing is, I can do deals from any one of those locations. So, you know, it's nice to be remote and still be able to get things done.
Jack: I agree with you. I couldn't agree with you more. We're doing the same thing. We're heading out right now, and we're heading out to Hawaii. Then we're heading out to Europe. Then we're heading back up to Hawaii. Then the summer break is over, and then we kind of, like, got to be here because our daughter goes to school. And your kids, of course, too. But summer is always our traveling time. And this is the beautiful thing. And then, if a deal comes up that needs my involvement, we could do it from anywhere in the world. Because when you're dealing with land, you don't have to have somebody inspect the roof.
All right. So, very cool. So, I'm looking forward to seeing you one of these days here at the house. We just moved into his neighborhood. So, we moved, like, two miles away from you, Jeff. So, there's always a good cold beer, and some wine, and some whiskey waiting here. You're in the house of a German, there's always gonna be some drinks there. Looking forward to having you over. And then we'll do our second life video here. We'll just have a chat about some of the things we're doing right now.
Last question. What do you see the real estate market doing in the next year?
Jeff: Man, that's a good one. We've been really busy this last six to eight months, a year. I think it's pretty stable. I mean, at least in the Phoenix market, it feels really like a balanced market. And so, there's still a lot of deals out there. There's a lot of growth happening. Hopefully, you know, there's a lot of new development that's coming. And I think, if you can buy the properties at the right price, you're set up pretty well to do well. And there's still a lot of people that are willing to sell. Even though it's you know, a pretty good market, we're still buying properties for pennies on the dollar. So, it's been wonderful.
Jack: Great. Finalizing off the call, thank you very much. Say hello to Kate. Say hello to the kids.
Jeff: Yeah, yeah.
Jack: We are, with that, ending the call and ending this video. It's great to see you again. Another house flipper who, over the time, as he discovered land flipping, has realized that land flipping is actually simpler. Less money exposed, less red tape, less involvement, less rehab, less contractors, or none of them, for that matter, at the same profit. So, he's tweaked his business such that he does a tremendous amount of profit and volume there, five, six deals a month. Five deals a month, plus once a month, once a quarter, a really big deal. If you added up the numbers, you can figure out that this is a lucrative business to be in. So, thank you very much, Jeff.
Jeff: All right. Thanks, Jack.
Jack: Thank you for being on the call. Next time, again, you and I together, we'll do it as a live video potentially. And then have a great weekend. Have a great summer, and I'll see you very soon over at my house. And with that, everyone, have a great rest of the day. If you're watching this on YouTube, of course, give us the thumbs up. Leave some comments below. Share it. Share it on social media. Share it, tag friends. Forward it over to them. If you're listening to this on iTunes, make sure you give us a five-star review and actually put a text on there. The more reviews we have, the more reach we can have and the more people we can tell about this amazing way of doing real estate. With that, thank you very much. Thanks, Jeff.
Jeff: All right. Thanks, Jack.
Jack: Thank you, everyone. Thank you. Bye-bye.
Man: Enjoy this episode? Then make sure you like, subscribe, and post your comments and questions below the video. We're looking forward to hearing from you.
Man: Enjoy this episode, then make sure you like, subscribe, and post your comments and questions below the video. We're looking forward to hearing from you.
What are you thinking?
First off, we really love feedback, so please click here to give us a quick review in iTunes! Got any thoughts on this episode? We'd love to hear 'em too. Talk to us in the comments below.
Enjoy this podcast? Share the love!