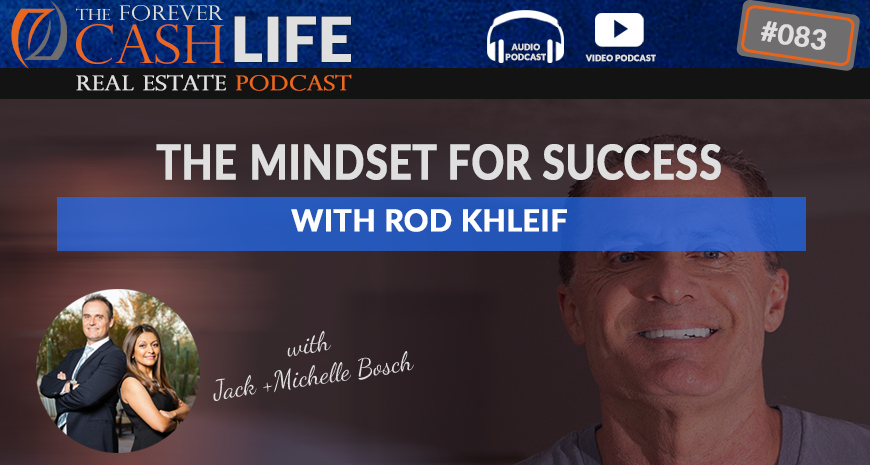 Rod Khleif is an entrepreneur, real estate investor, multiple business owner, author, mentor, and community philanthropist who is passionate about business, life, success, and giving back. As one of the country's top real estate trainers, Rod has personally owned and managed over 2,000 properties. Rod has combined his passion for real estate investing and business development coaching with his personal philosophy of goal setting, envisioning, and manifesting success to become one of America's top real estate investment and business development trainers.
In this episode Jack Bosch chats to Rod about how to focus in on what you want in life, and how this will improve all aspects of your life – especially your career as an entrepreneur.
Listen and enjoy:
What's inside:
Learn about Rod Khleif and his career
Discover how Rod recovered from losing millions of dollars
Find out how to prioritize your life and focus on what's important
Understand the power of giving back to your community
Mentioned in this episode
Tweetables:
Transcription:
Jack: All right, hello, everyone. This is Jack Bosch speaking, and welcome to another one of "The Forever Cash Life Real Estate" podcast. I'm super excited. As you guys know, we are cash flow people. We talk about cash flow, we talk about how to flip land for cash flow, how to invest in apartment complexes, things like that. And I am bringing to you today one of the masters of multifamily investing, Mr. Rod Khleif.
Now, before I introduce Rod, as always, we got to make sure you leave us…If you liked this episode, so leave us a five-star review, not only press the button, but go into…if you're listening to this on iTunes, go in with a little barb in there, write something what you particularly enjoyed about this episode, and then that helps us to spread the word. If you're watching this on YouTube, make sure that you like, do the thumbs up, ask a question below. We'll make sure that we pass that question on to our guest, and the questions have been answered. So with that, let's get started.
Announcer: Welcome to "The Forever Cash Life Real Estate Investing" podcast. With your host, Jack and Michelle Bosch. Together, let's uncover the secrets to building true wealth through real estate and living a purpose-driven life.
Jack: All right, everyone. Hello. Now, I already indicated that we have a good friend of mine on the line, Mr. Rod Khleif. Rod, how are you?
Rod: Oh, awesome, brother. Awesome. And let me just add to your little note about the reviews. If you don't like this segment, then for God's sakes, don't say a thing.
Jack: That's right, that's right. If you don't like, but I'm pretty darn sure you will like it. Because our guest, Rod, not only does he have one of the top podcasts in the country on multifamily investing, he has also gone through a roller coaster off investing experience, come out ahead again, he's doing large multifamily deals. And we're going to talk about the combination of multifamily as well as about what it takes to actually get to the top, on what it takes to when you come down from the top to get back up to the top. So with that, Rod, welcome to the show, and…
Rod: Thanks, brother. Yes, this is gonna be a lot of fun. I am super excited, so let's…
Jack: So go ahead. Tell us a little bit about yourself.
Rod: Yeah. You went right to the pain in your intro but let me give a little pre-frame for that pain. So I immigrated to this country like you did, and I immigrated when I was six years old with my brother, Svantia [SP], and my mother. I mean, my brother, Albert, and my mother, Svantia. And didn't speak English, got thrown into school. We didn't have very much money. I had to wear clothes from the Goodwill and the Salvation Army, hand-me-down clothes through junior high school, and we ate expired food, drank powdered milk, because that's all we could afford.
But, you know, I knew I wanted more. I know some people had it harder than we did. Probably a lot of people did, but I knew I wanted more. So, you know, what was interesting was I watched my mom's incredible work ethic, and she babysat kids so we'd have enough money to eat. And with her babysitting money, she bought the house across the street from us for $30,000. She was a real entrepreneur at heart. And that was when I was 14. When I was 17, she told me it had gone up $20,000 in her sleep. And I'm like, "What? I'm getting into real estate. I'm gonna make a fortune in real estate." I had made a decision.
So my first year in real estate, I got my broker's license. So you could actually do with education back then you didn't need experience like you do now. So right when I turned 18, I was a broker. And my first year I may be made $8,000. My second year, maybe $10,000. But my third year, I made over $100,000. So what happened between year two and year three? Well, basically what happened is I got an education about the psychology of success. How that truly 80% of your success or even 90% of your success in anything is mindset psychology. You know, you have to actually take action with what you and I both talked about on our podcasts, the real estate knowledge. You know, you have to push through fear and push through limiting beliefs, and in some cases, get uncomfortable to build that life of your dreams. And so, you know, that's what happened between year two and year three. I met this guy that taught me about that.
And so, you know, fast forward to today, I've owned over 2,000 houses and multiple apartment complexes so far in my career. In 2006, my net worth went up $17 million while I slept, just a little more my mom's 20,000. And I thought I was a real estate god. You know, I could barely fit my head through a door. I thought, you know, I could do no wrong. And, you know, when that happens, God, or the universe, or whatever you believe, will give you a smack down. Well, that was 2008 for me. In 2008, I call them seminars, I don't call them failures, because they're only a failure if you don't get back up, but I had a $50-million seminar. And I thought I was set for life and I truly lost it all. So how did I recover from that? Because, you know, I thought 80 million baby boomers getting old and getting cold. Florida was gonna be recession proof.
Jack: Before we jump into that, Rod, so what were you invested in at the time that made a $50-million impact?
Rod: Yeah. So…
Jack: Or it [inaudible 00:05:21]
Rod: Yeah. You want some detail, I'll give you some detail. The reason I crashed and burned was I had 800 houses, and the 800 houses were two hours north of me and two hours south of me and everywhere in between, very logistically difficult to manage. That was the biggest issue, okay? Now, in Florida here, we don't have state income tax, so taxes are much higher. Also my properties, a lot of them were, you know, along the coast, they're all along the coast. So I've got wind insurance, I got flood insurance, so all of that impacts cash flow. And, again, my focus was net worth, it wasn't cash flow. And, you know, I wrote a book about this, the subtitle of which is "The New Rules of Real Estate Investing," i.e. the new rules are focused on cash flow.
So I had these houses, and to give you an idea, if I had a maintenance issue at one of my apartment complexes, you know, we would have stockpiled parts there. You know, if there was a plumbing issue or something like that, we'd have parts for the faucets and things. And somebody could go in there, a maintenance guy could go in there and fix it and be done in and out in an hour. Easy.
Well, if somebody goes to one of my houses, and it's an hour drive just to get there for example, sometimes longer, then they have to figure out what's wrong. And every house is different, the mechanicals different. Everything is different, the plumbing, the electrical, everything is different, so the appliances, everything. And so they have to go see what's wrong, then they have to go find a Lowe's or a Home Depot and go buy the parts. And then they come back and that might take another hour. And then, you know, if you've ever done any maintenance or remodel yourself, you know that you always forget something, so you got to go back and get something else.
And what takes 30 minutes to an hour an apartment complex, took all day at one of my houses. You multiply that times 800 then, you know, the fact I was in a lot of, you know, C, C-minus properties, working class houses, a lot of construction people in my houses, people in retail, and those people got crushed here in Florida. So, you know, my vacancies went through the roof. People were moving in together, people weren't paying rent, it was just the perfect storm.
And what's crazy is in 2007, I was at a 30% loan to value. I only owe 30 cents on every dollar, and I actually went upside down. So it dropped more than 70%, my portfolio. So, you know, it was a painful, it was a bad day. I've had worst days, but it was a bad day. So that's what happened. But, you know, if you'd like I can share with your listeners what I did to recover from that.
Jack: Yeah. Let's jump into that. Let's talk about that. So, yes, well, let's talk about that.
Rod: All right, yeah. No, my pleasure, you know, I do this… Really what it is, it's knowing exactly what you want and exactly why you want it, so I do this goal setting workshop with my coaching students and at my live events. And basically, I'll just give you an overview, but if you guys are listening, take some notes. I think you really appreciate this. A very, very valuable exercise.
So what you do is you pick an hour when you have a lot of energy, okay? And so don't do it right after a meal, make sure you're well-hydrated, you've drank a lot of water, and you sit down and you write down everything you could ever possibly want in life, okay? So it's not just the financial goals. Yes, it's the financial goals, how much money do you want in the bank, how much cash flow do you want from your real estate? You know, the stuff, the houses, the boats, the cars, the jet skis, the planes whatever it is. And, by the way, take the lid off your brain. Imagine that if you write it down, you're gonna get it, because I'm gonna tell you that is not outside the realm of reality.
You know, when I lived in Denver, I knew I always wanted to live on the beach, and there's no beach in Denver. But I had pictures of palm trees and pictures of the beach. And I ultimately built this incredible mansion on the beach. It was unthinkable when I was 18 years old, but I made it happen. So take the lid off your brain, imagine if you write it down, you'll get it.
So then keep writing, and if you're analytical, don't stop and analyze your answers, just keep writing, you can always scratch it out later. But once you can't think of another thing that you want, make sure you put your vacations in there and the thing…then write down two things you want to learn in your lifetime, okay? So it's not just the stuff, write down what you want to learn. Say, you know, me I'm gonna learn how to fly a helicopter, that's on my bucket list. I'm also gonna learn how to play the drums. My wife, beautiful bride, bought me a drum set. I don't even know what end of the stick to use yet, but it's over there. It's set up in one of my other buildings here and I'm gonna learn.
So what do you want to learn? Maybe you want to learn a foreign language. Maybe you want to write a book. What do you want to do with your life? And then lastly and most importantly, write down who you wanna help? So, you know, me, I bought my parents a house on a canal here in Florida. I, you know, bought them a car. Who do you wanna do something for? So it's everything you wanna do, be your habits, it's not just the stuff. And then once you can't think of another thing, it's not real and it's not a goal until it's measurable. So first of all, make sure each one of those goals is actually clear, concise and measurable. But then you've got to put a time limit on each goal.
So write down, and don't overthink this, just write a number by each goal as to how many years it's gonna take you to achieve it. Put a 1, 3, 5, 10, or even a 20. Remembering that as human beings we will overestimate what we can accomplish in a year and massively underestimate what we can do in a decade. So keep that in mind, put a number by each goal. Then once you're done with that, there's just a couple more steps. I want you to pick your number one goal. I mean, this one, if you got this goal, you'd be like, "Oh, my God, life is good." So whatever that goal is, now if there's more than one, just pick one. It won't matter for what we're gonna do next. Write it on another piece of paper. Then pick your top three one-year goals, put those on another piece of paper.
Now, this is where most people stop. In fact, most people don't even get this far. Most people spend more time planning a Christmas or a birthday party than they do designing their lives. So by this point, you already had a most of the population, but you got to do a couple more things. You must write down why each one of those goals is an absolute must, because the why will drive you, okay? And this is how I've recovered from losing $50 million. This is how I got there in the first place. But this is how I'm back to the, you know, success that I enjoy today, because I remembered what it was I wanted, more importantly, why I wanted it. So write a paragraph for each goal. "So I can show my wife, or a husband, what success looks like." "So I can show my kids what success looks like." "So I can do whatever I want, bring whoever I want, go wherever I want, whenever I want." Whatever it is for you, write it down.
Once you've written down the positive reasons why, then put some pain in there if you don't achieve the goal. Because, as human beings, we will do more to avoid pain and gain pleasure, so use that. So put in there, "So I don't feel like a failure," if you don't get the goal. "So that I don't, you know, feel like I failed." You know, "I don't fail my family." "So I don't live a life of regret." Make it painful, use that, because, guys, this is the fuel that will get you to take action on your dreams. This is what will get you back up when you get your butt kicked, because it's gonna happen, okay?
And it always happens so, you know, you're gonna have setbacks. This is what gets you back up. If you're comfortable, you've got a comfortable job, this is gonna cause you to get uncomfortable, because that's what the life you want is, it's just on the other side of that comfort. So you put the positive and negative pain in there, positive and negative reasons why.
Now, the last step, I'm gonna to talk about the last step with some examples, okay? Because I did this in my life and didn't realize what it was I was doing until I looked back on it. So when I was 18, I got a four-door car, because I was gonna show houses, I was going to be a real estate broker, I was going to get rich selling houses. So I got this bone ugly four-door Granada. Ugliest thing you've ever seen, Ford Granada. And I worked with a guy that had a Corvette, and he let me drive it. And that's a real critical piece, that experiential piece where you experience what it is you want. Like, if you want a certain type of house, go to an open house and walk around and feel it like you're there. But he let me drive this Corvette. So this is before you can even spell internet. So I went in a magazine, and I got a picture of a Corvette. I put it on the visor, taped it to the visor of this bone ugly Granada. Within a year, I had this gorgeous Corvette.
Now, I wanna give you a couple more examples. And please understand, all I can do is share my experiences, it may sound like I'm bragging, but I'm not. Because the examples I'm gonna give you do not even interest me anymore. So this was back at the time when there was a TV show called "Magnum P.I." and the actor's name was Tom Selleck.
Jack: Lovely. I didn't watch [inaudible 00:14:26] that show.
Rod: Right. So he drove this gorgeous red Ferrari 308, and I thought that was the coolest thing I had ever seen. So I got a picture of that actual car out of a magazine and put it on the visor of my Corvette. Within a year or two, I had a Maserati look just like a gorgeous red same thing. Now, last example. I'm the guy that always wanted a Lamborghini, okay? I had the pictures of the…back then it was a Countach, Lamborghini Countach. I had the posters in my bedroom with the bikini girls in the soap, yeah, that was me, yeah. And what's crazy is my son collected model cars of exotic cars. He loved cars like I did, and he collected models. He had a model of the exact same color and style Lamborghini that I ended up getting. And he used to tell me, he used to lay in bed visualizing me taking him to school in it and it happened. It's just crazy. I wrecked it, but that's, you know, we won't go into that. But, anyway, so…
Jack: We might be tempted to but we won't now.
Rod: Right, right. So the last point here is get pictures. Like, I use a paper planner, okay, and I'm showing it to you here. I know you're on iTunes, but if anybody looks at your YouTube channel, they can see this thing. Now, in the back of this thing, I've got pictures that I've had for 20 years, okay? Now, they start with my gratitude pictures. There's pictures of my kids, because everything starts from a place of gratitude, you got to have a foundation of gratitude. So there's my gratitude pictures. Again, these have been in here 20 years.
Now, there's the houses that I've wanted, okay, and I'll talk about that more in a second, but the pictures here look just like the houses that I've had, okay? And then, you know, stupid shit like I had a couple hundred thousand dollars of the watches. I thought that was important. The Lamborghini before I ever got it, the Rolls Royce. All this stuff that I got because I had pictures. So that's the last step my friends, get pictures of your goals. If you look around here in my office, you'll see pictures are the things that are important to me now because they freakin work, okay?
I'll give you one more example. Jim Carrey, when he was flat broke, wrote himself a check for $10 million, and he put "for services rendered" in the memo. And that's how much he got for "Dumb and Dumber." So, don't underestimate the power of…
Jack: Yeah. I couldn't agree with that more. So, Michelle and I, we don't carry around our pictures. But we went through a program called Lifebook, which is actually many years ago, where we actually created the book about your life, you look like and you create like five years into the future. Now, we did that thing in 2011, and we literally put it away, and I have to admit, you're supposed to update it every year, and I admit, I did not do that. But a few years ago, a couple of years ago, I actually looked at it, and almost virtually every single thing we had written down has actually come through.
Rod: Isn't that crazy?
Jack: Come through.
Rod: It's still crazy. I hear that time and time again, it happens. It's happened to me, same thing. I just showed you. And I'm gonna add a couple quick things here just because they're relevant. What you do is you use these pictures to visualize even if they're just on the wall, go to Walgreens, go on Google, find some pictures that resonate with you associated with your goals. They don't have to be exact, but when you see me like, "Whoa, man, that looks good." Go to Walgreens or CVS, get them blown up, put them on a wall like I've done here, and it's so cheap. And even after a while you won't notice them, but they're in your subconscious. And I'm telling you that stuff works, guys, so trust it.
But let me give you one last little thing here. So, I told you I wanted to live on the beach. And I dreamt about it for 20 years and like, you know, I tell people God's delays are not God's denials. I mean, yeah, it took longer than I had hoped, but you can absolutely maximize that process by doing what we're talking about here and doing it faster. And when I look back on it, I realized what I was doing.
So I built this incredible 10,000-square foot, $8-million mansion on the beach. This testament to my ego to prove the world I was good enough. I mean, it was magnificent. I have three stories elevator, wine cellar. I own the beach on one side. I had my boat houses on the backside, it was called a Gulf to Bay. It was like a slice through an island. You know, I had…I mean, I could go on and I had 80 feet of glass that was 10-feet high next of all, but together it was like you were living on the bay and I could see the bay on one side and the beach on the other end.
But two months after I built this thing, I'm floating in the pool…and this is what I want to share with your listeners real quick. I'm floating in my pool at night. My family is inside, they're sleeping. This is warm water and there's palm tree. I bought these expensive palm trees that went out over the pool…and pools in magazines. I mean, there's just…waterfall from the second floor into the pool, giant waterfall just magnificent.
I'm floating in this pool, it's changing colors, because I put fiber optic lighting in it. And it's two months after I built it, and I'm looking up at this thing, this thing that I built to, like I said, to prove the world that was good enough. And I got depressed, and I'm like, "What the hell is going on? How could I be depressed?" I mean, I was really depressed. I'm like, "You know, I've just achieved what's by society's standards, this incredible milestone and success, and I'm feeling like crap." And so when I look back on it, I realized there were two things happening. That's why I want to share with your listeners, Jack.
Jack: Go ahead. Go ahead.
Rod: One was, what's that?
Jack: That's good stuff, go.
Rod: Yeah, yeah. Well, let me let me explain what happened, because this could come up for you guys. One was you should never achieve a big goal in your life without having other goals lined up. Because the goals aren't gonna bring you the happiness, they're gonna propel you and drive you, but the happiness is short-lived. Happiness comes from progress and growth.
Jack: Absolutely.
Rod: And you must keep growing, okay? That's why people regularly die after they retire. They think, you know, I'm gonna achieve, achieve, achieve to be happy. The key here is you must happily achieve, okay, and you must continue to progress and grow. So that's the one lesson I got. But there was another big lesson.
Jack: That's why you see Hollywood stars running their cars against trees after they win Oscars and stuff like that, because what else is there sto achieve, right, they [inaudible 00:20:37] there is the absolute then actually very similar to you when we achieved all, when we achieve our initial set of goals we were just sitting around and looking at each other. It's like, what do we do now? Like, what's…
Rod: Right. Like, what's now? That's exactly the thought was going through my head. What do I do now?
Jack: And then after our training program came out of that, because it's like, well, we have accomplished everything for us, let's help others accomplish what they want to accomplish. Go ahead.
Rod: Love it, love it. And my next part of my message here is very similar, okay? Because that year, I bought a bunch of books, you know, this is crazy, I'm getting back so I got Zig Ziglar and, you know, Dale Carnegie and I got a Tony Robbins book. And I got halfway through Tony's book, and I'm like, "Man, I like this." So I went and saw Tony live, and that's where you and I met. I mean, you and I are big fans of him obviously. And guys, by the way, if you're listening and you haven't seen him, go see him while he's still alive and talking. Give yourself that gift. We get nothing by saying that, but trust me, you wanna see…
Jack: Go and see Tony Robbins. You don't need to take the expensive tickets, take the cheapest tickets. The guy has such an intensity that in the back row, you still have the full experience.
Rod: Exactly. Just go. So, there's that. So I went, and I found out that he fed families for the holidays. And I'm like, "Man, that's really cool." Because, up to that point, I had been totally focused on Rod. It's me, me, me. Rod, Rod, Rod. "How can I show them I'm good enough that was really the thought that was going through my head?" Because, you know, I got picked on in school and all the stuff kids go through and, you know, didn't speak English and all that stuff. So I built this thing, "How can I show them I'm good enough?" And I realized it was totally focused on Rod. So I was really inspired by what Tony does. He's now fed, God, I don't know, tens of millions of people, maybe more than that. But I decided to feed five families. And this is back in, I don't know, 1999 or 2000.
And so I went to a church, got some names of people, and I said who really needs help? And I've got five families, and my brother and I, we filled boxes with food. It was a lot of fun, we bought turkeys. And we delivered these to these families and the third family changed my life. I go up to this house and it was a shotgun house. It was just the crappiest thing if you've ever seen one of these where you walk in to the living room, you walk through the bedroom to get to the kitchen which has the bathroom off of it. In this one-bedroom row house, or a shotgun, I used to call them, was this lady with five kids. So she comes out, she sees the food, she starts crying, her kids come out, they start crying, and I start crying, and I'm freakin hooked.
I'm blessed to say now over the last 20 years, we fed 65,000 children here in Sarasota and Bradenton. Thank you, brother, and we've done, I don't know, probably 20,000 backpacks filled with school supplies, and we do it for the holiday basket brigade. We did it first for Thanksgiving, now we do it for Christmas. But we also given, you know, probably 10,000 teddy bears to the local police departments for their officers to keep in cars. So when they encounter a child that's been traumatized then the officer can bridge that gap with the child. And that has been my greatest gift, because like Tony Robbins talks about, he has a similar story that's why he got started doing it.
And he talks about the science of achievement versus the art of fulfillment. I had achieved but I wasn't fulfilled. I've interviewed on my podcast, people that are mega wealthy. I mean, even a billionaire that wasn't happy, you could just tell he was totally focused on himself. And so there's a big…you know, success isn't success without fulfillment. So that's what I want to tell your listeners. You don't have to do anything as grandiose as I've done, but you must give back in some fashion for that fulfillment. I don't care if you adopt one family for the holidays or help an elderly person, whatever it is, you must give back. So, you know, I just want to leave that…
Jack: And I haven't done what you have done so far. But you can even start, to my mind, as doing it as part of even your business. For example, I haven't done that yet. I want to talk to you separately about how to do that, where to start, where do you get those backpacks because you get them really inexpensively and therefore you can spend more of them out there.
Rod: How could it help. I helped others, yeah.
Jack: Yes. We talked about that in a prior meeting, because I'm actually part of his…Rod has a mastermind on multifamily investing, which I'm part of because that's my home growth area, right? We've done three multifamily deals. They're doing very, very well. One we bought for 3.6, we're selling it for $9 million right now. So, we've paid our dues on this thing, but Rod is the master and that will probably spend a few minutes on that. But in prior conversation, we talked about this and it stuck with me.
So the very first way that I've implemented this in a very small way is, in the apartment complexes that we own, we now give school supplies to the kids. And in the summer, when the school year starts, right, we just make sure because we are class C properties, where there's a lot of families, single moms and things like that. It's not low-income housing, they're having jobs and everything, but they're still living paycheck to paycheck. So we're doing that. We missed the Christmas piece. I mainly just forgot about it. I mean, not about Christmas but about doing something for the tenants of Christmas. But next Christmas I have something lined up for them, too. Not full turkey but just a little something from us to help them.
And that not only helps somebody but it actually is also good business in that sense, right? So you can start that way or you can start just by giving, go to your local church absolutely love that. So, love your story. So…
Rod: Let me add something, let me add something. Guys, whatever you want, give. If you want happiness, give happiness. You want love, give love. You want money, give some of your time or some money. I promise you will get it back 10 to 100-fold, happens every single time. So law of the universe, I will tell you, anything in this universe that does not contribute actually gets eliminated. It's a law. You must contribute beyond yourself. Give yourself that gift because, again, I know you want financial success if you're listening to my great friend, Jack, here, but I'm here to tell you, like he just told you, you know, that financial success without incorporating this piece is really not success.
Jack: Right. And we do that mainly by…but we have to do more domestically, but because, so far, we have mainly our donations and helps, have been to a school for the poor in Honduras, where Michelle's from, where there's a Swiss guy who's doing just an exemplary absolutely amazing job, and has almost 1,000 children in school now that are growing up bilingual with a profession then to the best school in the district now. So it's really, it sets them apart from everyone else, and then it's an amazing job he's doing there.
But we have to always been looking for something domestic. So we're excited to start and something like that. I'm also looking to start something local with like the youth in need here, because what you just said, the message, the goal setting some of these things are so crucial in getting out of a slum, getting out of where you are. Right now, where you are not is not very happy. The why is more important than the goals.
Rod: Let me add something. Let me add something. So, I'm back, okay? You know, I lost my wife overall this, I've got the most amazing beautiful human being on the planet that I'm blessed to say I'm married to now, beautiful inside and out. And I live in a compound that's spectacular. I have six buildings. I have main guest house. I have, I mean, a main house. I've got a two-bedroom guest house. I've got a media building. I've got a conference center, a giant exercise facility. Jack, you've seen it, I mean, it's spectacular. It's like a park and because God's got a sense of humor, I can see my old house across the bay.
But, I'm back, because I focused on what I wanted and why I wanted it. Sure, I hit under a rock for a few months, but then I picked myself up and said, "Screw this. I'm gonna focus on what I want." Because guys, it's so easy to focus on what you don't want. I could have focused on the pain I was going through and losing it all, you know, and create a story around that. You know, people create stories as justifiers and to substantiate their lot in life. And they're really just softeners, you know, why they're not where they wanna be. And so, you know, focusing on what I wanted and why I wanted, got me back to the success that I'm blessed to enjoy today.
Jack: To add to that, that after that what I really said one of the very first thing she said in our interview right now is that you don't call them failures, you call them seminars, which is a very, very, very distinction. I don't know if everyone got that. The fact that it's a seminar means that you learn from it. And so I was saying my events where we by the way we do a similar goal setting and why exercise, is I always say my events that when you have enough failures, you don't start from scratch. People say like, "I got to start from scratch." No. It's like playing baseball. If you have failures, you have learned but you've come a better baseball player with time by all these failures. So, next time around, you're starting on first, second or third base already. You're ahead of everyone else because of what you learned.
So I celebrate the people in our event for having failed, to ask him who has failed before. And then we give them a round of applause, because I don't want them to feel bad. You shouldn't be feeling bad about failing. Failing is part of the process, right? Like, it all, Mark Cuban says. "Business is awesome, because you can hit, then hit, then hit, then hit, and all you need is one success."
Rod: That's right. You know, you and I also met in the War Room, which is a big digital marketer mastermind, best marketers on the planet. And I went to an event, I don't know if you read this one where Sara Blakely, the billionaire owner of Spanx was there, and I got to meet her. And she told me something which was profound about failure. And she started with $5,000 and she was on Forbes about five months ago. She is a billionaire with a B, you know, built Spanx into that.
Well, she said that her father most evenings would ask her and her siblings, "What have you failed at today?" Is that a freakin or awesome question you asked your kids, I love that to make them not afraid of failure, because we fail our way to success guys. Everybody that's been a success has failed. I mean, I've owned, I've built 24 businesses, several have been worth tens of millions of dollars, but most have been spectacular flaming seminars, okay? So, you know, we fail our way to success.
Jack: We have greater branches of our business that for sure no longer exists. And there's a reason why they no longer exists, right? Because they just didn't work out, and it's exactly. So now five minutes, just quickly on multifamily, what are you doing in this space right now? What are you focusing on, and what do you think about where the market is heading in the next three to five years?
Rod: Well, certainly we're at the top of the market cycle, no question. Okay. I mean, I can recognize it, because I fell underneath that wave in 2008. Now, that said, there are still opportunities. We actually have almost 800 doors under contract in three complexes right now, but we had to kiss a lot of frogs to find those. Now, the thing that I will tell you is multifamily is fantastic business. Because it really requires little or no money, because it's a team sport, you put a team together. In fact, I just did a Facebook live post on this yesterday, you put a team together, and you can raise the money, you can find the experience, and all the things that you need to put a deal together. The liquidity, the net worth, the experience all those components, you can put a team together to satisfy those. So that's the beautiful thing about commercial multifamily is they look at the team instead of the individual like they would in a residential finance situation.
So what are we doing? Well, you know, I've got my courses and coaching my live events. I've had four sold out live events, you know, we've got another one coming up in Denver in May. So I love the training piece. That's also a piece of giving back for fulfillment. I know that's why you do it, Jack. I mean, we both, you know, kindred spirits. We love to add value to people. I've got hundreds of thank-you cards on the wall behind me here from people that have taken action.
But we're actively buying as well, like I said, I'm going, in fact, I'm flying this afternoon to Shreveport to look at a 400-unit that we're raising money for right now. I mean, it's, you know, we're pulling the trigger on this one. It's done. I'm just taking another look at it, and then on Monday I'm going to Lexington for another deal we have under contract. You know, it's a lot, but, you know, when you love what it is you do, work is play.
So those of you listening, you know, if you're thinking about land flipping with Jack or possibly multifamily, make sure you love it or learn to love it, otherwise, don't do it. Because, life's too freakin short, so if you don't love it yet, associate pleasure with pieces of it, so you learn to love it. Because that's when life is magical. I mean, like I'm working seven days a week right now but I'm loving it so it's okay, you know. So that's what I'm up to, you know, between my thought leadership platform, my podcast just hit five million downloads this week.
Major, major milestone, very, very cool. My videos got watched for 30,000 hours last year. I couldn't believe it when I saw that. I mean, I'm just so blessed and like you and we're impacting so many lives. You know, by the way, Jack, I've got a book on multifamily investing, I still give away for free. It's going on Amazon in May, but if your listeners want it, they can add…
[cross talk 00:34:15]
Jack: My last question right now. But actually, one question before we do that, I'll ask you in a moment how people can get a hold of you. If you have that book, you'll share that in a moment. Just the last question is like in terms of, again, we're looking at the multifamily market, you have 800 units under contract right now. That's very exciting, and what kind of markets are you focusing right now? Are you focusing on the primary, secondary, tertiary, and ABC class? What kind of market…?
Rod: Secondary and tertiary, although, one of our deals is in Dallas, we just got lucky and fell into this deal. But, secondary and tertiary and the other two, I mean, Lexington and Shreveport. And always B or C properties that we can upgrade a level. So the Dallas one is a C, but it's in a B area, and we can make it a B. And so we look for value-add just like, you know, you did your example that incredible example you mentioned a minute ago.
You know, where you reposition the property, you go in you fix up the unit, you raise the rents and that's the beautiful thing about real estate, multifamily commercial real estate is that any increase to the net income is an exponential increase to the value. I mean, it's staggering what you can do small rent increase. So that's why we love the business.
Jack: I have investors asked me about…investors who have no experience in multi and real estate at all, they usually on the stock market asked me, "Don't you think it's aggressive to assume that you're gonna increase the value of the property by 50% over five years?" It's like, no, it's not service. Because if we add $200,000 in income over the next five years, then we should be adding not $300,000, we should be adding not $3 million, we should be adding not $3.5 or $4 million to the value of that property based on the cap rates and so on. So we have very conservatively estimates the value increase by is that, but once I explained to them they're like, "Oh, okay, I understand." But it's a mind shift from the stock market.
Rod: Sure, sure. But I will say this, those of you that are thinking of investing passively, make sure you check out the operators. Because there's a lot of mistakes being made right now, people aren't stress testing deals. What I mean by that is, you know, what happens when the market contracts and rents go down and vacancies go up, make sure that your operator, you know, understands that process and is doing a stress test on the deal. Because, you don't want to invest in anything with little knowledge, don't let someone else, you know, dictate your success or your hard-earned money, so just be careful with that. And I know that you know you stress test your deals, Jack, we've talked about that.
Jack: We actually underwrite them based on an almost worst-case scenario. And if we can get them with that in mind at that price, and that's how we actually pitch it to our…present it to our investors. Because we basically telling them here is what we think we can do in a really worst, almost worst-case scenario, and chances are we gonna beat this. So if you're okay with this return and invest, because we're most likely going to surprise you with a higher return.
Rod: Yeah. We always under promise and over deliver as well. That's key whenever you're dealing with investors if, you know, decide to get into this business.
Jack: Which sometimes makes raising funds a little challenging because, we've had people come and say, like, "Well, I got these guys offering me a much higher return." And then I always tell us, like, send me their underwriting. I'm gonna underwrite my deal the same way they do, and they're gonna tell you what I would be able to promise if I underwrite it the same way. And the last time we did that, we offered a 15% annual return on our deal upon average, and after underwrote it like this competing deal that they were being offered. We would have been able to offer a 37% return on the money. That's all conservatively underwriting ours that versus the other one, the other guys. The other guys have been so aggressive, but even with that they could only promise like a 20% return.
Rod: That's my whole point.
Jack: That's my goals 37 versus 22, and then they put all the money with us. Because we might not reach 37, but will definitely probably reach…
Rod: You'll exceed the other guy, you'll exceed the other guy. And that's why I wanted to mention it, because there you may have people that are wanting to invest passively. Just be careful. Learn the business, by the way, go ahead and give me the green light. And I'll give the people a free resource that will help them learn.
Jack: Yeah. So go ahead. So Rod, obviously, you have a podcast [inaudible 00:38:45] so how do people a hold of you, how they can hear more about what you do. And you mentioned that book tell us on that.
Rod: Thank you, thank you. So I've got a free 200-page book. I mean, it's like a textbook for this business. And I'll give it to you for free. It's going on Amazon for 25 bucks in May, but if they text my name Rod to 41411, I'll get your free copy. So there's that. You know, my website has tons of material on it, tons of free content, videos and articles that I've written or curated that will really help you maximize this business and it's rodkhleif. com.
And I've got if you're interested in multifamily, I've got a Facebook group that we're about to hit 25,000 people in there. And you just go to multifamilycommunity.com, and it's a direct link, we have to approve you. If you've got a bunch of Bitcoin in your groups that you're in, you're not gonna get in, but otherwise we'll let you in because we don't allow any promotion. But it's multifamilycommunity.com to get in there. Because remember guys, you are the five people you hang around with, so you wanna be around people that want more. And, Jack, you've got a group too, right? You've got a Facebook group?
Jack: I do, yes.
Rod: Yeah, yeah, yeah. So you wanna be around people that want this, that are gonna hold you accountable, hold you to a higher standard. Which is why Jack and I attend and host Masterminds because, you know, it's so critical to be around people that want more, maybe, even have more. Because a rising tide lifts all ships so, you know, that community is awesome. And, you know, if you're interested in total immersion, I'd love to see you at one of my events. My next one is in Denver, May 17th, 18th, 19th. It's three days just me teaching, nobody coming in from the outside to sell your stuff. Tickets are stupid cheap. I mean, they're so reasonable. So that's rodindenver.com is the next one.
Jack: All right, wonderful. So with that, thank you very much, Rod.
Rod: My pleasure.
Jack: A lot of our students are interested a bit more in the land, perhaps multifamily, but I think we did a really good strike in the middle of talking a little bit multifamily. But more than anything, I love hearing about…I'm sorry, you had the struggles, but I love hearing about the story how you came back from the struggles because, literally, if somebody can lose $50 million and come back from that, then anyone can out there can do the same thing.
So that's why I dove into that. I want you to understand listening to this that that you can also, wherever your struggles are, there's a future. I love the technique that Rod showed here on how to set your goals, set your wise, take those first steps, put the things out there because they will give you the emotional juice and the energy to go out there and look at that. But then take action, go grab, learn, listen to this podcast, obviously continue listening to ours, and just take some action, learn the method that you liked the most, and then go take action with it. And learn to love what you do or find something that you love, and then go out there, and the future is yours. So with that, thank you very much Rod, and all everyone and you have a great, great day. Thank you.
Rod: Thanks, buddy.
Announcer: Enjoyed this episode? Then make sure you like, subscribe, and post your comments and questions below the video. We're looking forward to hearing from you.
What are you thinking?
First off, we really love feedback, so please click here to give us a quick review in iTunes! Got any thoughts on this episode? We'd love to hear 'em too. Talk to us in the comments below.
Enjoy this podcast? Share the love!