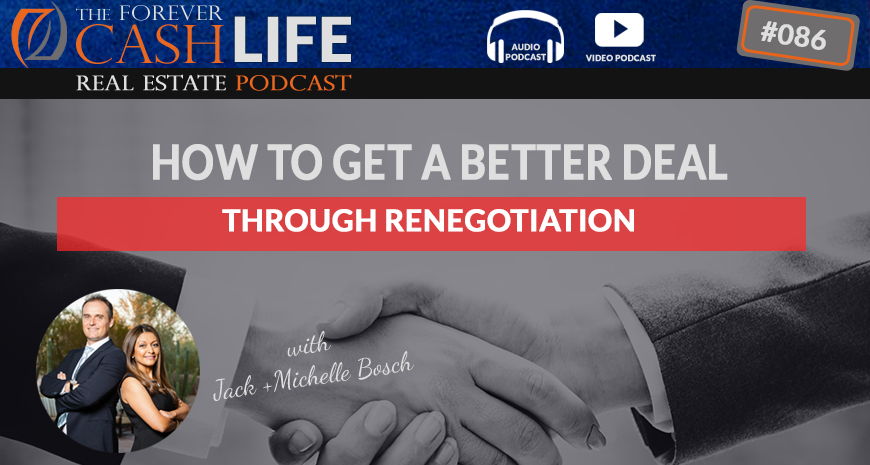 Many real estate investors lose out on potential deals by not negotiating the terms of the deal. In this episode, Jack Bosch breaks down his methods for renegotiating deals with property owners in order to push up his acceptance rate and get the best possible deal! On a typical land deal, most people only have an acceptance rate of 2-3%, but if you follow the tips in this episode you can push this number up and get closer to living a life of financial freedom.
Listen and enjoy:
What's inside:
Discover how to push up your acceptance rate for land deals
Understand the tactics needed to negotiate effectively
Learn how Jack Bosch negotiates in his land deals
Mentioned in this episode
Tweetables:
Transcription:
Jack: Hey, there, and welcome to another episode of The Forever Cash Real Estate Life Podcast, with your host Jack Bosch. And today we are going to talk about renegotiating, how to get a better deal through negotiation. So let's get started in just a second.
Announcer: Welcome to "The Forever Cash Life Real Estate Investing Podcast," with your hosts Jack and Michelle Bosch. Together, let's uncover the secrets to building true wealth through real estate and living a purpose-driven life.
Jack: Okay. So, wonderful. Here we are again. And, as mentioned, we are going to talk about negotiation today, how to get a better deal through renegotiation. So, what we like to do when we go out and make our offers…remember, we're doing land offers, right? We're making offers of 5 to 25 cents on the dollar. If it's a high-priced property, it can go up to the 25% to 30% range. But other than that, we're in the lower ranges because we're not focusing on the people who are motivated, we're focusing on the people who don't want their properties anymore. So by focusing on those, we are getting people that just basically said, "I'm done. I don't want these deals anymore." So, however, it's obviously crazy to think that everyone is gonna give up their property for 20, 25 cents on the dollar. That's certainly not the case. You're gonna make an average of perhaps 30 to 40 offers on average to get a deal. So, that means out of 100 offers, really, only two to three are being accepted. So, with that being said, how can you get that acceptance rate to go up? And by the way, that even applies when you do houses.
So, the first way to do this is by not going to your top offer initially, but being below your top offer, which then gives you the ability to now, if there's a negotiation, to go up in price. So, how do you do that? Well, in our method, the way we do that is we send them an offer in writing. You send them an offer by mail, some people do it by email, and in that offer, we don't go to the top level. So, if we have the ability, if somebody does it on the phone it's easy because if they're phone people, they're gonna tell them, like, they're gonna give the explanation of why they can't go that high, "Because we need to make a profit ourselves, we can't buy it at retail and sell it retail, there are some issues with the property, there are some issues with the area," etc., etc., "That's why we're offering this." And then hear what the other person says. Now, if you're not doing this on the phone, which in our course, the Land Profit Generator, right, landprofitgenerator.com… When we describe this, then we are telling people to send an offer by mail. And that's how we do it ourselves in our own business. So, we send a letter out by mail, and when they receive the mail they're not happy with it. So what we do now is actually two things. Number one, you can call the seller afterward. You can say, "Hey, Mr. Seller, I wanted to see what you think about my offer." Or you can just wait a little bit and send a second higher offer two, three weeks later, right? It's called the second offer, it's a strategy. So you didn't go to the top, but what happens? You made 100 offers, let's say. So say you sent out 1,000 letters, you got a 10% response rate, which is fairly common in our real estate world here.
So you do 100 phone calls, you make 100 offers, you get two accepted. Great. Well, it's not optimal yet, right? You wanted, kind of, like, three or four accepted out of 100 offers, so that you have an average of 25 offers were accepted or one acceptance for 25 offers. So, what you can do is you can then wait two weeks and send another offer in the mail that is higher, that goes closer to your maximum of what you would offer. Because what typically happens, as I said, you send out 100 offers, you get two accepted, but obviously, 98 of them thought that the offer was too low. But of those 98, usually there's another one or two in there where the offer was just a little bit too low, and they didn't take the initiative to actually renegotiate with you. So what you do is you just send them that second offer a couple of weeks later, and it's at the threshold or above the threshold, and they're like, "Oh, great. Now I accept."
Another thing you can do or the third thing you can do is you can also, as I said, instead of calling them, you can actually drop off a voicemail. There are services out there that you can drop basically ringless voicemails. So, just all of a sudden, have you ever received a voicemail and the phone never rang before? Well, that's what we're talking about. Sometimes it happens by accident, somehow the connection, and it goes straight to voicemail, and then you have a voicemail from your buddy and you're like…or from your friend, and it's like, "Why did it never ring?" Well, there's actually services that do that on purpose. They bypass your phone in the sense that it never rings and it goes straight into the voicemail. So you do that, and you leave a bunch of voicemails to that 98 people who haven't responded, and sure enough, one or the other is gonna come back and is gonna call you back and say like, "Oh, yeah. We do wanna talk about it." And that opens the door now to a renegotiation. So for the rest of the call, we wanna talk now about the renegotiation. And then the renegotiation here is what we do.
First of all, when they call you back, you never negotiate right there and then because you don't have all the information handy, usually, that it would take to talk to them intelligently about their deal. Remember, you made 100 offers. You got two accepted. You sent out 98…Slybroadcast is one of the services…98 ringless voicemail messages, or 98 phone calls, or 98 messages, or text messages, or whatever you have if you have their cell phone number… you can do text messages too of course, and now the phone rings. So what you're gonna do is you're gonna pick up the phone, and you're gonna say, like, "Awesome. I'm in the middle of something, which property are you referring to?" And after they tell you which property you're referring to, you say, "Great. What is a good time to talk?" And you set up an appointment with them to talk.
Secondly, what you do is then you go and pull up all your research, right? If you use our Investment Dominator system, investmentdominator.com, again, is our CRM, you go in there and you pull up the property records and you look at the details of it. And you look at why you made that offer, what comments you have in there, what's the research on it, what's the condition of the property, how far are the utilities, you look up the map, right, you look at all these different things that you have, you compare it with all the results of your comp analysis, what do you think the property is worth, and then you determine what your maximum price is.
Now, if you're very experienced in the area, let's say the property is worth $30,000, piece of land, and you had made an offer for $4,000. That's well below market value, right? It's about 13.333% of the property value. Well, you still have a whole bunch more to go up. All right. Let's say you're willing to go up all the way to $7,000 or $8,000 on a deal. Let's say you made them an offer for 20% of market value. Let's say you offered $6,000 on a $30,000 property. So you're willing to go all the way up to $9,000, which would be 30% of market value because you know the area, and you have buyers lined up that are willing to pay you $20,000 any time of the day. So there's no problem in offering $9,000 or even $10,000 because you know you can make an instant quick $10,000 or $11,000 profit in the deal.
So in that scenario, you now gather your information. You ask yourself the following question, "What is the absolute maximum that I'm willing to offer on that deal?" The absolute maximum where if they go $50 above that you're no longer willing to do the deal. And you're doing that by just basically doing a little mind game with yourself. You're asking yourself, "Well, what if I said $9,000? What if they would sell it for $9,500? Would I still accept?" And if the answer is, "Yes," then $9,000 wasn't your limit. If $11,000, let's say, because you know that you can sell it quickly, or $12,000 is your absolute maximum, it's like, "Okay. I cannot offer more than $12,000. If they offer $12,100, I'm out." Great. So now you know $12,000 is your number.
Now, you pick up the phone at the agreed upon time. Now you call the seller, and now you have a ceiling that you can go to. Now, when talking to the seller, the next thing you do is you ask the seller, "Now, Mr. Seller, I'd already made you an offer, you didn't accept it. What were you looking to get for the property?" Because remember, the seller perhaps told you one number when he called you initially or he didn't say anything. Most sellers just say, "Make me an offer." So you made him an offer of $6,000, and now it's up to the seller to give you the same number. You are not going to give them another number until they give you a number. Because if they say $10,000, do you know have a deal? Yes. You totally know you have a deal in this moment. So, therefore, if they go $10,000, then you're still not gonna automatically agree to it because you know that if you said $6,000 and they say $10,000, chances are they're gonna be willing to settle at $8,000 or $9,000 for that, right? Usually in the middle, or if they're really stuck with $10,000, they're probably still gonna go down to $9,000.
So now you can go like, "Oh, that's a little bit high." So, no matter what they say, the answer is always the same, "Oh, oh, that is a little bit high. I mean, I don't know if I can go that high. But, really, what's the lowest you can take? I can go up to $7,000. Can you go a little lower than $10,000?" And they're like, "Well, I can go to $9,000." And then, "Well, what if we meet in the middle at $8,000?" "How about $8,500?" "How about $8,250?" "Okay. Good." And you settled, right? And basically, that's what it goes. If he says, "No, really, I need $10,000." It's like, "Oh, man, $10,000 is high. I mean, I don't know if I can do $10,000. I can go $8,000, I can do $8,500. But, I mean, come on, you gotta give me a little bit." "Well, I'll give you at $9,500." "Well, come on. I went to $8,500, you only went to $9,500. Come on, can't we just meet at $9,000?" He's like, "No. I can't go lower than $9,500. Really, that's…" "I mean, come on, how about…okay, I'll meet you at $9,000. Or let's split the middle, $9,250. How about we do that? Right? But now you've got the most out of me, you've got the absolute maximum out of me. You really won this game here, Mr. seller." And the seller feels great, feels like he's won the game and so on. And you know in the background, you've gotten that property for $9,250 when you were willing to go all the way to $12,000, right? So, you know that really you have won too. The seller has won, you have won, everyone is happy in the deal.
And then you get the contract. And here's another thing, if you already sent them a contract, don't waste time sending a second contract. Just have the seller…right there where it says, "$6,000," have him cross out and change that to $9,250, initial it, and send that contract back to you. Then you also initial it. Now it's valid, and then you sign it, and then you have…and obviously, he needs to sign it too, he or she needs to sign it too. And now you got a signed contract. Now you got a deal that you can take to the title company and they will accept it. No need to extra-send stuff and draw up new contracts and crap like that, just go, have him initial it, and make things happen that way.
All right. So, great. So that's how you negotiate. I mean, it's really not that hard. Now, another thing you can do to get deals cheaper is actually a pre-negotiation. When you send the offer in, there is in our Land Profit Generator program, under resources, we have a document that's called "Why is this offer so low." Now, that document is a sample, kind of, like, letter or pamphlet, it's one page only, that basically explains why the offer is so low. Because if the properties in the outskirts of town, let's say five miles outside of the city, chances are there's yet electricity to it, or electricity is not yet at the property, perhaps it's a quarter mile away, right? Or perhaps it's a mile away, depending on the deal. Probably the property doesn't have yet water and sewer. Probably the roads are dirt roads. So you can explain that in the letter, saying like, "Hey, we're not buying this property because we're expecting a new interstate coming through or the mall being built next door, we're buying this property because we wanna hold onto it.
But here is something you wanna know about this property. Because remember, most sellers have not seen their property in the last 20 years. In many cases, they have inherited it and have never seen the property. So you explaining to them that the property is not in downtown Atlanta when it's five miles outside of Atlanta where it's only dirt roads, where there's not yet electricity, no water and sewer, and things like that. You can say that in the letters, like, "This property has dirt roads on it, they're un-maintained, there's lots of potholes, there's no electricity, there's no water and sewer, it's just raw land. And as a matter of fact, if anything there's some junky mobile homes around, which may or may not be…" Obviously, you only say that if there's junky mobile homes around, you always wanna tell the truth, right? But if there are, you use that, you add that to it, you explain that. And now it becomes clear to the seller that this is not like the premium lot out there, this is something that is just not worth as much as that they possibly think it's worth, right? And then you add that into it, and with that into it, it helps.
Another thing you can include is a tax loss letter. In the Land Profit Generator, in the resources again, there is a letter called a "Tax loss letter." And that letter includes basically a statement that explains to people that if they bought their property, let's say, for $30,000, but they're selling it to you for, now, $9,000, they're losing $21,000 in the deal. And depending on how they'd file their taxes, they can actually claim that loss against other investments that they've had and reduce their tax burden. So if they have a $21,000 loss, and they're under 33% tax bracket, well, guess what? They're gonna save an extra $7,000 in taxes by reporting that loss in their income tax returns. So, as a result, they got $9,000 from you, they get another $7,000 in less taxes. So they're really selling the property now for $16,000. So that, explain it. So, the property, in essence, is an ugly property. Secondly, they get a tax loss. Thirdly, you negotiate with them if they still don't react by using a ringless voicemail, or by using your second offer, or by calling them, and get into that mood of getting the most out of that group of offers that you have already mate. All right? So that's how you make more of the deal.
Now, on the selling side, you can also get more of the deal by actually listing the property for seller financing. Whereas what most people are inclined to do is doing that wholesale deal, property's worth $30,000, you sell it for $20,000 very quickly. But could you sell this property for $30,000, with a $6,000 down payment, and a $500 a month payment? So if you paid $9,000 for it at the end of the day, and you're getting a $6,000 down payment and $500 a month, then it takes only six months for you to get your money back, right? You get $6,000 as a down payment, $500 a month. After six months, you have received another $3,000, plus the $6,000 is $9,000. So you paid $9,000, after six months you got back $9,000. It's a 100% return on investment or return off investment in a matter of six months, or a 100% cash-on-cash return in six months. And in a year, you have a 200% cash-on-cash return on your money. Isn't that crazy? So, and then, you keep it that way. And because you charged…sold it at $30,000, you're now are probably over time gonna make another $20,000 to $30,000 in income…in interest on that deal. So instead of buying it for $9,000 and selling it for $20,000, you're buying it for $9,000 and selling it for $30,000, but collecting $50,000 over the course of a few years. All right. So now you're literally doubling, tripling your profit on the deal.
All right. More to that in other podcast episodes. And with that, I am going to sign off. Again, if you liked this, give us a five-star review. Please go into iTunes, give us a five-star review. If you're watching this on YouTube, make sure you go below, press the thumbs up, leave a comment, share it with your friends. And if you are listening to this on iTunes, share it with your friends too, we wanna make sure that more people hear about this amazing technique of flipping land for pennies on the dollar. All right. With that, bye-bye and see you in the next episode.
Announcer: Enjoy this episode? Then make sure you like, subscribe, and post your comments and questions below the video. We're looking forward to hearing from you.
What are you thinking?
First off, we really love feedback, so please click here to give us a quick review in iTunes! Got any thoughts on this episode? We'd love to hear 'em too. Talk to us in the comments below.
Enjoy this podcast? Share the love!