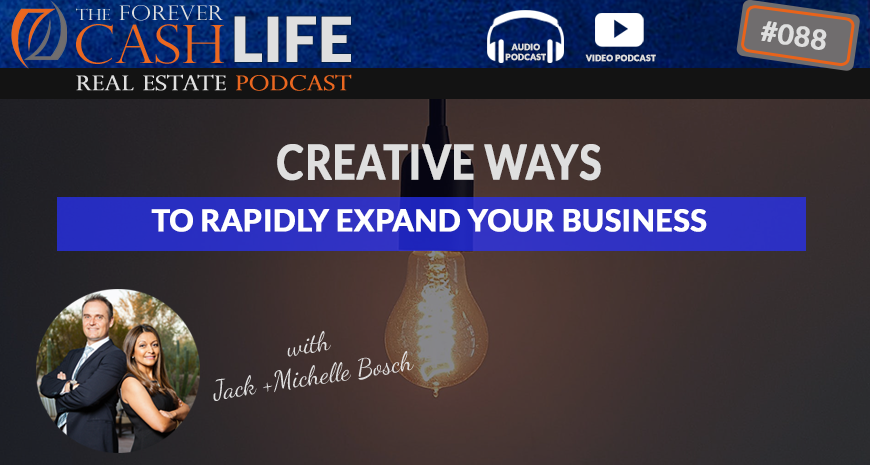 In this episode, Jack Bosch discusses a mindset shift you need to make in order to take your business to a whole new level. And it all starts by asking yourself better questions. You'll discover how Jack and his wife Michelle took their business to new heights by asking themselves seemingly impossible to answer questions.
Listen and enjoy:
What's inside:
Discover what mindset shift you need to make
Learn how to ask better questions
Find out the (seemingly) impossible question Jack and Michelle Bosch asked themselves
Mentioned in this episode
Tweetables:
Transcription:
Man: Welcome to "The Forever Cash Life Real Estate Investing Podcast" with your hosts, Jack and Michelle Bosch. Together, let's uncover the secrets to building true wealth through real estate and live in a purpose-driven life.
Jack: Hey there, and welcome to another episode of "The Forever Cash Life Real Estate Investing Podcast". I'm super excited to host this episode. In today's episode, we're going to talk about some creative ways to blow your business up, and I mean that like 10x, 20x, 100x.
First of all, I want to tell you a story of how we blew up our land business from doing 63 deals in the first year, 150 deals in the second year with two full-time team members, and then to about 800 deals a year in the following two years. Now, how is that possible? The way to grow much, much faster than you ever thought possible is by asking yourself better questions. All right, that's [inaudible 00:01:08] like Tony Robbins this year but it's actually true. And, as a matter of fact, in 2004, Michelle and I went to a Tony Robbins seminar, and our business just exploded like crazy afterward, because I don't know if we were taught at the seminar or we came up with the question ourselves or if Michelle came up with it. A lot of our best ideas come actually from Michelle; I just happen to get the credit for it. But, really they're her ideas.
So, one of the questions we asked ourselves was the following. We were frustrated at 150 deals. Now, it sounds kind of strange to say but we were like, "We're working really, really, really hard to make 150 deals happen." This was pre-Facebook even, pre-Zillow, pre-RETFED, and… Craigslist, I think, was around but just barely. We had to sell these properties on eBay which is something that doesn't really work that well anymore, but we have to sell these properties by putting out little ads in the newspaper. People could call up. We would have to put something in the newspaper because people still had dial-up internet lines back then. And, it was really hard work to sell these properties, and it still is today but today it's so much easier just putting them…we just heard from one of our students, "Put a property on Facebook marketplace, and overnight it got over 100 inquiries." Needles to say, two of them were fighting over the property and they sold the property the next day. So, it can get so much faster hen you do it nowadays from the comfort of your laptop just from home.
But, in that case, back then it was a little different. We were really, really frustrated. We were working our butts off, taking phone calls, doing everything ourselves, our entire spectrum we had nothing outsourced. But then we asked ourselves one question. How can we buy more properties? That was kind of clear – send more mailers, make more offers, get more properties in a contract and hire more people. Easy. Selling side, we were selling 150 properties a year but, since we had to do all this kind of super manual stuff and literally write up little descriptions at work, print it out in our colored printer, put in an envelope, mail it to them, follow up three days later, "Did you receive it? do you ant the property?" That's how it was done back then because people had dial-up lines and most people had not gone… We told them like, "Go to my website, SunnyLand.com." They're like, "Website? How do I get there?" People didn't even have laptops. I mean people did have laptops, but the connection was so slow that the website could take half a minute to just open. And, people still were transitioning from offline to online; let's put it that way. A lot of people were still offline, so we needed to be offline.
So, we asked ourselves the question and the question was the following question. It wasn't like, how can we go from 150 properties to 200 properties, right? That would be an incremental growth. The question that we asked ourselves was, how can we get from 150 properties a year to 10,000 properties a year? Now, let me be clear. We never got to 10,000 properties a year, right? We have flipped over 4,000 properties by now but we've never gotten over 10,000 properties a year because obviously that wasn't even the goal. The goal of such a question, and that is my point if you want to explode your business, ask yourself better questions, is ask yourself a question that is so big that you cannot solve it with the same way of thinking that you can solve the other question.
The question of how do I get from 150 to 200 properties is very simple. Add an extra hour in the morning, an hour in the evening. Hire an extra person, perhaps somebody helps you sell the properties. Hire an extra person trying to help you buy the properties, have three or four employees. We're still making plenty of money, all good. All right, solved. How to get from 150 to 10,000 properties? No idea. Freaking no idea. We just looked at each other and were like, "How in the world do we do this?" But here's what it does to you. It starts opening your mind and your mind starts looking for stuff. It's like there is the vestibular or the reticular activating system I think it's called that actually you see everything. Everything that goes around you, you see, but your brain would be overwhelmed if it had to process everything, so you only see…your brain tells you the things that you need to focus on.
So, if you are looking for… [inaudible 00:05:46] this example you've probably heard a hundred times that you want a red Tesla, all right? Up till that moment, you've never thought about the red Tesla, but now somebody has a red Tesla. You get to drive it. You fall in love with it. You want a red Tesla. I guarantee, from that morning on, you're going to see 100 Teslas every day on every corner before you ignore it. And you ignored it because your brain did not consider it important to see the red Tesla. It was there, your brain saw it, but you told it "unimportant" and your consciousness did not see it.
So, now, when you ask yourself a question of, "How can I flip 10,000 properties a year?" it starts activating your brain, saying, "Well, how in the world do I do it? Let me go look for information." Literally, one week later, I open the newspaper on Sundays, I like to read a physical newspaper to this day. I get it delivered only twice a week but I like to read the Sunday newspaper. And I open it, and there is an ad for a land auction where they're selling 250 properties in one day. And I looked at that and I was like, "Oh, my goodness. That's the answer." You do 40 auctions a year at 250 properties an auction, and you have 10,000. You have 12 weeks still left to take a vacation. You know what I mean? Or, 50 auctions of 200 properties, and you have 10,000.
So, now, how do you put together an auction? Now it goes from how to an implementation challenge, all right? So, like, an auction. How do you even set up an auction? Well, we didn't know so we went and attended that auction and we saw how it works. And we even bought one of their properties. I think that one of the cheapest properties we bought at the auction, we spent like $4,000. We did it with financing, paid $1000 down. Never made a single payment because we wanted to see the foreclosure process. We wanted to see the paperwork. We want to see how they're doing, what the process that they're taking us through. And then [inaudible 00:07:55] like, okay, this is cool but I think we can do this way better.
Here's another thing that helps you in life. I believe that was instilled in me, and that is a [inaudible 00:08:05] belief that nobody…it's a German saying that says everyone else also cooks with water. So, in other words, you create a soup. When somebody makes a soup that is so delicious, you can't even believe how delicious it is, their base ingredient is the same as yours – water. The rest is just what they put in, and it's the same thing you are…our base ingredient is the same. We're all human. We all can accomplish the same thing in life. It just matters what we do with that life, what we put in there, but the base ingredient is the same. Nobody has superpowers out there. Like, people ask you, "What's your superpower?" But really that's like what's your talent? But, the thing is nobody has this mega superpower. Everyone is just human. Sir Richard Branson has, like, 200 companies. He still needs to sleep. He still, in a sense, poops the same way everyone else does, right? He doesn't have superpowers. He just figured out how he can use his skills in the best possible way, and that led him to great success.
So we figured, if they can do an auction, we can do an auction. They don't have a magic potion that allows them to do an auction that hinders us from doing the auction. So, we set ourselves up. We went there, we analyzed, we put the… Michelle did a lot of the work on that. She's very process-oriented. She put this all together, and we put a business process for the auction together. We hired a bunch of people. We bought like crazy properties, and we did our first auction. We didn't get to 200. We didn't have enough money. We lost lines of credit and all kinds of stuff to finance that. We bought and we sold 170 properties in one day.
And then we did it again, and again, and again, and again, and we never got two an auction a week, but we got to about three auctions a year. Every four months, we sold 200 to 250 [inaudible 00:10:02] properties in one day. All right, sometimes I think one year we even got to quarterly. So, basically 200 properties a quarter is 800 properties in a year. And they're usually sold between 200 to 250 properties.
So we did that for two years, and then the market changed on us. By that time, everyone was online and we could take our entire business model and move it online, and now completely changed the way we sell properties, haven't done an auction since then. We only participated in some online auctions. But the point is, without the questions, the answer would have never shown up because our mind would not have looked for it.
So, when you want to blow up your business, don't ask yourself a 2x question. Ask yourself a 100x questions, a 10x question, a 50x question. Ask yourself those big questions and then sit back and keep asking yourself the question. Put it on a piece of paper. Put it against your whiteboard, or wherever you sit on the desk, put it in front of you so you see it repeatedly and your brain is going to get activated. And the way to that goal will be opened up, all right?
So, that's my podcast for today. I want to thank you for your attention. If you enjoyed this, make sure, on iTunes, you give us a five-star review. And, actually, write something on there. Make sure you tell us how much you liked it, what you enjoyed about it, what's your number one takeaway, what do you think about the podcast. Hopefully, only five-star stuff. If not, don't say anything.
And, if you're watching this on YouTube, give us a thumbs up, grab the link, share it, tell others about it, and if you're interested in what we do in the land-flipping side, very simply below this video, there's a link. Go to landprofitgenerator.com. If you're watching this on iTunes, go to the show notes right there landprofitgenerator.com.
All right. Thank you very much. Bye-bye.
Man: Enjoyed this episode? Then make sure you like, subscribe and post your comments and questions below the video. We're looking forward to hearing from you.
What are you thinking?
First off, we really love feedback, so please click here to give us a quick review in iTunes! Got any thoughts on this episode? We'd love to hear 'em too. Talk to us in the comments below.
Enjoy this podcast? Share the love!