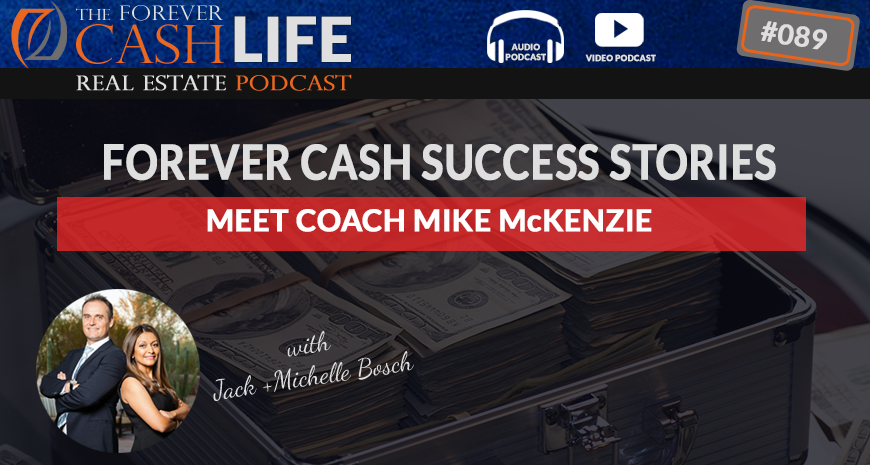 Mike McKenzie is a "recovering flipper" – having moved from house flipping and rehabing to the world of land flipping and Forever Cash! In this episode, Jack Bosch chats to Mike about his journey as a real estate investor and how he has become so successful in land flipping that coaches other entrepreneurs. You'll get a first-hand account of the various issues that arise in the world of house flipping, as well as the reasons to switch to land flipping.
Listen and enjoy:
What's inside:
Discover the common pitfalls with house flipping
Find out how Mike McKenzie is able to work on land deals remotely and why this would never work with houses
Learn some useful tips to become a better land flipper
Mentioned in this episode
Tweetables:
Transcription:
Jack: Hey there. Jack Bosch here and welcome to another episode of the "Forever Cash" Land Profit Generator Real Estate podcast. I'm super excited to have you here. Today, we are having a good friend of mine here on the line. He is a recovering flipper and also has very interesting stories and all kinds of different things. He has been doing now [inaudible 00:00:24] full-time real estate, has done a lot of deals. Before I introduce him, as always, I want to make sure you guys remember to leave us a great five-star review, to share this. Comment below, if you're watching this on youtube, comment below. We're always watching the comments and answering to them. And also if you are listening to this on iTunes, tell other people about our podcasts. So with that, let's get started and just…
Announcer: Welcome to the "Forever Cash" life real estate investing podcast with your hosts, Jack and Michelle Bosch. Together, let's uncover the secrets to building true wealth through real estate and living a purpose-driven life.
Jack: All right, so we are back now and our guest today is Mike McKenzie. Mike, can you hear me?
Mike: I can hear you.
Jack: Wonderful. I'm super glad to have you here. We are broadcasting. This is the first podcast and report from our new house. I'm super excited about that. Let me see, show the views for those watching on YouTube. This is beautiful views that we have here from the new house. Mike, tell us a little bit about you. You are a full-time real estate investor. What areas have you done deals in? I mean, not [inaudible 00:01:37] areas. What kind of real estate flipping or real estate investing do you do?
Mike: I'm a bit of a real estate junkie if you will. I've kind of done a little bit of everything. My parents had rental property when I was growing up and I never wanted to rent a house, so I bought my first house right as I was graduating college. But I did get my first "Investment property" about 2002. I was in the house thing, bought a bunch of houses, rental property things. The market crashed. I crawled under a rock. I went into self-preservation mode. And this whole time I was also in policing in my other life. And I actually had some guys in the unit, they were doing the same thing. There was almost a bit of a competition but after the market crashed it was time to kind of sit back and reevaluate some things and kind of step back from real estate a couple of years.
Got back in because I've always had a drive for it. And I came back in it, did a little bit of house stuff when I met you and I've owned a mobile home park. We had that. I going to keep that for awhile but I got offered twice what we paid for it six months after, so we sold it. So you kept talking about land, talking about land and I think I tell people that, you know, my idea of it is just the passing on the interstate, the faded real estate side. That's what I thought of land [inaudible 00:03:22]. Realtors dead and gone, probably the owner is too. But I started dabbling in it a little bit a few years ago and I was still flipping some houses, wholesaling some houses, so the stress rate was still up there.
And one house, I was actually finished it up. It was leftover from the year before. And last year my stress level was a lot less. Even the year before I was still doing probably 70% land. So I can't stress enough how it's so much easier than house stuff and less competition. I mean, I talk to students sometimes and they'll say, "Well, do you think somebody else is mailing into this area?" Well, there may be, but I promise you if you were mailing for a house in this area, they'd probably be 35 people mailing under that same house.
Jack: Or 350 depending on which area you are in.
Mike: Exactly. Exactly. And here I am. I got out of law enforcement to spend more time with my kids. This affords me the ability to do that. I tried to work hard during the school season and then I kind of stepped back during the summer. Spent a lot of time at the beach. But that's the great thing about this work, you know, you can do this anywhere also, while we're at the beach.
Jack: Well, that is great. So that goes to show that, I guess it's a great example for anyone watching or if you're listening to this and you're just very young and you're starting out there. Study the market, is what I heard you say. Basically, don't buy top of the market. So right now we are kind of on the top of the market for a little bit in the housing world, but there's still opportunities out there. So if you are already buying, choosing to do and renting and buying, long-term buying is always better but make an analysis of like how much you pay for rent, how much of that goes, how much you to pay for the mortgage. How much of that goes towards paying down the mortgage and also look at the area, the area comes up, if the area's an up and coming area.
Even if the market continues to market [inaudible 00:05:33], an up and coming area is still an up and coming are. Like while there's people moving out of Detroit or continue moving of Detroit 10 years ago, there's areas in Detroit where property values went up because it's become a revitalizing area. So make sure you look at those things and then if you buy right, you can make a ton of money in appreciation. But really that's not a scalable model often. Instead, that's, you use that for yourself and for your own residents. On the investing side of things, you flipped houses and then you started flipping land and now do you still do any house deals?
Mike: I have a buddy of mine that's a school principal. He is on me so hard this year. He's flipped some houses in the past. He's like, "Let's do a deal together. Let's do a deal." And I'm like, "Man, I don't want to do this. I really don't." So I don't have any intentions do any. But I take it…I've got one that I may do and it's only the only reason I'm doing is the family is in a bad situation. It's a win-win for the family. I absolutely dread if we do go through with it. I dread the renovation part, but the only reason I'm considering it is just because it gets a family out of a bad situation.
Jack: Wonderful. Well, but just to get this straight, when you did mostly house deals, you didn't just two or three or four a year. What's your biggest year that you have done in houses?
Mike: Oh, wow. We both whole…because we obviously would flip some and we would do wholesaling at the same time. So I probably did my best year, I don't know, 60, 70 houses.
Jack: All right. So this extra volume, this is a very good volume here. You didn't just do this as a hobby, as a thing here and there. And you basically had to buy to all of those because of the land deals and now you're doing how many land deals a year?
Mike: Last year, I did 117 land deals. This year is starting off good. I had like Friday, I had literally three closings in three different states.
Jack: Isn't that awesome? How many of these properties have you seen?
Mike: None of them. I have one under contract, that'll literally passed by if I go like to dinner or something or out every day. And I've never pulled into the neighborhood to look at it.
Jack: Wow. Yeah, there we go. Now let's go back to the houses one time. Give me just like, just to illustrate this a little bit more, what is like the worst deal that you have done or the worst experience in the house flip market that particularly, perhaps an example that looked really great at the beginning and it turned out to be horrible.
Mike: That would actually be my last one, believe it or not, which probably pushed me completely into land even more. It was a nice house. It was in the country club, so it was a higher end house. Obviously the finishes had to be higher end. And it's like every time we turned around, there was something else. Some issues the contractors missed as far as some floor joists issues. That's the same one that I went in there and tried to help a little bit and literally busted a cabinet apart. And one of the nails from the cabinet went into the side of my head. Yeah, that person [inaudible 00:09:06] And I was there by myself and that I literally…my wife I think knew I was there, but as like, you know, this is probably not good. I don't want to check out with nobody being here. So I called my wife that I never call at her office and she put me on hold. So I was like, you know, I called you to take me to hospital. I really don't need to be on hold. But you know, I went through that and just every time we turn around, it was something else. It took twice as long and it just was an absolute pain.
Jack: Wait, wait. So did you go to the hospital?
Mike: I did. I did.
Jack: And? You're still speaking. You're still there. So thanks to her [inaudible 00:09:48]
Mike: Well, I can officially say I have a very hard head. It did not penetrate my skull.
Jack: Well, that's good.
Mike: I'm hard-headed, but yeah, I mean it was delay after delay. And actually, that's the only house I've actually lost money on. And I lost probably, I say 10,000. It could've been more. I don't want to think of it being more but I know at least $10,000 was left on the table.
Jack: Wow. After all this work, buying the thing, getting a part money loan probably for it, right? Or is it a private money loan?
Mike: Private money. Yeah.
Jack: Private money loan. Spending all of that on all the rehab, helping out, putting a nail in your head and repairing it. Remodeling, listing and selling it. At the end, you say, "Thank you very much and I lost $10,000." Wow. And that is with your experience, and that is with your experience. So that's what I'm telling every beginning investors, like, if you have your first deal you want to do is the rehab, good luck. The chances are almost like 9 out of 10 people that start with rehab as their first deal will never do a second rehab deal, because they just lose their shot the first time and they leave real estate and they never come back and they end up investing just in something else.
Mike: Yeah. It can literally bankrupt you if you don't watch out, especially starting out.
Jack: Again, that's what your experience of losing money now, you probably use very inexpensive contractors that you have been able to find over time.
Mike: I have figured out in this house flipping business, a contractor is typically good for about three to four jobs and then they fall apart. And a lot of times, and I've had some really good contractors, I will say that, but either way, it's almost like babysitting and you know, if I have to leave my office to go down there, that's a very inefficient use of my time. And that's the thing that I thought about. And even when we sold this house, I thought, you know, I lost 10 grand, which was bad enough. But I think about the hours I lost that I could have been doing more mailers, marketing more land stuff. It just made no sense after, you know, it was said and done.
Jack: So now after that experience, you then had already done land deals and now you switched over to land deals. Other than the obvious that there's no repairs, no contractors and things like that, what else attracts you to work the land area?
Mike: I like the fact that you know, I don't have to be there for somebody to see it. I can do, you know, I'm here in North Carolina but if I want to sell a piece of property in Arizona, it's fine. You know, I have people now that will contact me, "When can I go see the property?" Whenever your heart desires. You can go at noon or you can go at midnight. It doesn't matter. I don't have to be with you. I don't have to put a lock box on anything. So, and you know, you can pretty much tell what you need to about land or make a call, whereas houses remotely is a nightmare. You can't determine, you know, what kind of damage you really have remotely. But with land, you know, you can follow the market. Another thing that you can do is really cool is if you're doing housing, you're probably doing them in your backyard or somewhere relatively close. With land, if the market shifts to a different area of the country, I can follow that market because it doesn't matter where I'm at, which is huge.
Jack: Yeah, you can follow the market. You can follow the price points. Like when we started in 2003, we would sell those little $3000, $4,000, $5,000 properties either in live auctions or in eBay. Now eBay doesn't really work anymore. The live auctions might actually work again, but we haven't done one for a long time since we've transitioned online, but these little cheaper properties is something that we don't really personally focus on anymore. We focus on the larger properties because they sell so much quicker. If that ever changes and those cheaper properties become really attractive again, we can jump into that right away and make a ton of money just from the top of this exact same model here without having to move anywhere. So I'm totally with you, so you can completely look at, you see a hot market, boom, you can go there and it's nationwide, not just neighborhood by neighborhood.
Mike: Right. Exactly.
Jack: Very nice. Great. So then tell us what was one of your best land deals that you've done in the last, I don't know, year, let's say.
Mike: I did one last year where it was actually a gated community in southeast Charlotte, very high in the area. We sold the lot. Actually, the lot was, it wasn't on the same street, but Seth Curry, one of his first houses when he got in the NBA was in that neighborhood in the market, but we sold one of the vacant lots. They made probably 60,000, 65,000 profit on it.
Jack: That's good. Again, without seeing it probably.
Mike: Exactly. Without seeing it. I did, you know, go over there one time just to see the neighborhood more or less than anything, but without really seeing the property. And it didn't take us…we sold it rather quickly too. We priced obviously below any other lots in the neighborhood. It was just the right place at the right time.
Jack: Wonderful. Yeah, I mean, these days it's like isn't that beautiful? I mean, we have a deal right now that'd we just gotten in two offers today on the selling side of it. The realtor put under contract in Beverly Hills right off Mulholland.
Mike: Mulholland.
Jack: And we got it. It's worth about $1.2 million. We got under contract for $340,000. We just received two offers, the lower one of which will make us at least about $100,000, and the higher one probably makes us $200,000 or $300,000. We'll have to vet them to see which one is more real. But that's like, I've never even been to that area of Beverly Hills, so that's a beautiful, beautiful thing. Great. So Mike, since you have so much experience, for everyone to know listening to this, we actually asked Mike to come on board and be one of our mentors, one of our coaches in our educational program where we teach other people how to, teach you guys out there how to flip land and what to do what we do. And Mike, in your facility as coach, you have obviously brought people into hall of fame, you are a very successful coach, lots of people are [inaudible 00:17:05] from your program working and doing lots of deals afterwards. What is your experience? What separates somebody who is really good, or is going to be really successful in this program from somebody who [inaudible 00:17:29] with this program?
Mike: Their drive and their passion is one thing, but also time management. Time management comes up a lot on about every college at some point in time, you know. Starting off, it's not big issue, but once you get mailers going out and you've got deals with, you know, sellers calling you, you got buyers calling you, you've got to manage that time, and the ones that manage it effectively are the ones that rise above.
Jack: Okay. Very good. So in time management, what is the important, how much time do you think people need for that and what do you advise them in struggling with time management? What should they do?
Mike: And I tell everybody to kind of do what I do. Sunday evenings usually, because my schedule does flux every week, Sunday evenings I kind of look and plan out, you know, I have, you know, a lot of stuff already on my calendar, but if I've got, you know, need to work on these deals this particular time or these deals this time, I just try to set aside the time. And the key thing of it is, and this was very, very hard for me. I learned this by going through a time management class. The key thing is literally, touch it one time, go through what you need to and then leave it. Don't go back and start bouncing around. My biggest thing was, I would bounce around everywhere. I'd have, you know, 72 pages open on my computer and bouncing around. Complete your task at hand, then move to the next one. You'll be 100 times, you know, more efficient doing that. You know, set up times that where you're dealing with maybe doing mailers, set up times when you're dealing with comping properties out. Set up a time, you know, a couple of times a week that you're dealing just with buyers and handling that. Just look at your schedule and plug in those hours where you can.
Jack: Wonderful. Very good. That's the great thing, we call it, chunking of time. So like look at your calendar and find block time that you can dedicate. And then even more to your point is, we advise people to go and we tell you to go and designate that one block of time from one task. Whether that be sending out mailers, whether that be doing deal analysis, whether that be making offers or whether that be creating listings, whatever it is, block a time off of that. Don't block your time off where you do five different things. Block your time off where you do one thing. And like if you need to make 25 offers, block off three hours to make offer after offer after offer after offer, and soon enough your 25 offers are done and you feel super accomplished because you have accomplished something. So very good, I'm glad that you see that in the same way. And then, Mike, just a quick, what are your hobbies?
Mike: I like to travel. I love the beach. I love to play golf. My son plays golf with me as well. And I'm starting to get in the hobby of cars. Not necessarily classic cars, but more of today's cars, so to speak. But golf is a big passion that I don't play probably as much as I'd like to because a lot of my friends have real jobs that they don't have the freedom that I've got. So yeah.
Jack: Right. One of the biggest problem is when you have a business that you can design, that you can manage around your time, such that it gives you the freedom is that all of a sudden you have freedom and you have anybody to spend it with, because everyone else is in the rat race of just the 8 to 5 and so on.
Mike: Right. Exactly. Exactly.
Jack: That is very funny. I find the same thing. So we end up going, I mean, luckily I worked with Michelle, so we end up doing a lot of things together but yeah, it's the same thing. Very nice. Now with cars, do you buy cars or you study them?
Mike: I'll look at them, I like them. I am actually kind of somewhat in the market for another one myself.
Jack: Well, what are you looking for?
Mike: Well, I like the Audis. I talked to Alex a lot about them. I like those. I've looked at the BMWs. I was looking at Acura. I want an Acura. My wife drives an Infiniti, but she told me that she wanted an Acura and that if I bought an Acura, she was taking it so I probably won't buy the Acura.
Jack: So you need two Acuras then. Get an Audi. How about that?
Mike: Yeah. Yeah, exactly. Yeah, exactly. So, yeah, I'm just…
Jack: Just look for land deals, then you can buy them.
Mike: Yeah, exactly. Exactly.
Jack: With 117 land deals, I mean, that adds up quickly. I mean, even if just each of these deals makes you five grand, you can make the math, right? So you have a great year. All right, Mike. Then I just have one last question for you and that is if somebody that you meet is kind of interested in doing something in real state, what is your advice to them other than obviously do land, right? But what do you advise them to do today? How to look at it, how to identify what's right for them. Like what piece of advice would you give them, generally speaking?
Mike: That's a really good question. Anybody comes up to me and I have people that, you know, they know what I do and they've got questions that they'll ask and find someone in the area of real estate you're looking at, preferably land, that knows what they're doing. If you're a newbie, you're going to make mistakes. Find those people that, you know, they're mentors. Either formal or informal. Find those people to help guide you so you don't make those mistakes. And then I look back in some areas in my own life where I didn't take or didn't focus on mentor or something and the, you know, dollar mistakes even that I made thinking that I knew it all. But find that mentor, listen to their advice. Same thing today. You know, I readjusted my business a year or two ago and I've got a couple, you know, I talked to you about it and I talked to a couple of other close friends, "mentors" that I got. You know, I wanted an outside perspective because if you're doing something and someone on the outside is looking in, they can tell you and see differently than what you see.
Jack: Absolutely. Very good. So basically, get an advisor, get somebody to help you focus on doing this the right way. Don't think you know everything yourself because what we always say like, what you don't know that you don't know is what's hurting you, right?
Mike: Absolutely.
Jack: There are certain things we know we don't know so, therefore, we can go and get answers for it. There are certain things we know but there's stuff we don't even know that we don't know.
Mike: That we need to know.
Jack: Pardon?
Mike: That we need to know.
Jack: Exactly. That we need to know. Like your perspective of land for decades was the faded out sign on the side of the road somewhere in the rural area. And you've kind of ignored it always. And you fought your way through real estate successfully, but you didn't even know that there was a market in real estate that you could have done. And that didn't hurt you in this sense, but because of that, for decades you missed out on opportunities to make another few million dollars, right?
Mike: Exactly. Yeah. It hurt me overall and then what I could've accomplished.
Jack: Yeah. All right. Wonderful. All right. So with that, thank you very much, Mike. I love having you on here. Thank you, everyone, for the attention here, for being on the call. As always, if you enjoyed that, share it with other people, share it with somebody who needs to hear that. When you go into a party, when you go talk to people, they want to talk about real estate, you know about this podcast, go tell them. Tell them about the "Forever Cash" life real estate podcast. Tell them about the Land Profit Generator YouTube channel. Tell them about the Land Profit Generator Facebook group. Have them join. Have them educate themselves so that they can open their minds to this alternative way of real estate investing. So that, thank you very much, Mike and everyone, have a great day.
Mike: Thank you.
Announcer: Enjoy this episode? Then make sure you like, subscribe and post your comments and questions below the video. We're looking forward to hearing from you.
What are you thinking?
First off, we really love feedback, so please click here to give us a quick review in iTunes! Got any thoughts on this episode? We'd love to hear 'em too. Talk to us in the comments below.
Enjoy this podcast? Share the love!