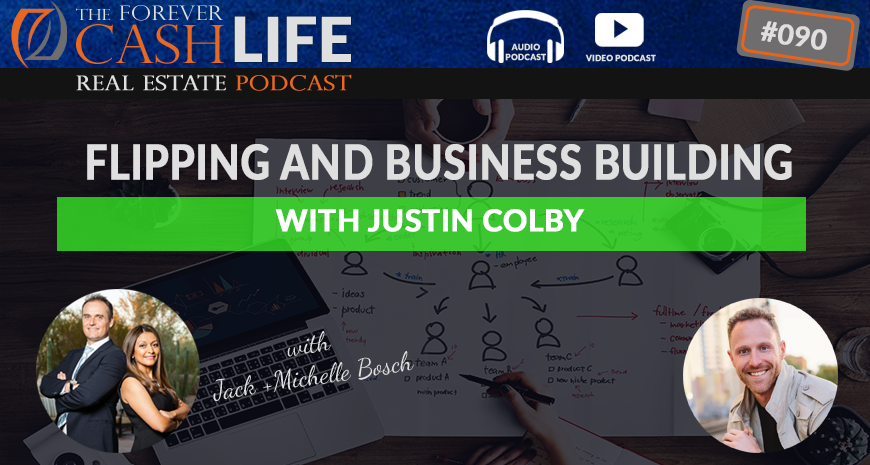 Justin Colby is the Co-Founder and President of The Science of Flipping, Omni Investment Group and Phoenix Wealth Builders. The Science of Flipping is a free Podcast on iTunes, Omni and PWB are both professional real estate investment companies specializing in purchase, rehab, and flipping of distressed property in the Metro Phoenix Area. He and his business partner have flipped and wholesaled over 300 properties to date. As of 2013 Justin and his partner have become developers. Not only is he a very active and successful investor, but he also is a very powerful and successful real estate coach and public speaker who has mentored nearly 1000 real estate investors.
In this episode, Jack Bosch chats to Justin about his history as a real estate investor and his tips for improving as an entrepreneur. You'll also get some in depth advice into how to expand your business, especially with regards to when you should start hiring people (hint: it's not as soon as you might think).
Listen and enjoy:
What's inside:
Learn about Justin Colby's history in real estate
Find out the tough lessons Justin has learned in his career
Understand when you should start hiring people
Get tips into how to build your business
Mentioned in this episode
Tweetables:
Transcription:
Jack: All right. Hello this Jack Bosch speaking again with, "The Forever Cash Life Real Estate Podcast." I'm super excited to have a guest today has done 850 real estate flips mainly in the housing area. You know, I've usually talked about land. But also but one of the reasons I brought him on is because he's an expert also not just in flipping but in business building. So we're gonna talk about flipping, business building, and we're gonna get started in just a moment.
Man: Welcome to "The Forever Cash Life Real Estate Investing Podcast," with your host Jack and Michelle Bosch. Together, let's uncover the secrets to building true wealth through real estate and living a purpose driven life.
Jack: Okay. Here we are, again. Again, I'm super excited to have our guests here. This is our guest is Justin Colby. Justin, are you there?
Justin: I am. How are you? Thank you for having me. I really appreciate you having me on to speak to your tribe.
Jack: Wonderful. Thank you very much for being here. So obviously, if you're watching this on YouTube, you see Justin. If not, you're hearing him here. Justin happens to be in Phoenix, Arizona, just where I am too. And we have I think we discussed earlier then. But I think we've crossed paths a few times. But lately, we've been kind of I've been hearing about him a bit more or a lot more, because he's been really crushing it out there doing really, really well doing lots of things. And again, one of the key pieces that he's doing is he's not just flipping, but he's doing it in the form of a business. There's a lot of people out there their just going out there hustling, trying to get a deal or two done. But you have done 850 deals. Now, just tell us a little bit about yourself about the 850 deals and what time frame and so on and what they consist of and so on.
Justin: Yeah, so, you know, I've been in the game since 2007. I actually started as a rehabber, which is usually backwards. Most people get in real estate investing as wholesalers because you don't need a lot of capital, very little risk, right? And we found a way to be able to systematize that pretty quickly, righ? And so very quickly, we got to a point where we were able to do in our best year in 2012, we did 96 rehab flips. But from there, we realized we were a one-trick pony. And we realized to be a real business, we can't just rely on one exit strategy, because if you do, then you have no options if the market turns whatnot. So we started to implement wholesaling. In fact, in 2014, we bought land, which is a lot more into your world, and started developing, actually. So instead of flipping the land, which I know is your expertise. We actually started developing on it and started developing 79 town homes. That was a challenge, to say the least. So for those of you out there thinking, "I'm gonna be the biggest developer because Jack's teaching me how to get land," watch what you wish for. And we really took over kind of wholesaling as a business model that is scalable. So we've done deals in, you know, Dallas, and we're currently in San Antonio, as well as here in Phoenix. So it's been a fun ride. I've really focused on building a business, creating and recruiting the right people building a team and being able to scale.
Jack: Wonderful. Now, let's just jump into that. I can't resist on that one. Let's jump into the development deal a little bit.
Justin: Yeah.
Jack: Why was it challenging? What happened?
Justin: You know, and I'll keep it light-hearted. But the people that were involved were not the most ethical. A developer brought me the deal. They knew my success. They, obviously, had a lot more experience than I, let's just say. And so they presented something that looked prettier than it was. So that they knew I could raise capital, I could fund the deal and all that. And through that, we found some other little issues with the people that were involved, because he built the team, but based around him not being the most ethical person, obviously, the people that he brought into our world weren't terribly great, either. And so the cost started mounting. Profits weren't rolling in. And it just got to a point where, you know, we were throwing good money after a bad situation, not because the deal was bad, but because it was early, falsely represented, and then very poorly managed from the contractor side, which is what his role was in the partnership.
Jack: Did you end up losing money or did you end up…
Justin: Oh, we lost about $400,000.
Jack: Oh, okay. I'm sorry to hear that.
Justin: Yeah.
Jack: So there we talk or that's why we like to just flip land right? And just flip houses and so on. But it goes to the point that, that whatever you do, there's a step. So you go up the scale, or the ladder of complexity over time, right? You started rehabbing houses. Okay…
Justin: Yeah.
Jack: Wrapped your arms around that. You started scaling that. You started wholesaling, scaling that. And then this is a completely different world where it's an easy mistake, I think, for a lot of people to make to say, like, "well, I figured out this. This is real estate too so I can do it." Well, no, it's a completely different animal.
Justin: Yeah. And so I would… You know, I would just say, everything that you teach is dead on. The only difference between what you're doing and I'm doing is you go for land, I go for the asset, right?
Jack:Yeah.
Justin: And so I would really encourage everyone listening, again, stay with what Jack is teaching, because that whole other side of really buying it, doing the underground development, the infrastructure, and then being able to go vertical… Listen, unless you've been doing this for years, or have been a builder that's been working with a company for 20, 30 years, it's just a game you don't wanna play especially on a mass level. If you wanna buy an infill lot in a perfect area, like Scottsdale, and you're gonna build a spec home, okay, that's a little different. But if you're gonna develop on any type of bigger level, let the professionals do it. Let's put it that way.
Jack: It's almost like you almost need to apprentice for that for several years before you can get your foot in first. And like it goes a long line people ask me, "Why don't you invest in Latin America?" Is like, "Well, because my wife is from Latin America, and we just know how much corruption there is going on in that area. So we're keeping our hands out of it." Right? And now people have gotten burned by not keeping their hand from it. Because it's, like, it's not the same. So great. So I'm sorry for your loss there. But I bet you learned a ton from it. So that…
Justin: That's right.
Jack: …that it made you probably substantially better and everything else you do.
Justin: Well, quite frankly, I have a different view on losses, right? And so I don't look at them as losses. I do look at them as learning lessons is because, you know, for me, I was chasing the money. I was kind of just young-gunning. There was an opportunity. At the time we just did 96, rehab flips. We made a lot of money. My shit didn't stink, right? I could do no wrong. And so this was part of that learning lesson is to, "Hey, before you go that far out of where your comfort zone is," right?"Understand what you're getting into first. Understand, and don't just do it for the money." Because, quite frankly, we just saw the end payday. And I said, "I want that deal." That's how it went down. Right? And that's not the right reason to jump into either a different strategy or a business model in any sense, right, is you got to do it because you have some sort either expertise, desire, passion, business strategy. So I take a massive lesson from that. And I've only had, you know, two major losses. And those lessons that are… And I say that respectfully, some people have had more, and then some people haven't even gotten in the game. The way I look at it is at least I'm in the game to learn those lessons, right?
Jack. Yeah, absolutely.
Justin: At least I'm…
Jack: Absolutely. And I always learned every time I lost, or I almost lost, or I failed, or I got screwed by somebody or something like that, I always, like, look at it, and ultimately, it's made me better. It's made better in terms of what I now know not to do. And it's made me ultimately more money, because of the experience that it brought me. So…
Justin: A hundred percent.
Jack: …a four hundred thousand dollars loss might be a short-term loss, but ultimately, the experience has or will make you a multiple of that in future profits just from the knowledge you have gained from that. I'm 100% sure because that's how it's always been for me.
Justin: A hundred percent.
Jack: And then just one last comment to that there's a, you know, there's this writer, Elizabeth Gilbert, is her name, she wrote this, like, there's a movie made from her. She teaches writing, too, and she tells people, like, "Whatever you get into, there's always a shit sandwich in the middle."
Justin: A hundred percent.
Jack: And so you see the beginning, you see the end. And basically, you gotta just make sure that you're willing to eat that sandwich in order to get to the other side. So anything you do is involved with struggles, with work, things like that. You just got to look at that and look at that closely so that you know which one to pick, that is most at least what is most pleasant to eat, let's put it that way. Because there's always going to be struggles in the way.
Justin: Always and again, wholesaling the reason why that model and wholesaling land flipping land very similar, very little risk, right, because you're not coming to the funds. But at the end of the day, if you do wanna take some risks and go for a bigger profit or bigger deal, that's how you either you make it and you learn from your success. But truthfully, speaking, the majority of your learning is when you don't make it, right? And so I say this everyday, life is gonna continue to punch you in the face. It's just not gonna stop, right, whether it's personal stuff and issues, family members, relatives, it doesn't matter. You're just gonna get punched in the face. So it's all about how you handle it. And, you know, how you come out on the other side. Your only ability is to focus on how you react to that shit sandwich, which I use that term all the time as well. And that will, you know, distinguish the outcome on the other side.
Jack: Wonderful. Yeah. Great. So now let's talk about something… I wanna pivot a little bit into the area of business building.
Justin: Yep.
Jack: And so obviously, based on what you told me, you have done deals in not just Phoenix but also in Dallas and San Antonio.
Justin: That's correct.
Jack: So [inaudible 00:10:20] your thought when you hear that is doing remote rehabs and a remote wholesales requires a different level of organization of systems and of business building than just going out there and hustling.
Justin: Yeah.
Jack: So getting a deal out there, yeah, you can find a partner for a deal here and there. But if you wanna do, like, 50, 100 deals or something in a market that you don't live in, then it requires some level organization. So tell us about how do you approach business? How do you look at business? What does business mean to you? And what's kind of your philosophy around growing a business remotely from where you are?
Justin: Yeah, so for me, it's first about the people, right? Who's involved at all right? And if there's no one, it's just me then awesome. Like, if I'm just getting something started off the ground. But I'm always gonna bet on the jockey not the horse, if that makes sense. Right? So for me, for example, San Antonio was a incredible opportunity. Because a good friend of mine and someone who's been investing for years, him and I had a meeting in the mind and said, "Hey, let's do something together. Well, it doesn't make sense to do it in Phoenix, since I'm already in Phoenix. So let's go to a market that we feel like could have some value." Well, so that was great, because now I'm working with one of my friends. And we have a very synergistic level of where we're looking to go, what we're looking to do. We were in alignment with that. Then you take the people over on that side of the ball, which would be in San Antonio. Who do we need? What do we need? And, you know, what type of systems need to be implemented? Well, anytime you start something, you just got to start from scratch. So you guys, say, "Okay, well, we need to make sure that we can get buyers first." Because you know, whether it's cold calling, voicemail drops, direct mail, it doesn't matter, the marketing to get the deals that we know, right?
So the precedence was, let's make sure to build relationships on buyers. Where do we find them, how do we network with them when we're sitting here in Phoenix? So I always start everything with the people who's involved. What are their strengths? And then let's put some systems to it. Because everything comes back, ultimately, to being able to track your numbers and making it math out. If I need to make 10,000 cold calls to get one deal, well, how quickly can I get to that 10,000 phone calls? Who do I need involved? Do I need to hire someone or can I do that myself, right? So if you just look at the math of business, and say, start with the end in mind, "I wanna get one deal? Well, it's gonna take this." So just map it backwards, right? "I need to send this much mail, do this many calls, do this many voice drops to get there, then how quickly can I do it? Do I need to hire someone? How do I leverage time?" So that's how I really look at it, is first people. And secondly, you just got to think with the in mind with your KPIs. "I want one deal that makes me 10 grand. How do I get there?" And then you start tracking backwards based around your knowledge, right, based around I know roughly, it's gonna take roughly 10,000 calls to get the deal.
Jack: My, wonderful. So you say it's interesting that you start with the buyers in mind, because common sense in the real estate world right now says that, "Houses are really hard to get. But buyers, there's a lot of them."
Justin: Yeah.
Jack: So why do you start with the buyers in mind and not with the sellers?
Justin: Well, specifically, when you're opening up a market that I'm not in. Because if I go get the seller, and then I literally… the work it takes to find the right buyer actually, right now is more. And the reason why I say that is simply because if I can go shop for what they'll buy, then finding the deal's less difficult. I'm just shopping for them.
Jack: My, I like that. So you're basically not just finding the buyers, you interview the buyers and ask the buyers, "What are you looking for?"
Justin: Right? And so I'm saying, "Okay, do you like this asset class, like condo, townhome single family home. What price point?" If I can get that, then I know what list I should call or send direct mail to. Otherwise, I'm spinning my wheels out in some area that I think they would like it but I don't know for sure. Well, now when I have a conversation with the seller, I know Jack Bosch wants, you know, a home under 200,000 in this area. His highest rehab budget would be 50 grand. I know that now. So now when I'm negotiating with the seller, you know, I might not be able to make 20 grand, but because I know your numbers, and I know you'll take it at this and I might only make three grand, five grand, well, at least I got the deal, because I knew what you were looking for first.
Jack: Wonderful. And by the way, that's actually translates to lands just as well. Because a lot of our students after having done a few deals usually they go, they find a specific buyer that is willing to buy as much of a certain product as they can handle.
Justin: Right.
Jack: So then they go switch gears and they start finding more product like that, more pieces of land like that. And they have the buyer lined up and they make a fortune just doing that. That's…
Justin: A hundred percent. I agree with you100%. I don't think… And that's why it was so important for you to be on my podcast. So for all you listeners, I just interviewed Jack. He crushes it on "The Science Of Flipping." He did an awesome job. And why it was important for me to do that is because my tribe of science of flipping tribe, they need to understand the model doesn't change, right? It's the same model. You're just changing the asset class. Yours is land, which is, there's a zone number for that. Mine would be typically single family homes or condos or townhomes. So and that's why I wanted to be able to share with you guys is at the end of the day, the model is the same. Land is brilliant, because the competition is less. I have 700… You literally live in the same city as me Scottsdale, right?
Jack: Right.
Justin: Frickin 7000 other investors that I go against every day. You have…
Jack: Yeah, the Rios. The Arizona Real Estate Association, which I actually gonna speak at in March, they have literally over 2000 members. And that's only one of multiple Rios and meetups and other things in the city of Phoenix. So I estimate there's probably several thousand at least a couple 3000, 4000 investors…
Justin: That you don't even know.
Jack: At least a 1000 of them are full time that most house flippers fight against. Yet, you have figured it out. Now, what makes without disclosing your exact strategy in there, but what makes you successful versus many other people out there and not being successful in the house area?
Justin: So… And I'm happy by the way, I'm happy to disclose anything you want. I'm an open book because I just I genuinely think the reason why I'm successful is I have the fortitude to be. I am nothing special in terms of I'm not, like, some master salesman or something that hypnotize the sellers. The reality is I don't quit. Most people when they come up against hurdles they come up with… You know, for example, we just our January direct mail here in Phoenix was .002. That's total calls in, which is less than one quarter of 1%. That's God-awful. Let's just put that out there. But we still got a deal out of it that reimbursed us for the entire month. So we made no money with direct mail. But I have five other marketing strategies that I use, that are also running and making it profitable. So if someone's out there looking at direct mail, and they say, "Well, I'm out, right, I can't do this." I'm gonna keep going because my perspective on this is right when I wanna quit, right when I'm like, "Oh, it's fucking over, I'm done," is where everyone quits. And all I have to do is take one more step.
Jack: One more step.
Justin: Right?And so I've just been able to, over the years, I've been very flexible with the economy, right? We've seen… I got into the market in 2007. So right when the world was crashing and craziness was happening. I've seen this last several years, what five, six seven years of complete appreciation, which has been great. And now I'm going to watch it as the residential market at least starts to sink again, as it is right now. And I am going to be active in it. And I think that the secret to my success is I'm willing to fail, which most people aren't, right? I'm willing to.
Jack: Yeah, virtue works.
Justin: And I willing to be patient, right? I think one of my secrets is everyone.. Tony Robbins quote I've been using a lot because I think it's apropos is, "Everyone overestimates what they can do in a year, and underestimate what they can do in 10." And so every year we make more money, doesn't mean it's perfect, right? Some years, our overheads way higher, whatever. But if I can just keep going, 10 years, I've been in the game now for 10 years, not a lot of people can say that. And it is my willingness to be able to keep going, regardless of any failures, mishaps, mistakes that I've had.
Jack: Right. Yeah, I'm 100% with you, Nothing, I can't add anything to it other than saying, that's exactly what I say, too.
Justin: Great.
Jack: It's a 100%. Great. So now going back to growing your business. So how many team members do you have in your business?
Justin: So the answer varies depending upon if you meet in my office and I have seven. We also have 12 cold callers. And then we also have virtual cold callers who are overseas. And so I count them as my team. But at the end of the day, you know, they're hireable asset, right? Like they're not sitting here in my office negotiating, talking to sellers, whatnot.
Jack: Well, are they all full-time?
Justin: The callers are all part-time.
Jack: Part-time, okay.
Justin: They're all part time. And the reason being at the end of the day is no one can sit there for eight hours every single day and call. I mean, it's just you will lose your mind, right? And so they're a part of my team, but I don't say, "Oh, yeah. Well, then I have 30 people." Well, I have part time phone guys. So I just don't… Anyways, I would say seven are my core team, from my operational manager, my business partner to two acquisition specialists who handle all negotiations deals. I have two follow-up guys in my business that basically we drive so many leads in, and I want my acquisition guys to be knocking down the lay downs or low hanging fruit. And the ones that have to be nurtured and monetized and worked for months, if not longer, they fall into the follow-up category, right? And so I just want the low hanging fruit to fall. And then everything to be in a nurturer.
Jack: Wonderful. Now, how do you make sure that people know what they're supposed to be doing in their job? Because I'm asking that from a point of view is that we have a lot of students also in our organization, that they're just outgrowing that solo entrepreneur status. They're doing very, very well. And they're start looking to add some more people. But it's the first time in their life that they are in a managerial position with HR kind of supervision roles. And they don't know what to do. And I went through that 15 years ago with Michelle, because we never had roles in our jobs that we had prior that we were the team leader or supervisor of somebody. So it took me a while to learn how to actually delegate in a proper way. How do you do it such that not everyone comes to you constantly with a bunch of questions, but they actually know how to do that?Because it sounds like your team is… You got a great team and you got some headspace for you to actually work on things and so on.
Justin: Yeah. So you have to first be willing to be a leader. And I think one of the things I truly believe is there's more bad leaders than there are bad employees. And that's just because people aren't inherently leaders. Many people think they are but they're just not. And so to practice on how to become a leader… I mean, John Maxwell is the leadership king, right? I mean, you should read any and all of John Maxwell's books about leadership. Stephen Covey's is other great one. But to be a good leader really takes extreme focus. Because just like a parent, your kids are watching you. Well, your employees or team is watching you. So if you're gonna be lazy, if you're gonna be the last one, if you're gonna not represent what the team should be doing, then it's gonna be very hard for that team to find that vision to follow, right? If you represent where the team wants to go, and they're taking your lead, it can be a lot easier for them to get on board, understand the vision, believe in the vision and do whatever it takes to get there. But if you don't give them that lead, and also if you don't give them the vision of what can happen, they're just not gonna follow you. And so that's part of it. Now, there's no, I would say this, it's a constant work-in-progress, right? Sometimes we have more people than we do right now. Sometimes we have less. And it's a fluctuating situation. We lost two good, well, three good acquisition guys over the last year. Not because of anything we did. Partly, it was personal situations. But it's always a manner of being able to replace the people regardless of why they're leaving.
Jack: Right. Well, very good. Yeah, I agree with that. We pride ourselves, one of our tag lines is, "We pride ourselves that our businesses grow some years, 40%, 50%, and we take three months of the year off." And why in the world can we do that? It's exactly what you said. It's that you have to as a leader, you have to give the vision. And then you have to give your people the tools to actually enter and the levels of authorization and like, the boundaries also for them to be able to decide stuff. Not every decision needs to be made by me. They can make decisions within certain guidelines. And as long as they have the vision crystal clear of where the company's going, even if it's outside of her guidelines, chances are nine out of 10 cases or 99 out of a 100 times, they will make the right decision anyway. But if the vision is not there, if it's only there to make a bunch of money or something like that, then they will not know which decision to make and they'll make it wrong, right? So the vision you mentioned that is such a key component. And most people don't spend the time actually figuring out what their vision is.
Justin: Well, and I think the last part also with that is making sure that they understand what's in it for them.
Jack: Oh, yeah, absolutely.
Justin: I mean, everyone in every conversation is thinking, "What's in it for me?" Like, "This is great, great vision, but what's in it for me?" So if you don't clearly paint the picture about their situation, what's in it for them, where they can grow, how whatever that is, you're going to lose them, right? Because when you take three months off, you expect your team to step up to the plat. They own willing to do that, if they know, and it doesn't always have to be monetarily, but they know there's something at the end of that.
Jack: Yeah, they grow as people. They get to do what they really enjoy anyway. They get to make decisions. And yes, they do get compensated very well for that, too. And we have bonuses, and we have all kinds of stuff and that helps everyone along those well, so depending on how they're motivated. Yeah, absolutely, 100%.
Justin: Yeah.
Jack: Great. So awesome. So now, if you have let me just ask perhaps one extra question. And that is if somebody is like a solopreneur and is doing okay. What do you recommend them… Who do you recommend they hire first?
Justin: When they should hire? I don't think anyone should hire until they're putting a quarter million dollars in their pocket.
Jack: Okay.
Justin: I think that's like the very fundamental baseline. You are doing everything until you can put a quarter million dollars in your pocket. Because why else would you be in business? A lot… You know, people have this dream and ideology of being an entrepreneur. You and I both know how difficult this shit is, right? This is not like puppy dogs and rainbows, and we just make a ton of money. And it's like nothing. It is so difficult to be an entrepreneur, and to lead a team, and to make money and to be profitable and, and, and, right? And so when people will like some of my closest clients that you know now are just friends because they've been with me for so long. You know, they're always like, "Allright Justin, I'm going now. I wanna start hiring." And I'm like, "Stop, like, "Did you put a quarter million dollars in your pocket this year?" "Well, no, I made 138." Right, "You need another hundred to put in your pocket before you hire." Because the bandwidth it takes to find them, hire them, train them, they're not as good as you then yo, by the way, this happens every time, feel like you can take your foot off the gas. Everyone does that. They hire, they hire the first person, and they feel like, "Okay, I can take my foot off the gas." And immediately their production goes down immediately. And so I'm just a stickler with that. So that's part one. What was the actual question?
Jack: What do you recommend then and who do I hire first?
Justin: I wanna hire people that take the minutia off my plate. So for example, I personally, personal assistant. The stuff that I just can't handle during the day that doesn't drive any revenue into my business, I want them to handle. Whether it's, you know… My personal assistant, who is now my marketing manager, who handles all my social media, all my Facebook, my Instagram. She handles all my videos, my postings, my YouTube's. But she also still handles a lot of the day-to-day stuff in our business. So she'll hire, handle a lot of the paperwork, a lot of the onboarding. So she handles the stuff that doesn't actually drive me revenue. So I would say that if you are a solopreneur, I would say if you're doing deals, you need to have a transactional coordinator. The paperwork stuff does not make you money. Go get another deal, then hand it off to your transactional coordinator, and/or personal assistant. Because that person can be a transactional coordinator/handle all the other stuff, right? Whether it's posting job ads, you name it. So I think that's the first play, because you need to free up your time, so you can go make money.
Jack: Very good. All right. Wonderful. Well, Justin, we wanna thank you very much for all the…I really enjoyed that. We didn't really talk that much real estate, but we talked business and business is businesses, is businesses, is business. Whether you're in real estate or you're selling lemonade on the side of the street or you have a hundred million dollar company, at the end of the day business owners face the same challenges out there.
Justin: Yep.
Jack: So thank you very much for your time.
Justin: My pleasure.
Jack: Now, where can people find out more about you?
Justin: Yeah, so the easiest way, I do have a podcast called "The Science Of Flipping." So I'd love for you guys to listen to the podcast, give it a review. But you also can just go to the website, thescienceofflipping.com. I'm giving away the same book I sell on Amazon,"For yourTtribe." You can just go in there and just download it because it's great. It's exactly how I got started, the systems I implemented. So thesicenceoffliping.com.
Jack: Wonderful. Well, thank you very much. I had a great time. And for everyone, if you enjoyed this podcast, make sure you share it with other people, you share it from YouTube. Get the lin,k share it on Facebook, you share it around if you're watching this. If you're listening to it on iTunes particularly go on iTunes, leave me a five star review. Don't just click the five star button. That's cool, but actually write a little blurb about how you like it because that helps us reach more, you expand our reach of the podcast and spread the word about this amazing investment, our class of real estate, right? Everyone is out there following what I call the pile of money theory investing in a 401k and this stuff like that, hoping to outlive it when they're older when there's this world of entrepreneurship and have big checks available to everyone if they just take action. So with that, thank you very much, Justin. Thanks. Bye-bye.
Justin: Bye
Man: Enjoy this episode? Then make sure you like, subscribe, and post your comments and questions below the video. We're looking forward to hearing from you.
What are you thinking?
First off, we really love feedback, so please click here to give us a quick review in iTunes! Got any thoughts on this episode? We'd love to hear 'em too. Talk to us in the comments below.
Enjoy this podcast? Share the love!