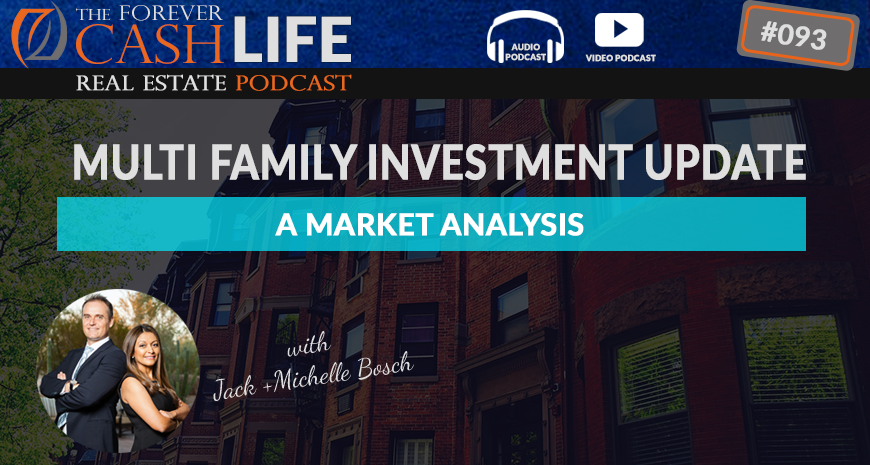 In this episode, Jack Bosch gives you an update on the current state of the Multi Family Real Estate market. You'll discover what Jack looks for when looking at a new property to invest in as well as some insight into how to run a multi family property in order to retain as many good tenants as possible. Jack also gives you a warning into a common trap that many investors are falling into – so if you're interested in investing in this asset class, you definitely want to check out this episode!
Listen and enjoy:
What's inside:
Get an update into the state of the Multi Family Real Estate market
Discover the criteria Jack Bosch uses when evaluating a property
Find out how to retain your tenants
Understand why you should be careful when investing in properties
Mentioned in this episode
Tweetables:
Transcription:
Man: Welcome to the "Forever Cash Life Real Estate Investing" podcast with your host Jack and Michelle Bosch. Together, let's uncover the secrets to building true wealth through real estate and living a purpose-driven life.
Jack: Hey there, Jack Bosch here and welcome to another episode of the "Forever Cash Life Real Estate" podcast. In this episode, I wanna give you a multifamily update comp where I see the market and what we have been doing in other properties that we have recently bought in the multifamily space. So, first of all, let me say, the multifamily space is absolutely still on fire, so much that just recently there was a conference in Los Angeles of a whole bunch of mid-level and larger multifamily operators, owners and operators. And a lot of them are basically saying that they're starting to be on the sidelines in the multifamily space because prices are so high that they're having a really hard time finding any deals that actually make sense. There's a lot of money in the market, a lot of people chasing deals, and so on and so forth. So now, having said that, we are still buying. Now, why in the world would that be? Here's the thing, we are buying because we are not looking for properties that we have to make outrageous forecasts of what might happen in the future.
The problem with a lot of multifamily investors right now is that they're looking at the past and projecting it into the future. So, they're looking in the past and for the last five years, they have been…and, historically, almost unprecedented amount of real…what do you want to call it? Of appreciation of rental growth happening in the market, right? It's absolutely crazy how rental prices have gone up and that was…part of it was because, 10 years ago, with a market crash that continued until like 2010, 2011, 2012, a lot of people were driven into the multifamily space. A lot of people were driven out of homeownership and continues to have a fear of homeownership and [inaudible 00:02:10] rent. It's also driven by a more sustainable amount of shift into rentals from like the baby boomers, they realized they don't have enough money saved up to retire. So they're actually moving into rental property, selling their house, using the equity to continue to supplement their retirement income. So, we have a sustainable, probably gain of renters versus owners.
But, at the same time, five, six years of 3% to 5% rental increases is something that just cannot be sustained. So, as a result, what we're looking for and have been looking for since the very beginning that we have done deals, we've never counted much on appreciation, we never counted on rent growth. We always went and looked for deals that are below current market rents, where all we need to do is catch them up to current market rents, then we are going to be doing…we're actually hitting our numbers that we promised our investors almost by just catching them up to market rents. So, for example, we bought a property in Louisiana that we successfully did that, they were behind on rents. So we called them up, we bought this property with a partner for $3.6 million, it's now on the market for $8.2 million. We bought another property in North Carolina, that we're currently still in the process of cleaning up. And I can talk about that a little bit more also, to show you what sometimes is necessary when you get into that space.
And that property had an average rental rate of $628 per unit. Well, right now, we're renting, this week, we're renting three units at $749 a unit. They're not upgraded to what they were before, they're just properly cleansed, properly repaired, properly making look good. If anything, we took a patch of carpet downstairs and replaced it with hardwood or hardwood-looking tile that's more durable, and that saves us money down the road. And kind of when somebody moves out in making the unit rent ready again because we don't have to replace the carpet. But just making minor things like that, that costs $250 more than the carpet, this kind of flooring, and it allows us to rent the property for $20, $30 more per month than we would be otherwise. So, that already in one year we're getting 100% return on that $250. And overall, because the property was so much behind the market, we were able to raise rents basically $121 per unit within the first year. Now, obviously, it's gonna take some time until everyone is caught up to that because some people are still at the 628, 650, 697 and they have annual leases.
So, when their leases renew we got to bump them up, but you can bump them up by $120 in one year, otherwise they'll move out. So, this bumping up has to happen over several years, and each year about 40% of the units empty and turn, it usually only takes about two to three years to get 80% to 90% of the property to the new rental rate. And that's why we have a three to five-year window for this property that we wanna hold it on and then hold it and then sell it. So, at the same time, there is some vacancy still on the property and that has to do with the prior owner. So, that's an interesting kind of concept, an interesting kind of situation. When we bought this property, the property was at 90% occupancy, that was a good thing because we were able, because of that, to get a Freddie Mac loan, which is a government-supported fairly low interest, non-recourse loan. And that's a very good loan with a relatively low payment. So, the thing though is that, in order to keep that property at 90%, the landlord, the seller, pretty much let everyone and their brother in even though they were technically not qualified.
So, you don't see that typically when you buy a property, even though we went to every single rent jacket, as it's called, we went through every single rent jacket. And we looked at all the things, why they're proof, what their records and so on. But if they don't keep all the information in there, if they don't keep the information about the criminal record of somebody in there, then we don't know that unless we run a credit check on every single person out there, which we obviously didn't do because that's a little overkill. So, quite frequently it happens when you buy a property that, in the effort of making the property look as good as possible, the prior owner will, at the end, let a bunch of people in that perhaps shouldn't be in the property. And when you take over, you therefore have to anticipate that you have to spend some time cleaning this out, right? This is happening on all three of the properties that we own. That the first year we needed to clean some of this out.
So we had some evictions, we had some extra evictions, the occupancy dropped a little bit, but now the occupancy is coming rapidly back up and we should be at 90% again by some time, let's say in July of 2019, and I'm doing this with you right now in May of 2019. So we're advancing very rapidly. The other property that we bought is actually a different case. This one, the first one that I just talked about or the second one, the one in North Carolina, was actually run by a grandma for the last 18 years. So, this lady was absentee owner, had some staff that was not really doing all the right things. They weren't doing anything, they weren't stealing or anything like that, no, they were honest people, but, they weren't just doing the right things always. They're letting the wrong people in and so on, they weren't following the rules, and as a result, what I just described happens.
They also had a mismatch, I think, there was no one set of doorknobs, one set of lights, one set of light fixtures, one set of shower fixtures throughout the entire property. Basically, when something broke, they would just go to the store and they would go buy whatever they needed, whatever was on sale, and go and fix it. So, as a result, this property has like a mismatch of stuff. So, one of the first things where we come in, obviously, as an operator is, with our property management company, we select a style that from now on forward will be used throughout the property. So, when something breaks, we go in, we replace it with our standard looking faucets, our standard looking doorknobs, our standard looking light bulbs, our standard looking window fans, ceiling fans, our standard looking light fixtures, etc, etc, etc so that it all becomes very, very nicely and consistent.
So, that's something that's in the process that saves cost, that makes things more predictable, and so on and so forth. Now, the next property that we bought actually didn't have that last problem, because it was already run by a very good property management company for the last several years. The issue though, the first issue still was the case. The seller, in their quest to make the property look as good as possible, let some people in that usually should not have been let into the property. So, as a result, we now own this property five months, we are at 95, between 94%, 97% of occupancy every single month, sometimes a little on the 94 side, sometime on the 97 side, because every month we still have to evict about three to five people out of the property. And without exception, it's always people that were there already when we bought the property.
Now, when we come in, we have implemented a much stricter qualifying criteria, right? And we make sure that the people that we let into the property, and use, and live in our property are better-qualified tenants. But we still got to count on that one year cycle because the usual rental agreement is for one year until all kind of like the more difficult apples, the people that don't pay on time, they pay late, they pay…we have to get the eviction started. And then in the last day they still pay and so on, until they are kind of out of the property. And this is a process, but in that process, in this property, we did not have a drop in occupancy because it was already well managed and it's just a trickle of people that have to be evicted now on a monthly basis. Also, we were able to raise rents right away. So, when we took it over, the one bedroom units were 499 and the two-bedroom units were 699. We were right away able to go in and get the one bedrooms to between 530 and 550, and the two bedrooms to 750.
And we're having no problem renting them, we're having, as I said, the 95% to 94% to 97% occupied property there. So, what we're doing on that property therefore since we don't have to do much of a cleanup from the past, other than those few evictions that need to be done on an ongoing basis, which is really not a big deal, we can actually go into that property and right away improve it. So we added the gym to that property, there was a room next to the office that had an inside door, so you go into the front door and then you turn right and there's a door into an empty room that they used for storage of some stuff, it's not necessary to have that room. So, we changed that room and changed the door to the outside, added a key card to it, so people for $10 and refundable can get a key card, and then some with like hotel kind of card that they hold it to the door the door opens, and now we have a 24 hours a day open gym.
We put some bicycles in, we put some weights in, we put some treadmills in, we put stuff like that in, we put the TV on there, we put also a surveillance system, basically cameras in there so we can see if somebody tries to steal something, right? And now we have a nice amenity. We updated the playground, we are in the process right now to putting a pergola, some barbecues, some space for the people to hang out, the tenants to hang out there and socialize out there. And also we doing monthly activities, one or two activities a month. We had an Easter egg hunt, we had a, for Christmas, we did something, we did…in summer right now we're going to do for our back to school backpacks for every kid in the community gets a backpack full of school supplies. We do a Cinco de Mayo tacos, we do barbecues in summer, and things like that to truly create a community of that property.
And that's just little things that we're doing over time, and there's a whole list of other things that we're still going to do. Because of that, we are now
having, when the property had a renewal rate, which is also called churn rate, right? A churn rate is basically the percentage of people that don't renew and leave instead. Well, if half of…in these kind of classy properties, people are quite mobile, they often don't stay for longer than a year. So, if they leave, we wanna measure what percentage of our tenants is actually renewing their lease, because the higher we can get it and ideally we wanna get that to about 70%. The higher we get that, the lower our cost will be, because the moment somebody moves out, there's always cost involved in making that unit rent ready again, right? You might have to replace the carpet, or, with this unit we have already replaced most of the carpets or the prior owner has.
It's mostly clean, but there's still…you might have to resurface a bathroom countertop, you might have to replace certain things. It's easily $1,000 in cost that comes up when you have to redo a unit, or you have to repaint it and things like that. Just the paint costs a couple of $100 or $100 or so, a few buckets of paint. So, it can be expensive depending on the size of the unit, of course, right? So, you can add that together and now you get to $1,000. Well, guess what? That thousand dollars is a month and a half rent, right? So, by them leaving, you lose and the unit being perhaps empty usually only for about a week. So, there we move people in right away, but we're losing a month and a half rent revenue from just the expenses that it takes to make that unit rent ready again. And that's what you want to avoid. Because if I can drop that, if I can increase the renewal rate from 50% to 70%, or drop the churn rate from 70%…from 50 to 30%, right?
So that 70% renew, then I have basically taken a 20% of units don't have to be refurbished, or refinished every single year, right? So, on average now, every unit, if let's say a third only moves out, we only have to update every unit or repair and bring it back to top-notch status every unit every three years. So now, that cost of let's say $900 is now being cut on average to $300. So now, when somebody moves out and somebody comes back in, on average, per year, it costs us $300 one time per unit. Or in other words, it costs us $25 a month per unit on the rent. So, one of the goals is that we need to get that renewal number up, we need to get that renewal number up. That's one of the key items that we're looking at on our weekly calls with our investors. And how do you do that? By making it a better place for people to live, right? We want people to live in a place and be happy in the place.
So, that's why we do the social activities, that's why we have higher standards, right? That's why we we're going to do like resurface the parking lot already in certain areas, we fixed the sidewalks already, we're planting flowers. I mean, we're putting a light system in there so that the entire property is lit up like a Christmas tree at night, makes women feel safer. And things like that so that people come in, and they're like, "Ooh, this is a nice community, I wanna live here." And people who live there see like, "Ooh, these owners really care, they're making the property better and better every single month, every single quarter, every single year, I wanna stay here." And people, even though $50, an increase of $50 perhaps from year to year, from one year to the next, is a lot of money for the demographics that we're renting to in this place, they're willing to pay that because they're willing to pay for safety, and for a sense of community, and for a place that actually cares about them.
It's not that hard. I don't understand why many other people, owners don't do that. They don't care about the people actually living in a property, they only care about the money. But the nice part is, when you care about the people, you actually make more money, and it's a win-win for everyone involved, right? So, that's the status right now. So we continue to looking for properties of hundred units and more all over the United States, in markets that are stable, in markets that are growing, in markets that are very good fundamentals. Like one of the North Carolina properties is in a town that has a big military base, is one of the largest in the world, and that's not going anywhere, it's not going anywhere. There's three four-star generals and their entire staff there, it's not going anywhere, it's staying there. And so our property is located just about 800 feet or so or a quarter mile from or half a mile from the entrance to that fort.
And therefore we are well located for people to work there, for people who live there, for entire…for the community. Although we don't have many soldiers in our property, it's still it's a stabilizing factor to have the bases in that area. If a recession comes, they're not gonna all of a sudden let a bunch of soldiers go, right? The soldiers are gonna be there, and it's got to be…it's an artificial government cone that is produced in that area by the government basically paying all these soldiers, and they're supporting the community and therefore people can live there. And that will stay there, because we're not gonna all of a sudden cut down our military drastically. That's at least my belief. So, in other markets, it's markets that already went through the economic downturn, and they're growing, they're growing up right now again, and they're coming back, and so it's growth markets and so on.
So, if you find something, if you know something, contact us, let us know, right? Send us an email, post in our comment below. We're always looking for deals. And the key is, you wanna treat people like people, and you wanna make it a great place for them to live, right? With that, that's the update, but we're only looking for properties that actually are below market rents that still have higher occupancy, where we don't have to count on market rents increasing. Because our forecast is that market rents are not going to continue to increase at 3%, they might be going…they might not even grow anymore, more than zero, or even perhaps 1%. And in some markets, I even think they're gonna go down again the market rents. So, we are extremely careful with that, we don't invest in deals that we need to count on big market increases. And whoever pitches you a deal with those kind of expectations of an ongoing market rent increase of 3% or 4%, be very, very careful with those kind of investments.
We have had five years of that, that means instead of them saying, what we had five years ago, it's gonna continue, no. We had five years ago of unsustainable rent growth and it cannot continue to grow at the same rate. All right, with that, thank you very much. Bye-bye. If you enjoyed this session, make sure you give us a five-star review on iTunes, leave a feedback below, go to the effort of actually say a couple of sentences, hopefully positive. And if you're watching this on YouTube, give us a thumbs up, share it, take the shareable link, spread it on social media, we love to hear from you. Thank you very much. Bye-bye.
Man: Enjoy this episode? Then make sure you like, subscribe, and post your comments and questions below the video. We're looking forward to hearing from you.
What are you thinking?
First off, we really love feedback, so please click here to give us a quick review in iTunes! Got any thoughts on this episode? We'd love to hear 'em too. Talk to us in the comments below.
Enjoy this podcast? Share the love!