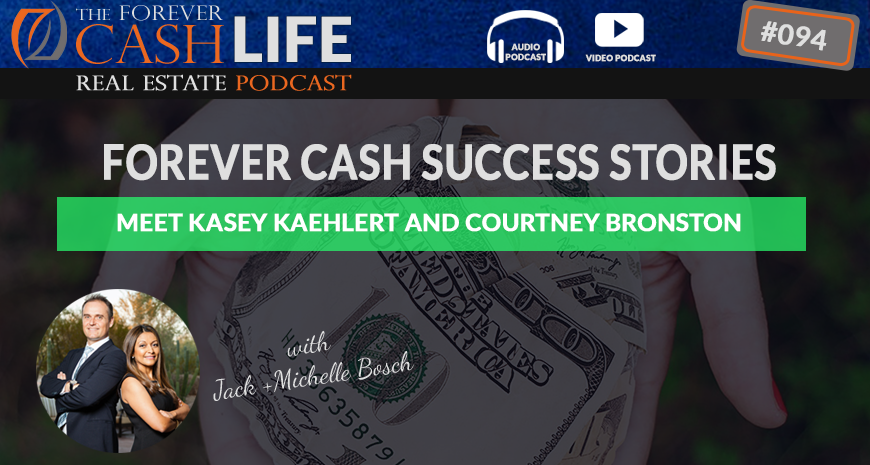 In this episode, Jack Bosch chats to Kasey Kaehlert and Courtney Bronston – two of his Land Profit Generator Students. You'll discover how they went from spending virtually all of their time on a business (that wasn't making the profits they wanted) to running a successful land flipping business that gives them the time to pursue their other interests. Kasey and Courtney have had an incredibly interesting entrepreneurial journey and are hugely inspirational for people who haven't given Land Flipping a shot yet.
Listen and enjoy:
What's inside:
Find out about Kasey and Courtney's entrepreneurial journey
Learn how you can take you first steps into the world of land flipping
Understand how Kasey and Courtney have the time to travel while still running a successful land flipping business
Mentioned in this episode
Tweetables:
Transcription:
Jack: Hey there. Jack Bosch here. And welcome to another episode of the "Land Profit Generator" or "Forever Cash" real estate podcast. I'm super excited to have two of my favorite students, peers, members of our Mastermind, Casey and Courtney here. I'm gonna introduce them in a second. Before we introduce them, as always, make sure that you leave us a 5-star review and click on the 5-star in iTunes but also write us a text on there, right? We're looking at them and we love your feedback on it. Plus, it helps us spread the word about this incredible opportunity to scramble a method of land flipping that most people don't know about. Okay? So please do that. Obviously, if you don't like the show, don't do anything, okay? But I'm pretty sure you're gonna love the show right now because these two guys are rock stars. So with that… Also, if you're watching it on iTube, of course, give us a thumbs up, put any questions below. We're happy to see your questions. We're also always checking it out. We're answering and we're looking forward to interact with you. Okay. With that, we're gonna get started right after this.
Male: Welcome to the "Forever Cash Life Real Estate Investing" podcast with your host Jack and Michelle Bosch. Together let's uncover the secrets to building true wealth through real estate and living a purpose-driven life.
Jack: Okay. So here we are. We're super excited to get started. Casey, Courtney, welcome to the show.
Casey: Hey, how's it going?
Courtney: Thanks for having us.
Jack: I'm doing great. How are you guys?
Casey: Fan-freaking-tastic.
Courtney: Awesome.
Jack: Freaking fantastic. What is that T-shirt that you're wearing, Casey?
Casey: This is a…
Courtney: Superhero.
Casey: It's a Superman shirt because, you know, I like to feel like a superhero. So I might as well wear it, right?
Jack: There we go. And, of course, Courtney, you are beautiful. I love that T-shirt.
Courtney: Thank you, sir.
Jack: So we're excited to have you guys here. And, again, tell us a little bit…we're gonna talk about test strips. We're gonna talk about bandit signs. We're gonna talk about land flipping. We're gonna talk about selling your business. Whatever you guys wanna talk about, because you guys have quite a journey. So tell us a little bit about your background and, yes, what have done prior to kind of, like, today?
Casey: Okay. Well, Courtney and I actually met in about as Midwest as it gets in a town called Normal, Illinois, in college. So our roots begin very small town and humble. But we were just college sweethearts, didn't know exactly which direction we're going in life and ended up in the restaurant world, or in the service industry.
Courtney: Yeah.
Casey: And, you know, just made like two bucks an hour plus tips. So it was definitely a hard life to struggle through.
Courtney: Definitely.
Casey: You take over from there. What happened next?
Courtney: We were just kind of getting by and it was either, you know, get another job or find another avenue. And Casey basically found a e-book that helped us create a whole business that we ran for about seven years, just the two of us. And then we hired on some employees down the road as we grew.
Jack: Do you remember the name of that ebook?
Courtney: Pardon me?
Jack: Do you remember the name of that ebook?
Casey: Well, you know, it was so vague. It was like, "How to Get Rich from Selling Stuff Online," or something like that. But honestly, she just gently breezed over it. It was like a $5 ebook that had an idea, right? And there was an idea within there that was that seed that was able for us to create a business around. And I think we're fortunate and lucky in one's mind, but it was a difficult path, to say the least. We grew that business in to a six-figure earning business over a few years, as she said, built a team.
Courtney: Yeah.
Casey: And, you know, we just had a lot of learning to do along the way.
Courtney: Yeah, we were always working hard in it. We never got to kind of just…I mean, we definitely got to travel and enjoy life, but there was, every time we were thought we are just about to be able to be footloose and fancy free, something would happen and always pull us back into the business. So we felt like we weren't growing anymore. We were always working in the business, so it kind of, it got frustrating.
Jack: So what was that business?
Casey: That was the test strips that you were talking about. You know, medical supplies are always needed and it's kind of hard to explain except for we buy widgets. We buy houses, we buy gold.
Jack: So in essence, I mean, this is fascinating to me. And like this is fascinating to me from a point of view, and you guys know that I'm fascinated by this. So you guys get an e-book, it's something like "The $100 Startup," right? I mean, there's like prospects books like that, that give like a whole bunch of ideas that you can start with 100 bucks. So, and you guys working in like what? Cheesecake Factory, I think like both of you or?
Casey: I was at Cheesecake Factory, she was at TGI Fridays. Yeah, [crosstalk 00:04:51].
Jack: TGI Fridays and Cheesecake Factory, working there and trying to make ends meet on tips basically. And you come across something and you're like, "Okay, let's grab it." I love this because it really illustrates like the American spirit. It's like, "Screw that. We're just gonna come up with an idea and we'll do it." So in essence, you guys put bandit signs on street corners that says, "We buy your unopened medical supplies, test strips, right? So obviously, if they opened, there could be like they're not hygienic anymore. So if they're closed, you would buy them.
Casey: Correct. Yeah, in fact, and I wanna say to anybody listening to this, they might see these signs that you're talking about today. But Courtney and I did this nearly a decade ago before this was a thing. Even going into using bandit signs was totally outside the sphere of the business world that we were in. So we just applied things that we had learned elsewhere into what we were trying to create a business out of.
Jack: Yes, exactly. So totally out of that. So you got this idea and you started putting these bandit signs out, getting traction and driving picking these things up, paying people cash and then wholesaling and back to somebody else who would sell them again, right?
Casey: Yeah, yeah. We were just middlemen.
Jack: Isn't that an amazing idea? I mean, not that it's perhaps an amazing business because as you guys said, you did $500,000 in revenue, but it was still a struggling thing because constantly stuff happened and there's always like the legislature was always, like, threatening to, I understand to kind of shut you down kind of, so kind of like, but it made a change in your life, right? It took you from where you were to like a six-figure income just doing something else.
Casey: It absolutely, not only in money, but mindset. By having a team, we had to learn how to be leaders, not just managers. We had to learn how to think from a different point of mind stance from where we were coming from a necessity point and that was just struggling to get our bills paid, right? And then as we built this business, we realized it was bigger than that. It was bigger than us. We had a team that we were working for, we had a clientele that we were helping and we were facilitating something for a lot of different people. And so we had to grow our mindset from where we were. And the more we grew, the more we got rooted in that business and the more it depended on us, which is where that frustration came from. Although we loved it. We loved the side effect of money and the fun that we got to have. It was just stressed us out a lot. And we were getting stretched too thin, I think.
Courtney: Yeah.
Jack: Okay. So then based on that, you were like, "Okay, this is cool. It got us from here to here, but it's not gonna get us here."
Courtney: Right.
Casey: Correct. Yeah.
Jack: So what happened next?
Casey: You know, we were looking for something more in our life and we were just trying to find either a way to systemize what we already had, or something that wouldn't have so much of a ceiling on it. And every time we tried to systemize what we already had, I felt like we ran into a wall. And in looking for something else, we actually stumbled across something called "Lifebook," and it helped us open our eyes to what, 12 different areas of our life. And if one's out of whack, or if one isn't complete, then it throws your whole life out of balance. And that's when we really got to step back and look at what we were passionate about and realize, that's what made us open our eyes that we needed a different path to take. We had all this knowledge and skills that we had built up and now it needed to be applied in a different area, we just didn't know what yet.
Jack: Okay, so you found "Lifebook", right? And "Lifebook" actually, that's where we kind of met a little bit more, right?
Casey: That's correct.
Jack: Because you guys were…Michelle led you to "Lifebook." Michelle obviously we have done "Land Deals Forever," but Michelle wanted to also like as you grow in any business, at some point of time, you probably feel the need of expanding again, of growing. Because we have just interviewed another friend of mine recently, Rod Khleif, and he talked about that one of the things that Tony Robbins always says is that, "Happiness does not come from achieving. Happiness comes from growth." And so as long as you're growing like, tell me a frustrated business owner and I tell you a business that's shrinking, right? So it's also a thing that Tony Robbins says. So whether they're stagnant or shrinking. So if you're growing you as a as a person, not just your business, but as a person, then there's immense happiness and joy in that. So when Michelle started wanting to grow outside of just flipping land, which is absolutely awesome and which has given us what we have, right, but she started going…we went to "Lifebook" and then she started to become a facilitator for it. And she no longer does it, but "Lifebook" is I understand now available online. You can go find it, or Google it, and it's still a great program now facilitated, I think, through videos online. Great. So you came "Lifebook" and then how did you come across real estate of land?
Casey: Well, I mean, as you alluded to, we met you folks through "Lifebook". I heard of your system and everything in the past and I had been to one or two of your seminars. In fact, we'd actually learned some business sense from going to real estate seminars in the past. So we knew there was a lot of money to be made in real estate in general. And land, buying and selling land, had fallen into our spectrum and it seemed very attainable for us. Seems simple enough that if we can figure out how to make this ebook work, then I'm pretty sure we can figure out how to make land work. There's not as many moving parts, not as much to worry about, right? So we decided to do that in what little spare time that we could afford.
Jack: Right. And for those if you're listening to this, and you don't know how the land system works, just go back a few episodes, just the episode is around, I think, February 5th, or February 4th or 5th. There's an episode where I basically explain how the land system works. So you can go check that out, and that will give you the overview. We're not obviously gonna talk about the details of it in every single podcast here. So you guys got started in land, I'm particularly interested about one thing because I know you guys well, right? You've been to like seven of our live events, you're in our ultimate boardroom in our Mastermind, you are…and the particularly funny thing is that you guys took forever to get to finally do something with this program. Let's put it that way.
Casey: Yeah. Yeah.
Courtney: We're probably your slowest students you have.
Jack: Yeah, [inaudible 00:11:32].
Casey: So Courtney and I just…
Jack: Let's talk about that a little bit. Go ahead.
Casey: It's, we work on our own timescale. It's, we know we could take more action and get more speed, but at the same time, we don't need to compare ourselves to other people. So we do need that push. We do need to be surrounded by people that are taking action because otherwise, we probably wouldn't ever get the action taken. But at the same time, we understand our pace and where we need to head up.
Jack: Right. So now but this was while you were running the other business, too.
Casey: Yes.
Jack: So how much did the other business affect your ability to actually operate in this business?
Courtney: A lot. We didn't really have too much time to kind of invest just into learning the process, so that slowed us down a little bit. But we definitely learned to schedule time. You know, it was just like, "Okay, a couple hours a week. That's it. You know, in the evening time, no TV, watch the videos or read or do something to move us forward." So we had very, very limited time in the beginning and we just started slow. Every week, we just had to do one thing to move us forward in the other business while our test trip business kept, you know, us very, very busy. So, I mean, it took us what, we bought the Land Profit Generator, I think, we didn't open it for how long, about a year?
Jack: Okay.
Courtney: Then we studied it and moved forward. We actually got a fantastic deal, and then just kind of stopped again and ended up getting married that year and, you know, dealing with business stuff.
Casey: All right. Well, I'm gonna interject here because she's absolutely telling the truth about the program. It sat in the box forever because we'd go, "That's what we're gonna do some day. And then, we finally opened the box. And then we finally took another step forward and we followed the directions. We finally took another step forward, sent out some mailers and so we took another step forward, we got something under contract. And then we took another step forward and it sold very quickly, and it sold using the end buyer's cash. The title company just sent us a check for like $25,000. And yes, we didn't take action and move forward quite right away except for we immediately took that cash and parlayed it into hiring a coach for us to help give us that push that I kind of talked about earlier, knowing that we needed something to push us forward into this because we definitely saw potential in it. So [inaudible 00:14:04].
Jack: And that obviously pushed you guys forward. Now, fast forward to right now. How many deals have you currently under contract or just in the last couple of months either done or getting in or in the process?
Casey: Yo want me to answer or you got it?
Courtney: As of January we had three deals? Is it three deals come through?
Casey: That's actually we're closing, getting profit checks from [crosstalk 00:14:27].
Courtney: Closing checks from profit.
Casey: Yeah.
Courtney: One's coming next week, so that's already scheduled and on the way to us.
Jack: That's number four.
Courtney: I know under contract, I know just in the last two weeks, we have four new properties under contract, possibly more.
Casey: Yeah. Two days ago we got two contracts in the mail signed and one was for $128 that our purchase price is and we're gonna sell that to most likely a builder for about $4,000 to $5,000. Done deal.
Jack: All right. It's a small deal, but still, nothing wrong with that.
Casey: For a phone call, I'll take that all day long, man. And the other one was a little similar, but I just got a little bit higher. I think was under contract for 450 bucks. And the same thing, we're gonna make probably one or two phone calls and get that sold for I'm thinking a good deal of around $6,500. Everybody wins.
Jack: Very nice.
Casey: Yeah, I'll take those little deals all day long…
Jack: Yeah, I mean, those deals [crosstalk 00:15:15].
Casey: …as we look forward to go bigger deals.
Jack: Those deals together are almost 10,000 grand together.
Casey: Yeah. And that's on top of everything else we already have in motion. Those just came in the mail. On our board upstairs, we have a whiteboard that goes from the ceiling to the floor. And I think we have 15 properties on there right now that we're working on marketing and getting sold. So we always have things in motion. And much like we were trying to do with our prior business, we're trying to systemize things so just the momentum kind of carried through and it didn't require us to be there. We didn't do much in December. It was Christmas time, we had family, there were things to do. But that momentum that we had already going and the automated things that we've got lined up in our weekly schedule, pushed through to the fact that we still had sales going on in January that we had contracts coming in signed in January. And now, we can kind of pick up where we left off and not notice much of a hiccup. It's been awesome.
Jack: Wonderful.
Courtney: And actually, the exciting thing that four recent under contract properties we have, we got those because we spent some time and skip-traced the letters that were returned to us. So we didn't send…I think we had maybe around 200 skip-traced letters, but these are people would have thrown that away and said, 'Oh, well." We just put a little work in and here we have four other properties under contract that, you know?
Jack: From that. Yeah, I always talk about skip tracing. Don't disregard those. They're gold.
Courtney: Yeah.
Jack: Anything coming back in the mail as undeliverable is gold because guess what? As you just said, everyone else out there is not doing that extra step. All you wanna do…where everyone else stops is where you wanna do just one extra step. And all of a sudden, you have those extra four deals. Exciting. So we move forward to that, but we left other steps. So in between… Go ahead.
Casey: No, go ahead, please. I'm sorry.
Jack: Oh, okay. In between, you also you got married, of course. And then, you also, congratulations. I wasn't able to be there, but Michelle was and Sophia. And then also, you guys have since then sold your other business, right? So what triggered the…what put you to the point of saying, "We gotta get rid of this thing right now." What was the thinking process behind it? Like, it did provide a 6-figure income for you guys, so selling that is a big step. And so what got you there? What was your communications, your conversations, your thinking behind the scenes?
Courtney: Well for us, the other business just put a lot of stress on I guess our happiness and enjoying life, enjoying our time together. Because there was never just, 'Hey, let's just sit down in bed." It was always some problem we were solving. So it just seemed like we're never able to relax, and always to have to solve a problem. After in fact buying the Land Profit Generator, we saw the potential and the ease of it. I mean, you definitely have to work. It's not… And just the less stress. The problem solving, the problems get solved and you move forward. With our other business, there was always gonna be problems, problems, problems, and kind of the same problems. We were never able to move forward. With this, it was just learning a new process and it was just kind of silly. We were just too frustrated with the other business knowing you can do something else and make the same and better income. It was kind of a no-brainer. Like, we just got frustrated enough that we knew we were worth more. Our time and our happiness was worth more and we could obtain it. With one of the masterminds that you have, I was talking to Dr. Mary Jo, and she was the one that just in a candid conversation with her, you know, "Well, how much did you make on selling, you know, your land in three months?" Well, we only had one deal. And I told her and then she asked how much in our other business, you know, how many months would it take for us. And basically, it's one deal equal three months' worth of working. One deal, three months. And it was just kind of right then and there I told Casey I'm like, "I'm done. I'm all in. I just wanna walk away and just dive into the land because my time and energy is, it was just a lot better. It's a much happier space to be in."
Casey: I'm not great at math, but I like those numbers, man.
Jack: Right. Exactly right.
Courtney: One deal, three months' worth of income.
Jack: Yeah, so fair enough. You basically realized that you're in a hamster wheel that is not moving forward. And because of that, it hinders you from actually making the same or more over here and enjoying life much more. Is that fair to say?
Courtney: Yeah, absolutely. Yeah.
Casey: Yeah, absolutely.
Jack: Yeah. Wonderful. Well, great. So now, you're full-time, you sold your business. That was actually cool. You sold it, then you ended up selling it for more than you thought you would, right? How did that go down?
Casey: Yeah, absolutely. We were to the point where we were ready to shut the doors and just walk away from the business, period. We were just done. We were done. We put a date on it actually. And we hadn't told any of our customers yet. We weren't sure what to tell the employees yet. And after going to mentor of mine, and talking with him and then turning around and subsequently going straight over to Ultimate Boardroom within a week and getting advice from basically my board of advisors there at the Ultimate Boardroom. Everybody had great advice to up for us, told us what we should and shouldn't do. We took notes on everything, applied them, and I mean, we got a very fair amount from a competitor here in the area. It grew her business, it took care of our customers, it kept the employees employed, everybody wins. And that same morning, we cashed the check at the bank with them and got on a plane to go to Cabo San Lucas, immediately.
Jack: There we go. Celebration, right?
Casey: Yes, absolutely.
Jack: Celebration. That's exactly the thing. And then not only that, but then I saw you on Facebook. Like, you guys went on a concert spree. I think you took a few months off. And that's, nothing wrong with that. As a matter of fact, it's a beautiful thing to be able to do, right? And I think you went to like 50 concerts in like 60 days or something? It felt like that or so.
Courtney: In the last year, we hit about 40 concerts, I hit just a little under 40. We do take off and do some music festivals and hang out in Vegas and see four concerts in four nights.
Casey: There's a lot of experiences out there. And so we rarely say no. If something crosses our path, we say, "Why not? Let's do it."
Courtney: That's our hobby. We don't have kids, so going to concerts is what we do.
Jack: That's all right. That's all right. No kids yet, right?
Courtney: Okay.
Casey: Yeah, correct.
Jack: So, awesome. So, congratulations. So if you could roll back time, what would you do different, looking at your past? Like, I'm asking from a point of view is like, the other day Michelle had a talk, and we have done a bunch of things, particularly in the last two or three years, we've really grow, again, as people and in our business and so on. And whereas like we're looking at it, it feels like certainly that even though we made some mistakes in the past, like everyone does, it's almost like that the last 10 years prepared us for right now.
Casey: Yeah.
Jack: Like, how do you feel about the past and your trajectory? And looking back, could you have taken a different turn at some point of time?
Courtney: I mean, yeah, there's a lot of things. I mean, your past choices got you to where you are today. And I think we're very blessed and happy where we are today. I mean, very easily, Casey could have not bought that $5 e-book and got another restaurant job. And, you know, we would have just been stuck in the restaurant world and never had that growth of working together, owning a business together, which we enjoy. We love that. Honestly, the only thing that I think I would have changed or done is I would have accelerated my Land Profit Generator studies and moved forward with that sooner than later. Instead of it sitting on the shelf, I wish I picked it up right then and there. Because we have just sold our business, it's been one year. And I wish I could say it was three years. You know? So that's basically for me, the only change I would make, is I wish I would have moved forward with that faster.
Jack: Right. Very good. Very good. Yeah, very nice. Great. So then, what is your favorite band did you go out there to see?
Casey: Courtney?
Courtney: We enjoy a band called Phish, P-H-I-S-H, and many others. We are music lovers. So good old classics are definitely our favorite.
Casey: Yeah, if there's any hippies out there. Hello. We love the Phish.
Courtney: Yeah.
Casey: And if you like music in general, man, if you're in town, if you're in the Phoenix area, give me a call. Let's go hang out, let's go to a concert, let's go do something fun. I like all kinds of music. And honestly, what's triggered it is if you haven't noticed in the news in the last few years, like, there's a few famous musicians that have kind of kicked off and they're disappearing one by one because everybody is getting a little older. So we've taken that a little more seriously and we're trying to get anybody that might be on a bucket list checked off. Make sure we go to enjoy as much as we can while we can.
Courtney: Yes.
Jack: Absolutely. Great. So that's awesome. So music is, also we love music. We, I don't go to that many concerts, but I agree with the bucket list thing that we've gone to several on our bucket list. And even like we're going to places where Michelle is like, "Who is that?" And we are going to a Billy Joel concert very soon.
Courtney: Yay.
Casey: That's awesome. It's gonna be so much fun.
Courtney: Yeah.
Jack: Yeah, it's going to be great. Even though Michelle doesn't really remember right now which songs he's playing, I was like, "Just be in the concert and you'll know every single one of them."
Courtney: It's just like when she went to the Beach Boys, she knew all the songs
Jack: Exactly. We went together, they invited us to the Beach Boys and I loved that, by the way. This is like, not only is it, gives us the chance like this relationship thing, not only does it give the land profit agenda and us a chance to like teach people, but it also turns into friendships, and I truly love that. We have gone for dinners together. You guys have taken us to the Ostrich Festival where the Beach Boys were playing. And I know the next one is coming up, so we'll probably be there. I haven't told Michelle yet, but she'll be probably all in.
Courtney: I already checked into it.
Jack: It's beautiful. It's great. I really love that part about the relationships that we have created with our students who are now no longer the students, they are our peers right now. They're in the Ultimate Boardroom. They're having, what, 15 deals that you're working on. I mean, that's just absolutely amazing. I love it. So having said that, now that you no longer have the business and all those things, how does your typical day look like? Just like, how do you structure your day? What is it like? Before it was stressful, right? How does it look today?
Casey: Well, I don't wake up to an alarm. So I am an early riser, so I'm not gonna lie, I'm probably up around 5:30 in the morning. But I get up and I have quiet time to myself. I'll read a book or I'll relax and watch a little TV before I get my day started. And usually, honestly, like once or twice a week, I'm going out to meet someone within our industry up here, and I kind of meet up with them for a lunch or something like that. I get out like once a week to go to a Mastermind that I'm a part of, and that's every Tuesday morning. So I'm always out trying to grow myself and just make, network and meet up with friends and anything I do, I try to weave in fun into it or, eating food, I love to eat food. Outside of that, I do come home and I work a few hours a day and Courtney might argue that I don't work enough, but I do. I promiseI come home, I get on my computer, I market things and I make a handful of calls, I talk to buyers of our property quite a bit. That's usually a mainstay for me.
Courtney: Yeah, I just actually like last week, went through and kind of like every day, this is what I'm doing. Because I was a little overwhelmed where I would wake up and I didn't know where to start. Well, I have a very articulate week with, "Oh, Thursday is AB." And yesterday was great since like I said, I just did this last week, it was so no stress. Even today, I woke up I'm like, "Okay, I post a couple ads on Craigslist." I did some exercise. I actually went down and had my cup of coffee and read my "People Magazine," which I don't do. Well, I was like, "I'm gonna take a few minutes to myself this morning." Got up, did my Craigslist ad. Here we are. That's about it
Casey: Yeah. So the difference between where we were and where we are, before our business ran us and dictated where we had to be and when we had to be there and even way more than we expected versus now we dictate what our business does. And it's within our, whenever we get to it or when we schedule it. And we make sure outside of that, we have time for other things. We have godchildren we try to see. Yesterday, we had a friend stop by and she stayed over for hours to hang out in the middle of the day. I mean, that's just not something we would have been able to have before, you know?
Jack: Right, absolutely not. Yeah, very cool. So now let's switch gears for just a couple of minutes before we wrap up, and I do wanna jump a little bit more into the land business.
Casey: Sure.
Jack: And that is like, tell us about what you think was your most difficult deal that you needed, that you got done, and what were the difficulties around it?
Casey: What's your opinion on that?
Courtney: I don't know. We had a couple… I don't want to use the word difficult. Everything was just a learning process.
Jack: Sure. Okay.
Courtney: So there was a few that where we had to make those uncomfortable phone calls that you're like, "I don't know what to say or how to deal with," or, you know, calling that seller back, but…
Jack: What was uncomfortable about it?
Casey: Yeah, so I'm pretty sure I know what she's talking about. You know, honestly, Jack, it's funny as we go through this, we find out that these smaller deals, hopefully, I don't have this with the ones. I don't wanna jinx myself about these two I just got in the mail. But sometimes, these smaller deals tend to come with more problems. They're usually smaller mindset people that you might be working with or they are a smaller deal because there's a problem with it, right? So we had one, it was under contract for $2,500. We realized it was like community property, like the alleyway in between houses. So really, it could have extended from someone's backyard maybe, but it looked just like communal ground where kids might run around in or something. We talked to a few neighbors. We couldn't get anybody to offer us more than maybe 3,000 bucks and even then it was shaky, but we went back. We had to talk to the original seller and renegotiate it with that person. We proposed what we perceived as problems, but just challenges because we were looking for solutions. We went back and had to talk to buyers. We had to go to county people. And in that process, and I think this is what Courtney is talking about, we learned so much from all these little phone calls. I'm glad it wasn't a, you know, $30,000 deal because I would have been more nervous to screw it up. This, I didn't really care as much. It was just a learning process for me. And you know what's funny is, at the end of the day, through all these phone calls I had to make and all these texts I had to send, somehow we still got a check for 1,200 bucks out of that deal. So it was worth it.
Jack: I love what this really means. I mean, whether it's really, if you're listening to this, think about it. I love the attitude that you guys have about it because so many people would have said like, "Oh, I had all these troubles and I only made 1200 bucks. What? This is crap." But no. Look at it. You got to learn about the ins and outs of off the county, of the zoning, of the neighbors about negotiating, about renegotiating, and you still got paid for it.
Casey: Yes, absolutely.
Jack: You got paid for it. Now, at the same time what you said, I 100% underwrite that is that the smaller deals are often the ones with more problems.
Casey: Yeah.
Jack: So we have so many students that have from their personal confidence point of view, they are like starting with the small ones. And I'm always telling them, "No, go for the higher end ones because there's actually more cash buyers out there and the deals are usually cleaner and better than the smaller deals. " And you guys just confirming that. But I love what you guys saying like…and this is a true success mindset, if you're watching this or listening to this, because the unsuccessful person would say, "Oh, this is too much work. It's not worth it." The successful person says, "Oh ,my god, I get to learn so much. I'm so much better prepared for the next complicated deal because now I can solve it in two minutes." And there's even people that I know that specialize on the complicated deals because nobody else wants to touch them and they're making a fortune on them because with the knowledge, they now can solve them in a very short time and make…and even price in some way sometimes solving them such that they are unlocking a ton of value.
Casey: Yeah. Absolutely.
Jack: Perhaps you wouldn't be able to unlock much more value on that thing, but sometimes by solving a problem, you take a $5,000 property to become a $25,000 property and you have it under contract for $5,000 so now you unlocked $20,000 extra value in that deal. And it's still without any risk just with knowing more about it. Absolutely love what you guys have done.
Jack: Yeah, I love it. Our focus was on solving the problem. The money was more of a side effect of it, man.
Courtney: Yeah.
Jack: Right. Awesome. Love it. So what else do you wanna talk about there? What do enjoy most about the program? Let's put it that way.
Courtney: I like the land family. That's what I call everybody I've met when we go to your seminars. But I wasn't able to go to the one in Florida and I was like, "I just wanted to see my friends. Like, I just wanted to see everybody." So, hello, if you're watching. I missed you. But yeah, I love the people I've been surrounded by. I feel supported. I don't feel alone in this growth that we're doing. So that's what I like the most.
Jack: That's phenomenal. That's exciting. Yes, we actually have, we have this amazing Facebook group. It's called the Land Profit Generator Real Estate Group on Facebook. If you're watching this, go on Facebook, go join it. It's free to join. Go check it out. And our students are hanging out there and it's become a true family. So in fact, our live events, the landprofitgeneratorlive.com live events have become almost like a family gathering. We have almost like a third of the people in the room are coming again and again and again and again. And they're having a blast coming again and probably, hopefully, learning an extra nugget here and there. But they're coming also to see each other's friends and share newest deals and network. And we absolutely love that part about it. And I don't know if there's many other organizations or groups like that out there that do what they're doing. It has to do with the absolute, I mean, off the charts success rate that our students have.
Courtney: Yeah.
Jack: So and I think because if you have a bunch of like truly successful students and that are willing to also give back, I mean, it's given us, it's like puts a big smile. I go into the Facebook group and it just puts a big smile on my face when I see all these answers and all these community pitching in and everyone helping each other. That's what we really envisioned and it's beyond our wildest dreams how everyone is doing it. So I'm glad you're enjoying that and you're obviously a big part of that community.
Casey: It's the best group I've ever been on in Facebook. It has more value than anything. I mean, Facebook has a lot of ways to waste your time. This is a way to build yourself. And as you said, build relationships, too. It's fantastic. I love that community.
Jack: Wonderful.
Casey: I mean, honestly, if I might explain the things I love about land, Courtney got to say her couple of pieces, but there's two things I wanna mention. Number one is for ease. I don't like to… Although I do love to have conversations, especially after the fact because I'm glad I did it, I don't like to call too much. And I literally have sold multiple properties through text and through email. And it's crazy how many people don't wanna talk to me and they prefer to text and they still take me seriously and still hook up with the title company. Man, it blows my mind how many deals I've sold literally just by texting. Yea. And the other thing is something that's actually, it means a lot to myself and Courtney, my mother retired last year. And, you know, her work situation wasn't the best. She had a boss that was demanding.
Courtney: A bully.
Casey: Yeah, a bully. Okay, he demanded a lot of her. And it was a really rough life. I believe it maybe even shaved a couple of years off her life in stress. And after she retired from that was still gonna go out to need to get some supplemental income. She is the third member of our team now. There is no need for her to go out and do something else. She's able to work with us and do it in her own spare time. She told us what she wants to work, we give it to her, and we're able…she's gives us value and we give it right back to her. And she's able to go out and live a fun life herself.
Jack: That is awesome.
Courtney: She loves it.
Casey: I love that. It means so much to me.
Jack: That is absolutely awesome. I love it too. Thank you. I mean, that's exciting. That's what it all matters at the end of the day, right. It's at the end of the day a pile of money in the bank, right, it's wonderful, right? It makes you sleep well because you know your financials are taken care of. But being able to take care of your loved ones, that's what it's for me also, really about. Now of course, Michelle and I are partners. She can take care of our loved ones just as much as I can take care of them. Just like you've done. Courtney can do this just as well as Casey. But the fact that you are operating together, just seeing eye to eye that family is important, I mean, that's the same for us. Absolutely, I applaud you for that. That's very beautiful.
Casey: Yeah. Thank you.
Jack: All right. So we always end the podcast with one question is like, to anyone listening right now or watching this, that's kind of like wondering or struggling in life or struggling in their investment or perhaps trying to get houses flipped and isn't succeeding, what words of advice would you have to somebody out there whose just looking at from the outside in and just not knowing what to do next in life?
Casey: Well, so I guess there's a number of different things that I might say and it depends person to person. But if I just had to step back and give that person some general advice, you need to step back and ask yourself, what are your skills? What are you good at? What are you passionate about? And then, go where the money is. Somehow apply that passion, apply that skill, and go where the money is. Go where it's not so hard and not so difficult. If you see a billion people out there trying to flip houses right now and fix and flips, maybe there's a better path for you. Expand your sight, find something. And then I'd say just put on your blinders and focus in on it and go deep. Don't keep trying to go wide. Don't keep looking for something else. Stick to it and persevere, be persistent.
Courtney: Definitely.
Jack: And then stay in line.
Casey: Yeah, absolutely. Get in line and stay in line, man. Definitely.
Courtney: Yeah.
Jack: There we go. Wonderful. Well, that was great. Thank you very much. Always so much fun to talk to you guys. I love your energy. I love your T-shirts. Where do you get them from, by the way?
Casey: Everywhere, internet.
Courtney: The internet.
Casey: That's my answer for everything, the internet.
Jack: The internet. Okay. Sounds good. Well, thank you very much, Courtney. Thank you very much, Casey. I had a blast and looking forward to seeing you very soon again at our next Ultimate Boardroom meeting or the concert or the live event. And with that, have a great, great day. Thank you very much for being on the show.
Casey: Thanks, Jack.
Courtney: Thank you, Jack.
Jack: All right. So and with that we're finalizing our podcast. Again, make sure you go over. We have all the links in the show notes where you can find out more about our Land Profit Generator program. You can also, make sure you leave us a 5-star review. Make sure you share that with other people. If that's on YouTube, just get the link and share it, send out an email, post it on Facebook. Look at these guys. And share it out there. We would love to do to reach more people with this message of positive, of real estate, of a simpler way of real estate and so you can live the life and have the success that Casey and Courtney are here exemplifying and earning. Look at how they're smiling. Love it. Thank you very much, guys. Have a great day. Thanks. Bye-bye.
Courtney: Thanks.
Casey: Bye.
Male: Enjoyed this episode? Then make sure you like, subscribe, and post your comments and questions below the video. We're looking forward to hearing from you.
What are you thinking?
First off, we really love feedback, so please click here to give us a quick review in iTunes! Got any thoughts on this episode? We'd love to hear 'em too. Talk to us in the comments below.
Enjoy this podcast? Share the love!