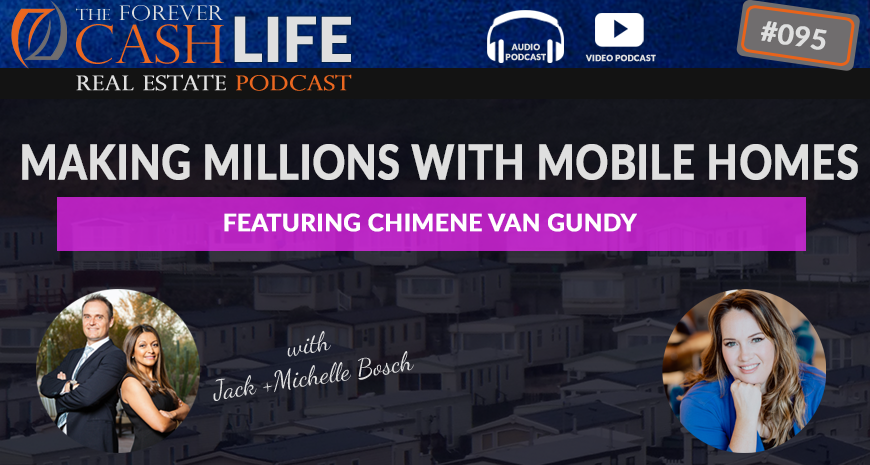 Chimene Van Gundy is known as the "The Mobile Home Millionaire" and she has been called the "Queen of Mobile Homes" because she has fixed, flipped, and wholesaled more than 300 mobile homes in just the past 4 years. Chimene is on a mission to help others become cash creators and learn how to easily buy and sell mobile homes with no money down and even no credit.
In this episode, Jack Bosch chats to Chimene about her career in real estate investment. You'll also discover how Chimene empowers her tenants to take pride in their community and how this translates into a sustainable, ethical investment opportunity.
Listen and enjoy:
What's inside:
Learn about Chimene Van Gundy's career in real estate investment
Find out more about the world of mobile home investing
Discover how Chimene creates a community where her tenants are happy and empowered
Mentioned in this episode
Tweetables:
Transcription:
Jack: Hello everyone, this is Jack Bosch speaking and welcome to another episode of the "Forever Cash Life Real Estate Podcast." Your host, Jack Bosch here and today I have one of my favorite people in the world to interview, Miss Chimene Van Gundy? Chimene, we got to get started in just a second. I'll do a big introduction in just a second. We're gonna talk about mobile homes, we're gonna talk about doing 50 things at the same time, we're gonna talk about land flipping too. She's the queen of mobile homes, but I get to do the introduction just a second because first we got to go with this little intro.
Man: Welcome to the "Forever Cash Life Real Estate Podcast" with your hosts, Jack and Michelle Bosh. Together let's uncover the secrets to building true wealth through real estate and living a purpose-driven life.
Jack: All right. So, excited to have you here Chimene, so first of all, welcome. I love the painting behind you, I already mentioned that, I love horses, that's great, and this is a beautiful painting. And so, first of all to everyone to know Chimene, our guest today, is Chimene Van Gundy, I actually realized that you were just interviewed by Michelle, the co-host and her own podcast, "The Inflow with Michelle Bosch" podcast. Everyone, if you haven't listened to that podcast yet, go check it out, it's absolutely amazing. And the episode with you was…obviously, I heard was amazing. I haven't had a chance to listen to it yet. But Chimene is known as the mobile home queen or the queen of mobile homes, but give us a bit of an update, or just a little background on you. How long have you been in business? What's a little bit of your background, your story? And go ahead.
Chimene: Yeah, sure. So, I'm a mom of five kids and I am known as the queen of mobile homes, and also the mobile home millionaire, which is what they're calling me now. But my backstory kind of is I'm one of seven kids, I'm the fifth of seven and we grew up pretty poor in Iowa. And so, my parents' feelings about money was never enough, never enough, never enough. And I was in and out of the foster care system as well and so grew up and was the first in my family to graduate college and get a degree.
Jack: Wonderful, congratulations.
Chimene: Thank you. And then went on and kind of took my journey into real estate in 2015 when I was laid off from my corporate job. And at the age of 37, heard four words from my husband that I've never heard from him before and that's, "I believe in you." And so, that kind of lit a fire in me and I read "Rich Dad, Poor Dad" off of a recommendation from a friend, went to an introductory course. My name was drawn out of a hat to win the basic training, went to the basic, found out that I needed $20,000 for 2 classes and a mentor. Didn't know how I was gonna do it, convinced them to hold the price for seven days and went home and sold jewelry, Thomas Kincaid paintings, and a Precious Moments collection that I had. Raised about $17,000 and then my husband gave me the rest and that's how I started my journey. And then my mentor came out in 2015 of July, and from July to September, I made about $180,000 to $200,000. And then September 24th, we had a house fire and we were displaced. And so everything had to be kind of put on hold again, and then I relaunched in 2016 and the rest is history.
Jack: Oh, wow. So that's like, it goes to show that taking massive action could actually be your middle name too. So, Chimene, I know and actually, a matter of fact, you're now in their hall of fame and you…and that's actually where we met, right?
Chimene: Yes.
Jack: I remember meeting…So sometimes I get invited to speak at events from other people or other organizations. And there's this organization that is aligned with, associated with Robert Kiyosaki, "Rich Dad." And they invited me about a couple of times a year to go present to their students there. And I talk about land flipping, and I talked about this kind of weird thing about land flipping. So, you went there, you were in one of these events there and you saw me speak there. What happened next?
Chimene: Well, Jack, actually, it was September 2016 and we were in Dallas, I remember it exactly, right?
Jack: That was quite a strange hotel, by the way, wasn't it?
Chimene: And so anyway, I heard you speak during the lunch portion, and you were speaking on land, and one thing that I'm teaching on my platform now…as you know, I started Mobile Home Millions. But I show people that you actually can use apps and a lot of these apps are great. So, I just kind of took what you said, saw two lots on five miles that were for sale, negotiated the price down, and then a friend of mine knew a developer, the developer snagged them, and I made $25,000 on that weekend.
Jack: Yep. And then on Sunday, literally, I spoke…actually, I spoke Friday evening and you saw the presentation, you got our course, you didn't even open it but you went and took action. Because obviously, when I teach this, there's a lot of content in there and you're like, okay, take action. By Sunday, you come over and she's like, "Hey, I just made $25,000 from what you taught me on Friday," and I was like, "What?" So, I remember [crosstalk 00:05:33]. What?
Chimene: And I remember showing you my screen on my phone with my PayPal.
Jack: Yeah, exactly. Yes, exactly. It was absolutely crazy. So, absolutely love it but tell us about the mobile home world. This is really your bread and butter these days is the mobile home world. That's where you specialized on. Why did you specialize in mobile homes?
Chimene: So, you know, when you're doing real estate, right, you really wanna find your niche area. And so, we all know that a lot of money's made when you find a niche and then niche out like you have here in the real estate space, but you made your money in land. And so, I just all of a sudden, when I was meeting with other investors, I noticed that really, there was nobody in the space and these mobile home deals kept landing in my lap. And so, I was able to quickly navigate title issues because, as you know, I have a paralegal background, my bachelor's is in criminal justice. And so, I was able to navigate those issues very, very quickly. And so, deals just kept, you know, following me and so I just ran with it. So, I literally spent the entire time just diving into the mobile home industry. And what I found was, it's really the last frontier in the United States for affordable housing.
And I feel like that some of kind of in the apartment investing world has been ruined by all of these Wall Street hedge funds. And so I'm on a mission to throw rocks at them and not let them in my space so that they can hold a bunch of people hostage that have been living in mobile homes for years because they can't afford to move their unit. So, I really feel like it's my calling to go out there and acquire as many parks as I can so that people have homes, and it's the best feeling in the world. I get to make money, but I get to give people houses. It's just like, it's the best feeling in the world. And one thing that I'm doing different in my parks, Jack, I have a park in Tennessee, and we got a USDA grant for organic gardening. And all we have to do is sell like 20% of the crop, it feeds the entire community, and every year we get this grant and it's free money.
Jack: Wonderful. So, that's good. So, you're basically taking really creative additional ways to get things done. So, mobile homes, you know, some people call them trailers, right? So, I know you're allergic to that and, I mean, I agree, you should be allergic to that because it's lower-income housing but it's people that retire that way or they were going to the mobile homes, and there's some really nice communities out there. So, I also know you go and you actually go and you rehab mobile homes, that is something that is quite interesting. So, tell us a little bit about that.
Chimene: Yeah, so I do. So, basically what we do is we go in and we take units, and we rehab them. And so, instead of putting very low-quality things into them, we are putting house-grade stuff into them. So, we're putting house grade insulation and them, sheetrock, we're really making it look like a home because really, once…I mean, they call them mobile homes but once they're moved, I mean if you want them really stay structurally sound, they're kind of there to stay, right? And so yes, so I think I have fixed and flipped over 500 units and still going strong. And just to kind of give your audience the opportunities, we've talked about this some in Boardroom, right, when I've done my presentations, but for the next 7 years, 10,000 Americans are turning 65 and older.
And what's happening is a lot of the older generation, the baby boomers, they're cashing out of their houses, their real estate, and they don't wanna pay property taxes anymore, and they're taking that money and they're using that to live on and going to places like Florida and other places, and Texas as well, and into these beautiful retirement communities. And now they buy a mobile home, they pay lot rent, but that consists of golf cart communities, pickleball courts, Bunco, I mean they have clubhouses, they're active, active seniors. And, you know, for a few hundred dollars a month, they pay a lot rent, but then at the end of the year, you know, they're only paying a couple of hundred dollars on their mobile home because it's like a car. When it's in a park, it's personal property and that's where the opportunity is. The opportunity isn't when it's attached to land, the opportunity is when it's personal property.
Jack: Right. So, tell us about…so if somebody takes the wheels off and puts it in…when does the state or the county consider it personal property or is this real property?
Chimene: Yeah. So, if a mobile home was put on…if it's attached to land, so it's put on an acre or half-acre of land, and it's by itself on a piece of land, then it's considered real estate or real property, okay? So, then you would have a deed. If it's personal property, then it is in a park and you're paying lot rent. So, you're paying a monthly fee for the home to be in there, kind of like an RV park, right? You pay a monthly fee for it to be there and it's personal property because it's not really…they don't own the land underneath and so that's the difference. And kind of the pitfall of having it attached to real estate if you are in this space and you wanna do any kind of seller financing is if it's attached to the land, then in places like Texas where they have laws that specifically say once somebody buys or leases something, you have to give them something called quiet enjoyment. That means that as long as they're paying the money, you can't bother them. In fact, you can't even go on the property.
So what happens is, you know, if you won't know until the next month when they don't pay the rent, but they can haul a truck in there and pull the asset out and pull it away. And so, now your mobile home's gone, and it's not attached to the land anymore, now you have to try to figure out where it went. So, I always really tell people personal property is the way to go and then the parks take care of, you know, the credit checks, the background checks, making sure that the home's insured. Like all those things have to be kept up in order for that mobile home to stay in that park. So there's a lot of benefits to it.
Jack: I think that is really great because that illustrates that when we talk about mobile home parks, we do not talk about some of these places that you sometimes drive by. They look really dilapidated, that's not…
Chimene: Yeah, trailer trash.
Jack: Yeah, that's trailer trash. You said that, okay, trailer trash. So, not trailer trash. We're talking about really beautiful communities where people live with pride of ownership and pickleball courses. And so, by the way, you mentioned the Ultimate Boardroom, yes, you are part of our Ultimate Boardroom for our Mastermind, love having you there and, great, so I love this. So, this podcast is about not just land flipping, about creative ways to do real estate and generate cash flow from it. And you do something with your mobile home parks that is actually very, very cool. I think you get them with seller financing, right?
Chimene: I do.
Jack: And then you also create homeowners' associations, which really now makes the management part of it]…First of all, seller financing means you don't have to go to the banks and you structure a deal that actually has positive cash flow for you. So, cash flow, right? We're all about cash flow, the "Forever Cash Real Estate Podcast" right? But it's also by doing an HOA, you're putting the management on the actual inhabitants there, on the actual residents there, and you don't have to pay a whole bunch of money for a property management company now, is that right?
Chimene: So, a lot of times a manager in a park will be about $30,000. So, if you go in and you actually take out that expense, your A cap has now gone to about a 16 cap instantly. Okay, sometimes even a 20 cap depending on your numbers. And so, it's really good that in the mobile home park space especially, what I found was management's very adversarial. And so, when you're talking part of ownership, you wanna take away the adversarial part of that, and actually put in an empowerment portion and that's where the HOA comes in. Now you have a president, a vice president, and a secretary. They're managing the mobile home parks for you. And I mean, if everybody's familiar with the old "Bewitched" shows, Mrs. Kravitz, she was the blabbermouth. Well, every one of those parks have a Mrs. Kravitz, okay? I know everything that's going on in my parks probably more than I want to. But what that does is now it's non-adversarial and you're empowering the people to actually take action and pride in their community.
And it's actually been amazing. I wanna say it ended up being a social experiment that I wasn't intending. What I've known as the happiness rate's gone up, lots of been cleaned up on their own, people are happier about it. Now that, you know, we've instilled like the organic gardening, now everybody, like the food is spread out amongst the community. I mean, there's so many wonderful things that are happening in this park. And so, what I'm out to tell people is you don't have to buy a mobile home park and increase lot rents by 56% and hold people hostage when you actually can treat people with dignity and respect and go in there and build them a community that's gonna last them where your cash flowing just as much money without having to make it unaffordable for people anymore.
Jack: That's beautiful, and that's beautiful. You know what? We wanna keep the podcast short today. So, I think that's the perfect ending to it. But we wanna offer you is a chance of people…I know people love you because we love you, Michelle and I love you. So, you mentioned that you now have the Mobile Home Millions, so how do people find out more about you? [crosstalk 00:15:42]
Chimene: Sure. So, I'm hosting a webinar every Thursday. In fact, my very first webinar ever is in the next hour. So, they actually can go to www.mobilehomemillions.com and they can register for a webinar and get started. And I actually have…so because I'm a mommy, I thought about moms. So, they're actually…the course is recorded in videos just kind of like yours. And it's 5 to 10-minute video snippets with actual downloadable actionable steps for and homework and a quiz at the end.
Jack: And that is wonderful, awesome. Mobile homes, beautiful way, and this is your transition to land. You're now also doing land deals, you said you have seven under contract right now that you're selling. I love, like, how you're into all these different things, but it makes sense. Land and mobile homes kind of go together because, at the end of the day, you're getting lot rent, which is why Michelle and I, at some point of time, we're going to look into mobile homes too because it's kind of a natural extension of what we're doing here.
So, with that, thank you very much, we have loved having you on here. Thanks a lot, we got to obviously put all the links and all the things into the show notes here. If you love this episode as much as I did, put a thumbs up. I love what you're doing out there, I love how you're taking mobile homes not as just a cash cow to squeeze people but instead, as a place that really is affordable for the people where they can live with dignity and at the same time figured out ways to the HOA. And so, to actually cash flow them even just as much as they would in the other scenario. Kudos to you, absolutely love it, can't wait to see you next time at the Ultimate Boardroom too. All right, with that, thank you very much.
Chimene: Thank you.
Jack: Thanks.
Man: Enjoy this episode? Then make sure you like, subscribe, and post your comments and questions below the video. We're looking forward to hearing from you.
What are you thinking?
First off, we really love feedback, so please click here to give us a quick review in iTunes! Got any thoughts on this episode? We'd love to hear 'em too. Talk to us in the comments below.
Enjoy this podcast? Share the love!