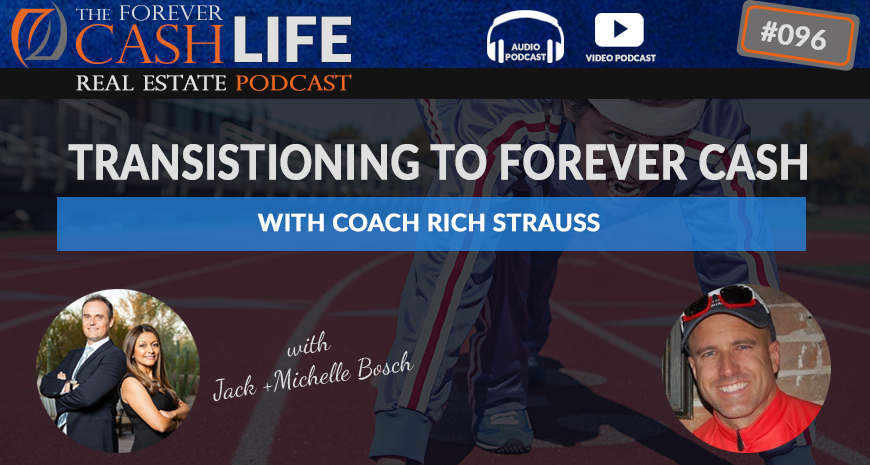 Rich Strauss is a triathlon coach who has transitioned to becoming a Forever Cash coach! In this episode, Jack Bosch chats to rich about his career so far and how he got started in the world of real estate and land flipping. Rich has some incredible insights into goal-setting, business building and so much more!
You'll discover how Rich has consistently taken his career to new heights by finding ways to optimize and improve his strategy. For anyone who is curious about transitioning their lives from full-time work to the world of Forever Cash, this episode is for you!
Listen and enjoy:
What's inside:
Learn how Rich Strauss Transitioned to a career in land flipping
Get some incredible insights into running a successful business
Find out how to optimize your seller financing deals
Discover how you can start your journey to Forever Cash
Mentioned in this episode
Tweetables:
Transcription:
Jack: Hello, Jack Bosch here and welcome to the Land Profit Generator, also called Forever Cash Life Real Estate podcast. I'm super excited to be here again. I have a great, great, great student of ours and very successful real estate investor in our program with me today. His name is Rich Strauss. Hi, Rich, how are you?
Rich: Hey, Jack, I'm doing good. Thanks.
Jack: Wonderful. So, Rich is going to talk about some particular pieces of real estate investing. We're going to dig into his transition from being one of the probably premier coaches for…in a completely different area in sports, actually, having coached over 10,000 athletes, we're going to let him talk about that. And his transition from that into real estate, why we're going to talk about into some principles that he follows and he's a very structured guy and really, really awesome in creating systems. So, with that, let's get started in just a second.
Welcome to the Forever Cash Life Real Estate Investing podcast with your host, Jack and Michelle Bosch, together, let's uncover the secrets to building true wealth through real estate and living a purpose-driven life.
All right. And we are back with our Forever Cash Real Estate podcast here, Forever Cash Life Real Estate podcast and our guest Rich Strauss. So first of all, let's jump right into it. Rich, just give us a quick update of who you are, where you live, and a couple of words of kind of like what you do.
Rich: Sure. My name is Rich. I currently live in Los Angeles, California, about to relocate to Boulder, Colorado. Fifty years old, been doing the full-time land investment thing for about a year and a half and prior to that I was a full time a Triathlon coach. I coached, Ironman distance triathletes from 2001 through 2017, founded endurance nation and coached over 10,000 Ironman athletes. So, it's been an interesting switch.
Jack: That is exciting, it's phenomenal. So, meaning you have had success in other areas of life first. So, if you go a little bit back before you did the Iron Man, coaching, what did you do before?
Rich: I was a United States, Marine Corps Artillery Officer from '95 to 2000.
Jack: Oh, wow. Okay. So, that explains some of this stoicness about to you, right?
Rich: That explains the haircut but not the beard.
Jack: All right, not the beard, but that's over, right? Because I see you around town…Whenever I drive around town I see the Semper Fi kind of sign of cars and I look in and more often than not they have big beards, it seems like once you're out, you kind of like, you let it grow, right?
Rich: Yeah. I was of an earlier generation, I've only adopted the beard in the last year or so my doctors say that my transition is almost complete after 18 years out, but I'm getting it.
Jack: Okay. Sounds good. Yeah. 18 years. That's true. It's 18 years out now. Well, that is cool. So now, you went to the Marine Corps and you came out and obviously, you are an avid sports, avid athlete, you have been an athlete probably your entire life. So walk us through that process of what made you, tell us a little bit about the athlete training and how did that go down? Just like as…
Rich: Yeah, in my last six months in the military, I had a period of time where I didn't have a lot of field time, I wasn't going out and playing in sandboxes. So, I grew up as a swimmer, I swam through college. I was running, so I picked up a used bicycle, I traded an old World War II rifle and $100 to pick up a used bike. And I started riding this bike. And so in my last six months, I was training a lot. I got out, I moved up here to L.A, took a real job. I just started diving into triathlon training and just organically after about a year, I had people asking me to coach them because the way I'm hardwired is my method of learning a thing is to teach a thing as quickly as I'm learning it. So, I just found myself talking and speaking and writing about triathlon training and racing, was fortunate enough to be laid off from my real job the Friday after thanksgiving 2001, I had eight weeks to figure out how to be a full-time triathlon coach. And I did that, as like your typical one-on one-coaching model from 2001 through 2006 and then or '07.
And in that process, I was an athlete myself and I was also coaching athletes. So, again, my method was to learn a thing, try it, teach it, improve it, and then spread that out to my athletes. Then in about 2006, 2007, I realized that the business model had created like a salary cap for me. You know, there's only so many people I could coach, so many triathlon clinics I could put on. So, I fired myself as a one-on-one coach and founded a team coaching model with a partner on the East Coast. And so I went from coaching 20 athletes at a time to coaching over 800 athletes. So, when I sold my interest in the company in 2017, again, we had coached over 10,000 Ironman athletes and we had grown this team from about 80 athletes to 800. And I spent my time, you know, teaching my athletes how to be better self-coached athletes, how to teach, how to learn, how to coach themselves, put on triathlon training camps, clinics, did 14 Ironmans myself. I produced a DVD that showed people how to race Ironmans. And in that process, I was in this world where your success was very much dictated by what you did or didn't do every day. And so…
Jack: Isn't that a true statement though?
Rich: Yeah. So, one of the biggest transitions I've had or realizations I've had about the real estate investing space is, there's lots of talk out there about what tools to use, strategies to use, but what isn't imposed on you is a date by which you have to hit objective metrics. In the sports training world, you came to me as a coach on January 1st and you said, Rich, I have to race an Ironman 140 mile race on September 15th. My fitness is X. In order to get across that finish line, I have to build on that X and that combination of a date and a distance then allowed us to back plan what you were doing every day, every week, every month. And the days that you didn't do what you were supposed to do, you were setting yourself up for a very, very bad day on September 15th. So, yeah, so.
Jack: And that's a great analogy, like, but isn't that actually, that's an amazing life…Life principle, like, your success is defined by what you do every day. And that's so true. Like, we find people all the time getting into our program and doing a flurry of activities for four weeks, but then they don't do anything afterwards anymore. Then they start skipping days and skipping weeks and soon enough. That's not how you're successful, the successful is…without an exception, the successful people in our program that have, not just flipped one property, everyone can do that, but they're continuously having success are those that are doing something about it every day or almost every day, or at least on a regular basis, every week or several times, right? Some people have a schedule that doesn't allow them to do something every day, but at least if they're doing that every Thursday, every Saturday, every Tuesday, right? Then as you build that rhythm and, that works. And the other thing I liked that you said is, talk about the deadline, like in business, that deadline you usually don't have unless you create it for yourself.
Rich: Exactly.
Jack: Right, so, talk about this. Let's jump into the transition now into real estate. So, what made you transition from one to the other?
Rich: Yeah, so, after being a fulltime triathlon coach for over 18 years, I knew that gig really well. And what I found was I had done a very good job of creating for myself a really cool lifestyle and a job for myself. What I had not done was created a, necessarily a business that would run independent of me. And I also wasn't building generational wealth. So, you know, did a lot of soul searching real estate was the answer. Then the question is what flavor of real estate do I do? I basically dove into the wholesaling world for residential houses and the land world kind of at the same time. So, I built, you know, two marketing engines and turn the keys at the same time and land just took off and I haven't looked back.
Jack: All right, wonderful. I like that approach. Very systematic again, pick a couple of things, and I say that and when I get interviewed on podcasts, they always ask me what is like your final thing that you want to leave the audience with? And I always, almost always say the same things, like pick something that you know you can handle. So, I liked that you studied the market and studied the different techniques and then you picked two and turned on the engines and see which one worked. And then obviously, ours worked better as it does for most people. So, the land flipping now, what made you be interested in both wholesaling and land flipping in the first place? Why were you more interested in those than let's say, rehabbing or by getting into commercial real estate or things like that?
Rich: I would say that I understood the principle of gaining control of a property at a fraction of market value and then once you have that as a contract then being able to exercise a number of different exit strategies. What I saw very quickly with land is we're able to get properties under contract for a very small fraction of market value. So, I understood that principle and it became very clear that with land, I'd be able to get properties under contract for a much lower fraction of market value, which then created other exit opportunities for me.
Jack: Very good. Very good. Yeah. And that makes sense. So, cool.
Rich: And also I'm not a handy guy. So, fix and flip, not…I'm pretty good at writing a check, that's it.
Jack: No, no, and that's a good thing. And that's a key piece. You got to know yourself, you got to know yourself, you got to really look into yourself, not just trying after, not just looked after, where is the biggest checks? Like, I can tell you the biggest checks are probably going to be in something like buying a big commercial property, repositioning it and selling it, right? You can buy a property that's in shambles, like a 100 unit apartment complex, kick everyone out, do a complete remodel the thing, and then sell it. You can probably make $2 million, $3 million on that deal. The challenge is what does it come with?
Rich: There's a lot of moving parts.
Jack: There is a million moving parts, including raising several million dollars, finding investors that are ok with no cash flow for three years. Being, knowing about contracting contractors, selecting contractors, overseeing contractors, not being screwed by contractors. And then refilling the place up again, getting in financing for it because you've got to have the same net worth of the property, so that…in order to buy a multimillion-dollar apartment complex, you gotta have a multimillion-dollar net worth or bring in a partner who has that, negotiate with them. And so, on and on and on and on, right? But the big paycheck at the end is there. In land flipping, if you're a beginning investor or if you're struggling and you're a house investor, it's…or somebody comes from a different industry it's, like, yeah, the pieces make sense that you can buy very, very cheap and then make the profits and then over time you can go do more complicated things as if you wish. Or if you're not, I mean, Warren Buffet says, "Businesses…the best businesses are boring," right? Because boring in business is good. Because boring in business means predictable, means profitable, means repeatable, means you can build a system out of it.
Rich: And it's important to know what your strengths and weaknesses are. What your likes and dislikes are. And then most importantly, understanding or having a very clear vision of the lifestyle that you want. I wanted a lifestyle that just, the thought of the, you know, all the moving parts that wholesaling entails just to get a deal. And then managing contractors and private lenders and banks and tenants and all that, I just didn't want that. I've done deals from outside of the library in Crested Butte, Colorado, outside of my van on a dirt biking and mountain biking trip, you know, so, I want simple, predictable, few moving parts that supports the lifestyle that I want. And then I'm always very aware of building everything around that if that makes sense. You know, I don't want this business to dictate my life. I want my life to dictate how my businesses is organized.
Jack: Wonderful. And that's, you know, and that's one of the secrets of your success here because, know thyself, and in our live event, you follow that know yourself very well, like, you know what you're good at, what you're not good at, what your lifestyle will look like. In our live event, as you know, you've been at several, we put in a session of where we really have people design their perfect life and then based on how the perfect life and even the perfect day looks like, they will then design their business goals around that and select their method around that. And if somebody is a workaholic and doesn't want to be around his family, well, great, go, do something else. But if you love being…having free time and things like that and scheduling blocks of time off and not being in hectic mode all the time, then this might be a good fit. So, great. So, now you've gotten to start it, in sometime early 2018 and I asked you the other day, if you have counted the number of deals, have you counted the number of deals since then?
Rich: I still…
Jack: You have a guess is it like 10 or is it like?
Rich: No, no, I'm probably north of 40, but like, right now, I'm in the process of basically double self-closing about five seller-financed deals. So, this is a packet I gotta run out to the county after this call. I've gotten really good at closing seller-financed deals. So, stacking up cash flow. It's been nice.
Jack: That's very nice and seller financing is…we love that too. Like, when somebody gives you enough down payment to almost pay for the property…for the price that you paid for the property, I mean, life is good, right. You have no money in the deal, you get cash flow without any tenants, toilets and termites, life is beautiful. So, you've done let's say 40 deals, built up a nice cash flow of several thousand dollars a month, I would assume?
Rich: Mm-hmm.
Jack: Right, and yes, is that correct?
Rich: Yes. About probably $3,500 now by the time these I close these out, it'll be probably $4,200, $4,400, but what's more important, like if you're listening and $4,400 cash flow doesn't really get you super excited. The unpaid principal balance of those notes that I've created in the last year. By the time I close these, it'll be over $250,000. That's a quarter billion dollars worth of future income that I've created for myself that is a secured by real assets, real estate. It's not subject to the stock market, market fluctuations, it's not being driven by someone else's investment strategy. You know, that's a real number. I mean, I would say, that's one of my metrics I want to set is to revisit that number every six months and try to grow that loan balance.
Jack: So, let's talk about that a little bit. You are also one of our mentors in our mentoring program and the other day at our live event you shared a little technique that you use to get people to pay you a down payment that is high enough to cover your costs. Can you elaborate on that a little bit just, but before you do it, just for everyone to understand, seller-financing really means installment sale, it really means the same way you go to a…when you buy a house, you don't finance…you don't buy the house usually cash. If you buy a car, you don't usually pay the car cash. Most people what they do, is they put a down payment down and then they make monthly payments. Well, in this case…and then Honda finance finances the loan, Toyota finance finances the loan, or Bank of America finances your house loan. Well, in this case, it's the exact same thing, just the opposite. And instead of having Rich Strauss finance, it's Rich himself, right? Rich himself or his company basically allows a buyer, and we do the same thing, allows the buyer to…he sells a property for $20,000, allows the buyer to put a $4,000 down payment and then make the remaining $60,000 make that in monthly payments over the next 6 years, 7 years, 10 years, depending where you want the monthly payment to be at a certain interest rate and so on. So, having understood that you really become the bank. So, having said that Rich, you have a really cool strategy of how you get people to increase their down payment such that it covers your thing. So, tell us a little bit about that process if you don't mind.
Rich: Yeah. So, as I'm figuring out the seller-financing terms that I'm going to put in my ad, I structure the purchase price, the down payment, the term of the loan and interest rates so that I'm ideally fully cashed out in less than one year, okay? And then I always charge, the interest rate is a 12.9%, so it's 12.9%, and I want the down payment to be relatively low because a combination of the low down and the low monthly payment attracts a lot of buyers and then I can have talks with them where I offer them an opportunity to buy down that interest rate by making a larger upfront payment. So, what doesn't happen is we're not talking about price, I'm able to highlight the fact that I'm charging a high-interest rate, offer them an opportunity to buy that interest rate down by making a higher down, and then as I get more of my money upfront out of the deal, I'm able to be more flexible on the monthly payment so I can typically drop their monthly payment down by increasing the term of the loan. So, I keep them in the loan for, you know, we might start out at 60 months with $1,000 down, but if I can build up that down payment to $2,000, $3,000, $4,000 then I can take those terms out to 8, 10, 15 years and dramatically increase the net profit on the deal.
Jack: Because the net profit in that case, as you drag it out, comes from the interest that you charged, right? Over that time period?
Rich: Yes. But what happens is after you do enough of these you know, calculations, you start to see that what dramatically increases the profitability of the deal isn't so much the interest rate, it's the term of the loan, it's the length of the loan. So, I want to keep…and the longer I make the term of the loan, if they pay off the loan early, they haven't paid off much of the principle. If that makes sense.
Jack: Absolutely. So, and it provides, if you had a longer-term loan it provides you with stability for more time, cash flow stability for more time. So, this is an interesting concept that actually I think everyone should understand and that is the basic financials of financing. I mean how to finance something and we can talk about that just a little bit. Obviously, you understand it really well, but I would encourage everyone to get a financial calculator and play with it and put like something, there's like an app that I use that has been fine. I'm sure there's a million other ones out there, I need to put on my glasses to see what it's called, it's called MarkMoney, MarkMoney, it's called MarkMoney here. MarkMoney has different options for like car loan and all this kind of stuff. I don't think you can see it and if you're listening to it on iTunes, you can definitely not see it, but it's called MarkMoney version 2.2 is what I have, you can put a car loan, home loan, loan calculator, mortgage calculator, savings plan, withdrawal plan, compound interest, inflation calculator, all this kind of things are there and it's for free. And I would encourage you to play with that to really get an understanding of how interest rate and downpayment and length of term play with each other and work with each other.
And it's going to blow your mind once you understand that and it's going to actually help you operate differently when you go buy something in monthly payments, it's going to be…it's going to change your behavior and how you pay your credit cards. It's going to change your behavior and how you buy something on credit and so on. Because it's truly incredible like Albert Einstein called compound interest and interest overall, the sixth or seventh wonder of our…or eighth wonder of the world, whatever number it is that I don't right now recall, but bottom line is like if you take a loan at 12% and you have it, let's say $500 a month, the payment and it goes for 10 years, the first 2, 3 years almost of the $6,000 that they pay a year, because if they pay $500 a month, it's $6,000 a year, almost all is interest, almost all is interest. Now, if you increase this monthly payment and shorten it very quickly, the interest portion goes down. But if you stretch that thing to 15 years, it's almost like even if they now only pay you $400 a month off the $4,800 for probably the first six years, almost all is interest
Rich: Yeah.
Jack: So, if you stretch the loan, the amount of interest that you collect goes bigger and bigger and bigger and that's a really incredible kind of thing. Yes. You have your monthly payment is lower and you have to wait longer for the money overall, but you're making so much more because you're getting more interest. Rich, go ahead.
Rich: Yeah. And a couple of things there, Jack, I've tried to sell properties for cash for like 17K and then I've offered seller-financing with attractive terms and raised the price up to like, 25K and sold it in a week. So, I'm actually able to charge a premium on the property because I'm able to offer attractive terms and most importantly in land on day one, you're able to act like a bank and once you start seeing the power of being able to have conversations with buyers where, you know, thanks for banking with the Bank of Rich, I don't have a manager, it's me, I can work with you to figure out terms that work for you. And you see the power of stacking up these you know, seller-financing deals. You can start acting like a bank in day one, which is huge.
Jack: I mean, it took me a year right now, a year, year and a half to build $4,200 in monthly payments up, plus a bunch of cash deals. If you look at the truly the average American family with that income from passive income right now can pay for most of their lifestyle. Most rent or mortgage, a car payment, insurance payments, groceries, school supplies, I don't know, gas money, insurance money, I think I might've covered that already, does not add up to more than $3,000, $4,000 a month. And this is pretty much almost, is pretty much, I mean, yes, you have to pay taxes on it, but because you're a business owner now, you only pay taxes on the profit after subtracting your regular and necessary business expenses, which wasn't necessary for you to drive last weekend to Colorado.
Rich: Yes, it was.
Jack: Yes, because you're doing deals in Colorado. So, it's a tax write off to go travel to Colorado, he's also going to move there. So, it kind of a dual purpose, but because he also has properties, deals in Colorado, it was a ability to write off that trip that you otherwise would have just paid off your personal a month if you have a W2 income, right? And etc., etc., etc. So, at the end of the day, you don't pay the same outrageous tax rate that you pay as a W2 person, you pay much, much less taxes. Of the $4,200, a much higher percentage is actually left over. So, truly most people could pay that, now. But now back to your transition. So, what about that or this other piece, what about that conversation? How do you get somebody that is interested in a property at $1,000 to ultimately pay you $3,000 or $4,000?
Rich: On my buying side or selling side?
Jack: On the selling side.
Rich: My experience is buyers who need seller-financing, they need seller-financing and they look at the terms of the financing much, much more than the actual purchase price. And so I find myself almost never having conversations about, why is this property at $14,900 when other properties comparable are at $11,900, $12,900, they're much more interested in what's my down payment, what's my monthly payment? And then I drive…then I ask them how much do they have available to put down and then I'm able to drive that, you know, $1,000 up to maybe $2,500 or $3,000 down and drop the interest rate from 12.9% to 9.9%.
Jack: So, you're in essence making them aware of the impact of a high-interest rate such that they, you create within them a urge or a need to lower that interest rate. Is that your strategy?
Rich: I find an opportunity to apologetically point out my high-interest rate and then have a conversation of how much money do you have available to put down. And then I just kind of very quickly do some not very smart guy math inside my head and say, if this guy has an extra $2,000, I'll take $700 or one point off, like, for every $700 drop it down to 9.9% and then extend the term of the loan out so that it continues to meet his, you know, very affordable monthly payments.
Jack: And plus, and by the way, if you don't have that ability to do that in your head, the program has it, right? We have the clerk sheet, we have the land investment dominator software, which includes those kinds of calculations. You just plug it in there and it tells you, you change it right there on the fly and it'll save it and it'll calculate it for you. So you don't have to actually know the math for that, you just…
Rich: I don't know the math, I just make it up. And then [inaudible 00:29:38]
Jack: Right, right, right, but still the numbers at the end of the day need to be accurate.
Rich: Exactly. Yeah.
Jack: In order to be accurate, you got to have a proper formula in the background and we provide that to our students. So I'm sure you use that too. When I was referring to the app here, it's more like for people to just play with it, get familiar with the concept, get familiar with the impact of it. And if you obviously have our program, use the investment dominator software or use the, what we call the clerk sheet as part of the documents in the Land Profit Generator. Very good. Very cool. I like that. I mean, I really like this approach to get your money back within the year which is, I mean, think about it. You got 100% of your investment back within one year. I mean, that is better. And then afterwards, everything is profit. That is multiple times better than having the money in the bank at 1% or 0.50%. I just got a statement saying my, even though we have a substantial balance in the bank, well, not that much, but like more than perhaps what I used to have when I was a college student, right? We get like a 0.25% at the bank. I was like, "What? Really?" Anyway, and back in 2008, I probably got about zero. Great. So now Rich, now what are your, you're also very process-oriented, tell us how did the, it almost sounds like the teaching of the triathlon athletes and your way about structuring this, and your own…thrived on success. How many have you done?
Rich: I think 14 Ironmans.
Jack: Fourteen Ironmans. Whoa. I mean that just makes me dizzy just thinking about it.
Rich: They all get kind of blurry in the last few miles, so I'm not quite sure.
Jack: I'm pretty sure they are. And so if you do 14 of them and preparing for them and teaching others, how has that helped you or has it helped you translate that into success in the land flipping or in real estate here?
Rich: Well, not only did I train and race them, but I also built it as a business. So, I was very aware of any business, but especially land, having steps, you know, and each step includes a number of processes and I knew the importance of building this as a business, not as a job. And so I've been very aware of if I find myself doing a task over and over again, that is a task that I can eventually delegate. So, I'm very intentional about documenting that process with an idea towards eventually delegating that process at some point. But then what I'm…So, it's a system of processes. But really the big switch for me was I made the realization that the combination of a date and an objective goal that I had been very comfortable working with that didn't exist organically in the real estate space unless I imposed that on myself and then I could then use that as a method to plan and impose weekly, daily, hourly disciplines…
Jack: Almost reverse engineer…
Rich: On what I was doing every day. And…
Jack: Almost reverse engineer, right?
Rich: Exactly.
Jack: So, if y'all want X deals by the end of the year, and right now it's February, I need to get, if I wanted to have a deal a month in the next 10 months, I need to send out X many letters. I need to make X many offers. I need to do that many followups. And with that, out of that, you then broke it into a weekly and almost daily plan, right?
Rich: Yeah. And across all this, what I found is the most important process, the one that you have to be most aware of, is the process of you getting things done every day and being very intentional and being very focused. Everything else is just, you know, unicorns and fairies and gee, I'd really like to make this happen, but you have to be a student of the game of making yourself do what you don't necessarily want to do every single day.
Jack: Right. That's the thing. It's motivation always doesn't last, but then that's where discipline kicks in. And obviously, you have a big background from that because the Marine Corps obviously instilled discipline in you, and you probably came already with that as part of your hardwiring. But what do you say to somebody who has struggles with discipline, struggles with things? If it's, I mean, it's sometimes perhaps hard to relate to you, but if somebody struggles with these things and it's more like a mental, a mindset kind of thing. If somebody really has a good mindset they…what do you recommend them doing in order to get into a mindset that allows them to be disciplined? Because it doesn't happen overnight, from my understanding.
Rich: Yeah. Yeah. There's a number of different tools. You know, it's an operating system. Not everyone has been born with this. I certainly wasn't. There are a number of books and podcasts and iPhone apps and you really just have to surround yourself with this kind of thinking, you know, and so my go-tos are, "Rich Dad Poor Dad," obviously, "The Compound Effect," which talks about the compound benefits of making small positive verses by small negative choices every day, "The 12 Week Year." And if we're going to try, you know, trade iPhone apps, I've been using one called, Productive, it's a very good tool for creating the daily habits that you want to make yourself be accountable for and setting yourself up so that you're basically doing what your phone tells you to do all day long.
Jack: Wonderful. And I think the key is, like Tony Robbins talked about and everyone else talks about, that you gotta a habit takes about 28 days to be created. So, you got to really clear your schedule for a month and a half, like just clear it in a way that you get your family's help, but get your support, get somebody's help whatever you can, and tell everyone, don't bug me for the next six, eight weeks or so because I need to get into that habit. Then once you're into that habit, then it starts getting easier. It's hard doing things in today's environment with all the distractions and all the invitations with all the stuff that's constantly happening. And everyone tries to get you to eat sugar and I eat this and eat that then and go to this party and go to that event, it's hard to stay focused, but you can't self-sabotage yourself. You've got to create an environment, is the way I tell that, that is actually supportive of yourself.
Right, we just talked about it, I just talked before we said that just…Michelle and I are just looking to find a service or a company or a person that can actually cook proper meals for us that will support our health and lifestyle because I would say like we're doing good in breakfast, we're doing decent in lunch and we always sabotage ourselves at dinner, right? Because we're just like tired from the day, nobody wants to cook so we eat some garbage, right? And because of that we never progress in the health category. I'm not out of shape, I'm not unhealthy, but I'm not where I want to be. So, we got to create the environment for that by either pre-cooking for several days by having boxes thing, by having someone deliver it. And the same is true in real estate success and any success. You got to create this environment around you to be able to do this if you're not born like that or if you've not gone to the Marine Corp where they instilled it for you over many years.
Rich: Absolutely. And my point is, there are systems, there are resources out there that can help you, give you tools, give you a different perspective on how you go about your day-to-day. But really what it comes down, Jack, is you have to have a big enough why, you have to have a why that's so big that every time, you know, I sit down and I don't want to do, you know, I don't want to call sellers or I don't want to do something, I look up there and I see what my why is and my desire for that is greater than the thing that I don't want to do right now, and…
Jack: Absolutely. And even that, you got to surround yourself with it. I have it up above me. Here you have it up above you. We have it around us so that in the moments of doubt and almost self-sabotage, you have those things in front of you to get you through there.
Rich: Exactly.
Jack: All right. Very good Rich. With that, if you…Obviously, you're a mentor in our organization. Let me just ask you one last question and that is, what do you see the difference between those who are right away getting to success and those that you have to kind of like work with a little bit more in order to get to success in our mentorship base?
Rich: Yeah, so, so…
Jack: What is sort of the common kind of characteristic between the two of them in terms of who they are, what they do or what you just see in their actions?
Rich: They have identified for themselves a very inspirational why, you know, a why that brings, that chokes them up and makes them, you know, tear up a little bit. To that why they have attached, you know, a financial metric that helps them meet that why, they've set a date to meeting that financial metric. And then they are committed to moving at the speed of instruction. Learn about step one, do step one, learn about step two, do step two. Don't hesitate in doing step two because you have, you don't fully understand step eight and what you're not doing is you don't spend your day making up stories and trying to fix problems that you haven't even faced yet. So, that's how I started in the business and I try to keep them focused on, this might be an academic conversation about the thing that you haven't faced yet, but it's more important that we focus on what do you need to do today? What do you need to do? Let's answer questions that are related to what you're doing right now.
Jack: Exactly. Wonderful. Well, Great. That was, I think, a great ending answer here to our podcast. Again, if you are watching this on YouTube, we're going to put links below here, both to our Facebook group where Rich hangs out, where he hangs out on a daily, almost daily basis answering questions, as well as I answer your question, as well as our team answer questions. Facebook group is called Forever… No, actually, sorry. It's called Forever Cash right now, but we're just renaming it right now to Land Profit Generator Real Estate Group. We're renaming everything to Land Profit Generator because the Land Profit Generator is the machine is the system that has taken all these hundreds and thousands of people into success right now in the real estate space. So, Land Profit Generator Real Estate Group is when you…when this was being published, it's already renamed and also links to landprofitgenerator.com and those things.
Now, the last thing I would like to ask you listening to this or watching this, please go to…go below here like it, thumbs up, share it with other people. And if you're listening to it on iTunes, go to iTunes and leave us a five-star review, but not just press the five-star button, but also please write a quick review about it. The more reviews we have, the more we get, the word gets spread. We're on this mission to create 1,000 millionaires. We're on this mission to rescue people from their jobs that they don't like, from the financial situations that they're in, that need improvement. And we want to help you, so, we need to get the word out. With that, thank you very much, Rich.
Rich: Thanks, Jack.
Jack: And thank you very much, everyone, for watching and for listening. Thank you. See you soon in the next week in the next episode. Thanks. Bye-Bye.
Enjoy this episode? Then make sure you like, subscribe and post your comments and questions below the video. We're looking forward to hearing from you.
What are you thinking?
First off, we really love feedback, so please click here to give us a quick review in iTunes! Got any thoughts on this episode? We'd love to hear 'em too. Talk to us in the comments below.
Enjoy this podcast? Share the love!