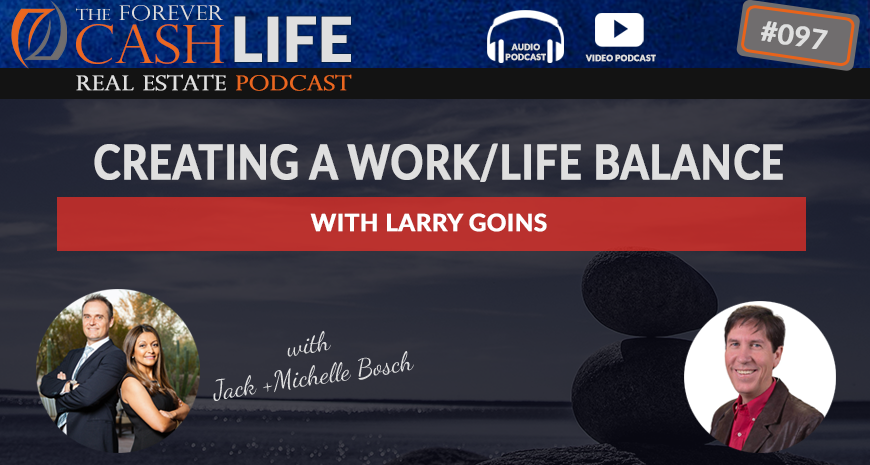 Larry Goins has been investing in real estate for over 30 years. Previously, Larry served as president of the Metrolina Real Estate Investors Association in Charlotte NC, a not-for-profit organization that has over 350 members and is the local chapter of the National Real Estate Investors Association.
Larry is an active real estate investor and travels throughout the United States speaking and training audiences at conventions, expos, and Real Estate Investment Associations on his strategies for buying and selling houses.
In this episode, Jack Bosch chats to Larry about the lessons he has learned in terms of his real estate investment career. You'll find out how Larry has optimized various aspects of his business in order to maximize profits, while working in a way that works with his personality. You'll learn about some amazing tools and insights into running a real estate investment business that produces amazing returns!
Listen and enjoy:
What's inside:
Learn how Larry Goins has optimized his acquisition process
Find out about some amazing tools that can make your business more efficient
Discover incredible insights from someone who has made real estate his career
Learn about the mindset you should have when approaching entrepreneurship
Mentioned in this episode
Tweetables:
Transcription:
Jack: All right. Hello everyone. This is Jack Bosch speaking, and it's another episode of the "Forever Cash Life Real Estate" podcast. Today my guest is Larry Goins. Larry and I go back for many, many years. He is a legend in the industry. He has done a lot of different things. What we're gonna talk about today is how to balance work and private life. How to go kind of through a transition a little bit. How to flip 10 or 20 properties a month, and how to do this all in a way that it's actually still fun. All right? So if you're looking forward to that, stay tuned.
Announcer: Welcome to the "Forever Cash Life Real Estate Investing" podcast, with your hosts, Jack and Michelle Bosch. Together, let's uncover the secrets to building true wealth through real estate and living a purpose-driven life.
Jack: Okay. This is Jack Bosch again, and it's our newest episode of the "Forever Cash Real Estate Life" podcast. So we're gonna talk about this… Again, it's "Forever Cash Life Real Estate" podcast. Why is it called Forever Cash Life? Because it's about living your life with cash flow, but also, the focus should be your life not just your business. So our guest today is Larry Goins. Larry Goins, we've been friends for about, I think that we met 10 years ago, right? Ten years ago when I just started teaching this industry, just started, just teaching in this industry, started teaching my land flipping course, Larry was already a legend in the industry. And I met him one time when I was in the bus with him. And I was like, "Oh my God, there is Larry Goins sitting right there." And so I said hello, and ever since, we've been good friends and have even joined…are together in a Mastermind. We just saw each other last month. Actually, earlier this month. No, last month. So Larry, how the heck are you doing?
Larry: Man, I am doing great, Jack. How you been?
Jack: I'm being…doing great. I love… Before, we did introduction, we were like, "Living the dream and making money." Wasn't that something like I said?
Larry: Yeah, that's exactly…
Jack: Having fun and…
Larry: Having fun and making money.
Jack: Having fun and making money. You know, that is actually a very deep statement. Even though, as casual it comes across. Isn't that what everyone's striving for? Having fun and making money?
Larry: You know, and that's so true because so many people, you know, they're making good money, but they're not doing what they want to do, right? I mean, there's ways that you and I both, Jack, could maximize our efforts, maximize what we're doing, but you've gotta enjoy what you're doing. If you don't enjoy it, you won't keep it up.
Jack: Absolutely. Absolutely. Like, when I go speak out there now…when they invite me to speak, I say no to most speaking invitations. And I speak like three or four times a year and usually, only in locations that it's actually fun to take the family with me. So the other day I spoke in Orlando, family came along. They went to Universal Studios while I spoke, right? And if we had a little more time, or if we would have gotten a day out early, we would have gone together to Universal. But it was fine. I spent my time in the hotel room just preparing for the presentation while they were at Universal. And then the next day, we had a great time together and flew back home. So, that's, at the end of the day, it's what it's all about. Now, tell the audience a little bit about you, Larry, where you live. You live in North Carolina, right?
Larry: Well, actually, I'm in South Carolina. It's a little, small town called Lake Wylie, South Carolina. It's a kind of small…
Jack: I always get them confused.
Larry: Yeah, no, it's okay. I'm actually right across the state line from Charlotte, North Carolina. But I tell people Lake Wylie is the kind of small town that people move to intentionally. They're not trying to get out of small town, right? But yeah, I've been investing in real estate over 30 years now, Jack, believe it or not. I bought my very first house in 1986. Right?
Jack: Wow.
Larry: Yeah, about 32, 33 years ago. So I've been doing this for a long time. And I've done just about everything in real estate, from wholesale and retail, and lease options, Subic too, short sales. I've used private money. I've done fix and flips. I've done all kind of stuff. I've owned triple net lease properties. I've owned two mobile home parks. My first and last, it was the same one.
Jack: That is actually interesting because we just interviewed somebody on mobile home parks and how she owns over 20 of them now and how she absolutely loves it. But we're not gonna get into that this time. But it goes to show, everyone has a different preference. There are so many ways to do real estate. But go ahead.
Larry: You know, actually, there are. I mean, like for example, I've done short sales, but I hate short sales, right? I always say a short sale is a long buy. You can make a lot of money with short sales, but if you don't enjoy it, you won't keep doing it. And right now, we do two different models. We do seller financing, where it's kinda like your lot flipper deals. We buy cheap houses like that. I call that model "filthy riches." We buy houses for 5,000, 10,000, 15,000, and turn around and sell them for three to six times what we paid for them with owner financing. But right now, because the market is up here, what we're doing primarily, is what I call "Real estate day trading," which is a fancy word for wholeselling.
Jack: All right. So wholeselling. So these are the two areas of your focus in the housing area. You've done something with land?
Larry: Oh absolutely. In fact, I have four land deals going right now. I just sold one of them this morning. I bought two lots for $500 a piece and I sold 'em… I had 'em for sale for $19,900 with owner financing. And one guy came along and said, "I've already looked." He went looked at it, he came back. And I said, "Well, how much can you put down?" He said, "10,000 to 15,000." I said, "Well, if you can put 15 down, they'll be no payments. You can own it in full."
Jack: There we go. That's awesome. So $500 to $15,000. Okay. Well, we're not gonna talk about land right now. We're gonna talk really more about a little bit more of your journey. So, you do how many deals a month right now?
Larry: Somewhere probably between 10 and 20 deals a month.
Jack: Okay. How does your team look like in order to be able to do that?
Larry: Sure, sure. We're actually getting ready to add to our team. But right now… By the way, we buy and sell all of our properties over the phone, right? We don't go meet the seller at the house, we don't meet the buyer. We do everything right here over the phone, right? So, what we do is, we send out about 37,500 direct mail pieces a month, along with a couple of other marketing things, but primarily direct mail. Our phone rings about 200 to 300 times a week. And I have a lead manager. All the leads go directly into our Podio CRM, and she doles it out to our acquisition people. They get them on the phone. If they don't answer it live, they get them back on the phone, and they qualify the seller and the property. And then, depending on who it is on my team, if they haven't been with us very long, they turn it over to me, and I close them over the phone. That's kinda my unique ability or genius zone is closing deals over the phone. So usually within 10 to 15 minutes, I'll have them on offer and I'll close them right there over the phone. Not all of 'em. I don't get 'em all. And sometimes they gotta think about it or talk it over or pray about it, or whatever it is, right? So I close them over the phone. And then, literally, within two hours, I'll have a mobile notary at their house, knocking on the door, to get the one-page contract signed. As soon as we get that contract signed, then what we do is we go out and take pictures of the house, start marketing it, find a buyer. So my team is the lead manager, two acquisition people, and one salesperson to sell the house.
Jack: All right. But it does require quite a bit of marketing. Thirty-seven thousand mail pieces a month is a little bit of an investment.
Larry: Yeah. But one deal covers that.
Jack: That's right. Exactly right. So that's really beautiful. So great. So you also have an educational business where you teach people, particularly, the Filthy Riches method. And you've recently gone through a transition in your life in terms of, you used to be on the road, speaking all the time, doing lots of events and things like that, and you changed that model, and instead added more real estate deals, again, because if you're traveling all the time, you can't close deals on the phone.
Larry: That's so true. You know, for many, many years, Jack, as you know, we would see each other out on the road, you know, at different events, conventions, expos, that sort of thing. I've been doing that for probably, you know, 10 or 15 years now. And I just made the decision in the fall of last year that I'm done traveling. I'll speak at a few large conventions and expos, but for the most part, I'm not going to any REIA groups anymore, no smaller events. You know, I'll speak at a few large ones, but for the most part, I'm off the road. I love being in the office. I love the camaraderie. We got a bell that rings every time somebody get's a property under contract. I mean, I like the whole camaraderie of it, so I like staying in the office. And I just decided I wasn't gonna do it anymore. I didn't wanna stay away from my family anymore. So, I made that decision. And my last official speaking gig at a REIA group was at Metrolina REIA, which is the same group that I used to be a president of in 2003 and 2004, and it was actually my very first REIA group I ever spoke at. So it was a great ending to a great career of traveling around and speaking and teaching. But I still write books, I still have books. You know, "Getting Started In Real Estate Day Trading." You can buy it wherever books are sold, and then a Filthy Riches course. I have a Real Estate Day Trading Mastery Course and I also do coaching and mentoring and stuff, very much like what you do. So I still do some of that, just not on near as big of a scale as I used to. I just wanna keep it small and focused[inaudible 00:09:58]
Jack: And what made you change, make the position change or the change to get off the road and not to travel anymore that much?
Larry: Well, I really… I loved the travel to a certain extent, I guess, but I was away from my family quite a bit. I would speak two, three, four, five, six times a month. I remember a few years ago, I mean, I spoke like 15 times in 13 days, right? So, I spoke a lot, sometimes twice a day. But I just decided I didn't wanna be away from my family anymore. I wanted to be able to go home at a decent hour. I got tired of looking at airplanes, Ubers, and hotels.
Jack: And that makes sense. And exactly the same kind of thing is kind of thing here. So we just… I never really got into the speaking thing much. I mean, we came across each other often, but I usually didn't…never spoke more than like five, six times a year. But, if you add to that, you're a part of additional groups and seminars and this, and you have your own events and stuff. I found myself being traveling for like…every other week, being gone somewhere. And so I cut down on those things. I still go to seminars for my own education, I still belong to Masterminds, but on the speaking side of things, it's just cut down because I just… I mean, I have an 11-year-old daughter and just I don't wanna spend…lose out time with her. And a lot of these things are on the weekends, and so I don't wanna go travel. Now, I do go, and I take 'em with me. I do go if something that I newly wanna learn, right? When we started four or five years ago, when we started learning about multi-family investment, I went to places, I went to things. I did the travel because it was something I needed to learn, right? But other than that, there's many different ways nowadays to spread the word about our land flipping program that doesn't require traveling anymore.
Larry: That's exactly right. And you know, jack? You and I are the same way, in the sense that we not only teach this stuff, but we know if there's something we wanna learn, like you started recently, not too long ago, getting into multi-family, you paid the money to go to events and learn from other people that were experts in the field. So you and I are the same way. I mean, I attend events, you and I are in Masterminds together. I'm in a couple of other Masterminds as well, and I've gone to some of the same multi-family training you've gone to.
Jack: Right. So with that said, let's dig a little bit into your team structure a little bit more and into like… So when the phone rings, how does somebody know whether a deal is a deal?
Larry: Okay. That's a really good question. So when the phone rings, they try to answer it live, right? If they don't, it goes to voicemail. I've tried a live answering service, I didn't like that. They were really… We, I was really losing more leads than just having it go to voicemail, right? But when the phone rings, if they can, they pick up the phone, and they qualify the seller. I have about a six-page script. It's a set script, right? It's a set script, so they're basically gonna qualify them to find out if they have interest in selling right now. I mean, because some people are like, "Take me off your list. I'm never gonna sell my house." Some people are like, you know, "Well, I'm just curious. I wanna see what you offer me, but I'm not ready to sell." Right? In fact, one of the questions we ask is "What's more important to you? A quick cash sale as is or getting the most amount you can for your property even if you have to fix it up and wait six months to a year?" Right? That's a really good question by the way. That's a great question to ask, right? And we even tell them over the phone, "Look, here's what we're gonna do. We're gonna make you an all-cash as-is offer, and we're paying all the closing cost, and we're gonna do that over the phone. And in order to do that, we need to get a little bit of information on your property. And nobody knows more about the property than you do. So let's start with the interior. Tell me about the interior of the property on a scale of 1 to 10, with 10 being absolutely perfect, what would you rate your house?" And then we go through and ask, "Well, when was the last time the kitchen was updated? When's the last time the bathroom was updated? When's the last time it was painted? How old is the roof? How old is the HVAC?" All that stuff, right? Then we do the same thing with the exterior, right? And then we talk about their motivation. We talk about their motivation. "So, what's going on in your life that has you interested in selling your property right now?" So we wanna find out the reason why. Not just that they wanna sell, but what's the reason. "Well, I gotta put my kids through college." Or "I've moved three states away and I'm never coming back to the house." Or "This is my mom's house. I recently inherited it and I just need to sell it." You know, if they say they recently inherited it, the first thing that comes to my mind is they have nothing in it, right? They've got nothing in it.
Jack: Like, it's free money to them. Yeah.
Larry: Exactly. Anything they get out of it is profit, right?
Jack: Right. Exactly.
Larry: So we go through that whole script. And then, if I'm the one that's closing the deal for them, they say, "Well, let me get the owner of the company on the phone and see if he can get you a quick cash offer right now before we get off the phone." If not, they just set up a task in our CRM, and then I pick up the phone and call 'em, and I make 'em an offer over the phone.
Jack: Wonderful. Great. So then you send the mobile notary out there. Now, price points. There's $15,000, $25,000 houses. Where in the world are houses like that?
Larry: Well, you know, Jack, we've actually bought houses in 12 different states. But our focus with direct mail, on about seven different counties in the Carolina's, right? But I don't buy… I'm in the Charlotte MSA, Metropolitan Statistical Area. I don't buy in Charlotte. In fact, it's been over five years since I bought a house in Charlotte. I buy one or two counties out from Charlotte. I wanna stay in the small town, small town USA. And we do buy a lot of properties for $10,000, $20,000, $30,000, $40,000. In fact, the majority of our properties, we sell for $49,900 or less. Now, sometimes we'll have properties that we're selling for $69,900, $79,900, $129,900, but most of 'em, we're buying for $10,000, $20,000, $30,000, $40,000, and we're selling 'em for $49,900 or less.
Jack: Right. Wonderful. So this is basically more or less rural America. Some of my listeners might be like living in the San Francisco Bay Area. They're like, "$10,000? I mean, I pay that in rent every month." Right? So, is like what they might be saying. And so, "Where do I find a house for that kind of money?" And it's…the thing is, the way you do this Larry, is you actually don't go see the property, right?
Larry: Correct.
Jack: So you have a service go out to take pictures of the house or you have somebody drive up there?
Larry: Yeah. Well, what you can do is if the property is more than like an hour, hour and a half away from you, what you do is you find the local boots-on-the-ground person. Okay? If you're gonna be focused on one market, you wanna find the boots-on-the-ground person. And that person can go get contracts signed, get price reductions contracts signed. They can… When you renegotiate a deal, which we do a lot of. They also get pictures of the property, they can put out signs, they could show the property, put lockboxes on the door. But if you just need somebody to go out and take pictures, there's two services that I like. One is called wegolook.com. I know you've heard of that, wegolook.com. But there's another one that's industry-specific, and they only do this for real estate. And it's called…
Jack: I'm making a mess here.
Larry: No, that's okay. It's called bpophotoflow.com. Bpophotoflow.com. They're what's called a field service rep for asset managers. And when a bank forecloses on a property, they hire an asset manager to dispose off that property. The asset manager winterizes it, changes the locks and hires a local realtor, but the person that goes out and changes the locks and does all that, are field service reps, right? And one of those such field service reps is a company called BPO Photo Flow. So anybody can hire them, and they'll go out… And the cool thing is if you're buying a bank-owned property, they already have all the keys to all the bank-owned properties, right? Because they only have certain codes, which is really cool. So for about 35 or 40 bucks, they'll go out to the house and take pictures inside and out.
Jack: Oh wow. That's very cheap. That's a great resource. I knew about WeGoLook. We use that in the land area a lot, but I had not heard about bpophotoflow.com. Very, very nice. So, Larry, you have been in the industry for 30 years you said. So what do you see is different today than in the past, if anything?
Larry: I would say three different things, okay? Number one is technology. Technology is totally different. I mean, everybody and their brother is selling a new…some kind of a system or software or something like that. But man, I gotta tell you, all you really need is a prospect and a telephone to close a deal. That's all you really need, right? So we don't use… I mean, there's ways you can send automated offers and that stuff, and I used to even sell some of that stuff. Right? But all you really need is a seller or a prospect and a telephone. The second thing I've seen is competition, right? Competition in real estate. That's another reason that I've moved outside of the MSA into the smaller towns. When I was mailing in Charlotte, in the Charlotte MSA, man, I would get calls from sellers, and they would say, "Yeah, I've got four more people that sent me a postcard this week." Right? I'm mailing to the small towns, I don't get any of that. In fact, a lot of people are like, "What is this postcard I've just got in the mail? What is this about?" Right? So there's no competition. And the third thing is there's a lot more people doing what you and I do Jack, which is teach people how to do real estate, which has helped create that competition, and more people in the market.
Jack: Absolutely. That's a great point. So this goes to show also that… Well, actually, again, it's kind of funny. We always list, when we started teaching the land flipping, we came across each other. And you were like, "Well, I'm doing the same thing with houses, with the filthy houses that you're doing in the land flipping." When we started, we continued with the land flipping and now… But the locations is also even very similar. We go a couple of counties outside of the big cities because that's where the deals are and that's where there's not much competition at all. I mean, there's no competition really…
Larry: Right.
Jack: …you know, where people exactly reply that way. So, it's a beautiful model and it's a beautiful piece. And the world has certainly changed, that is for sure. Technology has made a huge impact on the business. But at the same time, I love that you say that all you need is a telephone and you can do a deal. Having said that, that all goes to illustrate, that's why I love having guests that do something that is different than we do, because we designed our business, for example, to not be on the phone. So in that regard Larry, we're so similar in many of the areas. In that regard, we're completely day and night different. I rather be not on the phone all day long. If I don't have to do a single phone call in a day, it was a good day.
Larry: Right.
Jack: So, we designed our business to be completely off the phone. And now we have students that come and say like, "Can I do this on the phone?" And it's like, "Well, yeah, you can, but I can't really give you guidance on that part because I just designed it to not be on the phone." And you designed your business to be on the phone, which is perfectly fine because, you know, that's your genius zone. I know my genius zone is not being on the phone.
Larry: Right.
Jack: My genius zone is more than anything, just figuring out how to make a deal work and how to get something out of a deal, and how to find areas and be really kind of creative and also contrarian. So I always do like, "Oh, everyone is moving that way. What's on the opposite direction," and so on. So I spend my time thinking about these things. But you're on the phone, and that is totally fine. That is an absolute wonderful way to do business, if, you know yourself, and you know that what you like is being on the phone.
Larry: Right. Absolutely. I think everybody is different. Everybody is different, and they have their own genius zone. And, you know, I mean, the way you teach is phenomenal. I mean, that they go out and they send out their offers. I got an offer in the mail just the other day from a lot that I own, right? And it was probably one of your students, right?
Jack: It actually was. Yes, it actually was. Yes. Very nice. Very nice. So what do you do as a hobby then, Larry, when you don't sell or buy houses on the phone?
Larry: I've got several things that I do. I've got a Harley. I like to ride. And I don't ride near as much as I should, but, because I don't like the cold weather, so it's gotta warm up some for me. But I love to ride the bike. I like to go to shoot the guns. In fact, I just spent a whole week at Front Sight in Pahrump, Nevada. It's a Firearms Training Institute. About 30 of us went. It was a great time. In a Mastermind that I'm in, a lot of us went. We had a great time. And I live on the lake, so we go out on the lake and boat and things like that. We have a boat and a wave runner and stuff like that. So, we just enjoy spending time.
Jack: That is wonderful. Great. Because at the end of the day, making money is not all of it. Well, you wanna make the money in order to actually do something with the money, right? The money is just dead presidents and little green sheets of paper, right? Or little green sheets of paper with dead presidents on them. What you do it for and how you spend your time is so much more important. So I'm super glad and excited to hear that you kind of recentered into what truly is your genius zone, as we call it too, a genius zone, that is doing deals on the phone, and minimize travel, minimize the distractions. And just as a result, what do you think? How much more fun are you having now than you had a few years ago?
Larry: You know, before, I never would have been able to take off for a week and go somewhere like Front Sight and have fun, and where you don't even have internet. It's on the middle of the desert, right? But it was a lot of fun. I really enjoyed it. And, you know, you just have a whole different perspective on life. You know, when you've got that… You know, like you talk about forever cash. When you got that forever cash coming, in addition to a business that you can step away from for a week or whatever and it'll keep going, you know, that's what it's about right there, and being able to spend the time. You know, Jack, I've always said, when you talk about money, it's just a little green piece of paper with dead presidents on it. You know, I've always said this, for years and years and years, "Money is just a tool that gives you the freedom to spend your time the way you want to." All money is is a tool. It's just a tool that gives you the freedom to spend your time the way you want to.
Jack: And there's people now, they say, "Well, I don't need money to spend the time the way I wanna do it." But I challenge that thinking. So I agree 100% with you. I challenge the thinking that you don't need money because you can do certain things without money, but you can't do the things that you have in your dreams. You can't help your church the way you wanna help. You can't help a charitable foundation in a way you wanna help. Michelle and I, we help a school for the poor in Honduras. They've built multiple buildings with our donation that we gave 'em. There's a bilingual kindergarten because we were able to make money and donate that money, right? And at the same time, we love the luxury things too. We just booked ourselves for a two-and-a half-week trip to Europe, where we're gonna spend a week with my parents, and then we're gonna go almost to India, to the Maldives, spend a week in a five-and-a-half star resort, in an overwater water villa, on a little atoll which is like, we can walk around to 10 minutes, with like eight restaurants on it. And it's just like, you sit in your…you get out of bed and you just literally jump into the water because you're over the water. And including like, little seaplane, and we're flying business class, and we're doing all these kind of stuff because we freaking deserve it.
Larry: Right.
Jack: I don't have to apologize to anyone because we do this because we work our butts off in order to be able to have these experiences. So we help, we enjoy. And without money, you couldn't do those things. And that's how we love to spend our money on travel, right? So we travel a lot. We travel about three months of the year. And we just love spending, not a lot. I mean, we always look for a deal, of course, right? So some of that, we fly with airline miles and stuff like that so we don't have to spend dollars on it, but other stuff, we just pay for because that's why we work. We enjoy what we do, we love changing people's life, we love doing land deals, we love apartment deals, but we also love traveling. So we take extensive pieces of time off. And could I take less time off and make more money? Yeah. But what's the point? Right? The point is, we're making this in order to be traveling, in order do those things, and in order to spend the afternoon with our daughter after she comes from home. And I'm glad you're doing the same thing exactly because, as I said, it's only a tool for you to spend the time where you want, with whom you want and when you want, right? I agree with you.
Larry: That's absolutely…
Jack: Larry, go ahead.
Larry: No, I was just gonna say that's absolutely right. I couldn't have said it better myself. It's awesome. And you know what? You're able to take those trips and travel three months out of the year now because you paid your dues, right? A lot of people want something for nothing. A lot of people think, "All I gotta do is buy this course and I'm gonna be a millionaire, or read this book and I'm gonna be a millionaire." That's not the way it happens. It's called short term pain for long term gain. You've gotta go through the short time pain to get to the long term gain.
Jack: Somebody we, a lady, an author, Elizabeth Gilbert, said…wrote in the book that "Anything you wanna do comes with a shit sandwich. You just gotta decide if you're willing to eat that shit sandwich in order to get through basically to the other side."
Larry: Right.
Jack: That's true. You gotta basically, but you should be choosing which one you eat and which one of those you take on because some come with more work than with others. So with that, that's actually perfect guidance into the last question I wanna ask you. And that is like, if somebody is listening to this, doesn't know where to start in real estate because there's a million different ways, where in the world do you recommend them starting?
Larry: Wow. I think the first thing to do is start with your own life personally, okay? Number one, how much time do you have to put into real estate? How much money do you have to start with? How is your credit? Right? What's your current real estate experience? Right? How many hours are you gonna be working doing this? Do you want real estate as a business or real estate as an investment? Right? Because what we do, buy, sell, buy, sell, buy, sell, buy, sell, that's a business, right? And Jack, you work with a lot of passive investors, that all they wanna do is write a check and get a passive income, right?
Jack: Right.
Larry: Your multi-family deals, apartment deals and that sort of thing. And that's great, but that's not a business, right? You're gonna have to have a lot of money to live off of that investment, right? You gotta let that grow. But if you wanna get into real estate as a business, you've gotta have the education. You gotta latch on to somebody, right? You've gotta latch on to somebody like Jack or myself, that has been there, done that, and is still in the trenches doing it and can teach you what you wanna know, right?
Jack: Right.
Larry: Because you can't just watch a couple of podcasts… I mean, Jack your podcast is phenomenal, your wife's is phenomenal, I've got a couple of podcasts as well. But you can't get all the information you need to make a ton of money and be successful off of three podcasts. You and I both know that, right?
Jack: Absolutely. All right, Larry. So I 100% agree with you. You gotta pay your dues, you gotta do it. It's a growth. Like, when we hit our first milestone, our first big goal financially, it actually threw us for a loop because we hit that goal, then we thought once we hit that goal, we're gonna be happy. No. Happiness is actually something that comes along the way, that comes through the process of growth. So your goal is always like, make it. Of course, the first deal is very, very important, and then deal after deal, after deal, always they're there. They never get old. The excitement of a new deal never gets old. But in terms of a goal, make your goal mastery instead of $5 million or $1 million or something. Because once you reach that, then you're like, "What next?" But mastery is a never-ending goal. Mastery allows you to grow for the rest of your life. And when you grow, you're in happy mode because growth is actually where people are fulfilled, where they are excited, where they are learning more. So continue learning. And if you are a beginner, as I said, latch on to somebody, like Larry and I, that teaches already, and select an area that you know fits your personal place in life where you are right now. So with that, thank you very much. Larry, one last question, where can people hear or find out more about you?
Larry: They could go to larrygoins.com. Larry, G-O-I-N-S.com. And we've got a lot of free education, free training there. And if they wanna get a copy of one of my books, they can simply call 877-Larry-Go, then we'll send them an investor kit and get a free copy of the book.
Jack: All right. Wonderful. So with that, thank you very much. We've talked about the importance of balance. We talked about house flipping, we talked about direct marketing. We talked about a business process of how he works, of Larry works with getting to the sale, right? How this is different in every business. How you wanna look at these business processes and see which one matches your own desire. Larry designs his on it to be on the phone, we're designed to be not on the phone. Everyone's personality is different. So you can tweak these things and that's kind of, it's an exciting kind of takeaway from this call. So, thank you very much, Larry, for being with us, here with me today. And for everyone, if you're watching this on YouTube, give us the thumbs up. Leave your comments below. We love to your comments. We love answering those. And also if you're listening to this on iTunes or on the Android podcast apps, make sure you go over and leave us a five-star review with a comment on there. Those comments and reviews, they allow us to actually reach more people because of iTunes, that's the way they actually look at and then see whether or not somebody's podcast is desirable. So make sure you give us a five-star review and a text underneath there so we can reach more people and change more people's lives. So with that, thank you very much.
Larry: Thanks a lot. Bye-bye.
Jack: Thanks, Larry. Thank you. Bye-bye.
Announcer: Enjoyed this episode? Then make sure you like, subscribe and post your comments and questions below the video. We're looking forward to hearing from you.
What are you thinking?
First off, we really love feedback, so please click here to give us a quick review in iTunes! Got any thoughts on this episode? We'd love to hear 'em too. Talk to us in the comments below.
Enjoy this podcast? Share the love!