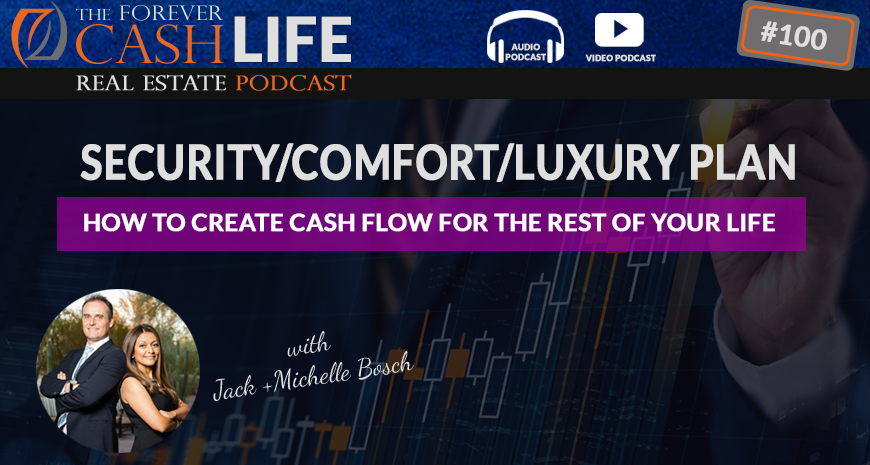 In this episode, Jack Bosch breaks down the security/comfort/luxury plan – a step-by-step guide towards securing your future while thinking about your finances in a truly holistic way. You'll discover how to prioritize your spending in order to create a stable source of income so that you can then focus on pushing yourself to the next level. Find out exactly how much you need to spend and how many investments you need to make in order to fund the lifestyle of your dreams!
Listen and enjoy:
What's inside:
Find out how to prioritize your spending
Understand how to fund the lifestyle of your dreams
Discover how Jack and Michelle Bosch moved from Security all the way to Luxury when it comes to their finances
Learn how to produce Forever Cash
Mentioned in this episode
Tweetables:
Transcription:
Jack: Hello, Jack Bosch, here again, and welcome to another episode of the "Forever Cash Real Estate" Podcast, where we share with you our proven land strategies but also creative ways to invest in real estate. And today's guest, today we are going to talk about how to raise private money with the expert, one of the experts in raising Private Money, Mr. Jay Conner. But we've got, before we get started, as always, let's do our quick intro here.
Jack: Hello, welcome to the "Forever Cash Life Real Estate Life Podcast," where we talk about how you can create cash flow for your life. Now today I'm going to share with you a strategy that will help you, if implemented, to literally hit certain milestones on your path to retirement through cash flow. It's a very, very powerful concept that we call a security plan, comfort plan, and luxury plan. So stay tuned and we start the right now.
Man: Welcome to the "Forever Cash Life Real Estate Investing" Podcast, with your hosts, Jack, and Michelle Bosch. Together, let's uncover the secrets to building true wealth through real estate and living a purpose-driven life.
Jack: All right. So here's the thing. Michelle and I started our business in 2002, right? At the end of 2002, we got our first deal, our first land deal. Made $4,000 then we made $9,000 then we made, I don't know on and on and on and on made the first million dollars in 18 months. And then by October 2003, we both had quit our jobs. We went full-time. By January 2004, we hired our first people in there. By 2005, we started doing big land auctions making lots and lots of income, right? And creating seller financing deals, creating cash flow coming into our door from all kinds of sides, from all sides, and it was absolutely amazing. But then came 2008 and 2009. When 2008 and 2009 came, then we transitioned our business model to the online business model that you now know from the Land Profit Generator that everyone can replicate. We realized that some people were starting to pay off their loans, and we had to rebuild some of those loans. So we started looking at each other and saying, "Well, what if we ever want to retire completely from anything we do and just want to go sail around the world, fly around the world, sit in the backyard looking at the plants grow," or whatever people do when they retire, right? I don't know exactly.
So we looked at each other, we says, like, "Well, we have cash from our flips, but if we retire, that cash will stop." We have cash flow, massive cash flow that's gonna give us the ability for years through years and years to come but eventually, 20 years from now that cash flow will kind of end when all the land payments have run their course. So we needed to come up with another strategy to take all the profits that we were making from the land flip. It was absolutely amazing. I mean, we sold the property today, we sold the property yesterday, right? We continue doing land flips every day of the week here, but when we do these, it's just cash comes in. Now what we do with that cash, we move it into other strategies, into other asset classes. And we doing that following this concept called the security, comfort and luxury plan. And the security and comfort and luxury plan is a strategy, is a tool that will keep your eyes on the ultimate freedom forever.
So here's the situation. So in 2001, before we even started with this, Michelle and I bought our first starter home. I bought a house, we got married. We moved into this house, we still own it as one of our rental houses. That house was about a 1900 square foot house, right? Normal run of the mill kind of cookie-cutter home out there. The exact same house was two houses over three houses over and so on. And that house was 200-something square feet and it was a nice house. It still is a nice house. So we identified, we, then we moved on. From then 2006 we bought a big 4000 square foot house, 43,000 square foot semi-custom home, and it was amazing. But what we realized that is that, as I just said, around 2008, 2009 we realized that if we've truly want to retire, we had no what we call forever cash in our life. So no forever cash, no cash flow resource that would spit out cash no matter what for the rest of our lives, for the rest of our daughter's life, for the rest of our daughter's kids life, right, forever.
So we looked at that, we says like, "Well, if something happens to us right now, in 2008, or 2009, if something happens to us, we don't have cash flow from the land deals coming and we have a bunch of money in the bank account and so on. But eventually, this is going to stop so we don't really have a true lifelong security plan in place." A lifelong security plan, in our definition, is a plan that means that if something happens to you, if the world comes to an end, and none of your strategies work anymore, if you have to stop working for health reasons, for whatever reasons, because otherwise somebody else in your family perhaps needs your assistance and your attention and you just cannot do anything anymore, that you have enough passive income in your life to pay your bills forever.
Now we've identified three levels of that. The security level, the security level really means at a bare minimum. So do you have enough cash flow in your life to pay all your financial obligations on a bare minimum level for the rest of your life and ideally beyond your lifetime? The answer for most people, by the way, is no, right? I met a gentleman, has a $50 million asset, has zero of that in place. Fifty million dollars living in a $10 million house. By the way, living in a $10 million house probably costs you $150,000 to $200,000 a year just living in there between property taxes which are very, very high, probably $50,000 to $100,000, between, or, $50,000, between cleaning and electricity and things like that. It could easily costs probably like 100 grand to live in that house. So he was all paying for all of that with active income, had no true passive income. So again, security level passive income means the following. Means basically, you live in a house of an average normal American size, right? So, for example, our house that we no longer lived into, we already lived in the 4300 square foot house, but we made a plan that basically says, "Well, if the world comes to an end and all our ability to produce income stops, what would we do?" Well, on the security level point of that, we would have enough cash flow to live in our starter home, so we would move back into our starter home. Not that we wanted to, not that we did. It's a plan that you put into a bookshelf and into your drawer, but you work on implementing the financial means for that plan so that if that happens, you can implement the plan. It's an emergency plan, the security home, right? This is really an emergency plan, right?
So we put into our emergency plan that we need to build up enough forever cash that pays for perhaps the property taxes at the mortgage or something on the 1900 square foot house. Actually, it was 1968 square feet house to be exact. Then for it to pay for a normal car, one car, and I'm not talking about the Mercedes, I'm not talking about the Porsche. I'm talking about a Honda or a Toyota, a regular car, right? Let's say $15,000 car, 15K car with perhaps a $300 monthly payment. So that perhaps cost $300 a month. This one might be $1200 a month, right? Or something like that, or perhaps 1500 dollars a month. And then if we do it in monthly payments if we turn that into cash flow. So in other words, the question that we asked ourselves was, how much cash flow do we need to have for the rest of our lives monthly coming in that if push comes to shove, we can afford this lifestyle? Now, get that we were multi-millionaires at that time already, but we didn't have… We have cash flow of tens of thousands, $70,000, $80,000 a month coming to our bank account from land flipping but we were, had not turned that cash flow into truly forever cash, right? This is a forever cash tool here.
So we looked at that and said, "Okay. We need $1500 a month for this, we need this for the car, we need probably another $1,000 for like insurances, right? And that is health insurance, that is car insurance and so on. A thousand dollars is probably enough for that. Then we need probably another $1,000 for miscellaneous stuff, clothing and shopping and some repairs and things like that. And so we are now at $2,000, $3,500 $3,800. So let's say we add another $500 just for other miscellaneous stuff. That adds up to $4,300 a month. So we basically said, when we build up $4,300 a month, that's when we are truly, where we have the financial things in place that if push comes to shove, the world ends, we have no more income capabilities, we can live for the rest of our life, this lifestyle. Not that we want to. We were already living this lifestyle, right? At that point, we're already over here. We're already between the comfort and the luxury lifestyle. We didn't have any intention of going back here, right? That's not the goal. The goal is to know that if something happens, you don't go all the way back to here. Because I see that all the time. I see that all the time. When we teach our Land Profit Generator live events, there's people come up to the stage to me that say, "Jack 20 years ago, I had $5 million in the bank, I owned all this kind of stuff. I lost it all. Today, I can't even afford your Land Profit Generator program." That's what people come up to me when I go speak somewhere and so on and so on.This is a method to make sure that this does not happen to you. At the same time, it's a method to really show you how you can set your eyes on this or set your eyes on this and just chip away at the goals and move on move your goal line further and further and implement it.
So what did we do? We had all this cash coming in. We're sitting on like, seven figures in the bank, money coming in. So what did we do? We started buying rental houses. We started buying rental houses. The benefit was it was 2009. Rental houses were way cheap, right? We could buy them for $25,000, $30,000. So we bought rental houses, each of them renting for like $900. No mortgage, we bought them cash. So even after subtracting all the expenses that I was talking about, like property management and property taxes and repairs and vacancies, we were still making about $500 a house. And within a matter of 9 months, we bought about 10 houses, and we had about $5,000 a month in cash flow coming in. Meaning, we had exceeded this goal, we had our security plan in place. Now, obviously, if you don't have that kind of money sitting on the sideline, what you want to do? If your active income is what supports you right now, you're gonna get onto the path, right? You're gonna get on to the plan of putting money off to the side, investing that money investing in yourself so that you know how to make more money, right? And then actually make more money, generate more, do land flips, right? Do land flips, do land seller financing. Create more money and then go invest that in ways that you can bring in more cash flow for yourself for the rest of your life, right?
So then often, but in our case, we were able to do that with just 10 houses at $5,000 a month. This was in place. Now, does that mean we move back into our old house? Of course not, right? But guess what? We was living in our 4300 square foot house which is really more of the upper end of this year because it's a semi-custom home, wet bar, pool, jacuzzi, you name it. And we were already…this is almost like on the luxury side here like border of comfort and luxury side already. But we had no intention of moving back. But you know what, we slept better over here knowing that if push comes to shove, we're not going to poverty. This is already in place. And then guess what? Now you define what is your comfort plan. What is it that you need in life to live a very comfortable lifestyle? Now a very comfortable lifestyle might now include a 3000 square foot house, right? It might include square foot house, might include two cars, and one of them might be the Mercedes already, right? Not the Lamborghini yet. Lamborghini is in the luxury plan, right? Ferrari is in the luxury plan. The 7000 square foot custom home is in the luxury plan. Here, it's like it's the thought, perhaps it includes two vacations a year, right? And with a family. Not business or first class, but two vacations a year. One, perhaps even to Hawaii, one in the country, things like that on the mainland, and so on. So you come up with a conclusion. How much does this cost? Well, perhaps that mortgage payment is $4,000 a month, right? Perhaps these two cars cost $1,000 a month. Perhaps the two vacations can be done with also $1,000 a month. Twelve thousand dollars a year should be enough to do two vacations I would think, right? And then perhaps another $3,000 in miscellaneous stuff. So now we are at $3,000 $4,000 $5,000 $9,000. Nine thousand dollars a month is what you need to live a really comfortable lifestyle.
Now, think about that. Most people think about the lifestyle. They have this number in mind that's like, "need to have $10 million." No. You need to make $9,000 a month and you can live in a house that cost you $4,000 a month, with two cars, with two vacations, and an extra $3,000 just for spending money or insurance and things like that. Isn't that enough? It's probably enough. So now how do you do that? Well, guess what? A total of 20 houses will do that for you at $500 a month. So that becomes the goal. The goal is not $10 million, the goal becomes 20 houses, or the goal becomes in this case, you can invest in apartment complexes too, right? So we have now investors that invest with us in our apartment complexes. They're getting a 15% return per year, on average over the time period. Now, not all of that they get in cash flow right now they get about a 6% or 7% cash flow, and then the rest is appreciation of the property. But overall, the thing is, again, you don't need to live off this right now. You continue doing what you're doing, you continue land flipping, you continue selling land for seller financing, you continue in your job and getting your income and things like that. But as you put this in place when you have put this in place, when this is in place, you are living the life of already the top 10% people in the United States, which puts you into the probably the 1% of the world, and then everything else is really gravy.
What is your luxury plan? Is your luxury plan having your own jet like [inaudible 00:15:29], right? Is your luxury plan having a Lamborghini and a Ferrari and having eight cars? Is your luxury plan to give $500,000 a year to your charity or support your local church, right? Whatever that is, but don't focus on it as a goal of like I need $50 million. No. Your goal is add up what you need to make per month in order to do that. So if perhaps your luxury plan is at 30K a month, $30,000 a month and $360,000 a year net income, then that should probably for most people allow you to live very nice. Or perhaps it's $50,000 a year, you decide that, but you add what it is. Perhaps it's a 7000 square foot house that now is an $8,000 mortgage right? Perhaps it's the Porsche and the Mercedes, and the Lambo, perhaps it costs another $4,000. Perhaps it's $3,000 a month in, for vacations, right? I mean, it's crazy stuff, whatever comes to your mind. Perhaps it's $3,000 a month for charity, right? And you add this all up. But the key to get there is not to some crazy number, "I got to make $50 million, I got to make $50 million," because most people don't make $50 million in their lifetime. But everyone can add one investment at a time, one investment at a time and another one and another and one another one, and create that trajectory that goes over here, and that somewhere in this process here brings you to complete financial freedom, because most people, somewhere here in the middle are completely financially free. They don't even need anything in their life anymore. Then it becomes only your wants. And then you decide, is it worth it going, continuing? Are you enjoying your life so much? Like, we are living somewhere here right now and we keep going because we love real estate. We love teaching this. We love doing all these things. So I don't have a reason to stop. Yes, we slow down, but I believe my last real estate deal will be done probably two weeks before I die, right? And that's hopefully when I'm like into my 100-plus years old.
So I'm planning to do this for the rest of my life. But this becomes your overall goal. This becomes your life, your financial life map, because everything you do financially is ultimately, therefore, feeding this machine and providing more and more and more abundance of your lifetime. But if you don't define what is the minimum you can live on, if push comes to shove, what is the amount that you're comfortable with it, and what is the luxury amount, chances are you never going to go into those places. And I can tell you, when we started doing this, within 9 months or 10 months, we put this in place. That was a major point in our life because it takes the pressure off. It takes the financial pressure off your life, it takes everything that you're like, "Oh my God, I got to keep going, I got to keep going." Now we don't have to keep going. If you want, you can stop. Right now if this is in place, if this is where something that you are happy with living with, then you can stop and for the rest of your life, you're financially free. Or if it's here, you keep going. And once this is in place, you're done. You're completely done with two vacations a year, two cars, nice house and so on. You're done. And if you want to keep going, you keep going. It's then only up to you, but the financial pressures are out of your life. This is a map towards it. So take the things that you think belong in each of these categories, attach a monthly cost to them, add them up, and that becomes your goal.
All right, so with that, I hope you enjoyed that. That was the conclusion of this podcast episode. If you enjoyed this, if you are watching this on YouTube, hopefully, give us a thumbs up, put your comments, put your questions below. We're happy to answer them. We love seeing your questions. Share this with others. If you like to listen to this on iTunes, give us a five-star review, right? Give us five-stars and leave a message underneath. I watch them, I see them It helps us get more reach. Share our podcast, the "Forever Cash Life Real Estate" Podcast with us. And then also, most importantly, pay attention to Michelle Bosh. Michelle, the co-founder of this business, the co-founder of this thing, she's actually coming out with a book later on this year where this piece takes a central role of it, because this is a crucial part of you defining, of you really planning out your financial freedom for yourself and for your family. So follow her podcast. It's the ":Inflow" Podcast with Michelle Bosch. And she'll talk about that in that in that podcast too. And then make sure you go to michellebosch.com , opt-in over there and to be stay tuned when her podcasts and things come out and when she talks about this concept. It's a wonderful, wonderful concept. All right. Thank you very much. Bye-bye.
Man: Enjoyed this episode? Then make sure you like, subscribe, and post your comments and questions below the video. We're looking forward to hearing from you.
What are you thinking?
First off, we really love feedback, so please click here to give us a quick review in iTunes! Got any thoughts on this episode? We'd love to hear 'em too. Talk to us in the comments below.
Enjoy this podcast? Share the love!