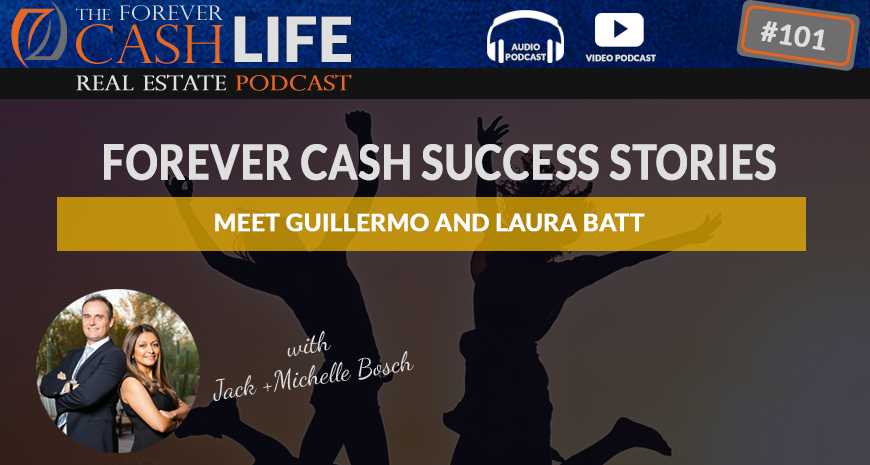 Guillermo and Laura Batt are Land Profit Generator Students and have been land flipping for some time now. In this episode you'll learn about the other investment opportunities they tried and why land flipping is the one that they fell in love with. Guillermo and Laura are constantly expanding their land flipping business to the point that they are working towards leaving their full-time jobs for good!
Find out how to get started in the world of Forever Cash by learning about the story of these two amazing entrepreneurs!
Listen and enjoy:
What's inside:
Find out about Guillermo and Laura Batt's entrepreneurial journey
Discover how land flipping changed their lives
Learn some tips and tricks for your own land flipping business
Understand how it is possible for someone to quit their job and become full-time land flippers
Mentioned in this episode
Tweetables:
Transcription:
J
Jack: Hello, everyone. This is Jack Bosch speaking, and welcome to another episode of the "Forever Cash Real Estate Podcast," where we talk about many kinds of ways of real estate investing, but we have a focus on land flipping, the Land Profit Generator way. So, our guest today is a wonderful couple from Tucson, Arizona, and who are also like many others on the show, flipping land. They went through some struggles, then they finally succeeded, and we gotta hear all about it. So just stay tuned. We're gonna get started in just a moment. In the meantime, don't forget. If you like this, give us a five star review. If you're watching this on YouTube, put the thumbs up, share it with other people. But now, let's get started.
Announcer: Welcome to the "Forever Cash Life Real Estate Investing Podcast," with your hosts, Jack and Michelle Bosch. Together, let's uncover the secrets to building true wealth through real estate and living a purpose-driven life.
Jack: So, hello. We are back, and I'm super excited to have with us right now, Memo and Laura [inaudible 00:01:02], or actually ladies first, Laura and Memo [inaudible 00:01:04], right? How are you guys doing?
Memo: Great, thank you.
Laura: Doing well, thank you, Jack.
Jack: Wonderful. You live in Tucson, Arizona, correct?
Together: Yes.
Jack: Yeah. And you are part of our Land Profit Generator community. You have done some land deals. But let me first ask you a little bit about your background. Have you always been in real estate? How does…how did you guys come up with getting into real estate?
Memo: Go ahead.
Laura: So, our background is I went to school actually for nursing and worked as a nurse for a few years. Memo is engineer, and he still works as an engineer at the present time, but hopefully that will change very soon. But we did get into real estate a few years back. We got involved with AZREIA, and came across a few different types of investments and we tried a few different ones. Nothing that really worked for us, but we we did…
Jack: That's one. What kind of things did you try?
Laura: Go ahead.
Memo: We did a couple of programs through AZREIA. We did like… What do you call the… Shoot.
Laura: We did a lease purchase, notes.
Memo: Yeah, lease options, tried notes, lease purchase, seller financing, kind of deals. But we did it as we were told, we worked hard and I think it was just it was kinda…it was a challenge for us to get going.
Laura: Yeah, definitely.
Jack: Okay. All right. So, you tried some of the programs, you bought some of the courses, you tried it but didn't work. So now what? What made you try one more time?
Laura: So, we had seen Jack come to AZREIA. And, honestly, what really spoke to us is that we liked your down-to-earthness, if that's a word. You talked about bringing your family with you and our family is very, very important to us, and this is why we're doing it. So we just really connected with that. And you really have your daughter involved. And it just really spoke to us and we're like, "Let's try it." So we went to your event, and then we went to the big event. And, did you wanna add anything?
Memo: No, that's accurate.
Jack: Oh, wonderful. Yeah. So and as a matter of fact, just before we started the recording, we just realized that as of the time of this recording, which is like in early mid March of 2019, I'm actually scheduled to speak at AZREIA again, the Arizona Real Estate Investor Association again. And I already asked my family's like, "Remember two years ago I went to Tucson, you guys came with me? Do you guys wanna come again?" They're like, "Of course." It's like a two-hour drive and my family just…they just…we wanna just be together. So it's gonna be my daughter, my wife, and my mother-in-law, and the dog probably. They're gonna stick the dog in there too. All of us are gonna go, drive down to Tucson for me to go speak there. And then, I don't know, while I speak, they go shopping or go have dinner and so on, and then we just drive back together. They'd rather do that than not be together. And I love that, I enjoy that, they enjoy that, and, hey, that's how we live our life. So that's great that you guys resonated with that. So what happened since? What happened since you started with that?
Memo: Well, we joined your mentorship program [crosstalk 00:04:33] and it was phenomenal. The support we got from the coaches was awesome. It's just kinda holding you by the hand and, "Do this, don't do that." And just like you feel stuck and you have nowhere to turn and you have someone there, you have someone to ask questions say, "What do I do here? What if this happens?" It just helps a lot.
Laura: Yeah. And I think that's kinda maybe part of our struggle with other types of strategies, is that we didn't really have anyone to go to if we had questions. And this helped us just really go through each obstacle that we had, and get over it and understand what are…you know, what to do in different situations in the future. And that was really, really awesome.
Jack: Wonderful. I'm glad. And then what happened next? What was the result of that? Did you have any deals?
Laura: Yes.
Jack: Did you get any deals out? I mean, at the end of the day, that's what it's all about, right?
Laura: Right.
Jack: You can have the best experience in the world, but if the deals are not there then what good is it for, right?
Laura: Right. And it was definitely something where, you know, we sent out the letters and so you had that time where you're like, you know, working on the deal. And so finally, we did end up closing, I think it was a few months into it. But then once the first one came, then they all pretty much came, you know, bam, bam, bam. And so, we had…we started closing in May, May of last year. Had a couple in May, had a couple in June, one in July. So we're up to…we're gonna be closing our ninth one and we're actually sending another contract tonight for another of our deal.
Jack: All right. Wonderful. So nine deals so far. I mean, that's better, that sounds like it's much better than all the other things you have tried.
Laura: Yes, definitely.
Memo: Yeah.
Jack: So, that's really exciting. Now, what…tell us…pick a deal, like perhaps one of us…I think, and you told me earlier, at another time we talked, that you had done a deal where you kind of negotiated the seller down and then you ended up making like $15,000 or $20,000 on that. Tell us about that one perhaps.
Laura: Yeah. So there was one…a couple of really good ones, but that one was really awesome. So we actually initially had offered, I believe, about $12,000 on the property because it was in a hot area. And then once, through a little bit of the research, we saw that it's not a buildable lot, the percolation test was already done and everything. So we went back to this seller and let them know that, and we negotiated down to $1,500.
Jack: Oh, wow.
Laura: Yeah. And so then…
Jack: That's quite a discount, $12,000 to $1,500.
Laura: Yeah. And so…
Jack: I need to learn negotiating from you guys.
Laura: And once we did that, then we actually ended up selling it for…we made after closing costs and everything, we made $17,000.
Jack: Wonderful.
Laura: So we…and we, we just closed that one, let them know. Yeah. And we actually sold it to someone out of the country.
Jack: Oh nice.
Laura: Never saw the property. He knew it wasn't going to perc. He didn't care. So it was perfect.
Jack: He didn't tell you what he's gonna use it for?
Laura: He was gonna use it for something in the future with his…for his son. So I think he was anticipating sewer would get there sometime, but I don't know.
Jack: Yeah, exactly. I mean, this is the thing. People don't…that's what people always think about the land is like, "Well, it doesn't perc, it's worthless." Well, that's what the seller thought. The buyer thinks, "Well, it's in a great location. The city's coming closer and at certain point of time, it's gonna have water and sewer. I don't need to care about the percolation test. I'm buying it at $20,000 or so probably right now minus closing costs, and I'm buying at $20,000 and chances are, down the road, it's gonna be worth $50,000 and it has water and sewer." That's a great deal for him, and it's a great deal for you guys.
Laura: Mm-hmm.
Jack: Now, what…you mentioned though. What was your…when you got started, what do you think was your biggest struggle?
Memo: I think a lot of it is like the fear of the unknown. Like, what contracts do I use or what do I tell the buyer? What do I tell the seller?" It's just a lot of the fears of the unknown. And I think that's where the coaching program is really helpful is you don't have to be afraid. And if you are, you have someone who could help you get through the fears.
Laura: And I would also add, like, over-analyzing. We would over-analyze things, and this kind of just was like, just do it, just stand up, you don't…you know, you don't need to do anything else. Don't think about it, just follow the steps and they work. And I think also another thing that for me personally was, like, you see, you know, how successful you have been, and you see other people and you feel like, "You know, maybe we can't get there." But then when you start seeing, you just follow the steps, you know, if you believe in yourself, you can do it. So that was something that was important for us.
Jack: Wonderful. That's great. Now, going back to negotiating. How in the world did you get that seller from $12,000 to 1$,500? Tell us a little bit about that.
Laura: Well, I just talked to her and told her, you know, this is what we found out. And she actually knew, she just didn't tell us. She knew right off the bat.
Jack: Ah, okay.
Laura: So someone had tried…yeah. Someone had tried to build and that's how they found out. So I let her know that that's what…you know, there's nothing that anybody really could do on the property. It's gonna limit our buy-in.
Jack: And how did you find out?
Laura: Well, we called the county.
Jack: And they told ya?
Laura: Mm-hmm.
Jack: Because the percolation test usually gets registered with the county, and they let them know that they have done it. [crosstalk 00:10:28]
Laura: Yeah. And I believe we also spoke with the Department of Environmental Quality, I think, had it as well. It was like a few people we had to talk to, but, yeah, they had that information. So we just kinda talked to her and let her know. And she didn't really…she's like, "Well, I wanna get rid of it." And so it was like, "Okay." So we kinda started, you know, I didn't wanna like rip her off, you know, but, you know, I wanted to get the best deal as well. So we just kind of started going and I said, "Well, would $1,500?" And then she's like, "Okay, that's fine"
Jack: All right. So there wasn't really that much negotiating included?
Laura: No, she didn't need…she didn't even really need it.
Memo: I think a big part of it is that she's paying like $200 a month for the maintenance of the grass and all the upkeep. So she just, probably just didn't want it anymore.
Jack: That's it. That's where some of these things come out. So people like…particularly that's the part in the land area that most people don't understand, or they understand it but they don't give it too much importance, that sellers, because when you hold onto land for long term, you do have to pay something for it. You have to pay property tax, you have to do sometimes if it's in a city, pay some maintenance or some upkeep. And so if this lady had property taxes and $2,400 a year in upkeep and she didn't wanna do that. And that was more important to her to avoid that cost than to make like $5,000 or $10,000. Because as a smart person, she's like, "If I hold it another two years, I have to pay another $5,000 on that. So it's $2,500 a year, it's not worth it."
Laura: Right.
Jack: Makes total sense. Yeah. So it's not often you get…in those kind of situations, you get really good deals. Awesome. So now what is the plan? You said you're…are you still working as a nurse?
Laura: I'm not. When my daughter was born, I started.
Jack: Okay, you stopped. And then how far are you thinking you're away from getting Memo here off the hamster wheel?
Laura: Well, we're trying real hard. So, I mean, his hours are limited because he, obviously, has to work during the day, but we're hoping soon.
Memo: So that we're doing this on a like a part-time basis, and we just know that if we put more hours into it, then it's…I mean, the possibilities are endless with more time to it. So it's just we're trying to…
Laura: And we also read your "Forever Cash" book, so what we're trying to do is get a lot of the money that we make and then be able to buy something, or invest in a house, or whatever the situation is, so we can get some residual so that we can replace his income. So that's what we're kinda starting so he can go part-time and then, you know, kinda work something at it.
Jack: Awesome. Yeah, it's a great thing. I mean, you guys have been…from what I know about you, you also…I mean, you have the investor mindset, right? Like, your first house, you bought, I think you still…you mentioned to me that you still own the first house, right?
Laura: Yes, we do.
Jack: Yeah. And so that makes sense. We still own our own our first house. Now it's a rental. And the second house was a little more upscale, we sold that. The third house, we are right now in the market because it's even more upscale because we moved to our fourth house right now, which is even more upscale. So these high end houses, their rental doesn't make sense. The money doesn't make sense. The returns don't make sense. Like, if you have a…I know, let's just pick a number. You have a million-dollar home that rent for $5,000, that doesn't make sense. The numbers don't make sense from there. But I'd rather use a million dollars to invest in something else, or I'd rather use…or if you have an $800,000 mortgage, you have a $4,000 mortgage payment and it's still…then there's no cash flow, but if you're sitting…you invested $200,000 that's not producing anything so. But our entry level house, $150,000 home, we still rent that, we rent it for $1,500 a month and we're very happy with that.
Laura: Right.
Jack: Yeah, yeah, that makes sense. So where does the future go? What's your goal for 2030? How many deals? 2019 not '30.
Laura: 2019?
Memo: So we're trying to follow the…I heard one of your podcasts, I think you recorded like maybe five years ago, where how to make 250 in a quarter. So we kinda reversed engineer that and kinda with the numbers that we're tracking with our…
Laura: Response rates.
Memo: …response rate and our close rate. So we kinda try to focus on that aspect of just trying to be consistent and eventually the deals will come.
Jack: Okay. So 250. So tell me how you did that. What's the…how are you going about generating $250,000 in profit a quarter?
Memo: Well, according to…
Jack: Whether you meet it or not doesn't matter, but even if you're 80% there, I think you're still gonna be fine, right?
Memo: Yes. So, we went through, our response rate is not as high as others. So we took that and saw how many we needed to…mailings we needed to send out.
Laura: Per month.
Jack: What's your response rate?
Memo: I have it right here real quick.
Jack: Approximately, just ballpark.
Memo: I think it's like 5%.
Jack: All right. That's still 5% higher than the house flippers.
Memo: Yeah, between 4% and 5%. And so we did that and we came up close to what you had, I think your suggestion was 6,000 per quarter. And because of our response rate and our turnaround, we did, I think it was 7,000.
Laura: Yeah, probably so.
Memo: Seven thousand mailings per quarter. So in the last quarter of the year of last year, we kind of went a little crazy, got a little bit overwhelmed. So we sent a ton of letters in one month, all at once. And we suffered the consequences. We were behind on offers. We were behind on…
Jack: How many offers did you have to make?
Memo: We had to make, I think, like 200. And so…and this is part-time, so, I mean, we had…
Jack: Yeah. This is exciting. That was a…
Laura: Yeah. It was exciting. We got along…
Jack: That was a great problem to have.. Believe me, you send out 7,000 letters approximately and you got 200 offers to make, or was it 7,000 letters or less?
Laura: Well, we sent…it was last quarter when I read it, but it was kinda mid-quarter. So I sent like half of it, like 3,500.
Jack: So you sent 3,500 letters and you happen to make 200 offers. And how many deals of that have you already gotten?
Memo: I think we got like 20, I think.
Jack: 20 deals?
Memo: I think so.
Jack: Don't say this too loud because all the house flippers are going to want to rob you. I'm just kidding. There's an abundance of deals here but, hey, if you are listening to this or watching this, in the house, here's the statistics for the house flipping area and you can check that with every professional house flipper. A house flipper gets between 0.5% and 1% response rate on their mailings. And then on top of it, there's so much competition that even if they get a response rate, they don't get every deal, obviously. So an average house flipper has to spend between 8,000 and 15,000 mail pieces to get one deal. They sent out 3,500 and they have gotten 20 deals from that. So you had 20 deals and those deals, they have an average profit of $10,000 to $12,000, you're at your quarter million dollars, right?
Memo: Yeah.
Laura: Yes.
Memo: That's the plan. So…
Laura: Some of them are smaller than others, but we have about maybe 30, about 30…
Memo: About 22 a year.
Laura: …38 or so contracts that need to be sold. So somewhere around there.
Jack: All right. So you got 38 contracts. And how is that? So in your part, do you have enough time to sell them?
Laura: We hired a VA to help us because there was a lot of stuff that we could delegate out that would help us focus on what was important, like talking to the buyers, talking to the sellers, making the offers. So that's kind of where we're trying to focus on, and then delegate out the other stuff that we don't need to necessarily do. Yeah.
Jack: Wonderful. Awesome. That is fantastic. So, great. So you're in the process of putting in a system, so business systems in place so that you can get to this…to that quarter million dollars a quarter part-time with one virtual assistant. Loving it. That's what we like to hear. Awesome. That's great. So, again, you went through your struggles. What do you think? If somebody wants to start right now, if somebody is like listening to this, what do you think…what would you give them as like your number one piece of advice? I'm leaving at that. You pick whatever advice you wanna give them.
Memo: I think just do it. Close your eyes, do it and they will lead you by the hand.
Laura: Yeah, definitely. It's been, honestly, a blessing in our life. It was, I mean, like any real estate investor, you know, obviously, you have your struggles and stuff like that, but it was almost like, "Are we ever gonna succeed, you know, in this?" And, you know, once we, you know, followed the system and had that, you know, mentorship and just kept doing it and believing in ourselves and everything like that, then everything fell into place. So I would highly recommend the program. It has been a major blessing in our lives and something that we've asked for for a very long time.
Jack: Wonderful. Thank you very much. So with that, thank you very much. That concludes our podcast right now. Again, if you're interested in the Land Profit Generator, we're gonna to put the links into, just in the comments below. We're gonna put the links into our…into the show notes for the podcast, or simply you can just go to landprofitgenerator.com. We also have a Facebook group called Land Profit Generator Real Estate Group, and join us there. It's free. You see guys like you guys doing deals and reporting on their deals and helping each other. And then, thank you very much. I love your success and good luck in the future. I have no doubt that you can do that quarter million a quarter part-time and free Memo from his job.
Laura: Thank you. Thank you for the belief and we appreciate all you guys did for us.
Jack: Thank you very much. All right. With that, bye-bye everyone.
Laura: Bye-bye.
Announcer: Enjoyed this episode? Then make sure you like, subscribe, and post your comments and questions below the video. We are looking forward to hearing from you.
What are you thinking?
First off, we really love feedback, so please click here to give us a quick review in iTunes! Got any thoughts on this episode? We'd love to hear 'em too. Talk to us in the comments below.
Enjoy this podcast? Share the love!