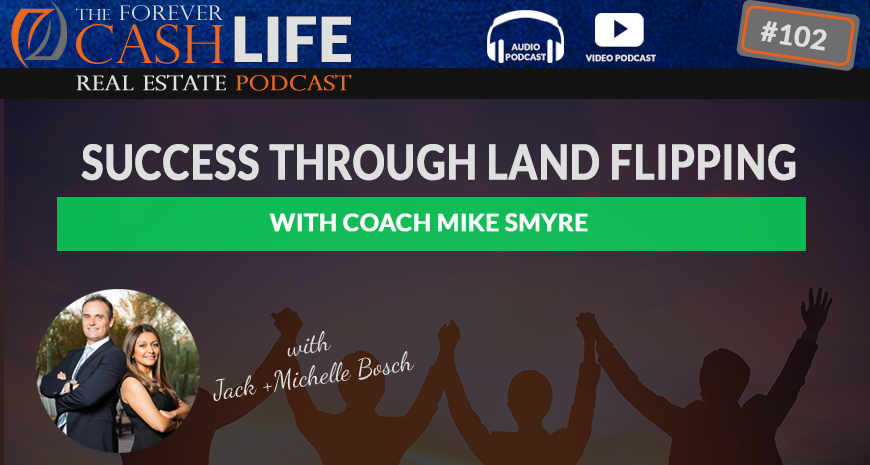 Mike Smyre is a Land Profit Generator coach who got into real estate at a pretty young age. In this episode, Jack Bosch chats to Mike about the insights he has learned in his career as a real estate investor. Mike is truly passionate about giving back, which is why he was so drawn to the idea of being a coach – which is why he's able to give some truly fantastic advice to aid your journey towards financial freedom!
Listen and enjoy:
What's inside:
Find out about Mike Smyre's entrepreneurial journey
Discover why Mike got into land flipping
Get some amazing insights and advice
Learn why land flipping could be the path to your own financial freedom
Mentioned in this episode
Tweetables:
Transcription:
J
Jack: All right. Hello everyone. This is Jack Bosch speaking and welcome to another episode of "The Forever Cash Life Real Estate Podcast." I'm super excited to be here again and today we're going to talk about land flipping with one of our superstar land flippers who is doing, on track to do over 100 deals this year. So, before we get started, let's quickly go into this.
Man: Welcome to "The Forever Cash Life Real Estate Investing Podcast," with your hosts Jack and Michelle Bosch. Together, let's uncover the secrets to building true wealth through real estate and living a purpose-driven life.
Jack: All right, and we are back. So we're super excited to be here with you again. And I'm sure you're gonna get a lot out of this episode. Because our guest, Mike's Meyer is one of our superstar land flipper. So Mike, how are you today?
Mike: I'm, well, Jack. How are you doing man?
Jack: I'm doing fantastic. I'm doing fantastic living the dream over here. And it looks like you are too, right? So tell us a little bit about your flip land right now right, because most of the real estate that you do is land flipping right now, right?
Mike: Yeah, yeah, land flipping is kind of that's where we're at. So we flip a lot of land, I'm very grateful to do that, right, at scale. We'll flip maybe three houses this coming year too. My wife wants to flip some houses so we'll probably end up doing that.
Jack: She's still not 100% on board even though she sees your checks? All right. So there's something nice about houses that they're tangible, right? You fix them, you change some and you drive by and you're like "I fixed that thing. It looked like crap. Now it looks beautiful." I get it, but the hassle factor is just much bigger. But tell us your story, Mike. You have not always done land flipping. You've also done house flipping before in a bigger scale too. But just tell us your story quickly.
Mike: Yeah, man okay. So I got into real estate pretty young. I was 20-… Actually, man, I like to say I got into it when I was like seven or eight while playing Monopoly, but that's a different story and that, probably take another podcast to tell. But so early '20s, I was in college, I was working at a pretty big call center, and they wanted me to be a manager, and they kind of gave me an ultimatum. They said, "Hey, Mike. You can come on, you can work here full-time, or we're gonna stop working with your schedule, aka, we're gonna fire you." Right? But, so I was kind of a little jaded about that. I waited till I got my summer check or my end of summer bonus. And then once I cleared my bank account that afternoon, I left and started I was like, "You know what, I don't think I'll ever work for a corporation again." Having grown up with small businesses and working for small businesses, Jack, it's just like, I could never see myself doing anything else than that. It would be more of a betrayal of my own values if I had done that with my life. But, so I flipped out of that job. I kind of floated for a little bit. I had been married for maybe like a month and a half at that time, so I was pretty stressed out. And a guy on my team that I worked with over at that call center who was like inside sales, he gave me a call and said "Hey, look your aunt or Hey, look, my aunt needs a personal assistant." And this is where it gets kind of interesting. You're talking about like the universe preparing you for something.
Jack: Right?
Mike: I was like, "Okay, yeah. What does she need?" She's like, "Oh, she needed a database." And I, like, a week before that. I had learned databases before. So I went to her house anyway, interviewed well, created a database. She hired me full time. She was a house flipper and a coach. And I traveled around with her and learned the house flipping game through another educational company. And we did some deals together and then ended up splitting off and I found a mentor in that area who was doing, well, a few mentors in that area. But one of them was doing about 100 deals a year. And he brought me on under his wing, made me a partner. And we flipped a bunch of houses together. And again, I was in my early '20s it was a really great time. And from there, I decided to move back home to North Carolina. My home is where the heart is. So I found myself back here in North Carolina, we set up a wholesale company up in Asheville, North Carolina, and if you ever been to Asheville the place is incredible.
Jack: I have not, but another one of ours, mega star land flippers has just just moved there. So yeah.
Mike: Yeah, Jonathan. So we end up wholesaling a ton of houses up there, we dominate that market and like all of western North Carolina. And then, had a little bit of some partner issues in the regard of like, having hard conversations. If you've ever had a business partners, it's pretty tough to have a hard conversation. Oh, for me, it was anyway, being young and my business partner was my best friend. And I felt like it was probably easier for me to just kind of split off than have hard conversations with him and it would affect our friendship a little bit. So I left off out of there and I started flipping land. I mean, I attended a seminar with my buddy Nasa. And he's got a couple of big land deals. And I decided you're the guy, you know?
Jack: I remember.
Mike: So that's how I got [inaudible 00:05:13]
Jack: I remember you calling me and, because we had that, at that event. It was a Mastermind, right, where we met.
Mike: Yeah.
Jack: And I probably shared a little bit of what we do here because most, I was the only land flipper in the room with like 100-plus house flippers. And I remember us getting along, and then exchanging information. And then I get a phone call it was like, "Jack Dude, I wanna do this land stuff." I was like, "Okay." So we got on board. And then what happened since?
Mike: Oh, man, I picked up a mentor, which is I think was a smart thing for me to do, because like, I'm gonna run as far as I can in one direction. And then I'm gonna hit a wall and not know what to do. So to kind of avoid that I got a mentor ended up working with Jonathan and we, man, my first year was really good. I ended up doing about 50 deals, I think just over 50 deals. I say about because I don't know the exact number, but…
Jack: It seemed like for a year. That was more like nine months, right?
Mike: Yeah, yeah. It really was more like nine months. But you know what's crazy is that the first few months, like, man it was really, really slow until about the four to five months, and then like all my efforts really snowballed into like three months of closing a ton of deals every month. And…
Jack: And why do you think that is? That's an interesting subject to dive into a little bit. What is this? We kind of actually, I have a theory of why this, but I would like to hear yours.
Mike: Oh, man just momentum. I'm not a 100% sure. The best theory that I have is, hey… I'm clueless Jack, I wanna hear your theory. Let's hear what you have to say.
Jack: Well, actually it's not theory. It's actually designed almost like that. Because what we do when we do our and particularly you said your mentoring, so with our mentorship students, we put them through a three phase piece. And basically, phase one is a testing phase, right?
Mike: Yeah.
Jack: Phase one is like the setup and testing phase. And during that phase, you are doing exactly that. You are like checking out, you're setting up your systems, you're going out of the gates in multiple areas, you're testing the market, you're seeing where do I get the biggest bang for the buck? And then, and that usually takes about…you do get some deals already, but it's slower because you're in startup mode, right?
Mike: Yeah.
Jack: Like, Microsoft, a $250 or $500 billion company is not…there wasn't a $500 billion company while they were in development mode, right. So you basically they were at zero revenue per company. So you gotta put the foundation in place for you to build a skyscraper. So we work on that a little bit. You already getting done deals, so your ROI happens in like about two to four months. But then once that is in place, you've figured it all out, you have your systems, you have your pieces, you have your areas that you know you get the biggest bang for the buck, and then it's just a matter of turning the heat on, and that's how you raise up. And that's why we see that again, and again, and again. And that's why the program is not a four-month, three-month program. That's why it's a six to six, in some cases, seven, eight months program, because we wanna see you through to that momentum point.
Mike: You know, it's interesting, I do that with my students now. And I guess I hadn't looked back and say, "Hey, that was my exact experience as well." I [inaudible 00:08:32] of my own experience with everyone else. But…
Jack: No, so hey guys, we don't want to take people just to one deal. Take people to one deal, you get the deal done. Okay, wonderful, great. Bye-bye. No, that's not our model. Our model is to get you to a point where you can scale…
Mike: Have a lasting business, you know? [inaudible 00:08:50]
Jack: Yeah, you have a lasting business not just the success experience. We know that getting you to one deal is gonna make you happy and it's gonna make you be thinking of Jack and Michelle always like "Oh, man, they helped me do my first deal." But if then you stop then what's the point? Right? The point is in changing somebody's life and making them into a sustainable business that can spit out six and even seven figures. So now this year, your momentum going. How many deals are you on track for this year?
Mike: A 100. I hope to pass a 100 deals. That's where I'm at. Right now my current projection, I'll probably be in like the mid-90s if it stays consistent where it's at. But I'm pushing really hard to, I just dropped a ton of mailers right now in order to bring in more deals so I can meet my goal.
Jack: And obviously we're recording this interview at the end of August. So it's a perfect time to do this. Because, while there is no, there's only one time period in the year where sales are slow. And that is about the three week window between the middle of December and the first week of January when everyone is distracted with Christmas. Other than that…
Mike: You know…
Jack: Pardon?
Mike: I said you know, I don't know Jack. I've sold a lot of deals last year around that time.
Jack: All right. Wonderful. So great. So apparently that's a mental block for me then. Right? So but the point is right now the summer is over, summer, no, summer is not over. We have 113 degrees out here in Phoenix, Arizona, but the summer break is over for most people, and they're getting back into normal business, which is actually a great, great time to buy and sell.
Mike: Yeah.
Jack: Awesome. So tell me. So 100 deals. So what made you switch from houses to land?
Mike: Okay. One, going…
Jack: You're dominating the market already. I mean, it wasn't like you were struggling in the house market and it wasn't working.
Mike: No, I mean, really, man, I just… Okay, look. I made the decision to do it way before I did it. Right. I was riding up to Asheville one day from my place and I was listening to your podcast. And me and my partner, Patrick, we heard your podcast and I looked at Patrick, and he looked at me and he was like… It was the one where you reverse engineer. I think it's episode like 22 or something. And then…
Jack: Okay. Everyone seems to like that. I gotta do another one like that.
Mike: Yeah, you should. You should. I do it with all my students. That's one of the first things we do, but, is we reverse engineer their business. But man, we were listening to that. And I looked at him, and he looked at me, and he said, "We got to do land deals." And I was like, "Okay, I gotta do land deals," you know. And so, right then I decided, I was like, "Well, if anything ever happens to us, me and my partnership, I'm probably gonna start doing land." So it was just in the back of my head there. I knew that it was scalable and I kind of saw what other people did and attending your conference like how would I say this? I knew I had a lot of real estate experience and I met a lot of people in the room that had way less real estate experience, that were doing a lot of land deals, right? So I knew that, like, "Hey, man, I can figure this thing out, I can run through. And I could probably scale to a point where I wanna be on my own and then build out a team." And that's where I'm at right now.
Jack: Right. So right now you're building out a team. How does the team look like?
Mike: Oh, a bunch of VA's. It looked like a couple people here in the U.S. But I had some issues there, leadership issues, just me learning and growing as a businessman, you know. I'm young and I hadn't really had that corporate experience, which would have benefited me on the building side, right? But yeah. I'm building out a team of VA's that will take my business or do I would say about 80% of the leg work, and allow me to do really like the three or four things that I wanna do, which is strategic management, data management, financial management, and then personnel management. And that's kind of where I see myself as part of, or have, in the strategic management part of that financial, right? I have my, what is called an organizational board lined out that way. And from what I can tell, it's gonna probably work out pretty well. So, yeah.
Jack: Isn't that an interesting thing? So most people out on their start out they're just focused on getting a few deals done, getting out of debt. But as you grow, you're gonna grow into a better business person, and you grow into a better leader, right?
Mike: Yeah, I think that's the sauce. Everybody that I've seen that has just absolutely killed it in real estate they've all been great leaders, you know. And it's easy to get out there and like push yourself to do things you don't wanna do, but, like sending out more mailers or budgeting or taking risks like that. But the developmental and the self-developmental part of it is, I think that's where the real sauce is. And that's what I'm learning and trying to be better at day by day.
Jack: And that's actually where the fun of it is. That's why Michelle always says that, my wife, Michelle, and co-founder of the business, that business sculptures spirit. And I love that because people are like."Oh, you just do business?" No, there's a reason why there's certain people that can build a business up to here, but then they're not the right people to build it up to here, like into larger companies. There's like, there's people that can build a business up to $10 million. And they do it again, and again, and again, and again. And they never exceed the $10 million. There's like a ceiling of their own, and that reason why they can't build it above that is that they haven't grown as a person to become the person that built 100 million dollar business.
Mike: Well, you look at Steve Jobs in, I mean, when he was kicked out, he was kicked out because of that reason, right? I mean, everyone loves Steve Jobs, and I'm probably gonna get some flack for saying something bad about the guy.
Jack: No, I mean, he was also supposed to be a real asshole. But…
Mike: Yeah, yeah. It's true. I mean, he's a real jerk. But like he grew to a point where he took his business where it needed to be, and then they kicked him out, because he wasn't the leader that he needed to be at the time in between that time developing out other companies in order to develop as a leader, and then he came back and look what happened to Apple, you know? Night and day difference.
Jack: Exactly, exactly. Right. So that's the same thing on a smaller scale with the land business. As you go from one deal to two deals to then two, three, four, five deals a month, you start becoming the leader, you start going from team player or a solo player, to team member, to quarterback, and eventually at some point of time to coach right?
Mike: Yeah.
Jack: Bringing me to that you have done that stuff, actually with us. You actually became a coach, a mentor in our organization. And actually it was interesting because you reached out to us on that, because you had been offered out of the blue or wherever it has been offered a coaching position in a different company, and now here you are doing, on track to doing 100 deals a year. And all of a sudden, you're like, "Hey, I was offered being a coach. I wonder before I coach over there," I remember the conversation is like, "Before I tell them yes or no, I wanna see if you guys need any coaches." What was the driver behind that? Why do you coach?
Mike: Okay, I mean, so I was up in Alaska for like two weeks, and I was just like thinking about what I was doing, my business, and I had free time, you know. I wouldn't have been able to go to Alaska for two weeks had I not had free time. Anyway…
Jack: [inaudible 00:16:14] When you reached out, with us knowing what you're doing, of course, we said yes, right? I mean, it's just a no-brainer.
Mike: Yeah.
Jack: Right. Not only because of what you're doing, but also who you are, because I've yet to meet.,I mean, there's very few people with such a golden heart as you by the way, I just wanna say that.
Mike: I appreciate that, Jack. Thanks a lot. So I was up in Alaska, and I was kind of thinking about where I was and needing to grow as a leader. And man, it was…and you talked about like the universe. I love the book "The Alchemist," right, because you talk about the wind and the levanter comes at always the right moment, and it pushes you in the right direction. And that book, I mean, the universe works for you. That's what it teaches, and amongst the 1000 other lessons. But like, so I was up there and I was thinking to myself, I was like, "Man, I need to develop as a person." And the next day, I'm at some random gym up there, and I get a phone call from a guy, and with another company. He's like, "Hey, I want you to come coach for us." And so I chatted with him for about 30 to 45 minutes about it. And I told him, I would follow up with him when I got home. And the next day, I was thinking I was like, "Man, do I really wanna do that? I know I have the time and I have the ability I want to develop as a leader," right? And so then it just hit me like a ton of bricks. I was like, "Why would I coach single family housing, if I'm not in the single family housing game actively, or if I'm not running a big single family housing business anymore?" You know, so I hit up you and you're like, "Hey, man, yeah, that's a good idea. Let's talk about it." So.
Jack: It was very like, again, there is no coincidences. We were literally just discussing. We had several new coaching students, and one of our coaches had just kind of announced that he's gonna retire because he's gonna do like 170 deals this year, so he doesn't have the time for it anymore. And so we're like, "Okay, we need to add a really high quality coach. So who should we ask?" And then in that moment, your text message comes in. And I was like, "There we go. That's a sign." And so you came on board. We're very happy to have you. So, awesome. So then, you coach because you had the opportunity, but also because you wanna grow as a leader.
Mike: Yeah, I mean, that's really it right. I mean, people… So I was at a seminar one time, and I had a buddy who was giving a talk, he's, real estate seminar talk. And somebody went up and approached him and he announced that, this a room for like, 400 people, and some guy's, like, "If you make all this money in real estate, why do you do this?" And he's like, "Well, I feel like speaking is my calling," you know. And it is. Like he said, "I haven't found a better way to speak to people and to be able to connect to people," and that he feels like he can help people on a mass scale in doing what he's doing. And I feel like leadership is part of my calling, you know. I wanna lead, I just a born leader. I was a born giver, really. And I think that's, I don't think you can say you're a born leader. I was more of a born giver because I like just giving, you know. I like helping and I like loving people and seeing them progress. Like, one time, this might sound kind of silly, Jack. One time when I was in the, I think I was in first grade. It was nap-time. And I was sleeping on my little…everyone had like real thick mats, like the rich kids had thick mats. I had this little thin mat. But I was used to, anyway. But I will always remember that little thin mat. But I was sleeping on it on the floor and, during nap time it was like an hour, and these other kids were talking. And I look back and the teacher's like, "Raise your hand if you were talking," you know, and I didn't see anybody raise their hand. I wasn't talking, but I raised my hand, you know. And she walked up to me, she knew it wasn't me. And she said, "Mikey, what are you doing?" And I was like, "I was talking," you know, "I was talking." And she was like, "What? No, you weren't. I was watching you. You weren't talking. They were talking. Why did you take the blame for them?" And I was like, I looked at her kind of puzzled, like, "Man, she figured me out." And I just told her. I was like, "Well, I just didn't want them to get in trouble. I wanted them to be okay." And that's, I mean, that was my answer to her. And, I mean, that's kind of been like the story of my life. I've always just wanted people to do good and be good and be better than what they are. And if I can contribute to somebody's financial success, or even their mental mindset, if there's a way for me to do it. I'm gonna do it. You know?
Jack: That's awesome. That's beautiful. Yeah, you don't wanna necessarily always take the blame for other people, but obviously, you wanna…I really respect that you want them to be better off that you don't want…
Mike: Oh, definitely not. That was my naive five-year-old self, right?
Jack: No, no. like five-year-old, or seven-year-old, six-year-old, kind of thing. Yes, makes total sense. Beautiful. So now, let's talk about a little bit about your deals. What is like one of your favorite deals that you have done?
Mike: Okay. That I've done or I'm working on?
Jack: Either way.
Mike: Okay. I'm working on… So my dream when like, the big idea that I have when I got in is I wanted to finance hunting acreage to people, right, because I love to hunt. And I figured if I was able to finance acreages where people could hunt on, they would probably allow me to go hunt on them once or twice a year, you know. If I had 40 of these things, I would just have so much hunting land, I didn't know what to do with. And when I was a kid, we would drive to the coast, in the state that we live in, and there was all these like beautiful pine trees. And I would always think about all the deer that lived in there. And I, we could see them all the time. And I've always wanted to have one of those pieces of property to hunt on. And just recently, a deal came through it was a 50 acre deal that we were putting together. It needed an easement access, which I actually just got resolved. Turns out there was an old easement filed in the 1950s. And I'm in it, it's worth about 180,000, I'm in it for about 50 grand, I think it's 53 grand. And so it'll be a really, really good deal. And I think if I can keep it, I could finance it to somebody. I think there's a pretty decent profit to be made or probably be one of my more profitable deals. So I'm pretty excited about that one.
Jack: Yeah, that's becomes the challenge after you doing that. We have, I can tell you we have so many deals that we looked at, particularly in the early days when we needed the money that we were like, "Oh, my God this is so beautiful. I wanna keep." And I was like "No, no keeping. Selling. Sell it, because we need the money, and then we need to get out of debt. We need to be financially free." And so we sold all of them. And I'm still think of them and I have a visual right now of several mountaintop properties with beautiful views that we just should have kept.
Mike: Oh, man.
Jack: Oh, well, that just, happens.
Mike: That's the school of hard knocks, right?
Jack: I should have kept the cabin. But what we did is we ended up selling the cabin. And before the cabin was like on five lots, I mean, it wasn't one lot. But there was five lots. So we split off three lots, sold them individually for more than we bought the cabin. And so we could have gotten the cabin for free. And then we still sold the cabin because oh, make the money. And so we would have had a beautiful cabin up there about three hour drive from here in this magical area. But then as you do this more and more, at some point of time, like now we can go buy a cabin because that cabin was actually on solar and I think it was completely off the grid. And I don't know, I'm not an off the grid kind of guy. So I don't want to just wake up one morning and the solar panels are not working or something, and now I don't have electricity or I don't have warm water or anything like that. It's just not me. Let's let the electricity companies deal with that problem. Anyway, so awesome. So now, that's cool. And tell me now, how about… So let's about when you work with your students, what do you find is the number one challenge that they have that keeps them from success, that needs to be able to overcome?
Mike: That's a good question. So I don't think it's part of them doing the system. I think the challenges really involved mindset. I think that probably the biggest challenge that I see is that everyone wants it now. Right? They want it now, and they're afraid of like, taking their knocks. And I say that often to the people that I work with is you have to be willing to send mail to a county and not get a response, you know, or get a terrible response. Even though you probably shouldn't do that, it just, it happens, you know, and you have to be willing to just look at it and suck it up and move forward. So I would say the ability to continue moving forward during adversity. Some people just don't experience a whole lot of adversity in their lives, right? And some people experience a lot of it. But handling that and understanding how to handle adversity in business, that's probably the, in setbacks and disappointments, that's probably like the biggest challenge that I see. Because the people who stick with it, they figure it out. I mean, everyone figures it out eventually, if they stick with it, that's all it takes is like implement it, stick with it, move forward, and you're gonna have questions, you're gonna have problems, you're gonna make mistakes, is your ability to love yourself and to not, or to accept yourself being fallible during the building process. That's probably a better statement.
Jack: Wonderful. Very nice. Very nice. I like that. Now, the other day, just last week, we did a little teaching series in our Facebook group, The Land Profit Generator Real Estate Group, we've since taken that off. But you did, like you came in live, and you talked about something, you talked about money being important, but then you followed that up with another post that just shows, shows like your thinking. So like, what does money mean to you?
Mike: Man. So money is completely a tool to me. Though, I learned that in high school, I heard that in high school. i wouldn't necessarily say that I learned it. But I heard it in high school. My relationship with money is always evolving, Jack. So let me say that. But I had this business professor, that or business teacher in high school that always talked about money being a tool, and I never really saw that until I got in real estate. And then I can see, "Hey, look, it is a tool." I don't think money is freedom, I think freedom's within yourself. You hear that a lot all the time, right? Like, cash flow and money is a freedom. And that's, if you look at it that way then you're saying "I need to have cash flow to be free." And free with your time, maybe, possibly, but I don't necessarily agree with that. I look at money as a tool, man. I play life like it's one big game. And it's not to say that those who don't are doing something terrible, but I really do I just look at it. Everything is one big chess match and you're making strategic moves. And this is where you do with this. And this is what you do with that and it's completely unemotional. I think I got wrapped up in probably the heat of the moment in that podcast in the thing I made a statement hey, you know.
Jack: No, I liked both statements. I like I agreed with you on both ends. So my mind, money is I absolutely agree with a tool. But then also, if I put myself into the beginner's mind, again, if I put myself into the mind of where I was when I had a severe lack of money, when I didn't know if, when I had a job that I couldn't quit, when I barely was I making ends meet, then money represented freedom at that point.
Mike: Yeah.
Jack: Right? Because there's different phases you're in. If you're living in, like in a crappy situation, in a, I don't know, rat-infested apartment where the water's broke, where there's like leaks, and there's this mold and humidity and things like that, and you don't have a car and you have to walk to work and you're in a crime, and in a bad area of town and things like that and that's all you can afford, then money equals freedom from that situation. Money equals freedom that you can break out…
Mike: You can escape man.
Jack: …and that you can live a better life. Once you're out of that though, money doesn't mean freedom anymore. Money now means possibilities. Money means choices, right? Money means choices of, and the ability to afford the best healthcare, the ability need to fly your parents, and my parents are coming in tomorrow from town, we're flying them in not tourist class anymore, right? We're flying them in, we, when were, back in September we're in, or in the next few weeks, again, we're recording this at the end of August, we're gonna be in Germany, and I'm bringing my parents and my brother and his family all to Munich and we shall spend the week together. Money allows family, as a tool, for family to be together. And then at that point, money becomes something else. And above that level, if you look at Warren Buffett, to him money is a scorecard now, right?
Mike: Yeah.
Jack: So he talks about, he does what he absolutely love. He says he tap dances to work every day, he wouldn't do anything else in his life ever again. But he is worth $65, or $60 billion. So he doesn't do anything for money anymore. Money doesn't matter. He went through this completely for free. Money is now he knows whether he wins in the game of business or he loses in the game of business based on how much money he makes. But he doesn't need any of the money. It's a scorecard of the game he's playing. So money means different things based on where you are in your life situation. But as soon as you're above that kind of scar, like really kind of fighting for your life kind of like and your life being threatened, it becomes just a tool of possibilities and of choices to me.
Mike: You know, it's interesting, Jack, there's a lot of wisdom in that statement, man. There's a lot of wisdom and a lot of years of not having and having money. Right?
Jack: Right, yeah.
Mike: You can tell that. I worked with a guy when I was in my teens, I think I was 16 years old. I worked at this garden center and I loved working at the place. It was awesome. But there was a guy there that work there for like 20 years. And one time I told him, I was like, "I think I'll make $10,000 this year. I think I'll be able to save $10,000." And he looked at me immediately and he said, "No, you're not." I looked at him and I was like "What? Are you telling me that I won't? Watch me. I'll do that." And I didn't end up doing that. But I always remember his reaction and like, the baggage that I could feel as a teenager that he held with money. You know, and that's something I never wanted to have. Right? I never wanted to be like, I mean, people have scar tissue when it comes to it. I didn't have, my grandmother for example, right? She raised three boys at, her own, I never saw her fill up her gas tank. And I didn't know that was the thing, right until I was driving with a buddy one time and he… You'll got a kick out of this.
So he started filling up his gas tank, Jack, and then he walked into the convenience store with a little clicker on. And I was sitting in the passenger seat and I was watching and I was like "Man what's happening? What's going on?" And he's gonna let that thing gets past $20." And I started, this anxiety overcame me and I had like this anxiety about it. Then I watched it and clicked off. And I'd never seen that happen before. And I was like "Man, that guy must be rich, you know. That guy must be rich, my buddy must be, he's balling out of control if he can do that, and not have to worry about it." And so I equated it from a young, I would say from a young age like I wanted to fill my gas tank money, right? Everyone says their own thing. But man, I, yeah, money is an escape for a lot of people, and they talk about having a million dollars, right? Why do they want a million dollars? Just like you said, they wanna have some type of freedom, they wanna escape the drudgery that they're in, or they wanna escape the stressful feelings that they have toward money because not everyone's raised with it or not everyone experiences it. Right? I believe that everyone can have it, 100% believer in that but you have to do the right things and take the right actions and have the right mindset about it. And that comes with a lot of perspective and a lot of interest.
Jack: And then once you have it, use it properly. Because don't burn it right away for a Lambo. But instead, use it for, I mean, if that is your lifelong dream, then do that. But once you're 80 you're probably like, "I probably should have bought a bunch of other things, rental houses for that or reinvested it and something else," and so on. But who am I to judge. I'm not judging here. I'm basically just, we're living, as soon as we made money, we're living in the company, we living in the forever cash world that we reapplied right away into cash flow, and then we go spend the cash flow. But that's a difference philosophy. Very nice. Awesome. So we didn't really talk about many land deals here. But at the same time, there's lots of podcast episodes to talk about land deals. And tell me just perhaps one more land deal. Tell me one of your fastest land deals and perhaps one of your most complicated land deals?
Mike: Okay. Fastest land deal. I had a buyer in a region…. So it's probably not gonna be super entertaining. But I had a previous buyer on a piece of property. I got a contract in. And I literally came home from my P.O. Box, I sat down on my desk, I opened it up, I saw where the property was. I called the seller, made sure that they were good, and had a little bit of conversation with them. I sent that buyer a text message with the property and within I would say about an hour and a half, he texted me back saying "Yeah, I'll take it send me a contract," right? We closed seven days later. It was an easy deal. I think I made like five or six grand on it, wasn't a huge deal, right? But, it was fast, man. I mean…
Jack: The message here is know your buyers. If you have a buyer that wants to buy either more than one property or is specifically focused on one certain location, and he's a serious buyer, then keep that buyer in the back of your mind. The next time you get a deal on there, you might not even have to go through the entire advertising process. One text message to that guy and the property might be sold.
Mike: Yeah, yeah. And be a good person to them too. Right? Like, you never know who's gonna be a repeat buyer. Because I've dealt with a lot of people where they're really skittish to work with me to begin with, and then afterwards, they're like, "Hey, Mike. You got more deals? You got more deals?" And they're scratching their neck and trying to figure out where more deals are because we buy them at great rates, you know, and we sell them at a pretty good discounts, so everyone's happy.
Jack: Absolutely.
Mike: The hardest deal I worked on, I think I told it at your seminar, Jack. It was a probate deal. Man, it took me a long time to do, right? I could go through and retell the story. Anyway. We had two pieces of property, one of them needed to be probated. Turns out the second one needed to be probated after we resolved the first one. This was at the closing table that we realized that we were wholesaling it to someone doing a bank loan, which I think is pretty interesting as well, because most people say you can't do that when you can if you're working with the right title company. So the bank had already signed off on everything. And my title agent came back and said, "Mike, I can't close this like the last minute thing. I had this, I didn't realize I needed to we got to do a probate on this one." I was like, "Okay." So we get ready to do the probate. We get the probate done for her. It was an heirship affidavit so it was a simple probate. And it turns out somebody on the heirship, turns out there was a lien holder previously. We take it to close again, there was a lien holder that was previously on the property and they had died. They were paid out completely because there was an old house on it that burnt down. And now I had to track those people down. And through a ton of means I ended up tracking them down. It took me five months. We ended up getting the deal done and closed. And my title agent called me at like 9:00 pm, the night it closed and she celebrated. We're really happy about that. So, I mean, that was probably one of my most complicated ones. It was a good deal, though. I'm always happy to take down the hard ones, because very few people are willing to and I got the time to do it.
Jack: That's awesome. So yeah, I mean, this is like the reason why some people are willing to give up these properties for almost nothing is that there are some title issues. And they think it's not solvable. But often it is solvable. This was a more extreme case. But in some cases, you just have a smaller state form that you fill out and you're done. Sometimes you have a full blown probate that ends up costing $2,500 or acquired title suit that ends up costing $2,000 and takes an extra three months. So you just jump in and you work with your seller, you work with your buyers on that, you explain the situation, you pull the deal through and then it sells, you make just perhaps less, a little bit less money or you can often get the seller to reduce their price by the cost of doing that. And then this, because the seller now looking at it, the option for the seller is like, "I either cooperate or I get zero money." Right?
Mike: Yeah.
Jack: And now all of a sudden it works. So there's many ways to rescue those deals, you just got to learn a little bit about real estate. But the nice part is on top of learning about the process part of real estate, you don't have to learn about rehabs because there's no houses on the property.
Mike: So, compare it too. Compare like the margins in the profit and of doing a deal. Let's say you make $6,000 on it, and it really, it takes you okay, a week of worrying if it's one of your first deals and you're super stressed out about it. How long is it gonna take most people a month to make $6,000 working every single day. And that's above average, right?
Jack: Right. And that is $6,000 at 40 hours a week, that's 160, 170 hours a month to do a $6,000. It doesn't take 170 hours to make $6,000 in this business.
Mike: No, not at all. So put in the time and figure it out. That's, I mean,…
Jack: Wonderful. Awesome. Well, thank you very much, Mike. I have a couple of questions left for you. I think it would fine if we do it right now. I think I put them on where I just don't know where they are. But let's go. What's the book that you're currently reading?
Mike: Oh, yeah. "High Performance Habits" by Brendon Burchard. I'm rereading that one, brush up on it. It's an incredible book. I recommend it to anybody who really wants to get their mindset right, and operate on a more efficient level.
Jack: Wonderful, wonderful. I like Brendon Burchard a lot. I started reading some of his books. His sentences are too long for me.
Mike: Long sentences, huh?
Jack: So anyway. No, he's got these, good stuff, really good stuff. But then, the next thing is, what's next? How many deals are you gonna do next year? What's the goal for next year.
Mike: Man. So if I can get my team in the position that they're at, what I'm really hoping to do, right, is maintain somewhere between 100, 125 deals and then double down on my margins. I feel like I'm leaving a lot on the table in the margin side by not having the help that I want and need really to be able to have the business that I want. Right? So I mean, on average margin right now is like right at, I think it's like $6800. We're doing a lot of bigger deals right now. So they'll probably improve this year. But I'd like to double that and then do 100 deals that way.
Jack: All right.
Mike: So I think we can do.
Jack: All right. So you move that to 10., and then you double it to 20 at 120 deals. That's $2.4 million in profits.
Mike: Yeah.
Jack: I like that. That's a good goal. That would be a beautiful goal to accomplish. So awesome. So I think that's all I have right now. So thank you very much for being on the call with us. I really appreciate you. Thanks for being a mentor in our organization. Thanks for mentoring from the heart and from really caring about success of your students. I mean, otherwise wouldn't be a match anyway, but I'm glad. But this is the kind of people we like to surround out with, like you. And with that said, everyone, this is the end of the podcast. Make sure you give us a thumbs up if you're watching this on YouTube, a five star review if you're listening to this on iTunes or any of the other places that podcasts can be listened to. Give us a written review, a five-star review and we will be super excited to see you in the next podcast. All right. Thank you everyone, and thank you, Mike.
Mike: See you Jack.
Man: Enjoyed this episode? Then make sure you like, subscribe, and post your comments, and questions, below the video. We're looking forward to hearing from you.
What are you thinking?
First off, we really love feedback, so please click here to give us a quick review in iTunes! Got any thoughts on this episode? We'd love to hear 'em too. Talk to us in the comments below.
Enjoy this podcast? Share the love!