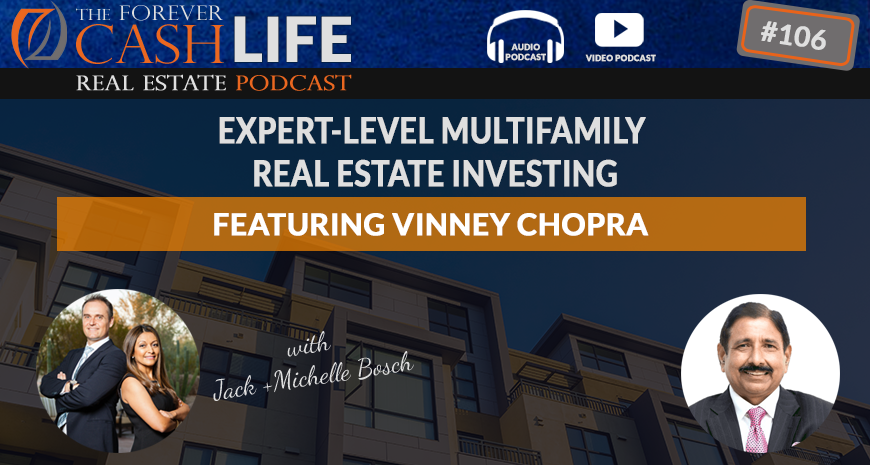 Vinney "Smiles" Chopra, a mechanical engineer, came to the US from India with $7 in his pocket. He sold encyclopedias and bibles door-to-door as a student. His hard work paid off when he graduated from George Washington University with an M.B.A. (In Marketing). He realized then that he would make his career in "Relationship Building and Networking" field. As a multifamily syndication expert he has facilitated over 27 successful syndication deals and has acquired and manages a very successful real estate investment portfolio worth over $300 million. Vinney has been a professional Fundraising Consultant and Motivational Speaker for over 35 years. He has given over 10,000 exciting speeches and seminars on Fundraising, Positive Thinking, Enthusiasm, Goal Setting, Balanced Living, and has been involved in Business Coaching. He travels and gives live presentations and webinars on Wealth Building. Creating Wealth with Multifamily Investing, Value-Add Win/Win Negotiations, Emerging Markets, Market Cycles, Economic Funding, Commercial Properties Analysis, Due Diligence, investing in Multifamily and the Art of Raising Private Money.
In this episode, Jack Bosch chats to Vinney about his experience in multifamily real estate investment – Vinney has been doing this for many years and has a vast amount of insight. You'll discover how an expert in the field thinks about investing in this space!
Listen and enjoy:
What's inside:
Find out exactly what multifamily investing is
Discover insights into making a multifamily investment pay well
Understand the power of building a community
Learn how to find the right tenants – and how to keep them
Mentioned in this episode
Tweetables:
Transcription:
Jack: Hello and welcome to another episode of the "Forever Cash Life Real Estate" podcast. In this episode, I'm going to talk about lessons learned from several years off multi-family investing. All right. So, get ready. We're going to talk about the good, the bad, and the ugly of investing in apartment complexes, how it compares to other things because as you guys know, we're doing land flipping. We have a portfolio of rental houses and we also have 300 something door's off apartment complexes adding probably another 250 doors to this just this year. All right. Let's get started in just a second.
Jack: All right, hello everyone. This is Jack Bosch speaking with another episode of our Forever Cash Real Estate Investment Podcast and YouTube Show. So, if you're watching this on YouTube, hello and we have a very special guest. We're going to talk multifamily today. Multifamily, multifamily syndication, multifamily raising, multifamily management whatever comes up with an expert who has owned over 3,500 units in the United States. So, we're going to get started in just a second.
Announcer: Welcome to the Forever Cash Life Real Estate Investing Podcast with your host Jack and Michelle Bosch. Together, let's uncover the secrets to building true wealth through real estate and living a purpose-driven life.
Jack: All right, hello everyone again. So, we're excited to talk about multifamily investing today, apartment complexes, multi-unit apartment complexes, medium, large, I don't know whichever size we're gonna talk about. But our guest today is Vinney Chopra, who came here from India about over 40 years ago, right? And he has… Hi, Vinney, how are you man?
Vinney: Hi there. Hi. It's wonderful, wonderful to be here.
Jack: Wonderful. That's great. And Vinney, has been like, he came into this country with literally almost nothing and then he built up from that quite an empire in real estate, in syndications, in raising funds, in education, and so on. So, Vinney I'm not gonna take your…steal your powder, give our listeners a quick introduction of you and your background story.
Vinney: Sure, Jack. I came from India just like you said 40 years back. I'm a mechanical engineer. I broke a lot of toys when I was growing up. I wanted to look into the toys and see how they operate and things like mechanical toys, became engineer. I wanted to do my master's in business administration, so I came out to Washington, D.C. with $7, sold Bible books and encyclopedias door to door. That's what converted me from a, you know, engineer to a sales guy actually, sales and marketing. And I became like a motivational speaker. And that was a long, long, long career in that, became a broker in California. I live near San Francisco.
We got married 39 years back. We moved here into San Francisco area 39 years ago, and have two children, Neil and Monica and my lovely wife Kanchan. And, you know, we've been crushing it in buying single family homes all over USA, but then we found like in 2003 and 2004, I became a broker. We were wondering, you know, how much cash flows are we getting from single family homes. There was not that much, we couldn't retire on it. So that's when I got introduced to the multifamily.
So the bug caught me in 2004, almost 15 years back, never looked back, and I have syndicated 27 syndications. My big one is the $50 million one right now, which I just put an offer to buy a $33 million asset, you know, $33 million. So $7 to $33 million, now in one asset, that's where my story is. You know, and we bought over 3,500 close to that. We have sold already quite a few, given my investors 18% to 43% per year, that's per year returns, by, you know, cash flowing and equity gains and things like that.
Jack: Absolutely. Very familiar with the game, as our listeners probably know, we have done a few syndications ourselves, three to be exact, in the last…well, two of them in the last nine months. We have bought a $7.5 million asset in the last 9 months, and had to raise like a total of $4.5 million, $4.6 million for that. Which grew us into quite a different kind of thing, but I can relate, it's quite a different kind of world than any other kind of real estate world.
But I relate with you about the houses. We planned the exact same house, just by I guess a few years later which is, we continue doing our land flips, because they are just easy land flips and easy cash and easy cash flow. But on the house side, we bought a whole bunch of rental houses. And I'm not very happy with the cash flow that they're bringing. I'm not very happy with what they're producing, because you have to rely on outside management and outside contractors and outside…like every air conditioner even has a screw loose, they're gonna recommend a replacement.
Vinney: Yes.
Jack: I am not an air conditioning guy, I won't go there and look at it, plus these properties are at a distance, guess what we end up doing? We end up perhaps setting a second or third property management company there, which…or actually air conditioning company there, which perhaps one of them is honest and realizes there's only a screw loose. But here, we end up replacing it or we end up having a lot of extra effort getting two, three companies out there, and there's just not much fun doing single family deals, in my opinion.
Vinney: You're so right. You're so right, Jack. I mean, that's what caught my attention, because I said, "Oh, my gosh, if I have 20 scattered homes all over USA, we had it in Phoenix, I've mentioned to you, three of them, in California we had set in, and then Georgia, India, a lot of other places, Texas. But what we found was, if I could get 20 homes under 1 roof or 2 roofs, that's gonna make it much easier my job. I can manage 20 different residents, we never say tenants in our language, you know, they're residents, over 50. If I got 50 residents in, you know, few buildings on the same lot, you know, maybe land of 4 acre or 5 acre, I can have a maintenance person, I can hire a leasing agent and a manager.
So the economies of scale really caught my attention, being an engineer. So that's what we have done, and then you can value add much better in the apartments, where you are able to give special, you know, curb appeal, of course, and then putting the cafes like we do in our communities, Moneil Communities. We put cafes, we do dog parks, we do tennis courts, exercise rooms. So more people are able to get great amenities or media centers, then we can increase the rent. And then the value increases in multifamily many fold much faster as compared to the single family.
Jack: Absolutely, yeah. So we came to that same discovery several years ago. And that's ever since we have taken our personal investment strategy into the multifamily side while, of course, still in our land deals, that's what we're known for. But basically, we make money in land and then we invest the money into apartment complexes or what we call Forever Cash, which happens to be the name of the book that I wrote, right.
Vinney: Oh, yeah. Wonderful.
Jack: And so that's exactly so far. So now, let me ask you, when you go into…do you have like a box that you look for? Like, when we look for apartment complexes, we have a specific set of criteria of what we're looking for. We're not doing total remodels, we're not doing total repositioning, where we kick out all the residents, or where we ask them all to leave, where we then remodel the entire thing and then refill it up, that's not our model. We do a pure cash flow model. How about you? Do you have a model, or two or three models, or is it just depending on the opportunity?
Vinney: I'm glad you've mentioned it, very truthful very similar to your philosophy, I'm also with the same notion. I have been buying momentum place, I call it. Momentum place are the assets that are cash flowing on day one. So, I have always taught my students also and myself for the last 14 years that I'm gonna buy the properties which are 75% occupied or more, or more. There could be value add function once I take over, but I have never done big, big ones where it's only 30% occupied or zero, you know, like just empty. I've never done that.
So the thing is, I go after emerging markets, which you probably also do, that's where the jobs, jobs, and jobs. That's the whole mantra. The thing is to find these pockets of great places around the USA. And they're all over from Seattle, all the way…well, Seattle is very hot, now Portland, it used to be. In California where I live near San Francisco, not too much can be doing, everything is so expensive. So, a lot of people talk about Texas and North Carolina's, and the Florida's, and Phoenix where you are, right there in Arizona, very nice markets are emerging. That's where we have been purchasing, you know.
So I have never done complete rehabs just like you said. I used to look for C- properties in a A area or even C+ or C properties in a B or A area. Like, San Antonio, we went there to the Alamo Heights. People told us Alamo Heights has million dollar homes. It's an A area, we were looking for C assets, and we bought six of them over there, one after the other, one after the other. This is 2009 and 2010, we sold them all within four years and doubled moneys and things like that. I just sold the last one in Seguin, Texas last year, on a golf course.
Jack: Good timing, as the market is really tough right now for those who want to get into the market. Talking about that, what do you think…what do you see the market…what do you see happening in the market? Where do you see the market going?
Vinney: You know, the market is, I would say last year I didn't buy any. Oh my gosh, I underwrote so much like you said Jack, it's just been a tough one. Lots of new investors penetrated the market quite a bit new ones, the new ones they didn't know much or whatever or their gurus didn't tell them and they paid over-pricing for it, they're gonna be in trouble. I never bought. I underwrote maybe 100 different ones, LOI, I put it on some, but nothing worked.
But now, I just see some but easing of the market little bit. And especially the little bit higher level in the B class assets, B in A or B+ or B- in A, that's where I'm concentrating. So I see that, you know, the thing is, I also believe, Jack, that one cannot get out of the market to really make money. You got to stay in the market, talk to brokers, build those relationships, and be in the game. Because, see, you never know when the market is gonna have good…I mean, things happen, divorces happen, the groups, you know, complete their four or five year cycle, they are ready to sell this, you know, apartment buildings and all, and all those things happen. So you got to be in the market so that you can get some good fruit, yeah.
Jack: No, I absolutely agree. And this is the big discovery. I mean, not the big discovery but this is what we discovered when we went into the apartment complex market that is a completely different ball game. I would say buying an apartment complex is about 3.2 million times harder than flipping a piece of land. And it's on multi-different levels. So it's not negative, it's actually…you got to know what you get into, because it's a complex business, but then the payoff is also very, very high, for that.
Vinney: It is. It's very exciting.
Jack: So the payment is very high.
Vinney: Very exciting, which you probably already know and your audience knows is you get paid four times in owning the multifamily. The first one is, of course, the acquisition fee. I was taught by the very best of the best syndication attorneys in this USA, and they've done my 27 syndication, just same attorney. I've kept them, you know, with me, and the best part is that they taught me. They said, "Vinney, you could charge 3% to 5%, my mentor told me, off the purchase price." So I've been very consistent in all my deals, 26 of them, 27th one coming up, 4%. I used to charge 3%, now I charge 4%. But now with the market adjusting, I want to let again your audience know, we are even going lower, you know, because you've got to make the numbers work.
You know, I've been buying 70/30, 60/40, 60 goes to the investors, 40 comes to our company as the general partner. We are doing even like 70/30 or 80/20 in the first month a year just to get the numbers work. And then we can change that in the second year, third year, fourth year like that to get that, you know, a little bit. Of course, that's the acquisition fee, second one is the, you know, 1% or 2% asset management fee we call it, right, asset management fee, that's another one.
In our model, we also have the cash flow we give to the investors on a quarterly basis. Some people do it, syndicators do it monthly, I believe in quarterly so that large chunk of…
Jack: We do too.
Vinney: Oh, you do too. Okay, great, great. This way, you know, they just walk four times to their mailbox or look at their bank account and see thousands of dollars coming in there, you know, and that's a good thing. So that's the other one and we also take cash flow every quarter. So our company, general partners, we make cash flow also there, and then we do equity gain as you all know, right? Once we sell the property, I just did actually one property I bought for 3.55 million near Houston 4 years back. Jack, just sold for 8.5 million. Thank you.
Jack: Beautiful. We have a similar deal on the contract that we're selling right now, which we bought less than 3 years ago for $3.6 million. And we're listing it for $9.2 million.
Vinney: Oh, my gosh, wow.
Jack: Probably going to sell it in the $8.5 million or $8 million or so range, but, yeah.
Vinney: I love it, I love it, I love it. That's great, you know. And the key thing is that the investors get great huge returns, they tell more people, and more people, and more people, and they are ready to invest with you again. See, the reason I did this big deal which is $33 million, I hope I get that, because my investors just got $10 million or so in January and February. So they're knocking on my door. They're saying, "Vinney, when is the next one coming, when is the next one?" So it's good to have it.
Jack: When you sell a property, do you pay it out and pay taxes, or do you do the 1031 exchange?
Vinney: Good point, very good point. See, because what happens is different thoughts out there. In our syndication, you could do drop and swap it's called, I think, maybe you know some different ways to do it. But it's a LLC that really owns the interest, right, for four years, five years. So in talking to CPAs and attorneys and we have done seven meetings together, they say that there are a few specialists in this field, where what they do is once you are ready to close on the deal, you change the structure from an LLC to TIC, T-I-C, Tenants in Common.
Maybe, you know, that will be something, you know, I don't really promote that. But we could do it, where then all the people who are my investors, they can take their gains, and then use them for 1031 into their own deals, that's how it is. Or, if there is a meeting of mind in the syndication model, we could cash out some of the investors who need cash. And the ones who want to stay together, we could buy another asset. But then the rules apply, that six-month rule, 45-day rule before and all, you know, I like that.
Jack: Which makes it challenging in this market to find something.
Vinney: Yeah, a bit challenging. That's the word I want to say, because I did do one take where one of my investor brought money in, $750,000, but it's been a nightmare. Because you have to run the operation separately, because they own certain part of this complex now. You know, with the TIC and all that, so that's where a simple answer is, you know, it's better to just let that gets a depreciation, accelerated depreciation of course, go through the whole pass-through entity with the LLC. And that way the investors get their K1. And the K1 reflects the distributions but also get into effect their depreciation, accelerated depreciation, the whole tax ramification and the property taxes and everything. Because that makes it negative, you know, yeah, even though the property might be making lot of profit in the year, paper loss of accelerated depreciation makes it negative.
Jack: Yeah. We just bought an apartment complex that we bought on December 19, cost segregation study done right that same week, and as we got this property was able to write off $1.6 million in the first year.
Vinney: Yes, yes.
Jack: Like, in December, within 11 days, we were able to write off $1.6 million.
Vinney: Oh, my gosh.
Jack: That is basically being split between the investors. The investors get a large portion, we get a sum of [crosstalk 00:18:19]. And so the investors got their K1 right now, and they all called us like, "Why do I have a $50,000 loss?" We had to explain to them, this is actually a good thing.
Vinney: Exactly.
Jack: Because the property has already the first 3 months we've increased end net operating income by 15% in 3 months already, but you're actually saving a lot of taxes in your 2018 tax returns because you're able to do that. And they're like, "Oh." Now the wheels are spinning and people are starting to understand the whole…
Vinney: Love it, love it.
Jack: …concept of paper losses versus real world income is.
Vinney: Totally, totally. Now, of course, you know, because I'm selling some, I sold two last year, I sold two in January and February, pretty big paydays of course, you know, million dollar paydays. But the good part is that a lot of these investors we have to teach them too, because we are selling now lead capture of the depreciation comes in, you know. So we have to teach them, all right, we are getting some great effects but there will be capital gain that's gonna come in four years or five years. And that's a good way to really be transparent and letting them know about it.
And nobody has really said anything. They say, "Vinney, you're right. I know we have to pay tax." I said, "Yeah, I know you got if they're making 37% or so plus more, but in the capital gain with a long-term capital gain is lower percentage."
Jack: And doing the math they pretty much paid no taxes in the year one, two, three, four. And now they're paying some taxes on the end, which you do it as a blended rate, it's still…I made the math, it's still very, very much lower than they would pay taxes [inaudible 00:20:06].
Vinney: Totally, totally.
Jack: Absolutely. Very nice, great. So, you assume you only do, you do five or six Cs, right, with everything that is running?
Vinney: I've done 26 of them, 5 or 6 Bs, can you believe?
Jack: Really? Okay. Yeah, we do Bs too, which for those who are listening, the difference is that the 5 or 6 B, you cannot advertise for investors on that. But you're allowed up to 35 non-accredited investors to invest with you per deal. So a non-accredited investor is somebody who does makes less…has less than a million dollars worth of assets outside of their permanent residence. Or makes less than $200,000 a year for the last two, three years, or if married, $300,000 a year for the last couple of years, with what they say reasonable expectations to make that this year too. So if somebody has a million dollars sitting in the bank or in the stock market, they're accredited.
If they don't have a million but they're making $200,000, or if they're married, $300,000 and they have been making that for the last two, three years, they're also accredited. In that case, they can invest in any kind of deal. But if you're making less than that, there is a way with a syndication followed by the SEC rule 506(b), 35 of them can invest in one deal, which is very, very exciting and very good for us, particularly, because in our case, some of our students that we teach end up investing with us. Not everyone there is of course accredited.
Vinney: Surely, Jack.
Jack: [crosstalk 00:21:40].
Vinney: And you know the good part is… Yeah, they are the sophisticated we call it, right? Non-accredited, sophisticated, who know little bit about, you know, investments and things like that. But up to 35, you're 100% correct. What has happened is from my zero investor 10, 12 years back, 12 years back, to 130 investors now we have a mixture of majority of them are accredited investors. But because I was just purchasing one at a time, one at a time, or two at a time, I just kept on doing the same, same, same. So now I have that $50 million fund, which is $50 million 506(c). So this way, what I've done is two-year horizon on the fund, two-year horizon. So onetime fee on syndication, that's the best part about it, but I can stop and start anytime I want to raise money.
So like I'll buy this $33 million one, I'm raising 9 million or 10 million or whatever it is, then I'm gonna stop, take possession of the property, start managing it because we manage all our assets. And then I'm going to raise again, find another deal in the same fund, same paperwork, same everything, my same investors can increase now more money without filling on any new paperwork. That's the beautiful part of the fund, which you may like to look into. And I hired a very nice guy.
Jack: This is actually on our horizon for this year, the second half of this year. Over the summer, I'm planning to look deeply into that and set something like that, most likely set something like that up here.
Vinney: Oh, wonderful. If you'd like, you know, please send me a message. I would love to introduce you to my syndication attorney. And my multifamily fund is moneilmultifamilyfund.com.
Jack: And I like the name of it. Can you explain the name of it?
Vinney: Yeah, the name of it. Yeah. I know, Moneil is our kid's name, Monica and Neil, we combined the two, you know. Sure, sure.
Jack: That's beautiful.
Vinney: You know, that's an exciting thing, and then I got a fund administrator from Beverly Hills, because we are in California to watch and audit the fund, and he'll be doing the chewing up, it's called. Chewing of the investor's equities and cash flow as they come into the fund at different points, so just got him in.
Jack: Obviously, there's a lot of accounting in the background. Because somebody who joined the beginning needs to get paid, and then if they have increased their amounts that needs to change. So there's a lot of like, flow of needs…like accounting in the background to make sure that everyone gets paid the right amount at the right time.
Vinney: Exactly. Yeah, that's so true, so true. And that's why it took me some time to interview a lot of CPAs and attorneys. I like to understand myself as being the CEO of the company. Even my syndication attorney, she was with my calls, you know, without charging me any money. And we were able to perfect the whole system, which is exciting.
Jack: Wonderful. Very nice, very nice. That's very cool, it's very exciting to hear. Great. So, now you also, you say, you're almost like a motivational speaker, so what are you doing that end? Then I saw in your website that you have a…
Vinney: Thank you.
Jack: …youth program too, [crosstalk 00:25:01]. Tell us a little bit about that.
Vinney: Thank you. You know, my motivation speaking comes from, I've been a product of all the great mentors like Jim Rohn, you know, of course, Stephen Covey's and, you know, I can go on and on, Tony Robbins and, you know, Jack Welch and Dyers and, you know, all of them, right, lots of different things. So, I've been also doing motivational speaking in front of my audiences, I've given over 10,000 speeches.
Jack: Oh, wow.
Vinney: And it really motivated them to point of action to goal set, to think about rejection in a different way, to really look at the positivity. I've always lived my life with lot of abundance nature. I've not really looked at it when I came in $7. I had to make it or swim it, right, into the ocean. So that is the attitude I have, and that takes you to a very big height, if we take the barriers out. Because a lot of us have those barriers between our ears, you know, right there, and that's what limits us.
So I believe in law of attraction, I believe this book secret, lot of people do that. Twenty four hours secret is working. The antenna, we all are like transmission studios, we call it, you know, whatever energy and the message we're gonna send out into the universe, cosmo, other people are going to get attracted. And if we say to ourselves, I really want this so badly. And you have to have that commitment that burning desire.
I really believe in daily massive action. I do believe in writing lot of goals, but I hate it when people show me like a 10-page, you know, plan, okay, that's my life plan. I said, "Okay, guess me, tell me why do you want to…just put everything on one page, just put in one page. What you wanna accomplish for the last five years, you tell me in one page, and then you look at it and show me what the progress you've made. Don't tell me all these different things you're going to do with it."
Jack: Yeah. The thing about "The Secret," I love "The Secret." But a lot of people misunderstand about the secret, which you obviously just pointed out is that you can't just sit there and wish a new bicycle and it shows up. You got to wish a new bicycle now that the universe, let's say the antenna is out, the things move. But what is gonna happen is the opportunity for you to earn that bicycle is gonna come.
Vinney: Yes.
Jack: Right. So, you need to still take action, you need to do massive action as you said. But we call it manifesting. So we are like literally living in a manifesting world, but what you set out there…I mean, we found, we just recently moved to a new house. So in the process of moving out of the old house, we found all kinds of different things, vision boards, goal list, and things like that. And the fun thing about it was that almost everything on those lists had been accomplished.
Vinney: That's awesome. Awesome.
Jack: And it has been accomplished by writing them down and then by them sitting there and then sitting in the back of your mind, and then us taking action towards them. And things of the thing, of the things happened, so there's something to be said about writing them down and making them conscious. Because then your subconscious mind starts taking action, you start materializing it, but you can't just sit there and wait for the world to bring up to you.
Vinney: You know, Jack, you just hit the nail on the head. Lot of people say, "I have goals, I have dreams and goals." I said, "Are they written down?" I mean, that's why 87% of the people in the universe don't achieve a lot of goals, because they don't write them down. Only 13%, statistics say, I don't know what the new rate…if we do another Harvard study, what will that be, but the key thing what you just said is written down goals and looking at them daily, weekly, morning, evening. The thing is, you got to be passionate and have that burning desire to move from point A to point B just like you said, manifestation and then come with a game plan.
See, I believe yesterday happened, whatever happened yesterday, you can't change it. I cannot even change 30 seconds, that's gone. Let's talk about 30 seconds you're in right now and 30 seconds that is gonna be next one. So, taking massive action through a good solid game plan and rewarding yourself, you're gonna reward. See, the thing is, a lot of times people beat themselves up for not accomplishing much. But we need to reward ourselves and say small, small steps get us to the next level, and the next level, and the next level.
And we need to really introspectively, just like you said, subconscious and conscious, subconscious is 24 hours working. It's taking the picture like a movie reel, everything happening in our mind and also surroundings and everything. It doesn't know anything good or bad. It's gonna always keep that into that computer, in our mind. The biggest thing is that we need to concentrate on the present "Power of Now," Eckhart Tolle's book, I love that book.
Jack: I love it too.
Vinney: "Power of Now." And the good part is, you know, we got to be looking at what's the best year…what's the Alan Lakein's book, "How to Control Your Time Control Your Life." I picked that up 35, 40 years back. That changed my life, because what's the most important thing, right now what I'm doing. If that's not the most important thing, lot of us spend so much time in a day A, B, C, D, E, F, G tasks, we forget the As and the Bs.
But we get so much stymied and crucial, you know, all these, you know, stressed out, and what's the word? You know, we get…I mean, distractions are there, you have them, I have them, everybody has them. I mean, if you're growing as a company, as a CEO, and whatever life, you will have distractions. But we got to find time, where you say, "Hey, I'm busy right now." And that's your time, thinking time I call it.
Jack: Thinking time and time to spend as you said on the A and B task, because it's [crosstalk 00:31:26] and everything.
Vinney: Yes, A and B.
Jack: So 20% of what you do affects brings you forward 80%, that's 80% of the progress. So you got to keep looking at the A, and you do that obviously. Keep looking at, what is the 20% that you need to focus on, and then ideally find somebody else to do the other 80%.
Vinney: Exactly.
Jack: So you can just focus on that one.
Vinney: Totally. Virtual assistants, I have like four or five virtual assistants working for me at very reasonable cost. Because I'm not good at a lot of things, so it's good to delegate. So if we can really learn the method of prioritizing our tasks and life, and also delegation, those are the two things which can give us abundance of time and energy. And the other best part is your audience, I'd like to say, at the age of 66, I'm 66, I'll be 67 coming up in August, but I have a passion and the vision board for next 25 years, I want to so much accomplish. A lot of people are now saying, "I'm retired," this and that, you die. You know, when you are not thinking and stimulating your mind, you die.
Jack: If you're not growing, you're shrinking.
Vinney: You're shrinking, exactly. You're never sane, you're never sane, health wise, vision wise, all that. But the best thing is that you've got to have that burning desire and that passion. I would love to say, I know we have a little bit time, about the youth academy. I am so passionate, not too many people in this country and around the world, in the high school, or junior high or elementary school talk about success or finances and different things like that. So my thinking is little bit at a semi-small level, how to teach high school students, or even when they get into 14 years of age or more where they can do their own company. They could form a company instead of just wasting time listening to all these things and watching TV and all that, have a business so that they can start thinking. And by the time they are in college to own a duplex.
So that's one of my passion, if you can teach them real estate at a young age, early age, and them to really save money because the saving part is a huge one, and to be able to live rent free at the age of 20 or 22. And then build their career from there, always have the real estate angle very early in their life. I think there is so much to say about the real estate is gonna be here, of course, different forms are there and all that. But the biggest thing is to introduce them the concept of success, entrepreneurship, positive energy, commitment, working hard, and living life to the fullest. If they can learn that at the age of 18, I think when they'll be 38, they'll be doing wonders in the world.
Jack: Yes, absolutely. Wonderful. I think there's no better way to end this podcast than with the best motivational message speaking about the youth. So, Vinney, how can people get a hold of you?
Vinney: Surely. You know, I'm all over the internet, on Facebook, LinkedIn. Just say Vinney Chopra, V-I, V as in Victor, I-N-N-E-Y, C-H-O-P-R-A, like Deepak Chopra. He's a great, you know, speaker and great motivator, everybody. I'm just very small guy, right here in San Francisco. And, you know, Vinney Chopra. And if they would like to learn little bit about my philosophies and things like that, they could just text the word, learn, L-E-A-R-N, learn, to 474747. So, this way they get to my mastermind in a circle team. We'll write back to them, text them back, get their information, and then see what they would like, how can we add value to them? That's what that is, so.
Jack: Wonderful. All right, thank you very much.
Vinney: Thank you.
Jack: So, with that, that was a great firestorm of knowledge. We talked about multifamily, we talked about syndications, we talked about funds, we talked about youth, we talked about manifesting. We talked about lots of different things. I love it, absolutely. Thank you so much for being on the show, Vinney, really loved it.
And for those of you who are watching us on YouTube, make sure you put the thumbs up, you put a comment below. Ask your questions below, we make sure we pass it on. And if you're watching or listening to this on iTunes, make sure you give us a five star review and leave a comment below too. So, with that I say thank you.
Vinney: I want to thank you, Jack. And I want to congratulate you on running such a great podcast show and the whole business, and God bless you. You bring such great…I listen to some of your podcasts and fabulous content, fabulous content, and all the blessings to you and all the best wishes to you.
Jack: Thank you, to you too. Thank you very much.
Vinney: Thank you.
Jack: With that, we'll see you next time.
Announcer: Enjoyed this episode? Then make sure you like, subscribe, and post your comments and questions below the video. We're looking forward to hearing from you.
Enjoy this podcast? Share the love!