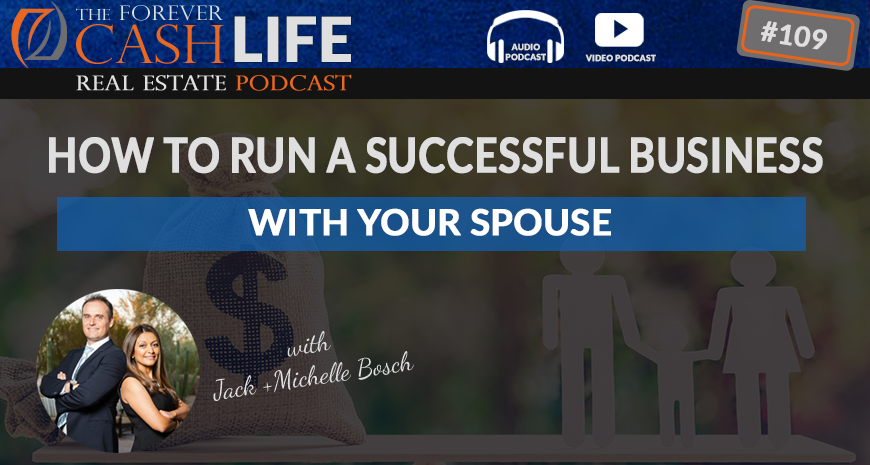 Jack Bosch and his wife Michelle have been successfully running their business together for many years now. In this episode, Jack breaks down his tips for how to ensure the success of your business – and your marriage. Jack and Michelle have tried out many different things in their years working together and you'll discover what has worked and what hasn't. Working with your spouse can be a truly amazing experience, as long as you ensure that you communicate effectively.
Listen and enjoy:
What's inside:
Find out how Jack and Michelle Bosch split their tasks when it comes to their company
Discover how Jack and Michelle maintain a happy marriage and successful business
Understand the power of communication
Mentioned in this episode
Tweetables:
Transcription:
Man: Welcome to "The Forever Cash Life Real Estate Investing Podcast" with your host Jack and Michelle Bosch. Together let's uncover the secrets to building true wealth through real estate and living a purpose-driven life.
Jack: Hello, everyone and welcome to another episode of "The Forever Cash Life Real Estate Investing Podcast." Your host is your truly, Jack Bosch here, and we are going to talk today about communication. We're going to talk about communication between spouses for that matter. So, for example, here's the deal. Michelle and I run this business together, right? We have been married for over 18 years going on almost 19 years now. We have been working together in this business for 17 of those years, right, and we work from home. This is my home office, Michelle has her own home office actually almost right above me here. And we are..we have always worked from home. And we have had an office, we have had an office for a while ago where we used to go together, where we had up to like 35 people worked in this office for us. And then we transitioned into a smaller office and became more virtual and then we almost dismantled our office and all we have left is like one little 100 square foot room where it's like storage and files and important files and stuff like that is there in a shared office space, one of these Regus office spaces that you see all over the US, but mostly we work alone from home. Now, here's the thing. The key to making business as a couple work, in my opinion, is to have obviously mutual respect and mutual appreciation for which, for what each other do, for each other smartness, for each other skills and those things, but also, it's to have clearly defined roles, right? Clearly defined roles. We actually…the times when crash, and when we collide, and when we have fights and things like that over business is when we both want to take the lead in a project taking it in, well, often different directions, right? So, as a result, what we have done is we've actually had an interesting transition. So, early on, Michelle was the Operations Manager because she has a superior skill in that area, she's an amazing Operations Manager, and I was more like the CEO, I was like looking at, we're going to go into this area now for land deals and into that area for land deals. And I would kind of lead the way into kind of like in what properties we buy, which areas we're going.
Michelle would make sure that everything happens and everything is done. However, here's something that happens over time that actually burned Michelle out, because even though she's very, very good at it, she's not from her heart an operations manager. So, now actually, we swapped those two areas, and now she is the one with the vision and she is the one being in lots of Masterminds, and in lots of things like that and really expanding her mind about the possibilities of what we can do, and I'm the one making sure things are actually happening. So, obviously, we have a team. It's not I'm making to have, things are happening. I may perhaps making sure things are happening but I'm obviously not making it all happen because we have a team around it. We have guys work with us for 13 years already, we have an amazing team of over 25 people all over the world that work with us in different capacities, plus, we have property management teams, for multifamily properties in the different locations and so on. So, if you add all of those up together, we probably have over 50 people that work with us in the various capacities. Now, having said that, the key is still the same. If we both wanna be operations managers, we both got to fight over ways how to make things happen. If we both wanna be the CEO, we got to fight over ways on which direction the take your company. So, now what we do is Michelle is really like the visionary, Michelle is the one that is thinking about the directions we should take and thinking about new ideas to bring our programs and bring our land pieces and expand in the apartment complex market and so on, and then I'm the one bringing it together. Or if we can do a distinction where we take leads in different areas, then Michelle is the lead in the land and the education area and I'm perhaps a little bit more of the lead in the multifamily area, right? But in either case, I'm now the one that operates it. Now, what does it have to do with you? This is not about us, this is nothing.
What it has to do with you is, is that if you're working with your spouse, then you want to…he wanna kind of look at that. If you're both doing the exact same activities, then there's chances of the conflict is much larger. If one takes care of the sales and the other one takes care of the purchases, then that's a role definition. That's how we early on defined it. There wasn't like a CEO and operations manager even early on, it was just two people doing the land deals, right? It was Michelle and I figuring out how to do this land business and then doing these land deals. So, during that time, what we did is naturally because I was traveling 100% and Michelle was here, she took care of the more paper-intensive things like the research and working with the title companies doing title searches and so on, and I took care of the more virtual things which back then when there wasn't all these technology methods that are out right now was more like I was contacting the counties. I was getting listing, lists,, and I was selling the properties and creating like at midnight I was creating listings. If you wanna talk to the title company, you can't talk to them at midnight, you have to talk to them at 1:00 or 2: 00 or 3:00 p.m. While at:1:00 or 2:00 or 3:00 p.m. I was in meetings, well Michelle could step out of doing her Masters, could step out or when she quit her job and started doing this full-time to get me free from my job, she was able to do that during those days. So, it was a natural progression of where does the business need us, and it was a better fit for me to be in the marketing side and Michelle to be in that side. Now, as we built a team around that, that obviously then changed, right? As we started doing big auction there are changes, and the same is for you. So, perhaps, if you are…there's often a tendency I see that the woman gets put into the role of the detail-oriented organizing kind of person. And I wanna challenge that a little bit here because at the end of the day, you really…this is a role because often women through society have been pushed into that role of housekeeper of keeping everything organized and keeping the kids organized.
So , they have learned to be organized. But it's not the trade that naturally, women have more than men, right? So, I would challenge that in your relationship if you're working as a spouse together then truly ask yourself, what is the part that you guys enjoy most? And if one truly enjoys the detailed work more, and one is truly a little bit more the creative first and more like the writer kind of person, then it makes sense to divide it by that irrespective of the gender that likes one or the other role, right? Don't let yourself to get pushed into still existing like gender roles because they're a bunch of bullshit anyway. So, instead, just do, divide up and conquer the way you really see that happening. Now, in terms of how we communicate so that we don't rip each other's heads off on ongoing basis, the way I can say is we have been ripping each other's head off occasionally, it does happen in the best families. It just…that's just how it goes, right?The way to deal with that is to be aware of the state that the other person is in. So, for example, let's say we have a new apartment complex, right? Now, if anything taking a little bit the lead on there, I'm again, I'm traveling more out there looking at properties, meeting with property managers, delving to financial analysis, putting together the brochures and things like that, and Michelle is more of the fundraising side, but also she's on the strategic side. She knows which market is doing well and which not and so on. So, when I run an analysis on a property, I always, always 100% run it by Michelle. Or if Michelle runs an analysis on a property, she runs it by me. So, when we do that, you don't just barge into somebody else's space and sit down and say like, "I need to run this property right now." Because if that person right now is in the middle of another thing, it takes them out of everything. It might have a deadline, it might…they might be really dedicated to that afternoon to be…to wanting to finish up like five listings for pieces of land, five purchase agreements for our offers for land or whatever it is, we're doing land flipping of course or whatever it is. They might be busy in a project and you don't wanna just barge in there.
So, what you wanna do is you wanna say and be, I believe we're doing a good job in that, you want to say, "Hey, honey, or Hey, Jack, I will need your time for this." And then I'll say like, "Okay, give me 20 minutes or give me half an hour," and then I if I remember I literally set the alarm clock for that. So, and I guess we literally make appointments so like, "I can meet with you at let's say right now it's 9:30, I can meet with you at 10:00." So, that gives me right now time to focus on what I need to focus, not have to worry about the other spouse or the spouse being upset or being like, impatient or being just like whatever it is. So, but, "No, we set it. Does it work? Yes, at 10:00. Let's meet a 10:00." So, now you have an appointment, and just like you have an appointment everyone else you honor that appointment, in this case, with your spouse. So, you have the appointment and you give the other person the full attention, and it's the same the other way around. When I need the attention it's like, "Hey, Michelle, do you have a moment?" She's like, "No, I'm in the middle of something." Okay, "So, how about we meet in 45 minutes?" "I can." And so 45 minutes, comes up, I send a quick message, "Hey, we're meeting in five minutes," literally like I would meet with a co-worker. And then I say like, "Okay, come over. Here's what I wanna talk to you about. Here's the different situations." I even sometimes write up a little bit, like almost like a mini agenda, so that I can, rarely, but I should. Because, it's like, "Okay, here's the three points we need to talk about. Number one, here's the situation. What do you think?" And then what she thinks is usually just as smart if not smarter than what I think, right? So, therefore I'm listening, it helps me think, it helps me… Then I bring back what I understand, I hear, and then we work it through, we come up with a mutual agreement that, "Okay. This is the solution, this is what we wanna do," so we do it. And that kind of way to communicate works really well starting from a small parenting issue is like, "Hey we got the following situation. Our daughter is doing blah blah blah. How do we fix this?"
Instead of like fixing it in the moment when we are upset and yelling and our daughter, which of course we never do, right? But in reality it happens, right? You just like get frustrated and…or is it…but if we can catch it early we can say like, "Okay, let's work out a plan that when we are…" Even we bring her into the family, it's like, "We figured out a plan. We're not happy how things are going on. You're messy, your stuff is laying around and so what do we do? Can we dedicate every afternoon 10 minutes for you to clean up your stuff?" Like, "Yes, we can." Okay, great. And then we say like, "If we do it, you get a reward. If we don't do it, there's no candy today," right? Okay, and then you can make it kind of like that. Now, of course, taking away the candy from your spouse might not be a good idea. So, you wanna treat them as an adult, of course. So, therefore, when we have those meetings, when we're like, "Okay, we got to plan out the week, we got to plan out…we have this invitation there, with have that invitation there." So, we coordinate our schedules, it's like, "You know what? I don't really…I can't go there. I don't really wanna go there," whatever it is, so we can make these adjustments. And on the leadership side of things, it's the same thing. You like, you ask yourself, you have a meeting, you have something like, okay, I really…I see this opportunity, I'm really good at seeing big opportunities, and I see them on a daily basis. That means if I would do, if I would act on every single one of them, we wouldn't be…we would be active in 10,000 different areas and not making progress in any one of them. So, when we now have a process, If I see an opportunity I go and put it on a list and then I have a meeting with Michelle, where I talked to her about, and often by the time the meeting is the idea doesn't sound as great anymore. So, it gets crossed off, and then we can talk about it and then we look through ones and identify to the process, the ones that have true, true merit. Then we ask ourselves a question, if that decision, if that going down that rabbit hole is gonna prevent us, is gonna cost us on another thing?
What's the opportunity cost of it? And the opportunity cost is a concept that was being taught in business school that basically says that you can't do two things at the same time. If you go…if you have two appointments in one evening and they're both at the same time you got to choose. So, if you go to this one, the opportunity cost of that one is not being able to attend this one, right? So, if you take one job, you cannot take the other job if you have two job opportunities, right.? So, the opportunity cost of this Job is not being able to do that job. And the opportunity cost of one business opportunity is not being able to give you fullest to another opportunity. And that, therefore will…this one will suffer underneath it if you take…if you go for that one. So, you wanna evaluate those things. And that only happens in the spirit of cooperation, disparate self-respect, and by you being able to allow your spouse to shut down ideas that you enthusiastically have come forward with. But in the past, initially, Michelle would shut down my ideas basically said like, "No, this is crap" and that would hurt my feelings. So, like in the sense, right? Not I'm like a touchy-feely guy, but it was like, "Oh man, it's just like I'm not being appreciated," and so on, right? But since we talked about that, the way we now do this is we basically talk about it and then the question comes up. "Okay. How much potential does this idea have? How much can it really produce for us? How will it affect our life, our life with the important things in our life, with our time, with the time with our family? Will it bring us closer to what we want to do in our life? Will it bring us closer to our financial goals? Will it bring us closer to our happiness goals?" And if the answer is no, then even though it might be a valid idea, it will not be done. And then I'm actually at peace with not doing it because it's just doesn't make sense.
So, again, going back to how would you solve that? First of all, in summary, you've got to have different roles in the company. It's got to be very clear who is the visionary entrepreneur, kind of the CEO, and who is the implementer of your company. Now, again, that can change over time. Initially, I was the visionary CEO and Michelle was the implementer, now Michelle is the visionary CEO, I'm the implementer, right? You see me more on videos than you see her but she is now on many more videos. She has her own video channel, has her own podcast and so on, but that's how the transition that we have made so that she wouldn't get burnout and I actually, to a large degree enjoy these activities. Even though I'm naturally not the implementer, I'm going there because I'm actually, yeah, because I'm actually enjoying a good part of it. And then when you have…when you ask for each other's time, do it in a way that you don't barge in, do it in a way that's respectful, doing it in a way that allows the other person to finish what you're doing so that they can turn around and give you their full attention right? That's what you wanna do. And then when you when you make major decisions in life and major decisions or even, yeah, major decisions then make them together. Evaluate them from all different angles. Look at them together in the light of what trajectory are you on in your life, and what trajectory and are these items going to help you in the trajectory of your life? Or are there distractions that you would rather, should be getting rid of, and it's…so you can focus on the number one thing that matters most, whatever that may be in your life, right? So, these are some of the things that we talk about, also in a sense. For example, I'm becoming a little bit more of a morning person than I was. So, I'm now the person bringing my daughter to school every morning. That's a role differentiation that allows Michelle to take a little slower morning which is something she needs in order to be at her full capacity and full potential, right? And I enjoy driving, spending the time with my daughter bringing her to school and then having about a 20-minute drive on my way back as she goes to school a little bit further away, having that drive home where I can listen to an audiobook, where I can listen to, where I can make already a few phone calls, and how we get going. Because we also want to know this the last thing I cover, you also want to know each other from your personality or from the way you operate in this world. For example, I'm a quick start. So, there's this test that we take and everyone on our team takes, it's a Kolbe test, Kolbe with K, K-O-L-B-E. And they take the Kolbe A test which cost about $49 and this test tells you in four areas of your life, how you take action. Well, the way it sounds like that I take action is by literally taking action. So, the mornings when I wake up, the first thing I want to do is take action. So, I take action by taking my daughter to school, I take action by doing a few phone calls, by listening to some to some audiobooks and things. So, by the time I come home, I am now ready to listen, I'm ready to now spend time with Michelle and listening to her things.
At the same time she is taking action by doing research, right? So, she might be spending that time doing some research and so on. So, I can come in with
during the morning at 8:00 a.m. with a meeting with a bunch of stuff now, it needs to be research force, so etc., Etc.. So, by knowing each other and your own tendency and your own needs, that also your just your daily schedules for that. And you find that time in the schedule of the day, we're both at the best, we're both had time to already get the things that are important to each other done, and then you meet and then you talk about things and then you can discuss those with a few tools around them. Like, for example, that parking lot sheet for my crazy ideas, like a list of research that needs to be done to cover Michelle's needs and so on. And then we get and then we come up with two reasons, with really good decisions that we then in mutual agreement can move forward with. That doesn't mean that we both do the same role, that means in the moment I'm the implementer with our team. Obviously, our team implements most but I'm the one making sure it's being implemented and Michelle is finding these great new ideas for us to tie for our business forward.
So that's that, I hope that helps understand a little bit how you communicate, how we can communicate as a couple without killing each other. And then one other thing we do is we try to do occasionally we try to…we actually go out to eat a lot, and when we go out to eat we do one thing, everyone takes their phone and puts it in middle and everyone all the phones go together. So if our grandma is with us, if my parents are there, all the phones going to middle, we're doing what we call a phone stack and then the phones stay away for the length of the dinner, right? During that time, time that gives us now time to talk about things and to talk about usually sometimes business but not business if our daughter's with us and to just enjoy each other's presence outside of a business environment. All right. So, with that, hope you enjoyed that. This is one episode of "The Forever Cash Life Real Estate Podcast" this one wasn't about business but at the same time, it was, because if you work with your spouse which a lot of our students work or their spouses, then it's very important to build those boundaries, to build those communication methods so that you can say that you don't hate each other after a while, but you again actually love each other more and are more successful together. All right, with that, bye-bye. Again, if you enjoyed that, give us a thumbs up, give us…share it with your friends, share it on social media so we can have more viewers of our "Forever Cash Life Real Estate Podcast." Thank you very much. Bye-bye.
Man: Enjoy this episode? Then make sure you like subscribe and post your comments and questions below the video. We're looking forward to hearing from you.
Enjoy this podcast? Share the love!