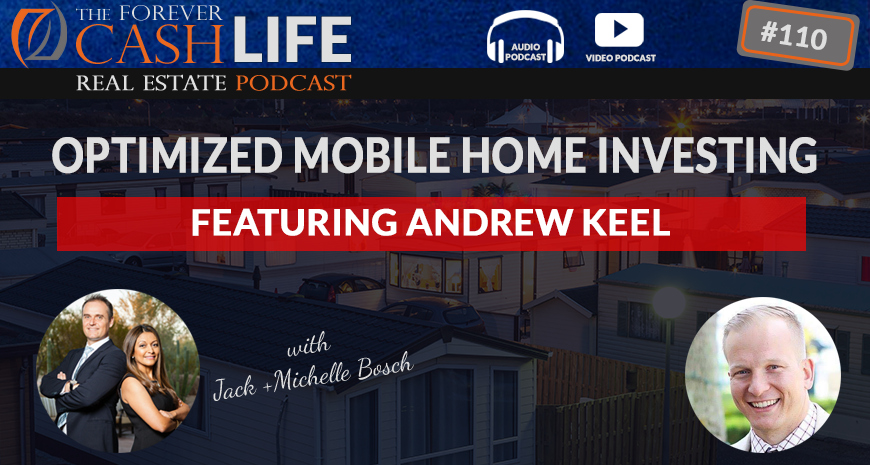 Andrew Keel is the owner of Keel Team, LLC and his team currently manages 16 manufactured housing communities across seven states – AR, IL, IN, IA, OH, PA and TN. His expertise is in turning around under-managed manufactured housing communities by utilizing proven systems to maximize the occupancy while reducing operating costs. He specializes in bringing in homes to fill vacant lots, implementing utility bill back programs, and improving overall management and operating efficiencies, all of which significantly boost the asset value and net operating income of the communities.
In this episode, Jack Bosch chats to Andrew about his experience in the mobile home market and what he does to optimize his investments. Andrew has chosen a specific niche in the mobile home sector and this has enabled him to achieve amazing success as a real estate investor.
Listen and enjoy:
What's inside:
Find out how Andrew Keel got into the mobile home market
Discover why there is a huge demand for mobile homes in the USA
Understand how to optimize your investments
Learn more about the mobile home market
Mentioned in this episode
Tweetables:
Transcription:
Man: Welcome to "The Forever Cash Life Real Estate Investing Podcast" with your host Jack and Michelle Bosch. Together let's uncover the secrets to building true wealth through real estate and living a purpose-driven life.
Jack: Hello there everyone. This is Jack Bosch speaking, and welcome to another episode of the "Forever Cash Life Real Estate Podcast." I'm super excited to have my guest today, Andrew Keel. Andrew is a mobile home investor, not only mobile home investor, he's a park investor. So we're gonna talk about mobile homes, about parks, about optimizing these parks, how to make cash flow like crazy. But before we get started, let's just stay tuned for this little message.
Automated Voice: Welcome to the "Forever Cash Life Real Estate Investing Podcast" with your host, Jack and Michelle Bosch. Together, let's uncover the secrets to build in true wealth through real estate and living a purpose-driven life.
Jack: All right. So here we are. Again, welcome. Yours truly, Jack Bosch. And I'm super excited to have Andrew here on the line. Andrew, how are you doing today?
Andrew: I'm great, thanks for having me.
Jack: Wonderful. Wonderful. So we have just talked a little bit before, so I have already a really good picture of what Andrew does, so let's just jump right into it. So Andrew, you right now own 15 parks. You just told me you have just closed your 15th park. The average size is about 50 units plus-minus. What's your smallest and what's your largest park that you own?
Andrew: Yeah. Our smallest park has 31 lots and our largest park has 119 lots.
Jack: All right, wonderful. So, when you buy these lots, how do you go about that? I mean, how did it all… Let's just step back a little bit. Give us a little bit of an update on how you got into that space because usually, people don't necessarily do, work into the mobile home space. Mobile home is one of these oddball investments that I love, right? I love oddball investments. Like, we're in land, right? So this is an oddball investment. So most people flip houses, you are into…you did flip houses, but now you're in the mobile home space. Tell us how that transition happened. What happened there?
Andrew: Sure. So I started out in Central Florida. I was wholesaling and flipping houses, doing 5 to 10 deals a year and wanted to, you know, wanted to really create some consistent monthly cash flow as well to offset the peaks and valleys of, you know, flipping houses. So, in my marketing, I ended up getting a lead on two mobile homes in Ocala, Florida and I really didn't know what to do with them. I started Googling, you know, mobile home investing and trying to figure out, you know, ways to make a profit on these two homes that I got a lead on from a yellow letter that I mailed out. And I ended up on YouTube listening to a guy named Lonnie Scruggs and he was telling me about his book, "Deals on Wheels."
Jack: I know that book very well. I have it right here myself. It made a big difference in my life too. Like, switching my mind from more to the cash flow point of view. Yeah.
Andrew: Exactly. Yes. And, I just fell in love with Lonnie. I mean, his book, I ordered it, read it, right after I listened to his seminar on YouTube and I ended up buying those two mobile homes in Ocala and then selling them on contracts to create mailbox money. And, you know, I ended up doing that and making a good profit on those two. And then we ended up buying quite a few more and ended up to have around 20 of those individual mobile homes that we had sold on, you know, contract. During that process, I met a park owner that we ended up…you know, I ended up doing a deal in his park on a mobile home. And I took him out to lunch and he ended up telling me that, "Hey, you know, the true value in, you know, mobile home investing is in the land, in owning the dirt underneath of the homes, not owning the personal property that is the homes," you know, from tax standpoint and everything. So, that was an aha moment for me where something clicked and I said, "Okay, I need to own the land and not the mobile homes."
Jack: Thinking about the land. I love it. As a land guy here, we love the land. Go on, go on.
Andrew: Exactly. So that was like a turning point. So I was immediately hooked from after I came home from that lunch and went with a dry erase marker and wrote on my fridge, you know, "Buy a mobile home park in the next 12 months." And every day since then, or every day thereafter I started, you know, taking steps to do so. Every bit of content I can get my hands on, every book, every seminar. I went to the MHU, Mobile Home University Bootcamp with Frank and Dave. And then I went to a couple other Bootcamp type of, mobile home investing boot camps. And, you know, I was all in. And I started cold calling mobile home parks asking if they would be interested in selling. And I ended up getting a really good deal in Edwardsville, Illinois on a 67-lot mobile home park. I spoke to the owner, you know, we ended up getting under contract and then I contacted one of the people that I met at the MHU Bootcamp that was interested in investing. And I asked him if he would be interested in bringing the money to fund the deal because myself, you know, I had decent credits, you know, I had bought a house and I had bought a car, but I didn't have the liquidity that the banks were looking for. So, he partnered with me, brought that aspect so we can get the bank loan and he brought the equity needed to, you know, purchase the mobile home park. So we purchased our first deal and it ended up being a great success. And since then we've bought four other parks together and I've brought on other private equity partners to get up to 15 parks. So it's been a fun journey.
Jack: Awesome. That is fantastic. So when you get them, so you basically use them as key principles in this essence to help qualify for the purchase. They bring some of the equity up and then together you qualify for it and then you run it. And when you buy them, you buy them…or, what kind of cap rates do you buy them?
Andrew: Usually nine caps] or higher.
Jack: That is beautiful. I mean, we do land, right? But we also buy apartment complexes and it's like the hardest thing in the world right now to find any apartment complexes with anything better than a six-and-a-half cap or so. And if you get a six and a half cap, you're like hallelujah. Right? So…and some upside. I mean, you find six and a half caps, but then there is no upside anymore. And, so 9, 9 or 10 cap rates with upside is fantastic. Now, having said that, now come all the stereotypes in my mind start popping up about mobile homes. Mobile homes are kind of like, "They fall apart easier. You're dealing with a demographic that has wonderful people, but they sometimes might have trouble paying." How you deal with that kind of aspect of it or is that just myths?
Andrew: Sure. So that stigma that you just mentioned there is one of the main reasons I love this asset class because it keeps some people out, you know, and that's… It's less competition, right? So the main thing about mobile home park investing is, you know, number one, the low turnover rate. Now, when our tenants own their homes, they maintain the home, we just rent the lot, the dirt. And, in mobile home parks, there's only about a 4% to 5% turnover rate annually compared to multi-family apartments that have closer to 30% to 40% annual turnover. So, our tenants are sticky, they're staying longer. You know, we are the most affordable housing option in the U.S., you know, being that someone can live in one of our communities for 300 bucks a month, it's very, very affordable. So that stigma, you know, I think is very false. There's communities that we own and other communities that we've been in that, you know, look like a high end, you know, golf community subdivision. So I think this, you know, this…everybody thinks when they think of mobile home parks of this like "Trailer Park Boys: and "Eight Mile," they think of those, you know, those, those, you know, TV kind of portrayals and I think they're very false. Most mobile home parks in the country are actually quite nice.
Jack: Yeah. You drive by some of them. I've driven by some of them where I was like, "Oh my God." But on both ends. Like, there's one not too far from where we used to live, that is like on a golf course. Then there's other ones where you're kind of like afraid of stepping your foot into because they're about to fall apart. So, I trust you… When you buy, what classification of those do you buy? Do you stay in a higher… In what segment of those do you buy?
Andrew: We like to stay right in the middle. You know, we buy that C-grade property and then, you know, when we purchase it, our hopes are to bring it up to a B-plus.
Jack: Okay. Up to a B-plus. That's cool. So great. So now, walk me through the process of optimizing these things. So when you come in, you buy this property, I assume they have some vacancies when you buy 'em so that there's some upside potential, they're not yet optimized. What do you do to fill 'em up from both point of view, from marketing and then what do you do to actually manage them?
Andrew: Sure. So occupancy is huge, right? I mean, bringing in homes, fixing up empty homes, that's, you know, construction work 101, you know. That's, that's how we're gonna increase occupancy. In terms of marketing, the demand for our product is off the charts. I mean, everybody knows that there's affordable housing crisis in America. And, you know, when I was doing those individual mobile home deals down here in Central Florida, that was one of the reasons that my interests were peaked in this business was the demand. Because, I would put one of those homes up on Craigslist or Facebook Marketplace and I would have 20 people reach out to me in the first 24 hours. And it's just off the charts. And, you know, you and I may not live in a mobile home or have ever been in a mobile home in our younger years when we grew up, but, you know, a lot of people specifically in the Midwest, this is a normal way of living. You know, a lot of first time, you know, couples that, you know, are leaving the nest for the first time, this is a good starter home for them. It's very, very affordable and, you know, it's a launching pad for what's next for them. So, it's a great option for a lot of Americans.
Jack: Yeah. I mean, yes, I agree with you on the demand side from just my limited experience in the mobile home space. We flipped a mobile home one time, where we bought the land and we weren't even aware that a mobile home was on there when we saw it from the aerial picture. So we went up there, we actually visited it and this mobile home had been abandoned and it was sitting there. There was still the dishes sitting there, but the dishes were like for two years in there. And, for a year or two years, this thing was empty. So we bought it and took over the mobile home and the guy next door literally bought it because to him it was an upgrade because he literally, he was kind of in-between places and he was handy so he would fix it up and he still lives there. He paid for like 10 years he paid his monthly payment. I think he might even be still be paying it. It was a long time ago, and he made it his home. So he was happy as a clam, and he was a former United States…like he was a veteran. He was disabled. He was somewhat disabled, still able to function and do everything, but he was on disability, Social Security, and then just wanted a place to live. And so he had income. He was paying his $440 monthly payment, came in like clockwork and it was probably one of our best clients ever. And on top of it, he put sweat equity into the property and ended up having a presumably nice one bedroom mobile home out there. So, yeah, I get what you're saying. That makes total sense. It's not where I would wanna live. This and one other mobile home are the only ones I've been into, I'm pretty happy with our large home here, but yeah, there's definitely demand for that. So, cool. So now, what do you do to optimize the park's performance?
Andrew: Yeah. So to optimize the park's performance, when we buy these properties, usually we're buying them from mom and pop owners that have owned the property for 20, 30 years. So, you know, it's not a sophisticated property management company that we're purchasing these from. So we find a lot of management and operational, you know, deficiencies. One of those that's major is billing back for water and sewer in the appropriate amounts. You know, we'll buy properties and the water charges, the water sewer charges, you know, the amount that the owners are collecting will be tens of thousands of dollars less than their actual water sewer charges that they're paying to the local municipality. So we'll come in, you know, update the rates to make sure that what the, you know, what the management company is charging the tenants is the same rate that the municipality is charging the park and make sure that, you know, that is a profit center…or not a profit center, but at least breaking even compared to, you know, where it was losing money from the previous ownership.
Jack: That makes a lot of sense. So, you do those things, and what do you do to manage the park? Like, who do they pay the rent to?
Andrew: Yeah. So also, you know, management efficiencies. We'll hire an onsite manager that will be our eyes and ears. They'll help us collect rent. They'll help us, you know, hand out violations if people aren't taking care of their property. You know, just basically being our eyes and ears is very important. And we'll usually hire someone that has one of the nicer homes in the community and usually is home all day and they have Social Security income. So they're there to, you know, watch the property and they want to see it improve and be a nicer place for everybody to live.
Jack: Do you pay them, I assume free rent and either a flat monthly or something per lot or how do you pay them?
Andrew: Yeah. We pay them. We give them free lot rent and then they get $10 per occupied lot per month. And then we also have incentives. If they collect all of the rent by the 15th of the month, we'll give them, you know, a couple hundred dollar bonus.
Jack: Oh, that's nice. And that I assume that if I had it up on a 50, a 50-lot unit, that adds up to about $500 a month plus free rent, which might be another $500 depending on the park. So they get $1,000, but they can't really live off that. So how do they make a living?
Andrew: Yeah. Most of our onsite managers do have other jobs or they have, like I said, Social Security income or, you know, another source of fixed income. So, you know, they…and a lot of the managers don't really do it for the money. You know, they do it because they wanna see the property improve. And, you know, they kinda like being that, you know, manager of this property, of the community that they live in.
Jack: Yeah. So, I agree. Like, one of our apartment complexes, one of the things on all of our apartment complexes, one of the things we put a lot of effort on is actually community building. So we do a Easter egg hunt and we do a pool party and we do… Do your parks have pools?
Andrew: Our parks do not have pools.
Jack: But they're probably a little smaller, too small to have pools some of them, plus it's the Midwest, you can only use it for like two months or so.
Andrew: Yeah, exactly.
Jack: But, I'm thinking Arizona, you got to have a pool there, so… But, do you do any kind of like community building beyond having one guy that lives there being in charge with pride of ownership?
Andrew: Yeah. So with the 4th of July, you know, we usually do a cookout in some of our parks. We also do every spring, we'll do a spring cleanup where we'll, you know, get some pressure washers for all the tenants to use, get a couple of dumpsters to kind of get rid of some of that, you know, random debris that seems to show up behind their homes. You know, so we do try to reinvest to make it a community. We also have common areas. You know, in some of our parks we have dog parks. Other areas, we have a little outdoor grill with, you know, picnic tables, you know, just to create that sense of community and get people outside, you know, working together.
Jack: Yes, makes sense. That makes sense. And we do, for example…yeah. Do you do bingo night? It's another one of these cliches, right?
Andrew: Yeah. A lot of our parks are not that…they're not amenity or rich parks, you know? There's like these five-star parks that are owned by, you know, Sam Zell and Equity Lifestyle that, you know, are these 55 and older exclusive communities with pools and, you know, bingo nights, and they have a cruise director. You know, our parks are more all-age communities, you know, they have minimal amenities, but they're very affordable and that's what we pride ourselves on is being that affordable option.
Jack: Well, that's good. It makes sense. Now, one of our…we have a Mastermind called "The Ultimate Boardroom," and in the Mastermind, we have one member called Chimene Van Gundy. And Chimene is like the mobile home queen. I think she's bought like 50 parks in the last two years or something like that. I interviewed her just a few episodes ago, and she now also has a course that apparently is doing very well, a lot of successful students. And she talks about pickleball being one of the things that really is very exciting for people in mobile home parks. That they're doing like pickleball tournaments and it can be a huge, a huge amount of extra revenue if you register it and you get people to come and they… I don't fully understand it, but it blew my mind when she talked about it. But there's, your parks don't have that yet. Your more the no frills parks, which is cool. Which just simplicity is often better. If all of a sudden you have a pickleball park with like a fence around it, then something breaks, you got another maintenance items and other things. You now have to have send somebody in there on a regular basis. You guys don't mess with those things. You have a… I like the simplicity. Is that correct?
Andrew: Yeah. We're a different asset class, much more, you know, affordable and, you know, clean cut. We kinda consider ourselves the Holiday Inn Express of our asset class, you know, very middle of the road all age community
Jack: And most importantly, with what you just said, you just basically expressed that you guys have a vision, right? Because you don't just buy random places just because you get 'em, you buy the ones that fit your lane, right? And your lane is Holiday Inn Express lane holiday. Holiday Inn Express is probably a very profitable company. I don't know. I've never looked at their financials. And they're not competing with the Ritz Carlton. They're running their own lane, they have their own customer base, their own clientele base, their likes, that has a predictable product and you guys are offering the same thing. Very cool. It's an important piece in business building to know your lane, know what you're doing, know who you are. Right?. And, so I applaud you for knowing that. Great. So can I ask you a couple of questions? I want to do kind of a quick…I mean, I've asked you a bunch already, but I wanna do a quick kind of a rundown to just a few questions that I'm starting to ask kind of all my guests here. One of them is just, what is the best book that you've ever read that helped you through your career?
Andrew: I'd say, "Rich Dad, Poor Dad." You know, that was a very fundamental book that I read in the beginning. That or "Deals on Wheels" by Lonnie Scruggs.
Jack: I like that. I always mentioned "Rich Dad, Poor Dad" too, but "Deals on Wheels" has made a big impact in our life too. What is the one wish you have done that you would have done differently when you first started investing?
Andrew: I would have gone bigger, faster. You know, I would have looked at bigger parks, you know, a hundred lots or higher. We have found our sweet spot to be around 50 lots. But, you know, looking back, you know, the same amount of due diligence goes into a 50-lot mobile home park that goes into a 100-lot mobile home park, you know, it's the same amount of work. So, yeah, just gone bigger faster would have been my tip.
Jack: Awesome. What has been your biggest failure in the real estate career and how did you move past it?
Andrew: Biggest failure I would say, geez, you know, I call them learning opportunities. I would say specifically one that I had in mobile home parks was when we bought our first property, there was an issue with the water lines freezing up underneath of these homes because we didn't have insulation and heat tape on them. So that was right off the bat. We purchased the property in June and by November we had, you know, quite a considerable expense from, you know, water lines breaking. So, you know, now, we learned from that experience and every fall we, you know, send a handyman around to check all of the homes, even the ones we don't own to make sure that they're properly insulated, just to offset that expense of having leaks because it's not good for our tenants and it's not good for us. So, that's one mistake that we learned from.
Jack: Makes total sense. And then what are your daily habits? Do you have any daily habits that you do that contribute to your success?
Andrew: I think working out every morning has really given me the energy to, you know, kind of get through that two or three o'clock slump that a lot of people have. So I work out every morning. I try to eat healthy, you know, but it's all in balance. You know, I enjoy my sweets.
Jack: Makes sense. Yeah. We moved three months ago into a new house and we've been gone for a month, but I just yesterday literally ordered a cable machine for the house and the spin bike and the bench and a bunch of stuff because we have one room here that we decided to make into our own home gym.
Andrew: Very nice.
Jack: It's a smaller room, but hey, it's not used for anything else. So I'm finally getting into that rhythm myself. Otherwise, the laziness takes over. And then last question is, what is the single best piece of advice that you can give anyone that's listening right now or watching this on YouTube, or anywhere else where we post the video, who is just starting in their real estate journey, real estate investing journey?
Andrew: I would say avoid shiny object syndrome. You know, there's a lot of different ways to make money in real estate. And when I first got started, you know, I thought I was gonna build a business in wholesaling and build a business in flipping and, you know, have a mobile home business on the side. And what I ended up doing is focusing all my efforts in my lane, which was, you know, mobile home parks, and, and focusing just on that niche and going deep into that niche. And I would advise someone that's just getting started to find your niche, whatever it is, and then go deep into that niche. Don't try to, you know, do, you know, a ton of different things, you know you can become very wealthy if you just go deep into one.
Jack: Absolutely. We can speak from experience on that. Like, figuring if doing land deals was our niche or is our niche and only now that we expand into other areas, but we're doing that for an asset allocation point of view. So we're focusing on land flipping, but we are taking the money, investing it in other asset classes, including apartments and rental houses and things like that. So, very cool. Very nice. So if somebody wants to know more about you or get in contact with you or perhaps invest with you, where can they find you?
Andrew: Yeah. They can check me out on my website. It's keelteam.com, that's K-E-E-L T-E-A-M.com. There's a little button you can schedule a consult with me. Would love to talk with you about potentially investing with us. Or if you're just interested in the mobile home park investing, you know, sector or asset class, I'd love to chat with you about how you can get started.
Jack: All right. Wonderful. Well, thank you very much. That was great. Thank you, Andrew. So with that, this concludes our podcast. I loved it, learned a lot about mobile home parks and how you actually manage them. I love the idea of just getting them monthly then for collected lot, and the little bonus. That's, people are always struggling around the compensation part of hiring. I get tons of questions about that ourselves when somebody hires like virtual assistants, so that's lots of good nuggets in there. So thank you very much for that. We will be online again with our next episode in just a week from now. So stay tuned, and thank you very much, Andrew.
Andrew: Thanks for having me.
Jack: Thank you.
Automated Voice: Enjoyed this episode? Then make sure you like, subscribe, and post your comments and questions below the video. We're looking forward to hearing from you.
Enjoy this podcast? Share the love!