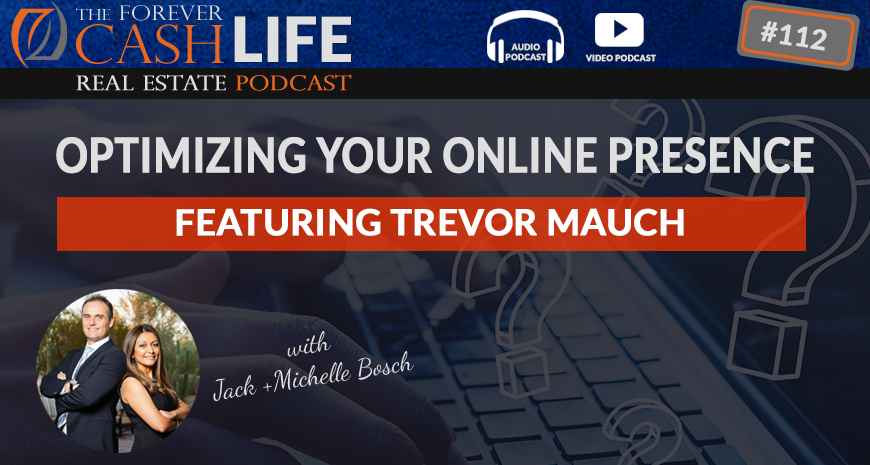 Trevor Mauch runs Carrot – a company that specializes in helping real estate investors generate in bound leads by optimizing their online presence. Trevor cut his teeth in real estate in college and through years of trial and error, learned how to generate leads online effectively through inbound online marketing (to the tune of 84,000+ real estate related leads and counting). He leads the Carrot team and focuses on helping members get the result they want.
In this episode, Jack Bosch chats to Trevor about his company and how he helps investors. Trevor also imparts some incredibly useful information and advice for ensuring that you are not missing opportunities by incorrectly utilizing the internet.
Listen and enjoy:
What's inside:
Find out Carrot and how it helps people generate leads
Learn how to optimizing your digital footprint
Understand the power of the internet when it comes to your company
Discover how you might be losing opportunities without even knowing about it
Mentioned in this episode
Tweetables:
Transcription:
Jack: Hello everyone. This is Jack Bosch with "The Forever Cash Real Estate Podcast." I'm super excited to host another episode. Today, we have Trevor Mauch with carrot.com, right? So before we get started and figure out what Carrot does, let's do what we usually do and let's do a little intro here.
Man: Welcome to the "The Forever Cash Life Real Estate Investing Podcast" with your hosts, Jack and Michelle Bosch. Together, let's uncover the secrets to building true wealth through real estate and living a purpose-driven life.
Jack: All right then, we are back. So welcome. I'm excited to host this episode. And I have my good friend Trevor Mauch [SP] here on the line from Oregon. Trevor, hi. How are you?
Trevor: Jack, man, thanks for the invite, dude. I'm pumped to be on here. And you and I connected about a month ago on our podcast, so thank you for that.
Jack: You're right, we did. And we actually…I mean, I know Trevor for 10 years, about 10 years?
Trevor: Yes, it's probably 2008, 2009 is probably when we connected.
Jack: Exactly right, so about 10, 11 years already. I literally remember when we started teaching our land profit generator method, we went to an event where there was a bunch of people that are kind of like in the gurus teaching kind of space and Trevor at that time had some really cool websites that were generating in revenue through affiliate marketing, is that right? And also you were a house flipper during that time somewhat, right?
Trevor: No, I've never flipped houses, I've wholesaled one property in my life, it was mini storage, but I've been buying and holding rental properties since I was 21 in college.
Jack: Okay, wonderful. So you've been in the real estate space. But the reason I brought Trevor on because he's really a genius in the area of kind of building brands, doing core values, running a really effective good company and what they're showing this in is in the Carrot, the company that you've probably know as Off Carrot and as of now, as of recently under the name ofcarrot.com, right. So I'm super excited about that. So, Trevor, tell us a little bit about what Carrot does.
Trevor: So Carrot has…essentially we help real estate investors and now real estate agents attract leads online, inbound leads where people who are actually going to Google or other resources like that they're seeking out solutions to their problems, making a Google search and then they end up finding you. Our websites are set up to convert a visitor into elite at a really, really high rate. We've done over a thousand split tests over the years both with Carrot and before Carrot and we just really have discovered with human psychology what makes people perform.
So if you were to Google "sell my house fast" insert any city in the country, you're gonna find between two and five, two and six Carrot websites controlling page one. And also if you're the type of like"sell my vacant land," you're gonna find like a Carrot member has number two in Google for just general, "sell my vacant land" not even tied to a location. So we help you attract and convert visitors through inbound searches.
Jack: That is absolutely amazing, that is cool. So and that is actually very relevant because if you're listening to this podcast or watching this on YouTube because you're already following our land profit generator methods then that might be an additional cool addition to do even if you already use our Investment Dominator website because the Investment Dominator is designed to help you through the process of flipping land and then help you to sell the land. And this is designed to attract you, attract whatever you want. You can design it to attract seller leads, right? So over time, you don't have to send out as many letters anymore, you actually have people contact you directly and that is really cool. And you said you have one guy that that does number two rank for just the term "sell vacant land?"
Trevor: Just the term "sell…" And I was talking to him the other day, let me still vacant, yeah, the other day, he's like, "Dude, I'm ranking really well for this phrase." And I said, "Well, I looked it up just now, so "sell vacant land," he's actually ranked number one in Google for "sell vacant land." And the point is he's getting a bunch of land leads and he goes, "I'm not doing anything with them." So that's one of the things that every single person listening to this, a quick tip is, there are so many real estate investors, guys and gals, who are getting land leads and they don't do anything with them, they're like, "I don't know what to do with land, I don't know how to do it." And so that's a really good source is to just connect with wholesalers, house flippers, and go, "Hey, if you don't deal with land, send all the land leads to me because oftentimes they don't do anything with them." And then you guys can partner on them in some way, shape, or form but this guy gets dozens of seller leads every single week, all from Google searches and doesn't do a thing with him. I'm like, "Man, I need to pair you up with Jack, I need to pair you up with someone."
Jack: Yes, pair him up with us, pair him up with us. That is amazing. So it goes to show that technology is obviously evolving and you have done an awesome job of getting in front of that technology and helping thousands of real estate flippers and real estate investors get both buyer and seller leads through your website. So tell us a little bit just about what does your typical customer do with the leads? How do you operate with you guys? Just tell us a little bit about just how Carrot works overall.
Trevor: For sure. So our typical customer right now, it's probably primarily the house flipper, the wholesaler, but we have a lot of people who are same thing, land. The website that's generating the most leads by volume right now is actually a land site on our system. But then we also have people who owner finance leads, you know, a rent-to-own, things like that. So at the end of the day, any type of lead you're looking to get online for a high-margin business, we even have care customers who they're crushing with their investment side and then Tyler Thompson from somewhere down South, he texts me, he's like, "Man, I just moved my contractor website over to you guys." Because the way the structure is set up, we make it really easy to launch a high converting website, which is gonna convert a visitor lead way higher than launching a GoDaddy site or a WIX site or Weebly site or even trying to set up your own WordPress site or having someone do it for you.
But the part that's exciting, Jack, is I'm not in the business of Carrot because I want to push websites, right? I'm in the business of Carrot because I see where the flow of society is going and how to solve problems. We always have, within five feet of us, a cell phone. And what happens is whenever we have a problem, we're in Home Depot looking at flooring…I just renovated the flooring of one of my rental properties that is actually vacation home these last couple of months. I was in Home Depot standing in front of the flooring and basically I was Google searching reviews on the products, right? I'd pick it up. I'm standing in front of the product in Home Depot, Google searching reviews on it. And what happens is land buyers, land sellers, house buyers, house sellers, tenants, everyone is going to Google to search these things.
And so if I'm a house seller and I just inherited a house, I don't know what to do with it, I'm gonna ask my warm network, the people right around me, most of the time they probably aren't gonna know what to do and then I'm gonna go to Google. I'm gonna type up something, like, "How to sell my house quickly in Phoenix," "Sell my inherited house Biloxi," whatever it is. And so that's where we see that increasing more and more. There's something I call the ebb and flow marketing. With outbound marketing, we tend to get where a marketing method gets used a lot, it gets saturated. The effectiveness of that goes down a little bit and then some other marketing method comes around because it's not getting used as much as the other one, then it gets saturated because everyone's using it, postcards, things like that, right, in the house side of things.
Land, it seems like that's not saturated, which is why you guys should be doing land. I mean, Jack tells me, and I hear from other people too, like I'm not competing against anyone for this deal, so stay in land, guys, but the online side gets more and more every quarter. More and more people are using the internet to find solutions to their problems, so that's where we come in and help you attract those people and then convert them into a lead and do all kinds of cool stuff with content marketing on the backend.
Jack: Very cool. Very cool. I love it. Yes, and that makes perfect sense. Now, you have grown your company quite a bit since you started, right? How many people work for you right now?
Trevor: So including myself, there's 24, 25, we've got 3 open job positions right now. And let me throw a little bit of kudos your way, man. I don't remember exactly when but it was probably around 2012, '13, maybe '14, you, me, and Michelle did a call to JV Update and I can't remember the topic of it but it was something around how do you actually scale a business to where…I mean I did it because I needed it, right? I needed it and I saw that you and Michelle had built businesses where it really gives you freedom. I'm like, "How do you do that? How do you build a business where it really gives you that freedom? How do you build a business to where it doesn't trap you like my previous one did? How do you build a business where you actually build a team and attract people?" And I knew that you guys had done that. And so kind of behind the scenes, I'm like, "Hey, we're gonna have this interview for JV Update but it's really for me because I know that they had done it and I want to follow the best one.
Jack: I remember that one now, yes, yes, yes.
Trevor: It was really good.
Jack: Some of the pillars of a business, the four pillars and so on.
Trevor: It was amazing. So being able to connect with amazing people like yourself. And I reached out to Rob Swans Erickson [SP], he built a team. And there's some other people too, just picking people's brain is going, okay, I know I need to build a team to really get the freedom and flexibility that I want really make the impact I want to make, but I couldn't get myself over the hump mentally of okay, that means I've got to hire a bunch of employees. Because I grew up, my dad, he owns a business now and has for, you know, a few decades. But he lost his job when I was a little kid, probably second or third grade. He was managing an equipment rental store and the business went out of business not because of him but it was going out of business anyways, the owner of the company wasn't a good owner.
And so he picked up and he created a business. And I remember weekends, nights, us kids we'd be working packing chairs and tables and setting up tents for weddings and stuff on weekends. And the one complaint he always had was, "You can't find good employees," you know? So that was the mindset that I had coming into this going, "Man, I'm gonna have as few employees as possible, I'm gonna do all contractors if I could." And I realized for me, to grow the company we wanted to grow and the brand and the mission, I had actually had to have people committed to the business. So, yeah, we're 24, 25 people now.
Jack: That's awesome. And has your outlook on you can't find good employees changed?
Trevor: Completely. I think it's all the mindset, right?
Jack: Right, it's all in mindset, yeah.
Trevor: If you believe you can't find good people then you're gonna have a hiring process that ensures you don't find good people. If you believe you can find good people, you're gonna create a hiring process that ensures you have great people, it's all about the process.
Jack: The reality is are there people that shouldn't be working at your company.
Trevor: Yes.
Jack: Right? There's lots of them but can you create an environment in your company that people who want to do great things can bloom and have a lot of fun and do stuff better than you could possibly even do it?
Trevor: Yes.
Jack: Right. Absolutely. And that's, I think what more or less the subject was of that might still be of YouTube out there, it's like I don't know if we did put it in YouTube but I think we might have, or it's perhaps from Carrot, who knows, but there's this thing out there, so it was great. And we've both grown since then quite a bit. We have a team of we just counted it yesterday, we have a team of 26 people now that are in different capacities, a lot of them are part-time, a lot of them are contractors but a lot of them are also full time and they're all around the world, we don't even have an office anymore, I work from home, and our business is 10 times better than it was back then.
Because when you design, and I think you do the same thing, perhaps you can elaborate on that a little bit, when you design your business in a way that the people you put into place have both the skills, the knowledge, and the authority to do what's right and make this their own decisions, they are gonna be happy in that place and they're gonna excel and they're gonna stay and they're gonna stick. And I think we are losing one of our coaches right now, after five years but just because his business has grown so much that he doesn't have time for coaching anymore. But other than that, we haven't lost a staff member, I think, for four years in our team. And I said, we have built more, we've doubled, tripled our team and so on, and probably the same for you.
Trevor: Man, it's interesting, you mentioned the word authority in there, that was one of my struggles that I had early on, I still do sometimes, where I think that I'm empowering or delegating but I didn't actually give them the authority to make the decision. And that's where for some of my employees, it can get really…they can kind of get trapped there, right? Because there wasn't a process that gave them the ability to make the decision, it kind of gave them these guard rails and these bounds and said, here's the guard rail over here, here's the guard rail over here, make the decision anywhere in here and I trust you. So that's where I still struggle sometimes going, man, I thought I created the guard rails but and I didn't have the authority to make the decision.
Jack: I think one thing that then is missing in that piece, which you're already…you guys are doing really well is the vision because guard rails are fine and decisions but if the decisions go backwards, it's not good, right? So the decisions need to be made the right direction, the direction you want the company to go. So you give the guard rails and I think, what you do, or let me ask you, what do you do to convey the vision to the company so that people know, in doubt, this is where we want to go so I'm gonna make that decision, so in doubt that's the right decision?
Trevor: Man, it was right around 10 employees or so, maybe 10 to 12, when I was becoming this massive bottleneck because I had, you know, all these direct reports essentially. And my leadership coach…I brought a leadership coach in at that point and he brought that exact thing up. He goes, "The next level is you've said parts of the vision a lot of different times, everyone is still kinda not really clear exactly where we're going. They love Trevor's passion about it and they can pick up this piece here and there but no one's really clear where we're going." So what he asked me to do is he said, "Sit down and write down a vision story."
I love stories and that's the way that I write, I just write in story. And so I sat down and wrote a vision story all the way from, you know, what was our background, what brought us here? Why are we doing this? Where do we want to go, what might our product look like in five years? Of course, you can never really predict it but what problem are we looking to solve? And, you know, what type of a team do I want to build and culture and like all that stuff? And then so the vision story ended up being 16 pages long, and my coach said, this is amazing, now we can give this to people, they can go through it and your new employees can read through it and they're making comments. And so we use a Google Drive Doc and they can make comments, "I'm excited about this, I'm not clear about this." So anything that they're not clear what do we need to do to make that part of the vision more clear?
And then we have a one-page front and back kind of a cliff notes of the vision. You know, here's basically our core values, here is the strategies that we're gonna be leading towards the vision, we've got to nail these five things and it kind of lists down some other stuff. So that's the structure of how does that get relayed. But at the end of the day, it's really all about every single day, you know, me as the founder making sure to speak the vision and connect people with what they're doing to why that matters towards where we're going.
An example, there could be someone in our support team, right, they're connected with the person helped them from here to here we'll call those out on our weekly sync calls and we'll say, "Hey, let's start with some wins and [inauidble 00:15:38.835] and awesomes, you know, here over here, Brady, man, this right here, the podcast that you're working on, we're at the event, there were dozens of people that were coming up talking about the podcast, how it's affecting their life, man, look at the work that you're doing right now, putting it in the podcasts, you know, might get mundane sometimes. You're impacting thousands of people's lives which helps us towards this vision. So us as the leaders, we have to connect those dots for our team members in the daily basis.
Jack: Absolutely. And then when they are faced with a decision and you're not available or are they have the authority to make the right decision, they're gonna be like, "Well, we want to change people's lives, let's make it this direction." And it's the right decision.
Trevor: Yes, we need to get core values. If you've get core values, it's kind of one boundary, and then you've got, you know, your vision, the other. It's interesting, Jack, this would have been 2016…was it 2016? It was probably 2016, so a couple of years into the business, I realized I was still blocking people, and I don't care if you're listening to this, guys and gals, and you're a one-person operation or if you're 4 or 5 people, or 20, in order to really make the impact you want to make and probably get that freedom, you gotta start adding people around you. But I was going, man, how do I not block my team and how do I make sure that in that scenario they do have the things that they need to make the right decisions?
So in January of 2016, I told the team, I said, "I'm gonna take the entire month of July off," not because I needed the vacation, I love what I'm doing, but I'm like, yeah, be fun to do it. I wrote on my life list, take a full month off and not check into work, so I might as well do that one. And then I told them, "I'm not gonna check in once. If you guys need me, if it's like emergency and here's the bucket of items that would deem emergency, hit me up. Otherwise, don't hit me up, make the decisions."
And what it did by setting that out six months in advance, you don't have to do it that far in advance, but I then asked the question, I said, "Okay guys, each person on my team at that time was, you know, 8, 10, 12 of us. I said, "What things will drop, what balls will drop if I'm gone?" So what things I am I currently doing that will drop during that month? And we wrote down that list and then, cool, other people on the team started to take those balls. We made processes and systems. They started taking them, then whoa, I had less work all of a sudden. And then also we listed out, you know, the decisions. If any big decisions come up, run it through this little quick matrix, ask these three or four questions, and then make the decision. And at the end of the day, I got back, it was the biggest month we'd ever had. I didn't check in one time, they never hit me up not one time. There were a couple of decisions they made that maybe I wouldn't have made in that exact way, but at the end of the day, it did what it needed to do and nothing got harmed. I'm like, whoa, that was a big deal.
Jack: Funny, we did the exact same thing when we started taking three, four weeks off and going to Europe and stuff, we basically, we did the exact same, we announced it half a year before and it gave the team the opportunity to put in things, systems in place or us with them. We helped them a lot with that but gave everyone the opportunity to put things in place for that time period so that any decisions in anything would be taken care of. And what helped us like, well if you always have to look at stuff that constantly comes to us as like, well we are in this, if we decide this like this all the time, why don't you start making decision? And then we just started pushing off, giving authority to like limits of our authorization or the within that price limit, that dollar amount, you just decide then. And this is the vision, and then again and processes, procedures, things, rules, little teams, if in doubt, ask this person and figure it out then and nothing happened. As a matter of fact, things went really well. And when we came back, I think I had two days worth of work to catch up, and that's about it, and that's after being gone for three-and-a-half week.
Trevor: We all have these unwarranted fears, you know, it's like we have these unwarranted fears where the unknown becomes scary but when you define the unknown, which is what are those factors that are those worst-case scenarios that if they make this type of decision would really mess things up, then that's where you create processes and decision matrix around those worst-case scenarios. You know, and it's like get rid of the unknowns and then you'll be confident that you can actually delegate and get more of your time back.
Jack: Right. Because if you ask yourself, I mean if you ask yourself this question and then my question was in a company like IBM, there's no way that the CEO of IBM understands everything that happens in that company and makes decisions on everything in that company. So how in a world do different departments know what to do in order to bring the company into the right direction? And that only works through processes knowing where the companies to go, procedures, authorizations, trust, core values, things like that. And if you give enough time for that to develop then this is exactly what's happened. So I love it. I love, I love that side. I would encourage everyone if you're watching this even if you're a team of two or three even if you've been in real estate.
Like I had this conversation with a friend of mine the other day that's struggling with this right now because…they fix and flips houses so when they repair houses there's certain amount of decisions need to be made about design. All right, so they may have their standard stuff but then all of a sudden one of their people decided without telling him because he did push it off to them, it just, they're like, you guys decide to use a like a different…to save some money on some cabinets made his $75,000 rehab job now look like a $25,000 rehab job. And so he is like struggling with that, he's like, what do I do? And he's like, well, what am I doing? Is like, well, in that case, first of all, the person was the wrong person because if they have such a bad taste, they shouldn't be in the design department. And secondly, they've probably overstepped the boundaries, there wasn't a boundary set off, this is our skew, this is our standard model of what we do here, don't change it unless you get somebody else's permission or so, and so it's a team kind of effort. So there is situations that can cost you a lot of money but you can work around those, you can work around those very easily.
Trevor: Yep, 100%. I'll kind of finish my thought on this is the biggest thing, guys, is we need to step back and really ask ourselves the question, why did we start the business in the first place? And most of us, it's four things. It's freedom, flexibility, we want to grow our finances, which buy us more of those if we do it right, freedom, flexibility, finances and impact. And what I discovered, Jack, is I couldn't have freedom, flexibility, finances. I got the finance part but I couldn't have freedom and flexibility without making sure that I was getting out of the way. And in my previous companies I would keep on putting myself in the middle of it and I still do it sometimes today and I catch myself now. But if you keep on putting yourself in the middle of all these decisions, you're never gonna get freedom and flexibility. It's gonna be really hard to make the impact you want to make.
And so I would challenge you guys on that step back and go, "Okay, am I putting myself in between this decision or in between this process because I think that I'm the best and is this really giving me freedom and flexibility?" If not, pull back and it's two things, there is a process change and a communication change or addition, process and communication.
Jack: And how are you really the best?
Trevor: No dude, most of the time I'm not, usually I'm not, it's all in my brain.
Jack: We have software now [inaudible 00:23:08] dominator. I am done, you know, features and to release schedule and the way the support system is set up at all.
Trevor: That's amazing.
Jack: The entire thing has grown to about 600 members right now, which isn't that much but it's a decent number without me literally being involved more than like once a year for an hour.
Trevor: So freedom and flexibility right there. And the finances are growing because you're unleashing them so they can actually do their work. I love it, man. I learned from you, I learned from you.
Jack: Well, I learned from you, we've got a good…like when Travor is in town, last time he was in town, we actually had breakfast here together, that was a lot of fun. And I hope spring training, it was over, so I don't know if he's still coming out.
Trevor: Oh, dude, that'd amazing, that'd be amazing.
Jack: Great. So let's go quickly back to the actual software. So what level of student or how do you recommend people use your software or your websites when they're getting started, let's say?
Trevor: So there's a couple of things, right? The first thing is, number one, we always have to recognize the pattern of how people are making decisions with stuff, right? So if it's a house seller, land seller, doesn't matter what it is, it usually follows this pattern is, number one, they have to be problem aware. They have to be where they've even got this problem that they're trying to solve in the first place, otherwise the letters you send them, they're gonna be the ones that throw the letter away, they're not aware that they have a problem, they're not acknowledging it, therefore this thing is irrelevant to them. Same thing, they're not gonna be doing Google searches.
Next thing, as soon as they're problem aware, they are aware that they've got this piece of land that they just wanted to sell now or a house or whatever it is, then they're out there looking for solutions, right? You're good. They're out there looking for solutions. So they're gonna get the letter from Jack or one of his students or they're gonna do some Google searches or whatever it is, now they're like, cool, there's four or five options, they get this piece of land sold or the house sold, now there's I'm solution aware, right? At that point is where the online side comes in in a big way is once people are solution aware or we're gonna help them become solution aware of your solution, people are using this thing. Once you can go back to what I mentioned before.
And so let's say I've got the letter and let's say I also did a couple of Google searches and there's three different companies that might be able to buy my piece of land, what I'm gonna do is I'm gonna make sure that I'm choosing the right one. I'm vetting and verifying that then you move into the vetting and verifying phase. I'm gonna look for reviews, possibly. I'm gonna look up Jack Bosch's name, Orbit Investments, and are they real company? Is it actually like real money coming to me or is it gonna be some weird…is it gonna be fake?
And especially when you're in really, really competitive markets, when you're, when you're in a market with less competition, like land is less competitive than houses, I think people are going and doing less vetting and verifying for the land stuff than they are for houses online. But still people are doing that. And so what I would suggest is if you're doing any volume of marketing, like get your first few deals done because you can totally do deals without any website, get your first few of deals done and then go, "Okay, I want to make sure I'm not losing deals, I want to make sure I'm not losing deals because people are coming online and they're researching and they can't find anything out about me but they found out about this other person, they're gonna go with them because they have credibility online.
And that's the biggest first thing is, Jack, as we suggest with land, with houses, if you're doing any outbound marketing, you gotta plug the leaky bucket first and make sure you're not losing deals. When people go online, research you, can't find anything about you. I'll ask people this question. If you're gonna buy something on Amazon, right, most of us look at reviews, we look at reviews and we go, "Okay, this one has four out of five stars, this is a three out of five stars, oftentimes there's one positive or one negative review that will make us want to buy or not buy the product. Just one review, like just one review sometimes tips us over the edge one way or the other.
Now, even worse is if you go to Amazon and you're buying a pair of shoes, and this one has four out of five stars but this pair of shoes looks amazing but has no reviews on it. You're never gonna buy the product that has no reviews on it. You go to Airbnb, I'm never gonna select any tenants that have no reviews or no verification. I'm never gonna go stay in a property…I did at once. I stayed in a property once in Airbnb that had no reviews, it was new, I'll never do it again, it was like the worst Airbnb ever. So what's happening with your land buyers and your land sellers when they're researching you, are there no reviews? Is there no credibility online? That's worse than having just a little bit. So that's the first thing, get your credibility tightened up.
And then next is if you want to add on more leads in addition to what Jack teaches, if you want to stack on leads, then online is where so many people are coming and oftentimes the most motivated people online because they're seeking you out. When we send out a direct mail piece, it works amazingly well in land because you're not gonna get a lot of direct mail or you're not gonna get a lot of marketing for land sellers, a lot of competition. But if they're seeking you out and they're doing a Google search, imagine the level of motivation and how much higher that level of motivation is of like, I know I've got a problem, I'm trying to solve this thing right now by making some Google searches.
And I would suggest people do this. Go to Google and this is all that I do when I'm looking at figuring out what I want to tackle. I go to Google and I start to slowly type in a phrase, I'm pulling up Google right now, so "sell my vacant land." I typed up "sell my vacant land" really slowly and you start to see these Google suggested searches, right? Up there it says, "Sell my vacant land fast." It looks like there's enough people that type that every month that it matters. Google is saying, "Hey, a lot of people type this, this might be what you're looking for." Should I sell my vacant land? How do I sell any vacant land? I'm just gonna click that one, how do I sell my vacant land? And then I'm gonna scroll to the bottom and see what other types of searches people are making around selling land. How do I sell my land myself? is a search people are making every month. Selling land privately. The best way to sell land for development. Marketing ideas for vacant land, that's people that are looking for vacant land.
So now I'm gonna localize it, right? So how to sell land myself, and I'm just gonna type "in…" and then all these locations pop up, have people making actual searches. Oh look at that, "how to sell vacant land myself in Arizona" is actually a phrase people are typing every single month in Google. If I could rank towards the top of that, which I've never typed the search phrase ever before, but the number one result is a big national site, the number two result is a Carrot customer ranking number two in Google for "sell my vacant land in Arizona." If you can get in front of that person, that prospect is gonna be really hot, really motivated, really high quality. They land in your website with some credibility and those dealers are gonna be some of your best deals.
Jack: Awesome. Love it. So, guys, when you listen to this, obviously, this is important. I love what you said about, you know, to fix the leaky bucket first. When I teach my land flipping method, I tell people that to sell your first piece of land, you don't need a website, right? You don't need a website, you can use Craigslist, you can use a Facebook Marketplace, you can do all those kind of things. But to buy your land, nowadays what everyone is gonna do when you send out the letter is they're going to look you up, it's something, and it might not hurt too much in the land area much because you are sending a physical letter, it takes them a little bit to go over there. But you definitely over time are losing some deals to other people that have a good online presence by them going, so it's like, "Well, let me check these guys out." It's like, "Your company is like sell my land fast, well let me go salemylandfast.com." Okay. You don't even exist. Okay. So, well, in this case, I don't want to sell, this might be a scam, right? exactly what you said.
So by having a presence, it's a very, very good thing to have. So you can obviously have a presence multiple ways, you can set up your website, you can set up one with us, or you can get set on Carrot's site, or the nice part is that you guys have a really good API, right? That [inaudible 00:31:25] that can work with our API. I think our guy, Alex, has already reached out to you guys to see if we can like work our things together with you guys so that there's kind of like a feed-in together. So you can get a Carrot website with that. So Trevor, just since we're running a little bit off time, how do people get ahold of you? How can they find out more about you?
Trevor: Just carrot.com, we have a lot of free information, free content up there and we have a podcast with you, a Carrotcast if you want to dive in more on Jack's method on buying land. And we have two other Carrotcast episodes with people who are buying and flipping land. So go check out the Carrotcasts and you can find it at carrot.com.
Jack: Okay, wonderful. And by the way, why is it called Carrot?
Trevor: It's called Carrot, man, because your website shouldn't be the brochure, it should be something that you're dangling this thing in front of people and you hope that they actually bite it, right? It's a customer carrot.
Jack: I like that, makes perfect sense. All right, so then with that, thank you very much for being on the show and it was really cool stuff. I love, we covered some of the Carrot stuff of the psychology, let me use my German English here, psychology actually of the people that want to sell you something or buy something from you, they want to check you out. We talked about corporate culture, about structure, about scaling, about the importance of these things, and we're just able to catch up so it's always fun. So thanks very much for being on the show. Again, go check out carrot.com, it's a great place. There's lots, thousands of people around the country, in the world using them and they're a really great, great company both from its support, both from its quality, both from results, all kinds of points of view. So with that, thank you very much, Trevor.
Trevor: Jack, thanks for the invite, man. Tell Michelle hey for me and enjoy the sun down there, it's cloudy up here today.
Jack: It's finally nice and warm again here in Arizona.
Trevor: I love that, thank you.
Jack: So with that, I say thank you as always. If you enjoyed this show, I'm gonna do something that actually Trevor taught me. Let me quickly grab…if you know, we wrote the book "Forever Cash," right?
Trevor: So, guys, while Jack's grabbing it, and this book is amazing, I've sent dozens and dozens and dozens of copies of "Forever Cash" out. And I've got some more on my shelf and it's the best because if you're just flipping land or just flipping houses, you're creating cash, but you're not creating that forever cash, you're not creating the wealth field, get the darn book and he's gonna tell you how.
Jack: So you're gonna tell me exactly how you did that last time. So you did something that is like, I want you guys to leave me a review on iTunes. So go over to iTunes or wherever you watch a podcast, but ideally on iTunes or if you're watching it in YouTube, you can also leave it below YouTube, but ideally, I want them on iTunes. So this has gotta be restricted for iTunes. So go over to iTunes, leave us a five-star review and write something underneath and then grab that screenshot of it and email that over to support@landprofitgenerator.com. And when you do that basically showing us proof that you are that person that you have submitted a five-star review and the text that you love our podcast, we will send you a free copy of the "Forever Cash" book. Okay. Let's do that, you've got to do that in the next week right now or whenever you watch this, doesn't really matter. So watch it, we have still a few of these books, it's out of print. On Amazon, these copies available up to 100 bucks or so. So you can get it literally for free, nothing shipping and handling, we're just gonna ship it to you for free. So do that. And I learned that from you, Trevor, and you've got a whole bunch of reviews by doing that and we're gonna do the same thing. So do that. And with that, thank you very much. Bye-bye.
Trevor: Awesome. Thank you.
Man: Enjoyed this episode? Then make sure you like, subscribe, and post your comments and questions below the video. We're looking forward to hearing from you.
Enjoy this podcast? Share the love!