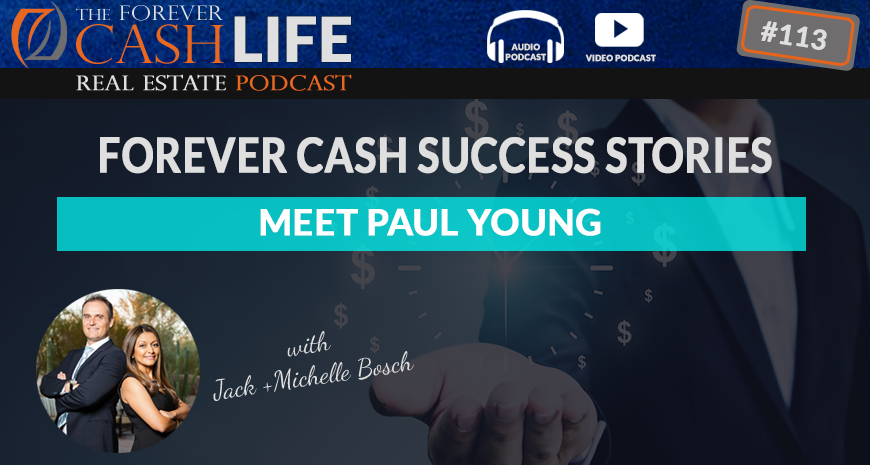 Paul Young is a Land Profit Generator student who has completely turned his family's financial situation around by investing in land. In this episode, Jack Bosch chats to Paul about his experience with other asset classes and why land flipping turned out to be the perfect solution for him. Paul has even gotten other members of his family on board to assist his rapidly growing land business! If you are wondering if land flipping is the right fit for you, take a listen to Paul's inspirational story.
Listen and enjoy:
What's inside:
Find out how Paul Young got started with land flipping
Discover why land flipping is the perfect asset class for you
Understand how Paul has walked the path to financial freedom
Mentioned in this episode
Tweetables:
Transcription:
Jack: Hello everyone. This is Jack Bosch with "The Forever Cash Real Estate Podcast." I'm super excited to host another episode. Today, we have Trevor Mauch with carrot.com, right? So before we get started and figure out what Carrot does, let's do what we usually do and let's do a little intro here.
Jack: Hello, this is Jack Bosch speaking with the Forever Cash Life Real Estate Podcast. I'm super excited to have another episode. And I have, one of our star guests today is actually one of our students, one of our land flippers. Paul Young has been doing land flips for now almost 10 years I would think. And he's one of our students. And we're not gonna tell you much more about it until we really get started.
In the meantime, I'm excited for you to be here. Again, as always if you like this episode, share it with other people. Share it with those people that you know are struggling in life, that are struggling in their jobs. They don't like them, they want to break out. So go share this information with them. And also, if you can go to iTunes, if you're listening to this on iTunes, go leave us a five-star review. Do both. Click the five-star box or whatever it is, the five-star button, but also leave a description on there. Tell us what this thing means to us. And of course if you didn't like it, don't say a thing, right?
All right, so with that, let's get started.
Announcer: Welcome to the Forever Cash Life Real Estate Investing Podcast with your host, Jack and Michelle Bosch. Together let's uncover the secrets to building true wealth through real estate and living a purpose-driven life.
Jack: All right, so there we are. We are back. And I'm excited to introduce our guest today, Mr. Paul Young. Paul, how are you?
Paul: I'm doing just fine today, Jack. Thank you so much for having me on.
Jack: Wonderful, Paul. I'm excited to have you here. Now for you listeners, Paul has been in real estate for, well I'll let him talk about it, but Paul is one of our students. Paul has been a land flipper for how many years now?
Paul: I met you in 2010. We started late 2010, so about 9 years.
Jack: All right, so nine years, going on nine years. Great. Well, first of all, tell us a little bit about your story. Tell us how you came to this. What did you do before doing land…? Just tell us a little bit of your background.
Paul: Well actually I've been in real estate since I think 1983. We started out, my wife and I started out with a small apartment building. So we initially started out with rentals. As far as I've been able to tell, rentals and land are the only two things that ever worked for me. But we did start out in rentals. Anyway, once we got that to work I started looking at some other ways to create income with real estate, mostly having to do with rentals, but I started looking at other ways of making money.
And then right before, let's see, yeah, right before the year 2000 we had moved to the mountains. So at that point, since my wife was telecommuting and I was out of a job, I started looking at rehabbing down in Bakersfield, which was down the mountain from where we lived.
Jack: So you're greater LA area, right, basically?
Paul: Well I was born and raised in LA. So this is the first time I lived outside of LA. We actually moved to Kern County there for a while.
Jack: All right. So yeah Bakersfield. Yeah, that's north of LA. Of course, yes.
Paul: Right. But the reason I bring that up is because while we were up there and I was looking at rehabbing and doing things like that, my wife passed away in a car accident.
Jack: Oh, I'm sorry to hear.
Paul: Yeah. And so I had a choice to make at that point. My two sons were in high school, and my wife was making almost all the money at that point. And so I either had a choice to get a job and just have someone else take care of my kids, or I had a choice to work at home and try and find some kind of business that worked. So I did try a bunch of different things. I looked at foreclosures. I looked at probate. I looked at loan modifications. I looked at, you know, a bunch of different things.
Finally, I met you, I think it was in Las Vegas, yeah, in 2010 at somebody else's seminar. I tried his program too, you know. Now what I was impressed with was a lot of the problems that I had come up with, you solved. You know, like the loan, you know, writing loans that I had there and then the IRS thing about being a dealer. I was very impressed with the simplicity of style. And at the same time, you were able to overcome these problems and challenges that I thought there was no way to do. And you made it work so successfully, you were making five figures a month.
And so that's what I was looking for, some kind of way of making an income coming in consistently. So I gave it a shot, and like I said, it's the only other thing that I've ever found that worked. And your idea of making land cash flow like that on a regular basis really to a large extent saved me and my sons financially because it was able to tide us over from one thing to the next like nothing else I've ever seen.
Jack: Wonderful.
Paul: So I'm still doing land. You know, as you probably know, I've never really like gone gangbusters and things like that but I've done enough to, you know, stay fairly consistent and at the same time, you know, try and expand the business a little bit, and get my sons involved at the same time. That's why we're still with land because it's just been so great for us.
Jack: Right. Well that's wonderful. I mean I know the power of your story because you're obviously also in our Hall of Fame, but I never knew the full story. So I didn't know that your wife had passed away. I'm so sorry to hear that. So you were in this really difficult situation of what to do with teenage sons, which obviously losing their mom is more than traumatic at that age, and you did the bold thing. You did the tough thing. You did the honorable thing, the wonderful thing. That even though you have a computer science… What is your degree in, engineering, right?
Paul: Computer science degree, yeah.
Jack: Computer science degree. You could have gone to a nice job somewhere else making like $100 grand or $150 grand or something like that. You made the decision to stay at home, take care of the family and find something. I applaud you for that. And then our paths crossed. So when you say problem solved, you said something like that, that I was able to, I don't know what exactly those problems were, but you said like some problems that you didn't think could be solved, that our system could solve. What exactly are you referring to with that?
Paul: Oh yeah. Like I was mentioning, what is that law called? You know the one where they changed it so that people financing their own properties to sell…
Jack: Oh the Dodd-Frank Act?
Paul: Right, right, right, yeah, Dodd-Frank. You figured out that for land it doesn't apply because there's nobody living there.
Jack: Right. Because Dodd-Frank, just for everyone to know, Dodd-Frank applies, you've gotta check with your attorney, this is not legal advice, but the Dodd-Frank Act, to our knowledge, based on what my attorneys told me, applies only to dwellings. And it actually refers over to dwellings as defined by I think Regulation Z, and Regulation Z is some things that if you have a real estate license, I have one in Arizona, I don't use it, but I have one, that I looked it up what that means, and the definition of dwelling is a residential unit of 1 to…a residential structure of 1 to 4 units. So land is obviously not a residential structure.
So, therefore, it's outside of the definition of what the Dodd-Frank Act even applies to. So we don't have to do…and if you're following the Dodd-Frank Act, now you have to jump through hoops when you do seller financing, right? After so many, and I don't know exactly what the number is, but it doesn't affect us on the land area, you have to do certain things. Like you have to send every seller financing application to a mortgage originator who basically has to approve it and stamp it and it adds extra bureaucracy, extra cost. And so you can still do them, but you have to jump through more hoops. And with land, you don't. That entire thing doesn't affect us, a single thing. Okay, that's cool. So what else were challenges that you were thinking you were facing that you feel this has resolved?
Paul: I didn't want the IRS to classify me as a dealer.
Jack: Right, the dealer status. That's another big one, yes. So the dealer status, I know you can explain it, but I can explain it. Why don't you give it a… What is your understanding of how that is and how I got it solved?
Paul: My understanding is that if you do a certain number of real estate transactions, similar types…and the number is not specified. The IRS can just cut the line anywhere they want, as far as I know. So is it 3, 5, 10, 20? I didn't know. And so I had no way to prepare for that. And you, your accountant and you discovered some law somewhere in the IRS code that said it doesn't apply to land.
Jack: Right. And we'll put the code, we'll put actually the piece, let me make a note. We'll put that IRS exemption into the show notes and into, if you're watching this on YouTube, we'll put it below. Or we'll put a link into where you can find out about it. Let me just say IRS exemption. So I'll make myself a note that our team puts that out there.
But in essence, what that loophole is, is it absolutely says, and we were faced with that too, I can perhaps quickly tell a story, that when we started out, we did 63 in our first year, 63 deals in our first year while having jobs, and we, when I say we, it's obviously Michelle and I, and we were in a situation that we had made a bunch of money and generated like about $5,000 or $6,000 in cash flow per month already in the first 10 months. But that represented about future profits in terms of like notes that we owned. Like we allowed people…we buy the property for $1,000 and sold it for $10,000 and they paid us $1,000 down and they paid us $200 a month or $400 a month, whatever the thing is.
But these unpaid principal of these loans were adding up to something like $400,000 for the year and we were…we had received a fraction of that, but obviously not all of that. And the profit margins, because we're buying our products at 10 cents on the dollar were astronomical, right? There were like 90% profit margins on these deals. So the IRS says if you do a certain amount of seller financing deals, or not even seller financing deals, if you do a certain amount of flips, you are a dealer. And if you're a dealer, they say you cannot use the installment sale method.
So what that means in essence is that, now if we have $400,000 of unpaid principal, of which $360,000 is profit that we have not yet received, the IRS, if you're a dealer would force you to pay taxes on the $360,000 that same year that you generated, that you did the sale, even though most of the money has not been received yet. Obviously that's a neck breaker, right? Because if you have $360,000 in profits and you have to pay 30% of that, or 35% of that or whatever the number is, in taxes, you have to pay well over $100,000 that you haven't received yet. So that's the fast way to bankruptcy.
And so we went to our CPA and he figured…and he looked at that. And we have done an interview with our CPA in a prior podcast episode, literally just a few weeks ago with Warren Charles, so you can contact him there and look at that and listen to that, listen or watch that podcast interview, or that show.
And he dug into this tax code and he found an exception that we'll again, put in the show notes or put a link into where…from where you can get it. And we found that, and that basically in layman's terms says that if you buy a piece of land and you flip it, if you don't materially change it in the middle, if you don't like develop it and put all kinds of stuff in there, and put in a septic system or utilities to it or something like that, you just buy it and sell it, which is what 90% of our deals are, 95%, 98% of our deals are, then you are exempt from the dealer status. And that obviously, that is what you're referring to, right?
Paul: Yeah.
Jack: And what that essentially means is that now if you receive…if you have $400,000 of unpaid principal, of which 90% is profit, $360,000 of unrealized profit, and you receive let's say 10% of that in the first year in terms of payments, you only pay taxes on those 10%. And even there, after you subtract the ordinary business expenses that you can subtract as a business owner anyway. So now your tax burden is like this, instead of like paying a hundred and something thousand dollars in taxes.
Paul: Yes. And like you said, that's a killer. You can't get out of that one. So land fit the bill perfectly.
Jack: Yes. Yes, yes. So great. So you got started and then what happened? Tell us a little bit of your path. Tell us your experience. Tell us what…yeah, tell us some of that, what's happened since then.
Paul: I think we kind of started like everybody else, because, you know, the basics were kind of the same. In fact, we got the whole family involved. My sons, you know, and I. And my mom came sometimes to help us with the envelope close, you know, put stamps on the envelopes, and address them. So it was really a family effort, which I kind of liked. Because, you know, the boys were old enough and I explained to them [crosstalk 00:14:30]
Jack: And your sons come with you to our events now. You're part of our mastermind, the Ultimate Boardroom. And one of your sons usually comes along. And I really love seeing that. Tell me about, if I may ask, what has it done? Like I imagine you went through some difficult times up to that. So you're working together with your kids. Has that been easy? What has it done for you guys and your relationship?
Paul: You know, that's a good question. I think that, well when they were younger, you know, it helped us to do a group activity together on a regular basis. I really did like that and the relationship that it built. You know, especially since they didn't have a mother anymore, you know, I tried to… I have like both roles, right? So I tried to, you know, keep the relationship tight, and it seemed to help, you know.
More recently, since my older son has gotten married and, you know has kind of his own life now, so we don't see him as much as we used to. They used to trade-off going to your events. But now my youngest son, Peter, he is helping me with the business. And what I see with that is, you know, when he sees the way things run and he sees the ups and downs, the pluses and minuses, he's made a decision that he wants to continue in that vein. You know, instead of like relying on jobs for 20, 30, 40 years, he's made a decision to stick with the business. And I think a large part of that is because he's seen this over a number of years, and he's seen what it can do. So that's a real plus I think.
Jack: Right. This is beautiful. And by the way, I have to say your sons turned out great. I mean I know them both. They're wonderful guys and you can be very proud of what you have done as a dad, in playing both roles. So, congratulations, Paul. Yeah, so they are wonderful guys. Great, so now tell us a couple of deals. Like what's, kind of like what is your best deal that you have done?
Paul: Let's see, I just refreshed my mind on that one because I had to share the details to Barbara. I believe it's, yeah, it's one of the best ones is we had purchased five lots from one seller. I guess, I don't know what happened, but anyway, they tried selling in other different ways…
Jack: It happens all the time. Yeah, we buy multiple properties from people all the time. Yeah.
Paul: Yeah. Well anyway, I think this was our first one, and so it was pretty exciting for us. So we got all 5 lots for I think just over $8,000, $8,250 or something like that. And then once we closed escrow on all five… Actually I don't even know if we did all five because we separated them. So anyway, the one that we actually had was on a paved road and had utilities, that one sold pretty quick, like in a week. So we sold that one for $9,000 something.
Jack: Wait, wait, wait. So you bought them all for $8,000 something and you sold one for $9,000?
Paul: Yeah.
Jack: So now you own the other seven…
Paul: Four.
Jack: …free and clear.
Paul: Yeah, kind of. So when we sell those, it's just profit added on to the, you know, to the first one.
Jack: Right.
Paul: And we sold the other ones I think for about between $8,000 and $9,000 each.
Jack: All right. So that adds up for a total of…?
Paul: Almost $40,000 in profit.
Jack: All right, $40,000 in profit. How many lots was it again?
Paul: Five.
Jack: Five. Five, five. So I got that wrong. It's at $8,000, not 8 lots, 5 lots.
Paul: Right, right.
Jack: So you have another 4 times $9,000. Yeah, that's another $36,000 in profit. So it's like about $40,000 total. I understand a couple of them you sold through seller financing. Or were they all cash deals?
Paul: No, all of them were seller-financed. Yeah.
Jack: Well if you then add the interest into it, then your profit probably turned out to be more like $80,000, right?
Paul: Right. Yeah, it would be a lot more.
Jack: Yeah.
Paul: And I was not considered a dealer.
Jack: That's right, and you were not considered a dealer. That's exactly right. I don't know why my face is so red here in the picture. Let me see if I do this. Now it's all bright, but we'll figure it out. We do live shows here and sometimes the lighting is not perfect. But we'll get it done. If I turn it off I'm too dark, so either way. That is exciting. That's exciting. So now, since then you have continued doing deals. Now I want to ask you to share with us one technique that I actually learned from you. And that is your drop in price kind of technique. Remember that one?
Paul: Yeah.
Jack: Do you mind sharing that with us?
Paul: No, I can share it with you. It's just I don't use it myself that often.
Jack: No, you shouldn't. As a matter of fact, like once he explains what it is, I'm gonna add on to the end saying like this is a great little technique that you can use, but don't use it all the time because you're training otherwise your buyers that you're doing this all the time. But every once in a while this is a really cool little technique that you can do. So remember, we're buying these properties really cheap. We're buying properties for 5 to 25 cents on the dollar, and they're worth obviously much more. So tell us how this little technique works.
Paul: Well it was a while ago, right, that I told you about this?
Jack: Yes. I loved it, and I've applied it. I applied it right away very successfully. Again, not all the time. But I was like, let me try this, and boom, it worked. So let's share that little nugget with everyone here.
Paul: Yeah. What I had done was I had set the asking price higher than we usually do and advertised it and people knew about it. And then we dropped the price dramatically to gain interest in it and it sold pretty quick after that.
Jack: Exactly. So in summary, in essence what Paul is doing occasionally, and what you can do, too, listening to this, is when we sell our properties, we like to offer often at bargain price, right? We sell it to waste. We sell with wholesaling. Basically, we buy a property for $2,000 that's worth $20,000, and we go sell it for $12,000, a quick wholesale price, 60% of the market value. Boom, it sells, right? Or for $9,900, $9,999, right, for 50% of the market value basically, for $10,000, it sells very quickly.
However, sometimes a property might still sit a little bit there because there's no urgency or it's not perceived as like this bargain of the century. So what Paul did, whether by… Did you do this on purpose or was it just by accident?
Paul: You're talking about something that happened seven years ago. I don't remember all the details. I think that I…
Jack: Do it, yeah?
Paul: [inaudible 00:21:57]
Jack: Half and half?
Paul: Yeah, we got the idea. But I mean obviously, I did it intentionally because I had the idea, but no one ever told me to do it. I think we were just trying it out.
Jack: But you need to do this a couple of times like a year at least. Not every time, but every… I think it's pretty safe to do this every three or four months or so on a property and do it on some of the nicer ones with a bigger profit margin. So here's what he's doing. He's taking a property that let's say is worth $20,000, and he prices it at $20,000 for cash, not seller financing, cash. And now what happens is people go look at it. He has a buyers' list, let's say, a bunch of people that already have submitted their information to you and said, "I want to know about this," or you put it on Facebook Marketplace or Craigslist or [inaudible 0:22:49]. When people inquire about it, you gather their information, right, and the nice part is on Zillow for example, or Facebook Marketplace, when you drop the price it sends everyone who has earmarked it, it sends them a notification that the price dropped. So that's another way you can let them know.
But what he does, he lists it very high where it's probably not going to sell. So he does it on purpose. So he lists the property at $20,000, and the expectation is that it's going to drive a bunch of interest, but nobody will buy it. So you gather all these people's information, add them to your buyers' list, and then how long later, like a week, two weeks?
Paul: Yeah, a week or two weeks.
Jack: A week to two weeks later, he then went and he massively dropped the price to like $11,900. So it's like literally a 40% price drop, which then… Now if you do this nowadays, if you do it on Zillow and Craigslist it will go…it will spread everywhere around, right? It'll go give everyone the information that the price dropped. And also if you have a buyers' list, you send another email out saying like, "Hey, price just dropped 40%." Now you have all the people that already were interested in it looking at that thing again. It's like well I liked it at $20,000. I liked the property. I didn't like the price. Now I still like the property and I love the price. And boom, they just jump on it and you sell it very quickly. Isn't that how it happens then, right?
Paul: That's how it works, yeah, mm-hmm.
Jack: Yes. Then he probably… Apparently it looks like you forgot about your own technique here because you haven't used it very often anymore but…
Paul: I should say I like kind of replaced it.
Jack: Okay. Replaced it with what?
Paul: Well when we first started, you were telling us that every so often you will have a sale. Like right now, we're running a couple properties with a Valentine's sale, you know.
Jack: Valentine's sale, there you go. I like that. At the end of the day though I think it's not an either-or, it's an and, right? You do your Valentine's sale and then you have a specific property, right, you have a lot of margin, and you go list it, drop it, sell it, right? So you do one deal like that, another one through a sale, and so on. So you mix it up a little bit so that your audience and your buyers don't learn to expect a certain thing from you. That's the reason why you can't use this technique all the time. Because if you use it every other week, soon enough you're training your own customer base, your own buyer base to basically sit back and wait till the price drops.
But if you don't do that, if the next day you put a property up there and it's not changing in price, this is the price and it's a great price, then you're training them to take action on this one. You're training them to take action when they see a price that they like because the price might not last. So love it. And I love that you replaced it. I love that you evolved on yet a few deals that you have available right now.
Well great. So Paul, just tell me one thing, before we wrap up, if there's one thing that you would like to tell somebody who perhaps is right now getting started, who perhaps doesn't have a whole lot of money available to them to go splurge on a different bunch of techniques, if you have that…that perhaps with that money is precious to, or their time is that they are in a difficult situation in life, or they're just scared of real estate and where do I get started, or they're trying some techniques that are not working, tell them…what is your piece of advice to them, just a word of advice to somebody who's out there struggling?
Paul: You know, I'd say that if somebody's struggling and doesn't have a lot of money to work with, this land business is the best thing I've seen as far as real estate investing goes because, you know, land sells for…I mean you can purchase land for so much cheaper than a house or any other kind of structure. You don't have to worry about tenants tearing up the place, you know, wood rotting or anything like that. I mean it just seems like the number of problems that you have with land is so much less than with houses and things like that. So yeah, if you're pressed for time, then you don't have to worry about any of that stuff, for one thing.
Secondly, the business is scalable. You know, like if you go into foreclosures, you know, I haven't done this myself, but my understanding is, is that sometimes they need to send out 50,000 letters to get a deal, or something like that. And that costs money. That takes time. You've got to follow up with all these people and all that. And that's all time, you know. If you don't have the time to invest, then I'd say start sending out 100 or 200 letters. Oh, it's Peter. Here.
Jack: There's Peter.
Peter: How's it going?
Jack: There we go. That's right. Hey, how are you? How are you doing, Mr. Peter? We're excited. We're doing a podcast interview right now. You're going to be on video here on YouTube.
Peter: Oh, that's great. That's great.
Jack: So here we got the full…we got the team together. So good to see you, man. And I'll see you probably next week, right?
Peter: That's right, next week.
Jack: Yeah, wonderful. Next week we have our Ultimate Boardroom Meeting here in Phoenix and Peter and Paul are part of that. So they're coming together and spend two days with us, so it's gonna be a lot of fun. Very good.
Paul: Yeah. Just to continue the thought, so the same thing is true with the money. Instead of bringing in $100,000, $200,000 to buy a house or whatever you need to do, the financing, a lot of these deals you can finance yourself because they're so cheap.
Jack: What is the average price that you pay for a property?
Paul: Well, you know, ever since you came out with LPG2 we've upped the value of these properties. As you know, we started out in the desert there.
Jack: Right.
Paul: And we're getting properties for $50 to $100, right?
Jack: Fifty to $100 for a property. Now how much do you pay today, these days?
Paul: It's somewhere between $2,000 and $10,000.
Jack: Between $2,000 and $10,000. And then you go flip them for between $10,000 and $30,000?
Paul: Yeah, mm-hmm.
Jack: All right. So that makes sense. So this is a great thing. So yes, with that, you don't need that much. So great, so with that, wonderful. Thank you very much. So the bottom line, if somebody gets started and they're struggling out there, whether or not they have money or not, there are ways to make real estate work. What I always say, tell people is pick something, look at where you are right now. Look at the situation you're at, the time that you have, and then look at the real estate market. And then pick the piece that fits your situation and like your abilities and your level of knowledge the best.
When we got started, we picked land because we had no freaking clue about houses, right? We had no idea. We had no time. I was traveling all the time. I was traveling 100% for business…not business, for my job really, and I had no time for a rehab. I had no time to even find houses. I had no time to meet with sellers. I had no time for all this stuff. So we created, we jumped on something that we could do without having to go look at it. Land, you don't need to look at. You don't need too much money. We bought our first year for $400. You beat us, right, for 60 bucks or 100 bucks, right? So it's that thing. So it fit to us, right? It fit to us and it fit to you and your situation.
All right, so with that, thank you very much, Paul, for being available for this interview. Again, Paul is also part of our Facebook group. So if you're not part of our Facebook group yet, go look for the Land Profit Generator Real Estate Group in Facebook. Also go to landprofitgenerator.com to go check out our program, our Land Profit Generator, and leave us a comment below. Leave a question below. We'll monitor that. We answer to them. And also, leave us a five-star review. So with that, thank you very much, Paul.
Paul: Jack, can I say just one other thing since you reminded me?
Jack: Sure.
Paul: Like I said, I tried a bunch of different things, and your customer service is head and shoulders above what I've seen out there in the industry. So when people join your group they can be very confident that they'll get a response back, a phone call, an email, something.
Jack: Right.
Paul: Because somebody's there. And you have so many ways for people to contact your support group. I've never seen anything like it. You're very good, so people can have confidence that they'll get a response from your people.
Jack: Wonderful. Thank you very much. I appreciate that. I will pass that on to my team because they are the ones who are making all of it happen.
Paul: Well thank you, Jack. I appreciate you having me on here.
Jack: Thank you very much. All right, bye-bye everyone.
Announcer: Enjoyed this episode? Then make sure you like, subscribe, and post your comments and questions below the video. We're looking forward to hearing from you.
Enjoy this podcast? Share the love!