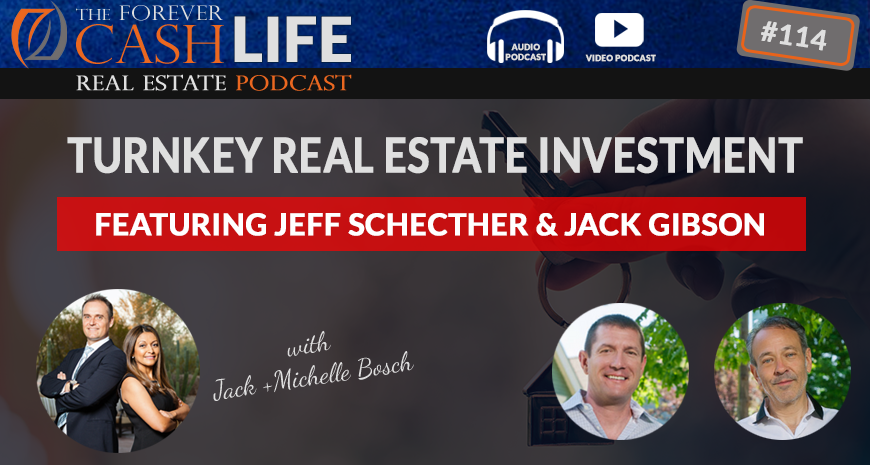 Jeff Schechter and Jack Gibson run HighReturnRealEstate.com – a turnkey real estate investment business. In this episode, you'll discover what exactly turnkey investment means and how Jeff & Jack run their company. If you are interested in becoming financially independent in real estate without the hard work and expertise, this might just be the perfect solution for you! Additionally, Jack Bosch chats to the team about their career ups and downs and how they have made their business the success it is today.
Listen and enjoy:
What's inside:
Understand what turnkey actually means
Find out how Jeff Schechter & Jack Gibson run their company
Learn about the inner workings of a turnkey real estate investment
Get amazing tips and tricks in the world of real estate
Mentioned in this episode
Tweetables:
Transcription:
Jack Bosch: All right, hello, everyone. This is Jack Bosch speaking, and here's another episode of the "Forever Cash Life Real Estate Podcast," where we talk about all kinds of different things having to do with mainly cash flow. We love cash flow. Today we're going to talk about turnkey house investments, and with that going, we're gonna talk about all kinds of really cool strategies around there and how you can do this all hands-off. So with that, let's get started in just one second.
Man: Welcome to the "Forever Cash Life Real Estate Investing Podcast" with your host Jack and Michelle Bosch. Together, let's uncover the secrets to building true wealth through real estate and living a purpose-driven life.
Jack Bosch: All right, so we are back, and my guests today are Jeff Schechter, who's also called Shecky and Jack Gibson. Jack and Shecky, how are you guys doing?
Shecky: Excellent. Happy to be here.
Jack Gibson: Yeah. Doing great.
Jack Bosch: Wonderful. Wonderful. Great. It's great to hear that. So, guys, you are in the turnkey business. First of all, let's get started right away and tell us what does turnkey mean? And then we'll go later on to go a little bit into history how you got into that. But I'd like to get right over the gate, right jump into the subject matter and just jump right in the way of, like, tell our audience what does this even mean? What is turnkey?
Shecky: Basically, a way to have a hand performing rental property being very, very hands-off. So essentially, we do all the heavy lifting for our investors. We go and acquire the property with our own money. We rehab it to some very exact standards. We work with a really awesome property management team to get it cash flowing, and then they are sold to investors all over the world as performing assets.
Jack Bosch: All right, so in other words, you can have a cash flowing rental property without having to buy it without…well, you have to buy it. But without first having to buy it, then having to rehab it, then having to figure out how to get a tenant and then having to find a property management company, and then enjoying the cash flow. You guys do all those first steps for them and hands people already cash flowing property that they can basically just run from then on.
Shecky: Yeah, that's exactly right. They've got an online portal. They can go on and see all the activity with the property management team. It's not to say that it's completely hands-off. I don't think there's anything that's completely hands-off, but it really takes the difficult guesswork out of it. Especially, you know, "Am I getting a good deal for the property when I buy it? Am I getting a good rehab?" All that stuff is taken care of for them.
Jack Bosch: Okay, very good. Very good. That's exciting. So, tell us, so what kind of properties? So tell us, first of all, how did you come about that? I mean, have you always been in real estate? What's kind of your backgrounds and how did you get into that area?
Jack Gibson: Yeah. I was actually looking for, you know, an alternative to stocks my stocks. It was about five years ago, and they had just, you know, collapsed even though the market was good. I was in oil and had a couple short sellers attack a couple stocks that I had as well. So, you know, it was just a sign to me that I need to start looking at alternatives to this. I don't wanna kind of go through this roller coaster of a ride the rest of my life. The problem, I was a busy business owner/entrepreneur at the time and still do to this day, still am.
At that time, I was like, "No, there's no way I'm gonna be able to go out and scout out properties and try to figure out what to buy, how to buy smart, how to put tenants in place," all those things that, you know, all investors struggle with. So I started getting, you know, hooked on this concept of turnkey investing. So I started buying up myself, and I started getting some really nice returns, and it was stable and steady checks coming in every month. So I got excited and started referring other friends, family, neighbors, co-workers to the same provider.
It was about a few months in when I was on a digital marketing call with Shecky where we were working on strategizing how I could take this, you know, turnkey company to the next level. He lists out all these great ideas. It's a great strategy, but when I looked at the list after I got off the call, like, "I can't do all this myself. I need some help." So that's when I pitched Shecky on being a 50/50 equity partner, and we formed the company and, you know, we've done, we haven't even added it up, probably, what, 150 sales, 200 sales now together? It's going well, and we're certainly…we're on track for some real explosive growth over the next several months.
Jack Bosch: Okay, wonderful. It's great, so now what kind of markets are you looking for? I mean, what markets are you buying? First of all, generally speaking, what markets, but secondly, more importantly, what price ranges are you in for these houses? What's like a typical deal look like, basically, what's a typical house look like?
Shecky: First of all, we're based in Indianapolis, and that was intentional. It was actually were Jack originally got started.
Jack Bosch: Good market for that.
Shecky: Yeah, it's a good market, and we like it because it's, you know, good, stable, lots of big employers. It's very, very inexpensive to live here, but most importantly, the price to rent ratios are very, very attractive, so an investor can make really, really good returns. Unlike some of the other turnkey companies, we figured out a really good niche in mostly C class properties, so these tend to be lower income. We'll see, for example, single-family homes anywhere between, like these are finished selling price, fully rehabbed with a warranty, you know, really nice ready to go, probably on the low side about $48,000 for a single and we may get up as high as $75,000, $80,000 for a really nice duplex. We don't really go anything…
Jack Bosch: What are they going far?
Shecky: Anywhere between, say, $650 to $950 across that spectrum, so it's pretty much all that under $1,000 a month.
Jack Bosch: And if it's a duplex, is that $650 a unit, or is it then total $950?
Shecky: Yeah. No. It's $650 a unit, sometimes $700 a unit if it's real nice. So yeah, there's…
Jack Bosch: So that means $70,000, $80,000 for $1,400 in rent, that's pretty darn good. That's good.
Shecky: Yeah. Yeah. So if you look at, you know, oftentimes people will cite the 1% rule, you know, we have some properties that actually approach the 2% rule. So, we're pretty set…
Jack Bosch: Can you explain that rule quickly? What does that mean?
Shecky: Well, meaning that your price of your property, if your rent is not equal to at least 1% of the total price of the property, that's sort of that initial benchmark where it may not necessarily be the greatest cash flow. But if it makes it over that 1% mark, then you probably should continue to do your due diligence and look further at the numbers because it's probably a good property, it's probably a good opportunity. We obviously do, in many cases, much greater than that. So, you know, we have some really, really nice cash flow to our properties.
Jack Bosch: So, in other words, if you buy a $60,000 property, rents should be at least $600?
Shecky: Correct.
Jack Bosch: That's the 1% thing?
Shecky: Yup.
Jack Bosch: Ideally, the higher above that, the better?
Shecky: Yeah, absolutely.
Jack Bosch: Very cool. Great. So then, where did you get those? When you got those properties, how much usually…where do you get them from? Secondly, what was like a typical rehab package on those? How do they look like after you're done with them?
Jack Gibson: We have a lot of connections at this point, you know, being in the market for, what, almost four years now. Mostly we get it from wholesalers and we have one, in particular, that's almost like our main acquisition team. They're fantastic at giving us, you know, really, really great pricing. We have a volume relationship with them. So right there, I mean, we can pass on a substantial savings to our investors when we're buying, you know, with the prices that we're able to acquire for. I mean, pretty much it's very difficult to compete with our acquisition prices just because we're quick cash closers and we do a lots of volume.
In addition to that, you know, we do get some level properties off the MLS. It's not that common, but that happens, tax sales, sometimes hedge funds are selling off, you know, chunks of properties that didn't work out for them. We know how to go in and rehab them to high-quality standards, and then, you know, it's the property management team that is really taking it from there that's really gonna determine the performance of the property and how the cash flows. Did that answer your question? I think there was a second part to this.
Jack Bosch: Yeah. No, no. Absolutely. So now that's one part of the question, but then the second part is what's your typical rehab package? What kind of product like a…If you do 150 so far, you probably have a somewhat standardized process in place to make these…because these properties, I would say if they're in a price range, you're not talking about custom homes, of course. You're not talking about…they are like the typical three-bedroom, one-bath or three-bedroom, two-bath houses. What product in terms of upgrades or rehabs do you put into those?
Shecky: Well, we offer a six-month warranty on our product, so first of all, not to be crass, but we're trying to cover our butts and make sure that we don't have any warranty exposure on the property, we want to deliver a great property. The first thing we're gonna do is we're gonna go in and we're gonna get the utilities turned on and we're gonna actually have a third party inspector comment. So that way, we know what the major problems with the property are before we even assign it to one of our rehab crews.
But as we go through it, we're looking at all the major systems, you know, roof, foundation, electrical, plumbing, everything like that, that gets addressed first. The rest of it is really just cosmetics, you know, does it need paint, does it need a new cabinet in the kitchen, things like that. You know, they're C class properties, so there's no question. We're not turning them into the Taj Mahal, but we are making something that's very nice, clean, livable, something that will attract a good renter for that price point. Really, there's nothing more to it than that. We're certainly not over-rehabbing for the property class. Obviously, we're not putting granite countertops in those properties. You know, we're not building extra garages, most of those people are gonna park on the street. We're rehabbing to really, really nice standards for that property class.
There are certain things that we do internally that we know are things that we're always gonna do no matter what. Here's probably the best example. In Indianapolis, we have very, very hard water, so we know here that hot water heaters don't last very long. You know, the typical hot water heater is gonna last, let's just say seven, eight years, it's unlikely you're gonna get more than that out of it. So all of these things have an in-service date on them when they get installed. So if we go in and see a hot water heater that's got a date anything older than five years, working or not, we just rip it out and replace it. So that's like just a good example of some of the nuances of the things that we do as we go through a rehab on a property.
Jack Bosch: But in essence, like if the property is carpet and no hardwood underneath, you probably put new carpet in, right? You probably put new paint on the walls, you probably make sure the kitchen is fully functional with hardware and everything. And if the hardware is missing, you probably put new hardware on, and you might put some ceiling fans on there and this kind of thing, right?
Shecky: All of the above. Yeah, absolutely true. Yeah.
Jack Bosch: So that's where I was going. So at the end, you have a nice property that's fully functional, that's fully usable, that there's, of course, not granite countertops and things like that because these are $50,000 houses that only rent for $600, $700, $800, $900. I actually have similar product, by the way. My wife and I, we have almost 50 rental properties in 3 different markets. We started buying in 2009 in the market when America was for sale and started buying into the 2014s or so. Went out of Phoenix where we live soon after when the prices shot up again, but we own properties in Cleveland, we own properties in other markets, and I would imagine it's a very similar product. So we will go in, we do all of the above. We make them perfectly fine, livable, but we're not taking the kitchen cabinets out if they're functional.
Shecky: Correct.
Jack Bosch: We're not taking the countertops out if they look good. We might resurface the countertop, but we not usually take it out and so on. So that sounds like you're doing a similar kind of model there.
Jack Gibson: Yeah, one thing we've added into that we've learned with through the last couple years is, you know, you would think that you put in brand new carpet, you know, even at my bachelor pad, right, my carpet lasts for a decade, but for whatever reason in C class property, the tenants are just so hard on the carpeting, you just can't win. So we've gone to vinyl plank, and that can last for multiple, multiple tenant turns. We expect, you know, at least four to five tenant turns before we have to replace it. So those are just some things that we try to do to…you know, we might put a little bit more money than what we'd like to into the property, but we also realize that it's going to last so much longer for the investor.
Jack Bosch: Absolutely. We do the same thing. By the way, we have also 400 apartment units, 158 under contract right now in addition, and we do the same thing. The first thing in these apartment units is the moment we take over every unit that's vacant, we replace the carpet with vinyl plank, which basically for the benefit of the listeners, if you don't know what that is, it's basically vinyl piece, it's about probably that size, you can get them smaller, you can get them wider, that look like hardwood flooring but they're vinyl.
And depending on which model you choose, if one of them gets torn off or something or gets broken or something, you just pull it off, and you put another one on that spot. It's a little bit more expensive than the carpet one time, but as we said, instead of a carpet lasting one turn because class C tenants unfortunately just are living very hard, I agree, they just last for potentially even more of these turns. So in other words, if a tenant stays for 2 years on average, nowadays they last four for 8 to 10 years, which is obviously much better than replacing the carpet at $1,500 a pop every single year or other year.
Shecky: Yeah.
Jack Gibson: That's right.
Jack Bosch: Right there saves you over 10 years, it saves you probably like $6,000, $7,000 so, which is a great, great, great piece. That's why we do it because in an apartment complex, you buy 150 units, and that's a massive cost saving point going down the road. Wonderful. Great. So then I understand that Shecky, you're the internet marketing guy, the marketing guy of the two of you. How do you sell these properties? You use the online for that, or you go work to realtors, or you work…what's your strategy to sell these things?
Shecky: Yeah. We actually have been very blessed. I mean, we've got a good reputation, and we've got a really nice website, and we've got very, very strong search engine optimization. And for people that don't know what that is, it just means when you type in a certain keyword, our business is gonna rank very, very high. So we tend to get a lot of natural, organic traffic to our website. And for the most part, the website does a lot of the heavy lifting because we're very transparent about what we do. We post the properties that are available, we talk about all of our processes on our website, we talk about the market, and any investor or potential investor that goes to the site can certainly fill out an inquiry form.
Then our investor relations team will reach out to them and send them a whole, you know, much bigger packet with all the details about what we did, which by the way also includes, I didn't mention earlier, a second inspection. So when we get done with our rehab, we actually call in a third-party inspector again just to make sure that there was nothing that was missed. So all of that data, including scope of repairs and everything we did to the property goes into that investor packet, including all of our sample contracts. So when an investor reviews that there's really…I mean they have still have…we encourage them to do their own due diligence, but we've made that process extremely easy for them.
Jack Bosch: Very good, very good. That is exciting. All right, so now, how does your team look like? Like you mentioned, you have a team that is in charge of sending this out. How many people work in your team?
Shecky: Well, there's four core members, myself and Jack, and then I've got a tech guy that's here that's my right-hand guy, and then Nicole who runs our investor relations, but we also work with a lot of other outsource teams. Obviously, we're very much kind of joined at the hip with our property management team and we have a lot of data that passes back and forth and oversight into each other's operations. We have an SEO team in Miami, they're fantastic. We have people sometimes that help us with other paid advertising on the rare times that we feel that we have to do that. We do referrals with some of our existing client base.
As I mentioned to you earlier before we hit the record button, we also are fulfillment for a couple of other companies that sell to other investor networks. Because we've developed such a good reputation for the way that we do our acquisitions and the way that we do our rehabs, and we're putting out a very, very nice almost templated product, there's a high demand for that stuff, so we roll through that inventory pretty quickly.
Jack Bosch: Okay, very cool. Good. So you're buying these properties at whatever price, you're putting in…what's the average amount that you put into these properties?
Jack Gibson: We typically see anywhere from $10,000 to $20,000. I mean, we can get lucky and get something pretty light for $5,000. But generally speaking, you know, those aren't the ones that are gonna be sold at kind of acquisition price that we really need them to be to make the numbers work. You know, those really, the ones that are in really good shape, you know, they're typically gonna list those on the MLS and sell those to a finance type buyer. So we need the ones, you know, that need a cash buyer to come in and really do a cash rehab infusion into the property to be able to get the discounts that we need to make the model work.
Jack Bosch: Absolutely, yeah.
Jack Gibson: That's where we're at. You know, like, just another note in terms of the team concept. You know, this was definitely the biggest struggle, and probably for any business, right, is, you know, putting together all the different pieces of the right teams or the right people in the right seat, right? So, you know, when we first got started, you know, we put contractors and project managers, wrong people in the right seat, right? So the wrong people, they did, you know, really shoddy work and then we had to end up paying double for a lot of that work, which really makes it hard to be profitable, you know, in a very competitive and tough business as it is.
You know, we just cycle through as if people don't do good work, they don't treat us with respect, right, then they're losing out long-term on huge amounts of, you know, revenue and an awesome partnership. So it's like the short-sighted people that are just after a quick buck but don't wanna do the quality of work to back that up. You know, they end up losing out on hundreds and hundreds of thousands of dollars in future business.
Jack Bosch: Absolutely.
Shecky: To put it another way, the team that we don't work with is a much bigger team than the team that we do work with.
Jack Gibson: Right.
Jack Bosch: That's the same over here. So we're a core values-focused, core values-driven company. Like one thing, it is quality of work, of course, but quality of work is often also related to core values. So if their core values are the wrong ones, right from the beginning, they don't even get to work with us because we just don't operate with anyone that is just outside of those core values. So that makes perfect…makes life much easier. You don't have to actually think about it a whole bunch because it's either yes, it's either heck yes, or it's a no.
Jack Gibson: Oh, yeah.
Jack Bosch: So, makes perfect sense.
Jack Gibson: That point right there, of core values, is why our partnership has lasted as long as it has, and we're best friends, brothers. We get along fantastic. We have no, like, beef between the two of us, you know, like a lot of partnerships start to develop over time because, you know, if you really boil it all down, we have the same core values, not the same skills, but the same core values that we're speaking the same language to each other. We both want the same thing for each other, for our investor base, for our, you know, tenants, all the way across the board. So that's why I think a lot of partnerships don't work is because they don't have the right core values that are matched up with each other.
Jack Bosch: Right. Absolutely. Yeah, we've had the experience ourselves. We brought in somebody that we were grooming to be a partner and it just fell apart very, very quickly shortly after. And at the same time, we have other people that worked with us for 13 years already in our company and they're just, like, just amazing to work with, and there's never been any beef in 13 years. So it's absolutely beautiful. Great. Wonderful. If somebody wants to find out more about you and get some of these houses, where do they find you?
Shecky: Right here, highreturnrealestate.com.
Jack Bosch: Highreturnrealestate.com, right?
Shecky: Yeah, so everything we do is under that brand. We also have a podcast too called "The High Return Real Estate Show," and we talk a lot about similar things that you talk about with your audience. So there's some…who knows, maybe some of your subscribers might be our subscribers too, but…
Jack Bosch: Sure.
Shecky: …it is…
Jack Bosch: There have been and then there will be probably now because they're gonna [crosstalk 00:23:34.642].
Shecky: Yeah, yeah, I think it's great, and I love what you're up to too with the land stuff. I think there's some real merit to that too for a similar audience.
Jack Bosch: I typically talk about the concept that basically that the land is our cash machine. But then as we are doing this for longer and longer, we have more or more cash on the sidelines and that cash needs to be put somewhere. So even though I'm personally not the biggest fan of houses because of the hassles that come with it, I still own houses because I prefer houses and apartment complexes a million times over the stock market, for example, because it's two aspects, right? Cash flow and depreciation.
In the stock market, you usually don't get either one of them and if you get a low cash flow, it's through a dividend stock, but you still don't get the depreciation. Here, you get both and you get the leverage part, which brings me to one of my last questions is that given the lower price point of you guys' properties, do people typically pay cash for them? Or do they still get to go to financing? And if they do go to financing, you guys also have a branch of helping them get through financing on these properties?
Jack Gibson: So the answer is all cash for sure. You know, a lot of our investors do want to leverage. I understand that completely. I feel the same way as an investor, so they just do it on the back end, you know. We do have a couple of companies that even though they are under $50,000 loan amounts, those are typically very difficult as you're alluding to get financing for, you know, we do have a couple lenders that will do it. We just want that to happen on the back end so that we don't get held up for another two or three months potentially, you know, offering front-end financing. Our company couldn't stay in business if we're holding these properties for, you know, that long and we wouldn't be able to take that cash and then move on to the next project quickly, right? So it's all about the velocity of turning over the cash is what allows us to offer the properties at the prices we do.
Jack Bosch: It make sense. So it's cash on the front end and cash on the back end, and then once the investors own the property, they can go and get loans on them, and then you can refer them to a couple of people. That makes perfect sense. All right, guys, so then I have a couple of ending questions, and one of them is like what is your biggest mistake that you have done in business?
Shecky: That's a really, really…
Jack Gibson: We already alluded to it. I don't know, Shecky, do you wanna handle it?
Shecky: Well, I'm gonna just speak personally because I…Jack, I appreciated what you said about our partnership. But when I really look back at my entire entrepreneurial career, and I've been involved in a number of other businesses, probably my biggest mistake was selection of partners. And you said it very eloquently in that, you know, you're talking about, you know, what kind of work ethic, what kind of core values do they have? I had two in particular that I'm thinking of that just turned out to be not so good, one disastrous, and it's just unfortunate, and so, I agree with what my business partner said.
Now that I'm in a good partnership, I'm gonna…just like a marriage in a way that, you know, I'm gonna do what I can on my side to make sure that that relationship stays healthy and that the lines of communication remain open and that there is a check-in from time to time. Normally, there are situations that come up where there's an automatic check-in like, "Hey, do we still have the same core values? Yeah. I see this situation the same thing you do." So that's gonna constantly be tested, especially in a somewhat volatile business, like what we're in, you know. I mean, markets change, there's good and bad contractors and, you know, everybody's got different ideas about how the way things should work out. But those things get tested all the time, and so I think that's been my biggest mistake.
Jack Bosch: All right. Wonderful. Then actually, I forgot to ask one question. So if somebody buys these properties, and they get the rent, what typical returns are they seeing on these properties?
Jack Gibson: We do a cash flow projection the best that we can, you know, factoring in what the vacancy ratio is for, you know, the market and our property management team, what they see. We try to factor in, you know, future maintenance and CapEx type items. We already know the insurance and taxes on the property before we even sell it. We know there's a 10%, you know, property management fee. We know three of the five expenses for sure. We just don't know vacancy rate and what the maintenance and CapEx are gonna be, those are impossible to, you know, entirely accurately predict, although you can put a pretty good guesstimate down. We factor all that in when we do our cash flow projection. It's a typical 10% cash on cash net return, which it's pretty strong in today's market.
Jack Bosch: That is strong and that the benefit or the best part about that is that most of that is actually going to be tax-free because of depreciation.
Jack Gibson: Right.
Jack Bosch: And that's the other part of it. Yeah, in our 150 houses that we have, we pay barely any taxes on them because they are being depreciated over time while they're producing cash flow.
Jack Gibson: That's right.
Jack Bosch: Great. So then the last question is I was, like, I love reading, so I'm always interested in what other people are reading. If you're readers or audiobook or with shows or something, what's like the latest…if you read a book that you have read that made a big impact and your currently favorite kind of book, one that stands out?
Jack Gibson: I'll go first because I'm very proud of myself.
Shecky: He finished a book recently.
Jack Gibson: Yeah, yeah, you know. I finished the…
Jack Bosch: You're like my brother, you have a tendency for the second book, right?
Jack Gibson: Right, right. Like the shiny object syndrome, you start one, get halfway through, and you're like, okay, somebody makes a recommendation, you jump into the next. So I'm trying to squash that and just finish what I start, right? It's not a good habit. I just finished a monster of a difficult read, which is called "Principles" by Ray Dalio.
Jack Bosch: Okay. I have that one.
Jack Gibson: Amazing book. I mean, absolutely amazing. I'm very, very, like, excited that I got through it all. I wanna do it again. You know, but it's very challenging because he's such a high-level strategic thinker, and so many timeless principles he goes over.
Jack Bosch: Do you read that on Kindle or you read that in paper?
Jack Gibson: I did the old-fashioned paperback book.
Jack Bosch: Right, right, right.
Shecky: If I can jump in…
Jack Bosch: Sorry.
Shecky: …I haven't read this book for a couple of years, but I can tell you one of the books that made probably the most impact for me as a very…because I run the day-to-day operations, so there's like a million things on my plate. Sometimes as an entrepreneur, very difficult to figure out what to work on next. But I read a book a couple of years ago called "The ONE Thing," and that book just really is like, "Okay, just Shecky, just fricking focus. Just do this one…this is the most important thing on your plate right now, stop thinking about the 400 other things," because all that does is makes you tread water. So just the way that that book was laid out and it beat it into my head like, okay, you're only gonna do one thing at a time, you may as well have some good intention about it, and get through it and block everything else out.
Jack Bosch: Wonderful. Yeah. I have that book right here in front of me in my bookshelf. It's sitting right there, and I read it. It's one of the books that made a big difference in our lives too. Wonderful. I have the other one. I have not yet read it, so I've been scared of it a little bit because of what you said. It's very high-level thinking and very much…it's a big book and so on, but I will make it on my holiday list when we have a little few days where we just chill and relax. That's where I will try to dig into that one. Well, [crosstalk 00:31:38.077].
Jack Gibson: It took me five months to get through it, so be patient with yourself if that happens.
Jack Bosch: Right. These do, and this is not…and I cannot read them at night. At night, I need light, entertainment kind of books because I've been thinking about business, talking about business, doing business, or playing [inaudible 00:31:55] and engaging with our daughter when she's back from her school and so on. Then once we're ready to go to bed, I love reading a little bit, but at that point, I just read something funny, light to just…
Jack Gibson: Yes. That's good.
Jack Bosch: …like, take my mind off all the business and then that's like…I need to carve out two times during the day. But with that, thank you very much. It was my pleasure to talk to you guys and congratulations to your success in the turnkey business. I love what you guys do, and again, you see right there on the screen, I need to put on my glasses in order to read it, highreturnrealestate.com and the "High Return Real Estate Show," go check it out. With that, thank you very much. Thanks for being on the show.
Shecky: Thank you, Jack.
Jack Gibson: We appreciate the opportunity.
Jack Bosch: Wonderful. And with that, that concludes the show of the "Forever Cash Life Real Estate Podcast." As always, if you enjoyed this of watching it on YouTube, give us a thumbs up. If you're listening on iTunes or any of the other platforms, then make sure you give us also a five-star review, leave a comment, leave a positive comment on there. Usually, five stars is what we like, and spread the word, share it on social media so we can reach more people with our message about cash and cash flow. Right. Thank you very much. Bye-bye.
Man: Enjoy this episode, then make sure you like, subscribe, and post your comments and questions below the video. We're looking forward to hearing from you.
Enjoy this podcast? Share the love!