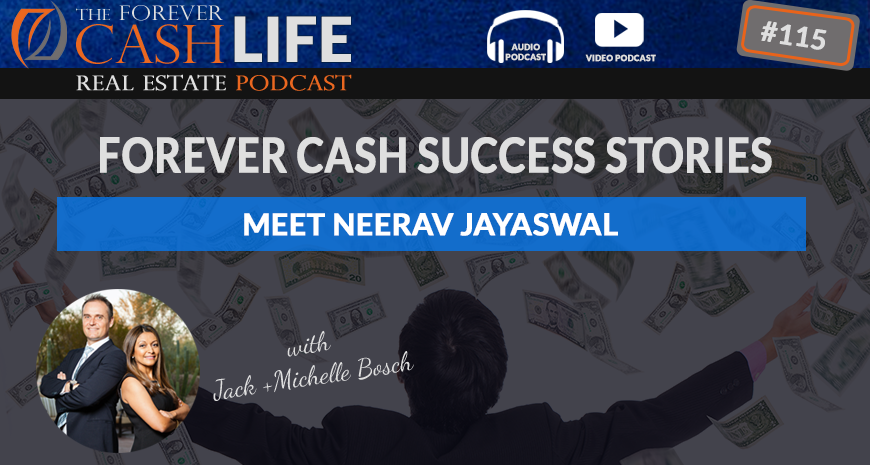 Neerav Jayaswal is a dentist and land flipping student. Neerav has been so successful with his land business that he has sold his dental practice in order to do this full-time! Throw in the fact that he now has much more time to spend with his family and you'll see why Neerav is heads-over-heels in love with the Land Profit Generator system. Listen to this episode if you've ever been on the fence about whether or not the system is for you.
Listen and enjoy:
What's inside:
Understand how Neerav went from knowing almost nothing about real estate to being a successful land flipper
Discover why Neerav sold his practice
Learn about the Land Profit Generator
Mentioned in this episode
Tweetables:
Transcription:
Man: Welcome to the "Forever Cash Life Real Estate Investing" podcast, with your hosts, Jack and Michelle Bosch. Together, let's uncover the secrets to building true wealth through real estate and living a purpose-driven life.
Jack: Hello there, hey, Jack here, and today I have a guest with me and this guest is one of our students, Nirav. Hey Nirav, how are you?
Nirav: Hey Jack, good, how are you doing?
Jack: Wonderful, wonderful. Hey, let's cut right to the chase, Nirav, so we are here on Facebook right now. Streaming or broadcasting through Zoom. And you have been a student of us for how long? About a year, a year and a half?
Nirav: A year and, like, a few months.
Jack: A year, a few months. Okay. And you have done how many deals so far?
Nirav: I've finished, like, 20-plus deals and in process of some other under contracts, marketing, some under closing. So you know…
Jack: That's wonderful, 20-plus deals in the first year, in the housing world people would, like, go nutty over that. So first of all, tell us a little bit about you. Just tell us, like, how did you come about it? What's your background? How did you find us, and what attracted you to the land flipping?
Nirav: So basically, I'm a dentist by training. I had a dental practice until last year. But I was just growing burned up with the whole business, managing the business, having no time with the kids, and my wife is a dentist too, she has her own business. So we were just getting burned out with not having enough time for us, for the family and the kids. So I was like, "Okay, we need to look something different."
So I started looking with the real estate [inaudible 00:01:42], "Okay, you know, this kind of, is exciting." But the problem was, I was having a full-time business, you know. I was the dentist and managing the business. So I cannot be just going out and, like, you know, look for flipping houses. That's not gonna work. So when I came across the land formula on the program, that makes absolutely the best sense because I don't have to be working outside, I could work with my business and on the side and, you know, grow it, and I don't have to go out of the house basically, you can work with a video internet phone anywhere in the world. You can work with [inaudible 00:20:25] to help you out with many of the things. So that makes perfect sense in my situation to start in the real estate role because I could still have my practice working on the business and keep working on the land program in the real estate. So I started with that and started getting some success and I thought, "Okay, we need to make it good more time." Like, you know, going full time, so I put my practice for sale, sold it last December, and since January after transitioning, you know, since February actually is, you know, I started giving more full time with the land program.
Jack: Wonderful. That's awesome. That's fantastic. So you sold your practice after you saw how this works. That's a gutsy move. But you also made, like, I think something like $20,000 or $25,000 on of your first deals?
Nirav: Yep, yep, absolutely. Yeah, it was… First one was a seller financing deal and, you know, as I mentioned, the course you give your contracts a title company and magically everything happens. Same thing happened, I just gave my contracts to the title company and they made it happen.
Jack: Wonderful. So awesome, so tell us…so you sold your practice now. And now you're doing this full time and you just…before we went live we just chatted a little bit and you said you also spent just a few weeks in India just a few weeks ago and you did another project with other dentists again in the dentist area so what's the number one thing that this business has given you?
Nirav: The number one thing it gives you it's time, you know, you just don't realize it. You know, we think that it's about money. But what I realized in the last nine months that it has given me so much time to grow in other businesses, to grow in the family side, you know, to go out, you know, travel, and, you know, just things can still keep working. So you don't have to be just, you know, working 8 to 5 every day on the weekends, things like that. So the number one thing I think it gives you is time.
Jack: Wonderful. Time and of course, the money is certainly not bad either.
Nirav: Oh yeah, of course, that's what allows, you know, the time…
Jack: Right, so exactly, so you have the money and then because you have the money, you don't have to work harder so you have the time. Great, so now tell us perhaps about one of your hardest deals and what challenges did you encounter in this business, or an example of a challenge?
Nirav: So challenge for me, myself the most challenging thing for me is, like, marketing. Marketing the property, you know, so initially, I was struggling a lot with marketing as I get lazy with posting it multiple times on different sites so, but then you know, you look into what you can do about it so you hire somebody else, you know, either which are already working in the area or you either to train somebody, but I went with somebody know the company, which we're already working with many of the other investors too. So they can help you create the ads and post it on different sites on a regular basis. So you keep getting buyers from different sides. So otherwise, that was the most challenging part from my side. And the hardest deal is, not that any major that, you know, fell to. There was actually one was the seller went missing.
Jack: The seller went missing. That happens sometimes.
Nirav: [crosstalk 00:06:09], you know. He stopped replying, later on found out that while the other investors, you know, got in the contract and they sold to them so but that's going to happen.
Jack: Yeah, so I remember there was one, because you and I worked a little bit together on this and then the coaching part of things and you were one of our coaching students and obviously very successful and you first came across the subdivision where you got, like, 18 properties on a contract very quickly but only two of them sold. And now, that sounds alarming but the reason for that I believe was that there was outrageous HOAs right?
Nirav: Outrageous HOAs, not very, very buildable lots, way smaller lots.
Jack: Right, so the moment we realized…or you realized that, what did you do?
Nirav: So we stop…first thing I did, I stopped sending more offers to debt subdivision because it just didn't make sense to get more and more of a contract sense, you know, start focusing time and energy in other areas where things do work or sell. So, you know, first thing is, you know, get whatever out of the 18 lots, find out which are the most best ones and just market those so we can have more success and just focus the rest of the time and energy today where things will work.
Jack: So Exactly. So you basically looked at it and that's a very smart move because this occasionally happens. That's why in the land profit [inaudible 00:07:42] in the land profit lab we talk about selecting multiple counties upfront, so that you immediately identify very quickly. This is a county you get a lot of responses, but it's kind of like junk property, so you don't want to deal with it. This is an area that works really well. So you have done that really [inaudible0:07:57] alongside perfectly. You found this area, got a bunch of properties and a contract, you did sell two of them.
Nirav: Oh yes, I did. Did first two of those in that subdivision, but that also helps you to evaluate other areas, you know, if you see a lot of property just for sale and no sold, that raises a red flag that, you know, something is off.
Jack: Exactly, right. So now since then, you have done 20 deals, tell us about your best deal.
Nirav: The best deal, I got this [crosstalk 00:08:30]…
Jack: [crosstalk 00:08:30] the easiest, the funnest.
Nirav: The best ROI, I got this property for under contract for $1800, sold it for $25,000 with seller financing, and the buyer paid, like, $4500 down payment. So there was nothing out of pocket, including the closing costs, everything, and I just get, like, around like $350 dollars per month for, like, 6 years.
Jack: That's Wonderful. That is a beautiful scenario. If you do that $350, that's already $200 per year, 4 times 6 is $24,000. That's a $25,000 plus the $4500. You make, like, $30,000 on the deal.
Nirav: Yeah. And doing nothing now.
Jack: Doing nothing other than you receive [inaudible 00:09:23]. That's awesome. So, the number one thing about you is time and how does that change? How has that impacted your life? The time?
Nirav: It impacts both your personal side that, you know, like, I drop my kids to school, bring them back from school. That's priceless. That's the personal side. We can go out, like we went to India last month for three weeks. And the last time we went was two years and we were so stressed out because we both had to close our offices, like, it's closed, like, there's no income but we still had to pay all the rents, utilities, the employees, everything, but this time, since we only had one office, we didn't have to worry about, "Oh, we are going to lose so much." So we had, you know, less stress, we could travel, and also on the other side it gives you time to learn about other stuff and learning, you know…I could mention some other businesses or learning new things about other businesses or real estate.
Jack: Right.
Nirav: That's just priceless, you just cannot have a price tag on that.
Jack: That's beautiful. So what would you say to somebody who's, like, kind of like looking at this and is like, "Is this really true? This sounds too good to be true. Is this really… Can I do this?" I mean, you are in a situation that you worked quite a bit, I mean, and your wife worked quite a bit then you have two little children and you still got it done. So what would you tell somebody who was kind of, like, sitting on the fence is like, "Is this real? Can I do this?"
Nirav: Absolutely so one of the [inaudible 00:11:04] show videos in the course says about, you know, like, how you didn't know anything about deed and title when you started. That was, like, the same exact thing with me, a year and a half ago I had no idea what's a deed, what's a title, I knew nothing about real estate. So coming from that to doing so many deals, I had no idea what's wholesaling. I thought, like, you go to a bigger store and you buy stuff in wholesale like in, you know, more stuff. I didn't know what's wholesaling things like that. So [inaudible 00:11:36], you know, getting deals done to selling your business and just getting full time in this business. It just you know, I don't know if that's the best thing to say about, okay, this can be done, you know, it's not even my field. I'm from a desk with my older brother, sister, everybody is in the medical field. So we had no idea about all the real estate terms to begin with, you know. Coming from that, within a year and a half to getting into doing this full time, it's just a total turn around my whole life.
Jack: That's beautiful. So is this possible?
Nirav: It's possible.
Jack: Even with [crosstalk 0:12:16] time and with no knowledge, so awesome. So everyone, this is great. So we're going to finish the call right now. But if you have questions, just post them below and then Nirav, perhaps you can hang around a little bit or when you have time today just chime back in and our team is going to go in and we're going to answer those questions, okay?
Nirav: Yeah, absolutely.
Jack: Wonderful. So with that, well thank you very much. This is exciting, 20-something thousand dollars on one deal and 20-plus deals in a little bit over a year while taking a few weeks vacation here and starting another side business with other friends and having a family is fantastic. And that's only the beginning right now.
Nirav: [crosstalk0:12:58].
Jack: Because usually what happens is you start out here and then you build your systems and they just keep growing from there. So, super excited for you. Congratulations and thank you everyone for watching. Bye, bye.
Nirav: Bye.
Man: Enjoy this episode, then make sure you like, subscribe and post your comments and questions below the video. We're looking forward to hearing from you.
Enjoy this podcast? Share the love!