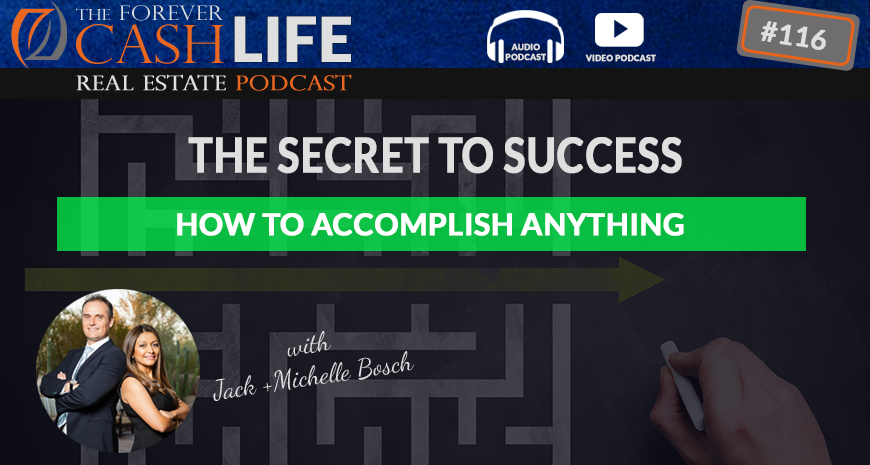 Many people ask "what is the secret behind your success?" In this episode, Jack Bosch breaks down his method for accomplishing his goals. The process is simple but takes a huge amount of determination. So, if you have goals that you haven't been able to achieve, this episode will give you a step-by-step guide on how to get into the right mindset in order to accomplish anything you set your mind to.
Listen and enjoy:
What's inside:
Discover Jack Bosch's process for accomplishing goals
Get real-world examples
Find out about the mindset needed for achieving your dreams
Mentioned in this episode
Tweetables:
Transcription:
Jack: Hello everyone and welcome to the "Forever Cash Life Real Estate Podcast." I'm your host, Jack Bosch, the co-founder of the Land Profit Generator real estate method where we flip land just like other people flip houses just without the hassles of the houses. So with that said, today's subject is your number one secret to success.
Announcer: Welcome to "The Forever Cash Life Real Estate Investing Podcast," with your host Jack and Michelle Bosch. Together let's uncover the secrets to building true wealth through real estate and living a purpose-driven life.
Jack: All right, so here we are back and I'm going to cover my number one secret to success. Now I attribute a lot of different things to my success, but if there's one thing, one thing that stands out in my mind then it's just a bulldog hardheaded stubborn sense of perseverance.
In other words, when I tackle something, when I make the decision to go for something on a fundamental level, I will not give up until that is accomplished no matter what. I've been like that since I'm little. I've been like that, that if I want it, I wanted a certain camera, I didn't have the money, I went and I worked and I did odd jobs and or things like that and I finally could buy myself a beautiful Nikon something camera with a lens and I like photography and things like that.
And if I decided that I would go on vacation with my buddy to Spain, we made things work. You find a way to make things work. So here's the thing, in order for you to have that perseverance, a few things need to fall in place. Number one, you need to have, and I've got to make some notes so I don't forget it. Number one, you need to have a reason why. Number two, you need to have the what, and number three, you need to have a date in place.
And then, another thing is that you need to do is you need to know yourself. Know thyself, right? Know thyself. So what I mean by that, let's start with know thyself. Here's the thing, everyone can get excited about something at any moment in time. If I'm at the football stadium with the Arizona Cardinals, hopefully playing well sometimes. Rarely lately but again, it's a different story.
And I can get excited. I can get into the spirit of it and I can say like, "Oh my God, great. And I would love to work on a football field and I would love to be excited and so on and so, and I would love to do this," but am I the right person to work on a football team? I know nothing about football or very little. I'm learning, I'm learning guys. I'm learning like little by little, I'm learning. I can't run anymore. I don't know the terminology of these things. I have no pedigree in that sport. Nobody would hire me. Me trying to get into a football organization like the Cardinals is a shot like I rather get hit by lightning.
So I can take my chances. I can say I'm going to do this and I can, I don't know, what they need to do for the next 15 years to get my foot in the door perhaps as their locker room cleaning guy or something like that. Right? That's not a goal in my opinion worth accomplishing from myself.
So I got to know myself. What am I good at? What is my natural tendencies to do? What is my natural expertise and what kind of style of business am I going to enjoy? So here's for example, many people think I'm an extrovert. Well, I am, but I'm not. Actually, I enjoy going into parties and into events with a whole bunch of people and so on but, then again, sometimes I don't know what to talk to people about. Right?
So I much rather prefer, even though I have a lot to talk about, but I much rather prefer running my business right here on this computer desk in this office without talking to anyone. If I can have an entire day without talking to anyone, and just sending emails and thinking about stuff and creating things and just texting. I mean, I'm talking but I'm texting talking, then this is a perfect day for me.
So is a business where I have to go contact people, be on the phone and make appointments, sit with people in people's living room and convince them to sell their house to me at a $50,000 discount or $100,000 discount, is that the right business for me? No. No, it's not. I would fail in that kind of a business. So I know myself. That's why we are ultimately not doing house flipping because I don't want to do that.
Now, could I hire people to do that? Yes, but that requires a different thing. Then you've got to go out of the gates right away with those people which is overhead and expenses and things like that, and most people are not ready for that. So at the same time, that's also why we like apartment complexes because on apartment complexes there's a leasing manager in the office talking to the tenants, there's maintenance people running around their property fixing stuff. There's a regional manager talking to them, and then only once a week I talked to the regional manager.
So I have one conversation a week to manage a team of five people and a complex of 150 apartments. So, that's the kind of thing I like to do. So, know yourself first so that you know which kind of technique, real estate technique is the right one for you because there's some that are very, very much meeting involved and people involved, and talking to people on construction sites and so on.
I got two friends here in town that are the in top 1% of realtors but they also do a lot of luxury fix and flips. So, one of them is the guy that doesn't know. I don't know if he knows much, but he probably by now knows a lot. One of them is the guy that is more like, talks to investors, and talks to the buyers, and talks to the seller, talks to the buyers and sellers, and the other guy is the construction guy, right? So they have divided and conquered their team but both are people that like to talk about stuff just different kinds of things. So know yourself.
If you know you don't ever, you're not a detail person at all and then you don't want to be throw yourself into a situation where you have to keep track of the number of nails in a box, and the number of two by fours here, and what you ordered, and what is still there, and the coordination of all this kind of things. So that's part number one.
Once you know yourself, introvert, extrovert, organized, not organized, research person, not research person. If you know that you thrive with creative processes versus where you rather want something, that's cookie-cutter, right? Depending on that, you pick your real estate method. So we love land because even though it's cookie-cutter, every land deal is a little bit different. Every land deal requires a little bit of research, not too much, not too much talking to people, and not sitting in anyone's living room. Everything can be done by mail and so on and so forth. Good.
So, now that you know yourself, you pick based on that, you look at the real set of methods. Now under different investment methods, people get excited about day trading, right? But then they realize that it stress us the heck out of them because they have to pay attention for a long time, very detailed attention to stuff that's going on, on their screen. I could never do it, so I'm not even trying. But once you find what you're looking for and now you look at that, that's when we bite.
When we look at it, now we're not looking at it only from the point of view, "Is this one I'm looking at?" I'm also looking at kind of device it around, kind of create it around my lifestyle. I like living at home. I love spending my day at home. I don't want to run around meet sellers, meet buyers, meet contractors and stuff like that. So that's why land flipping works for us.
And that's why house flipping. I don't want to do this, I don't want to go into construction. I don't want to jump in the car every morning and drive around. It's not my life. Perhaps it's yours and that's okay, but know thyself. Based on how you know thyself, you now look at, you now narrow down the different opportunities in front of you and find the one that you really like.
Now, based on that one, you also look how high is the income potential? Can you make $50,000? Can you make $100,000? Can you make $1 million a year? And if the income potential is high enough, you like all the things, the simplicity's there, you can wrap your head around it. You believe that you can learn in a short enough time enough about it, and short enough time is relative.Things sometimes take a year to learn, right? That's okay, because you're gonna age that year anyway. In 10 years from now, you're going to be 10 years older anyway whether you do anything or not. So you might as well do something.
And then a year later, now a half a year later, you know all the things, can you in a reasonable time learn what it takes to make this really successful? If the answer to that is yes. And the entire investment process, the entire deal process, the entire technique process is still exciting to you and the money is there and the meaning is there, that's when you bite. .
At the same time though, even if you bitet, meaning what I mean is you grab onto this like, "This is what I'm gonna do," you gotta have a few extra pieces in place. And you've got to have a few extra pieces in place that will allow you to stay on it. And what allows you to stay on something and not waiver and not fall off the bandwagon is number one the get in line, stay in line philosophy, which is basically just what I just explained. You pick one thing and you just stay the course. Other things are not better, other things are not worse. Just stay the course.
Every technique out there works there but if you have spend the front time figuring out if that is the technique that you want to do, then that is and then just put the blinders on and stay in line. But what's going to truly keep you in line is the why. The reason why is the juice behind everything that will make you take action. And what I mean by that is very simply, the reason why is, well, the word says it. The reason why is why you do this. Nobody believing a thing, nobody does anything for the money. Yes, you do some stuff for the money, but really don't do it for the money. You do it in order to pay your rent. You do it in order to put food on a table. You do it in order to have the car. You do it in order to afford to vacation, you do it in order to afford the clothing on your back. Nobody does anything in order to look at a pile of green bills with dead president's on there and they can get excited about it.
What you do is, you do the action because of what those dead presidents mean to you and your self-confidence, and your feeling of accomplishment. Because if you grew up and people told you that you amount to nothing and that you're a loser and etc, etc, and you then go and want to show the world, then that suitcase with $1 million, that bank account with $1 million, that whatever it is, that house, that car that you drive, that clothes that you wear, what that does is gives you reconfirmation that you were right, and that you have done it and that they were wrong.
All right? Now this is a short term driver. With time you will notice that this driver is actually not something that drives you forever. Once you accomplish it, you realize, "Okay, people didn't care anyway or I don't care what people think anyway,", but it is a great driver to get you out of the gates. It's a great driver to get you going, but you got to find the reason why. And the reason why is not the money. The reason why is that there's something behind the money. Something that the money means to you.
So I challenge you to go think about what that is. I challenge you to go through this in your mind and ask yourself, when you sound like, "I want to do 10 deals this year." Ask yourself the question, "Why?" Then answer the question. "Well, so I have $200,000." Ask yourself, "Why is that important? Why is $200,000 important? Because then I can be out of debt". Great. Why is that important? "Because I don't sleep well at night." Okay, great. Sleeping well at night. What else? $200,000 debt, "Because I feel like a hero in front of my family." So you want to feel like a hero in front of your family. That's the reason why.
So next time a hurdle comes up and you falter in front of it or you have your doubts that you can't make it through it, you remember, "Do I want to be a hero to my family or do I not want to be a hero to my family?" The money is not going to get you over that hurdle. If something happens like just a roadblock or whichever way is sickness and it's hard to get back up afterwards, do I want to be a hero to my family or do I not want to be a hero to my family? That reason why is going to pull you through. Right?
If the reason why is, "I want to help this charity because if they don't have an extra $100,000 by the end of the year, they're going to have to close their doors." Do I want to be responsible for them closing their doors or I want to be the hero to them and make sure that they can keep their doors open? That's the question you ask you when you hit the hurdle. And now getting over that hurdle becomes so much easier because there's something else pulling you. There's another reason why and it's not just dollar bills that pull you there. The dollar bills is what makes all this possible but the reason why is what's behind it, what propels you, what actually makes our why possible. What makes the why what makes it possible, the dollar bills as the results of the why. So, you pull yourself forward and then you get going.
Now, the what is also important because the what needs to have eventually some meaning. The first what can also be a why.The first what is often to get rid of your job. Now, why is that important? Because you hate your job because you have high blood pressure. You're sitting on your butt all day long gaining 20 pounds a year because you're not getting enough action. You're working with people that you don't enjoy working with. You're coming home late. You're spending two hours on the road. You don't see your kids. Those are the reasons why you want to get rid of your job.
So, the goal is not $75,000 or $200,000. Yes, that's a monetary outcome that you want but the outcome, the goal is to quit your job so you can get back in shape, so you can spend time with your family so you can take extra vacations, so your blood pressure goes down. Those are the things that will propel you forward. Right?
So, the what is important because the what will ideally have attached a meaning to it. Then the $200,000 is a great what and that the land flipping is a great what, and the five deals a month goal is a great what, but it's got gotta be attached to it. But it needs to be in there. But the mistake that people make is they just go out there and say like, "Next year I want to be more successful. I want to have more money." Here's a dollar bill. You have more money now. Is your goal accomplished? No.
Your goal is, "I want to do 20 deals. And then halfway the year I've done zero and then it's like, "Yeah, you know what? Things didn't work out." Now, what happens is you had a goal without the why. You had a goal without putting that emotional fuel, that reason behind it, that as we call it, that non-negotiable urgency behind the goal. We all set goals. You know when we all set goals? December 31st at midnight. Half drunk, we all set goals, "I'm going to lose weight. Thhis year, I'm going to invest." And these are all very unspecific goals but most than everything, they don't have a reason why behind them and that's why people fail.
If you don't have a why you are almost doomed to failure unless you're one of those few people that are gifted with incredible self-discipline. I'm not one of them. I need a reason why. I need a reason why for everything. Right? We have a very high goal of income, we want to get to a certain number of apartment units, we get to a certain number of land units every year, land flips every year. I want to get a certain number of millionaires that we create with our land flipping program at profitgenerator.com.
We get them but the reason why is because I want a thousand families to be impacted at the level that their children's children live a different life. That's my reason why. I'm excited about the people 1,000 millionaires that change their life to $1 million, but even more excited of how the life of their children will change and how that…that's the reason why, that's why we teach it. That's why I'm excited about sharing this with the world because it works like gangbusters but the lives it will change is my legacy that I want to…Michelle and I, our legacy that we want to leave behind.
Now, I'm not going anywhere, hopefully I live another 50-60 years. But still in my prime years right now, I want to work towards that there's more people that experience the abundance that we have the blessing to experience in our life. All right, so this is the what.
Now the last piece that's missing is a date. You got to put the date on that. You gotta put a date. You got to put the date and the date that is important. Like, you see what happens when people have…they put a date combined with a why. See what happens when people get married. They set a date nine months from now on that X, Y, Z day. Let's just say September 1st, 2020 we're going to get married. Now they go shopping, they go bride shopping, and what does the bride automatically think? And the groom often too, they're like, they want to lose weight.
They want to lose weight. "I've got to look the best in my life for my wedding," is often what grooms and brides say, right? So, all of a sudden what they couldn't accomplish before they're accomplishing. All of a sudden they're working out. All of a sudden they're in the gym. All of a sudden they're eating healthy. All of a sudden they're not drinking alcohol for a while. All of a sudden they're doing all the right things.
Every December 31st they set the goal lose weight and never did anything. But once you combine it with a date and a reason why it becomes this wall, it becomes this finishing line, right? It's like one of our mentors, one of our coaches in our organization used to be a triathlon coach, I'm sorry, triathlon coach and he coached over 10,000 people into completing a triathlon.
What makes a triathlon different from our normal life is a triathlon, you commit to a certain date, on a certain time in the future, and then you backtrack from there. You say, "In order to be at that X level of fitness, what I need to do starting today is every day I need to swim for half an hour, I need to bicycle for half an hour." I don't know what you need to do to do, I'm not a triathlete.
So, but every day you schedule it out so that you hit certain milestones on your way to success, because you committed to something for certain days often also attached with a reason why, because you're collecting money. You're raising money for charity for a foundation. A lot of people do that and you can see this, there's a date, there's a why, there's the what, there's a triathlon, and now these strings combined, they become a magical pull and you're not going to give up on that process.
And we need to artificially create that in our lives by setting up deadlines and setting up and creating a reason why, and identifying the what, and then we can go forward, and then you accomplish this. I mean, that's the secret to success. All right? You got a secret to success, you can't let it up for chance. There are people are not successful because they just woke up some morning and they're like in Germany we call them Huntsman Glick, which is basically a person that it's a fairy tale where he is just like a happy, he trades stuff for stuff and he just walks. He's always happy even though people rob him and then at the end he ends up with a princess or something like that.
But that's not what happens in real life. You can plan success, you can plan your success step-by-step. But then in the processes, what you gotta do in the step from milestone to milestone, you've got to adjust your going, right? You've got to adjust, you've got to do your tweets, you've got to monitor on a weekly basis. What went well this week? What went bad this week? Triathlon athletes do that. Did I fulfill my category, my things that I needed to do? Am I on track? If not, I got to do a little more next week and so on, so forth.
I know a vacation is coming up, I gotta prepare for that. And that's kind of the ongoing planning. So people ask us, how come you guys are successful in flipping land? How come you guys have a successful educational business, a coaching business? And how come you guys have a successful rental property business? How guys, how come you guys have successfully transitioned, and now also on top of it do multi-million-dollar apartment syndications? Because every single time we looked at it, we looked at different things. For example, for a while, for a time we wanted to buy coin laundries. Right? And we looked at coin laundries. We paid the guy to come in, we always hire the best coach available. We paid the guy that we know already owns four of them and he has a running them like, to the nth degree. Like, it's amazing how he's running them. And he had them come here and we looked at one and after a while we realized that this is not what we want to do. This is not the kind of business we want to work in. It's just not our cup of tea. It's great and it's profitable and so on but I don't want to have to go pick up a whole bunch of money and risk my life or a feel for my life.
I don't have to go fix machines or keep that schedule. It's just there's several things that I just randomly pick two of them. But we identify what we like about it, what we don't like about it and then we came to a conclusion that this is not our cup of tea. So then we moved on. We didn't bite.. We didn't latch on. We didn't stay on. We just like went down their path for a little bit and It's like, "Yeah, this is not it. This is not it." After analyzing everything, it's not it. We looked at a couple of other things and then we found apartment complexes and we were like, "This is it, this is where we want to be." And even within there we're changing the categories in the next couple of years from class C properties to class B properties and just like making adjustments within the process, within the asset class, making slight adjustments and concise changes to things so just because of the overall longterm goals that we have for our own life.
And then, but we still, we latched on and we latched onto that four or five years ago, five years ago and it took us over a year to get our first apartment complex. Over one year to get our first apartment complex even though we had like 14 years' worth of real estate experience. Because every time you latch onto something new, you've got to go through the learning process.
We then got ourselves a great mentor, paid a whole bunch of money to get that going and then learned it, because even though we had real estate experience, multi-family is different. We learned the tricks of the trade then we went on our own. Now we're closing on our next apartment complex this week and it just goes on, and on, and on, and on.
If you keep those things together, know thyself, know what you enjoy and what…there are certain things that you know you will not be able to last in. Don't get into those kinds of real estate techniques. If you have certain techniques that require you to go outside of your personality, you can fake it. You can go with it. I can be on the phone all day if I have to, but I don't want to. I can be sitting in someone's living room negotiating something but my natural tendency is to not do that.
My natural tendency is to be at home, a little more calm, and not talk to a bunch of people. So can I do this? Do I do this? Yes. When there are live events I speak for three days. I enjoy it. I love the energy. I love the fuel that the success in a room and the motivation and the spirit of the event that we do. And our next event that's coming up January 17th to the 19th in Tampa, Florida. I love all of that, but it completely exhausts me to the degree that I need two weeks to recover afterwards, because I'm giving it my all during these events. So can I do this? Yes, but my nature is not there.
So if you want to get outside, you got to find something that is within your nature, a technique that fits your nature. And if you find that technique, you fit your nature and you add the why, and the what, and the date, you are going to be unbeatable because it's going to allow you to just stay the course, make your adjustments, and then ultimately get the success.
All right, hope you enjoyed that. As always, can check out more about what we do in Land Profit Generator under landprofitgenerator.com, or com or actually you can go…actually better link is landprofitfund.com land profit fund.com. And we put it below in the YouTube video, in the show notes of iTunes we put it there. If you watch it on Facebook, again, Land Profit Fund. That's where you can find out more about the Land Profit Generator and with that give us five-star reviews, etc, etc. We'll see you at the next episode. Thank you very much. Bye-bye.
Announcer: Enjoy this episode? Then, make sure you like, subscribe, and post your comments and questions below the video. We're looking forward to hearing from you.
Enjoy this podcast? Share the love!