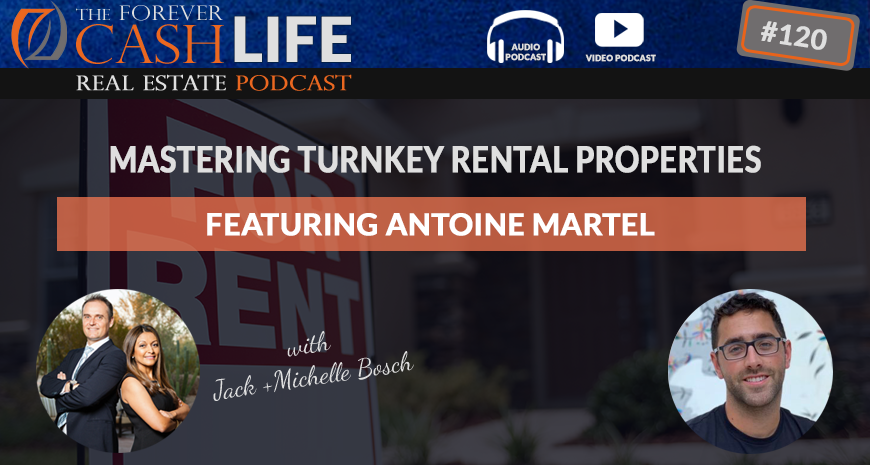 Born in Toronto and raised in San Francisco, Antoine Martel started investing in real estate while he was still in college. Since then, Antoine has been investing in residential & commercial real estate in key markets across the country. He has built a rental property portfolio with over $10M in assets and has completed over 150 rehab projects.
In this episode, Jack Bosch chats to Antoine about his turnkey rental business and unpacks its inner workings. You'll find out what Antoine looks for in a property manager, how much income he requires from a property and much more! Antoine has some amazing insights into the world of real estate and business building, so definitely check this one out!
Listen and enjoy:
What's inside:
Find out what a turnkey business is
Discover how Antoine Martel runs his company
Understand what to look for in a property management company
Learn amazing insights into business building
Mentioned in this episode
Tweetables:
Transcription:
Jack: Hello, everyone, this is Jack Bosch speaking, and welcome to another episode of "The Forever Cash Life Real Estate Podcast," where we talk about all things cash flow. And today we're gonna talk about how you can buy rental properties with financing built-in, tenants built-in, property management built-in, and make up to 58% returns on that investment. So, with that, if that's interesting, then stay tuned, we're gonna be back right after this.
Man: Welcome to "The Forever Cash Life Real Estate Investing Podcast" with your hosts, Jack and Michelle Bosch. Together let's uncover the secrets to building true wealth through real estate and living a purpose-driven life.
Jack: All right, and we are back. And our guest today is Antoine Martel. How are you, Antoine?
Antoine: Very good. How are you?
Jack: I'm doing excellent. Did I pronounce your last name right?
Antoine: Yep, it's good.
Jack: Okay, good, good, good. So, wonderful. So, Antoine, so, where are you coming from? Where are you located?
Antoine: So, I live in Los Angeles right now, but I grew up in San Francisco.
Jack: Okay, so California guy, all the way from California that just went to the little warmer climate, sounds good. I'm right next door here in Phoenix, Arizona. And understanding what you guys do is turnkey investing.
Antoine: Yep.
Jack: So, turnkey, define the term turnkey for me.
Antoine: Sure. So turnkey has a bunch of different variations, I guess, you could say. For us turnkey means you're buying a property that comes with tenants in place that's fully renovated. And then we help you get financing, insurance, we help you, you know, if you need an inspection done, we'll give you an inspector. So, pretty much making it as easy as possible for somebody anywhere in the U.S. to buy a property in one of our markets, which is Memphis and Cleveland, and helping them with every person along the way and everything is already built-in, ready to go. So, they don't need to go and look up reviews online or do their own research and spend any time researching people or building their team on the ground. The team comes with the property.
Jack: So, they're basically buying a property with a tenant built-in, property management built-in. Do they need to qualify for their own financing?
Antoine: So, they can use their own lender, we recommend using our lender. Our lender just knows our process, they're gonna be able to do things much faster, and they also really cut their fees are very low for us, too. So, it's like $500 bank fees as well. So, they can go and use their own lender, they're still gonna need to get approved for the financing. So, that means 2 years of W2 or 1099, 2 years of tax returns, really, and then a credit score over 700, and then $20,000 or more seasoned in their bank account.
Jack: Okay. Very good. These are very specific items right from the beginning. So, now let's backtrack a little bit. So, give us a little bit of the history of like, how many deals have you done? How do you get into that? How did you transition? How many deals do you do right now? Give us a little background of your company.
Antoine: Of course, yeah, yeah. So, I'll just tell you my whole story from…
Jack: Sure.
Antoine: …beginning to end. So, well, beginning till today, I guess, not the end. So, I started investing in real estate about four or five years ago while I was still in college, actually. So, my brother took me and my dad to a real estate investing seminar, we went to the seminar, learned about flipping houses, investing in rental properties, apartment buildings, you name it. It was kind of a very macro view about real estate investing in general. And we learned about, you know, how people are flipping houses in California, what the numbers look like, and that was the most sexy thing for us was flipping houses in California, of course. And, you know, doing million or $2 million deals was, you know, and looking at the big numbers was really intriguing, right, when you first look at it. So, we tried to do that for around six months and started making offers, did some marketing, trying to get off-market deals, you know, you name it. We did it here in California and we were trying to do it.
And after about six months, we realized we didn't have enough money, we didn't know enough people to make it profitable for us or to make any sense, to make a real business out of it just with the lack of resources and knowledge that we had. And we didn't…we had like 40 grand saved up, me and my dad…well, my dad had 40 grand saved up that he was willing to invest. And we're looking at the numbers for the deals here in California. And it was like, there's no way that we're gonna make any good return on our…you know, we're only putting 40 grand of skin in the game into these, you know, $1 or $2 million deals, there's not much that we're really contributing, it's really just sweat equity. So, we quickly…we tried to pivot into doing other stuff, which was, you know, buying rental properties here in California, then started learning about landlord-tenant laws and all that kind of stuff and really expensive property taxes. And then around a year after that seminar, I started doing research and meeting up with people on bigger pockets who are investing out of state.
And started seeing that people were, you know, you can buy a house for 20 or 30 grand, renovated for 20 or 30 grand, and then, you know, refinance it, do a cashout refinance or sell it or whatever. And while I was at university, my last semester at university, I started researching markets out of state. And Memphis, Tennessee, you know, after listening to a million podcasts, I realized that I took a bunch of metrics that a bunch of big investors were doing out of state. And I started looking for markets that really fit those metrics that they were talking about. I made a list of the top 50 markets in the U.S., and Memphis, Tennessee was top on that list. So, I started researching markets and…
Jack: What are some of the criteria you used to determine that and based on what criteria is Memphis on the top?
Antoine: Yes, good question. So, the number one thing for me was the price to rent ratio. So, really, the 1% rule, which says that if you have like a home for 100,000 bucks, you want the rent to be 1% or greater per month. So, you want the rent to be $1,000 a month or greater. So, Memphis, Tennessee, as a whole, like as an entire market, beat the 1% rule, which was very rare if you look at many of the markets. Like, here in LA a million dollar home runs out for five grand, four grand. So that's, you know, half a percent, right? So, that was number one. And then many people throughout all those podcasts, you know, population growth, job growth, major employers, diversity of workforce, Memphis didn't have much job growth or population growth. It was actually pretty stagnant, but they did have great major employers, FedEx headquarters is there, Nike, Amazon. So, with those, you know, kind of looking at both of those things, it was like, great, it sounds like I can get into Memphis early because they don't have any job growth or population growth yet.
I can grow a portfolio there and hopefully be up with the rise of the economy there. And that rise of the economy also came with like looking at the mayor, who they are, what have they done in the past? What is their plan and goals for Memphis as well? So, doing a lot of research on a bunch of different markets about those kinds of things as well. And Memphis even had a really well set up what's called Economic Development Committee, where they pretty much help businesses move to Memphis, Tennessee and give them tax credits and advantages for moving to Memphis. So, that was one of the big things why Memphis, Tennessee. And then started really just trying to build a team out of state while I was at my last semester there in university. Eventually, I found a house, I found a property manager, I found a realtor, a contractor, and I bought a house for 40 grand, renovated it for a couple of thousand bucks and then did a cashout refinance all when in my last semester at university.
And then, you know, went back to my dad and said, "Hey, I can keep doing this after I graduate, if you want me to, and keep growing the family portfolio, instead of going and getting a job," which I didn't wanna do.
Jack: What does your dad do?
Antoine: My dad was a project management consultant for like software implementation. So, he was working at a pharmaceutical company and handing big projects and project…
Jack: Not like a much real estate experience.
Antoine: No real estate ex…the only real estate experience was buying our house in the Bay Area in 2001. And then before that was he managed…he owned for a very small amount of time, like an 8-unit building back in Quebec, Canada, where he grew up, when he was in college, 20…you know, when he was 20 years old.
Jack: Well, at least the house in San Francisco in the Bay Area was a good timing.
Antoine: Yeah, though we sold that house two years ago and then used all…took all that equity and started, you know, buying apartment buildings out of state now.
Jack: Wonderful.
Antoine: So, bought that first house, did a refinance, went to my dad and said, "Hey, I can keep doing this after I graduated if you want me to." He said, "Yeah." Graduated in May, by the end of that year we had like 10 single-family homes in Memphis, Tennessee, all cash flowing, all working really well. Then people started reaching out to us.
Jack: Did you move there, or did you do this remotely?
Antoine: No, no, no. I did this all remote from LA. So, I would just make trips every couple of months to check up on the projects and my team there. But did it all remotely from this computer. And then people started reaching out to us, like, "Hey, how can we get involved in real…" Because we started posting about it or, you know, you have family dinners with friends and family and, "Hey, we wanna invest in real estate, how can we invest in Memphis? You know, how can you help us? We work full time. And we have 20 grand saved up or 40 grand saved up, how can we do the same?" And then we start, we're like, okay, we can, instead of refinancing, we can just sell it to our friends and family. And then that's how really the turnkey business started. So, it started with me making a little WordPress website called Martel Family Realty and started selling houses through there, which eventually led into what we are today, which is Martel Turnkey. So, now that company does over 100 homes a year.
So, we're buying anywhere from 8 to 10 homes a month, we'll renovate them, rent them out, put a property management company in place, and then we sell them all through our website. Nothing's listed on, you know, the MLS or anything like that. Everything's off-market.
Jack: Okay. Very nice, very nice. So, that's fantastic. So, great. So now, you got into that market, you expanded into Cleveland, right?
Antoine: Yeah, Cleveland shortly after, yeah.
Jack: So, let's talk a bit a little about KPIs. So, what are some of the KPIs that you're looking for in a property? Again, the 1% rule is something you mentioned. But what kind of…what other things, what age group of properties are you looking at for? Like, Cleveland has a lot of old 1920 houses. How you guys work with that, for example? I happen to know that because I have over 20 rental houses in Cleveland myself, which I manage remotely, which we bought on the way up, and then we stopped a few years as we transitioned over into more multifamily pieces.
Antoine: Yeah, great question. So, for all of our markets, we look for the same metrics in terms of the finances. So, what I mean by that is, whenever we sell a property and listed on our website, we're always looking for over $200 a month in net cash flow for our client. We're always looking…which typically comes out to around like over 15% in cash flow per month, not per month, in 15%, yeah, per year, on a perfect month. So, the perfect month is gonna make you a 15% return on your money. So, that's what we look for. And then in terms of the…the neighborhoods is really the biggest thing for me. So, we look for B or C-plus neighborhoods. We've really started to get out more out of the C and more into the B class where you're…you know, in Parma. So, we've done a couple of projects there. But other neighborhoods we look for is stuff that is close to job. So, in Memphis, the neighborhood that we really dove deep on was right next to Memphis International Airport, second largest cargo airport in the world, FedEx headquarters is there, tons of jobs and tons of development and growth happening there.
So I was like, "Great, we can have a bunch of properties right next to the Memphis International Airport." And there will be tons of jobs there, there's not very much crime in the neighborhood, and the numbers make sense in terms of the rent and the 15% return that we're looking for. So, then in Cleveland, same kind of thing, close to jobs, no crime, and then we want the numbers to make sense for that area. And so, those are really the couple of metrics that we keep on looking over and over and over again for our properties.
Jack: Okay. All right. So, invest 15%. And so, in that case, it doesn't really matter if it's a $70,000 house or $300,000 house, as long as the metrics are still the same.
Antoine: Yeah. But what you'll find after we've been doing this for a couple of years is that anything over that $100,000 price tag, that 15% is no longer possible now, that 15% goes to, like, 12%. So, like, our sweet spot for the ARV, or sales price on our website, as you'll see is like around $80,000 price tag with rents of 850 or 900. That's really the sweet spot that we've found that hits our return and then also matches our metrics for the numbers that we're looking for.
Jack: So, how much money does somebody need to have in order to get in with you guys?
Antoine: Yeah. So, for one of those properties, that's an $80,000 property, you'll go get a loan, we'll help you get the loan and you'll put 20% down, which is 16,000 bucks, then you'll have a couple of thousand dollars in closing costs. So, you're all in for just shy of $20,000 to buy one of those. And then it comes with a tenant in place, property management in place, and then we'll help you get that loan and then we'll give you the insurance company that we use as well. So, all these people are third party and, you know, we don't make any money from referring people over, it's just part of the deal.
Jack: And then in property management, are you using local property management company, a regional one, a nationwide one?
Antoine: Yeah, good question. So, every market that we invest in, we use local property management company. And we've been using them for the last four to five years. So, they all started by managing our personal portfolio there, and then slowly as we've grew the turnkey business, we've been passing clients off through them as well. Just because we've used them, we recommend them, they manage our personal stuff there as well. So, yeah, we feel like it's we…and it's also really hard to find a national…for multifamily, it's a little bit easier, but for single-family homes, finding a national or regional, I've never even heard of it.
Jack: And even the ones that…we worked with one one time that are going to be national, they're venture capital-funded and so on, but the experience has not been very good at all. So, we had to fire them very, very quickly after they created the big, big old mess. And then we went to a regional one and they were very, very good.
Antoine: Are you guys using a property management company in Cleveland or are you guys managing it from…?
Jack: We're in Cleveland, we're using a property management company. Like, we use property management companies for all things. We started like just kind of like a little bit similar, but we started with our single-family portfolio, making our money in the land business moving into houses. We started with houses here in Phoenix because we thought we need to be close to them. There's houses in Phoenix that I can't even find anymore because if, like, I know, we own a certain number, but I would have to look up the address and google it and find it because I haven't seen those houses for like eight years. Because they're running, they're full, they're paying their rent, they're being repaired as needed, and they're in good condition, and we have a great property management company managing them in Phoenix. So, then as we…after we had handed it over to a property management company in Phoenix, we went out into next market, Cleveland, and handed it over to one there, was the horrible one then we…actually it was in a different market, but they're also the first one was a bad one, then we handed it to a second one, which is doing well.
And then a third market is in Omaha, Nebraska. There, we also…we had to also go… Actually no, in Cleveland we got the good one right away, in Omaha we had a bad one first, and now we have an excellent one and is actually doing fantastic. We never hear from them, we just get literally…we get a check for…way morning it feels like we should be getting every month and they're doing just a phenomenal job.
Antoine: That's awesome. Yeah, because for us, too, it takes a while to find a really good property management company that's willing to grow because, you know, we're passing 8 to 10 new clients every single month to a property management. It's a lot of new clients coming every single month. So, we have to also find the right property management company that's willing to take on that workload of all those new clients and all the paperwork and stuff that comes along with it.
Jack: Absolutely. So, good point. So, what would you tell somebody who's looking to find a property management company? What are you looking for in them? What's kind of your criteria for hiring them?
Antoine: Sure. So for us property management companies, we look for, first of all, most of our property management companies will charge around 10%. So, if they're charging anywhere in that ballpark, which all of our markets for single families, they're charging 10%. Something else we look for is like a not too big, not too small kind of issue. So, some property management companies that, you know, is a one-man show, or they manage 200 doors or less, it can be hard for us. You know, if you're only gonna go to a market and your goal is to buy three properties and then that's it, then maybe that property management company would work for you. But for us, we were looking for a property management company that managed over 200 doors that was willing to grow with us. So, we've made that very clear upfront to the property management companies that we were interviewing, I guess. "Hey, we have 8 to 10 new clients every month, and we'd like to pass them off to you, can you handle that workload?"
So, we look for that, we look for past experience, we talk to many different past owners that they've had and ask about their experience. We make sure that they have online portals so that all of our clients can get, you know, like you said, just have access easily online to all the information about their properties and what's going on. So, that's something very important to us as well, because all of our clients are just, you know, assuming or anticipating that they can go online at any time and check up and refresh the page and see what's happening with their property and if the tenant's paid or not, etc.
Jack: That makes total sense. And then now towards the investors, what's your typical investors holding time on these properties? How long are they…do you tell them that it would be good to hold, how long do they typically hold? And what are they seeing in terms of when they're selling in terms of overall returns that you see?
Antoine: Yeah, great question. So, again, we've only been around for four to five years. So, almost, I would say 90% of our clients have bought and they're still holding. And when I tell my clients that this is a long term game play, right, so these aren't highly appreciated markets, like Arizona or Phoenix, where you are, where you're gonna buy something for 100 grand and it may be worth, you know, 125 next year. Just these markets are…that's not happening quite yet. The markets are pretty flat and stagnant. But there's a lot of development going on, it just hasn't increased the overall prices for these properties yet. So, I always tell my clients that you're buying these properties for a cash flow play. So, just look at the cash flow, don't assume any appreciation on these properties. Just take your, you know, 12% to 15% that you're going to make on a year over year basis and just that's what you're buying these properties for.
Jack: The real thing, if I may chime in, that's the cash on cash return, right?
Antoine: Yep.
Jack: So, I mean, but people forget about it that about…is that if they get a 12% or 15% return on the stock market, they still have to pay taxes on that. But we find that on our houses we basically pay almost no taxes on these houses on the cash flow on it because there's depreciation every single year. And so, as a result, your 15% is really more the equivalent of a 20% in the stock market that you pay 25% tax on. And then on top of it, this is not an interest-only that you have on a property, it's an amortizing loan. So, if you do held this property for 30 years, at the end of the day, even if there's only 1% appreciation year over a year, which in many markets, there is at least 1% and they go up a little bit. So, at the end of the time, in 30 years, you'll have an older home that is fully paid off, that at that time, rents are also going up slightly, that, at that time, spits out $1,500 to $2,000 a month, and you have $150,000 or so equity in this property that you then go sell and then you pay some taxes on 1031 exchange.
So, there's more returns than that. So, if you pay it off by 2% or 3% of it per year in order to pay it off for 30 years, you got to pay off like a little bit over 3% on average, obviously, amortizations happen like this. So, you end up making the equivalent of like a 20…if you're realizing a 15% return, you're really realizing, it's really making more like a 23% return on their money, only that the 15 of it is cash and it's mostly tax-free.
Antoine: Exactly. And you're growing your equity every single month, and you're not even paying for, the tenants are growing your equity. And yeah, I mean, for all of our properties, we did the math and it was a net wash for taxes. So, 100% of our clients don't pay any additional taxes for their properties, because you get to write off the depreciation, like you said, and then all the interest expense for the loan as well is a total write off too. So, it pretty much nets out at zero at the end of the year for all the rental properties.
Jack: That's exactly our experience with our rental properties, too. So, it makes perfect sense. And then even if you have a year where you only make an 8% return because there's some unexpected repairs, it is still an 8%, that's the same as like the stock market has some shifts, too. It makes perfect sense. So, yeah, that's awesome. So, you guys have a website? How can people find you?
Antoine: Yeah. So, our website is martelturnkey.com. People can go on there and download, see all of our available inventory. There's all professional photos of all of our properties. You can download all the financials for all of our properties, you can even make an offer right on our website now for properties. So, really making it as easy as possible for people to, you know, check out our inventory. You can also make a call with us, schedule a call right on the website, as well, if you wanna talk to us.
Jack: Awesome. That is very exciting. So, thank you very much for that. So, with that, I only have a couple of more questions, and that is that most entrepreneurs I talked with are also readers, either audiobooks or readers of things. So, what is like one of the books that you have been recently reading that has made an impact on you or that you can recommend to our listeners?
Antoine: Yeah, let me pull one up. I was just reading one. It's from the guy… Damn, what is it called? Ryan Serhant, and it's called "Sell It Like Serhant." He's the guy who's on the million-dollar listing New York, and he wrote a book about sales and how to sell and how to build a sales team. For me it's really important because we're selling 8 to 10 big-ticket items every single month, which isn't an easy feat. So, really like about growing the sales team, so for me that was…I just finished that one and that was a really good book that I would recommend if you're, you know, a real estate agent or if you have…you know, all of us are doing sales no matter what, you know. If you're doing syndications, you have to sell your syndication, right? So, it was a really good book about how to grow your sales team and what you as the entrepreneur should be focusing on.
Jack: Awesome. Thank you very much. That's exciting, that's good. That's not a recommendation that I've heard so far, so that's a good one. And then the second question is, do you have any…in order to continue on the upward stream of life, do you have any kind of daily routine that you do?
Antoine: Daily routine, I try to work out every…I've been injured, but I try to work out every single day. So, I used to play soccer like four to five times a week just to get a rest from screens and computers and all that kind of stuff. To go outside and run around with a ball at your feet for an hour or two every single day. And then for me, too, to the biggest thing is just waking up on time and not sleeping in. So, for me it's like waking up at 7:00 and then just getting prepared and getting ready at 8:00 to start going and getting a start on the day. Because once I get up and get moving I'm pretty good the rest of the day.
Jack: Okay, very good, very good. Yeah, I mean we have that built-in with the name of Sophia, it's our daughter. She has been staying up in the morning, at least Monday through Friday, and then the weekend we all try to sleep in. We're all up at 6:40 to get her ready for school and we get her out the door.
Antoine: There you go, your alarm clock.
Jack: Right. So, great. And then if you have…like a lot of our audience is beginners, a lot of audience are struggling house flippers, a lot of audience are land flippers, making good money. So, if somebody is just like thinking about or considering or just like wants to get deeper into real estate, what would you tell them? Any kind of words of wisdom?
Antoine: Yeah. So, one that I say all the time is, there's so much information about real estate investing, how to start, how to get involved, all different avenues, land, multifamily, single-family homes, right? But I always tell people to take your resources that you have today. So, how much money do you have? How much time do you have available? And then, who do you know? And what's the best strategy or real estate investment strategy that works the best today? So, you know, it doesn't have to be something that you see yourself doing in the next 30 years. But to get in the game, you're gonna have to get started right away. And so, look at your resources, and that's why we wasted two years of our time trying to flip houses in California because we didn't look at our resources or who we know and stuff like that. And if you put it all down on paper, our resources and the best strategy, buying rentals out of state would have been…would have showed up at the top of the list. But we followed whatever was the sexiest thing that we were learning about, right?
And that was flipping houses in California, which didn't make any sense at all when you looked at our…you know, what we had in terms of knowledge, time and money in the bank. So, I would recommend writing those things down and then finding the best strategy that works for you within your budget today.
Jack: That is a very good advice. So, with that, thank you very much. Again, your website again, give it to us one more time.
Antoine: Sure. My website is martelturnkey.com.
Jack: martelturnkey.com.
Antoine: Yes, sir. Check it out.
Jack: All right, so that sounds good. So, everyone, check it out. This sounds great, good returns. Obviously, there's downsides with every investment and potentially midnight move-outs and things like and occasional months where you don't make any cash flow. But on average, our properties, it comes to down…it stands and falls with a good property management company, that's why we focus on that for a little bit. If they select good tenants and manage them well, then you're gonna have a 95% occupancy rate. I mean, again, we have over 3 markets, we have probably a 95% to 97% occupancy rate, and very little evictions, very little move out, midnight move-outs, very little trash homes, and things like that. And so, that's the key once you have a good property management company, so you don't have to reinvent the wheels. Especially if you have a little bit less money that you perhaps cannot yet invest in big syndications that are 50 to 100 grand, there is an opportunity for less than $20,000 to get into a house.
Get that cash flow thing going, get that cash flow stream going, build up some residual income, and then build up from there. All right, so with that said, thank you, Antoine. It was wonderful having you.
Antoine: Thanks for having me.
Jack: All right, and with that, everyone, that is a wrap. Make sure, as always, to give us a five-star review on iTunes, give us the thumbs up on YouTube, share it on Facebook, and we'll see you in the next episode. Thank you very much. Bye-bye.
Man: Enjoy this episode? Then make sure you like, subscribe, and post your comments and questions below the video. We're looking forward to hearing from you.
Enjoy this podcast? Share the love!