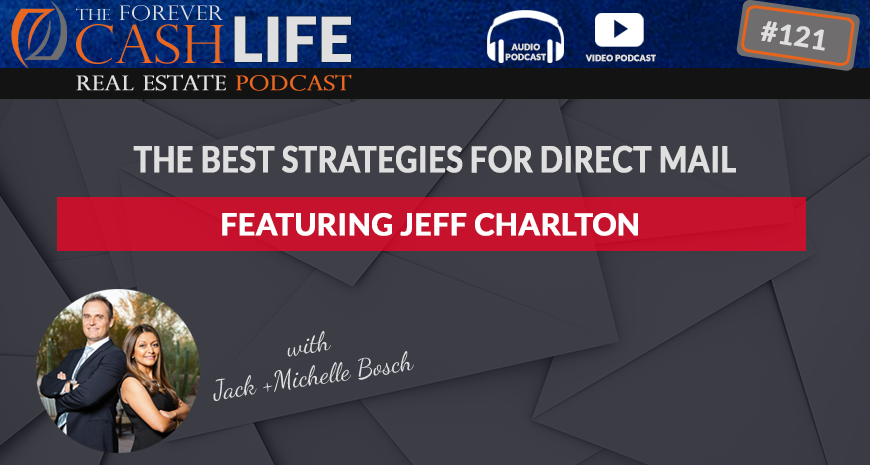 Graphic Connections Group, LLC, (GCG), was founded by Jeff Charlton, a long time successful entrepreneur. He believes long-term success is rooted in providing high quality products and service to the end consumer, at a fair price, and going the extra mile to provide a superior level of service. It's the simple things that make a difference.
Answering the phones with live people, returning phone calls quickly, shipping orders on time, paying attention to quality, thinking about the customer first, and standing behind its products are all little things that set Graphic Connections Group, LLC apart in today's voicemail society. GCG has been in business since 1992, providing all types of printing and graphic design to a wide variety of business clients. GCG is also the preferred supplier Land Profit Generator mailers.
In this episode, Jack Bosch chats to Jeff Charlton about direct mail marketing and discusses the strategies you should employ when working on your land deals. You'll also discover how to run a split test as well as getting an overview on the many exciting innovations in this space!
Listen and enjoy:
What's inside:
Find out some amazing direct marketing strategies
Learn about split testing
Discover the various options available in this space
Learn about Jeff Charlton's business
Mentioned in this episode
Tweetables:
Transcription:
Jack: Hello, everyone, and welcome to another episode of "The Forever Cash Life Real Estate Podcast" where we talk about all things concerning passive cash flow, creating a cash machine and land flipping and seller financing and all these different wonderful techniques around real estate. And today, we're going to talk about the best strategies of direct mail that you can use to make your response rates go through the roof. Stay with me for just a second and we'll be right back.
Recorded voice: Welcome to "The Forever Cash Life Real Estate Investing Podcast" with your host, Jack and Michelle Bosch. Together, let's uncover the secrets to building true wealth through real estate and living a purpose-driven life.
Jack: All right. And here we are again and I'm super excited to have with me direct mail expert, Jeff Charlton. How are you, Jeff? How are you doing?
Jeff: I'm fantastic. How are you doing today?
Jack: Wonderful. I'm doing excellent. So, I know to see you better I gotta put my glasses on here. So, you run a company that if anyone wants to find out more and once they actually engage, you can go to lpgmailer.com. You are one of our two preferred vendors for direct mail. You're doing a lot of stuff for us in our land flipping method, which obviously is a direct mail strategy. So, tell us a little bit about yourself? Tell us a little bit about your company? What do you guys do? What is your specialty? What do you do best?
Jeff: The actual name of my company is Graphic Connections Group and we run several websites for specific niches and industries. And we've been doing this…we're in the printing and direct mail business and have been doing it since 1992. So, that's about 28 years. And we do any kind of printing that you use in business, anything you want to put your name on? We specialize in direct mail and specifically direct mail for real estate. I personally am a real estate investor and I've been doing that for about 30 years as well. And I take that knowledge, I sort of fell into doing direct mail for real estate as a result of being a real estate investor.
But we've been growing in that niche for about 15 years and especially the last couple of years we've really accelerated and got a pretty good-sized company. We've got about 35 employees. We're about $6, $7 million in sales, and we have thousands of real estate investor customers all around the United States. If I had to say one thing that we're good at, it's helping investors get more leads, which ultimately leads to more deals, which leads to more money, which is what we all want.
Jack: Exactly. And if they're successful in getting leads and getting deals, then they will continue to use your services.
Jeff: That's true.
Jack: It makes perfect sense. Great. So, we use you guys, we work together to send our very simple, what we call the neutral letter out, which I see you have one on your desk there.
Jeff: That's a simple letter, black and white letter.
Jack: All right. A simple letter, we sent that out in a simple envelope. So, we are kind of probably like your least creative customer out there, but because of the niche that we're operating in, we're obviously getting very good response rates. So, tell me a little bit about what kind of stuff you guys can do to attract the attention of a potential seller?
Jeff: Well, let me first talk about your response rates because the response rates we're getting from that mailing are absolutely record-setting off the charts response rates. And I don't say that lightly. We're seeing anywhere from 5% to 10%, sometimes upwards of 10% response from individual mailings of that simple letter in a simple white envelope. And when I say record-setting, I'm not kidding, that's just absolutely crazy high results. Most real estate investors will get 1%, maybe 2% on a fantastic day. A lot of them get less than 1% with all different types of mailings. And we do all kinds of different things. This simple letter, he wasn't kidding when he said it was probably the least exciting thing. But you know what? Exciting doesn't necessarily mean results. I mean, what matters is what works, not what's exciting. And I say that all the time by the way.
It doesn't matter what I think or what you think, it matters what the market thinks. And the market tells you what they think by whether they respond or not. And if they're responding, if it ain't broke, don't fix it. But you can always improve.
So, to answer your question, what can we do to improve things? There's all kinds of things we can do. On the most basic level, you can take…right now, we put this letter in just a simple number 10 white envelope, basically a business envelope. You could use a fancier envelope like this one right here. This is an envelope we designed. I call it my fake priority mail envelope. And this does usually help increase response simply because it looks really important in the mail. People are definitely gonna open this up. It'll never get mixed up with a bill or anything like that.
And we can do little things like do a handwritten font. That's what this one has on. It's got a handwritten font. We put an actual live stamp on it. So, and it's a good handwritten font, so it really does look like somebody sat down and wrote this out by hand. And the objective of the envelope is to get opened. So, if it gets opened then you have a chance to have them read your letter if it doesn't get opened, if it gets thrown in the trash, you don't even get a chance to have them read the letter. So, that's the goal.
Jack: Right. So, the goal of the letter is not to get a deal. The goal of the letter is to be opened.
Jeff: Correct.
Jack: And the goal of, after it's opened, the goal of the letter is to be read and then the goal of the letter is to trigger one action, which is the callback, right? So, people are like, "I'm going to send out the letters so I get those deals." No. First, make sure that letter gets opened. So, one of the things that we do and that apparently still's not always used but we traditionally have used this, we actually upgrade the envelope a little bit more to a cotton or linen envelope. Just because our philosophy, and you can tell me what you think about it, obviously it's working, but from a point of view of like we've always looked between should we send out the big flashy envelope or should we send out the normal but classy envelope and we find we personally have done really well with a classy envelope, but we've never tested the [inaudible 00:06:26.348] envelope. So, perhaps one of these days we need to go send out a couple of thousand with a fake express mail or the one that you just showed and just see, compare the response rates between the two of them. I would be curious to find out.
Jeff: And that's an excellent point. They call that an A/B Split Test. And anytime you are testing something new, the proper way to do that is, like I said earlier, if it ain't broke, don't fix it. So, you always take what's working, you call that your control and the control is what's working. And then if you have a new idea, whatever that might be, you test against at the same time with the same list all the variables are the same except for, you take part of that list you test it with the control. I mean, not nothing, I'm sorry. The control is the control and then the new one is the new one. You test those side by side and you track the results and see which pulls better.
But it's very important to only have one variable changed at a time. So, in this case, you're talking envelopes. So, I'd use the exact same letter with the same list and just split that list up and have part of the list go to one, part of the list go to the other at the same time with the same postage and everything and change the envelope and then see which one works better. And if the new envelope pulls better, test it again, do it a couple of times and if it consistently pulls better, then that becomes your new control and then that becomes your standard and then you come up with another idea to test against that. And you keep doing that and that's how you optimize to get the best possible results over time.
Jack: That's exactly right. And that's exactly what we've done. We have done it with a letter though. The reason why we get such a bigger response rate is that our letters are being opened, but then the letter itself has been every single word, almost every half-sentence has been A/B split tested multiple times until we got to that letter. Well, I have to admit that we haven't done that much split testing on the envelope because it was more like a philosophical decision. We want it to stay almost like an attorney-like looking letter, which is against what everyone else sends. But we are very curious to test it. Perhaps, the other way.
Jeff: You just don't know. I mean there's different envelopes too. I've got one in my hand here. This is a kind of a brown craft personal and confidential envelope. Looks very important. People open this too. Now, this isn't flashy, this is more businesslike, but definitely gets opened. Another choice is a…this is an invitation envelope, which is kind of along the lines of what you're talking about kind of…now this is not a fancier paper, but it is on a cream-colored stock, an invitation size. So, it's something very personal. People are gonna open this too, they're definitely not going to throw this in the trash without opening it. And you can put a personal font on there, a handwritten font or you can do a typewritten business font whatever you want. There's all kinds of things you can do.
Jack: Yeah. So, by the way, just quickly, if I may throw in, if you are listening to this on iTunes, because we were both doing this on video and on audio, I would encourage you listen to the episode, but if you want to see exactly what we were talking about, head over to YouTube and search for the Land Profit Generator with Jack and Michelle Bosch. That's our channel over there. Subscribe to it, check it out and you'll find the same episode that you're listening to right now as a video and you can fast forward because it'll go exactly to the point where we actually are showing that if you're already watching it on YouTube, good job. Let's keep going then.
Jeff: And by the way, all these envelopes I mentioned that, like you mentioned earlier, you go to the website, those are all shown on our website that you can pick as a choice when you order your direct mail piece. It allows you to choose the letter and then also choose the envelope. We have about 10 different choices of envelopes you can pick from.
Jack: Okay. Wonderful. That's great. So, you go there, check it out and then here's almost what I say to beginning investors. At the beginning, just follow our best practices. Our white envelope with the letter gets a 5% to 10% to sometimes even 15% response rate, which as you heard is from experience, from somebody who has done this for 20, 30 years. That's lots of experience here, he even wrote the book about it is off the charts. Use that and once you have done a few deals, then go ahead and split test. If you're already done a bunch of deals, go and contact Jeff and his team under lpgmailer.com and then go and utilize all of their creativity to see if you can push that even higher. You absolutely got my full permission to do that then and I'd encourage you to do that. Now, having said that, let's quickly ask like what are some of the craziest things that people have asked you to send out?
Jeff: Well, I guess if you go to the crazy end of the spectrum, lumpy mail is, I would consider that as a crazy category. What lumpy mail is, is mail that has a lump in it basically it's something dimensional, more than just a flat envelope or flat postcard. We've sent out, in fact a watermelon. If I had to go the craziest thing ever, we mailed a watermelon, actual watermelon. Yeah. We mailed a hundred of them for a guy and you can't do that anymore, the post office won't allow, this goes back about 20 years ago, but we actually mailed watermelons to people and that guy…
Jack: Jeff, there's a post office somewhere in an island, Hawaii or so, where you can probably mail coconuts though.
Jeff: You can, yeah. They have that because I've done that actually. I went to Hawaii and we did that, we mailed it home. And I don't think they allow that anymore though. At least not through regular standard mail. There's a way you can do it. You just put it in a box. You can't just mail the thing. But that watermelon thing literally got 100% response. A hundred out of 100, because it was so crazy that people had to call you. And that was a very unique situation that has nothing to do with real estate. But it was crazy.
Another one that I had mailed and I think is a very effective mailer. In fact, I can show you, this doesn't work anymore, but this is a video mailer and I'm working on something right now. Like this is a generic product for real estate, but this one doesn't work because the battery's dead. But, it goes in an envelope when you mail it, but when you open it, it's got dimension to it. It's thick. And when you open this flap, there's a little screen here that plays a video. And when you're at the meeting, when you open it, it starts playing. Very effective mail piece, now it's expensive, but I consider this lumpy mail too.
Jack: How much does something like that cost?
Jeff: Well, something like this, depending on how much it costs to produce your video, to print and mail this, it's probably about 20 to 30 bucks per unit.
Jack: Okay.
Jeff: So, you don't mail this to 5,000 people. What you do is you pick this, well, in fact, I'll give you an example. I joined a Mastermind many years ago and where we came up with the idea, the guy that put on the Mastermind, sent out 100 of these to 100 people he thought would be good for the Mastermind. And at the time it costs him, he FedExed them, so it cost him 40 bucks per unit to mail it out. So, he spent $4,000 but he was asking $10,000 for that Mastermind. And out of one mailing, he spent $4,000 and he got 25 people to pony up $10,000 each. So he brought in $250,000 from one $4,000 investment.
Jack: Oh, wow. That's a good return.
Jeff: That's the single best mailing I've ever been involved with my whole career.
Jack: Was that Dan Kennedy's direct mail Mastermind?
Jeff: Well, I can't really say who it was, but it was…but Dan Kenney is one of my favorite guys. I follow him. In fact, I'm in Dan Kennedy's, he's got a brick and mortar Mastermind I'm in that group.
Jack: All right. So, yeah.
Jeff: Dan Kennedy is great. I've been following him for my whole career.
Jack: Yeah. For anyone who wants to generally know more about direct mail, there's the master of masters, there's a guy under the name of Dan Kennedy. There were rumors that he had passed away, but he might've not, I'm not entirely sure.
Jeff: He did not. That's an amazing story too. He literally was on his deathbed with days to live. He wrote his own death book.
Jack: Eulogy, I read it. Yes.
Jeff: And sent it out, because was in his Mastermind, we were one of the first ones to get that. We were shocked because we had been with him two weeks before that and he was fine. But he got some kind of infection and he got sick really fast. We thought he was gonna die. He was in hospice and he didn't die. And now he's okay. He's outta hospice. He's not completely healed, but he's back to working again.
Jack: That's wonderful to hear because the entire industry was mourning there because this is one of the icons of the industry for direct mail. So, if somebody wants to know more about direct mail, go check out this Glazer-Kennedy or so.
Jeff: Right. gkic.com is his company. That's, GKIC, it's called Glazer-Kennedy Insider's Circle.
Jack: gkic.com. Check it out. There's subscriptions or things. I subscribed to his stuff for a while ago, but it was so much and something that I was just like, "No, our letter's working and our letter get 15% response rates. That's better than anyone else ever. So, let's stick to this." So, great.
Jeff: Generally speaking, the general rule in direct mail is the more personal you can make something, the better your response you're going to get. That's really a basic concept. So, we're always striving to come up with ways to make things personal, to not make them look like it's junk mail or a bill or something like that. Now, there are other philosophies, I can tell you there are also philosophies at the other end of the spectrum, where people make it look like a marketing promotion right out of the gate. I'm not saying that doesn't work, but generally speaking for the real estate niche, the more personal the better.
Jack: Right. So, going on that, let's have a quick philosophical discussion on that. So, I always struggled with this concept because if I get something that kind of looks mass maily, then no matter how personal it is, I'm not going to take that as seriously as if I'm getting something that looks like really beautiful, not beautiful but proper official.
That's why when we said like when we started our land flipping, we said like how do we want to look to our customers? Do we want to look to our customers as somebody just blankets the market or did we want to look to our customers as like almost like the most, like a reliable, solid, financial company that's willing to buy their property and is actually gonna follow through? And we chose the other path and that has worked extremely well with that. What do you think about these two kinds of extreme fields of thought and be honest?
Jeff: My response is different people respond to different things. That's my response.
Jack: That is very true.
Jeff: And in direct mail in this real estate market, I'm sure you've heard of yellow letters because people have been using yellow letters for years. And they're basically, it looks like a yellow, I don't have an example in front of me, but it looks like somebody wrote a handwritten note on a yellow pad of paper and they stuck it in some junky envelope and they put a stamp on it and then they mailed it.
Me, I would never respond anything like that because to me, that looks like some schmuck that doesn't know what he's doing and is unprofessional. However, in this space that works really well. A lot of people do that, but not everybody, okay? Because there are people that are at the opposite end, that respond to only professional-looking things.
So, my response is a proper marketing campaign if you really want to dial in, is to mail different things as part of the campaign. What we teach people is, buy a list of how many names you want to go after and mail that same list multiple times and we recommend you mail multiple times with different types of mailers to hit the different people on the list that are gonna respond to the different types of mailers. If you're doing really well at this letter here, and so, we said before, do not change that, but that doesn't mean there's not more people that for whatever reason won't respond. And maybe they think your white envelope looks like a bill or they're just going to throw that in the trash because it looks like business mail, but they might respond to a personal-looking handwritten note or maybe they respond to a postcard.
That's another discussion which I guess I'm bringing here is postcards versus letters. So, postcards in most cases look like a commercial piece of junk mail because it's got color and graphics and clearly usually, postcards are junk mail. In fact, here's some of the postcards we did. These are large because I have to believe in large postcards because they stand out more in the mail. But this is clearly a marketing piece of mail or you're not kidding anybody. Without kidding anybody that you sat down and colored that thing, all right? But that doesn't mean they won't respond to it. And the beauty of this is when they're going through their pile of mail, which everybody does, you go to the mailbox, you get a pile of mail and you start flipping through. Well, you got one to two seconds where somebody is flipping through where they could decide if they want to keep that piece of mail or throw in the trash. So, if that marketing piece, even if it looks like it's colorful, has the right headline and the right message to get their attention, they might just put that aside in the pile they want to look at later instead of throwing it away.
Jack: Yeah. There's no way to make postcards not look like mass mail, but at the same time, you can't throw them away without at least looking at them.
Jeff: Well, I would disagree with that actually. There is a way, I don't have it right here. However, it's a handwritten…and we do this, it's a handwritten postcard that does not have an Indicia as a stamp on it. If you think about it, if your Aunt Martha sat down and wrote you a note on a postcard, some people do this. There are people that write notes on postcards and send them. Have you ever got a postcard when you're on vacation from somebody who writes you note from vacation. That's a handwritten postcard.
Jack: Yeah. My daughter does that [crosstalk 00:19:36] she sends to grandma and grandpa in Germany, a hundred postcards. Yes.
Jeff: And those do not look like junk mail there. That's someone that wrote you a postcard. So, we do postcards that look like that. Now, they're not vacation postcards, but it looks like a handwritten note on a postercard, we put a stamp on it and we mail that and it actually looks handwritten. So, that's the one exception where it doesn't look like junk mail, but you have to put the stamp on. Now, there's little nuances to this, there's a lot of people in the market, our competitors, that will do what appears to be handwritten postcards, but then they put an Indicia on it. Like there's, an Indicia is the little square box, it's preprinted on there with the postage. Well, the minute you put that on there, it turns into junk mail. Because clearly Aunt Martha is not gonna have their own postal Indicia. She's going to put a stamp on there. So, that's what we try to do is we try to make personal look really personal. How's that gonna happen if it's a handwritten piece, we use stamps. If it's a commercialize glossy piece, you don't need stamps. But then we try to look for what are things that get people's attention.
So, there's another one of those things, I am the guy that invented the Street View mailers about two years ago. This picture is a picture of the house from Google, and if you have land, by the way, we haven't tried this, but we have Sky View mailers too. So, if you're selling land or looking to buy land, we can do a Sky View from Google of that land parcel and print that on a postcard or a letter. So we can say, "Hey, is this your land?" Okay? "I want to buy it." Or whatever, whatever wording you want. So, we can do that dynamically through a program we wrote, we can literally take your mailing list, upload to this program we wrote, download all those images from Google and we can print those on anything you want to print them out. So, that's a way to take a commercial…this is clearly a commercial piece of junk mail, but because a picture of their house, hopefully, when they're flipping through the mail, they got that one to two seconds, they'll stop and say, "Hey, that's my house." I'm looking at a picture of my house, whatever. You hope it does say…
Jack: You might get some angry calls then, "Why did you do that?
Jeff: You do actually, you do, okay? You'll get a handful of angry calls, but I would say, who cares about that? That guy [inaudible 00:21:47].
Jack: Right. Absolutely. You got to have a thick skin.
Jeff: Although some of the best deals come from angry callers and that's a different discussion. But you can flip those angry people into people that are actual deals if you know how to do it.
Jack: All right. Because angry people are emotional people and emotional people can go, the emotion can go the other way around very quickly. Very cool. So, I love this because as you see here, if you have not been involved with this real estate much at all, you just saw a treasure trove of different possibilities that you do that. And so, my takeaway from that is that never believe anyone to say this is the only way to do something. Because it's like, we don't even say that. We just say this last simple letter has worked extremely well for us, continues to work extremely well for us, so don't discard it for something else. Instead, do what Jeff said earlier. If you really want to try to improve it, do what's called a split test, an A/B Split Test. Take your list, take a couple of thousand people or so and sent the thousand with the letter, 1000 with version one of any one of these that are on the table here and then go see how it does and then here's not another measurement thing.
Don't trust measure response rates, measure the actual amount of deals and measure the actual amount of money ultimately that you make or at least the number of deals that you get because…and also measure the cost of it because if you get the same amount of deals or if you get a couple more, if this costs…one thing, like some of these video mailers end up costing thousands of dollars more, but they only marginally improve their results, then you would be easy to say, "Oh, the results are better, let's use this." But if you're net is lower, it's still better to use the other one.
So, another side, chances are it's not going to be close. It's going to be either better or not better, but make sure that you don't just look at one factor but track multiple things along the way because at the end of the day, we want to make sure that the bottom line is, is not whether you used the white letter or the envelope or thing. What at the end of the day is it to make sure that for the same amount of dollars you get more or you get more revenue, more income per dollar spent on marketing. That's the ultimate number. Now, have you helped your customers with any of this measurements?
Jeff: It's a return on investment what you're talking about and that's very important to measure. Yes, well, we can only help so far. One recommendation I have for you…
Jack: You can only help so far because once the mailers come back…but yeah.
Jeff: Yeah. Well, what I was gonna get at is when you're tracking, it's very important to actually track and the easiest way to track is to get a call tracking phone number and CallRail's one service that has that. There are other services too, but what a call tracking phone number is simply a phone number you get that forwards your own phone number. It's just an intermediary phone number that has a computer system that tracks that call came in. And it can also record the calls so if you have people working for you, they maybe work on the phones or whatever, you can actually listen to what they say to make sure they're handling it properly. But the most important part of that is it tracks. So, you know when the calls come in, you can then look at the report either daily or weekly or monthly that say, let's say we're doing this A/B split test, get two different phone numbers, one for each one and you track it and at the end, say you'll let a couple of weeks go by you can actually look and say, oh, I got 25 phone calls from this one and 45 phone calls from this one. So, this one pulled better.
And then what you're saying earlier is take it to the next level and see how many actual deals you get out of it to see if there's a difference in the lead quality from one mailer to the other. Because, a lot of times there is a difference in lead quality. Some things will get you more leads, but you get more tire-kickers out of it. Other things while they may not get you as many leads, but they're more qualified leads. So, there's so many variables, but you'll never know if you don't track it.
And the one thing, if I look at the biggest mistake most of our customers make is they don't track. We see this all the time. So, when you ask, "Do I help you track?" The only thing I can do is tell you is you need to get a tracking phone number, but it's on you to do that. I mean, you can manually track it, but almost nobody can do that effectively because you get sidetracked and before you know it, you know, you answer the phone you forget to write it down. But the good thing about tracking numbers, you don't have to write anything down. It automatically tracks it for you and then you know. And you don't miss any calls or anything.
Jack: Any tracking numbers? You mentioned one of the places there. Any other tracking systems that you know that you can recommend?
Jeff: I don't know, but I'd just have to say CallRail. I use CallRail myself and I think it's an outstanding system and it's really inexpensive. I think their minimum rate is like 30 or 40 bucks a month and you get five tracking numbers for that. And that's all I need. But we do that. Everything we ever mail for ourselves, we always use a tracking number because it's just by far the easiest way to do it. And then if you do emails and things like that, here's another piece of advice, by the way too, we do not ever recommend using a website landing page on a direct mail piece. Phone numbers are much better, or texting. Texting is another option we have too. Because the problem with landing pages are people may have good intentions to go do it, but they somewhere between getting the mail piece and going to the landing page, they may not do it. And you may lose that lead when you would've had it if there's a phone number that they can call right away.
Jack: We have both actually on ours, we have a phone number, but then for convenience, if you would rather go there, go there. And we still, I mean, we track that and we just have had this thing on there since 2005 I believe and I believe or 2004 for that matter and we still to this day don't get more than 15% to 20% of people go to that page.
Jeff: That's because you have the phone number because they call first. The mistake people make though, I was not clear, a lot of people don't want to take all these phone calls so they say or they want to prequalify the leads first so they send them to a landing page to ask them some questions or something. If you put a landing page instead of a phone number, you'll actually destroy your response rate because you'll just lose all kinds of leads because people won't…they'll either forget to do it or they go and they find out they've got to go through some work, they don't want to do it. So, or maybe they think, "Oh, this guy's gonna email me a bunch of times. I don't want that." There's all kinds of negatives that can happen with the landing page if that's all you have. So, always, always have a phone number as an option and if you want to have other options, that's okay.
Jack: Yes. Absolutely. Very good. So, that's awesome stuff. I mean, I really loved that. There's lots of wisdom in here, lots of knowledge in there. I think we're running up against the end of our episode here. So, again, to check out how they work to go there, we have set up a combined website because obviously we use them ourselves, our students use them or one of our two endorsed mailing companies. And you guys have actually much bigger, better capabilities than the other company. So, you just go to lpgmailer.com. And again, your company name is Graphic Connections Group, right?
Jeff: Yeah. So, let me say one more thing.
Jack: Sure.
Jeff: The main rep that works with this group is Ryan Dixon. And he'd love to talk to you. One thing we do that's different than our competition is we hand-hold you through the whole process. So, when you go to the website, you'll be able to contact us or you can order online as well but we will hand-hold you through the process. So, if you don't understand what to do or you don't know how to get your mailing list or whatever, all that stuff, we'll make sure that you completely understand and you know, whenever you want to do, we'll help you with it. We help with live people. I'm kind of old fashioned when it comes to that and I believe in live people, we answer the phone with live people. Computers don't answer the phone. And we literally hold people's hands through the entire process and make sure that we really can lead you to a successful outcome, which means more leads and more deals.
Jack: Wonderful. That's great to have. So, with that said, thank you very much, Jeff, for being on the podcast with us. That was really enlightening. And again, the thing I take from it is there's no one way, there's different people. Loved what you said about, there's different people respond to different kinds of mailing things. So, I think we may even need to go in and jump in and perhaps split test some additional variations and even though one letter, we'll send one time with our Land Profit Generator method already leads you to a successful 5% to 15% response rates view. I don't doubt that absolutely. And I absolutely believe that sending this a couple or three times can even boost that even more into the stratosphere of like 20%, 25% response rates, which would be pretty insane. But that subject, that's part of why land is so beautiful and so profitable. So, with that being said, thank you very much. Really enjoyed it, thank you for being on the show with us.
Jeff: And I appreciate the invite. Thanks a lot.
Jack: And with that, that's a wrap. That concludes our episode of "The Forever Cash Life Real Estate Podcast." As always, make sure you watch it on YouTube, particularly if you want to see the different pieces that we have shown into the camera if you're listening to them on iTunes so far, but also listen to it on iTunes, subscribe to it, give us the five-star reviews, share it with your friends so we can reach more people about cash and cash flow through real estate and land flipping. Thank you very much. Bye-bye.
Recorded voice: Enjoyed this episode? Then make sure you like, subscribe, and post your comments and questions below the video. We're looking forward to hearing from you.
Enjoy this podcast? Share the love!