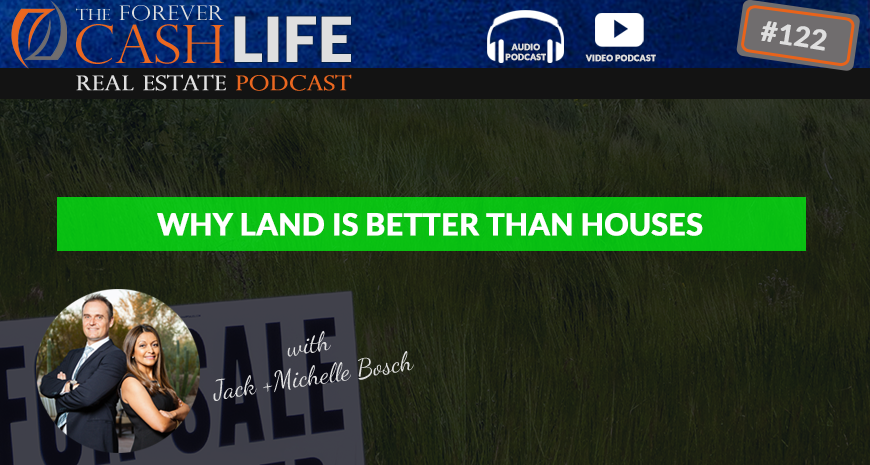 Many first-time real estate investors are drawn to house flipping since it is one of the most popular techniques – however – it is incredibly difficult! The house market is incredibly saturated, with high costs and tight margins, whereas the land market is way less crowded and eliminates many of the issues that house flippers face. In this episode, Jack Bosch discusses why he prefers land flipping over houses and why you should be investing in this amazing asset class. Additionally, if you are ready to get started, register for our crash course in Land Flipping, check out https://www.lpglab.com
Listen and enjoy:
What's inside:
Find out why house flipping is so difficult

Discover the issues that house flippers face

Understand the capital needed to run a successful house flip

Learn why land flipping is easier and produces steadier returns
Mentioned in this episode
Register for the Land Profit Generator Lab and get a 5-day crash course into land flipping https://www.lpglab.com
Tweetables:
Transcription:
Jack: Hello everyone and welcome to a new episode of "The Forever Cash Life Real Estate" podcast with yours truly, Jack Bosch. Today we are going to cover a basic principle of land flipping. And that is the first question is, why land? So stay tuned and I'll share with you all the secrets of why land is better than houses.
Man: Welcome to "The Forever Cash Life Real Estate Investing" podcast with your host, Jack and Michelle Bosch. Together let's uncover the secrets to building true wealth through real estate and living a purpose-driven life.
Jack: All right, so here we are. Land. Why land? Well, very simple. It's the year 2020 and real estate is hot. Everywhere you see there's like announcements and there's seminars and everyone is making money in real estate. But the little hidden secret of this thing is that at the same time there is a ton of competition in real estate. Do you see all these flip this show and flip this thing out there and so on. And what you see is people that only share with you that little picture of their reality. They share with you like an inch or two inches of their reality. They show you like a house, then they got it on a contract and then they're going to go do the rehab.
They don't show you how many over expenses where they're more than expected. They don't show you where they have the money from to actually buy those pieces of real estate. If they're buying $500,000, let's just say $150,000 house and they're putting $75,000 into that thing and then to make it 225 and then they sell it for $300,000, they don't share with you…what they show you on the television is they say like, "Bought for 150, put in 75, sold for 300 making a profit of $75,000." Ink, that is not the truth. That is not the truth. What they didn't share with you is how they actually had to probably have a room full of people working the phones, calling seller, cold calling seller after seller in order to get those deals.
What they didn't share with you how they probably had to send out 20,000 mail pieces for every house deal that they got in order to get that deal. What they didn't share with you how they had to basically have an acquisitions manager, they call them salespeople but they're really acquisition people, to buy these properties in the first place. And how those guys get like a few thousand dollars, plus they get a base salary. How they cost money to get all these, they sent out 20,000 letters or postcards. It's gonna cost them like $6,000 to $8,000 to send that out. How the acquisition costs of a deal is easily for these house flippers $10,000. Then they don't share with you how actually where they get the money from to do the deal.
If they needed $225,000, well guess what? Most people don't have that money. So they get it from a hard money lender. So the hard money lender is going to charge them 2% or 3% upfront, which is something like $6,000 upfront or $4,000 to $6,000 just in fees. And then they're going to charge him something like a 12% interest rate, which basically is another $2,200 a month on their deal. So if they takes them three months, two months to fix the deal, one month to sell the deal, and then another, let's say 30 days to close on a deal, that's 4 months, that's another 8,000 to 9,000. That's about $9,000 in this deal in extra cost.
So now if you're looking at that, you have mainly cost and like acquisition costs about $10,000. You have disposition costs, like holding costs of another almost $10,000. And then you have a realtor that they usually hire and the realtor sells it perhaps as a discount fee for just 2% but often there's a buying realtor and the buying realtor will also get 3% so now it's a 5%. Now 5% of a $300,000 sale is how much? Oh, that's another $15,000. So now we are at $35,000 in actually holding costs that goes away when you sell it that way.
So now when you sell this property for $300,000, that $75,000 turns into $40,000. And what they also don't tell you is how they have to go compete, like get their contractors, how they have to supervise them all day long, how they have to run around like crazy. How it's become a full-time job getting that thing fixed. So now, with that said, $40,000 in a four-month period is certainly not bad, particularly if you have the ability to do multiple of those things. But what they don't tell you is that flipping houses is freaking hard because there's a lot of competition. You got to fight against all these other people that come out of seminars and even other professionals and so on and all these different things that you've said.
So now let's compare to that land flipping. Land flipping is a concept that Michelle and I have discovered and professionalized and optimized and perfected over the last 17 years basically. And we found this out back in 2002 when we also wanted to get into real estate. And in 2002 it was very similar to today. There was a lot of competition. There was a lot of people dealing in houses and we just couldn't get a deal. We found one deal that was a triplex in a bad area of town. That's why we got it because nobody else was wanting to get in there apparently. We got that deal on a contract for $45,000. We thought it was worth about $80,000 or $90,000. We only marked it up to $5,000. We wanted to do what's called a wholesale deal. You put a deal on the contract, you pass it right away onto another buyer and they do the rehab.
Well, little did we know that we had misestimated all the repairs because we back then didn't know anything about real estate. Now, that's 17, 18 years ago. Since then we have obviously, we've done 4,000 land deals, we've owned 400 apartment units, we own rental houses, we own commercial property, we own a hotel, we own all kinds of stuff. So we have now obviously learned the tricks of the trade in abundance and we keep learning, by the way, it's never-ending learning. In 2019 we learned a whole bunch more about different areas of real estate in subject matters that we were not yet experts in. So it's a never-ending story. Real estate is an industry. It's not a method. Real estate is an industry, within that industry you choose your method.
So what we chose was land flipping. Oh and we stumbled into land flipping because here's what happened with land flipping. So our very first deal we ended up finding people that didn't want their properties anymore so much that they had stopped paying property taxes. So we also thought, "Okay, it might be a good idea to send them a letter because if they have stopped paying property taxes and it's still like a year or two years before their property gets foreclosed on for nonpayment of property taxes or before it goes up for auction, perhaps they're wanting to sell their property prior to that to us."
So we sent about 400 letters out and we got about 20 phone calls. And the funny thing is that out of these 20 phone calls, every single one of them was a landowner. By the way, what happened with that triplex is we couldn't sell it because we had miscalculated all the repairs. It was not a deal and so we basically let that deal go. So then we reset and we did what I just said. We went into the tax delinquent space but with direct mail and we got a great response rate. Our first response rate was something like 5% or 6%. And then since then, we have had many times response rates of over 10%. Again, compared it to the house world, they often nowadays in their current competitive situation, people are lucky if they get better than half a percent, half of 1% response rates in the house world.
We're still getting 4% to 15% response rates on our letters and our mailers. It's a crazy world because in land there's very little competition. But here's what happens. One of the people had a property in a smaller town in Northern Arizona. I live in Arizona. So we started in our backyard for no other reason. Then we thought back then that we needed to go see the property. Now we buy properties from Hawaii all the way to Florida. We don't ever go see properties because there is no need to go see properties. It's just land. You have Google Maps, you have Google Earth, you have all these different softwares that you can use to look at the properties. And what's the difference between an aerial picture from last year and from this year is that the trees grow by that much. Other than that there's really not much of a difference.
So we wrote those letters. We got 20 phone calls and they were all land and one stands out because he accepted our offer. It was this guy with an acre property in Northern Arizona, with a house on one side, a house on the other side and the lot right there. And he was okay. He wanted to kind of move away from the state. He had just got through divorce, he didn't want to deal with things anymore. And he was willing to give that property to us for $400. Four hundred bucks. Now, not a $400 down payment or escrow deposit for a $400,000 purchase with a bunch of rehabs and stuff. No. Fully purchased of the property is $400 plus closing costs.
Now, in this case, we actually did the closing ourselves. We didn't even hire a title company. We just did a title search. We figured out who owned this property before him and then before and before and then we just paid him $400 and sent them a deed to sign it, sent it back to us and we sent the deed for recording. We went out there, we put a "For Sale By Owner" on the sign on there and the neighbor from across the street comes up and right there in the spot makes us an offer for $4,000.
Now, that's not a $40,000 profit just like I just explained in the house flipping side. But it was a $4,000 profit but compare the amount of effort that was included. If we would have gone and gotten a title insurance for it, it would have cost us another $600, $700. So let's say we [inaudible 00:09:57] in for $1,000 and we sell the property for $4,000, they paid all the closing costs on there and so we will have made $3,000 and basically like what? By sending out a few letters, talking to a few people and sending out a few offers and then they're agreeing to our offer. That's really it. And then driving up there and putting up a sign on the property, which is what we did back then. Now it's even easier, you post these properties on many social media platforms.
So with that said, we started, "Oh well, that was easy." Plus were there any risks of us losing money? No. If you buy something for 400 bucks that's worth 8,000 because that's the true value of the property was about 8,000. We're like in for 5 cents on the dollar. I mean, the worst-case scenario we told ourselves is that, "We're going to go make $1,000 on their property." But we made $4,000 so like $3,600 we [inaudible 00:10:47] our money. And then the next deal came along, was just two weeks later from that same batch of letters, it was somebody that owned 40 acres and was willing to get rid of that property for $500. Five hundred bucks for 40 acres. Of course, it's not 40 acres in downtown Phoenix. It's not 40 acres in downtown LA. It's 40 acres like in a rural area, a few hours outside of town.
But come on, based on estimate this property was worth $20,000. So for 500 bucks, guess what? We're 20,000, 2,000 would be 10%, 1,000 would be 5%. We're in it for two and a half cents on a dollar. Two and a half cents on a dollar. Now, that's not necessarily typical. Usually, nowadays it's anywhere between 10% and 30% or 10% to 25% of market value. But those were the first couple of deals and we sold that property for $10,000 with a $9,500 profit online in 10 days and had multiple people fight over that property. And then, for example, another deal we did, is a property we bought for $1,875 and we sold it for $86,000. Now let's compare this to the house flip that I just earlier talked about.
Now you're looking at it, we made twice the rehabbers, in this example, money on that deal, the rehabber in that complicated deal where they have to have staff to find the deal, where they have to go run and meet somebody in somebody's living room and convince them that they should sell their property for $125,000, then you have to go get the money for it from a hard money lender, sign like that stack of papers. Then you have to go rehab the deal with a bunch of contractors and run to Home Depot and to different design stores all day long to figure out what you're going to change where. Basically a full-time job designing and supervising the crew. Then you have to hire a realtor and in between, you have to make all those monthly payments to the lender and then you sell the property and then four or five months period passes.
In this case, we just sent out some letters. We had a few phone calls, we sent out some offers. This person accepted the offer, we put it up for sale and we sold it for $86,000, making this an over $84,000 profit on that deal. And the best thing is, in that particular case they actually gave us…it was actually a seller financing deal and they gave us a 20% down payment. So they gave us a $17,000 down payment, which again, we paid less than $2,000 for this property. So we already had made more than $15,000 profit on that deal. And then they start making payments of $850 a month for the next 15 years to pay this thing off. So if we add this all up together and I got to pull up my calculator for that, what's 850 times 12?
It's $10,200 a year times 15 years is $153,000 that we still receive basically on the property over the course of the 15 years. So this is the profit and minus $2,000 as a down payment, that what we paid for the property. So $151,000 is the overall profit for that property. Isn't that like crazy? Isn't that like absolutely out of this world? So this is why we like land better than houses. Number one, there's no toilets, there's no tenants, there's no termites. There's no tenants, toilets and termites. That's how we usually said it.
There's nothing to fix on the property is another word but it really means so much more. There no repairs, there's no mold, there's no foundational issues. There's no contractors, there's no banks involved. There's no hard money lenders involved. There's no budget overruns involved. There's no realtors involved. There's no inspectors involved. What we do is we have perfected the method of finding owners who don't want their properties anymore and finding the ones that are willing to sell their properties anywhere between 5% and 25% of the market. And in some markets, you can go a little bit above that. So I do the 10% to 30% range off-market value. So we put these properties under contract, either buy them take them down if you have the cash, or then once we have them under contract, we do the exact same thing that the house flippers do. We'd go flip it either with a double closing where we put the seller online and we are in the middle as [inaudible 00:15:22].
Seller sells to us and we are selling to the buyer but we're doing all these through the selling and the seller here, the selling and the buying, let's say from the seller to us, the purchase and the sale from us to the buyer. We're putting those together into the title company. And we're doing both of these transactions simultaneously on the same day using the buyer's money. So we can do everything that the house flippers can do. We can do assignments and we can do seller financing and the nice part is when you do seller financing with land, you're typically outside of Dodd-Frank. Like Dodd-Frank is the monster of legislation that when you do want to do a seller financing real estate, you have to have people jump through hoops and you have to make all kinds of calculations. You have to have a mortgage originator assigned for it and so on.
Well, we don't have to deal with that because what we are selling is not a residence. It's not a dwelling. It's a piece of land. The other benefit that we liked, again, there's nothing to destroy, nothing to steal. I invite anyone that wants to go on one of my properties and take a shovel and the bucket with you and take some of the land with you. Because we own it all. There's more land underneath and if you own the land there, you own the land underneath too. So it's absolutely beautiful. Nobody can destroy it, nobody can challenge it. And, of course, when we have it under contract, we go run environmental tests and things like that. We check on environmental issues in the area and so on.
So environmental issues have never been a problem in our 4,000 land flip history. So really you can't destroy it. It's absolutely great. But the biggest benefit of land flipping, particularly in this high competition world of house flipping, is that there's almost no competition. There's almost no competition. There's 3,007 counties in the United States. Because we have been teaching this for 11 years, there's probably right now let's say 500 people that do this somewhat seriously within 5 to 20 deals a year or something like that. That means for every person that does that, there's a total of over six counties that they can be the only person in that county. And yes, this sometimes happen that 10 people are congregated in one county. They're all operating in one county.
Yes, but that's 10 people in one county. Just imagine how many people are there flipping houses in your market. If you live in any kind of major city of 100,000 plus people, there are hundreds of people pursuing house flips in that market. If you live in a million people city, there's thousands of people pursuing house flips. Yet going to any of those rooms, go to any of those meetups, go to any of those rehab meetings and if you're the land flipper, you're the only land flipper in that room. That's why we love land. That's why land is better than houses. You can't destroy it. You don't have to…plus you can buy for 5 to 25 cents on the dollar because our sweet spot is that land between about $5,000. I like to go a little higher than that. I no longer like to deal with $5,000 properties but a lot of our students do so…
So I like to say $10,000 but our students deal in the $5,000 so I'll give you that. So, therefore, $5,000 all the way to $100,000 range. That's our sweet spot. Within that parameters of price ranges, there's the most sellers out there, they're willing to just get rid of their properties for 20, 25, 30 cents on the dollar and just not care about it. Sometimes even for 10 cents on the dollar. And then you take those properties under contract and the most beautiful part is you can actually sell it with seller financing. And again, with seller financing, you ask him for a down payment and if you do this the right way, the down payment actually is higher than what you paid for the property. So you get already as a down payment more than what you paid for the property and then you get cashflow anytime.
So it's the year 2020. Real estate is hot but be really conscious and careful about which kind of real estate you go into. Like if you go into house flipping, be my guest. Go into house flipping, understand house flipping is sexy and so on because you actually see something being built in front of your eyes. It looks much prettier after than it did before. But be aware that you're going to hit your head against the wall for probably the next year and a half before you even get a first deal. Would you rather do that or would you rather have your first deal perhaps in the next six to eight weeks? So that's what we want to do. So we actually invite you in this episode of the podcast, invite you to actually join something that we have coming up in February.
So I'm going to put the link right here on the screen and we're going to put the link in the comments, in the show notes, and under the YouTube video and so on that you can go and actually learn more about this. We're going to do a multi-day free class about this and you can join that. We're going to show you exactly how to do this over a course of a week and it's free. All you need to do is you need to go and register for it. All right. So with that said, that's my podcast today. It was time to go back to the basics. It was time to talk about what is it that has enabled us to live the life of our dream. What is it that has enabled literally hundreds of our students to go beyond the path to becoming millionaires?
We are on a mission to create 1,000 millionaires. I have created many already and we want you to be one of them too. Give us a five-star review for right now. Go look at the link here. Try down the link that's on the screen. Go touch the link that's underneath there. Go there, join us for our five-day class and I'm looking forward to seeing you there. Thank you. Bye-bye.
Man: Enjoy this episode? Then make sure you like, subscribe and post your comments and questions below the video. We're looking forward to hearing from you.
Recorded voice: Enjoyed this episode? Then make sure you like, subscribe, and post your comments and questions below the video. We're looking forward to hearing from you.
Enjoy this podcast? Share the love!